In this post, I'm going to write about Tissot Le Locle review, one of Tissot men's watches. The Swiss brand is one of my favorite brands due to a number of reasons. It produces mainly middle range watches.
It is affordable, and yet produced lots of beautifully crafted watches with high quality of craftsmanship.
One of my favorite lines of watch is their T-Classic line of which the Le Locle is one of them. The Le Locle line have several models and styles: there are the men's watches (or Gent Watch from Tissot's website), chronometer models, seconds subdial, regulator models, chronograph model and lastly the power reserve model.
Yes, the Le Locle line is quite broad but for this specific review, I'm going to be focusing on the men's watch design, the simplest model with gorgeous guilloche dial. It is one of Tissot men's watches and is just a stunning little piece of steel to look at.
It looks just as expensive and elegant as any other top of the line Swiss watches, but will only costs you not more $400. Without further ado, let's get on to Tissot Le Locle review.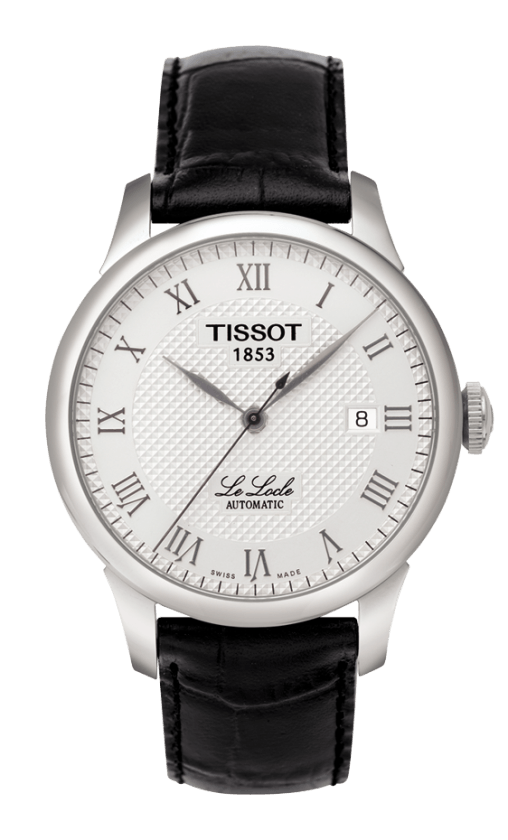 Shown above is the Tissot Le Locle T41.1.423.33 Automatic Men's Watch
Tissot Le Locle Men's Watch Specification
Diameter: 39 mm
Thickness: 9.75 mm
Weight: 2.4 ounces / 70 gram
Band: Black leather strap with butterfly clasp
Dial Window Material: Scratch resistant sapphire crystal
Dial: Silver guilloche pattern
Water Resistant: 100 feet / 30 m
Movement: Swiss Automatic Movement – ETA 2824-2 with 25 jewels. Has 28,800 vibrations per hour (8 beats per second)
Power Reserve: 38 hours
Accuracy: +- 20 seconds per day
Special Features: Skeleton back case, gold plated rotor, silver tone hands, roman numeral hour markers, date display at 3 o'clock
Best Place To Buy: Amazon 
Various Styles To Choose From
Tissot has produced not less than 6 variations of styles for the Le Locle Men's Automatic Watch. All of them has a different combination of dial color (black or silver), case color (silver stainless steel, gold PVD, etc), strap (black leather, brown leather, stainless steel bracelet), and different hand and markers colors.
I really like how they wants to appeal to everyone with their various offering of styles for a particular model. It's one thing that you have to love about the Swiss. They will always try to give you many styles for any particular model. On the other hand, Japanese watchmakers will give you only maximum of 3 variations.
You can see the variations of the watch below. In case you are wondering, the dimensions and mechanism inside the watches are totally same.
Variations of styles in the Le Locle Automatic Men's Watch model. All features the same movement inside (ETA 2824-2), guilloche pattern dial, and have the same diameter and thickness. Simply click the picture to go to the Amazon sale page for that particular watch for more pictures.
Simple And Elegant Dial Design
This is truly a simple classic watch, with little decoration. Looking at the dial, it only has the interwoven hatching design (or guilloche, to use a fancy word to describe it), and contrasting hour markers, hands and "Tissot" and "Le Locle" marking. Simple is more.
That's the philosophy that the designer of this watch uses. It does not have any flashy colors or decorations (though the guilloche is considered flashy by some people), but you just cannot resist the simplicity and elegance the watch shows.
There is the brand's signature "Tissot" and "1853" – the year they were founded in the Jura Mountains of Switzerland – at the center top of the dial. The lower part of the dial is signed with "Le Locle" and "Automatic" signatures. I really like the italicized font of the "Le Locle", giving it a very vintage classical look.
The guilloche pattern is a perfect addition to the dial. It is not totally visible in photos but you can see that it is actually very noticeable due to its reflective nature (you can see it in the unboxing video below). The back of the watch is skeleton case, where you will be able to see the movement and also the gold plated rotor.
The roman numeral hour markers are big and easy to read. Minute markings are provided at the outer edge of the dial for more accurate time reading. There is also a date display at 3 o'clock, which also just seems to blend in with the dial.
Honestly speaking, I would have prefer a small black box around the date display to make it stand out more. The date display is a very important aspect as it provides more functionality to a watch. Being able to tell the date at a glance is a huge advantage, but the design of this watch that "blends in" the date and the white dial make it harder to notice it.
All in all, the dial is truly classic and simple, yet such a pleasure to look at and wear. The biggest attraction? The guilloche dial of course. Wear this and don't be surprised that many people will start a conversation on how gorgeous the Le Locle is (and how good your taste is).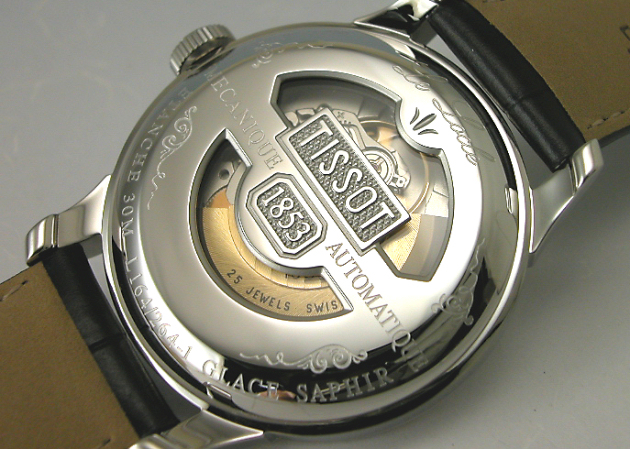 The skeleton case of the Tissot Le Locle Automatic Men's Watch. Shown above is the T41.1.423.33 model. Notice the gold plated rotor and how beautiful the engraving on the skeleton case back of it – something that is rare these days.
Beautifully Crafted Timepiece
The watch is 39 mm in diameter with 9.75 mm thickness. With such thinness, it can slip into any sleeves of dress shirts, as expected of any dress watch. It is also only 2.4 ounces or 70 gram, making it not too heavy on your hand.
The watch comes with either a leather band or bracelet, depending on the model. I can say that the black leather band will make it looks good with a tux, or your weekend's casual attire. All leather strap also comes with a butterfly clasp. It looks to be very secure.
One thing I really like about it is that it will not damage the leather strap like any normal buckle. You will be able to use this leather strap for a long time.
The dial window is made of sapphire crystal, which is well known for its high scratch resistance. You can use the watch for years and not even a scratch will be on it (read more about watch crystal types here).
It's water resistance is rated to 3 bar, or 100 feet/ 30 m water depth. Though you should be cautious about exposing the watch to any rain or water splash as the crown is the push pull type (aka normal watch crown).
Since it's not the screw type, water can easily seep into the watch, causing fogging or worse, rust. Swimming wearing the watch is definitely out of the picture. For that purpose, you are better served with a diving watch instead.
The back of the watch is another sight to behold. It is a semi-open caseback as only some parts of the back is shown. I would have prefer a totally open caseback as I can see the whole movement. But Tissot certainly knows their stuff. Instead of an open caseback, they provided a skeleton caseback with beautiful engravings on it (see the picture above) – which is something quite rare nowadays. This is a very nice element.
With the engravings, they have totally make this watch a special among their other watches. The watch is manufactured with such a high level of craftsmanship. It is really a wonder that Tissot can produce a high quality watch with such an affordable price.
Unboxing Video of the Tissot T41.1.423.33 Le Locle Automatic Watch
Le Locle – A Homage To Tissot's Birthplace
Perhaps some of you are wondering about the why Tissot put "Le Locle" on this watch. Le Locle is a place in Swiss' Jura Mountain, the birthplace of Tissot. Tissot was founded in 1853 by the father and son pair of Charles-Félicien Tissot and Charles-Emile Tissot. From their humble beginnings in the Swiss, the company has grown by leaps and bounds.
During the 1970s, Tissot was one of the few Swiss watchmakers that survived the "Quartz Crisis". The crisis was the aftermath of the quartz watch invented by Seiko. Quartz watches, with it's lower price and superior accuracy flooded the market and nearly destroyed the Swiss automatic watch industry.
During the crisis mode, Swiss watchmakers grouped together. The Swatch Group of which Tissot is in is one of the big watch groups that was founded due to this.
It is only appropriate that Tissot named the line after Le Locle, as a homage to Tissot's home and heritage. For me, the classical look of this watch seems to reflect the intention of Tissot to make the watch a reflection of their origin, a maker of exclusive and beautiful watches but with a touch of classical elegance.
Swiss ETA Automatic Movement
The watch is powered by an ETA 2824-2 movement with 25 jewels. It's not Tissot's own movement, but made by ETA SA Manufacture Horlogère Suisse (or just ETA), their brother in the big Swatch group. . The practice of using a movement by different makers is common nowadays in Swiss watches, especially for low to middle range automatic watches. Only few top of the line Swiss watchmakers (e.g Rolex) still produce their own in-house movement.
Development of in-house movements are very costly, not to mention the production will costs a bomb too. A solution devised from the Quartz crisis 4 decades ago is to segregate movement making to a company (ETA, and recently Sellita), while the watchmakers can just concentrate on making the watch.
This by no means make the ETA 2824-2 a substandard movement. The movement has been used by many different watch brands and can even be tweaked to get to COSC Chronometer accuracy standard.
It has been around for quite some time and thousands of watch owners have been happy with its performance. The ETA 2824-2 has 38 hours power reserve and accurate to 20 seconds per day though it is normally reported to gain/loss about +-5 seconds per day.
Tissot Le Locle Automatic Men's Watch Advantages And Disadvantages
I've summarised the advantages and disadvantages of the Tissot Le Locle for easy reference.
Pros:
1- Beautiful guilloche dial pattern
2- Simple, sleek and elegant design
3- Many different styles and color pattern to choose from
4- Solid construction and high quality craftsmanship
5- ETA 2824-2 movement is reliable and accurate
6- Has a skeleton caseback with beautiful engravings on it.
Cons:
1- Does not have exhibition caseback.
2- 30 m water resistance is very low. A 50 m water resistance is much better for peace of mind
If you are looking for a good looking watch that is automatic, looks good with anything you wear, and does not break your bank, Tissot Le Locle Automatic Men's Watch is the one you should go for. It is a subtle simple watch, without any flashy colors, decorations or complications.
But in its simplicity lies an elegance that will rival even the top Swiss' watches. It's craftsmanship is of high quality that won't make you regret buying it.
I hope you enjoy reading this Tissot Le Locle review. If you have any questions or comments regarding the watch, feel free to put it down below. I will be more than happy to answer.
Cheers!
Isaac
****************
The Tissot Le Locle Automatic Men's Watch is usually listed for around $500 but currently (as of the time of the writing of this review) Amazon has an amazing discount offer against buying from the retailers. Click the link below to check the best deal on Amazon.