In recent times, the advent of smartwatches have brought new attention to the watch world. But prior to these new technology-filled watches, watches were divided into only 2 major categories: automatic and quartz.
Well, that's quite a summary because as I've written before, watches can even be divided into 20 types.
While that list consists of all things that made up a watch (movement, style and function), the majority of people only relate to what type of movement a watch has, and for that, the automatic and quartz movements are the most commonly used and known.
For simplicity, I've grouped the automatic and mechanical movements together because they are basically the same, with the difference of the self-winding capability of the automatic movement.
So are you ready to know about the difference between these the automatic and quartz watches? Let's find out!
Differences Between Automatic And Quartz Watches
(I've written some detail posts about automatic watches and how automatic watches work. You can have a read of those posts by clicking the links for the detail stuffs)
Automatic and quartz watches differs by the way it keeps time. What this means is how the movement mechanism inside it, or in other words, how it track one second.
To turn the clock through the seconds, minutes and hours is very simple and can easily be achieved by gears.
But how to make sure the second hand on the watch dial/face moves precisely one second and corresponds exactly to one second in real world?
This is where automatic and quartz watch differs. Automatic watches uses mechanical parts (balance wheel and escapement set to be precise) to keep track of time while quartz watches uses quartz crystal oscillation which is powered by electricity.
Automatic Watch = Mechanical Parts, Quartz Watch= Electricity Driven
Automatic watch has been around for more than a century. So as you can guess, there's no electricity back then. How do the watches at that time function then?
It's due to the use of springs. Inside all automatic watch, there's a mainspring that is wound tightly to contain potential energy. This spring is then released slowly (by un-wounding itself) to move the gears inside the watch.

An example of an automatic/mechanical movement. You can see how it's actually consisted of  many small parts inside it and run entirely by kinetic and potential energy
The timekeeping is controlled by the wheel balance and escapement that ensures the watch speed is not too slow or too fast.
(Read my detailed explanation on how automatic watch works for more info)
Quartz watch on the other hand was invented in the 1960s. It uses a quartz crystal that vibrates swiftly when subjected to electric current to keep track of time.
The integrated circuit in the watch then detects the frequency of the vibration and then consequently assign the motor to move one second based on the vibration.
The usage of high frequency quartz crystal ensures the higher accuracy of the watch (+-15 seconds deviation per month) as compared to the older automatic watch (+- 15 seconds per day).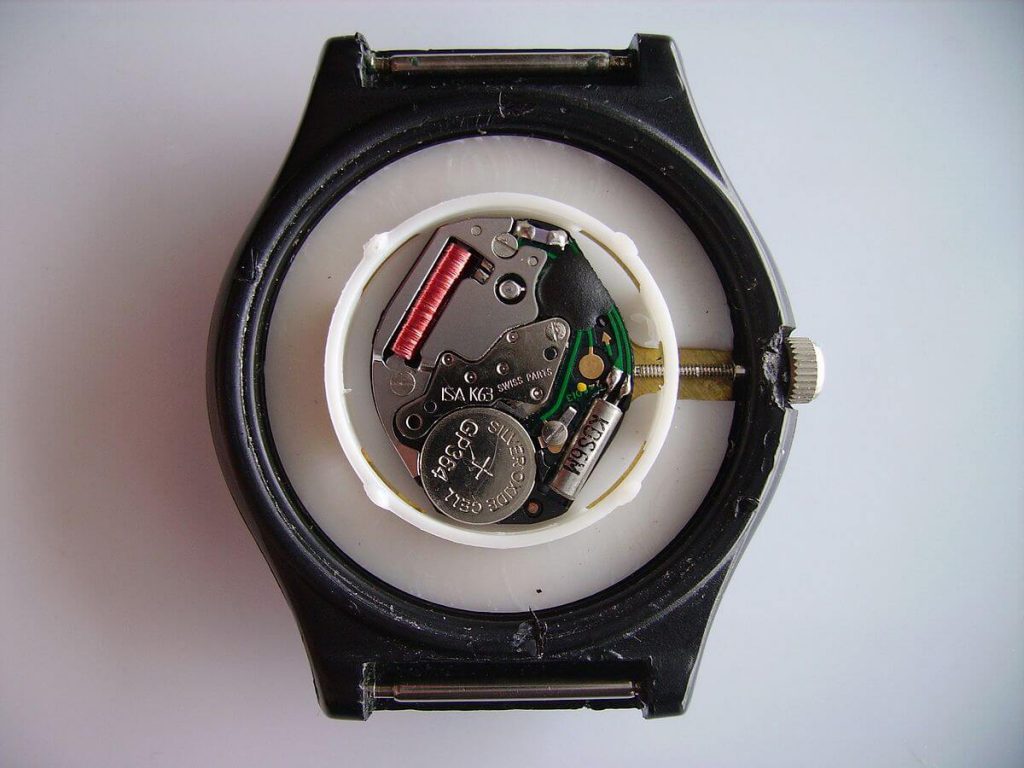 Above is an example of a quartz movement. It's much smaller than its automatic counterpart which contributed to its lightweight and slim profile
Surely, the newer quartz watch movement has higher accuracy (well, that's the main reason why it's being invented in the first place) but this does not mean automatic watch is not without any advantage.
Automatic Vs Quartz Watch Movements
If you're new to the world of watches, or just want to buy one for yourselves or as a gift, I believe it's fairly important for you to know the pros and cons of both automatic and quartz watches.
That way, you can make a better decision on what type of watch you REALLY need to get, as opposed to buying based on marketing campaign or word of mouth.
In this section, I've listed out the advantages and disadvantages of both automatic and quartz watch movements so that you'll have an idea of what to expect from both.
Automatic Watch Movement

Advantage
Disadvantage
Does Not Need A Battery To Function
Lower Accuracy
Sweeping Second Hand
More Expensive Than Quartz
Unique Characteristics of Automatic Movement
Typically Bigger and Heavier
Different Than The Digital World Around Us
Most Automatic Watches Have Low Power Reserve
Generally More Beautiful Than Quartz Watch

Quartz Watch Movement

Advantage
Disadvantage
Much Cheaper To Get
Need Battery To Operate
Very Accurate
Ticking Second Hand
Slim And Light

Advantages And Disadvantages Of Automatic Watches
Let's see the detail explanation for the pros and cons of an automatic watch.
Advantages Of Automatic Watches:
1- Does Not Need A Battery To Function
Automatic watches are self-winding and does not need a battery to run like quartz watch. The mainspring (equal to battery) in automatic watches is recharged by the movement of our wrist while wearing it.
The trick is in the rotating semi-circular rotor at the back of the watch. As the watch moves (either while strapped to our wrist or while being shaken) the rotor will freely rotates.
Subsequently, this tighten the mainspring further, increases it's potential energy and power reserve.
In addition, we can also manually wind the watch by rotating the crown.
As someone who had used a quartz watch before, I know how inconvenient it is to suddenly realized your watch was dead without any warning whatsoever.
It's more frustrating when you're in a busy day working to catch that deadline or important meeting. A dead watch can totally jeopardize this by giving a wrong time to us. Totally troublesome!
With an automatic watch, this is no longer a problem as the power reserve is replenished with your every use.
Just make sure to give a good manual wind every now and then to keep the power reserve at full. No more surprises of a dead watch =)
An excellent video showing the difference in the second hands of quartz watch (left) and automatic watch (right)
2- Sweeping Second Hand
One thing that automatic watch has that is hard to be replicated in a quartz watch is the sweeping second hand.
This is the unique characteristic of the automatic movement, by virtue of the balance wheel and escapement set.
The quick movement of these parts causes the fluid and smooth movement of the second hand as compared to the jerky tick-tick action of quartz's second hand.
The sweeping action is actually not that different from the tick-tick action. It's just that the second hand moves at a high rate, up from 6 beats per second (meaning in one second the hand "jumps" 6 times).
Because of this, the second hand appears to be moving smoothly though if you look at it closely, you'll notice the minute movements.
There are also automatic watches that have 8 beats per second and even higher than that. The higher beats per second movement will gives a much smoother second hand action as it's moving at a faster rate.
This cannot be seen in a normal quartz watch due to design. Should a quartz watch make this feature (which is possible), the battery will deplete quickly because of the amount of electricity needed.
I should also add that in recent times, there are also quartz watches that have been designed to reproduce the same sweeping second hand such as the Bulova Precisionist that has a 16 beats per second sweeping second hand.
It's possible for a quartz watch to have this feature but it's definitely a rarity and not common.
A battle of sweeping second hand between a Rolex Datejust (automatic watch, left) and Bulova Precisionist (quartz, right). The Bulova is a quartz with a special movement that can produce the sweeping second hand and have an amazing accuracy – at a few seconds per YEAR
3- Unique Characteristics Of Automatic Watches
Another advantage of the unique characteristics of an automatic watch. First of all, it is a heritage brought by century old of innovation.
Out of touch with recent technological advancements? Perhaps. But no one can deny how these little mechanical watches have a huge attraction to it for being what it is – an elegant timepiece brought to life by no more than moving pieces of steels.
The mechanical things inside this watch is something that is very different and refreshing. Not to mention that most of automatic watches are assembled by hand (with the exception of mass produced Swatch Sistem51 and Sistem51 Irony).
This is very different that quartz watches that are mostly assembled by robots.
Seiko SARB033, one of the most gorgeous automatic watch I've ever seen. Seen to the right is the exhibition caseback showing its Seiko 6R15 movement caliber.
Some automatic watches also has an exhibition caseback (such as these Seiko SARB033 and Hamilton Khaki King) which shows the beautiful mechanical parts moving around.
It's totally beautiful and magnificent to look at. You will always wonder how the watchmaker actually make those tiny parts and assemble them together into a fully functioning watch. This is definitely not available even it the highest end of quartz watches =p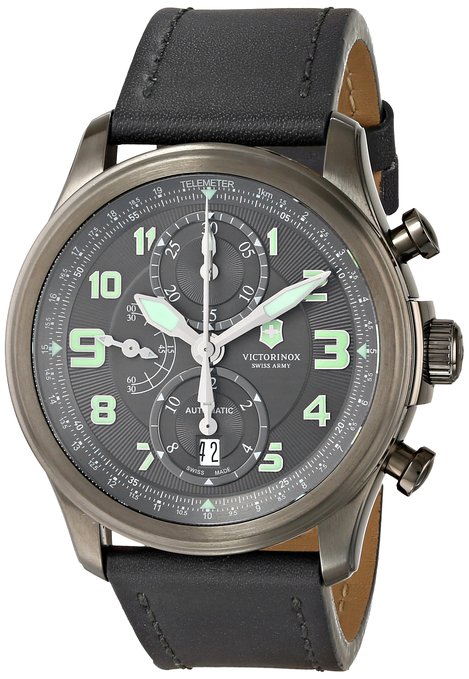 Victorinox Swiss Army Infantry Chronograph is one example of how an automatic watch is able to be a stopwatch. Without a doubt, a quartz watch can be a better stopwatch but the mechanical precision and detail needed to make an automatic chronograph is simply stunning.
One more unique characteristic of automatic watches is the complications. It is basically extra functions the watch can perform such as showing day/date, moon watch, chronograph/stop watch, perpetual calendar, even chiming the time.
With every extra thing the watch can perform besides just showing time the more complex the mechanism will be – thus the name "complication".
A quartz watch can easily achieve all of these for sure but the electronics of it just don't have the same awesomeness as this.
(Check out these long list of the 30 best automatic watches under $1,000 to $200 that you'll absolutely love)
4- Different Than The Digital World Around Us
Another advantage that automatic watch has is how it's totally different than the current digital world that we're living in.
Almost all parts of our lives are in digital: our computers where you read this blog, our smartphones where adults stare almost 3 hours everyday, our cars, television, etc.
Basically everything around us is in digital format, one way or the other.
Thus, the mechanical parts of automatic watch is a breath of fresh air as it does not depend on any digital or electronics to run with.
Personally, I feel that my automatic watch gives me a good place to de-stress after hours of working on my computer. Sometimes, you just need something different to prevent accumulating stresses from our everyday lives.
And if you're afraid of any apocalypse scenario where no digital/electric stuffs work anymore, the automatic watch might be a good backup – just in case =)
5- Generally More Beautiful Than Quartz Watch
Just look at the most beautiful watch and you'll surely notice that most (if not all) are automatic.
I'm not really sure why this is so but if I'm going to take a guess, I believe it has to do with the manufacturing process of automatic watches itself.
For lower priced automatic watches, it's possible that the manufacturing will involves mass production.
But for higher grade timepieces with superior movements, it's almost certain that it will be assembled by hand.
Since its cost is higher due to the hand assembly, it's only logical for the design, ornamental and aesthetic of the watch to be of a high level so that the company can market it for a higher price.
Sure, there's also beautiful watches with quartz movements, especially the ladies' watches because of the need to keep it small.
But if we're talking about men's watches, dressy automatic watches with beautiful dials are the norm.
And if you're thinking of using a watch to complete your style, an automatic might just be what you need.
(Read also the 10 Best Automatic Watches Under $200)
Disadvantages Of Automatic Watches:
We've looked into the advantages of automatic watches. I would be lying if I say that automatic watches don't have any disadvantages – it do!
Here are some cons that came to my mind:
1- Lower Accuracy
Even the most accurate automatic watch with COSC Chronometer are only 4-5 seconds accurate per day.
This means that it will gain or lose 4-5 seconds per day. And this is only at the more expensive automatic watches. Normal automatic watches are can actually have 15-20 seconds accuracy per day.
Before you go into panic mode, these numbers might seem a bit too much but it's still 99.977% accurate considering we have 86,400 seconds in a day, which is very outstanding for something that's made of moving steel parts.
It's definitely much inferior to quartz watches that can be a few seconds accurate in a month.
I've made it a habit to reconfirm my watch's time with my smartphone every morning or before I strap it on.
I also need to add that automatic watch is NOT my main timekeeping device. For that, I have my trusted smartphone which is always right beside me (who doesn't??).
For me, the watch is used to for it's convenience to tell time and I personally don't really care if it's off by a few seconds or minutes.
2- More Expensive Than Quartz
Due to its high amount of minuscule parts, the costs of it can be substantially higher than an equivalent quartz watch which have lower part counts.
Not only that, some automatic movements can only be assembled manually by human leading to high labor costs.
This could be due to differing movement caliber and the design of the watch itself. You just can't automate large number of different products at the same time.
Because of these factors, a good automatic watch is usually more than $100 in price, though there are some minimalist designs that is more affordable.
By the way, I have to add that Swatch was able to make a simple movement that can be assembled by robots which is the Sistem51 movement.
They are able to do this by using a simplified movement with only 51 part count. A significant improvement as the number of parts in a normal automatic watch usually is more than a hundred.
If other manufacturers can increase their production line automation level, we might be able to see drop in the price. Let's hope for that shall we =)
3- Typically Bigger And Heavier Watch
Automatic watches typically is bulkier and heavier compared to quartz watches. This is due to those stainless steel parts used in it.
For a quick comparison, an automatic watch uses gears to move the energy from its mainspring to the timekeeping device.
On the other hand, a quartz watch uses a small battery (instead of the mainspring which is larger) and some small wires instead of the gears.
In addition, it also depends on the complexity of the movement: automatic watches with complex complications such as chronograph will be much bigger than a normal three-hands auto watch.
But some people actually prefer a heavy watch because it feels more solid and can withstand more punishment.
It gives a bit of a manly feeling with that heavy piece of steel strapped on your watch. If you also feel the same way, do let me know in the comments section below! =)
From my own experience, the first few months of wearing the watch will put some stress on your hand because of the added weight.
But after a few weeks, you will get accustomed to it and might even started missing it when not wearing the watch.
4- Most Automatic Watches Have Low Power Reserve
Even though we can recharge automatic watch by simply wearing it, it also has its own power reserve to keep it running.
If the power reserve is used up, the watch will stop working until we give it a good shake or manual wind it.
A common problem with most automatic watches is the low power reserve – I'm talking about 38 to 40 hours equal to less than 2 days.
This is only a problem for those that have more than one watch in their collection. Surely, he/she will like to wear different watches depending on the occasion, or just want to rotate wearing it.
And in just less than 2 days, the watch is dead and you need to restart and adjust the time again.
If you're wearing your automatic watch everyday, this is not a problem for you.
There are two ways if you want to keep the watch running even without any wrist time: manual winding and watch winder. Check out my post (click the link) to find out more about these two methods.
By the way, I have to add that some companies do make automatic watches with a higher power reserve.
For example, Seiko's 6R15 movement has 50 hours (slightly more than 2 days) while ETA's Powermatic 80 has an outstanding 80 hours!
Best part of all, both movements can be had in the low-middle range of prices! Check out some of my reviews in this site to find out more about it.
Advantages And Disadvantages Of Quartz Watches
We've seen the pros and cons of automatic watch. Now let's see what does quartz watch has in store for us.
Advantages Of Quartz Watches:
1- Much Cheaper To Get
One of quartz watch biggest advantage over automatic watches is the much cheaper price.
Easy to manufacture due to lower part counts and not to mention widespread automation makes it very affordable.
A $10 quartz watch is very easy to get, though of course the quality is another different matter. On the other hand, a $10 automatic watch is near impossible to get LOL!
Without a doubt, if you're just looking for a nice watch for your kids as their first watch, then a quartz is the perfect choice.
2- Very Accurate
Another great thing about quartz watches is its high accuracy. Due to the high frequency oscillation of the quartz crystal, quart watch retain a much higher accuracy than its automatic counterpart.
The normal standard for its accuracy is +-10 seconds per month, with more expensive quartz watches can be to the tune of +-10 seconds per YEAR (such as this Bulova Precisionist).
It's totally on a different level than automatic watch in terms of accuracy. If you are looking for a no hassle watch that will show the exact time at any moment, than a quartz could be the perfect choice for you.
And unlike automatic watch, you don't even have to reset the watch at all (except for when you change the battery of course).
3- Slim And Light
Another good advantage of quartz watch is how it's much lighter than a typical automatic watch.
Well, this is not surprising since the watch is made from small number of components and don't take up much space as compared to the automatic watch.
Try to pry open a quartz watch and you'll see how small the components are. Do the same with an automatic watch and you'll notice how starkly different these two are built.
Not to mention most automatic watch's case is made of steel – another factor for its weight.
Quartz watch on the other hand, can be made from plastics which also reduces the weight of the watch.
Thinking of buying the first watch for your kid? I'd suggest stick to the quartz watch since it's less straining on the wrist.
Disadvantages Of Quartz Watches:
Now, let's see what are the cons of quartz watch.
1- Need Battery To Operate
Unlike automatic watches, quartz watches need battery to operate. This is one of the main disadvantage of it for a few reasons.
One, the battery will need to be replaced every few years or so. This might be a nuisance for some to do this.
Not only that, most watches don't have a power indicator to know when your battery might die.
It can be totally unpredictable and depending on when, it can disrupt your day totally. Just imagine you are changing to go to work and wear your watch.
While in commute you check your watch and see that it's still early so you take a detour to a local cafe for some coffee and sandwich.
When you arrived at your office, your colleagues asked why you were late. In turns out your watch is already dead and you don't know it…. (it's a true story that happened to me btw lol..)
Another thing that we need to be wary of is when using complications such as chronograph that can sap the battery faster.
Fortunately the Japanese released this and produced some inventions such as kinetic watch and solar watch.
Seiko has produced its Kinetic watches that can recharge your watch by the movement of your wrist while wearing it.  Meanwhile Citizen is famous with its Ecodrive solar watches that are powered by light.
The beauty of these watches are the battery can lasts for months after one full recharge. This makes them a very useful watch especially for those that don't like the hassle of changing batteries but still want a quartz watch for its accuracy.
(Read here to check out the 10 Best Solar Watches Under $200)
2- Ticking Second Hand
Another thing that make quartz watch a bit lesser valued is the ticking second hand. It can be annoyingly loud or quiet, depending on the quality of the quartz watch movement.
Personally, I feel that this is an area that automatic watches really triumphed over quartz watches.
The sweeping second hand is just better to look at compared to these ticking hand.
Of course, there are some watch manufacturer that managed to produced a quartz watch with a sweeping second hand that does not reduce its battery life significantly.
But such watches (such as the Bulova Precisionist) are rare and can command a hefty price tag due to this feature.
Bottom Line
Technical and functionality wise, quartz is definitely a step up from the legacy automatic movement.
It features a more accurate timekeeping that's much superior. In addition, the cost to produce these quartz watches is low and very affordable to everyone.
Wait…
Does this means automatic watch is useless in this age?
Like all questions, it depends..
If you're one that need a cheap, accurate and no frills watch, the quartz might be the best watch for your.
But if you don't really mind about the accuracy of the watch since you already carry your smartphone around (like me and literally everybody that I know), then the automatic watch can be an option.
Looking to up your style? What's better than that good looking automatic watch. It can even be a conversation starter with fellow watch fans.
Irregardless of which, I believe that there's no right or wrong in this debate. Don't be swayed by what people tell you about which watch is better to buy. Do your own research and make your own mind yourselves.
Or you just ask for my opinion on what's the best watch for your situation. I'll be glad to help =)
If you have any thoughts about the differences between automatic and quartz watches, please write your comments below. I would love to hear what you guys think.
Till next time then. Ciao!