Victorinox Swiss Army Infantry Vintage Automatic Chronograph Watch is definitely one of the best looking military/sports chronograph watch out there. From a brand that is more recognized for their Swiss Army Knives, this watch truly exceeds expectation in the built quality, design and finish.
The company was started in 1884, selling cutlery and multi-purpose knife to the Swiss Army. The brand name "Victorinox" was a combination of Karl Elsener's (Victorinox's founder) mother's first name "Victoria" and "Inox" – another name for stainless steel. Their Swiss Army Knives become very famous all round the world for its impeccable quality. On 1989, they started to enter the watch business with the brand name Victorinox Swiss Army.
The Victorinox Infantry Chronograph comes with a few variations with different dial color, casing color and strap. But the overall design, chronograph function and internal mechanics of the watch are the same. I've chosen the 241526 variation for this review as I love the brownish gunmetal case and the gray copper dial as compared to the rest.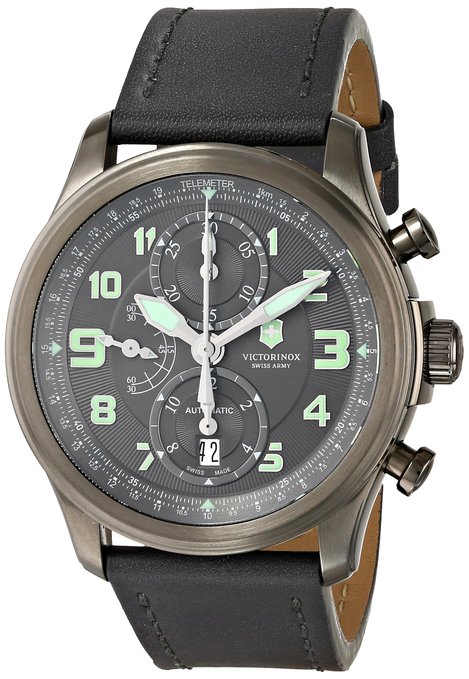 Victorinox Swiss Army Infantry Chronograph (241526) Specification
Diameter: 44mm
Thickness: 15mm
Lug size: 23mm
Dial: Dark gray dial
Dial Features: Seconds index markings and Telemeter index markings (in km) at the outer dial.
Subdials: Running second hand (9 o'clock), 30-minutes chronograph subdial measurement at 12 o'clock and 12-hour chronograph subdial measurement at 6 o'clock
Case: Stainless steel with brownish gunmetal PVD
Band: Dark gray leather band
Dial Window: Sapphire crystal with triple coating for glare/reflection reductions
Movement: ETA Valjoux 7750
Movement Features: Automatic self-winding, Swiss Made, 25 jewels, 28,800 vibrations per hour (8 beats per second), 40 hours power reserve, manual winding via crown, hacking feature, accuracy of +-15 seconds per day
Water Resistance: 330 feet / 100 m
Other Features: Exhibition caseback, Chronograph function, Telemeter function, Date display, Luminous hand and markers, signed crown
Best Place To Buy: Amazon
A True Military Watch
From the first look, the Victorinox Infantry Chronograph gives the vibe that it is a very rugged watch and will become a loyal companion to your adventurous trips, wherever that may be (except for underwater of course. You will need a diving watch for that lol.). It looks tough but at the same time is very beautifully designed. The dial is dark gray, with large numerals as markers. The hands are also big and you can clearly see the luminous material on them. The visibility is definitely there, even in dark environment that's for sure.
The 44mm diameter casing of the watch is okay and will fit with most men's wrist comfortably. The only problem I have with this watch is it is too thick, at 15mm. I doubt you can wear a suit with this watch as it definitely won't fit into your sleeve. This is probably because of the ETA Valjoux 7750 automatic movement's (more on that later on) chronograph function that takes quite a bit of space as compared to normal automatic. But then again, the watch is never intended for cocktail parties and the like. You are better suited with a dress watch for that purpose (for example the gorgeous Seiko SARB065 Cocktail Time).
Gunmetal PVD Case – What Is PVD?
The casing of the Victorinox Swiss Army Infantry Chronograph is stainless steel with brownish gunmetal PVD. As you can see from the pictures and video below, the casing color matches well with the dial and the 23mm leather darg gray band. But what is PVD? I think I should write a bit on this PVD for my readers that first encounter this term. PVD is actually a method to apply a coating to an otherwise gray colored stainless steel.
Stainless steel is a common material for watch due to it being hard (it's steel after all) and it won't corrode easily. It has a natural color of gray. By polishing or brushing it, watchmakers have created beautiful stainless steel watches over the years. But of course not everyone likes a gray colored watch. So in order to apply color to it, coating is applied on the steel – kinda like a paint if you may. This is the traditional method but it is not durable as the paint can be easily peeled off the surface.
PVD, or Physical Vapour Deposition, is a method to apply coating on the stainless steel. It will bond metal compounds with the color to the case, combining them to become a unit. PVD cases are more resistant to peel and crack but a deep scratch can still expose the base case (they are still coatings mind you). You can read this interesting article on the pursue to make a black watch at this link here. )
What's The Three Subdials For?
On the dial, you will quickly noticed that there are 3 subdials. It is quite easy to make a mess of a watch with 3 subdials but Victorinox had done a good job designing them to make it look pleasing and complement each other. The top and bottom subdial at 12 and 6 o'clock are the 30-minute and 12-hour measurements for the chronograph function. The third subdial is for the running second hand of the watch and is beautifully designed to be half circle so that it wont obstruct the 9 o'clock marker. I should point out that the main second hand is just for the chronograph and won't be running normally. It's a waste actually as we won't see the sweeping motion of the second hand (same disappointment I felt with the Hamilton Intra Matic. Gorgeous watch but no sweeping second hand!).
  You can watch this awesome review of the Victorinox Infantry Vintage Automatic Chronograph to see it up close and how the chronograph function works
Very Useful Chronograph Function. But, How To Use It?
The Victorinox Infantry Chronograph has a chronograph function that is very useful should you want to keep track of time. But then, how actually do you use the chronograph? The operation of it is very simple. There are two pushers, the top pusher at the 2 o'clock for starting and stopping (you can also pause it). The bottom pusher at 4 o'clock is for resetting the chronograph. Simply push the top pusher to start tracking time and you can see the main second hand started sweeping at 8 beats per second. Once it completes one minute cycle, the top subdial will changes position to denote the 1 minute elapsed time. Very simple to use and very convenient to have.
Telemeter? What's that again?
On the top of the dial, you will see a signature "Telemeter" with some indexes next to it – on the outer edge of the dial. The telemeter scale is basically a way to help you calculate the distance between you and an event that can both be seen and heard. It works by the simple mathematical calculation of the speed of sound. Sound travels around 340 meter per second. In other words, it will take about 3 seconds (more or less) for sound to travel in 1 km. Since light travels faster than sound, you have to start the stopwatch as soon as you see the light of that event (e.g thunder, fireworks, artillery fire-this is a military watch, remember?). Stop the stopwatch when you hear the sound. Read the outer scale of the Telemeter to know the distance between you and the event.
It is a really cool scale to have, but I think Victorinox can also include a Tachymeter scale on the bezel. Tachymeter is used to calculate the speed of something, provided you know the distance it has travelled. Since the bezel is empty, a Tachymeter scale will be perfect there. Not to mention it will make the Infantry Vintage more useful and full pack of features.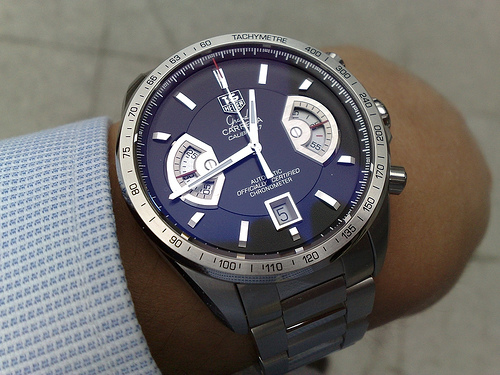 Tag Heuer Carrere with Tachymeter (or Tachymetre) scale on its bezel. Most racing watch has it because it enables the user to calculate the speed of a car.
Powered By The Ubiquitous ETA Valjoux 7750
Inside the Victorinox Infantry Vintage is the ETA Valjoux 7750, a widely used caliber for most automatic watches with chronograph nowadays. Developed in 1970, it is widely used because of its toughness, durability and affordability. It can also be tweaked easily to reach COSC Chronometer standard. Even high-end watchmakers use this movement in their chronograph watches, though they will make some adjustments here and there to suit there design. What we have in the Infantry Vintage here is the plain vanilla 7750 movement though. A major disadvantage of this movement is the quite thick profile. It is unavoidable as the chronograph module can take some space inside the movement. Some also argue that the thick profile has actually helped the movement to be robust and can be used for years.
The automatic movement has 25 jewels, and vibrates at 28,800 per hour, giving 8 beats per second. It has 40 hour power reserve, hacking feature (the second hand will stop when you want to set the watch) and can be wound manually by rotating the crown clockwise for about 20 to 30 times for a full charge. This watch has the plain 7750 movement that is accurate up to a maximum of +-15 seconds per day. This accuracy value is the maximum accuracy published by ETA though real life accuracy reported by watch owners can be very accurate, around 4-5 seconds per day. In short, the Victorinox Infantry Vintage has a very trusted automatic chronograph movement in it that is well respected to be an accurate and solid timepiece – the things that is very important for a military watch.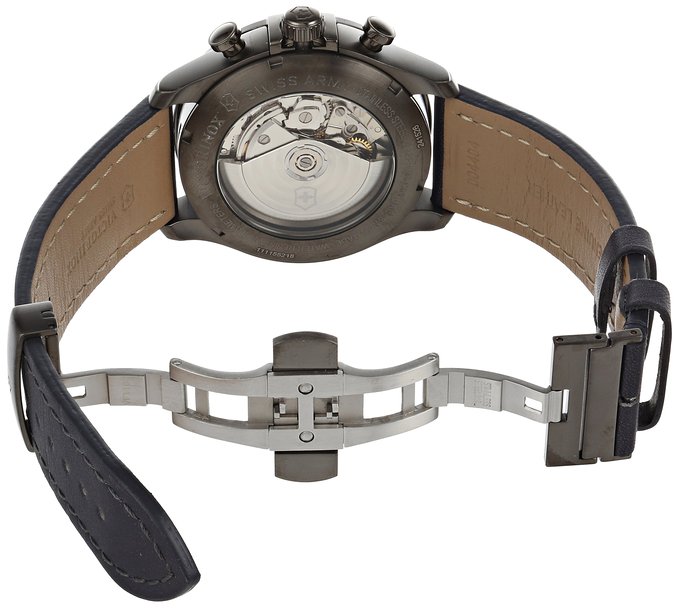 The ETA Valjoux 7750 movement can be seen from the exhibition caseback
Victorinox Swiss Army: Is A Good Watch Brand?
I think this should be a question that will pop up in your head right now, is Victorinox Swiss Army a good watch brand? Well, the short answer is yes. It produces great quality product, with solid construction and beautiful design. It seems they have completely replicate what makes their Swiss Army Knives so successful into their watches. The movements also are sourced from reliable Swiss movement makers e.g ETA, so you can rest assured that the watch's internal mechanics are from the Swiss master watchmakers. So their watches are true Swiss Made quality without a doubt.
The only think that is lacking is the brand power. What I mean is the brand power of Victorinox Swiss Army in the watch market. They are very popular with their multipurpose knives that their other products (watches, travel gear, cutlery, etc) are easily overlooked. Not to mention they have been been in the watch industry for only 20 years, which can be considered a toddler age for a watch brand. Other brands have been around for more than 100 years. There simply do not have that much history in their watchmaking. Victorinox watches are great, that's for sure but the brand name is still not mature enough to be considered alongside other heavyweights such as Tissot, Hamilton, Bulova etc.
Victorinox Infantry Automatic Chronograph Watch – Advantages and Disadvantages
I've summarized the advantages and disadvantages of the watch below for your easy reading:
Pros:
1- Chronograph function is a great feature to have
2- Beautifully designed chronograph subdials that are in harmony with the dial and case
3- Big markers with lume will guarantee visibility in the darkest environment
4- Hiqh quality craftsmanship and build quality – everything you would expect from a Victorinox quality
5- Rugged and solid, perfect for outdoor activities
6- Telemeter scale is cool to have
7- Very nice leather band with clasp (won't damage the band like buckles)
Cons:
1- Brand name of Victorinox is not that outstanding in automatic watches market (as compared to other traditional bona fide watchmakers, e.g Tissot, Seiko, Hamilton, etc.)
2- At 500$+, the watch is a bit on the expensive side, coming from a non-traditional watchmakers.
3- A tachymeter scale on the bezel would be a nice addition
4- The watch is a bit thick, at 15mm
The Victorinox Infantry Vintage watch is a very good looking watch. It is uses Swiss ETA movements, and manufactured by the great Victorinox company, the same company behind the high quality Swiss Army Knife. It is no doubt the watch will be of great quality and reliable to be used, especially for outdoor activities.
I really hope this review is beneficial to you guys. If you feel there are some mistakes here or you feel that I have missed out on some important information, feel free to comment on this post by using the comment box down below.
Currently, the Victorinox Infantry Vintage Automatic Chronograph Watch is sold on Amazon at a very attractive price. Click the link below to see the best deals on Amazon for this watch.