Swatch Sistem51 Automatic Watches was launched 3 years ago to huge interest from the watch community.
When I first read the news about it, I thought it was just an automatic movement inserted into a plastic Swatch case aka a marketing gimmick.
How wrong was I!
The Sistem51 is much more than that. Just like how Swatch has revolutionized the watch industry more than 30 years ago, the Sistem51 is something truly different than any other automatic watches ever made.
Not just that, with lots of colors and styles typical of Swatch watches, you will definitely be able to find something that you like. Now, let's get on to the review of this amazing wrist watch.

Update: I've recently featured the Swatch Sistem51 in my list of the top 10 automatic watches under $200. You guys can check the article HERE.
Swatch Sistem51 Automatic Watches Specification:
Diameter: 42 mm
Thickness: 13 mm
Lug To Lug Width: 50.6 mm
Case: Plastic
Strap: Synthetic silicone with buckle
Movement: Sistem51 Automatic self-wind movement
Power Reserve: 90 Hours
Water Resistance: 3 bar/ 30 m/ 100 feet
Other Features: Date display, Lume on markers and hands
Who Is It For: Those looking for a cheap second automatic watch for casual use
Best Place To Buy: Amazon
What Is Sistem51?
The name is coined from the 51 parts of the automatic movement of the watch. The Sistem51 line is a line of automatic watches from Swatch that uses their proprietary automatic movement.
It is not to be confused with the "Sistem51 Irony" that uses premium material such as leather strap and stainless steel case.
Another automatic watch line from Swatch is the "Irony" line that uses ETA 2824 movement with stainless steel case and bracelet (just like other automatic watches out there).
The Sistem51 is a revolutionary of some sort. The 51 parts of components are the least number of parts in any automatic or mechanical watch ever!
Typical number of parts for a basic automatic watch is around 100 to 200 by the way so to design a watch with only 51 parts is nothing short of extraordinary.
The simplification process and innovation done by them is truly outstanding. The production also uses fully automated system, i.e using robots instead of human which is also a first in the automatic watch world.
Not only that, the usage of plastic casing to house an automatic movement is also something unheard of before. This, and many more reasons make the Sistem51 a truly revolutionary automatic watch.

Swatch Sistem51 Automatic Watches – The Cheapest Swiss Automatic?
Swatch customers are usually the young people looking for a cheap, funky and affordable watch in the range of $50.
It is because of this the company has marketed the Sistem51 to be around $100 to $150, with plastic casing that their normal customers already used to.
The idea of a watch that don't need to be changed battery, as well as having a mechanical movement instead of a typical quartz is very enticing.
Even though it is about double or triple of their normal watches, it is still very affordable and is the cheapest Swiss automatic watch currently.
And considering the cheapest Swiss automatic starts from $300, it is a very good price.
But how are they able to reduce the price so much? The answer lies in the production process of the Sistem51.
By simplifying the watch's components to only 51 parts through major design change (only one screw to hold everything, break everything into 5 modules, etc), the assembly process becomes much easier so much so that an automated assembly line is conceivable to be used.
The reduction of manpower, as well as cheaper parts and usage of plastic case and strap cut down the cost.
The final result is the cheapest Swiss Automatic Watch ever but still has that stamp of high quality Swiss made watches, albeit in a plastic case.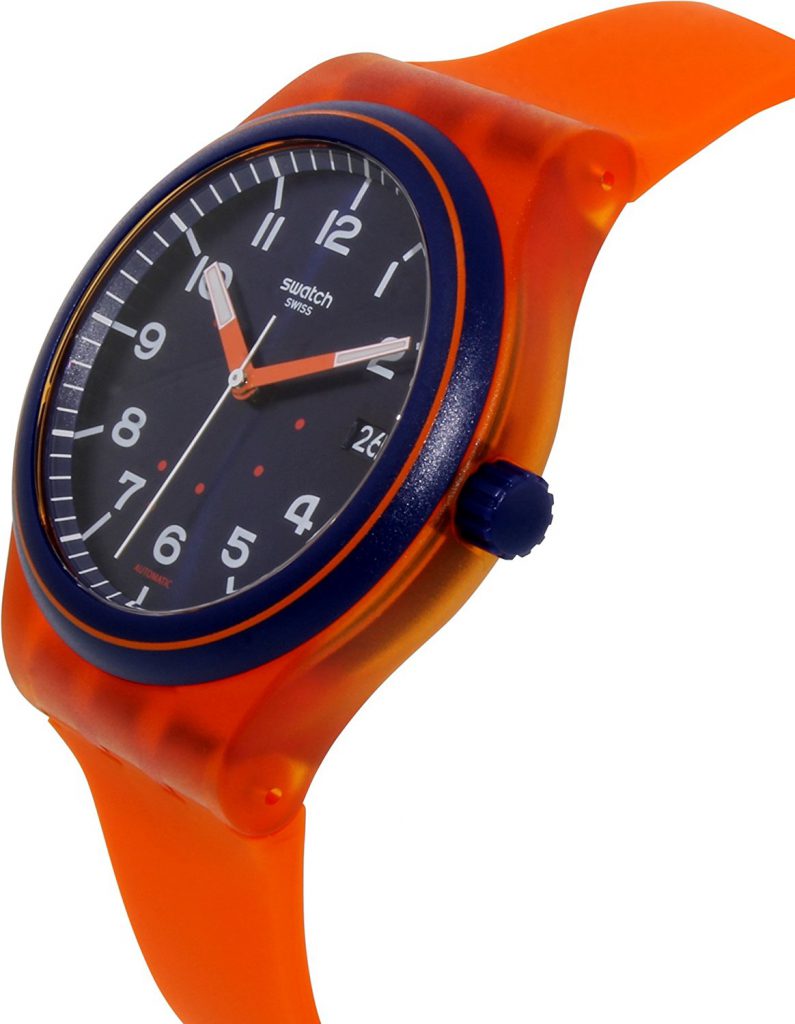 Truly Innovative Movement
The Sistem51 automatic movement is very innovative. Designed by ETA, Swatch's own movement production company, it is still a true Swiss movement.
The 51 parts and fully automated assembly are just one of the first in the industry. Not only that, it boasts a 90 hours power reserve, something that is very outstanding for automatic watches.
Typical power reserve is around 40 hours (8 hours short of 2 full days) which is less than half of what the Sistem51 has. How is that for an $150 watch eh?
The automatic movement is also regulated using robots and laser precision. This means that the room for error is very little, unlike traditional automatic movements that are regulated manually.
Once it's assembled, the watch is hermetically sealed, ensuring it is airtight and wont allow any water, dust or other things to get into it. Swatch claims  that the Sistem51 automatic movement is accurate up to +-10 seconds per day which is not bad at all.

They also claim that the watch can go for a full 20 years without needing any service whatsoever. Now that's really huge as normal watches have to be serviced every 3 to 5 years depending on the manufacturer's recommendation.
The innovation is very welcomed but I feel the movement is not as refined as any normal Swiss or even Japanese automatic movement.
I've tried it a few times and feel the Swatch Sistem51 movement produced quite a loud noise. The sweeping second hand is beating at around 6 beats per second I believe (I've tried to find this info but so far I can't get a hold of it. Swatch is silent on the movement's specifics).
But the loud noise of the movement is very obvious, though not as loud as quartz movement but still not as quiet as other Swiss or Japanese movement.
Some people feel that the watch lack a "soul" because of it's mechanized assembly and lack of human touch but to me that's not a really important factor.
I think an automated assembly of the movement is better than a human assembly because there is little room for any error in assembling the movement.
Though of course this is very hard to achieve because a typical automatic movement contains hundreds of parts and the assembly process is very hard to be automated.
A video showing the Swatch Sistem51 in action. You can see and hear that the movement is not as refined as other Swiss automatic watches. But then again, this watch costs less than $150, a very huge discount from the other Swiss watches.
A Disposable Automatic Watch?
One thing that everyone need to be wary about is since the watch is hermetically sealed, the watch cannot be opened and repaired or serviced.
Well, its a Swatch after all.. But this concept really goes against the traditional principles of owning an automatic watch – that is you are buying something that you can use and keep for a long time.
It is important to note that vintage watches are still very sought after. They can still be kept running after going through a full service.
It is evident that Swatch intends to make the Sistem51 to be a disposable automatic watch, same as its normal watches.
For me, that's not a really bad idea. After all, the watch is relatively cheap compared to normal automatic watch, so a disposable automatic watch is not that difficult to swallow for me.
But with the claim by Swatch that the watch can still be kept running for 20 years, there really is no reason to open or service it.

Swatch Sistem51 SUTT400 Incognito. The back of the movement can be seen through the exhibition caseback and is different for each of the watch's models.
Colorful And Funky Designs
Looking at the design of the Swatch Sistem51 Automatic Watches, you will see that it's just the same as any other typical Swatch watches – colorful, fun and funky design with matching plastic casing and strap.
As I've said before, it is essentially an automatic movement in a normal Swatch watch. The dials are colorful and attractive to look at. It also has a small date display for an added functionality.
On the back is an exhibition caseback to display the Sistem51  movement. You can see the big main screw that at the center of the watch.
Swatch has make sure the whole design scheme of any model to be reflected on the caseback too, giving a nice individuality to any model.

One thing that I really love is the rotor of this watch. The rotor is the spinning bearing exclusive for an automatic watch to wind the mainspring.
When we are wearing the watch on our wrist, any movement will move this rotor, which in turn will tighten the mainspring and adding to its power reserve.
Typical rotor design is a semi-circular in shape. But in this watch, the rotor is a full circle. It is transparent in color but have a nice colorful design at the edge of the circle.
Once it moves, the rotor will make a swift rotation that is quite lively to look at. Have a look at the nice spinning rotor design in the video below.
A video showing the spinning rotor of the Swatch Sistem51 Automatic Watch. Notice how fluid and effortless the rotor spins inside the movement. The rotor edge design really adds up to the characteristic of this watch.
Swatch Sistem51 = Second Watch For Automatic Only Guys
I have to admit I really like this watch. I like how it is different than a normal stainless steel automatic watches normally around.
The colorful plastic casing and silicone strap that is very light and superbly comfortable on wrist are big pluses. Not to mention that it is an automatic too. In short, it is a perfect alternative watch for guys that will only wear an automatic watch (for example, me).
I believe Swatch target two groups for this watch: the usual young people that buy their normal watches and automatic watch guys.
The young people will be attracted to the Sistem51 because it is automatic movement, does not need a battery to operate and has the unique movement and rotor seen through its caseback. Automatic watch guys on the other hand will be attracted because of its different design and material use.
It's also very cheap compared to any other Swiss automatic out there. This will make it a perfect second watch for these guys (Swatch is actually an combination of the words "Second Watch").
Various Variation And Styles For Anyone
There is a huge number of variation and styles offered and it is growing year by year. The colors range from traditional black/blue to more outrageous color for a watch such as orange and pink – very true to Swatch designs.
They also feature different dial designs, different markers (numbers, index, dots, or no markers) as well as different caseback design to suit the watch.
With so much styles to choose from, it is like a huge offering of different watches by Swatch! Below are some of the styles of the Sistem51 automatic watches:
The gallery above shows just some of the styles Swatch has released for the Sistem51 line.. and it is growing year by year!
Swatch Sistem51 Automatic Watches Advantages And Disadvantages
I've summarized the pros and cons of this watch for your easy reference.
Pros:
1- Funky looking and beautiful design.
2- Exhibition caseback shows colorful and decorated movement at the back. The ring rotor is simply gorgeous and captivating
3- Very light and comfortable to wear
4- Even though it is made from plastic, the material is of high quality feels good to touch
5- From $100 to $150, it is the cheapest Swiss automatic watch
6- 90 hours power reserve is very outstanding and useful
7- At only 51 parts, it the automatic watch with the least parts
8- The first entirely machine assembled automatic watch
Cons:
1- Plastic casing might turn off some people
2- 30 m water resistance is too low
3- Lume on the markers and hands are quite weak
4- Movement is not refined as other Swiss automatic watches
5- Since it is hermetically sealed, servicing is not possible
Looking To Buy The Swatch Sistem51? Get It Cheapest From Amazon!
If you are looking to buy the Swatch Sistem51 Automatic Watches, check out the various offers on Amazon.
Amazon currently lists the watches ranging from $100 to $150, arguably the cheapest right now. Click the link below to check out the best deals on Amazon.
–>>Click The Links Below To Check The Best Prices On Amazon<<–
SUTB402 Sistem Chic – White dial with black case/strap
SUTR400 Sistem Red – Black dial with red case and black strap
SUTS402 Sistem Class – Black dial with blue case and black strap
SUTG400 Sistem Green – Green and Blue dial with matching case/strap
SUTN400 Sistem Navy – White dial with blue case/strap
SUTS401 Sistem Blue – Blue and Black dial with blue case and black strap
SUTT400 Sistem Incognito – Blue dial with white case and nato army blue strap
SUTO401 Sistem Tangerine – Black dial with orange case/strap
SUTB403 Sistem Notte – Blue and black dial with blue case and black strap
SUTM400 Sistem Cream – Black dial with white case/strap
SUTR401 Sistem Pink – Blue dial with pink case/strap
SUTN401 Sistem Grid – White dial with blue case/strap
Conclusion
Swatch Sistem51 is not your typical automatic watch. There is no metal casing, no leather strap or bracelet and no typical black or white dial.
It is essentially a funky and colorful looking Swatch, with a 90-hours power reserve automatic movement inside.
Just like Swatch's original intention 30 years ago, it is created to be a "second watch" to be used for a more casual events outside of the office and black suit events.
At $100 to $150, it is cheapest Swiss automatic watch that you can get. Don't let the title "The Cheapest" fool you though.
Just like any other Swatch, the Sistem51 is a high quality watch built up to the Swiss quality benchmark.
**************
I hope you guys enjoy this Swatch Sistem51 review. Which one of the many Sistem51s do you prefer? Let me know in the comments section below =)
Cheers!
Isaac