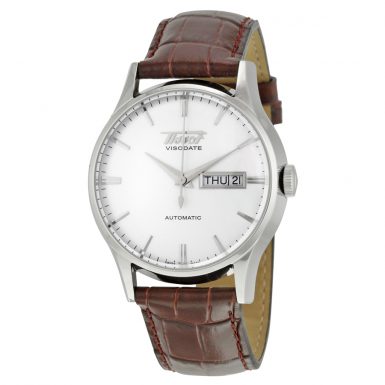 Among Tissot men's watch, the Visodate model is among the most popular. In this post, I'm going to write about Tissot Visodate review, a watch that is made as a homage to the vintage Tissot's Visodate in the 1950s.
For starters, it is popular for a number of reasons such as affordable (it is among the cheapest of Tissot's automatic watches) and seriously good looking.
Tissot Visodate Watch Specification
Diameter: 40 mm
Thickness: 11.6 mm
Lug to Lug Width: 46 mm
Lug Width: 20 mm
Weight: 71 g
Case: Stainless steel
Strap: Brown leather calfskin strap with butterfly clasp
Dial: Silver dial with index numerals
Dial Window: Sapphire crystal
Markers: Silver Index Markers
Hands: Silver Dauphine hands
Movement: ETA Cal. 2836-2 automatic self-wind movement
Movement Features: 25 Jewels, 28800 Vibrations per hour (8 beats per second), hacking feature
Power Reserve: 38 hours
Accuracy: +- 15 seconds per day
Origin: Swiss Made
Water Resistance: 30 m or 99 feet
Other Features: Day and date display, Exhibition caseback
Best Place To Buy: Amazon
Clean And Simple Look
It's very hard not to like this wrist watch at first glance. It has a white silver dial, which is complemented perfectly by the silver stainless steel case. The stainless steel index markers and dauphine hands also added to the exquisiteness of this watch.
The dial does not have anything too fancy on them but somehow it just work. On the dial is just the Tissot retro logo, "Visodate" and "Automatic" signature. There is also the very convenient day and date display, and that's it.
Very clean, simple dial and yet it looks stunning. The phrase "less is more" is totally applicable here.
Vintage Tissot Visodate 1957 – Notice the white clean dial design is reincarnated in the latest version of the Visodate
A Continuation Of Visodate Legacy
This watch is to a homage to their famous Visodate model from the 1950s. It is their first model to feature a date function on their watches. The function first emerged from Rolex with their Datejust model, so Tissot like many other Swiss watchmakers are catching up to that new technology.
Homage watches is certainly a good idea as it enables the current generation to own an updated version of a popular watch from previous decades. I've featured some homage watches such as the Hamilton Intra Matic , Hamilton Khaki King and the Victorinox Infantry Vintage. They all have that vintage style but with some update to cater to the younger generation's taste.
This Tissot Visodate automatic watch is no different. As you can see, the designer takes the dial design from their 1950s model. The watch got that round white dial and the clean simple dial.
But they changed the index and hands to give the watch a sharper and cooler look. The addition of day function is a very nice touch as I've always love watches with day and date. No need to take a look at your smartphone to know what day/date today is anymore. A glance at your wrist is all you need =).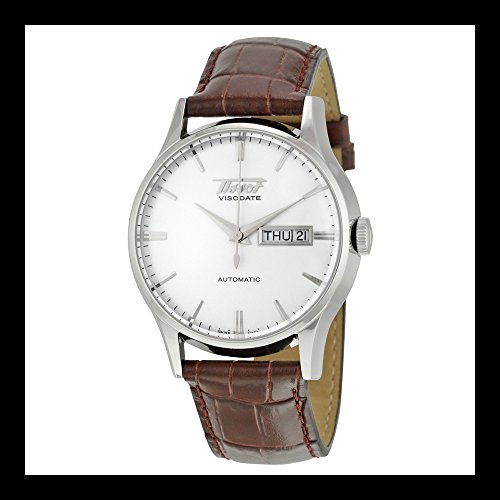 This watch is also bigger, at 40 mm diameter with 11.6 mm thickness. The vintage one got a smaller diameter, around 36 mm I think.
The trend now is for bigger watch and I like how Tissot make it bigger, but not too big. 40 mm diameter is perfect on my wrist btw (though it will vary from people to people). There is almost no bezel on the watch, thus making the watch looks much bigger than it actually is.
Beautifully Crafted Men's Dress Watch
The case of the Tissot Visodate is stainless steel that is polished all around. The edge of the case is near vertical, which in my opinion is a very nice design. It is also quite slim, at just 11.6 mm thickness. Lug to lug width is 46 mm while lug width is 20 mm.
A calfskin leather strap with butterfly clasp comes with the watch, which is just right for a Swiss entry level automatic watch like this. The lug is also curved a bit to better hold the wrist and reduce any gap between the wrist and the lug.
On the crown at 3 o'clock, there is the "T" engraving on it. The watch also has an exhibition caseback where you can take a peek at the ETA Cal. 2836-2 movement. It is very beautiful movement from the back.
The brand has make an effort in substituting the rotor and some wheels to gold color to contrast with the other parts that is silver in color. The rotor also has their engraving. There is not much decoration back there, presumably to keep costs down. With the leather strap, the watch will look good with suit or even jeans.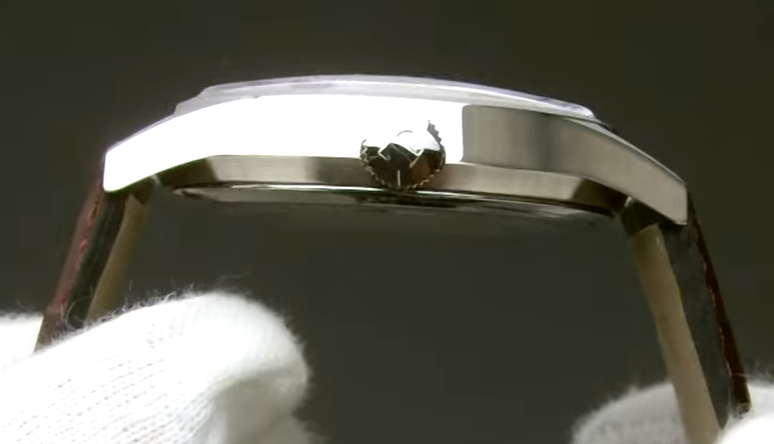 You can see how the whole watch is designed to have a slight curve to give the Tissot Visodate a unique look
Curved Sapphire Glass Dial Window
Another unique feature of this Tissot Visodate is the curved sapphire glass dial window. As you can see above, the curved sapphire glass is very visible from the side. It gives the watch a nice look from the sides as the watch will appear to be curved, instead of the usual flat watches.
Since it is curved, the dial window will be at the top and unprotected from any scratch or impact. Since its sapphire, I don't think it will take much scratch. But a very high impact will surely break it and I highly recommend that the watch is only used for normal indoor activities and not outdoor activities.
One small flaw of the dial window is there is no anti-reflective coating on it, again to keep the costs down. This makes the watch to reflect some light and will make it harder to see from different angles.
It's not something major though in my opinion because you can always adjust your hands to the right viewing angle.

A video showing the Tissot Visodate up close 
ETA Cal. 2836-2 Movement Inside
Inside the watch is the ETA Cal. 2836-2 movement, a sister movement to the venerable ETA 2824-2 that is used in many Swatch Group's watch brands such as the Tissot Le Locle.
The difference between the 2836 and the 2824 is the addition of the day function. The ETA 2836 also has a 28800 vibrations per hour or 8 beats per second which will give it a very nice sweeping second hand.
The movement has 25 jewels in its construction with a hacking feature to set the time perfectly. The power reserve is a modest 38 hours, which is not much. Just make sure to wind the watch manually everyday to keep it running.
Since the movement inside is the base movement, it only has an accuracy of +- 15 seconds per day. Again, for an entry level Swiss watch, we can't really expect much. The movement can be seen from the exhibition caseback on the watch.
4 different dress watches: Tissot Visodate, Tissot Le Locle, Seiko SARB065 Cocktail Time, Seiko SARB033. Which one is the best?
Comparison Between Tissot Visodate Vs Tissot Le Locle Vs Seiko SARB065 Cocktail Time Vs Seiko SARB033
I've featured 3 different dress watchs on my site (Tissot Le Locle, Seiko SARB065 and Seiko SARB033) and I feel that a comparison need to be done between them. All 4 of them are very beautiful dress watches and each have their own strengths and weaknesses. Now, let's have a look at the table below for the full comparison between them.
A table showing the comparison for different criteria between the Tissot Visodate, Tissot Le Locle, Seiko SARB065 Cocktail Time and Seiko SARB033
It is a duel between the Swiss And Japanese for the crown of the best affordable dress watch. It is quite hard actually to make a comparison.
The Visodate and the SARB033 are clean looking dial, while the Le Locle and SARB065 have guilloche pattern dial.
The sizes are quite same, though the SARB033 is smallest at 38 mm diameter. All have sapphire dial window with the exception of SARB065 that has the Hardlex crystal (Seiko's proprietary crystal that is not as scratch resistant as sapphire but will be able to absorb impact more).
The Japanese movements has the more power reserve at 50 hours but the Swiss movements are more delicate since it has 8 beats per second.
This will make the second hand sweeps smoother, though at the cost of more friction and reducing life of the movement.
Price wise, all 3 are almost the same price though the SARB033 is the usually the cheapest among these watches.
So which one is my pick? I've done the comparison between the SARB065 Cocktail Time versus the Le Locle and SARB033, and for both occasion the SARB065 wins.
And even compared with the beautiful Visodate, I still feels like the SARB065 is much dressier and more beautiful.
There is something about the guilloche sunburst dial that I can't take my eyes off. It's just captivates me. I won't expect everyone to share my opinion though. The other watches have their own strengths too.
SARB033 is one of Seiko's most popular watch as it is the cheapest mid range automatic watch that even has a sapphire glass. Le Locle is also another favorite of mine.
If you have any other opinion of which of these 4 gorgeous watches that you like the most, please write down your preference in the comments section below. I really love to hear you opinion =)
Tissot Visodate Automatic Advantages And Disadvantages
I've listed all the pros and cons below for your easy reference.
Pros:
1- Simple, sleek and gorgoeus looking dress watch
2- Moderate 40 mm diameter is perfect for most men's wrists
3- The non-existant bezel will make the modest 40 mm diameter looks way bigger than it is
4- Scratch resistant sapphire crystal is used for the dial window
5- Day and date function are very convenient to have
6- Fine details are included such as signed crown and signatures on rotor
Cons:
1- Non-reflective dial window will make the watch harder to see from some angle
Wanting To Buy Tissot Visodate Automatic? Buy It From Amazon!
If you are looking to get your hands on the Tissot Visodate automatic watch, check out Amazon where you can get the watch at an amazing offer which is way less than its MSRP of $650. Click the link below to go to Amazon for more details.
Conclusion
The new Tissot Visodate has captured the essence of its 1950s Visodate models perfectly, with modern update to cater to the new age's taste.
A subtle looking, simple and clean dial design has proven to be evergreen. It is well loved in the 1950s and it still is 60 years after. With a trusted ETA 2836-2 movement that comes with a very convenient day and date features, you will be served with a very robust movement.
It is very affordable too, for a totally Swiss Made automatic watch. Without a doubt, it is the perfect choice for those just starting out in automatic watches and collectors alike.
I hope this Tissot Visodate review has helped you gain some information on this beautiful watch. Drop your comments below if you already own this and would like to share what are your thoughts about it. Feel free to ask question too. I'll be really glad to help as much as I can.
Cheers!
Isaac