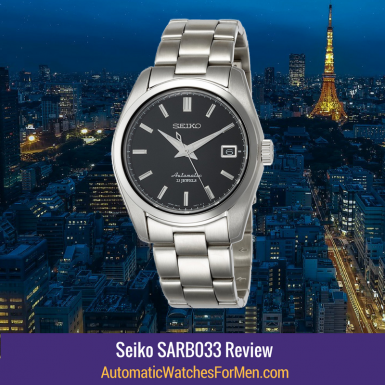 Today I'm covering a review of a watch that I've always been a fan of. It is the Seiko SARB033 Automatic Watch. The SARB033 is intended to be dress watch and have taken its design cues from the Grand Seiko line. Simple, elegant and understated. Those are the three words that can be used to describe this watch.
Seiko SARB033 Automatic Wrist Watch Specification
Diameter: 38 mm
Thickness: 11.2 mm
Lug To Lug Width: 45 mm
Lug Width: 20 mm
Case Material: Stainless steel
Strap: Stainless steel brushed bracelet with folding clasp. 20 mm bracelet width
Dial: Black dial with date display
Dial Window: Sapphire crystal
Hands: Sword style hands with lume
Markers: Index markers with lume
Movement: Seiko Japanese Automatic Self-wind movement Caliber 6R15
Movement Specification: 23 Jewels, 21,600 vibrations per hour or 6 beats per second, Able to be manually wind, Hacking feature
Power Reserve: 50 hours
Accuracy: +25-15 seconds per day
Water Resistance: 100 m or 330 feet
Other Features: Date display at 3 o'clock, Exhibition caseback (Hardlex crystal), Non-screw down crown, Luminous hands and markers
Best Place To Buy: Amazon
(You can refer to my guide on automatic watch anatomy here if you need any explanation on these specifications. You can also drop your questions on the comment section down below if there is anything that you do not understand about)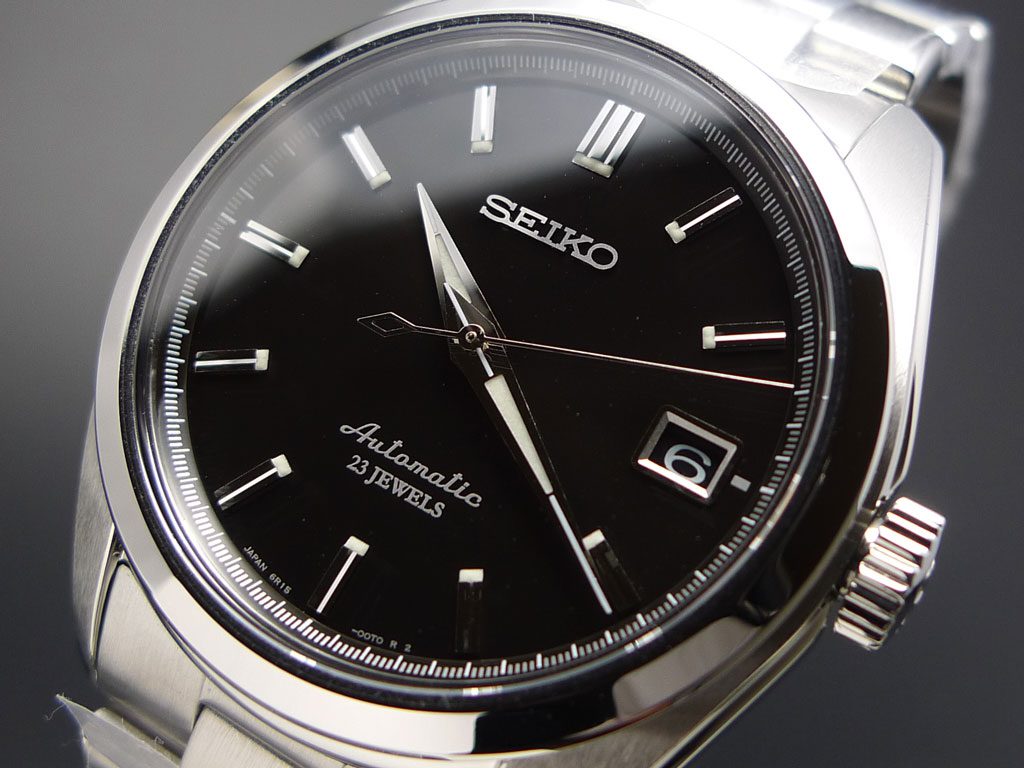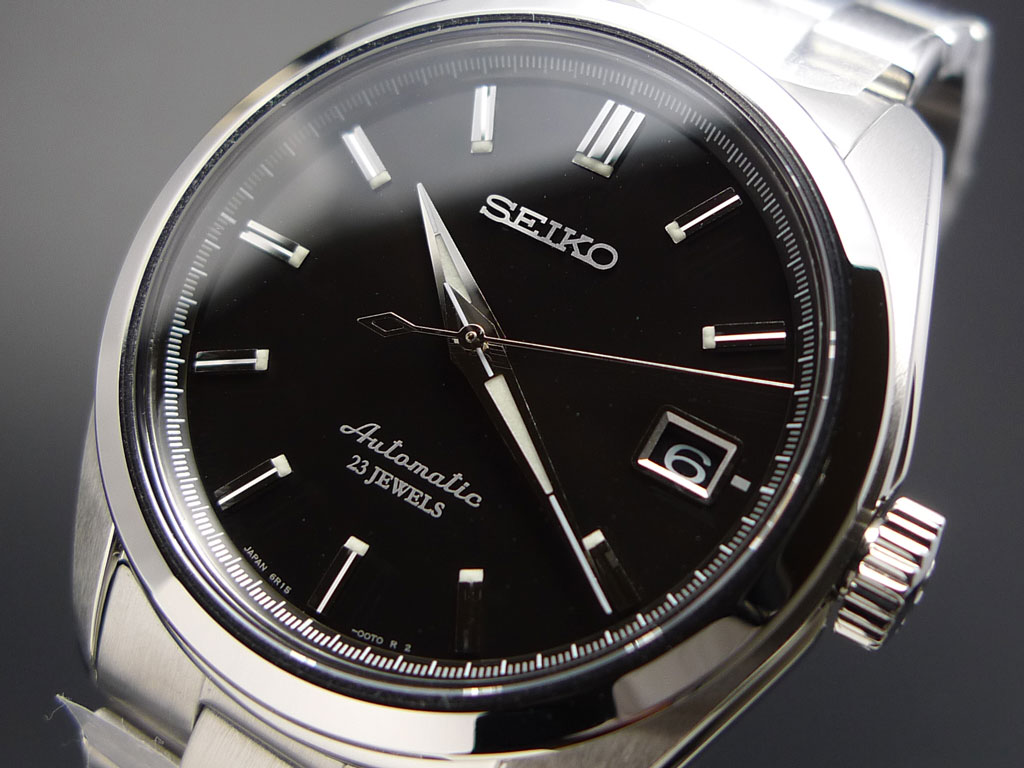 Enlarged view of the watch face of the SARB033. Very simple dial design, but looks elegant and sharp at the same time
Simple And Understated Design
As with the Seiko Cocktail Time, the SARB033 is also a Japan Domestic Market (JDM) model that is not available outside of Japan. Luckily, there are a number of watch sellers online that we can use to get our hands on it (Amazon is a good choice). It only retails around $360, and in that price range, it is definitely unbeatable.
The SARB033 has the traditional look of a dress watch. It is small (around 38 mm), has black dial, has sword shape hands and index markers. It has a date display at 3 o'clock. The hands and markers has some lume on it for added functionality.
The index markers are quite unique as it has some indentation at the center causing it to have some sort of play with different angles of lighting. The 12 o'clock marker has double indices to separate it from the other markers. At the outer edge of the dial are minute markers for more accuracy when telling time.
Looking at the design, it is just so simple and clean. It reminds me of the Grand Seiko Hi-Beat and the Rolex Datejust due to the simple dial design. Sometimes, simpler can be better and it is just true with these watches. The Seiko SARB033 is not an exception in this regard.
Comparison between the Grand Seiko Hi-Beat (top) and the Rolex Datejust (bottom). Two top-of-the-line watches with simple dial design. No wonder the Seiko SARB033 has the nickname of "Baby Grand Seiko" as it has almost the same look, but of course with lower craftsmanship and movement quality.
Excellent Craftsmanship by Seiko
Even though this watch only costs $360, we can see some serious effort by Seiko to make it look great. The case is made from stainless steel and is beautifully crafted. If you notice from the picture below, the lug is slightly curving down.
It's a typical case design of Seiko for some of their watches and it just looks beautiful, not to mention it is very comfortable to wear. I have a Seiko Sumo (a diving watch SBDC003) with the same case/lug design and I can attest to how the watch just sits and grip my wrist perfectly.
The lug width of 20 mm make it easy to find another strap to suit it with. Why? just for fun lol. It's very interesting to see how a watch will look like with different straps on it.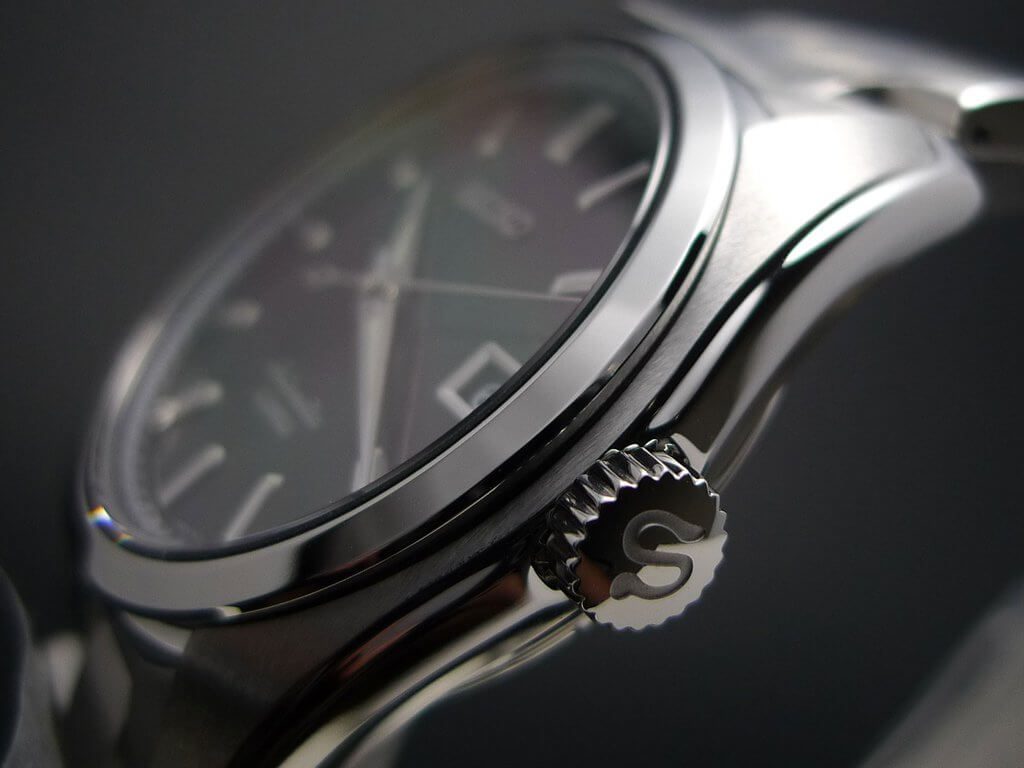 The case is mostly brushed, but it is polished in detail at some part of the case – namely the small space between the top of the case and the case's edge. The layering of brush an polish surfaces is very beautiful to look at.
There is also the Seiko logo "S" engraved on the crown. These small but satisfying application of details is very astonishing, not less because this is a low-middle range watch from Seiko.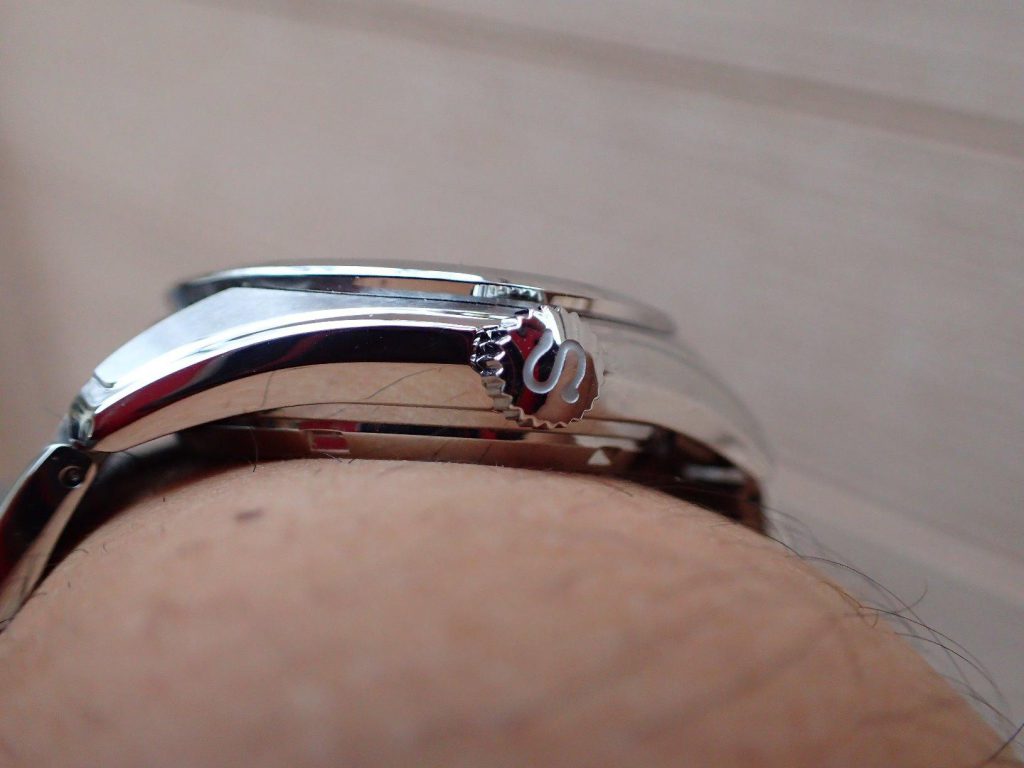 Notice how the lug of the Seiko SARB033 beautifully sloping down as if to provide a grip to the wrist. Very comfortable and give a sleek design aspect to it.
A Lot To Be Desired From The Bracelet
As with any Seiko at this price range, the bracelet can be said to be it's weakest point, and the same can be said for this SARB033. The stainless steel bracelet is solid and tough though, don't get me wrong.
But what I'm talking about is that Seiko does not put as much effort on the bracelet, as it has done for the watch/case.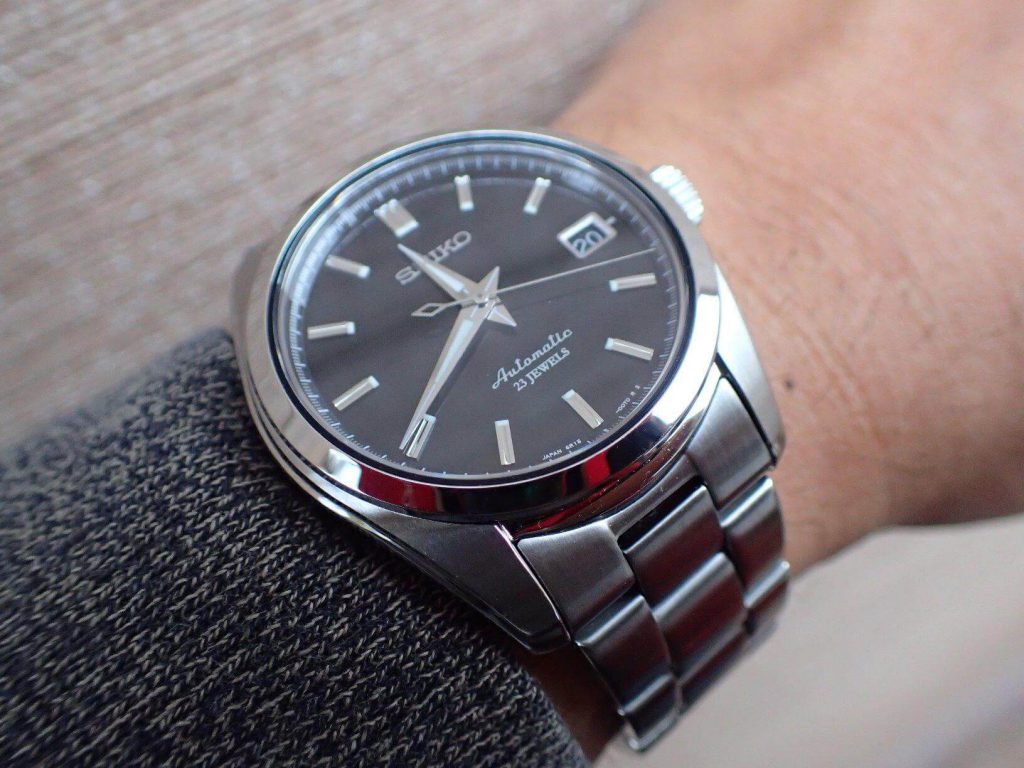 The bracelet is brushed, and have a small deployment clasp which looks modern. But the finishing of the bracelet could have been better in my opinion. If only Seiko would make the bracelet a butterfly clasp with alternating polished and brushed finishing (like the Grand Seiko and Rolext Datejust above) that would be perfect.
But then again we need to understand that Seiko had to cut corners on the bracelet to maintain a low price for this watch. Fortunately a replacement strap is very easy to get and for some few dollars, one can get a beautiful leather strap online for this watch and it will look stunning too.
The Trusted Seiko Automatic Movement Cal. 6R15
Inside this watch is the Automatic Self-wind movement Cal. 6R15, Seiko's trusted movement in the middle range watches (this is also the same movement in the Seiko SARB065 Cocktail Time).
This is a very solid and robust movement from Seiko. I would like to point out that Seiko's diving watch range (the Prospex line) would typically use this movement – a testament of how the 6R15 is so tough, that it can be used for even the harshest condition underwater.
The Seiko Cal. 6R15 has 23 jewels and vibrate at 21,600 vibrations per hour (or 6 beats per second). Since the beats are not high, the smoothness of the sweeping second hand is not as good as a normal Swiss ETAs movement.
But in return of that, Seiko claims the 6R15 will be able to go without service for much longer as its "mileage" is lower. Which is kinda true. If we think about it, an 8 beat movement has about 30% extra movement than a 6 beat (2/6 x 100%).
By this, the Swiss 8 beat movement will have 30% more mileage on them (versus a 6R15 movement) and would require services sooner and more frequent in its lifetime.

A Good 50 Hours Power Reserve
Another important thing to add about the 6R15 is it's able to last for 50 hours, thanks to SPRON510, a proprietary mainspring by Seiko (read this article for in depth explanation of how an automatic watch work to understand this).
50 hours power reserve is a good power reserve for an automatic, and much better than a Swiss ETA 2824-2 (another common ETA auto movement) that only has 38 hours. Of course, there are other watches will more power reserve (such as the Tissot Powermatic 80 with 80 hours) but a 50 hours is good enough to at least lasts for a weekend =)
It also has hacking feature (meaning the second hand will stop when you want to adjust the time) and can be wind manually via rotation of the crown. You can also peek at the movement through the exhibition caseback of the watch.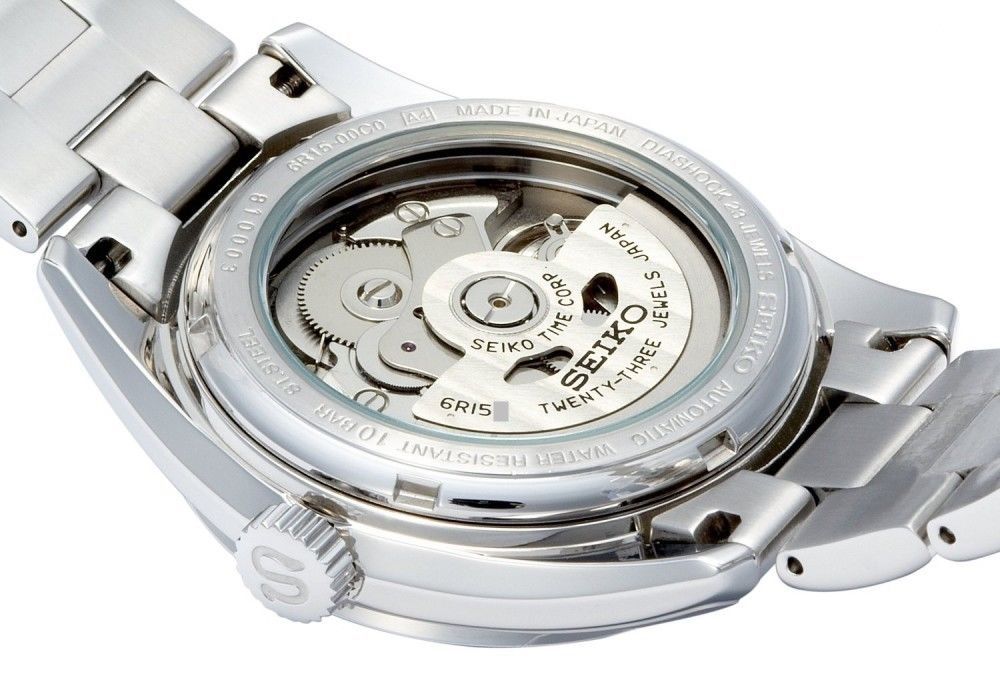 There is an exhibition caseback on the Seiko SARB033 to allow you to marvel at the Cal. 6R15 automatic movement.
It has a published accuracy range of +25-25 seconds per day. But from my own experience (as well as countless others review of Seiko lovers around the world), the accuracy can be as high as +-5 seconds per day which is just within COSC Chronometer range.
One thing about this movement is that you need to wind the movement manually at least once a day for it to keep perfect time, even though you are using it everyday. This is because all automatic watches is at their best accuracy when it's fully charged.
Seiko SARB033 (top) versus Seiko SARB065 Cocktail Time (bottom). Two beautiful and affordable watch. But which one is better?
How Does Seiko SARB033 Compare To Seiko SARB065 (Cocktail Time)?
I've covered the Seiko SARB065 Cocktail Time before (you can read the review here) and it is just a stunning dress watch. It has a sunburst guilloche dial that is so mesmerizing to look at. But how does both of these watches compare to each other? It is truly a difficult thing to ask.
Technical wise, both have the 6R15 movement inside. The Seiko SARB033 has a simple and traditional black dial, as opposed to the flashy sunburst dial of the SARB065.
Some people might not agree with me but I believe that the SARB065 wins over the SARB033  aesthetically for the dress watch category. With its beautiful dial, it will surely caught people's attention. I also love the blue second hand and also the detail on the markers and hands – they are so well executed. It's just a gorgeous watch for when you are dressing up for the occasion.
But for other more casual activities, the SARB033 will be my pick. The not-so-flashy-and-simple dial would work better when going out with friends, etc. Plus, the curvy lug will ensure you are comfortable wearing it for long time. I'm for sure won't be wearing the SARB065 when going to the beach or taking a roadtrip as it's just not the right watch for those activities.
-To sum it up, get a SARB065 for a perfect dress watch. For a more versatile watch that can be used casually, the SARB033 is one to go-
A video showing the Seiko SARB033 up close
Seiko SARB033 Automatic Wrist Watch Advantages And Disadvantages
I've summed up all the advantages and disadvantages of this watch below for your easy reference:
Pros:
1- Traditional and simple styling is very beautiful and elegant to look at
2- Good quality watch for low range price. Great value for money
3- Seiko automatic movement cal 6R15 is very reliable, accurate and robust
4- Luminous hands and markers as well as 100 m water resistance make it a functional watch as well
5- Exhibition caseback allows us to peek at the movement inside
6- Sapphire crystal dial window for an extra scratch protection for your peace of mind
7- It is versatile can be used for any function or activities
Cons:
1- The understated styling could turn off some people that loves flashy design for their watches
2- In this age of oversize watches, a 38 mm diameter watch might be deemed too small and not everyone's cup of coffee
3- No anti-reflective coating on sapphire crystal
4- Shipped with a good but definitely could have been better bracelet
Impressed with its simple and understated elegance? Get this Seiko SARB033 From Amazon!
As with any other JDM watches, there is no possibility at all to see this watch at our local watch shops. The only way to get it is by going to Japan and buy it there, or buy it online.
If you are looking to buy the Seiko SARB033 automatic watch, look no further than Amazon. Amazon currently has the lowest price for this watch at around $350 to $400. I need to tell state here that this will be a grey market watch, so it won't come with a Seiko warranty.
But in return, Amazon provides a 2-year warranty on watches purchased from the them. Not to mention great return policy that they have. Click the link below to check the latest deals of Seiko SARB033 on Amazon.
->Click Here To Check Out Seiko SARB033 On Amazon<-
Conclusion
The Seiko SARB033 automatic wrist watch is a simple, elegant and understated watch that is just so amazing to look and wear. Built with quality in mind by Seiko, this watch is definitely a great value for money given its solid construction and minute details in its craftsmanship.
With a Seiko automatic movement Cal. 6R15 inside it, you are getting a reliable and accurate movement that is used in Seiko's diving watches intended to be used in tough environments.
*******************
I hope you guys enjoy my Seiko SARB033 review. If you have any questions or comments on the watch, feel free to ask me.
Let me know in the comments below =)
Share this on your social media if you loved it. I really appreciate it =P Don't forget to subscribe to my site for more awesome stuffs in future. Till next time then.
Cheers!
Isaac
********************
*Update: I've recently reviewed the Seiko SARB035, a white version of this SARB033 which comes with a snowy white dial. Check out the review (click HERE) where I go in depth on the watch plus a side by side comparison with the SARB033. Below is the picture of that beauty =)