This post is all about Seiko SKX007 review. Looking for an affordable automatic diving watch, and still looks stunning? Then this Seiko dive watch is definitely for you. A very popular automatic watch due to its low price (around $150 to $250 on Amazon) and killer specs. Read on this review to find out why this watch is very popular, and how this "cheap" watch can pack such serious features that give more expensive watches a run for their money.
Update: I've recently featured the Seiko SKX007 in my list of the top 10 automatic watches under $200. You guys can check the article HERE.
Seiko SKX007 Specification
Diameter: 42 mm
Thickness: 13 mm
Case: Stainless steel case (polished and brushed)
Lug Width: 22 mm
Strap: Stainless steel bracelet or rubber band
Dial: Matte black
Dial Window: Hardlex crystal
Markers: Circles and fat index markers
Hands: Sword shaped hands
Bezel: Unidirectional diving bezel
Movement: Seiko Caliber 7S26 automatic self-widn movement with 21 Jewels
Movement Features: 41 hours power reserve, 21600 vibrations per hour or 6 beats per second, non-hacking and cannot be manual wind
Accuracy: +-15 seconds per day
Water Resistance: 660 feet or 200 m
Other Features: Luminous markers and hands, Date and day display, Certified as ISO 6425 Diver's Watch, Screw down crown
Best Place To Buy: Amazon
An Affordable Automatic Diving Watch
The Seiko SKX007 is undoubtedly a clean Seiko's diving watch at a first glance. Just looking at it you know that it's a Dive watch. It's so popular that almost all people that first venturing into the automatic watch world will know this watch first.
The look is a classic dive watch look – something like those Rolex Submariner and Omega Seamaster have – but Seiko, being a proud watch company, add their own tastes and spices to make this watch totally their own dive watch.
The case of the watch is made of stainless steel. It is 42 mm in diameter or 46 mm if you include the crown. It's not too big and can fit most people's wrist. At 5.28 ounce, it is not too heavy also, though it depends on whether you get the bracelet or the rubber strap version.
Check out this up close review of the Seiko SKX007 by GMT Minus Five.
An Entry Seiko Dive Watch (An A Very Good One)
Everything about the watch's design is done with the main idea of practicality. Not for common people, but for diver's practicality when using it. The markers are big bold circle, instead of numbers.
It's very legible and by doing this, more luminous material can be put on the marker giving better visibility in low light environment underwater. Speaking of the luminosity, it is very bright and you won't have any problem telling time in dark.
Its hands are also equally big and made in arrow shapes. Generous amount of lume is also applied on them. In terms of legibility, there is no problem at all to tell time with this watch.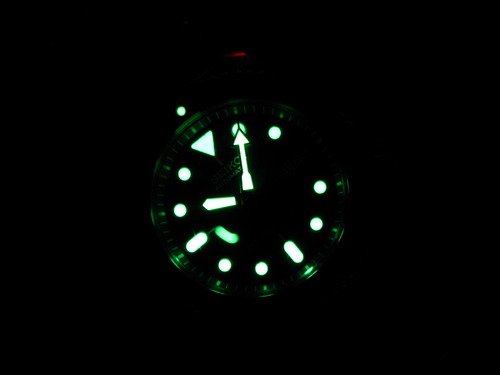 Seiko's famous super bright lume, the LumiBrite
The crown is positioned at 4 o'clock instead of normal 3 o'clock for easier access to operate the crown. The bezel is rotatable only in one direction (anti-clockwise) so that divers won't accidentally rotate it and lengthen their time under water.
The case of the Seiko SKX007 is built in a round shape. Seiko has make sure that no sharp edges are present in this watch to provide for maximum comfort of its wearer. With the crown at 4 o'clock, there is surely no restriction for you to flex your wrist while wearing it. It's truly very comfortable to wear.
The dial or watch face is matte black in color with matching black diving bezel. Seiko used a white markers and hands to totally contrast them with the black dial. Even though it is a dive watch, it still looks elegant and is totally able to be dress up by a complimentary leather strap.
If black dials is not your thing, Seiko also released the SKX007 in a dark blue dial with pepsi bezel – the Seiko SKX009 (I've written a review for it here) which is another hugely popular model of Seiko's affordable but high quality diver watches.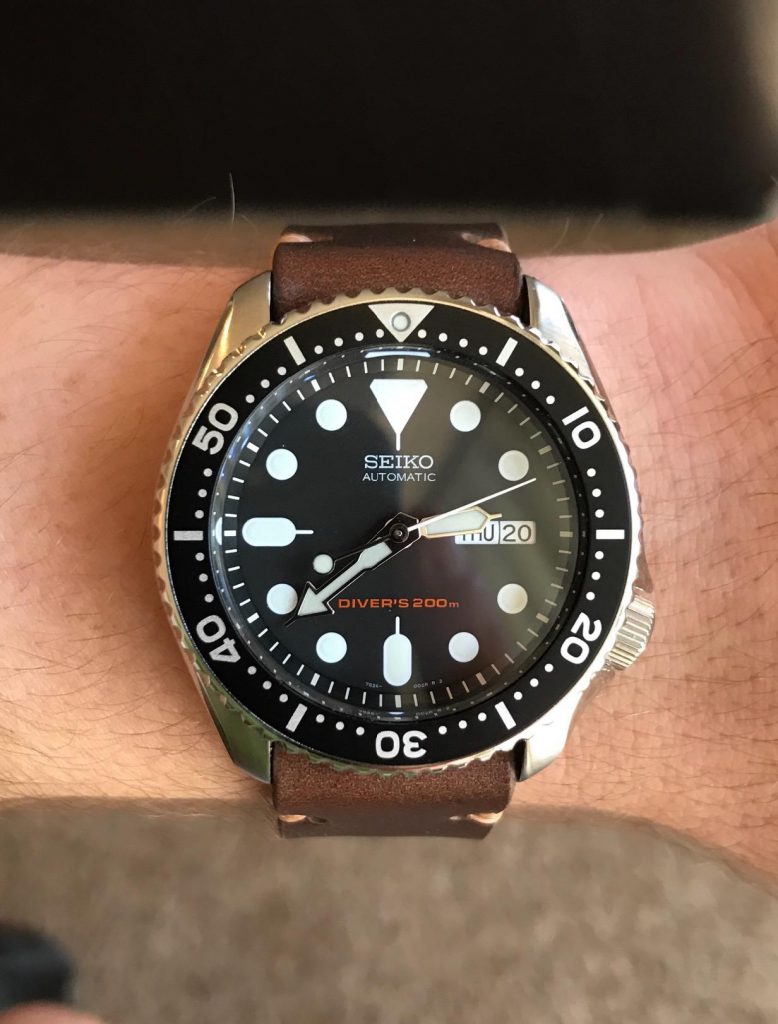 Want to dress it up? Just pair it with a leather strap and it will still look fabulous
A Certified Dive Watch With ISO 6425 Standard
The dial window (glass on top of the watch) material is made of hardlex crystal, a very tough material that is sure to protect the watch even during high impact.
But it's still made from mineral crystal, and as I've point out in my article on comparison of different watch crystals (you can read it here), mineral are not the best material for this.
Mineral crystal can be scratched (unlike scratch proof sapphire) but can't be polished like acryclic can. It's also not shatter proof, though the Hardlex crystal by Seiko is pretty robust and specially designed to be more resistant to impact for a dive watch purposes.
Seiko SKX007 also is rated as water resistant up to 660 feet (200 m). It's also comply with ISO 6425, an international standard for diving watch. Now how is that for a sub $300 watch?
A few things that the Seiko SKX007 has that complied to the ISO 6425 certification are:
1- 200 m or 660 feet water resistance
2- Water tightness (dial window, caseback and crown)
3- Tested to overpressure of 200 kPa
4- Magnetic resistance
5- Shock resistance
6- Resistance to salty water
It's quite hard to find something of this caliber at this price range. It is salt water resistant, magnetic resistant and shock resistant while water resistant up to 200 m – all the full range of things that a much more expensive dive watches  such as Rolex Submariner, Omega Seamaster or Blancpain Fifty Fathoms can do.
By the way, these are just the minimum standard of the ISO dive watch certification. I'm sure the submariner and seamaster can perform much better under these criteria though. What I'm trying to say is, Seiko SKX007 with its much cheaper price tag really rocks with its functionality. It's totally high value for your money.
Not to mention the huge amount of feedback on this watch by those who have own it for years, and still use it daily. If it's good enough to be used for diving down to 660 feet, for sure as hell it will do just fine for everyday use.
Seiko's 7S26 Automatic Self-Wind Movement
The movement is Seiko's own 7s26 21 Jewel, a common movement in many Seiko's low price range diving watch. It's developed in-house by Seiko and non-hacking (meaning the seconds hand will keep moving when you stop the watch to adjust it's time) with 41 hours power reserve. The movement keeps great time, although it will gain or lose some few seconds a day.
Something that need to be said about automatic watch is that it will never be as accurate as a quartz watch. A quartz will be accurate up to 10 seconds a month, while a normal automatic will have that kind accuracy in a day.
So is automatic watch a bad watch? Technically, yes it is. But in return, watch owners will get a fabulous timepiece that uses mechanical movement instead of the normal and common quartz movement. There is a unique charm in them. Besides, I can bet that in a room, not more than a few people will wear an automatic watch. Speaking of exclusivity =)
Who Is It For?
The Seiko SKX007 is very suitable for people who love to dive, but don't want to endanger their pricey Submariner or Seamster with the harsh seawater. The watch was designed specifically keeping in mind the features and functions a diver would need.
The watch puts more focus on delivering an excellent product, in which it succeeds, and the style is also pretty great. You can pair the watch with any band and bracelet you want to suit any occasion or style. The water resistance is nice, the luminosity is satisfying, and the movement is reliable and smooth. There is no other watch better unless you are willing to spend more money.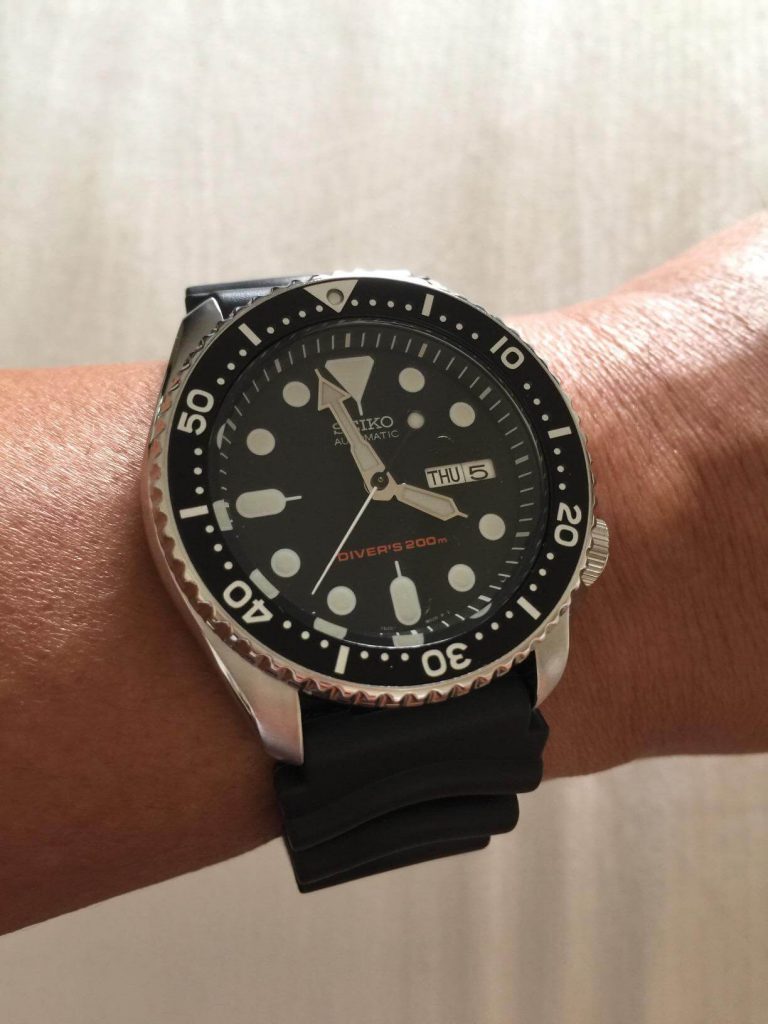 Without a doubt, thisSeiko SKX007 is a good looking diver's watch
In addition, it also has many cool features and rugged diver's watch design. Most men would like the bulky style and the heavy feel of this watch on their wrist.
There's certainly no better assurance when wearing a watch that has a famous reputation of being a robust workhorse like the Seiko SKX007. You can do whatever you want with it (gym, jogging, aerobic etc.) and never have to worry about it being broken. The SKX007 is a true great value for money =)
Who Should Not Get It?
The design and style of the watch may not be to everyone's liking as it's rugged and more for praticality of divers. People may not prefer the bulky and cumbersome watch that SKX007 is and may want to go for something lighter or a watch that has a smaller dial and case.
Lastly, if you are someone that very particular to get your automatic watches super accurate, then the non-hacking 7S26 movement is definitely not for you. It's also cannot be manual wind, which will be a problem for those that have rotates wearing many watches.
If you're looking for something smaller, check out the SKX013. It has the exact same look of the SKX007 but with smaller case size. Read my review of the Seiko SKX013 HERE.
Pros and Cons:
I have a list of the summary pros and cons for the SKX007 based on my opinion of it. Let me know in the comments section below if you have any other thoughts about it =)
Pros:
1. With it's great and versatile design, it can be worn every day and regularly.
2. High-quality luminescent dial
3. Great water resistance with screw down crown
4. Affordable for any diver or watch collector alike.

One of the good things about diver's watches are their versatility which can easily be dressed up or dressed down just by changing the strap. With a Nato strap (like in above picture), the SKX007 is easily transformed into a fun watch perfect for weekends
Cons:
1. Non-hacking movement meaning that the second hand does not stop its movement after the crown is pulled.
2. No manual winding to charge the mainspring
3. Can be too thick for some people's liking
Want To Buy This Affordable Seiko Dive Watch? Get It Fuss Free From Amazon!
Smitten by the good looks of the Seiko SKX007? If you are looking for the best price of Seiko SKX007, Amazon currently has the best deal right now. At its price, this is one of the cheapest ISO rated automatic dive watch. Click on the link below for more info.
Conclusion
Seiko SKX007 is an evergreen diving watch. It's just a classic watch that I will highly recommend for those just starting to venture into the automatic watch world. It's very affordable, made of the highest quality and is not shy to take a beating. Rest assured that your timekeeping device is something that can even withstand the huge water pressure at 660 feet below.
******************
Hope you guys enjoy this Seiko SKX007 review. If you have any questions, feel free to ask me by putting them in comment box below. Till next time.
Cheers!
Isaac
Update: Seiko SKX009
I've also reviewed the twin sibling of the SKX007, that's the Seik SKX009. They are both the same watch except the SKX009 comes with blue dial face and blue/red pepsi bezel giving it a very unique and characteristic look. Check out my review of the SKX009 HERE =)