Swiss Military Watch Heritage – A Hamilton Khaki King Review
Hamilton is an old legendary American watch company and today's post is about Hamilton Khaki King review.
The Khaki king (Model No. H64455533) is made as a homage to Hamilton's Military watch (the company made military watches for American Army during World War II) but with some modern twist in it.
It's very beautiful to look at, very rugged and tough (and also manly!) – as expected of a military watch, and last but not least (though could mean the world to some of us) it's Swiss Made. Let's get on to the Hamilton Khaki King review for a closer look at this watch.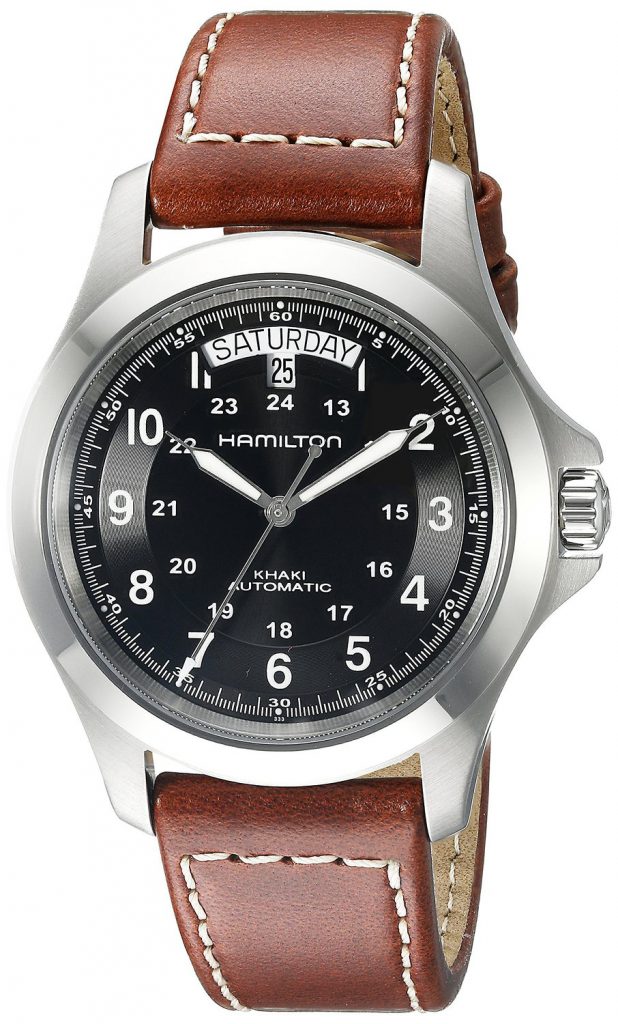 In A Hurry? >>Check Out The Hamilton Khaki King on Amazon.com HERE
Hamilton Khaki King Automatic Watch H64455533 Specification
Diameter: 40 mm
Thickness: 11 mm
Case: Heavy duty stainless steel with brushed finish
Strap: 20 mm leather strap with contrast stitching and buckle.
Bezel: Fixed bezel without decoration
Dial: Black dial
Watch Crystal: Anti-reflective Sapphire crystal dial
Hour Markers: Numeric markers with 24-hour numbering at inner dial
Hands: Sword shape luminous hands
Movement: ETA Cal. 2834-2 Swiss Automatic self-wind movement with 25 jewels
Accuracy: up to +-15 seconds per day
Power Reserve: 38 hours
Water Resistance: 50 m or 165 feet. Not suitable for swimming or diving.
Other Features: Crown at 3 o'clock, crown guard, day and date display at 12 o'clock, exhibition caseback showing decorated movement
Where To Buy: Amazon where we can get it for a cheaper price than its MSRP.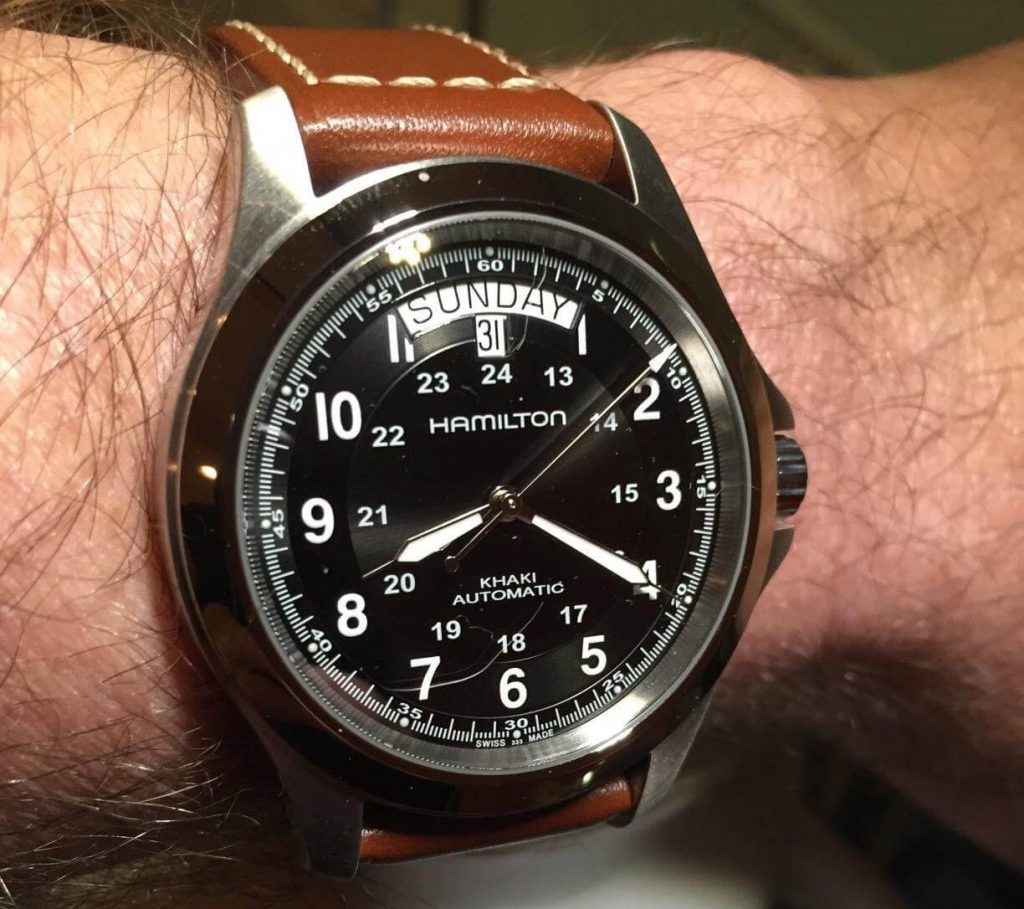 A Homage To Hamilton's Military Watch History
Hamilton watch company was founded in the US around 1900s in Lancaster, Pennsylvania. It began by making and selling pocket watches, and later wrist watches to the public. The company was famous for being assigned with producing accurate and durable timepieces for the American army during World War II.
Around the 1980s, the brand was sold to the Swatch Group, and later it was moved entirely to the Swiss. It's quite sad to know that a once popular American watch manufacturer was sold to another country. But hey, look at the good part. Now all Hamilton's watches are Swiss Made =)
The Hamilton Khaki King is a homage to their military watches, but with some modern styling twist. Hamilton still preserved the big and very readable hour markers. The watch was made using heavy duty stainless steel, an absolute must for the maximum protection and durability for any military watch.
It's slightly bigger than it's older brother, at 40 mm diameter and 11 mm thickness – though that's actually just the right size with the current trend right now for men's watches. With the size, it will look balanced on any wrist.
Traditional military watches used Nato straps, but Hamilton opted for a 20 mm leather strap on this watch. A good move I would say as the leather strap with contrast stitching make the watch look much elegant and manly, not to mention very comfortable to wear too.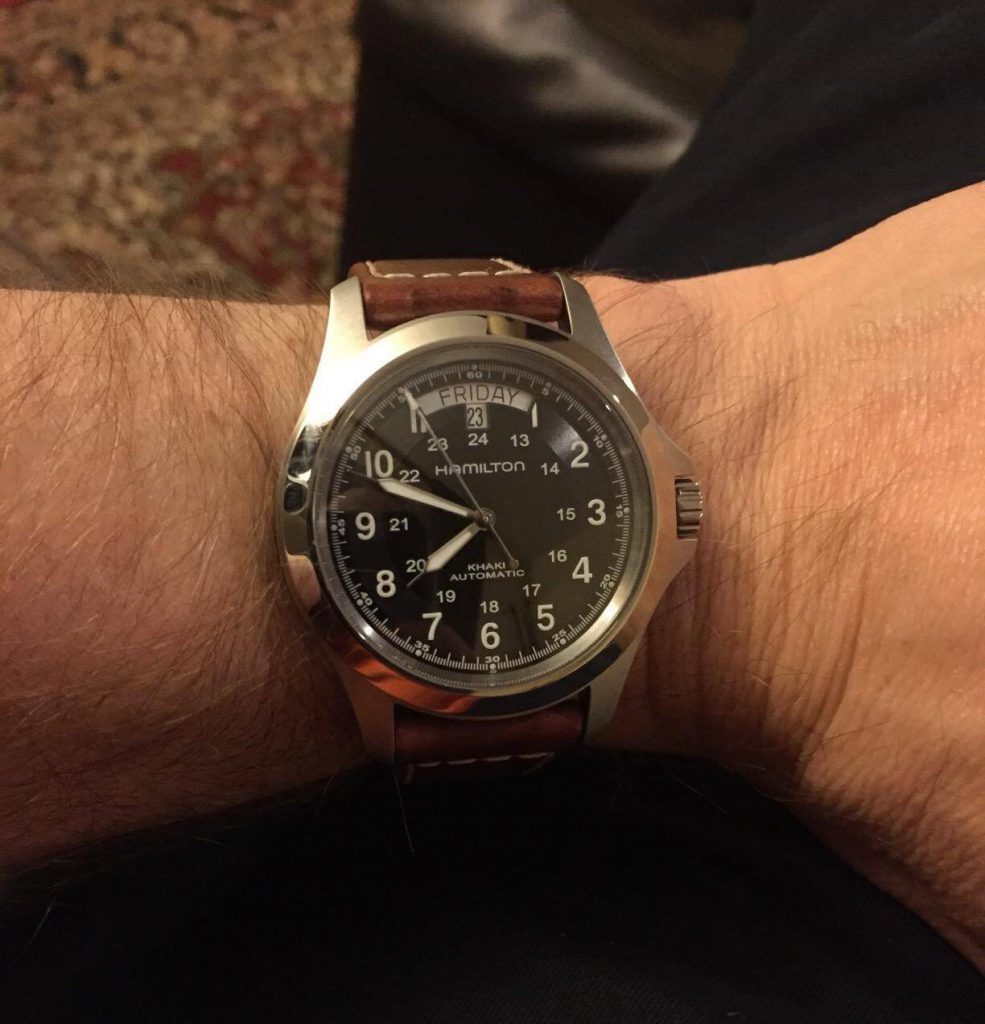 Look at how gorgeous the watch is. The usage of polished finish on some parts of the watch make it less rugged but still a tough watch nonetheless =p
Want Your Own Khaki King? >>Check Out The Watch on Amazon.com By CLICKING HERE
Simple, Rugged and ManlyMilitary Watch Styling
As mentioned earlier, the Hamilton Khaki King took some design cues from it's older brother. The dial is black, with combination of 12-hour markers at the outer dial and 24-hour markers at the inner dial – classic design of military watches.
There are minute markers around the edge of the dial. Day and date display are at located 12 o'clock, a quite unique position as most watches would put it at 3 o'clock.
But then the day is displayed in full e.g "Saturday" instead of just "Sat" like normal watches as they have more space. It depends on the people really, but I found it quite interesting and like it.
The hands are simple sword style luminous hands. The dial window is anti-reflective sapphire crystal, normal for watches at this price range. It's scratch resistant and a must for a durable military watch.
The watch also has an sapphire crystal exhibition caseback, where we can see its ETA 2834-2 movement. The movement has been engraved with the Hamilton signature and shows some of the 25 jewels it has.
Check out this awesome review of the Hamilton Khaki King

Hamilton Khaki King (H64455533)

On the dial, we can see the signatures "Hamilton", "Khaki" and "Automatic" on it. The crown is positioned at 3 o'clock, with crown guards.
There is an H emblem on it signifying Hamilton. The bezel is not decorated, and fixed in its position.
The finish of the casing is a combination of polished and brushed surfaces that makes it looks totally gorgeous and yet still look as a military watch.
Overall, the watch is very rugged and tough looking watch. I certainly love its manly feeling. It's made of high quality material and craftsmanship.
Some people would say the watch can be wore with dress shirts, but I beg to differ. It's a handsome watch for sure, but it's just too rugged to be used with a dress shirt. For me, this watch fits perfectly when I'm going out in my casual wear, jeans and all.

The back of the watch is an open caseback so that its lucky owner can see the ETA 2834-2 movement. Open caseback has always been a favorite watch element to me. There is something satisfying to see the wheel balance oscillates in swift manner as if the watch itself is alive =)
Swiss ETA 2834-2 Movement
Underneath the brushed stainless steel casing of the watch, there is a Swiss ETA Caliber 2834-2 automatic movement, a powerhouse and commonly used in many watches under the Swatch Group brand. The movement has 25 jewels with some of them can be seen from the exhibition caseback.
The rotor has also been engraved with Hamilton's signature and can be seen from the case back. This movement is accurate up to +-15 seconds per day, though most watch owners out there report that it has a much higher accuracy, only +-5 seconds per day. The movement has 38 hours power reserve, pretty standard for automatic watches.
The watch is water resistant up to 50 m or 165 feet. This means that it is not suitable for diving, snorkeling or swimming. Though some splash of water here and there would be fine.
Where To Buy Hamilton Khaki King Automatic?
If you are looking to buy the Hamilton Khaki King, check out Amazon as the online company usually has discounts for the watch, reducing its price from an MSRP of $545! Click the link below to go to Amazon to check on this amazing deal.
–>>Click Here To Check The Best Deals Of Hamilton Khaki King (H64455533) On Amazon<<–
Conclusion
Hamilton Khaki King is a tough and rugged watch, taking its cue from Hamilton's American military watches during the World War II.
But even then, the design is stylish and handsome. Combined with the tough look of the military watch, it's definitely a "manly" watch =)
It has a sturdy construction and build that will guarantee you this watch will be able to take any beating. As a made in Swiss watch, you can also rest assured that it has the highest quality and technology the Swiss has to offer.
"American spirit, Swiss precision" – that is the tagline from Hamilton, and this watch fully embodies that tagline truthfully.
I hope this article on the Hamilton Khaki King review is beneficial to you guys. Should you have any comments or questions, feel free to ask me about it.
Drop your comments below and don't forget to subscribe to my site =)
Cheers!
Isaac