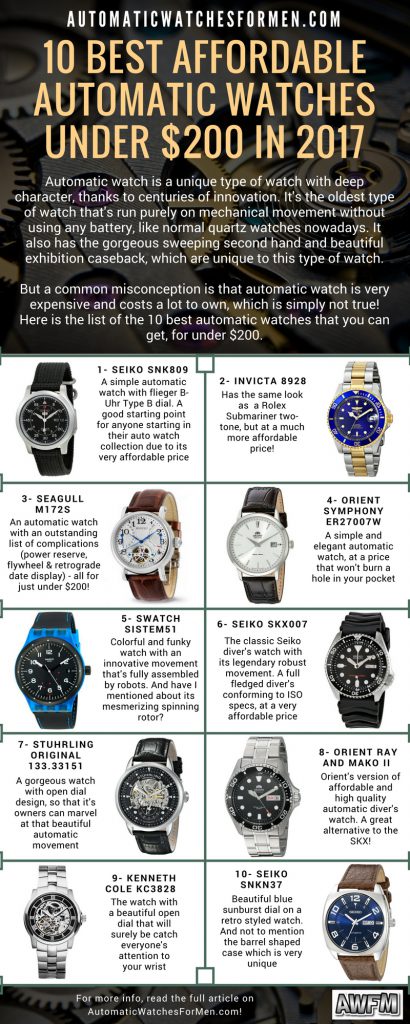 Automatic watches are always associated with being pricey.
When we though about this little mechanical timepieces, we usually thought about the up-market Swiss brands – i.e Rolex, Omega, Tag, Patek, etc. – that have prices beyond our wildest imagination.
Part of this is because the huge advertisement budget these brands have to market their automatic watches, so much so we will instantaneously associate automatic watches with them.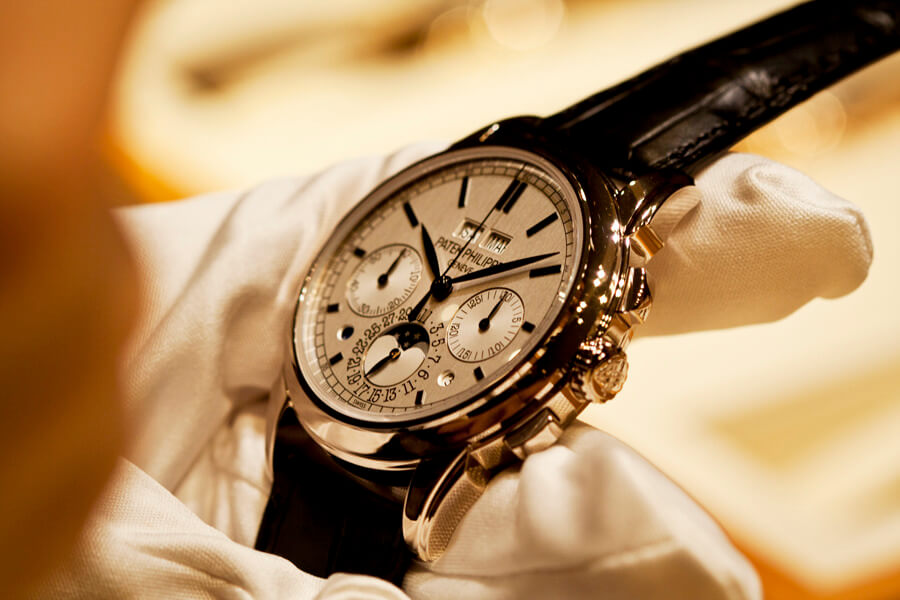 A Patek Philippe automatic watch can cost thousands of dollars a piece $$$
Granted, these brands' watches are usually hand-manufactured, COSC-certified mechanical movements, high quality and precious materials which contributed to their high prices.
Still, many people cherish this pricey timepieces because it has a unique character that's not seen in the normal quartz watches.
Also, the beautiful sweeping seconds hand on an automatic watch is thousands of time better than the tick-tock action of a quartz watch.
And don't get me started with the gorgeous and cool exhibition casebacks that can only be found in an automatic watch.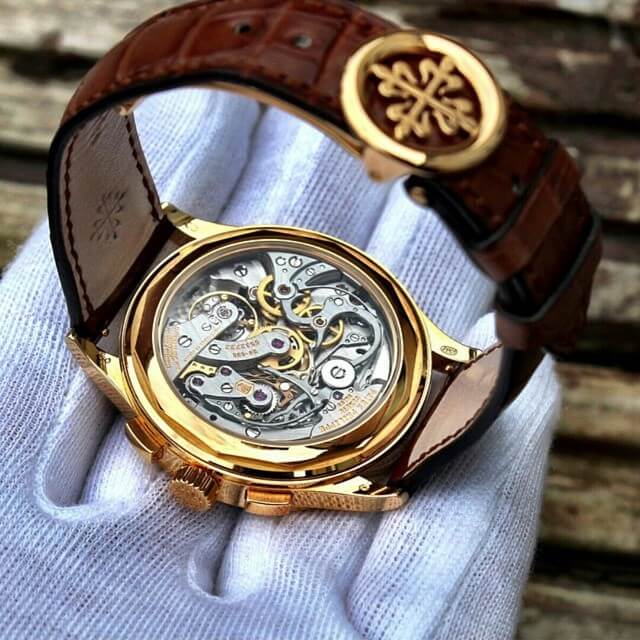 Look at that intricate open caseback that's only exclusive to automatic watches. In contrast, nobody wants to see the inside of a quartz watch – you'll only see the boring IC and battery cells LOL
Before this, I was also one of them that thought I'll never get a hold of any automatic watches in my life due to its high price.
But that was until I started delving deep into this interest which brought me a relevation that had changed my opinion.
YES, automatic watches do not need to be very expensive to own.
And YES, we can even have one for a modest sum of below $200!
That's the whole purpose of me writing this list: to let watch fans out there know about the existence of these gems.
Below is the list of the 10 best affordable automatic watches under $200 in 2017:
Hope you guys will find this list beneficial. As always, let me know if there is any watches out there that deserved to be in this list.
Update:
I've also written another list of the best automatic watches for a higher price bracket ($1,000 to $200) that you might want to have a look at =)
1- Seiko SNK809
Brand: Seiko 5
Size: 37 mm diameter, 11 mm thick
Style: Military/Aviator (B-Uhr Type B)
Movement: Seiko Cal. 7S26
Water Resistance: 30 m
It's impossible not to mention the Seiko SNK809 while discussing about affordable automatic watches.
Frequently can be had at less than $100, this is the perfect watch for those wanting to test the waters with automatics.
It has a very slim and small size, at just 37 mm diameter and 11 mm thickness making it very wear-able for all wrist sizes.
The black dial is very simple, and Seiko used flieger B-Uhr Type B dial on it as apparent with the minutes as main markers.
There could be some confusion while telling time for those first time using it, but it will get easier once you get used to it.
(Hint: the outer minute markings are for the LONGER minute hand while the inner hour markings are for the SHORTER hour hand)
The SNK809 also has a passable 30 m water resistance for extra protection against accidental water ingress.
Well, I'd love a higher water resistance rating but you get what you paid for right?
In addition, Seiko also throw in an exhibition caseback on this watch for its owner to peek at the legendary 7S26 automatic self-winding movement.
Now, that's something interesting for a watch at this price don't you agree?
Besides black, the watch also comes in many different colors (blue, cream, green, etc.). Just look for Seiko SNK and you'll be able to find it real quick.
For those that feels the 37 mm diameter is too small, you guys can check out the Seiko SNZG15, an automatic watch with a bigger 42 mm case.
It has almost the same military styling (but not a flieger type) as the SNK809. It's a bit more expensive though, but comes with a higher water resistance rating (100 m).
For anyone wanting their first automatic watch, or just want to see what an automatic watch is all about, this Seiko SNK809 is the best for you.
It's mainly robust, durable and most importantly, affordable =)
->Click Here To Read My In-Depth Review Of The Seiko SNK809<-
2- Invicta 8928 (and 8926)
Brand: Invicta
Size: 40 mm diameter, 12 mm thick
Style: Diver
Movement: Japanese movement (Miyota 8215 or Seiko NH25A/NH35A)
Water Resistance: 200 m
Apart from the Japanese brands, Invicta is another option when it comes to affordable automatic watches.
The brand is usually associated as being a replica of the famous Rolex Submariner diver's watch, and this Invicta 8928 two tone watch is actually just exactly that.
It captured the design perfectly, making those unaware to believe they are looking at a Rolex Submariner 16613 =)
Imitation as it is, the watch is quite enchanting. The two tone design with gold plated bracelet/side bezel and blue dial/bezel is very unique and definitely a head turner.
Invicta had managed to recapture all of the design elements of original Submariner, except for the logo.
The watch is also not too big with just 40 mm diameter and 12 mm thickness, making it very comfortable and can be worn by any wrist sizes.
Invicta typically used many movements in their low end watches, and this Invicta 8928 is no different.
The watch will come either with a Miyota 8215, Seiko NH25A or Seiko NH35A movements.
These are about the lower grade automatic movements available, but are fully sufficient to do the job.
For those that dislike the eye-catching two tone design, there is also the silver black version of this watch in the model series no. Invicta 8926.
Above is the more classic black and white Invicta 8926
It's has the more traditional black dial/bezel on a silver stainless steel case/bracelet which is perfect for those that want a simpler and subtle look.
With it's really low price compared to the real thing that can cost thousands of dollars, the Invicta 8928 (and 8926) are something that you can get if you like the submariner design but can't get it right now.
–>Click Here To Read My In-Depth Review Of The Invicta 8928<-
3- Seagull M172S
Brand: Seagull
Size: 40 mm diameter, 12 mm thick
Style: Complication
Movement: Seagull ST2505
Water Resistance: 50 m
Seagull might not be a very well known watch brand but the Chinese company has been gaining fans with their beautiful watches that's also packed with great complications – at an absurdly affordable price (for the complications that the watches have).
For example, this Seagull M172S is a not just an ordinary automatic watch.
It has 3 additional complications to it: flywheel, date display and power reserve indicator. All for a modest sum of less than $200.
From the first look, the 40 mm diameter watch has a busy dial with a textured surface.
But what really draws our attention to it is the cut-out on the bottom of the dial that exposed its balance wheel.
It's not a normal balance wheel but is a flywheel – the wheel will rotate while moving. It mimics the action of tourbillion minus the heighten accuracy.
So in short, the flywheel on this Seagull M172S is just for show. But what a good show it displays!
On top of the flywheel is Seagull's signature wing shaped decoration that I'm taking quite a liking at. The detail put into the decoration is something that any watch fans will cherish.
Another great characteristic of the watch is how the date display and power reserve have retrograde design.
What does retrograde means?
It means that instead of a full circle subdial that rotates 360 degrees, the subdial is only half circle.
Once the hand passed the final marking, it will swing back to the starting position. You can just imagine how complicated the movement will be.
In fact, this Seagull M172S features two retrograde subdial with its date and power reserve display. The result is a very symmetrical watch design that looks really good.
And have I mentioned that the watch costs less than $200 online? For a complication packed automatic watch that's a good value for money, this Seagull M172S is the one you have to get.
4- Orient Symphony ER27007W
Brand: Orient
Size: 41 mm diameter, 12 mm thick
Style: Dress
Movement: Orient Cal. 48743
Water Resistance: 50 m
Next up is the classic dress watch, Orient Symphony ER27007W. It's a good looking, simple styled watch for those that want an uncluttered or refined timepiece.
The watch has a 41 mm diameter and 12 mm thickness – making it a good choice for those with smaller wrists to wear.
Apart from that, the white dial with silver stainless steel hands/markers is just the right combo for a gorgeous dress watch.
I also like how Orient put the date display at the right side of the dial. I always prefer a date or day display on my watches as it's a very useful extra function to have on a watch.
Though some might say it disturbs the dial, I feel the date display is not too obtrusive so as to cause some great disturbances on the pristine dial, thanks to the white window.
The watch uses a mineral crystal on top of it. It's not the best material for a watch crystal as it's not a great scratch resistant but understandably, Orient does not have any other choice if they are going to market the Symphony at this very affordable price.
The movement used in this watch is the Cal. 48743 with 21 jewels and 40 hours power reserve.
It's a bit of an older generation movement as it does not have hacking and manual winding feature.
But many of Orient fans will swear that this is a good, low-maintenance movement that's perfect for a beater watch as this.
Apart from the good look, the watch also features a 50 m water resistance rating for protection against water ingress.
And much to the pleasure of automatic watch purists, there is an exhibition caseback at the back side of this Orient Symphony ER27007W.
If you're looking at a simple, elegant, yet affordable dress watch, this Orient Symphony ER27007W should be at the top of your list.
->Click Here To Read My In-Depth Review Of The Orient Symphony ER27007W<-
5- Swatch Sistem51
Brand: Swatch
Size: 42 mm diameter, 13 mm thick
Style: Casual
Movement: Swatch/ETA Sistem51
Water Resistance: 30 m
Fancy a Swiss made automatic watch that looks funky, unlike any other automatics, but still is affordable?
Meet the Swatch Sistem51, an automatic watch like no other.
Most people only associate the Swatch brand with cheap plastic watch, but not many knows the existence of the Sistem51 line.
So what is the Swatch Sistem51 all about?
It's basically a revolutionary automatic movement inside the typical plastic Swatch watch casing.
Sistem51 is the name of the movement, purportedly being manufactured using only 51 components, hence the 51 on its name.
And that's the reason why it's called a revolutionary movement as the normal automatic watch will has at least a hundred different parts.
What's more, the Sistem51 is constructed mostly by machines, further reducing its price to a more affordable state, typically less than $150 on online retailers.
The watch has a 42 mm diameter with 13 mm thickness, well in line with current trend.
By having synthetic silicone on the band as well as the plastic on its casing enable the use of bright, cheerful colors on the watch.
Unsurprisingly, Swatch decided to produce lots of variations of the Sistem51 from the traditional black-white dial to the more funky and eye-catching bright blue.
There's also a model with pink strap! There is always a Sistem51 for everyone =)
It's even produced in this very funky orange color – dubbed Sistem Tangerine SUTO401
The watch is simple on its dial, with only the normal 3-hands display. Most models also have a date window which is located either a the right side or bottom of the dial.
The markers are also different depending on the model – some have numeral markers which others have index markers.
Another special thing about the watch that no other watch has is its exhibition caseback that shows its unique rotor.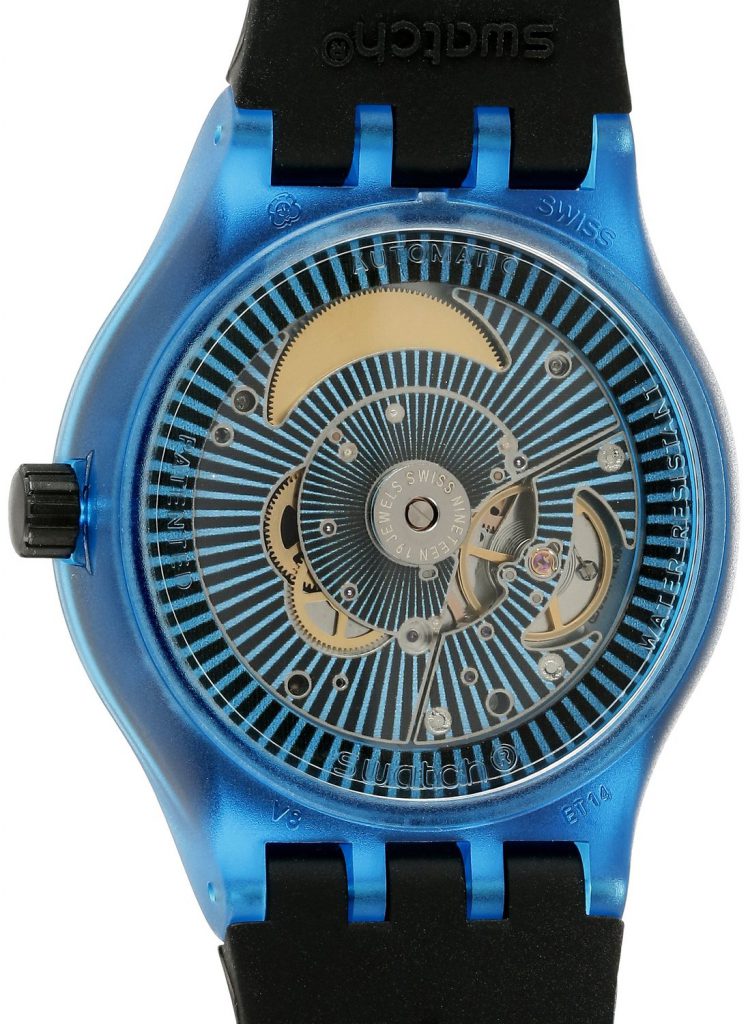 The Sistem51 watches all have colorful casebacks like this that will show a mesmerizing pattern when the rotor is spinning
The rotor is used to tighten the mainspring of any automatic watch and usually has a semi-circular shape.
What the Swatch Sistem51 has is a full circular shape, with a transparent color save for the edge of the circle that's decorated with design.
Help by the very fluid rotor movement, the rotor edge will give a very beautiful spinning rotor action that I've never seen in any other watch before.
If you like the idea of this innovative automatic movement but don't like the plastic case/strap, Swatch also releases the Sistem51 Irony line up.
The Sistem51 Irony is basically the Sistem51 but with a metal case. It's more expensive than the normal though. Check out my review of the watch HERE.
For those of you that wants a funky looking automatic watch for that casual use during weekends or holiday, the Swatch Sistem51 is a great candidate.
->Click Here To Read My In-Depth Review Of The Swatch Sistem51<-
6- Seiko SKX007
Brand: Seiko
Size: 42 mm diameter, 13 mm thick
Style: Diver
Movement: Seiko Cal. 7S26
Water Resistance: 200 m
It's impossible to not mention the famous SKX007 when discussing about best affordable automatic watches.
The watch from Seiko is well known for being own of the most robust automatic watches out there with full diver's watch specification – at much more affordable price than any of its Swiss counterparts.
What's so special about the Seiko SKX007?
For a start, the black dial design has a classic diver's watch look but with a simplicity that's exudes tool and functionality.
There is no big and long-winded signatures on it. Just minimal 3 lines of signatures and the day-date display at the right. And thanks to the 42 mm diameter case, those don't even make the dial look slightly busy at all.
The oversized circular markers and hands are there to give the best legibility for its owners to tell time at the worst possible condition.
Of course, Seiko used a luxurious amount of their famous LumiBrite lumes on the watch, so the watch is still easy to read even in dark areas.
Unidirectional rotating bezel is there to assist divers to easily time their dives. The crown is positioned at 4 o'clock to not cause any obstruction when moving the wrist.
Without a doubt, this is a tool watch meant for the worst conditions. And yet, it can also look quite dressy (with the right choice of leather strap of course).
The automatic movement inside the SKX007 is another big factor for its popularity. The Seiko Cal. 7S26 is one of the best movements in terms of robustness and low maintenance.
Swimming, mowing lawn, diving, exercise etc. – these are the kind of activities the movement is designed and withstand for.
By the way, the watch is one of the few affordable diver's watch that comply with the ISO 6425 Diver's watch standard.
That's the standard to ensure the diver's watch complied to numerous stringent quality checks of water resistance, water tightness, magnetic resistance, shock resistance and others.
A true diver's watch at this price? That's another reason for the huge success of the Seiko SKX007
Seiko also manufactures a few other variants of the SKX007 with different look and case size. Below are some of the most popular:
SKX009 – With a pepsi dial
SKX013 – Smaller version of the SKX007 (37 mm diameter)
SKX173 – With an index marker design
->Click Here To Read My In-Depth Review Of The Seiko SKX007<-
7- Stuhrling Original 133.33151
Brand: Stuhrling Original
Size: 44 mm diameter, 12 mm thick
Style: Dress
Water Resistance: 50 m
What more can be said of this Stuhrling Original watch? It's a really gorgeous watch with that open dial that bare its mechanical movement for all to wonder upon.
Open casebacks are quite common but open dial is a bit rarer and is always welcomed =).
The dial uses index markers with a combination of an offsetted seconds hand at the bottom.
I really like the seconds hand design as it uses two markings (0-30 and 30-60) on top of each other.
It's told by the seconds hand that has different length of tails to coincide with different second markings.
The overall silver and black dial is very dressy and beautiful to look at. Not to mention the accented gold in the form of gears that we can easily look at in the movement.
It can be a bit hard to tell time due to the similar color of the hands and the movement, but it should not be a deal breaker for such a stunning watch.
Without a doubt, Stuhrling has brought beautiful watches at an affordable price.
But one thing that I need to warn you guys is the manufacturing origin of Stuhrling watches are usually China.
China make affordable automatic watches due to lower labor costs, but the country has a bad rap for not-so-perfect quality control.
Thus, please thoroughly check your Stuhrling watches upon receipt to ensure it's ticking correctly. Exercise your warranty as soon as you found something amiss.
I'm not trying to scare you guys from the brand but I believe it's a good practice for us buyers to always be on our toes to make sure our hard earned money is not wasted.
Still, if you love the watch design with it's cool open dial, just go for it. As I've mentioned before, you're the one that will be wearing your watches, so make sure you love them =)
8- Orient Ray and Mako II
Above: Orient Ray II
Above – Orient Mako II
Brand: Orient
Size: 41.5 mm diameter, 13 mm thick
Style: Diver
Movement: Orient Cal. F6922
Water Resistance: 200 m
Another ubiquitous automatic diver's watch alongside the Seiko SKX007 is the Ray and Mako watches from Orient.
Beautiful without over the top design, reliable and most importantly very affordable – making these watches a good value for money buy.
It's definitely a good choice for those wanting a robust automatic diver's watch either for casual or outdoor use.
For those that are not familiar with the Orient Ray and Mako family, both watches are actually identical to each other: be it dimension, case built, movement and strap.
What sets them apart is a slight change in the design of the markers (circle vs index) and bezel. A slight change but those with sharp eyes will immediately recognize that both designs are very different.
The Ray with circular markers is sportier while the Mako is a bit more casual. But in this list, I've lumped both of them together in this entry so that I can cover more watches.
Also to set things straight, I'm listing the second version of both watches which I believe is a better watch than the first version (and is also cheaper!).
The first version of the Ray/Mako uses the older Orient Cal. 46943 automatic movement compared to the Cal. F6922 movement in this version.
The older one has a distinctive second pusher at 2 o'clock for the purpose of changing the day.
It's a bit weird but many people (including me) find the unsymmetrical design of the first Mako/Ray quite unique.
So why does I specifically put the second version instead of the older one?
The reason why I feel the second version is a better buy are because of updated movement and price/availability.
The updated Cal. F6922 has manual winding and hacking, making it a better movement compared to the older version.
Not only that the Mako/Ray II also is more readily available and usually can be had for a lower price than the older version.
I believe it's because the older version is produced lesser or even stopped altogether. This cause its price to fluctuate and become less available.
For those that want a cheap and quality automatic diver's watch, check out the Orient Ray and Mako II. I'm sure you will be satisfied by these good looking timepieces.
->Click Here To Read My In-Depth Review Of The Ray II<-
->Click Here To Read My In-Depth Review Of The Mako II<-
9- Kenneth Cole KC3828
Brand: Kenneth Cole
Size: 43 mm diameter, 13 mm thick
Style: Dress
Water Resistance: 30 m
Another automatic watch that will surely astound you is the Kenneth Cole KC3828.
It's a good looking dress watch that's can be had for a great affordable price.
Both this Kenneth Cole and the Stuhrling Original above share the same design cue: dressy watch with open dial design.
Open dial designs is definitely something that only an automatic watch can do.
I mean, what can a quartz watch shows inside its body?
Only automatic watch has that intricate gears and metal parts that are perfectly positioned and aligned in that small circular space.
Kenneth Cole recognized this and brilliantly places gold plated balance wheel and jewel rubies exposed on the dial – so that its watch owners can wonder at the unique dial and movement.
The 43 mm diameter watch is hooked up to an accompanying stainless steel bracelet which I believe is the best option for this watch that makes it look very cool.
From the center of the dial, the whole watch looks like a full body of stainless steel save for the gray circular stripe at the edge of the dial with the markers.
One common critism of this watch is how the hands can be quite hard to be seen on top of the open dial.
The hands are white in color and due to the minimal contrast with the silver movement, it's going to be hard to look at certain lighting conditions.
Another thing to note is that the movement is an unbranded movement, most possibly from China (like Stuhrling Original above) which can be an important consideration for those that one buy automatic watches with branded movements.
Overall, the Kenneth Cole KC3828 is a gorgeous dress watch with the beautiful automatic movement that can be readily seen through its open dial.
10- Seiko SNKN37
Brand: Seiko Recraft
Size: 44 mm diameter, 12 mm thick
Style: Classic Dress
Movement: Seiko Cal. 7S26
Water Resistance: 50 m
Last but not least in this list is the Seiko SNKN37.
What's special about this watch (aside from being an affordable automatic watch) ?
For me, the biggest attraction of the Seiko SNKN37 is it's classic retro design with modern touch that's very unique compared to other watches out there.
For a start, the watch has a gorgeous blue sunburst dial that's just mesmerizing to look at.
As someone that like blue color, it's truly fascinating watching that dial reflection changes from different angles.
The marker setup with combination of numeral and index is an ingeneous design that seek to give something that's unique in the market while at the same time making the watch real easy to tell time with.
I find full numeral markers to be too busy on the dial since the watch is small, compared to those big wall clocks.
On the other hand, all index markers is a bit harder to tell time with since not everyone is used to it.
Thus the combination marker on this Seiko SNKN37 brings the best of both worlds.
In addition, the barrel shaped case is also something that I'm sure most of you guys never encounter before. The case is another thing that gives the watch a classic vibe and stands out from the rest.
I mean, how often do you encounter a barrel or square shaped watches?
It's quite rare nowadays and even then square shaped watches are always dressy with small sizes.
And that's the area that Seiko SNKN37 is very different. It has a barrel shaped case with a big 44 mm diameter, a good size for those than want a watch with substantial wrist presence.
In other words, the watch is manly, tough looking while at the same time very gorgeous with the blue sunburst dial.
And at that killer price for an automatic watch, what more can you ask?
->Click Here To Read My In-Depth Review Of The Seiko SNKN37<-
I hope you enjoy and benefit from this article. Automatic watches are expensive, but it's not too expensive that we, normal people, can't get a hold of them.
This list of the 10 best affordable automatic watches under $200 is the best testament of that. If you think there are other watches that should belong in this group, do let me know.
I look forward to hearing from you guys =)
Till next time. Cheers!
Isaac
Update:
I've also written a comprehensive list of the best automatic watches in 2017 from $1,000 to $200 which I think you will absolutely find helpful.
If you feel that you can afford to splurge more on a better watch for that special occasion (Christmas, New Year, that long awaited promotion), check out the list here and let me know what you think =)