Swiss watches have long been associated with the highest regard in watchmaking – rightfully so.
They have been making watches since at least 2 centuries ago, and while there's a slump in the 70s due to the quartz crisis, the current Swiss watch manufacturing companies seem to be as strong as ever.
Part of this can be attributed to the stability and properity achieved globally – there haven't been any major wars in the last 40 to 50 years.
And of course who can ignore the new-found wealth from the Chinese businessmen (and Middle East guys before them) that propped up the demand for the best timepieces on earth.
Best Swiss Watch Brands – The Holy Trinity
Among the various brands in Swiss watchmaking industry, there are 3 that have been very prominent and had been given the title the "Holy Trinity" or "Big Three" in the world of Swiss horology. Regardless of the title, these 3 brands/companies are regarded as the biggest names in the industry. They are:
1- Audemars Piguet
2- Patek Philippe
3- Vacheron Constantin
And a special mention to A. Lange & Söhne.
What Made The Holy Trinity So Revered (and Expensive) ?
Why are these 3 (or 4) brands considered top-tier and can easily command thousands of dollars each per timepiece?
Simply because each of their timepieces deserve it. Not in terms of functionality of course. Will a $20k Patek DO more than a $200 Seiko? Definitely not.
Both are watches that simply shows time and perhaps some other compilations (chronograph, moonphase, calendar, etc).
Funtionality wise, an Apple watch trumps any of the watches from the holy trinity in terms of specifications. For example, none of them can be used to display a message (duh?).
But does this means the Apple watch is better than the big three? Again, it all depends on what you're looking for in a watch.
The Apple will do more than any of the traditional automatic watches can do, but it can never offset the Swiss Holy Trinity in terms of luxury, fine watchmaking and heritage – the things that only the wealthiest in the world can afford.
All of the 3 watch brands have been around for a very very long time. Most were established more than 100 years ago – 200 years ago in the case of Vacheron Constantin.
Such a long period of existence shows how significant the brands are in shaping the watch industry. Not only that, all of them had been very crucial in being innovators to propel watchmaking to what we know now.
In terms of design, all of the brands had their own timeless designs that withstood the test of time.
Citizen can produces countless new Eco-Drive watches every year but none of them can compare to how outstanding the Royal Oak by Audemars is.
It was very popular for decades, and I'm quite sure it still will be. That is a fine example of a timeless design that made it very special to those that knew its history.
Last but I believe most importantly is the luxurious watchmaking imparted onto each of their watches.
Each of the timepieces are made from the highest quality materials (gold, platinum, diamonds, you name it) with the best skilled jewellers working on it.
The whole watch (case, dial, movements) always come with glorious finishings typically by hand. Such effort and material will never lie and you'll easily notice the difference between a Patek vs. a lesser priced Omega/Rolex/Breitling.
And it's these kind of things that actually make the watch costs so much – including the hefty profit margin to the parent company and distributors of course =)
Without further ado, let's get on with the holy trinity brief introduction shall we.


Audemars Piguet
The first of the horology trinity is Audemars Piguet (by the way this list is not put in any specific order. I just put AP on the first spot since it starts with an "A" =P ).
The brand started from the Vallée de Joux in the Swiss Jura Mountains, also known as the birthplace of many other Swiss brands.
It was founded by Jules Louis Audemars and Edward Auguste Piguet in 1875, and started out as a partnership.
And that's how the brand got its name by combining the surnames of its founders. By the way, most of the luxury watch brand names (including the trinity members) are actually made up from the names of the partners that founded the brand.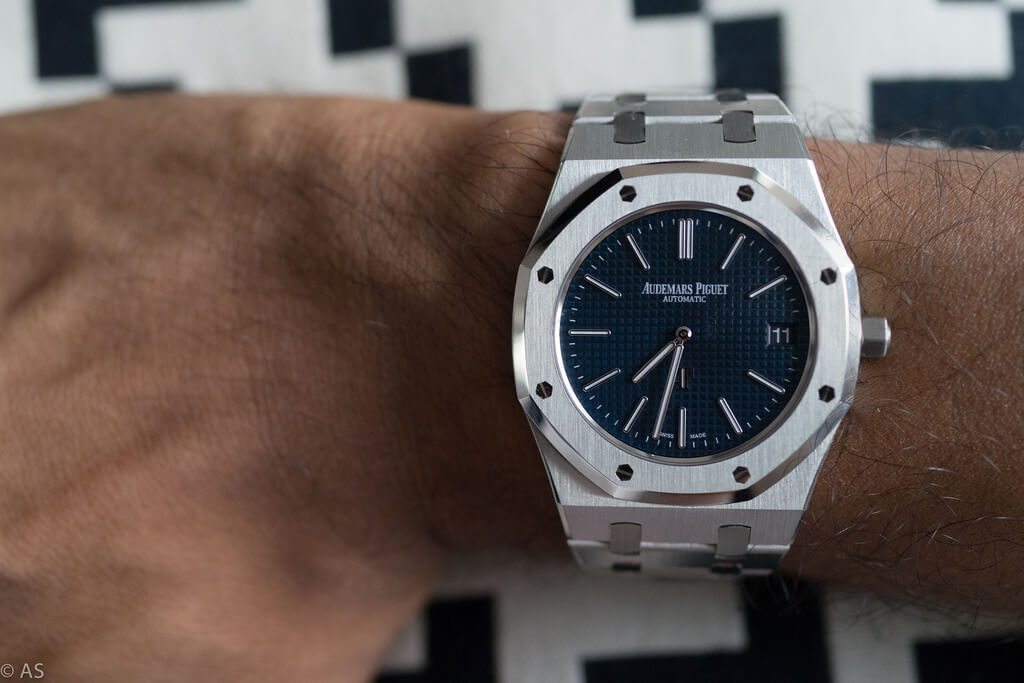 Above is the Audemars Piguet Royal Oak watch. An iconic octagonal-shaped watch with sporty vibe, the first of its kind among luxury watches
I'm pretty sure most people will associate Audermars with its Royal Oak watch, with the iconic octagonal-shaped case and textured dial.
It was said to be inspired from diving helmets and regarded as the first luxury sports watch in the 70s. They then released a more sporty version of the watch in Royal Oak Offshore that has a more sturdy case and – wait for it – rubber bands.

Above are some of the current models in the stable of Audemars Piguet
But certainly, that's not all the brand offers. It's also a highly regarded movement expert and, in addition to the sporty royal oak, has other types of watches to offer such as the classic dress watch and complications.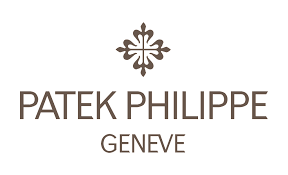 Patek Philippe
Next on the list is Patek Philippe from Geneva. Founded in 1851 by the collaboration of Antoni Patek and Adrien Philippe. Like most, they started with making pocket watches before making their way into normal wrist watches.
Patek is regarded as one of the most prestigious watchmakers with some of its creations being featured among royalties worldwide such as Queen Victoria & Prince Albert, Victor Emmanuel III of Italy and Hussein Kamal, Sultan of Egypt.
Their watches also are some of the most expensive watches sold, with the Henry Graves Supercomplication pocket watch being sold for a record of $24 Million in 2014! It was made by Patek for Henry Graves Jr, an American banker which was also an avid watch collector and features an outstanding 24 different complications.

The Henry Graves Supercomplication pocket watch is a vintage watch made in 1933 and featuring 24 different functions such as perpetual calendar, moon phase, chronograph and others.
While they are widely renowned for beautiful wristwatches that features complications, I kinda like their Calatrava dress watch models more.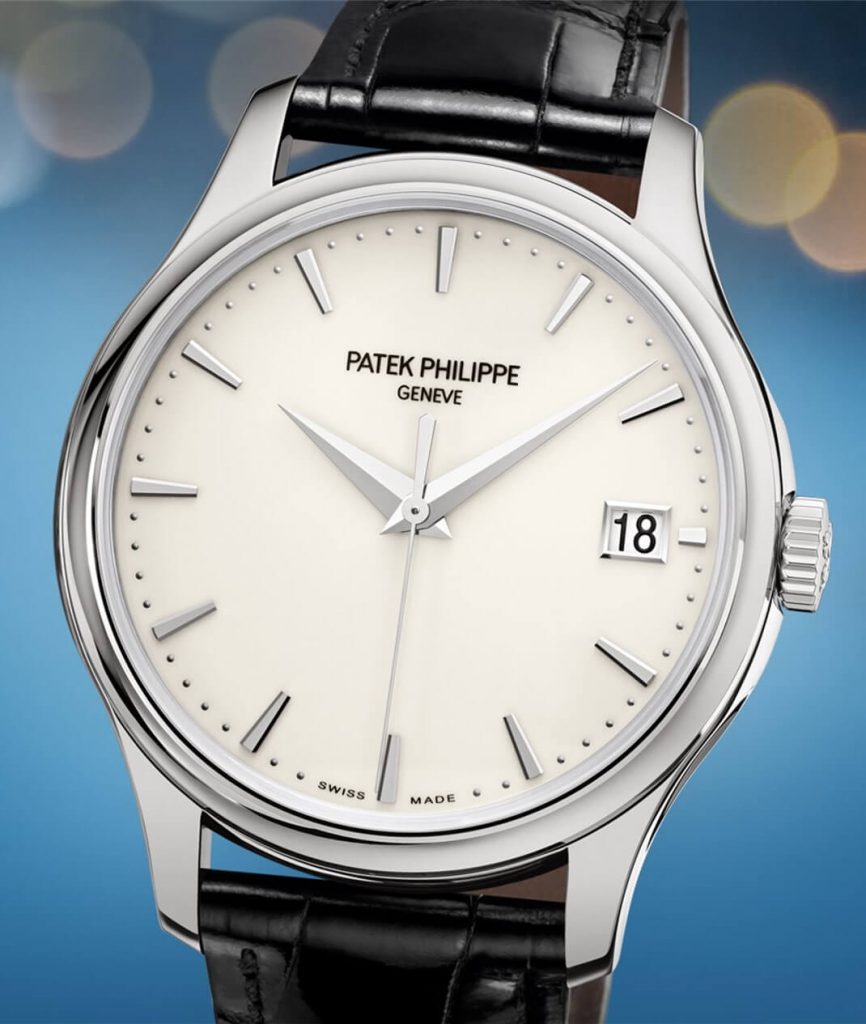 The absolutely gorgeous 5227G Calatrava in white gold
The clean face with classic style looks graceful and evergreen – something that I'd really would love to own in the future. Not only that, they also ventured into sporty luxury segment with their Nautilus and Aquanaut models with – you've guessed it – an almost square-shaped case.

Vacheron Constantin
Last but not least, Vacheron Constantin. The brand is the oldest of the three being founded in 1755 by Jean-Marc Vacheron in Geneva.
64 years later in 1819, the grandson of Vacheron partnered with Francois Constantin to help with the company's operation and marketing. And thus Vacheron Constantin was borned.
While both Audemars Piguet and Patek Philippe continue to be privately owned company by the founders heirs, Vacheron Constantin had been passed from one owner to the other, before settling under the stable of Richemont Group from 1996.
The group is a public listed company that owns various luxury goods companies (including many watch brands in this list).
Vacheron also joined the race of the most complicated watch with its Reference 57260. The pocket watch consists of 57 complications and took 8 years to be made.

The Reference 57260, the most complicated watch ever made
As a luxury watchmaker, there are various watches that Vacheron is famous for. But what caught my attention the most is the Historiques American watch that's very unique and classic with its angled markers.

The Historique American 1921 watch in yellow gold. Vacheron also produces watches with many complications inside it but this watch stands on its on due to its classic and gorgeous design.

Special Mention : A. Lange & Söhne
Although it's not a Swiss, I feel that it's important for me to also include A. Lange & Söhne, the German watch brand in this list.
It's usually spoken in the same breath as the holy trinity above, with the exception that it's origin and headquarters is in Glashütte, Germany.
But even then, the brand has a huge story and produces magnificent watches that can rival its Swiss counterparts.
Founded in 1845 by Ferdinand Adolph Lange, A. Lange & Söhne faced a dark era when the company was nationalised by the post-war Soviet administration. The brand ceased to exist until 1990, the founder's heir Walter Lange restored the company with the help of other watch companies.
Only in 1994 it began to present its new range of watches to the world. Currently, Lange is under Richemont Group (same as Vacheron).
Looking at its watches, you'll definitely sense the difference in the design compared to fother Swiss luxury watchmakers.
Of particular importance is how many of their watches separates the minute/hour and seconds into 2 different subdials, with another retrograde subdial for power reserve indicator. Lange is also well known for the highly detailed craftsmanships that some say beats over the Swiss.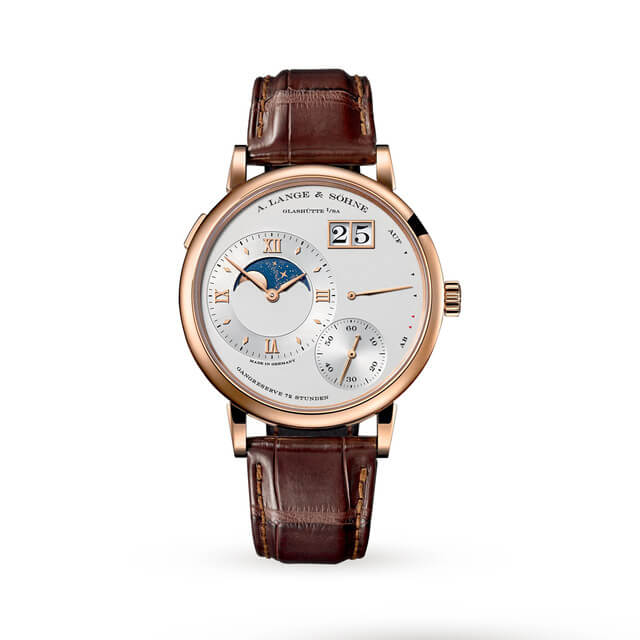 Above is the Grande Lange 1 Moonphase watch. You'd agree with me that Lange's watches are uniquely German and different than its Swiss counterparts. But the level of finishing and craftsmanships are on par with the others
I hope you enjoy this article on Swiss Holy Trinity watch brands. Let me know if you have things that I might have missed in this article.
Cheers!
Isaac