Welcome to the post on Hamilton Khaki Field review. True to its military wrist watch root, Hamilton has produced another watch identical to their military watches issued decades ago.
The Hamilton Khaki Field Officer H69419363 is a very rugged military watch by the brand. It's also have a mechanical movement – meaning it cannot self-wind like automatic watches – which makes it a very rare watch nowadays. Let's have a closer look at this little timepiece.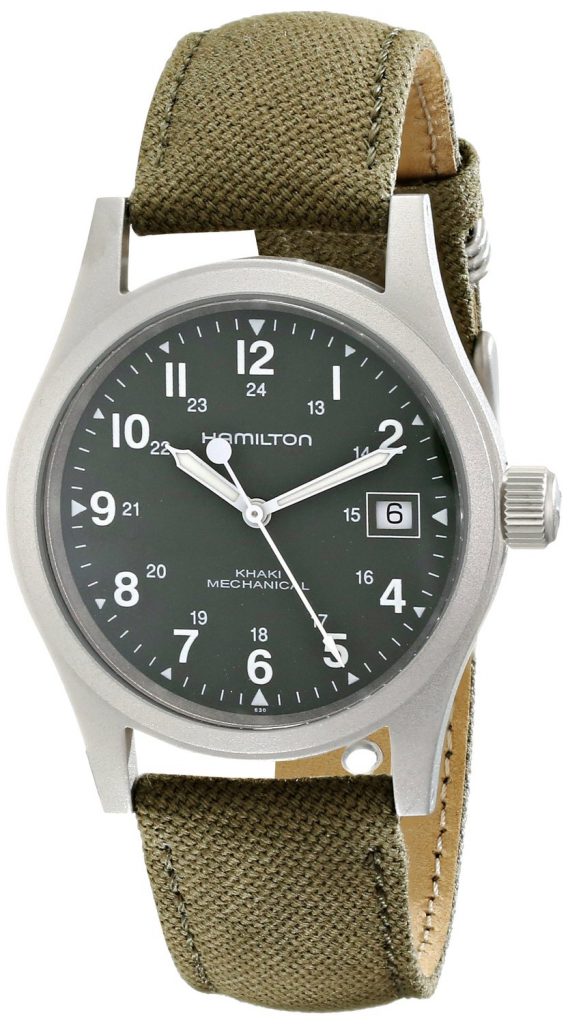 Hamilton Khaki Field Officer Specification (H69419363)
Diameter: 38 mm
Thickness: 9 mm
Case: Stainless steel
Lug Width: 20 mm
Strap: Canvas strap with leather lining and pin buckle
Dial: Dark green dial with numeral markers
Dial Window: Sapphire crystal
Movement: ETA 2804-2 Mechanical hand-wind movement
Movement Features: 17 Jewels, 28800 vibrations per hour or 8 beats per second, 42 hours power reserve,
Water Resistance: 50 m or 165 feet
Features: Slim case with vintage looks, date display, lume on hands and markers
Best Place To Buy: Amazon 

Simply Styled Military Wrist Watch
The one thing that you will notice when first laying your eyes on the Khaki Field Officer wrist watch is how simple the design is. The case is simply designed without any complicated curves. The dial/watch face is matte green in color with bold numerals as markers. There are also 24 hours markers in the inner dial.
On the outer edge of the dial we have some triangles next to the markers – apparently these triangles are filled with lume to provide some indication in low light environment. There is a date display at 3 o'clock for added functionality. Signatures on the dial are kept to a minimum with small fonts.
The hands are sword shaped hands that is neither slim nor bulky and filled with lume. The total look of the dial is very simple and not eye-catching at all. There is no reflecting elements at all – the stainless steel case is powder coated while the dial is matte.
The 20 mm strap is also made of canvas (with some leather lining for comfort) instead of leather. This is truly a down-to-earth and humble wrist watch with military styling.
Side by side comparison: Hamilton Khaki Field Officer on the left and Hamilton Khaki King on the right. Both are inspired by Hamilton's vintage military watches but have diifferent styling concept – the Khaki King is more refined and beautiful while the Khaki Field is simpler
Hamilton Khaki King Vs Khaki Field
The Khaki Field Officer watch is very different than the Khaki King. Hamilton has chosen to make both military watches to cater for different tastes of their customers. For those that like a military watch with a beautiful shining watch face and case, you can choose the Hamilton Khaki King. It's also has the exclusive look with its brown leather band and contrast stitching.
Meanwhile those that want a no frills military watch can go for the much simpler (and cheaper) Hamilton Khaki Field Officer. This watch is meant for those that love simplicity and just want a watch that can work. It's also perfect for outdoor activities and sports as the watch is light and the simple look suited those activities well.
Just don't go for any diving or swimming with it. It got a 50 m water resistance but most watch experts don't think a water resistance rating like that can actually be used to go deep to 50 m. A splash of water here and there should be fine though.
Quality Swiss Wrist Watch At Low Price
Another thing that I really like about the Hamilton Khaki Field Officer wrist watch is the low price of it (around $260 online) with some quality materials. It can be said to be a full fledged Swiss watch, material wise. It has a stainless steel case with a diameter of 38 mm and just about 9 mm thick.
It is very thin due to its mechanical movement (more about that later) which gives it a very nice slim look just like vintage military watches decades ago. The 38 mm diameter also adds to the exclusivity and will really suit most people's wrist.
The watch also features a sapphire crystal which is just outstanding for a $260 watch. The sapphire dial window crystal is slightly domed and will provide good protection against any scratch to the watch.
The choice of a canvas strap is actually very suitable to the retro outdoor look of the watch. Some might not really like canvas straps and prefer leather but this is a watch that is meant to be used outdoor, in the jungle somewhere. A leather strap is really out of place in those places =)
You can watch this video to see the Hamilton Khaki Field Officer up close 
Mechanical Hand-Winding Movement of ETA 2804-2
The most special and interesting aspect of the Hamilton Khaki Field Officer is the mechanical hand-winding movement. What does it mean? It means the watch is not an automatic watch (you can "recharge" the watch by using it everyday).
Instead you have to hand-wind it manually to keep it running as it don't have the self-winding mechanism. For more information, you can read my previous post on automatic and mechanical movement here.
The absence of self-winding mechanism made the watch thinner than other watches and give it the very sexy thin body. The reason why I feel that this watch is very special is that there are not much mechanical movement timepieces out there right now. It's always automatic and quartz only. This gives the Hamilton Khaki Field a unique position in the eyes of watch lovers.
The movement features ETA Cal. 2804-2, which is based on ETA's most common automatic movement – the Cal. 2824-2 (which is featured in Tissot Le Locle). This movement has 17 jewels and vibrates at 28800 per hour or 8 beats per second. It also has a good 42 hours power reserve. In order to hand-wind it, you just have to rotate the crown (positioned at 3 o'clock) upward to wind the mainspring.
Everyone should be very careful when hand-winding a mechanical watch. The winding must be done when not wearing the watch. The crown has to be turned while being gripped by the fingers at the side. Only rotating action can be applied on the crown – any other actions such as pushing up, down, or sides must not be done because it could damage the internal mechanism.
A huge disadvantage with the ETA 2804-2 mechanical movement is there is no slip spring. So theoretically you can actually break the mainspring by overwinding the watch. Luckily to break it is not an easy feat as you need to have a super strong grip and fingers. The key is to stop winding as soon as a resistance is felt when winding the watch.
Hamilton Khaki Field Officer Advantages And Disadvantages
Pros:
1- A cheap mechanical watch with great quality by Hamilton
2- Sapphire crystal at this price is simply outstanding
3- A truly simple retro wrist watch – perfect for those who like understated watches and not eye-catching
4- Great for outdoor activities due to its small size and light weight.
Cons:
1- It is a mechanical hand-winding movement which means the watch has to be hand-wind everyday
2- ETA 2804-2 mechanical hand-wind movement does not have slip spring. There is a possibility of damaging the mainspring or gears inside the watch if you are not careful
Like This Hamilton Khaki Field Mechanical? Buy It Cheapest From Amazon!
If you would like to buy the Hamilton Khaki Field Officer H69419363 wrist watch, you can check out Amazon it.
Currently Amazon has a huge discount on this watch making it much cheaper from the MSRP of $395. Click the link below to check out the best prices of the Hamilton Khaki Field Officer H69419363 from:
-> Hamilton Khaki Field Officer H69419363 on Amazon <-
Final Thoughts
So who is the watch is for? It is perfect for those looking a simple watch to be used for casual or outdoor activities. You don't need a beautiful shining watch with leather strap while camping in the jungle right?
This Hamilton is sufficient enough to be used for outdoor activities. It is also light on the wrist. The mechanical movement is considered a step backward for some people but I feel that this adds to the choice of the watches nowadays. Some people (me included) will feel excited to have a mechanical watch, the original form of our watches today.
**********************************************
I hope you guys enjoy this Hamilton Khaki Field review. If you have any other questions about this unique handwinding/mechanical watch, feel free to drop it at the comments section below.
Don't forget to share this post on social media. That will really help me a lot. Subscribe to my site to be updated of future awesome posts. Till next time.
Cheers!