I have always been an automatic watch guy and don't really like quartz watch in general. But this Citizen Eco-Drive Perpetual Chronograph AT4010-50E really blows my mind. Although it's a quartz wrist watch, it has a huge amount of functions that excite the techie spirit in me. It is solar powered, a chronograph, perpetual calendar and best of all it has radio controlled atomic timekeeping – all of these make this wrist watch a true feat of watch engineering.

Citizen Eco-Drive Perpetual Chronograph AT4010-50E
Specification
Diameter: 42 mm
Thickness: 13 mm
Case: Titanium
Lug Width: 24 mm
Strap: Titanium bracelet
Bezel: Black bezel with Tachymeter scale
Dial: Black dial with textured pattern
Dial Window: Sapphire crystal with anti-reflective coating
Markers: Index markers with lume
Hands: Dauphine hands with lume
Movement: Citizen Eco-Drive E650 quartz movement with analog display
Watch Functions: Solar powered light by Citizen's Eco-Drive technology, Radio controlled atomic timekeeping (in US only), Perpetual calendar, Chronograph, Power reserve indicator, Alarm, Day & date function, 12 & 24 hour time, smooth movement of hands while operating its various functions
For detail information on the watch's various functions, download the Citizen's setting instructions here
Power Reserve: 270 days or 9 months
Water Resistance: 200 m / 660 feet
Accuracy: Very accurate thanks to quartz timekeeping. In addition, with its atomic clock syncing every day, it can be said to be as accurate as an atomic clock!
Best Place To Buy: Amazon

Nice Design With Titanium Case For A Very Light Wrist Watch
The design of the Citizen Eco-Drive Perpetual Chronograph AT4010-50E Watch is quite nice to look at. Sure there is a lot going on the 42 mm diameter watch but that's what to be expected from a chronograph.
You can see the 3 subdials on the face that have different functions to play (more on that later). But surprisingly the dial – as congested as it may be – is very well designed.
Citizen has tried to make the watch as symmetry as they could. The use of reflecting metals such as the marker linings, subdials and outer edge of dial is a very nice touch. The inner circle of the dial is textured and contains the solar panel of the watch.
The watch is 42 mm in diameter and is not too big for most guy's wrist. It is quite thick at 13 mm. Most quartz watch has much thinner profile but this is not your ordinary quartz watch though, so those extra milimeters are totally justified.
The lug width is 24 mm which actually make the watch looks larger. In my opinion, a 22 mm lug width is enough for watch with this size.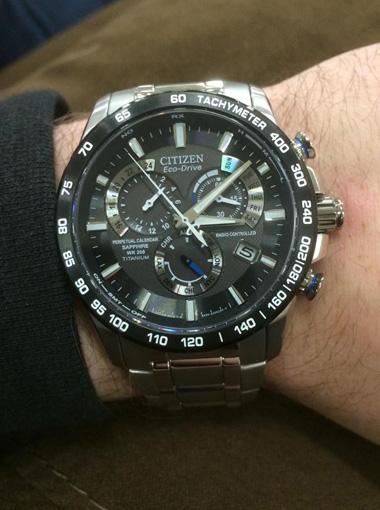 The material used for the case and bracelet of the Citizen Eco-Drive Perpetual Chronograph AT4010-50E Watch is titanium which is a premium material for watch making.
Titanium is an element that is widely used in aerospace industry. The reason? Titanium has almost the same strength of steel, but it has almost half of steel's density or weight. This gives it a better strength to weight ratio than steel.
Using titanium as watch material will make the Citizen Eco-Drive Perpetual Chronograph AT4010-50E Watch much lighter, just about 100 g.
Not only that, titanium also is highly resistant to corrosion such as sea water and your own sweat. It's also an inert element and it's hypoallergenic property is a great option to those that have allergy to steel.
A big difference with stainless steel is the appearance. Titanium has a matte finish while stainless steel is more shiny or polished. The reason why titanium is pricier than steel is due to the scarcity and difficulty in molding and welding the element.
For more info on titanium, you can read more on ablogtowatch.com and Wikipedia.com.
Packed With Functions!
The watch is truly a technical achievement. Here is the list of functions that the Citizen Eco-Drive Perpetual Chronograph AT4010-50E Watch has:
1- Solar powered by Citizen's Eco-Drive technology
2- Radio controlled atomic timekeeping
3- Perpetual calendar
4- Chronograph
5- Power reserve indicator
6- Alarm
7- Day and date display
8- 12 and 24 hour time
Take a look at the list above. Those are very commendable list. There are a few things that is not there that I would love to have such as compass and watch light but then you can't really have everything right?
What I really like is how these functions helped to make the watch truly independent and can work on its own. There is no need for the owner to even set the time/day/date or anything.
It's like a smartwatch from Samsung or Apple but with the gorgeous design of an actual watch. Let's have a look at how these functions work.
 Check out this useful video on how to use the watch's various functions. Notice how beautiful the hands moves and glides on the dial when operating it. Citizen really knows how to impress people with this smooth hands =)
Citizen Eco-Drive Technology – No Need For A Battery Anymore
The Eco-Drive is a wonderful creation by Citizen. It uses a solar panel to convert light into electrical energy and store it inside a power cell. Not just that, the panel also can convert light from any source.
Sunlight is the best but you can still charge it by placing it beneath a table lamp or normal fluorescent light. The power cell also will last a lifetime of use so there is no need for replacement.
This technology is a step up from the quartz and automatic movement watches. It uses quartz for very high accuracy (up to only a few seconds per month.
A great improvement over automatic watches that is accurate to a few seconds in a day). But instead of a battery, it uses the best kind of renewable energy: light.
By placing the solar panel sublimely underneath the dial (which is a technical feat also!) and using a long lasting power cell, the watch can run literally forever.
The best part is the power cell that has 270 days (or 9 months) power reserve. Such huge amount of power reserve is a huge difference with 40 hours power reserve of automatic watches!
But one thing to note is that the recharging can take up to 210 hours for a table lamp (normal office light at the ceiling is too far to make a difference).
Citizen also said that the best source is sunlight, but even a sunny day will need 35 hours of direct exposure for it to charge to full capacity.
Luckily there is a power reserve indicator is situated at the top right subdial. I don't think you need to bask yourselves in the sun for 35 hours straight.
Just charge it up under a table lamp whenever the power reserve drops to half and that should do the trick. Visit these sites for more information on Citizen's Eco-Drive and E650 Movement recharging guide.
Radio Controlled Atomic Timekeeping
Another interesting and very useful function of this Citizen Eco-Drive Perpetual Chronograph AT4010-50E Watch is the atomic timekeeping.
In Denver, there is a radio tower at Fort Collins station that sends radio signal which contain the atomic time – which is the most accurate time on earth.
Appliances (like this wrist watch here) can tap into that signal and pick up the atomic time to reset their devices time accordingly to the atomic time.
One thing that you need to know is that this is not a GPS watch which means you have to set your own timezone (indicated in the bottom subdial).
The watch supports 5 timezones – 4 major timezone in US : Eastern, Central, Mountain, Pacific and London timezone. So if you are from other part of the world such as Europe, Asia (or even Alaska and Hawaii in US), the radio controlled atomic timekeeping will not work.
The watch can also be set to alternate time mode (A-TM) in the bottom mode subdial where you basically set the time yourselves. But then what's the fun in that? =)
What the watch will do after getting the atomic time from the radio signal is to change the time into your actual timezone. The reception will be done automatically at 2am everyday or can be done manually.
Since this is a radio signal, you've gotta expect some restriction in usage. For example the radio signal won't work if you are in a building, tunnel, basement etc. For best signal transmission, position the watch next to a window and it will catch it and adjust the time accordingly.
With this, you are using the most accurate watch on earth, more accurate than most watches! I'm not sure whether it is Citizen that first produced a radio controlled watch to sync with atomic time, but whoever created this is a genius.

Citizen Eco-Drive Chronograph With Tachymeter Scale
What would a high tech wrist watch be without a chronograph? The Citizen Eco-Drive Perpetual Chronograph AT4010-50E Watch also has one with a beautiful Tachymeter scale on its black bezel.
But to use this function is not as simple as other chronographs as the mode of the watch need to be changed to chronograph mode – it's done by pulling the crown to first position and rotate the mode subdial (the bottom subdial) to "CHR" or chronograph.
The two pushers at the right 2 and 4 o'clock can then be used for the chronograph function. Top pusher will start and stop the chrono while bottom pusher will reset it.
The chrono will only measures up to 1 hour (or 59 min 59 seconds) and this is measured on the top right subdial. It's way less than other chronographs which can go from 4 hours to even 24 hours of measurement.
It seems Citizen chose to reduce the chronograph measurement to save one subdial for other functions (which is cool with me as I don't really think anyone would measure up to hours right?).
Tachymeter scale on the black bezel kinda gives the watch a cool look. The scale is used to measure speed of any object (works in kmh or mph) if you know the distance it traveled.
Start the chronograph when the object starts and stop it at the point you know the distance it traveled. This will gives you the speed. You can also check out my review of the Tissot Couturier Chronograph here as I've written about how to use the chronograph.
Alarm And Perpetual Calendar
This watch also has alarm and perpetual calendar. These two functions can also be found in automatic watches but it will cost a ton of money to own those watches.
Luckily with the latest quartz and electronic watch technology, these functions can easily be found at lower cost and affordable to average guys. The perpetual calendar is very useful as you don't have to adjust the date at the end of each month.
The watch took into consideration the different days in a month as well as leap years, so there is no need to change the date up until 2100. Alarm function can be used by activating the alarm mode. The time for the alarm can then be set easily then. The alarm will set off for 15 seconds when time arrives.
Citizen Eco-Drive Perpetual Chronograph AT4010-50E Watch Pros and Cons
Below are the summary of the pros and cons of the watch for your easy reference.
Advantages:
1- Syncronizes the watch with atomic time everyday making it the most accurate watch on the planet
2- Smooth and subtle moving hands while operating the watch
3- Eco-Drive technology ensures that no battery is needed
4- Power cell can last for 270 days or 9 months
5- Beautiful watch design incorporating all those indicators and subdials perfectly on the dial
6- Titanium casing makes the watch lighter than a stainless steel watch
Disadvantages:
1- Radio controlled atomic timekeeping only works in 5 timezones. If you are outside of US or London, then this watch is not for you
2- Chronograph only measures up to 1 hour
3- 24 mm lug width and bracelet make the watch appear much larger than it actually is
My Final Verdict?
The Citizen Eco-Drive Perpetual Chronograph AT4010-50E is not an automatic that I loves but the techie side of me just scream with excitement when I see this watch.
It has a titanium body, great design, Eco-Drive solar powered, radio controlled to sync with atomic clock, alarm, chronograph and 24 hour time. Not to mention it has a whopping 9 months power reserve, perpetual calendar and reset the time automatically everyday.
These functions make this wrist watch to be fully independent of any human intervention – you can use it everyday and don't need to worry about whether the time or day or date of it is correct.
Put the watch under your side lamp when you sleep is enough to charge it for a few weeks of use. Whether you are having it for yourselves or as a gift for someone else, I'm sure no man will not dislike having such a useful tool in his arsenal =)
---
If you are looking to buy the Citizen Eco-Drive Perpetual Chronograph AT4010-50E, Amazon currently has a discount on it. This drops the price from its MSRP of $725. Click the link below to check out the best deal of this gorgeous wrist watch on Amazon.