The most essential companion to any watch is its strap. Watch strap will change the style of a watch to different levels.
To most of the people the brand of the watch matters the most but do not forget the thing that connects your branded watch to your wrist is the watch strap (or some of you would call watch band, bracelet, etc).
This article is the second part in a series about watch straps. In the first part (click HERE to read it), I've written about types of watch strap materials.
There are 4 most common material for a watch strap that is leather, metal, fabric and other elastomeric material (rubber, polyurethane and silicone).
But that's not everything about watch straps. The material is an important thing, but equally important is the style of the strap which will determine how fashionable your watch is.
Listed below are 12 types of watch strap styles most commonly used today. In this list, I'm grouping them by types of materials but some of them can be made from many materials (such as Nato and Zulu).
These are the 14 types of watch straps styles mostly used nowadays:
If you don't want to spend time reading the article, you can have a look at the video above for the simplified version
1- Normal Leather Strap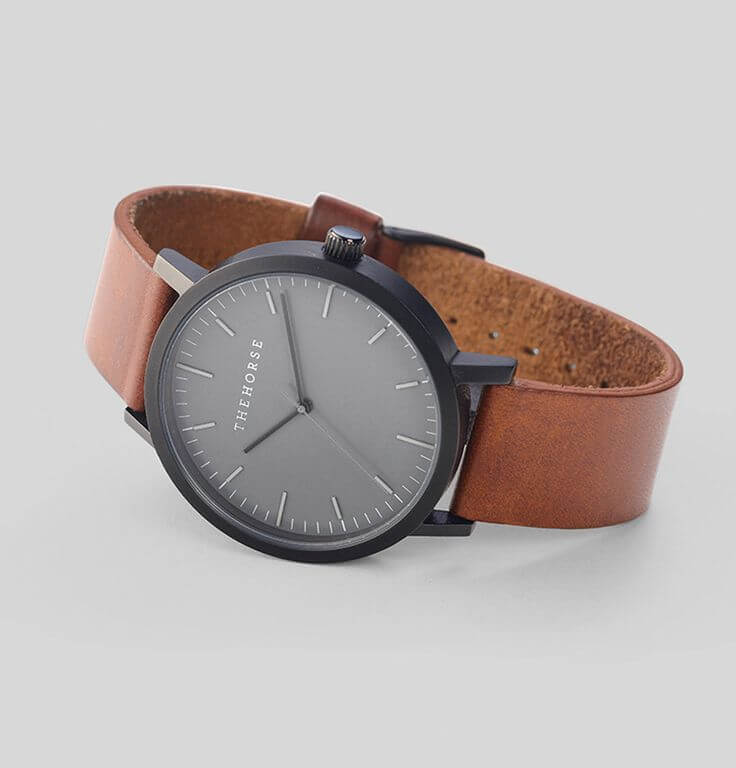 A simple brown leather strap with a very clean look – for those that don't want to attract too much attention to their watch
Let's start with my favorite, the normal leather strap. It's one of the most classic strap with simple design and smooth surface. It's perfect for those that want a strap for casual and office wear, but don't want to seem overdress at the same time.
It can come with extra padding on the inner for extra comfort or without it for a sleeker look. One thing that I'd recommend is to use a deployant clasp instead of the normal pin buckle.
Using deployant clasp helps to reduce the wear and tear of the strap as you don't have to pull it up all the way when you want to open the strap. It works a long way in preserving your strap =)
2- Stitched Leather Strap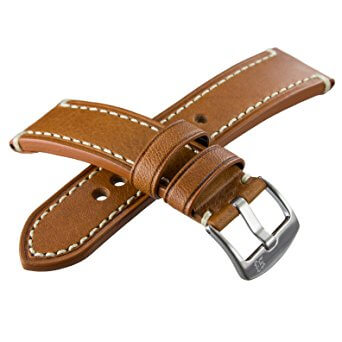 The extra contrast stitching at the perimeter of this strap make it look more casual
A variation of the normal leather strap with stitching at its sides. A contrast stitches (white stitces on black/brown leather) will undoubtedly make the strap look more casual and rugged. Without a doubt, the perfect choice with your jeans!
3- Exotic or Grained Leather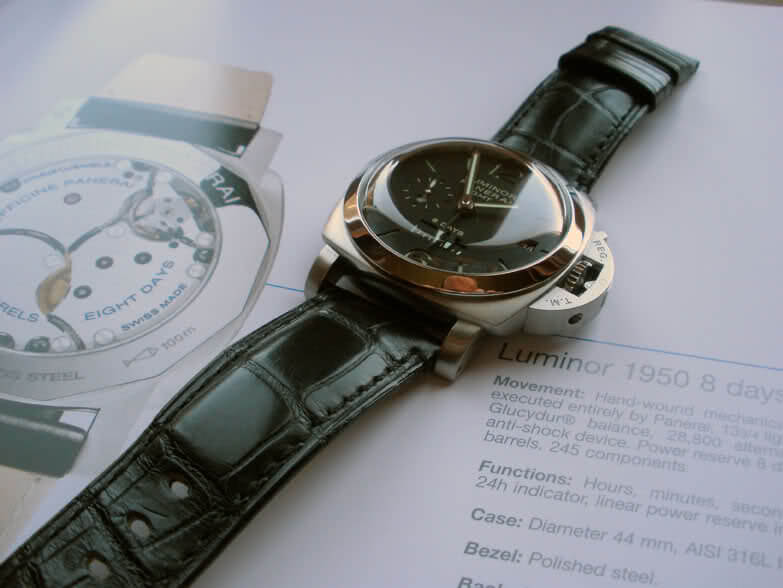 A black alligator strap is a very good choice to dress up any watch for that black tie event
At the other end, exotic or grained leather strap sits on top of the formal wear style. Nothing can beat a black alligator strap for formal wear with its refined look. They are by far the best choice for such black tie events.
A major disadvantage with it is it will cost much more than a normal calf leather strap. But fortunately there are straps made of calf leather but with stamped pattern on it. It won't beat the actual thing but it will at least give some nice addition to your otherwise boring normal leather.
4- Double Ridged Strap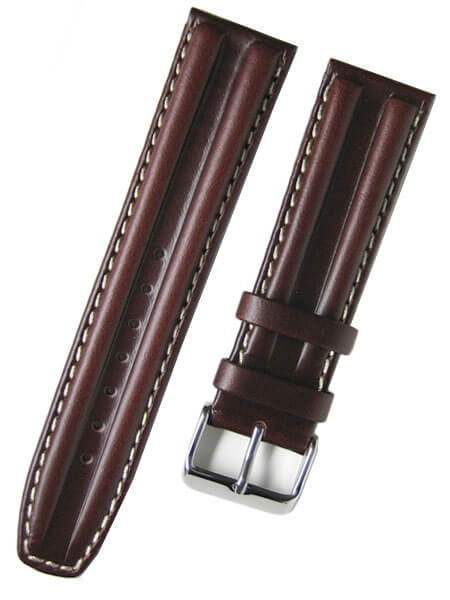 Bored with leather straps? You might want to check out the double ridged strap for a very unique look
A double ridged strap is made by inserting two narrow padding inside the strap to make it protruding. The result is a leather strap with more flair and unique characteristic.
5- Rally Strap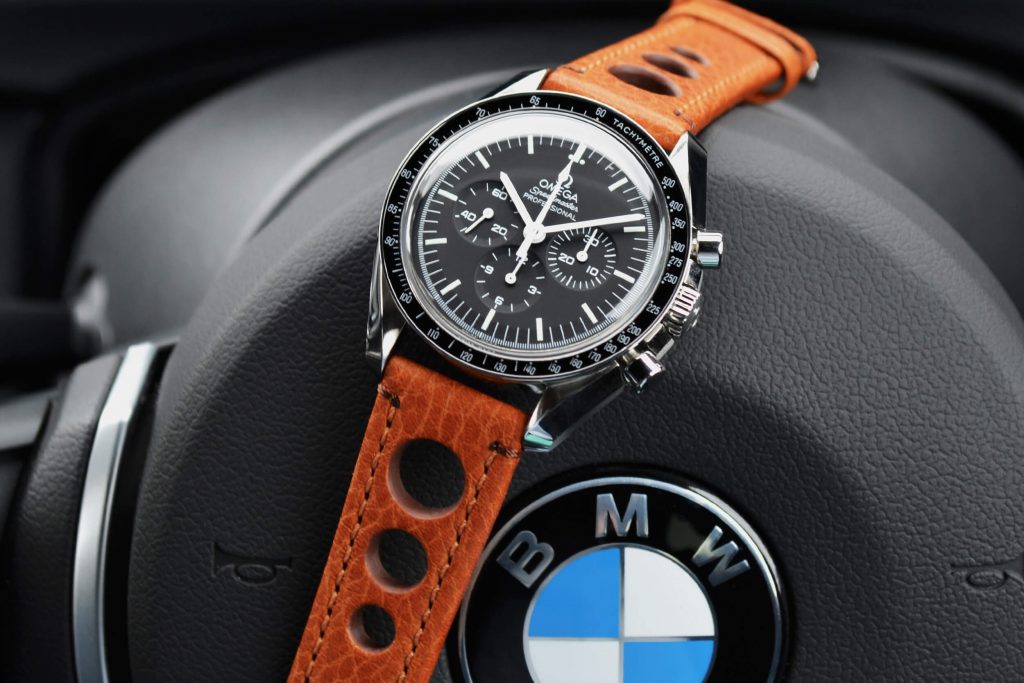 The openings on this rally strap will help your wrist to breath in the hot weather
Large perforations punched out below the lugs is what makes Rally strap stand out from the rest. Rally straps usually come in leather though it can also be made from rubber.
Inspired from the designs of racing gloves, Rally strap is a good choice to make your wrist more breathable in the heat of summer. And have I mentioned how cool it looks on an equally cool chronograph watch?
6- Bund Strap

Extra padding underneath the bund strap will help protect our wrist from extreme temperature (too hot or too cold). And have I mention that it does looks cool too?
Bund strap was also made for the German Air Force came with extra layer of leather padding underneath the case so that metal would not scald or freeze to the skin in case of extreme situations.
Another usefulness of the Bund strap is that it can absorb perspiration from getting into the watch, though this is not the case with today's watch construction technology.
Another benefit of this strap is it is a great choice for anyone with metal allergy as it prevents direct contact with the skin.
By the way, it's an opposite with the Rally strap above. You might want to avoid using it in summer as it will be hotter lol!
7- Nato Strap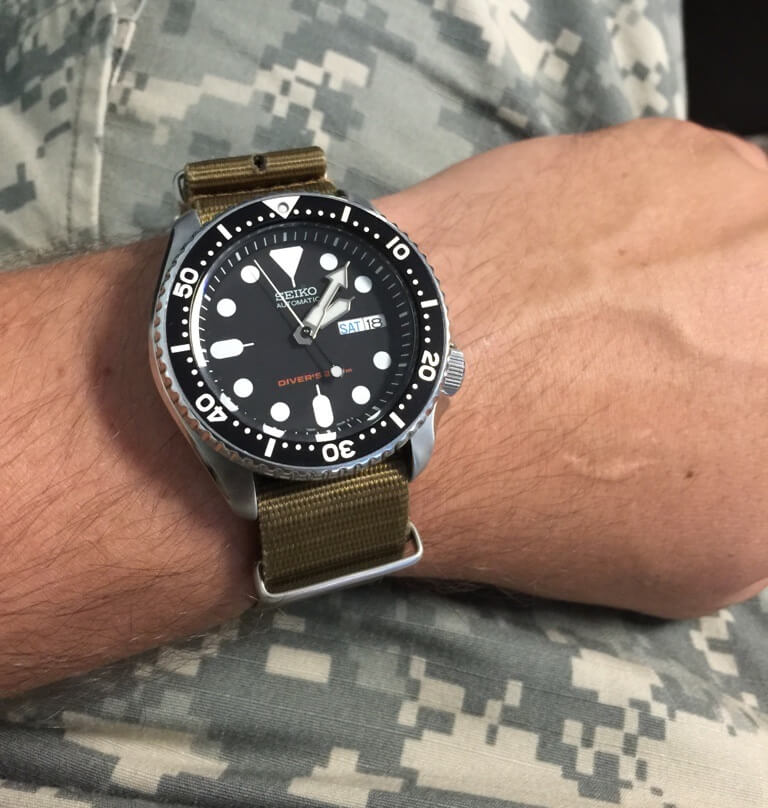 A Seiko SKX007 with a nylon Nato strap – perfect for those outdoor activities where metal bracelets are too heavy and leather straps are too dressy.
As the most famous strap for casual wear, I'm sure you guys must have read or seen it at least once right? It's mostly made from Nylon but there are also leather Nato straps.
It became popular among the general masses for its lightweight, durability, fuss free and cheap price. The other reason for its popularity is how it can drastically change the look and feel of a watch.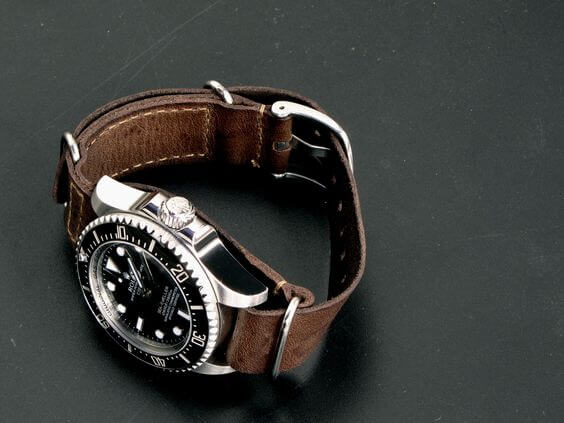 Despite most people's belief, Nato strap (as well as Zulu) also comes in leather which is perfect for those that love the simplicity of the strap but hate the harsh feeling of nylon on their skin
The most unique thing about Nato strap is its single piece construction, unlike most other straps that have 2 pieces. The usage of it is fairly simple. There are two flaps with the strap – one will go through the spring bar (or the bar that holds our strap/bracelet to the watch) while the other one will wrap the watch to hold it together. Go to this link for a very clear instruction on how to set Nato strap on a watch.
Very recommended for that casual use on weekends, but you might want to replace the strap when the work week started =)
8- Zulu Strap
Like Nato, Zulu straps also comes in leather and nylon
Zulu strap is strikingly similar to the NATO strap on the appearance but the main difference is Zulu straps are made from a thicker materials than NATO straps.
Not only that, Zulu has 2 options: the 5 rings Zulu (has the same form as Nato) and the 3 rings Zulu (only one piece of nylon strap without any looping, which of course won't restrict any movement of the watch). Check out this site for a clear difference between Zulu vs Nato and how to use them.
It's main advantage is thicker material (Nylon or leather) for a more durable strap. But this also means the strap might not fit in with all springbars unless they are big enough.
9- Perlon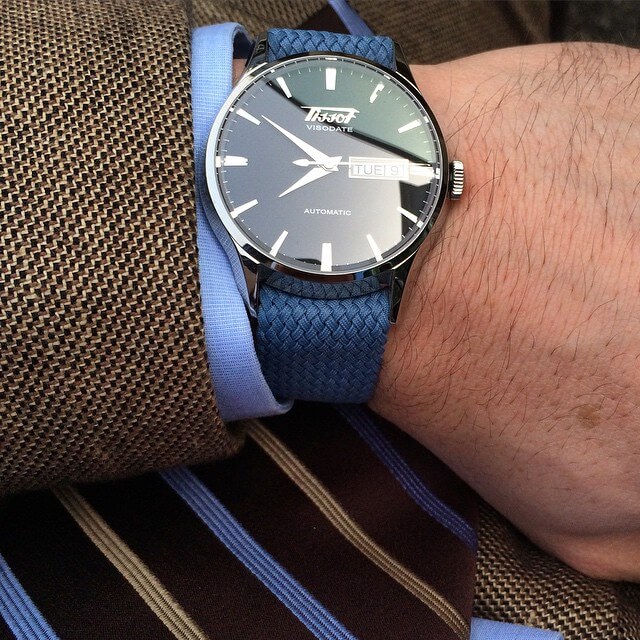 A blue perlon strap on Tissot Visodate. Who says a fabric strap can't go well with a traditional dress watch?
Another watch strap style that increasingly become more popular nowadays is Perlon. It's an intertwined nylon threads weaved into each other. One unique characteristic of Perlon is how it does not has any holes on it for pin.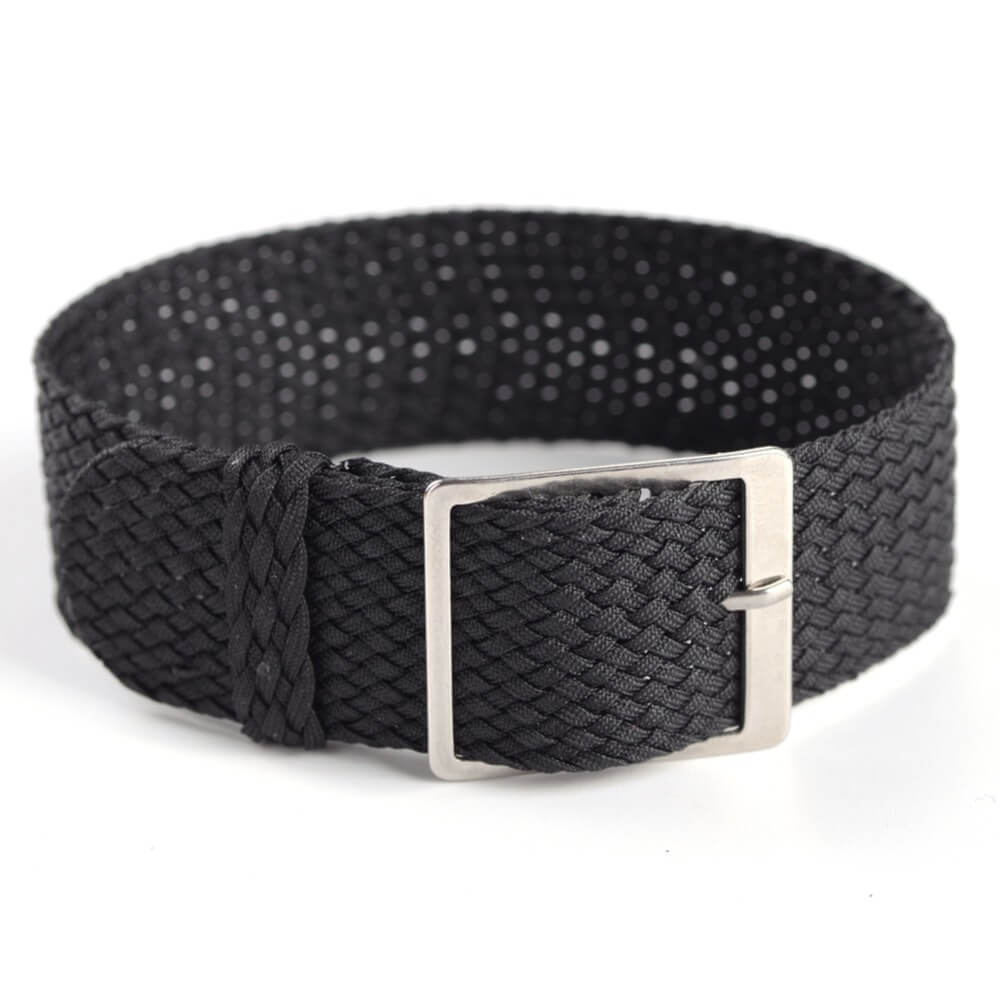 Instead, the pin for the buckle is penetrated through the woven nylon. What I like about this strap is how it has that 3D texture unlike the other nylon straps above.
It's also very light and comfortable to be worn. Perhaps one issue that I can foresee is the low durability after many usage as well as to moisture.
On the subject of durability, there is no mistaken that metallic bracelet is the best in this field. Now, let's move on to the metal bracelets shall we.
10- Oyster Bracelet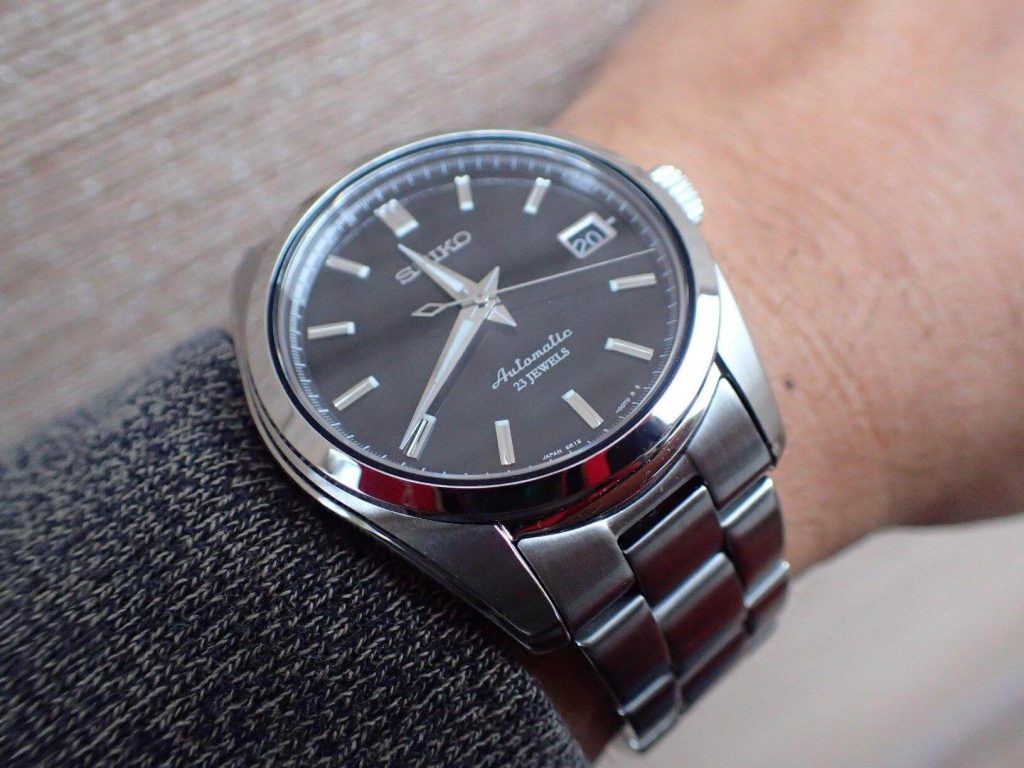 The beautiful Seiko SARB033 with its stock oyster bracelet
Let's move on to the metal bracelets styles. First and foremost is the oyster bracelet, a true classic bracelet, introduced by Rolex for their dive watches. With its long history, it's one of the most popular type of steel bracelets on many watch brands (not to mention easy to manufacture as it's quite bulky, hence less amount of steel links).
The main characteristic of the bracelet is its symmetrical design of steel links: you'll find the links are all similar in size, hence making it look quite plain. However, that is also its strong point as the bracelet won't take away attention from the watch itself.
The Oyster bracelet is also preferable among watch fans due to its functionality rather than the design. It's made of 3 piece links joined by a bar in between the links, with the a wide center bar making each links very strong. The number of links are less so there is less chance of break points – making it a very tool-like bracelet type indeed.
But then again, as the links are less in number so are the swivel points. As a result, the Oyster bracelet feels a little bit stiffer as it won't really take the shape of our wrist. In addition, adjusting the bracelet for a perfect fit for your wrist is quite hard as each link is long. Thus, do ensure the clasp of your oyster bracelet has micro adjustment feature for the best fit.
It's totally a great bracelet for casual use and more sporty than the other bracelets in this list. It's also a great strap for diver's watch clasp too.
11- President Bracelet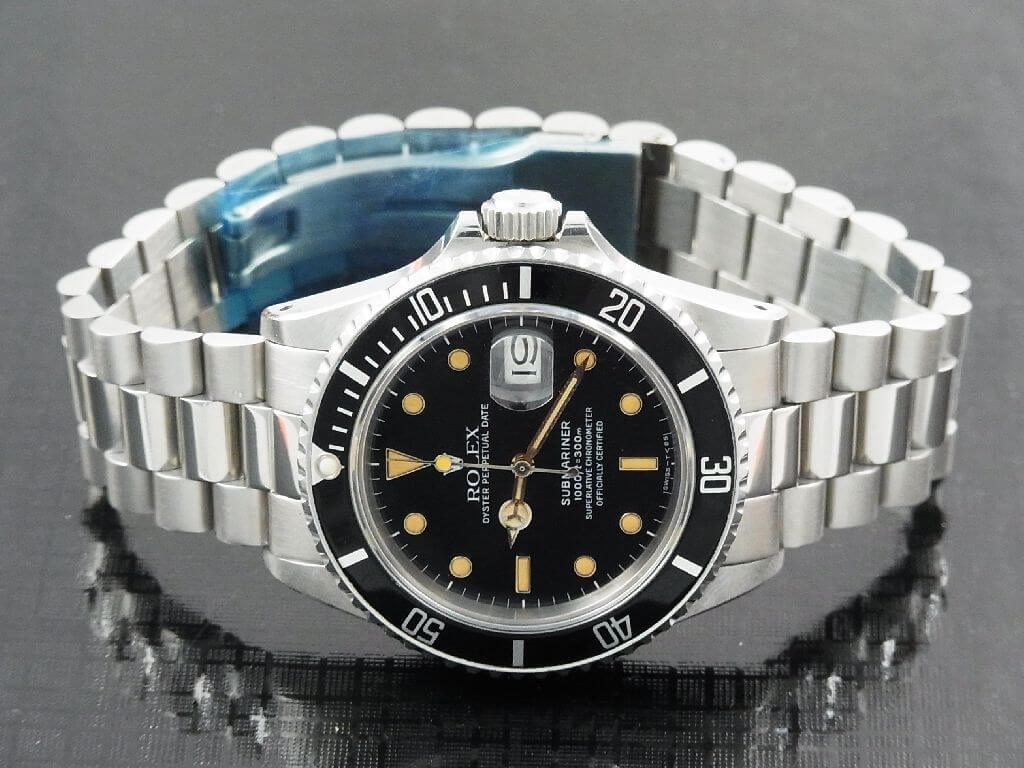 The main difference of president bracelet vs oyster is the shorter links which make it easier for the bracelet to wrap our wrist perfectly
Another popular bracelet which was again introduced by Rolex. This time, the bracelet got its name because it was used on the gold Rolex Datejust worn by US President Dwight D. Eisenhower, which was how it got the name of president bracelet.
President bracelet is very similar to the Oyster bracelet with the 3 pieces per link construction. The only difference is it has a shorter link, hence making it look denser and more intricate.
The result is an oyster with a more conforming bracelet to our wrists' shape. It definitely look more dressy and formal, perfect for a dress watch.
12- Jubilee Bracelet

The narrow links at the center of the bracelet makes it more unique than traditional oyster and president bracelets. Above is the gorgeous Rolex Datejust two tone
A variation of the president bracelet but with three narrow highly polished links surrounded by matte side links, giving the Jubilee bracelet it's characteristic feature.
There are also two tone variations (center links with gold, side links with stainless steel, etc.) which makes it a very excellent choice for a dress watch.
But one downside is the narrow links at the center are places of high stress where the pins are more prone to damage. To make matters worse, the pins are also thinner since the links are quite small hence reducing its structural integrity.
With that being said, jubilee bracelet is still a very stylish strap type, just as long as you know it's limitations. Definitely will look great on a dress watch, that's for sure =)
13- Engineer Bracelet

Engineer bracelet has its name from its dense and very symmetrical like small links on it. There are 5 columns of links per line being placed strategically to create a beautiful pattern.
I'm pretty sure you can see how different this bracelet is. It's pattern is totally different than the other steel bracelet types above. In addition, it does command attention to it thanks to the overbearing design. I personally think the engineer bracelet will work well with a large watch that has a proportionate size to it.
14- Milanese/Mesh Bracelet

The milanese or mesh strap is distinctive and unique in its own right for 2 main reasons.
One, it's construction is unlike the other steel types above as it does not have small pins connecting between links. Instead, the whole strap is made out of interwoven steel threads – akin to like a cloth being made out of steel.
Secondly, it's basically a strap in which it's not like a bracelet. There are 2 pieces with it and you have to join it together to wear it, much like how you'll wear a normal watch strap.
It's advantage is in its very dressy look. I mean, it really looks great and unique on its own right. Paired with an equally beautiful watch, the combination will be something that will definitely steal looks from people all the time.
Undoubtedly, watch straps bring out the style to a whole new level. So the next time you want to bring variation in your watch collection do not go around buying different branded watches.
Simply choose from different types of watch straps and you can easily change the feeling and look of the watch. It's definitely a very quick and easy styling technique.
So What Strap Should I Use?
Well, in my opinion there is no one strap to rule them all. Certain straps are better for a certain settings, events or usage. Even then, there are a few style rules that we can follow.
Having a black tie event? Grained leather could bring out an aura of exclusivity. Jubilee bracelet works great too, especially if your watch is a two-tone Rolex.
Nato, Zulu and Perlon are good for casual weekend outings. But don't bring them near water though as it will get soaked and trust me, it will be really discomfort having to wear it afterwards.. To hang out around the beach, rubber strap or oyster or other types of  steel bracelet are definitely the best choice.
Getting back to the office? Swap your watch with a leather strap to give a look of professionalism. Any of the bracelets will be a great choice too.
Fabric might not be a good choice but this will depends on your workplace. If you're working in a very casual environment like Sillicon Valley, then fabrics (Nato, Zulu, Perlon) would be fine. But for a high flyer Wall Streets banker, you might want to restrain your "craziness" a bit and save them for the weekends.
Steel Bracelet Vs Leather Vs Cloth Vs Rubber Straps
One of the things that people always ask is the difference between the general types of straps: steel bracelet, leather and cloth straps
In terms of ease of use, nothing can beat a steel bracelet as it's very easy to wear and open afterwards. Not to mention it's very durable and can take a beating – it's made out of steel after all! It's also the best in terms of longevity.
But steel bracelet is a bit hard to adjust and you'll need special tools to do it or else you might cause damage on its surface. Check out my guide on how to do it here. In addition, if it's too tight, it will cause discomfort on your wrist and leave unsightly marks on it. It's also quite heavy and not the best in terms of comfort.
Getting into comfort, almost all of the other types of straps is more comfortable as it's lighter. Padded leather straps is one of the best because, well, it's padded. Rubber also is a good strap type for comfort.
But unfortunately, none of them are quite as long-lasting as a steel bracelet which is one of the things that you need to remember prior to purchasing an expensive leather/natural rubber strap. It might look nice and all, but its longevity is a big question mark and depends on how you use it.
I hope you guys have a blast reading this article. Let me know if I missed out on any other types of watch strap styles.
Don't forget to put your comments below =)
Cheers!
Isaac