So what is military watch? A military watch, aka field watch, is pretty much what it means – it's a watch made to be used by the military. As you might've guessed, this means it's highly durable, able to withstand tonnes of punishment, and just about any tough standards you can think of, the army watch will excel in it.
It's a watch made to be used during war after all!
History Of Military Watches
War, although in and of itself a hideous human activity, has always been an instigator of technological, and even medical improvement, not to mention the significance WWII had for women's rights in the West.
In this vein, it could be argued that we owe the existence of wristwatches, and military watches in particular, to this hideous activity and demands it put on the industry. It is because of war people are using wristwatches!
(read my history of watches article for more info of how watches evolves from ancient to modern age)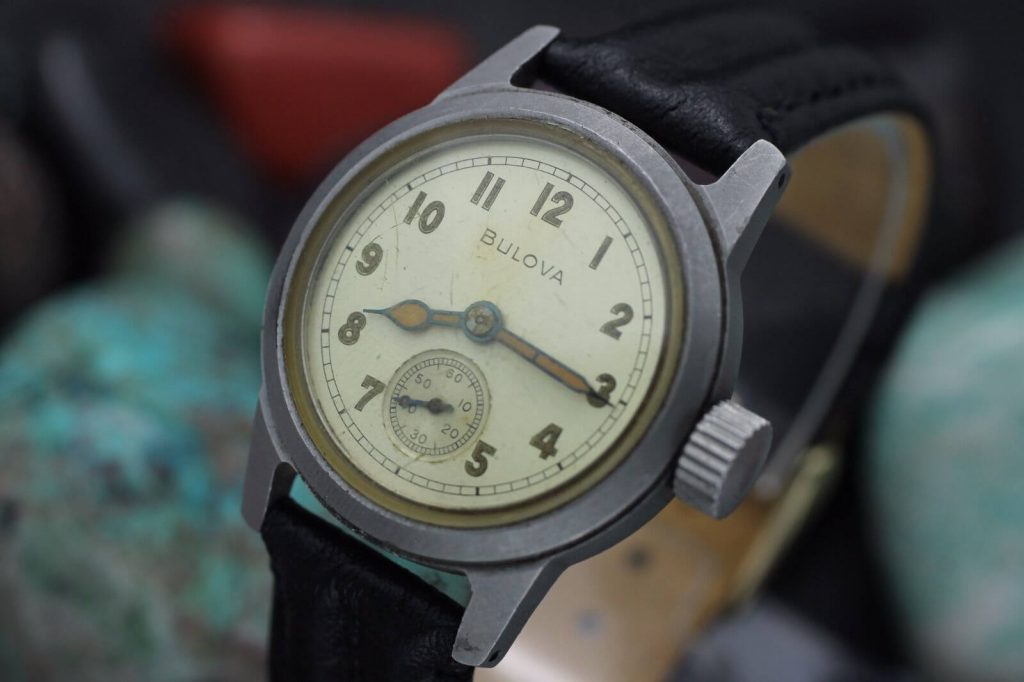 Bulova military watch made for the US Army
Early Military Watches
The first military watches ever were, most likely, worn by the German navy officers as early as 1880s. These were made by Girard Perregaux, a Swiss watchmaking company still very much alive.
Chronologically speaking, there is a tie between the Japanese during the first Sino-Japanese war and the British during the Boer War as to the next instance of military watches being actually worn. However, the first hard evidence, several photos from the Boer War, clearly show the British wearing them.
These watches were made by the Swiss company Omega, and sold through Mappin and Webb, or rather, supplied to the army.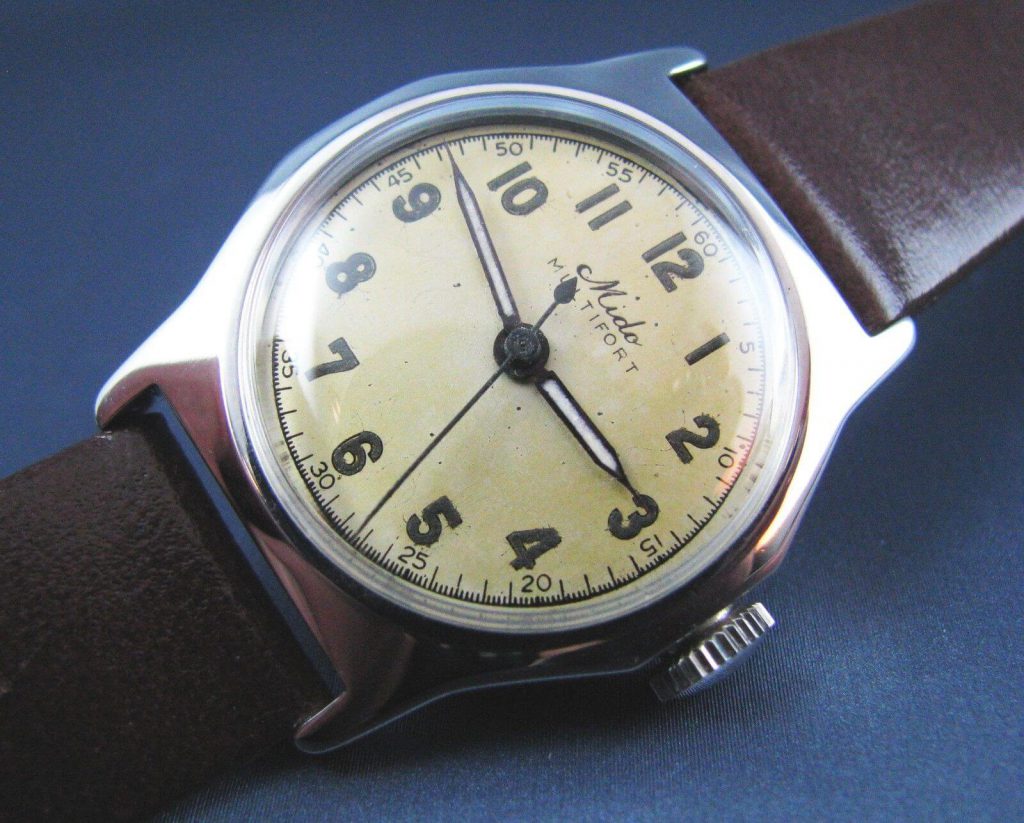 Mido Multifort military watch
The Great War
At the onset of WWI, the British army had pocket watches as standard issue, until the trench watch (trench watch is basically a pocket watch with a strap that could be worn anywhere) replaced the pocket watch for ease of use in battles.
By 1916, "proper wristwatches" emerged, which were more convenient, easier to use and overall more practical.
The development of military watches shadowed the development of heavy ordnance and military strategies (or was it the other way around?). The creeping barrage is a WWI tactics that implies heavy shelling of the enemy's positions. The trick is to know when it is going to strike.
Moreover, around this time Cartier designed the famous Cartier Tank Watch (not meant for tanks, but inspired by them), which offered ultimate shrapnel protection on the battlefield (not to the wearer, however, apart from the wrist).
Interestingly enough, WWI also saw the among the first luminous watch and the Military Luminous Watch supplied by Goldsmith. While the European armies relied on the Swiss watchmakers (Longines, Zenith, Omega, Girard Perregaux) during this period, Hamilton and Elgin produced for the US.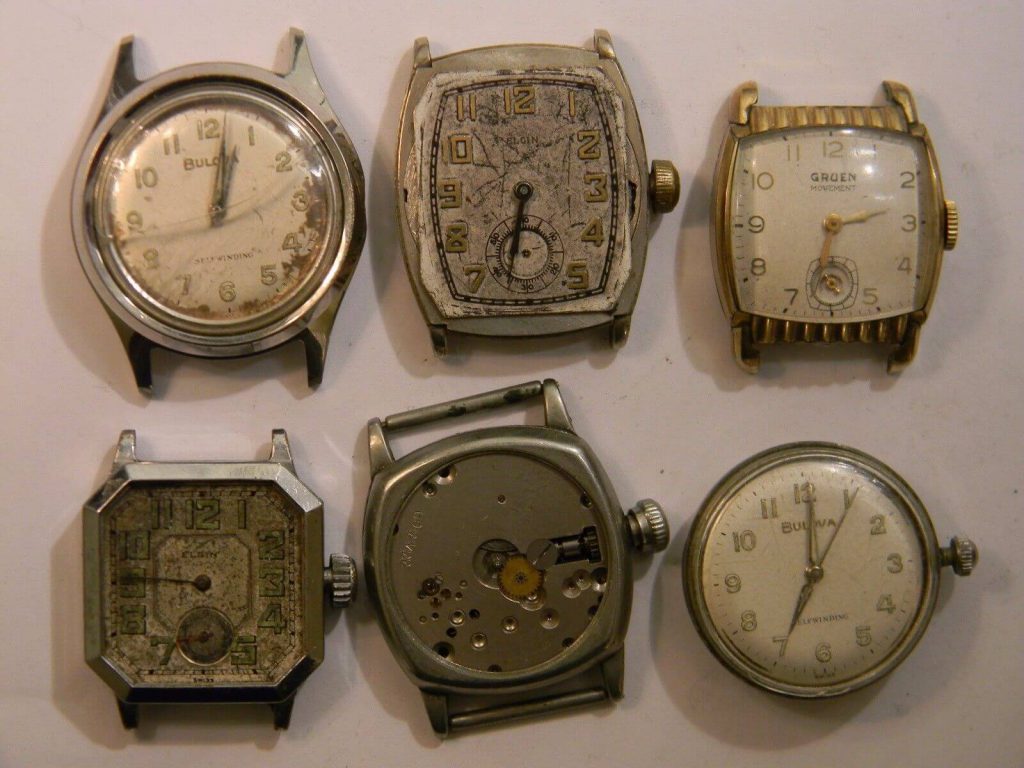 Six vintage WWI military watches from various makers
World War II
During the WWII, the market for military watches experienced a real boom (no pun intended) and companies like Rolex, Jaeger, LeCoultre, IWC and Omega were official suppliers of the British. As a matter of fact, all British army watches came from import, though they did have to pass exacting standards, upon which they received the right to have the British Arrow engraved in the face as a sign of quality.
On a similar note, watches that were certified as waterproof received the right to engrave the letter W. W. W. to signify this.While the UK imported their watches, Germany had her own manufacturers, most notably A. Lange & Sohne. Receiving the right to engrave DH on the back was the German equivalent of the British Arrow, denoting that the watch meets the military standards.
Meanwhile across the Atlantic, the US army codified the MIL-SPEC for the US army. Its purpose is to impose a standard for military watches for the US issued military watches. The US Army also had a number of suppliers, such as Bulova, Elgin, Hamilton, Movado and Waltham, which are mostly American brands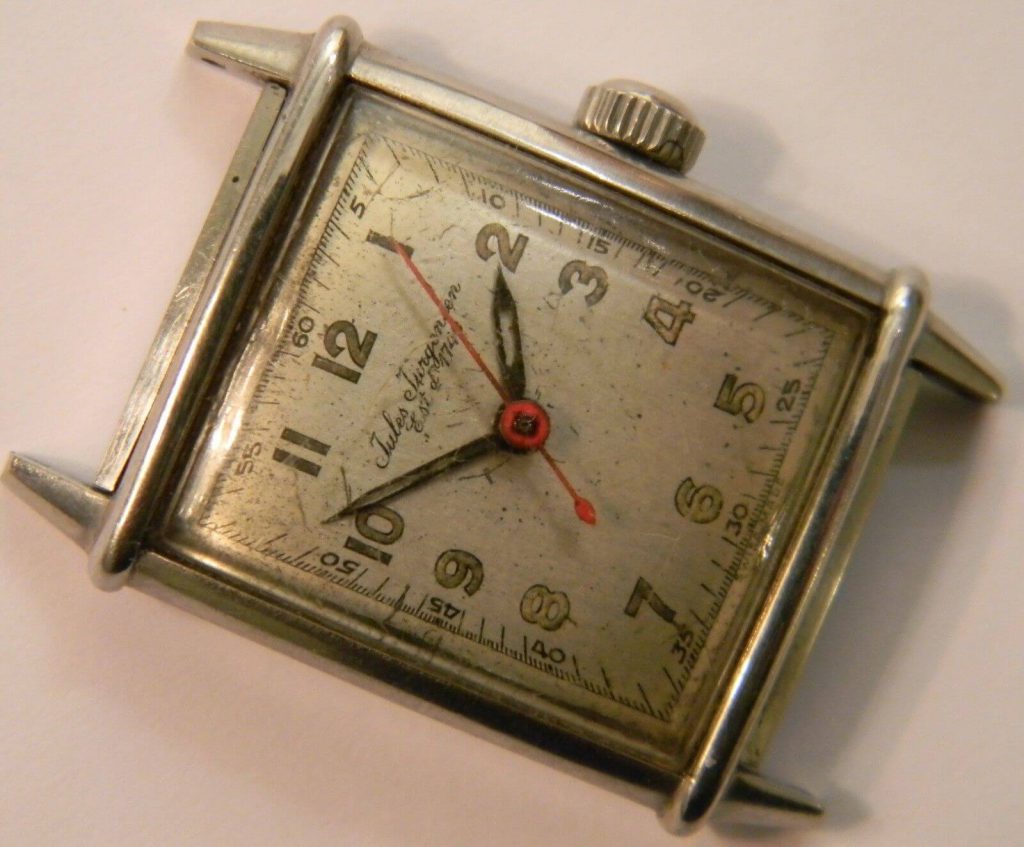 Rare Jules Jurgensen WWII military watch
So who are the real winner in WWII? I'd dare say the watch manufacturers profit the most. During this time, governments contracted watch makers to produce large bulks of military watches which equals to big fat cheques to them.
Not to mention the experience of having to produce large quantities of watches in a short time had them improve their manufacturing processes for better efficiency and profitability.
Military Watches after WWII
As means of production became ever more cost-effective, the era of disposable military watches dawned. It was sometime during the Vietnam War that the US Army realized it was more cost-efficient to dispose of the watches than to repair them. This significantly streamlined the production and made for a simplified design.
Incidentally, this was also when stainless steel was introduced as a casing material and reinforced plastic displaced glass. Some of the major suppliers during this period for the US Army were Benrus, Hamilton and Westronics.
The Vietnam War also sparked another innovation in military watches (and, eventually, commercial watches) the introduction of tritium gas. Tritium is a type of self-illuminating radioactive isotope of hydrogen that was administered as painting on the hands and markers (or dial numbers).
However, due to health safety issues and environmental concerns, tritium was eventually encased in capsules. It was again the Swiss who were responsible for this breakthrough and MB Microtec managed to design these capsules, which were able to illuminate for about 10 years, until the tritium within them decays.
Luminox, Traser and Nite are some of the most prominent military watch brands that still use this form of illumination to make their watches. Most other consumer watches have moved on to phosphorescent pigments as luminous paints to avoid any dangerous health issues that could be exposed to wearers should the watch were broken.
Post World War II
This decade saw a real boom in wristwatch development. Not only did the military watches become increasingly diversified, but the tech going into making them spilled over into commercial waters (with matching price-tags, though). Granted, both military watches and those products that seek to emulate them are fairly costly, but they more than make up for it with durability and longevity. Weíll get to that point shortly.
Although digital watches with gizmos appeared earlier, it is during the 90s that they flowered as well as the popularity of electronic watches (G-Shock and the like). Traditional analog watches comes with little functionality and cannot be seen in dark.
On the other hand, newer electronic watches came with various features from stopwatches and barometer, through digital compass and thermometer to world time and LED lights. Some commercial watches even incorporated calculators (in the words of an Internet meme and only 90s kids will know).
Not only that, but their durability increased and they became ever more self-contained. Watches became solar-powered, shock resistant, mud resistant, water resistant and dust resistant.

Casio G-Shock – A great all round rugged watch which is perfect for military use
Main Characteristics Of Military Watches
The differences between regular watches and military-grade ones are pretty much intuitive. Here is a list of some of the main characteristics of a military watch:
1. Easily Read Face (Legibility)
The face of a military watch must be easily read and numerals must be discernible at all times. If you notice, most of them have big numerals (numbers) so that its wearer can easily tell the accurate time at a glance. Lume are also incorporated to help with low light visibility.
A contrasting colors between the watch background (usually black) and the numerals/hands (usually white) is also needed.
2. Durable
Both the body and the strap of a military watch must be durable. Stainless steel is generally used though titanium casing that's lightweight and sturdy is a perfect alternative (albeit more expensive).
It's watch crystal also need to be very durable and shatter proof. The watch has to have resistance to shock, as well as good water resistance rating.
3. Extra Features
Military watches might have more tactical features than their civilian cousins, such as compass, altimeter, barometer, storm alarm, sunrise/sunset time, moon calendar, or even GPS.
So what do these tells us about a military watch? First, it's function oriented. Second, it might not look good at all. Most great military watches are quite bland looking, and it's thoroughly designed for functionality. Well, I never been to a battle before but I sure as hell know that a stylish watch is the last thing you need in that situation lol!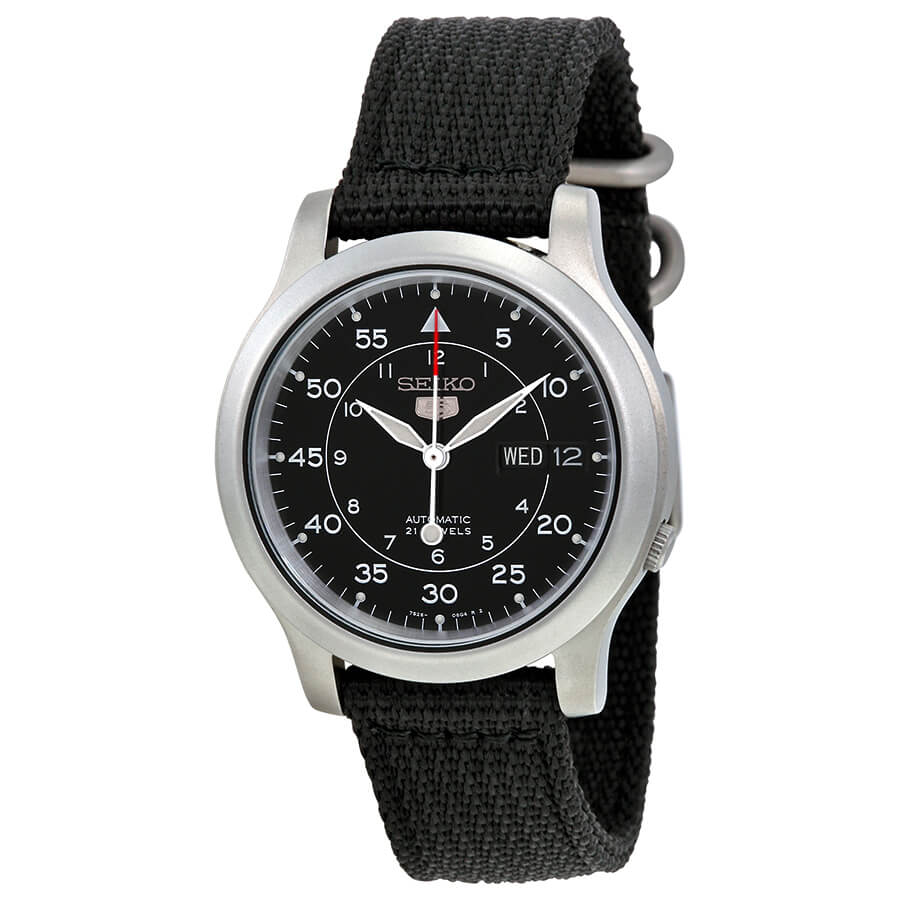 Seiko 5 SNK809 – a new watch with all the styling of a 60s military watches
Military Inspired Analog Watches
Due to its long history, simplistic and unique design, military watches are quite popular and in a good demand nowadays.
Watchmakers with history of supplying field watches (like Hamilton and Bulova) has used their heritage to this advantage by producing modern analog military watches. These watches usually comes with modern design to cater to current tastes.
The design still uses the big and legible hand and numeral markers, but it's more polished and shiny – basically much more stylish to wear than its predecessors.
The result: a great looking rugged watch with military styling perfect for those living in this peaceful times.

Hamilton Khaki King watch – a new watch with modern design made as homage by the brand to its very popular military watch heritage. Best of all, it also comes with automatic movement!
Conclusion
Military-grade watches are invariably durable and specifically designed to withstand lots of punishment. It's a great tool for the army during war and battles. It's also an important pivot point in history of watches. Without them, men today might still be using pocket watches!
I hope you guys enjoyed this article on what is military watch. Drop your questions or comments down below and share this article on social if you like it. It'll definitely help me =). Also, subscribe to my posts (subscribe form at the right sidebar) for more awesome stuffs in future.
Cheers!
Isaac