Invicta Pro Diver 8929OB is a very cool and stylish looking watch at first glance. It has a two tone color with contrasting silver, gold and blue colors used.
It's very shiny and will surely catch attentions. Not to mention it is an automatic watch and sells for a very affordable price too. So how cool is that?
But then the excitement suddenly burst off when someone mentions that the design of the Invicta Pro Diver 8929OB is a ripoff from Rolex Submariner (specifically the 16613 model) – though Invicta uses "Homage" to describe the similarity.
My first impression of the watch is it's a cheap copycat, but as I learn more about it, I find it quite a passable watch, considering it is an automatic with a less than $100 price tag – very surprising as most automatics can only be had for more than that.
Without further ado, let's get on to the review of the Invicta Pro Diver 8929OB and look closely at this watch.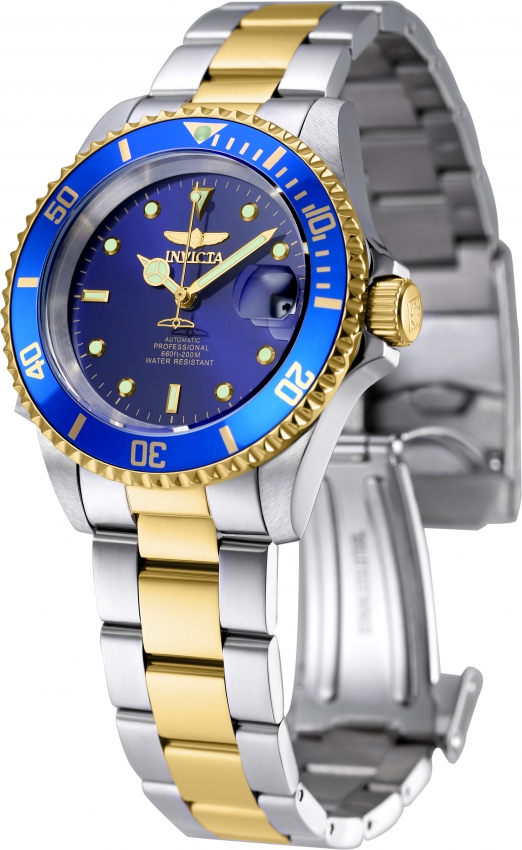 Update: I've recently featured the Invicta 8928OB in my list of the top 10 automatic watches under $200. You guys can check the article HERE.
Invicta Pro Diver 8928OB Specification
Diameter: 40 mm
Thickness: 12 mm
Case: Two tone stainless steel case with gold plating at bezel, crown and center links of bracelet
Lug Width: 20 mm
Strap: Stainless steel bracelet and gold plated center links (with hollow end links)
Dial: Blue dial with circle and index markers
Dial window: Mineral crystal
Bezel: Unidirectional rotating bezel with minute markers
Movement: Japanese automatic movement with 21 jewels. Non hacking
Other Features: Date display at 3 o'clock, Cyclops on date display, Exhibition caseback
Water Resistance: 200 m of 660 ft (not really true)
Best Place To Buy: Amazon
The Invicta Pro Diver 8928OB (left) with the Rolex Submariner 16613 (right). Same look but different value
Homage Vs. Outright Imitation
While Invicta and some of their fans will say the Invicta Pro Diver 8928OB is a homage to the Rolex Submariner, I believe that is too soft.
For me, a homage is when a company reproduces their own vintage watches and sell it to the current generation.
It will have a slight change in terms of design to cater to the newer generation or as improvements.
For example, Tissot Visodate and Hamilton Khaki King which are watches produces as homage to their popular vintage watches.
Both have been improved with bigger diameter and dial design for today's watch style.
But the Invicta Pro Diver 8928OB is very very similar to the Rolex Submariner (picture above is the model 16613).
Notice the blue dial, shape of the circle & index markers, hands shape, date display with cyclops, blue bezel and the most striking of all – two tone color with gold color at bezel edge, crown and middle link of bracelet.
The only difference is the Invicta logo and signatures on the bezel. We can just take the Invicta, slap a Rolex logo on it, sale it for $10,000 and not much people can tell the difference.
For me, it's an outright imitation by Invicta. It is just not possible for Invicta to suddenly have an inspiration to make a two tone diver watch with blue bezel, with the same mercedes hour hand as the Rolex!
It's not a good practice by the company to copy other's design but then again, the Invicta 8928OB is a very good value for money watch.
The quality is nowhere near the Rolex but for a true automatic watch, it's passed the requirements.
In my opinion, it just lacks the character from other watchmakers that come up with their own design.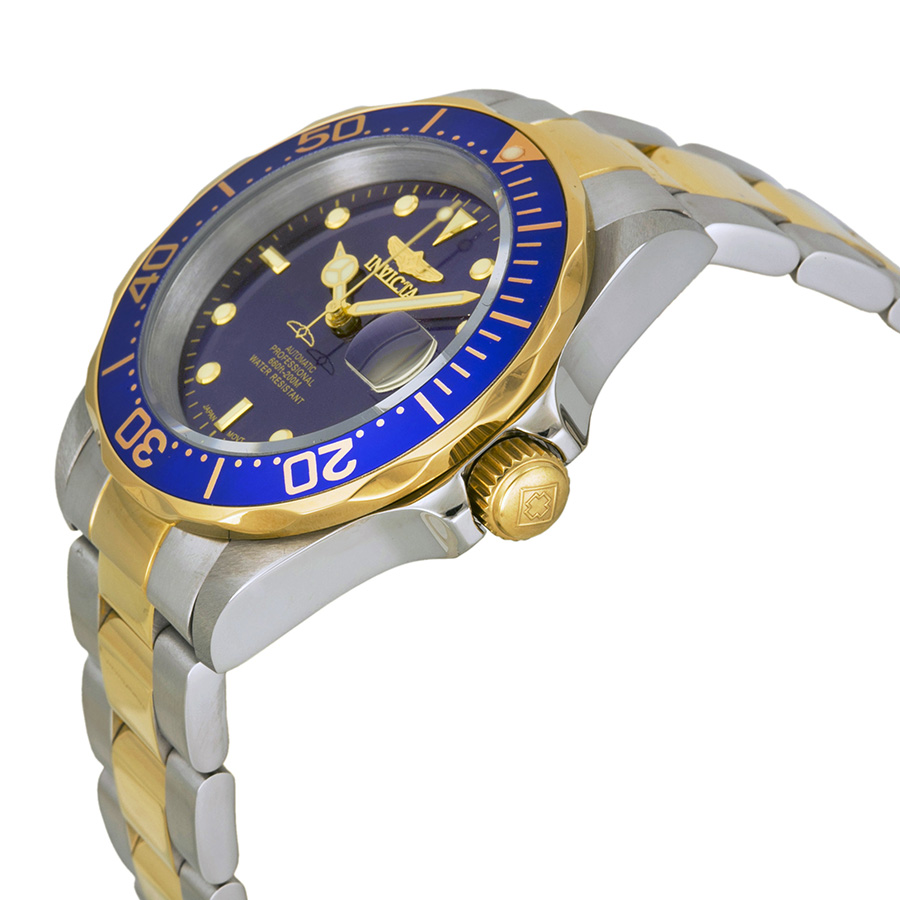 Eye Catching Two Tone Color Design
Imitation apart, the Invicta 8928OB does have a good design (it's a Rolex design after all!) though I'm sure Invicta does not spend so much time in designing this watch lol.
It is a shiny and eye catching watch. The blue dial is quite beautiful to look at.
The blue dial and bezel contrasts with the gold color of the bezel edge, outline of markers/hands and middle link of bracelet giving it a unique contrast.
At the same time it is bold and will catch attention of anyone that lay their eyes on it.
The watch has a unidirectional diver bezel with minute marks on it. The design of the bezel is slightly different than the Rolex Submariner with the indices.
The hands and markers all has lume applied on them, as customary of any diving watch. To my surprise, Invicta also sign the crown of this watch with their cross symbol.
Ultimately, You Get What You Paid For….
Invicta 8929OB really looks good. But then at it's very affordable price, some serious compromise in quality are needed to make the watch profitable to be sold.
The lume of the watch is seriously lacking in brightness and area applied. It will give off some small light only and won't be any use in darkness at all.
It's also has problem with water resistance. There are many reports on Amazon verified purchaser that the watch has water ingress issues.
So much for a 200 m water resistance huh? But then, it could be some lemon units though. Which is why I recommend you guys to get the Invicta from a vendor that has solid refund policy (like Amazon).
The gold plating also is not durable. Plating is a method to apply color to an otherwise plain silver stainless steel by pasting a metal on it (in this case its gold).
The issue is that this is just like our car paint. It's not durable and can be scratched easily.
More expensive watches will use PVD to coat the stainless steel giving a longer lasting color application (for example the Victorinox Infantry Vintage with its gunmetal PVD).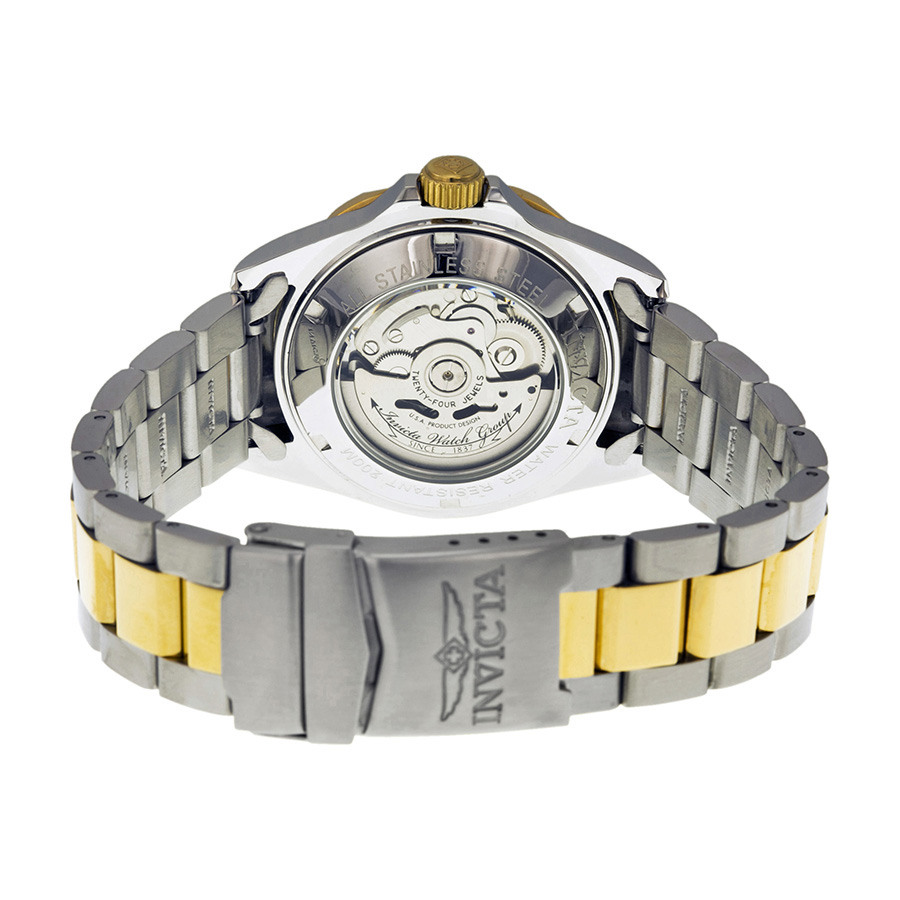 Invicta Pro Diver 8928OB looking from behind. It has an exhibition caseback – something that should not present in any diver watch. The movement can be seen from it. Notice also the bracelet clasp is engrave with Invicta's logo and signature, a very nice detail for such a cheap watch.
There are also reports on the movement suddenly died for no apparent reason. This Invicta Pro Diver 8929OB uses a Japanese automatic movement either Miyota 8215 or Seiko NH25A or Seiko NH35A.
Based on my research, Invicta uses those 3 movements for this watch. I'm not sure why they do this but one thing for sure, all 3 movements can be considered the lowest grade automatic movement from both companies.
As such, the movement is not fluid and smooth at all. Invicta also noted that the watch need to be worn for more than 8 hours everyday for it to keep on running – suggesting the automatic self wind mechanism is not that efficient.
A way around this problem is to manually wind the watch everyday as the mainspring will be tighten better. It's also the method I recommend for those with automatic watches.
So How Does Invicta Pro Diver 8929OB Compares With Rolex Submariner 16613?
So how does the Invicta compares with its "older brother" the Rolex Submariner 16613? Considering the difference in price between these two can be a cool $10000, I can say a lot!
Besides the much higher price, the Rolex also has a better movement (a COSC certified Chronometer), better material (Rolex uses a special type of stainless steel that is more corrosion resistant.
The gold case also is made with higher quality technique to make it scratch resistant), a ceramic bezel to make it scratch resistant, a watch that will keep its value for a long time, and also that coveted Rolex brand.
Truth is, I feel the Invicta 8928OB is not too bad considering its very cheap price. It looks great, passable quality, and has an automatic movement.
You just get what you paid for. And I don't think its a totally bad thing to buy an imitation watch.
Most people cannot buy a Rolex so they buy an Invicta. So it's totally up to them to decide as it's their money.
But as for me, I'm not going to buy it purely because it's an imitation of the Rolex. I really respect the effort these watchmaker put into their watches and as someone who loves automatic watches, I want to support that effort.
Plus, I like if my watches has a different design than others in the world. It just makes them more unique
Here's a video where you can see the Invicta 8929OB in action
Invicta Pro Diver 8928OB Advantages And Disadvantages
Below are the pros and cons of the Invicta Pro Diver 8928OB:
Pros:
1- Beautiful automatic self wind watch at a very cheap price
Cons:
1- As an imitation, the watch lacks character and you might lose some respect among watch enthusiasts
2- Low quality craftsmanship
3- Gold plating is very easy to be scratch. Expect the bezel to be scratched easily too.
4- Low quality water resistance despite having marketed as a 200 m water resistant watch
Want To Get An Invicta 8928OB? Get It Cheapest On Amazon!
If you would like to buy the Invicta Pro Diver 8928OB, then Amazon has the best offer right now. Click the link below to check out the best offer from Amazon.
->Click Here To Check The Best Price Of Invicta Pro Diver 8928OB On Amazon<-
Some Other Recommendation for Affordable Automatic Watch
If you are like me and don't like to spend some money on an imitation watch, here are some recommendation of a solid and cheap automatic watches.
But all of these are more expensive than the Invicta Pro Diver 8928OB ($80 is a very cheap price for an automatic!). But then, that's the price to be paid for a bit higher quality watch.
Affordable Automatic Diver Watch:
1- Orient Mako ($150-$250)
2- Seiko SKX007 ($200)
Affordable Automatic Dress Watch:
Orient Bambino ($200)
Affordable Automatic Casual Watch:
Swatch Sistem51 ($100-$150)
Conclusion
To conclude, Invicta Pro Diver 8928OB is an eye catching, unique with two-tone color, an one of the most affordable automatic timepiece that you can get.
Provided that you can tolerate the blatant design copy of the watch from the Rolex Submariner of course.
To some watch aficionados, this watch is a low quality garbage that they won't touch. But for some (and actually most people on the planet) the Invicta 8929OB is quite a beautiful watch (it has the design of the Rolex after all).
It has a low quality craftsmanship and not so smooth movement but that are something to be expected from a very cheap automatic watch that costs $80.
Even Swatch's plastic automatic watch – Sistem51 – costs more than $100.
You get what you paid for and that is very true in the watch world.
If you are looking for a very cheap and eye catching automatic watch, that this could be it – provided you don't care the imitation and low quality construction of it.
****************
Thanks for reading and I hope you like this Invicta 8928OB review. Let me know if you have any comments or questions regarding the watch. Till next time then!
Cheers
Isaac