In this post, I'm going to write about the famous Movado Museum watch review. I'm sure most of you have seen this watch. It has this very unique and distinctive watch design with single dot at 12 o'clock without any markers. Frankly speaking, it looks very sleek, elegant and leaves a long lasting impression. Definitely not a watch to be forgotten!

History Of Movado Watch Company
Movado watch company has been around since 1881. It's founded in La Chaux-de-Fonds, Switzerland by Achille Ditesheim. Like most watchmakers around that time, their main trade focuses on mechanical movement and pocket watches.
For about 136 years, Movado has been producing watches with great quality, befitting its Swiss Made tag. And the Museum watch line by the company is another example of how the brand brought out beautiful watch design to the masses.
Movado Museum Watch History
The history of Museum watch begins in 1947, when an artist named Nathan George Horwitt invented the famous watch. He designed a watch without any markers but only a single dot at the top to signal the sun at its highest point. From his own words:
"We do not know time as a number sequence but by the position of the sun as the earth rotates"

Nathan George Horwitt, the artist that designed the Museum watch in 1947
So famous and distinctly elegant the watch design was, until it's selected to be a permanent collection of Museum Of Modern Art, NY. And that's how the watch got its name "Museum Watch".

The original Museum watch
It was originally manufactured by Vacheron & Constantin-Le Coultre Watches, a Swiss company. But sometime later, Movado started to produce a watch with a similar design. Things finally went well when Movado paid Nathan for the usage of the Museum watch and its design. Well, I guess the copyright law is not so strict back in 1947 lol.
Total Simplistic Design – Black And Blue Dial
The current Museum watch is a homage to the original 1947 Museum watch with some changes to "modernize" it, though in my opinion the original design is as timeless as a watch could be. The new design still uses the simplistic concept, with empty dial without markers except for a single dot at the 12 o'clcok position.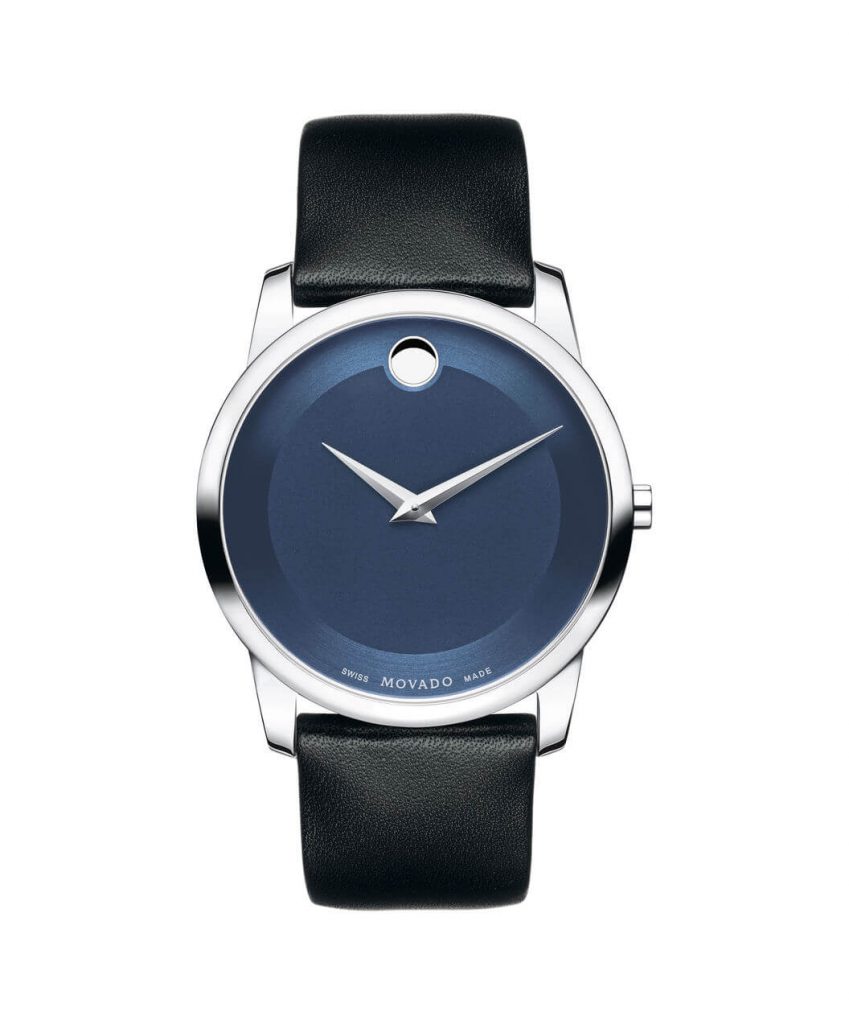 The latest Movado Museum watch. It comes in two dial colors: black and blue
Its hands have the biggest change with a wider dauphine hands, as compared to the slim hands in the original. Another update would be a ring on the dial that appear to divide in into inner and outer portions. Movado also releases a dark blue dial version as alternative to its fans.
As mentioned above, the Museum watch's design is just out of ordinary and unique. It's simplicity will be a breath of fresh air to those common with normal watches. It's very recognizable, eye catching and have that minimalist characteristic to it.
Now, enough about the dial and let's take a look at its specification.
Movado Museum Watch Specification
Diameter: 40 mm
Thickness: 8 mm
Lug Width: 22 mm
Case: Polished stainless steel case
Strap: Black calfskin strap with pin buckle
Dial: Black or blue dial
Watch Crystal: Sapphire crystal
Hands: Dauphine hands
Markers: No markers except for a silver concave dot at 12 o'clock
Bezel: Empty bezel
Movement: Swiss Quartz movement
Accuracy: +- 15 seconds per month
Battery: 2-3 years
Water Resistance: 30 m or 99 feet
Best Place To Buy: Ebay for $330
Polished and Slim Stainless Steel Case
The Movado Museum watch uses a slim stainless steel case to keep the minimalist design theme. The diameter is 40 mm with 8 mm thick – a size that would have trouble to fit nicely with a bigger wrist. It's 22 mm lug width is coupled with a black calfskin strap with pin buckle. The case is also rated to 30 m water resistance to guard it from the accidental rain splashes.

Its stainless steel case is polished at the bezel and top of the lugs, while brushed at the case's sides and back. The lugs is of moderate size and curving downwards to hug our wrists. On the top is a sapphire crystal which is perfect to guard the watch against any scratch (read my comparison of watch crystals to find out the different types of crystals and their pros and cons).
To be honest, I prefer the original case design than this latest version. I find the original design has slimmer case and lugs, which perfectly capture the minimalist watch concept. Movado might want to "modernize" the Museum watch but I feel if they just reissue the original, I bet it's gonna be selling like a hot cake.

Quartz Movement
The movement inside the Movado Museum watch is a Swiss quartz movement, though no specific detail (manufacturer, movement ID, etc.) are reported. Without any details, I can only assume the quartz movement to be accurate up to +-15 seconds per month with a battery life of 2-3 years.
Beautiful Watch But…
I found the watch to be very beautiful and so much entertaining than other normal watches out there. But then it struck to me the watch does not have any markers, which can make telling time difficult (unless you have been using analog watches for a long time).

So strikingly gorgeous watch, but the absence of numeral markings make it more suitable for casual and weekend use
It also does not have any date and day windows – two features that I really love due to its functionality. Without any seconds hand, we also won't know if the battery is dead or not!
In short, the Movado Museum watch is a gorgeous little timepiece but it does not really have that functionality to it. A watch should be a tool for human, so a watch like this that have many "flaws" in its functionality can be said as a less efficient tool. However….
Who Is The Watch For?
This could do well for those that want a watch to be a fashion accessory for him/her. It's totally gorgeous, so much so that its inefficiency as a watch can be overlooked. It's also a great watch to be used for casual usage or during weekends – typically those times when being able to tell time accurately is not a concern.
But for a work watch? I'd prefer not to lol.

Who Should NOT Get This….
Well, those that require a fully functioning watch should not get this. Sure, it's beautiful, gorgeous and one-of-a-kind but I'd suggest for you guys to check out my guideline on how to choose a watch to know if you would love or hate this.
Bear in mind that it's also quite pricey (around $330) in return of a numberless watch and a typical quartz movement. I dare say its not a good value for money watch, specification wise.
Watch the video above to look at Movado Museum up close
Pros And Cons
Pros:
1- Unique and very recognisable design
2- Swiss made quality watch
Cons:
1- Not as practical/functional as other watches it doesn't has hour markers and date/day window
2- Quite expensive for a "basic" quartz watch
Where To Buy Movado Museum Watch? Get It Cheapest From Ebay!
Wanting to buy the Movado Museum watch? It's MSRP is around $495. I've searched around and found that Ebay offers the cheapest price at just $330 for both black and blue designs.
Amazon also lists the watch, but at the MSRP price which kinda beat the purpose of buying from Amazon. Perhaps Movado restricts the site from selling the watch from other sellers. Nevertheless, if you are mesmerized by the simplicity of this watch, click the links below to check it out on Ebay.
Final Thoughts
To conclude, the Movado Museum watch is a beautiful one-of-a-kind watch with its numberless dial and singular dot at the top. It's so sleek and elegant to be seen and worn. But the absence of numeral markings and day/date make the watch impractical for daily usage. But for a weekend casual watch that also looks stylish as hell, there is no beating this watch.
I hope you guys enjoy my Movado Museum watch review. Put you comments or feedback on the watch below. I really appreciate any comments you guys have about this watch. Well then, till next time.
Cheers!
Isaac