What is diver's watch? It's one of the most popular type of analog watches because of its cool and sporty look. It's also the most versatile – can be worn with any thing for any function (except for black tie events of course). This versatility and coolness helped propel its popularity among watch fans.
Diver's watch also has high water resistance (usually more than 100m) which is a big plus for those that love swimming. Not to mention since it can go deep down underwater, for sure as hell it can be used for any activities above ground. Versatility is the key again here. Only diver's watch is suitable to be used for those scuba dives on weekend and is still stylish to be worn for work come Monday.

Seiko SKX007 – a very popular affordable diver's watch
But how does this magnificent timepiece design come about? What's the history of diver's watch?
History Of Diver's Watch
The history of diver's watch began in the 1953 when the French elite military diving unit commissioned Blancpain (headed by Jean-Jacques Fiechter at that time) to produce a watch suitable for their marine.
The trend at that time was mainly about dress and aviator watch. Water resistant watches have been in production and tested for a few decades, but none have the look and specification of a diver watch that the French marine need.
In order for a watch to be used for underwater military operations, it need to have high water resistance, big markers, rotating bezel and lume on it. All of these are important for the functionality and visibility underwater.
But these would make the watch thicker and not as dressy – something that made other watch makers to decline this request. But Fiechter, being an avid diver, saw the need to have such watches that is most suitable not only for marine use but also for the divers around the world.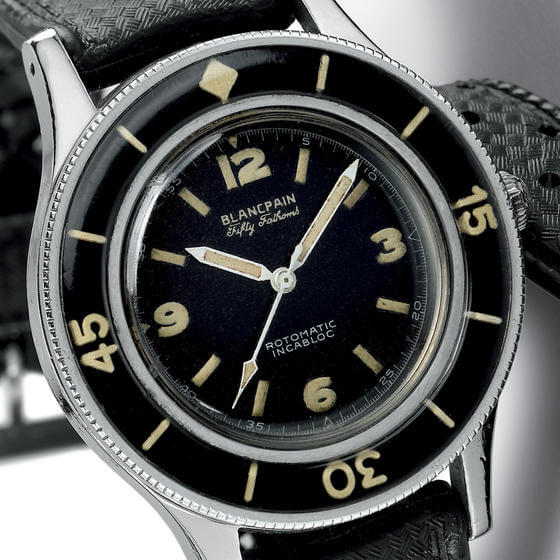 Blancpain Fifty Fathoms – the first diver's watch produced
And thus the Blancpain Fifty Fathoms was designed. Shortly after, Rolex came out with their Submariner and other makers follow suit. Imagine if Blancpain didn't bother about the French marine request…. the unique and rugged diver watch as we know it won't exist!
8 Characteristics Of Diver's Watch
Now, what's the main characteristics of diver's watch? In short, there are 8 main traits:
1- Big And Bold Markers/Hands With Lume
The first thing that we will notice with diver's watches are the big and bold markers/hands which are filled with lots of lume on it. The reason? For greater visibility underwater where the environment would be darker than normal. It really helps divers when the markers and hands are super big and have lume on it.
Another important thing is the seconds hand also need to has a lume applied on it so that divers can know if the watch is running or not. Remember, they are using the watch to time their diving and remaining time underwater. It's very important for them to know if their watch suddenly went dead.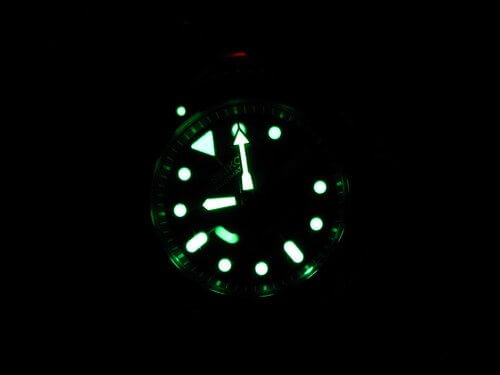 Great bright lume on the Seiko SKX007
Well, since I'm just desk diving, a lume is not as critical to my life. But I find that having a good lume on a watch (most diver's watch have fantastic lume btw, as compared to casual watches) will help when I want to check the time in a cinema or at night when all lights are off. For an analog watch, it's truly a great convenient to has =)
2- Unidirectional Rotating Bezel Watch
What is a watch bezel? Watch bezel is the metal outside of the watch crystal. It can be empty (normally the case with dress watches) or equipped with some functions such as tachymeter scale, slide rule (such as on this Seiko FlightMaster SNA41) or even telemeter scale.
But on a diver's watch, the bezel will be equipped with an unidirectional rotating bezel with minute markings on it. Watch bezel function is used to time a dive. By rotating the top marker on the bezel to current minute hand, the elapsed dive time can be easily checked on the bezel minute markings.
The rotation is only allowed anti-clockwise so that any accidental movement of the bezel will not lengthen the time, but instead shorten it. It's better if diver's cut short their dive than to stay longer than the limit which could spell trouble to them.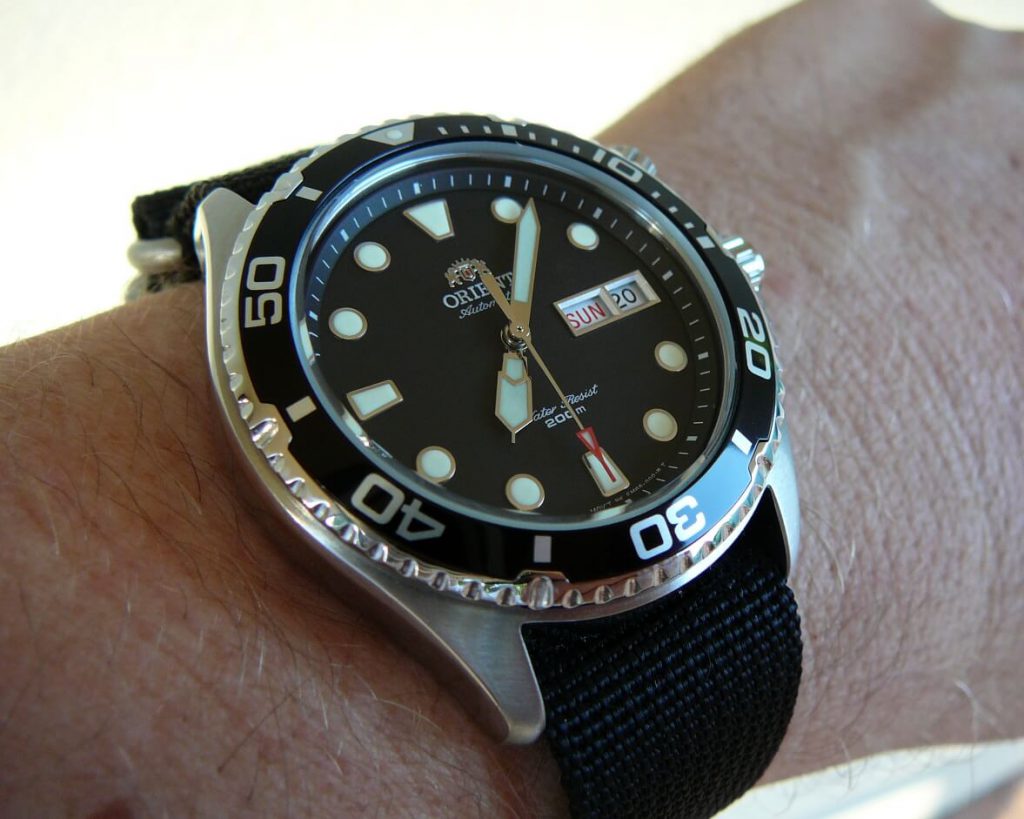 Above is Orient Ray diver's watch. Notice the minute markings on its bezel that can be rotated to track elapsed dive time
A good watch bezel will have crisp clicking movement when we rotate the bezel. It also won't have much play on it and can be aligned perfectly with the markings. Most low end diver's watch have lower quality bezel that either
3- Solid Thick Case With Water Resistance
Another characteristic of a divers watch is a solid thick case (usually stainless steel) with high water resistance more than 100 m or 330 feet. 200 m is quite normal nowadays while 300 m is reserved only for the serious diver's watch. As you can guess, increased water resistance means bigger and bulkier case equals to heavier watch.
On the back of a diver's watch will normal caseback without any exhibition caseback like most dress watch has.
4- Screw Down Crown
Crown is the knob normally positioned on the right side of the watch. It's function is to change the time/day/date and also to manual wind an automatic watch. And from water resistance point of view, it's a very critical area.
Water can get into a watch from any joined locations such as the watch crystal embedment to case, caseback and crown. The watch crystal and caseback is normally sealed using gasket but the crown is more critical as it will be rotated often.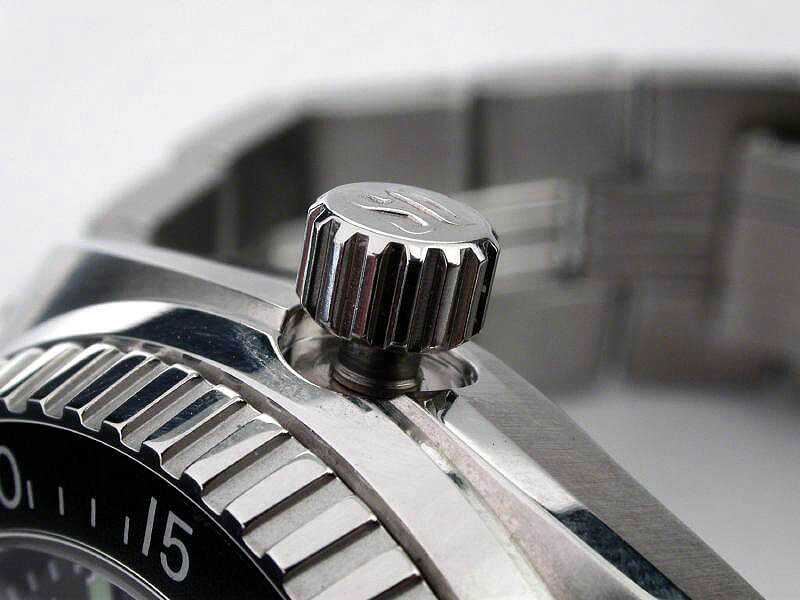 Screw down crown adds protection against water ingress into the watch. Just make sure to tightly screwed it in before going underwater!
In order to ensure there is no water ingress around crown area, a screw down design is generally used. By screwing the crown inside the case with some gaskets and seals, water ingress can be stopped completely.
I have also to say that screw down crown is not a compulsory feature to make sure a watch can be used in water. Personally, I've used my cheapo Seiko 5 without screw down crown to swim hundreds of time. And it's still working fine till today. Even without a screw down crown, most watches has gaskets and seals inside the case around the crown area.
But that's just a swimming inside a pool though. For a real scuba dive, I'd recommend for a diver's watch with screw down crown just for extra precaution. Better safe than sorry right?
5- Anti-Magnetic Protection
Another important feature that's not as widespread used is anti-magnetic protection for the watch's movement. An automatic watch is very susceptible to magnetization. Don't ever place your automatic watch near a speaker, TV, etc as the strong magnets in those appliances can magnetized the steel components inside the watch.
This in turn will make the movement erratic and kills its accuracy. But for serious divers, most often than not they will have to use many equipments onboard and this will expose their watch to strong magnets. Due to this, a watch with anti-magnetic protection preferable.
But again even if you are just desk diving (like me), anti-magnetic protection sure won't hurt =)
6- Impact/Shock Protection
Automatic and mechanical watches are very easy to damage from impact and this is very important for divers that might accidentally hit their watches with something down there. Those hundreds of miniscule parts can get out of order from even drop to the floor if not designed properly. The balance wheel pivot is one of the easiest part to break due to impact.
Watchmakers have developed ways to try to make their watch witstand drops better. Particularly for the balance wheel pivot, a sort of spring (proprietary design such as Swiss' Incabloc and Seiko's Diashock) on the jewel of the balance wheel is used to absorb any impact forces.

Incabloc shock protection in the form of "springs" (the gold color) attached to the jewel (pink ruby color at the center)
As a result, modern automatic watches are more impact resistant than vintage ones.
7- Helium Escape Valve
For the most extreme divings at very deep water depths, saturation diving is normally used. It put divers into a pressurized chamber which is then depressurized at steps to reduce the effect on a human's body.
These chambers usually use a breathing gas mixture which contain helium, an inert gas that's safe to be pressurized. The thing about helium is it's the smallest natural gas particles than can easily get into a diver's watch through very small openings (that not even pressurized water can get into!).
It's all okay in the depths, but when the diver is going being depressurized, there is a possibility that the helium inside the watch can't get out safely. The pressure difference (outside lower, inside higher) in the watch might cause damage with the crystal popping out the most frequent case.

Helium escape valve on the side of Rolex Sea-dweller
Helium escape valve is used to give a way for these helium gases to escape from the insides of a watch and is one of the hallmark for very serious diver's watch, typically more than 300 m water resistance.
8- Strap Suitable For Using Diving Suit
Last but not least, a suitable strap for diving is needed. For rubber strap with pin buckle, it's very easy to adjust the length when wearing the wet suit. But how to do that with a stainless steel bracelet?
A fully functional diver's watches will have a bracelet with diver's extension. It's basically a folded link that can be opened to lengthen the bracelet for wet suit. Why I say "serious"? Because most diver's watch lookalike won't have this feature =)
ISO 6425 – Standard For Diver's Watch
ISO or Internation Organization For Standardization is an independent global organization which produces standards for industries to be used globally. It encompasses major industries such as electrical engineering, civil engineering, oil and gas, documentation standards and even diver's watch!
ISO 6425 is the standard for diver's watch. Having this certification means the watch complied all of the requirements of the body such as:
Minimium 100 m or 330 feet water resistance
Water tightness in all aspects (dial window, caseback and crown)
Overpressured up to 200 kPa
Unidirectional bezel to time dive duration
Legibility under dark fro time, bezel, and running second hand. For this, a very good lume is needed
Magnetic resistance
Shock resistance
Resistance to salty water

Notice the DIVER'S 200m marking on the dial of this Seiko SKX009. That means this is an ISO certified dive watch. By the way, some watches can also put this marking on its caseback
When a diver's watch have all of these requirements, it can then be marketed as an ISO certified diver's watch. The dial can be marked with DIVER'S WATCH X M or DIVER'S X M – replace X with water resistance rating. This is another easy test to know if a watch is a true diver's watch or just a watch with diver's watch styling.
Diver's Watch Brands And Price
Diver's watch is a distinguished product for a brand as it symbolizes toughness in watch making. But the complexity in design and research costs means that only the biggest watch makers can enter this market. Its also due to this costs that most diver's watches are expensive.
Rolex, Omega, Blancpain, just to name a few, are some of the biggest names in diver's watch. For normal people, brands such as Tissot, Victorinox, Certina and Bulova have produced quality diver's watch that is not as expensive. Finally Japanese watch makers such as Seiko and Orient produced some of the cheapest automatic diver's watch around.

A Rolex Submariner Two-tone which can easily cost more than $10k
A diver's watch price can vary from the cheap $15 Casio electronic dive watch to the expensive $11k Rolex Submariner. For a good entry level automatic diver's watch, Seiko SKX007 and SKX009 prove to be very good watches even with their modest price tags.
Important Things To Know
A very important thing to know is the water resistance rating of a watch will not be the same forever because of degradation of seals and gaskets inside it. Because of this, it's very important to do water resistance test for the watch every year, assuming this watch is going to be used extensively for deep dives. This is also the recommendation from many watch manufacturers.
But for diver's watch not used for deep dives, I don't think that's necessary. I mean if you are going to buy a Submariner but will never let it touch even a pool water, then why do you need to do water resistance test? It's just going to cost you more money, and if the watch is old enough, it might even break it.
Another important thing to note is to make sure the crown is tightly screwed in before jumping into any water. Most often than not, this is the common reason for diver's watch failure.
Conclusion
I hope you guys enjoy and learnt about what is diver's watch all about. It's a truly versatile watch type and my personal favorite. It's stylish enough to be used to work, while also solid and robust for extreme activities. Lume is definitely a big plus and it's just too cool to look at the watch when it shine brightly in the dark.
The only downside with diver's watch that I can think of is the heavy weight. It's quite thicker than normal watches to get the necessary robustness for the water resistance. But I'd say you don't have to worry about that as it will grow on you =)
Drop your questions below if there is anything you want to ask. Feel free to share your past experience on your diver's watch too. Till next time.
Cheers!
Isaac