A Full Aviation Watch – The Seiko FlightMaster SNA411 Review
Fancy a full aviation watch complete with chronograph and various scales and measurements? Then you might want to look at this Seiko FlightMaster SNA411.
A bit of disclaimer: this is not an automatic but a quartz watch. I'm not really a quartz guy and prefer automatic movement (if you don't really know what's the difference between this two, you can read my post on the comparison of automatic/mechanical vs quartz movement here).
But an automatic chronograph will be quite expensive and usually retails for more than $400-$500. The SNA411 on the other hand can be gotten at much lesser than which is a very good bargain for such an amazing tool/utility watch.
Best affordable chronograph and aviation watch? That claim might not be too far off. Without further ado, let's take a look at this Seiko Flightmaster SNA411 review.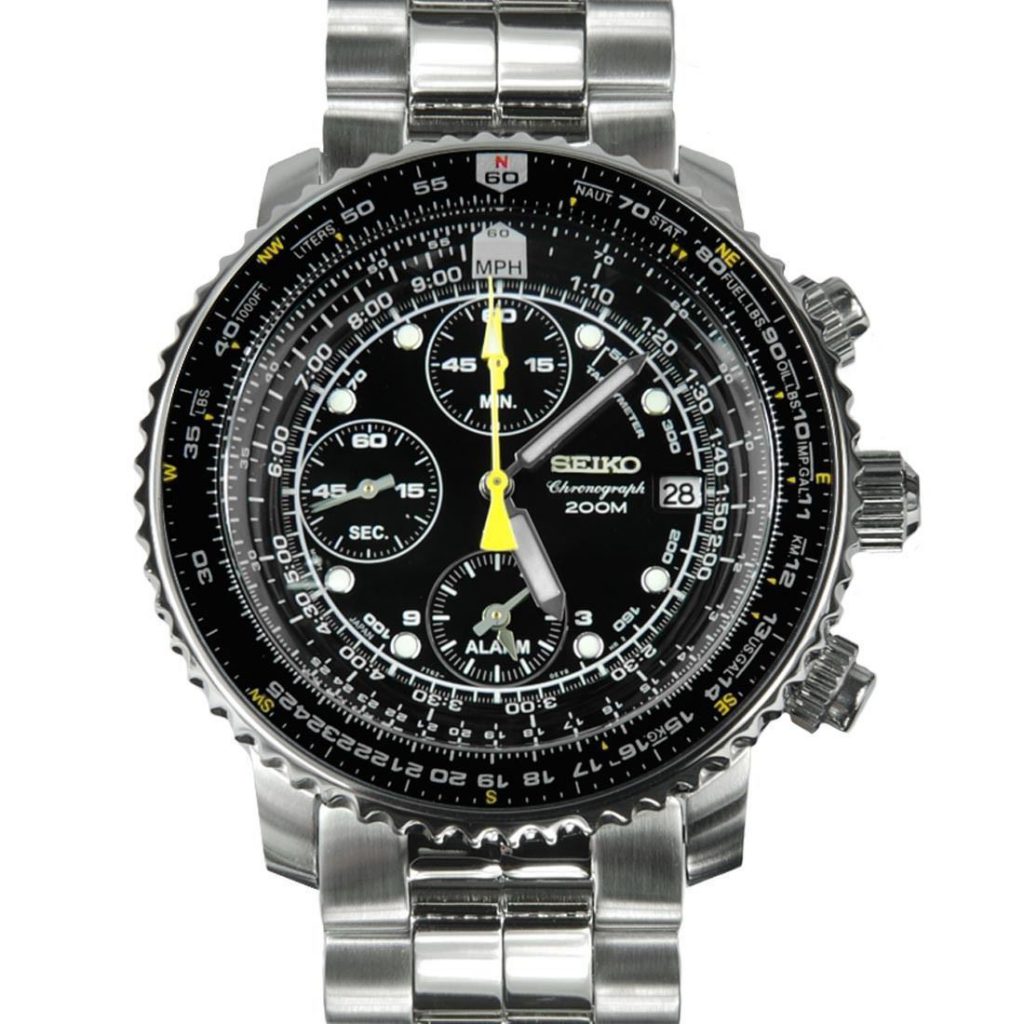 In A Hurry? >> CLICK HERE To Get Your Own Seiko SNA411
Seiko FlightMaster Watch SNA411 Specification
Diameter: 42 mm
Thickness: 13 mm
Lug Width: 21 mm
Case: Stainless steel
Strap: Stainless steel bracelet
Dial: Black chronograph dial with aviation scales on the edge
Dial Window: Domed Seiko's Hardlex crystal
Subdials: 3 subdials showing moving seconds hand (left), Minute counter for chronograph (top) and Alarm or second timezone clock (bottom)
Bezel: Bi-directional rotating bezel with rotary slide rule
Movement: Seiko Quartz movement with split time chronograph
Water Resistance: 200 m or 660 feet
Other Features: Split , Screw down crown and pushers, Alarm, Luminous markers and hands, Second timezone clock subdial, Date display, Rotary slide rule for various calculations
Best Place To Buy: Amazon (Click The Link Below To Check Its Price)

A Very Busy Dial – Introducing An Aviation Watch
The dial of the Seiko FlightMaster Watch SNA411 is a very busy dial. At first glance I can't even see where is the markers and hands lol! But this is the face of an aviation/flight watch.
Outer edge of the black dial is full of scales of rotary slide rule that can be used for many calculations important for a pilot (I've explained a little bit about this below).
Being a chronograph also made the dial busier. The 3 subdials definitely take lots of space at the center of the dial until there is no free space at all.
The top subdial is for minute counter of the chronograph while the left subdial is for showing the running seconds hand.
The main second hand (with the popping yellow color which is something that I really like) is only moving when using the chronograph.
The bottom subdial is for showing the alarm (this watch actually has one!). It can also be used to set for a different time zone which is truly useful during traveling.
The bezel is black in color and has many scales on it for the rotary slide rule. It can be rotated both ways (clockwise and anti-clockwise) and is quite thick which made the watch appear smaller than it is.
The hands are normal hands with lume applied on top of them.
The markers are very small – just some small dots on the dial which are also applied with lume. Unless you are new to analog watch, this will not be a problem.
But if you are a first watch user or currently wears a digital watch, then you might have problem to tell the time because of the small markers.
Seiko FlightMaster SNA411 really has a very distinct dial design which you will either love it or hate it. It's super busy and will turn off lots of people.
But for those that know how useful those small markings on the bezel and dial are for a pilot, they will surely appreciate what the Seiko SNA411 can do and might love this watch.

Stainless Steel Case With 200 M Water Resistance
The Seiko FlightMaster SNA411 is encased in a 42 mm diameter stainless steel case with 13 mm thickness. It has a 20 mm lug width which is fitted with stainless steel bracelet.
It is totally sturdy and solid – typical for any Seiko watch. The Hardlex crystal has a slight dome to it that is a very nice detail.
One thing that really astound me is the water resistance of the watch – it is 200 m water resistant! It's not even a diver watch and yet it has a very high water resistance.
To achieve this, Seiko uses screw down on the watch's crown and pushers. It does not really make any sense to give an aviation watch a 200 m water resistance rating but who cares right?
This means you can just wear this watch when swimming or scuba diving without the need to change to your diver watch. How cool is that? But of course for very deep dives I would recommend an ISO 6425 certified diver watch for your own safety =p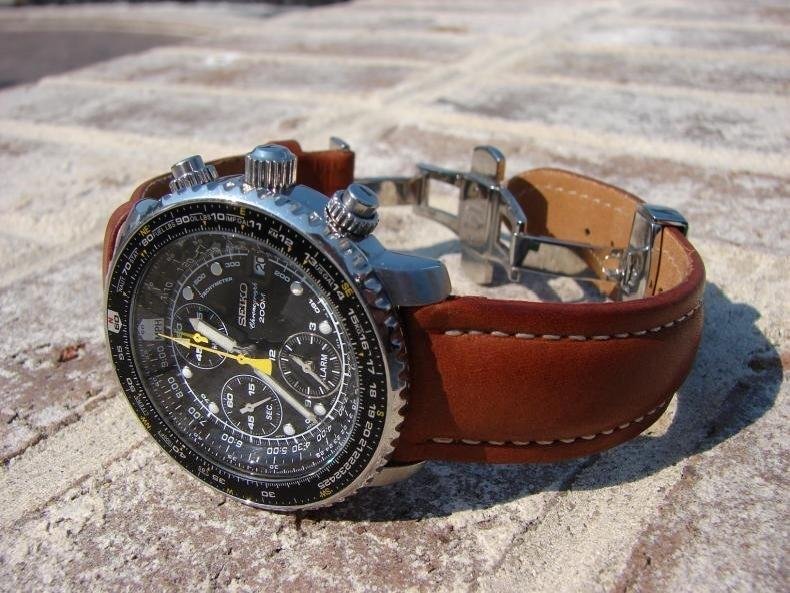 The SNA411 on a plain brown leather strap will shift all attention to the watch itself
One thing that you will notice is how the stainless steel bracelet seems not matching well with the watch. The thing is the watch dial is very busy with lots of things on it.
It's actually much better to suit a busy dial watch like the SNA411 with a simpler strap to dress it down. Straps like Nato strap, rubber strap or leather strap (plain leather, not the alligator printed ones) will work wonderful with the watch.
In my opinion the stainless steel bracelet is not a good companion to the SNA411. Fortunately a replacement strap is very easy to find nowadays. Just go to any online stores (Amazon, Ebay etc) and you can find many sellers selling these straps at very affordable price.

It also looks good in this brown Nato strap right?
Want Your Own FlightMaster? >> CLICK HERE To Get Your Own Seiko SNA411
Chronograph With Split Time Function
What is an aviation watch without a chronograph? An incomplete aviation watch. This Seiko FlightMaster watch has a chronograph to complement its duty as a fully functional tool and utility watch for a pilot.
The two pushers at the right side (top right and bottom right) are used to operate the chronograph. The top pusher is used to start and pause the chronograph while the bottom pusher can be used to reset it.
This watch also has split time function which is very useful for any sporting events.
What is split time chronograph?
It basically is used to help people to record time of events that is happening continuously like to record time of laps done in a racing event.
The top pusher will be used to start the time. Then at the moment when you want to record the time, push the bottom pusher.
This will not stop the time but just merely stop the seconds hand at that location so you can take your time to manually record the time on paper. The chronograph actually is still running in background.
Pushing the bottom pusher again will make the seconds hand to catch up to the time. I doubt most of SNA411's owners will use this in their daily life but one thing for sure the sweeping motion of the seconds hand catching up to the time is very beautiful.
Watch this great review of the Seiko FlightMaster SNA411 for hands-on look on it. The split time chronograph function is also explained and demonstrated in this video (though the reviewer mistakenly call it fly-back)
Rotary Slide Rule? What Is That?
Before the creation of electronic calculator, slide rule is the most widely used tool in mathematics, science and engineering for making quick calculations.
It was invented in 17th century and comprises two logarithmic scales. One of these scales can be moved or slide – hence the name slide rule. It is used for various calculations such as:
Multiplication

Division

Square root

Exponential

Logarithms

Trigonometric functions

A typical slide rule popularly before the invention of digital calculator
It becomes obsolete after the creation of electronic calculator which is why most people don't know about it except for old folks that used it during their youth (I also only know about it when researching for the slide rule on this watch lol!).
Aviation watches recreate this slide rule to assist pilots make complicated calculations using their watches. I think it's much more easier to use compared having to punch in a calculator when flying thousands of feet above ground right =p.
A slide rule on aviation watches is named rotary slide rule because its circle in shape (compared to normal slide rule that is bar in shape like normal ruler).

A diagram showing the various scales on a typical Seiko watch with rotary slide rule
The rotary slide rule on the Seiko SNA411 is more elaborate than other normal slide rules due to many scales on it. As a result, you can use the SNA411 for many calculations.
It also uses its bidirectional rotating bezel as the sliding rule (some watches has a rotating inner bezel at the outer edge of the dial – like the Seiko SARB017 Alpinist).
On top of the SNA411 bezel, there are:
Conversion scale

Utility bearing compass scale

Logarithmic scale
The outer dial has two other scales namely:
Logarithmic scale
Time scale
How To Use Rotary Slide Rule?
By rotating the bezel, various navigational calculations can be made (in addition to normal slide rule calculations listed above) such as:
Calculate time, speed and distance (unit on the watch is mph but interchangeable with kph)

Fuel consumption rate per hour

Fuel quantity required for a length of flight

Remaining time of flight based on fuel consumption rate and fuel in tank

Climbing altitude, rate and time

Unit conversion:

Distance – nautical mile, statute mile and kilometer

Volume (fuel capacity) – US gallon, Imperial gallon and liter

Weight – kg, pound

Speed – mph, kph

Direction (North, South, East, West)
Above is a great video showing how to do multiplication and division using the Seiko Flightmaster SNA411.
It's totally easy when you know the "rules" to do these calculations. One tips that I need to tell you is that the decimal place (how many 000s after the number) is not really clear from the dial unlike digital calculator.
So you got to already roughly know the answer beforehand. You can read this awesome manual on Seiko's rotary slide rule (CLICK HERE to Download) for examples of doing these calculations.
Keep in mind these calculations are only approximate and not as accurate as any calculator. It is intended only to ease the calculation process and not for really exact values. For that a calculator is better as it is more accurate.
In case you don't know what logarithmic scale is, you can read on this wiki page here for more info.
An easy way to tell a logarithmic scale is the reducing space between the numbers (10 to 20 to 30 and so on). The scale on the watch starts with 10 btw.
Utility Compass Ring
Another great feature that the Seiko SNA411 has is the utility compass ring scale. By using this ring, we can know roughly the directions (North, South, East, West) from our location.

Simply point the hour hand to the sun direction. Then rotate the bezel until the South indicator sits between the hour hand/sun and the 12 o'clock marker. The direction on the bezel (N,S,E,W) is the direction from where you are standing.
This is for when you are located in Northern hemisphere. For those in Southern hemisphere use the North indicator instead of the South indicator.
Quartz Movement From The Creator Of Quartz Watches
The Seiko SNA411 uses quartz movement. I'm not really a fan of quartz actually (that's why the name of this website is AutomaticWatchesForMen.com.
But as stated above, automatic chronograph watches are typically much more expensive. At just $200, there is no way we can find a fully functioning chronograph aviation watch.
Which is why I had to make an exception to this Seiko Flightmaster SNA411 – it's so darn cheap and have all the bells and whistles in an aviation watch.
Even the poster boy of aviation watch, the great Breitling Navitimer does not have every function that the SNA411 can offer! Now that is very good for money (the Navitimer retails for upwards of $5000 btw).

Breitling Navitimer Cosmonaute. A very gorgeous aviation watch indeed and has a rotary slide rule and chronograph. But it

loses

to the Seiko FlightMaster SNA411 in terms of usefulness as it does not has the compass ring and some unit conversion (weight and volume)
The Seiko SNA411 runs on battery, which will require replacement after a few years (depends on how often you use the chronograph).
This is one of the major disadvantage of quartz watches in my opinion.
But with a very beautiful and most complete aviation watch you can find, the SNA411 is a very good choice for those starting out and would like to own their first aviation watch – before you move on to the more expensive brands =p
Where To Buy Seiko FlightMaster Watch? Get It On Amazon!
Looking to buy Seiko FlightMaster watch SNA411? Look no further than Amazon. Amazon currently lists the watch at a low prices. Click the link below to check out this watch on Amazon.
->Click Here To Check Out The Seiko FlighMaster SNA411 On Amazon<-
Conclusion
Seiko FlightMaster SNA411 is a complete aviation watch, for a great price of just around $200. It is one of the most affordable aviation watch nowadays.
Sure, the very busy dial is definitely not for everyone. But for those looking for a real utility watch, then this is it.
It has all the conversion scales, rotary slide rule, compass ring, chronograph and tachymeter scale making it the only tool you ever need for your maiden flight or outdoor adventure.
With outstanding water resistance of 200 m, this wrist watch can even accompany you for scuba diving, and it even looks good to be worn to office or casual events.
Hope that you like this Seiko SNA411 review. Drop your comments or questions about this watch down below. I'll try my best to answer any questions. Till next time.
Cheers!
Isaac