The Beautiful Watch With Green Dial – A Seiko Alpinist Review
Today's review is about the Seiko SARB017 or better known as Seiko Alpinist is a very popular automatic wrist watch among Seiko fans and it's not hard to understand why.
It has a very distinctive sunburst green and gold dial with unique design which won it many fans around the world.
The Alpinist model line has a long history as Seiko sport watches specifically designed for those going for hiking or camping in the mountain and woods. This particular model, the SARB017 continues that spirit in the modern generation.
Let's get on with Seiko Alpinist review and get a closer look at this watch and to see why it has been a favorite among Seiko's fans worldwide.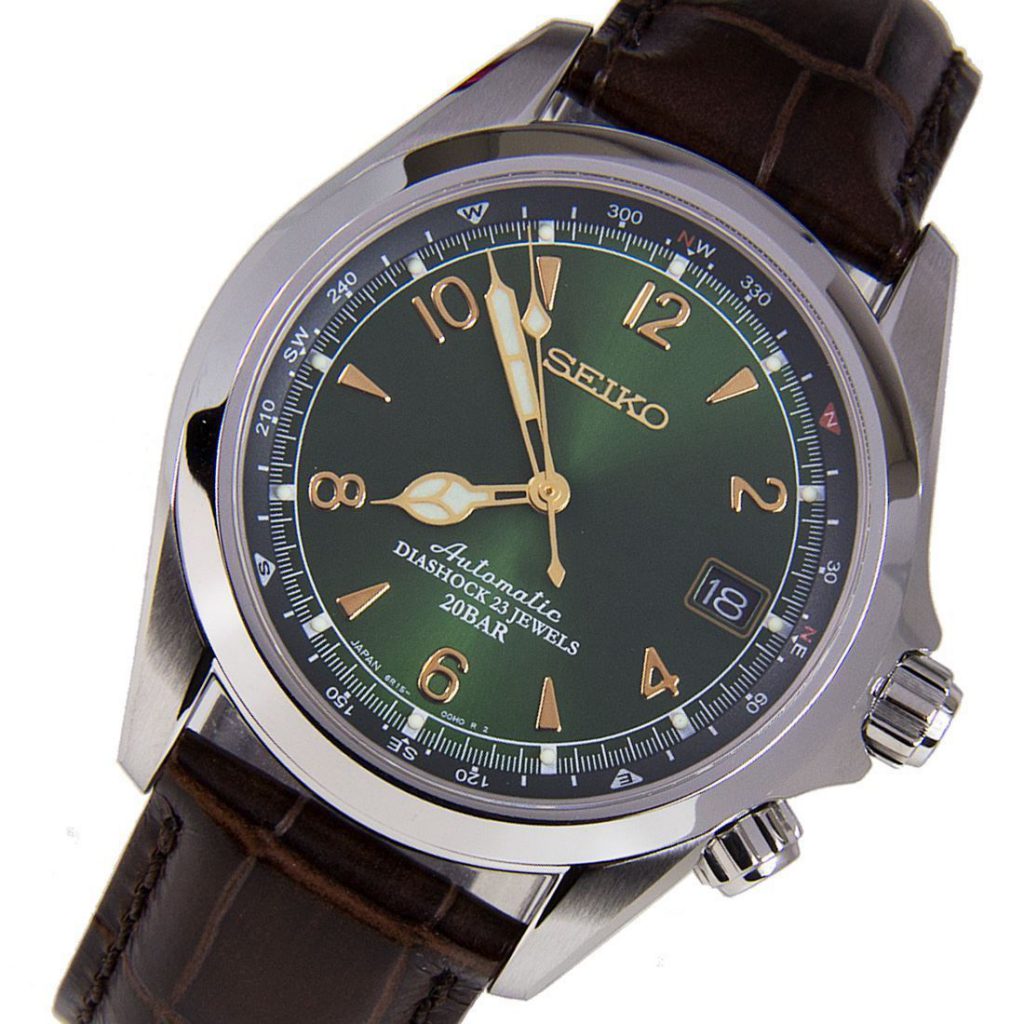 In A Hurry? >> Get The Seiko Alpinist SARB017 HERE
Seiko SARB017 Alpinist Specification
Diameter: 38 mm
Thickness: 12 mm
Case: Stainless steel (polished at sides/bezel and brushed on top of lugs)
Lug to Lug: 46 mm
Lug Width: 20 mm
Strap: Brown calf leather strap with pin buckle
Dial: Sunburst dark green dial with gold accents
Watch Crystal: Sapphire crystal
Hands: Gold hands with lume
Markers: Gold numeral markers with lume pips
Inner Bezel: Bi-directional rotating inner bezel with compass chapter ring
Movement: Seiko Caliber 6R15 Automatic self-wind movement
Movement Specification: 23 Jewels, 21,600 vibrations per hour or 6 beats per second, Able to be manually wind, Hacking feature, Diashock absorber
Power Reserve: 50 hours
Accuracy: +25-15 seconds per day
Water Resistance: 200 m or 660 feet
Other Features: Date display at 3 o'clock, screw down caseback, screw down crown, Luminous hands and markers, compass chapter ring on inner bezel, Diashock absorber inside movement
Where To Buy: Amazon (Click link below to check its price on Amazon.com)
Seiko Alpinist History
This Seiko SARB017 Alpinist wrist watch was designed with the Japanese mountain explorer in mind. In Japan, these mountain climbing gentlemen were called yama-otoko. They are explorers who would traveled between cities in Japan's mountainous terrain.

A Japanese art showcasing the yama-otoko
Seiko produced the Alpinist with them in mind. All Alpinist line of watches are designed to be used in rough environment, with high water resistance (you could get soaked in rain while hiking you know), lume on the hands and markers for visibility in night and some of them have compass bezel.
The first Alpinist was released in 1961, and 5 generations have followed it since then. The latest version is released in 2009 and featuring the SARB059 & SARB061. However, the most popular model is the SARB017 (the previous 5th gen – the one we are reviewing here) for a very simple reason – it has the unique green and gold dial.
This particular model was released in 2006 with a few other models. It's been 10 years and the SARB017 is still going strong though. I believe it is here to stay just like the SKX007 and SKX009, though the company do have a history to stopping popular models.
There's been some talks in watch forums about how Seiko is going to stop producing their beloved SARB line of watches (SARB033, SARB035, SARB065 etc.).
So if you like the Alpinist, make sure you get it as soon as possible before Seiko pulled the plug on it (for whatever damn reason….) >>CLICK HERE To Get Your Own Seiko Alpinist
Read this awesome story of the Seiko Alpinist line here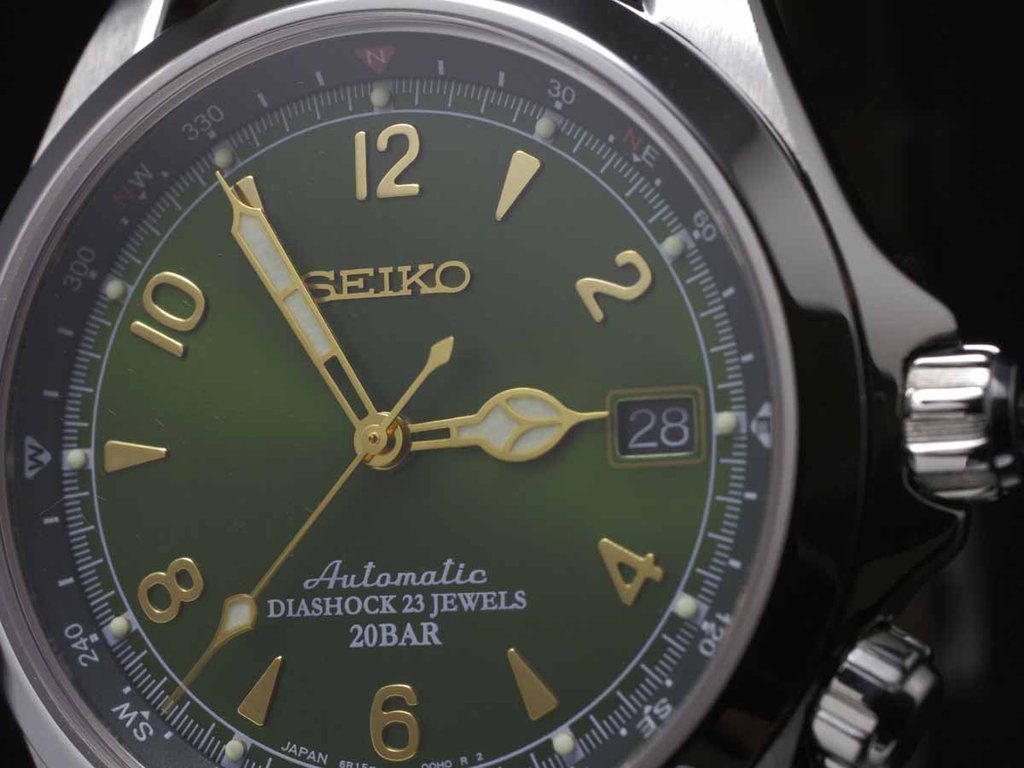 Gorgeous Green And Gold Dial
It's hard to miss the green and gold dial of this gorgeous wrist watch. The green dial actually has a sunburst effect i.e the dial will reflect different lights if looked from different angles.
This effect can't be seen from pictures though. You can watch the video below to see it for yourselves.
It's not hard to make the link that Seiko chose green to reflect the greenery of the mountainous range of Japan, in line with the Alpinist concept.
Regardless whether this is the truth or not, we just can't deny the green dial looks absolutely fantastic on the watch.
On top of the dial are numeral and index markers with gold in color which beautifully contrasts with the green dial.
There are some small lume pips on top of the markers. A calendar date display is located at the right, at 3 o'clock position. The hands are bulky and also in gold with lume generously applied on top of them.

One thing for certain about Seiko's lume is they are good and this one is not an exception. The hour hand is uniquely designed with mercedes like pointer while the minute hand is sword shaped like.
I really like the design of the hands as they are truly unique and one of a kind. With the exquisite dial and hands, what I can say is the amount of detailing that Seiko put inside this watch is ridiculous.
One thing for sure is the design is more towards dress watch than a rugged utility watch the Alpinist line should represent. It is after all designed for mountainous expeditions right? So why does Seiko designed it to be so pretty?
This is one of the questions raised by Seiko enthusiasts. For me, it is a bit out of place for an utility sports watch to be so dressy but we have to remember not all the people buying the watch will actually go for a camping.
It's the same like not all people buying that gorgeous two-tone Rolex Submariner will actually go scuba diving with it.
So Seiko designed a very beautiful watch but still make sure the watch can withstand the harsh environment of a mountain.
Watch this awesome youtube review by minitwatch to see the sunburst green dial and lume of the Seiko SARB017 in action=)
Solidly Built 38 mm Stainless Steel Case
The case of this Seiko Alpinist has a diameter of 38 mm excluding crown and about 41 mm including crown. It has a 46 mm length from lug to lug, with 20 mm lug width. The wrist watch is not too thick, at just over 12 mm in thickness.
A major complain is that the watch is too small and won't fit in. But then we have to remember that this watch is a Japan Domestic Model (JDM) which is supposed to be sold exclusively in Japan.
So for sure the sizing will be based on average Japanese/Asian wrist size which is smaller than western people.
Personally for me, 38 mm should be fine for most people, unless you have a huge hand. This small diameter is what gives the watch a much more dressy look than a real tool watch. The lugs are curving down beautifully which is typical of the SARB line by Seiko.
It is intended to "hug" the wrist and giving a more comfortable feel while wearing it. The case is highly polished on the sides and the bezel (the bezel is empty) while perfectly brushed on top of the lugs. On the back of the case is the mountain logo engraved on the screw down caseback.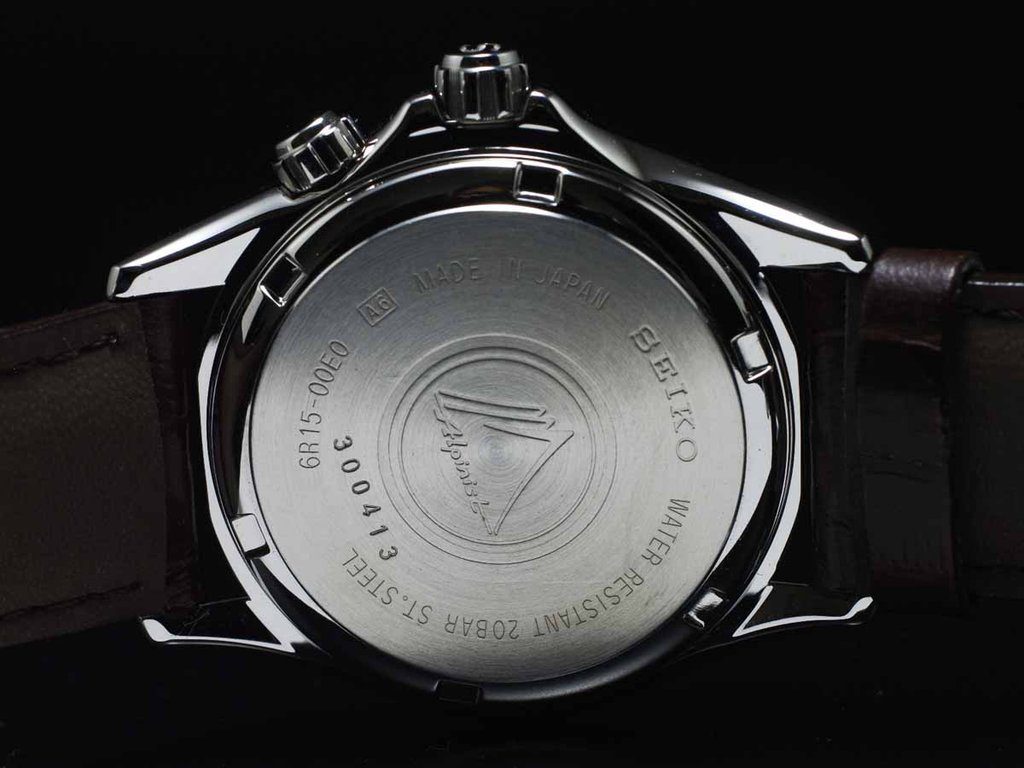 The back of the watch. Notice the engraving of Alpinist mountain logo on it


Compass Chapter Ring On Inner Bezel
One tool that the Seiko SARB017 has is the compass chapter ring on its inner bezel which is put on the watch with such great detail.
The inner bezel ring is quite small (you have to really zoom in on the area just at the edge of the bezel) and is operated by rotating the second crown at 4 o'clock.
What is it used for? It's used as a fast way to know the direction (north, east, south, west) of your location provided you can see the sun.
In the morning, we can know the direction by pointing our hour hand towards the sun. Then rotate the compass bezel until the South indicator (if you are in the northern hemisphere. If you are in the southern hemisphere use the North indicator) is between the hour hand and 12:00.
At that moment, the direction indicated on the compass ring is the correct direction.
On afternoon, just repeat the same process. But you will notice the hour hand is now at the right side of the watch (1pm to 6pm) instead of at the left during the morning (6pm to 11 pm). Just be reminded that this is just a rough indication of the direction.
Always bring a working compass with you for any mountainous expedition. For some great illustration, you can refer to this site here.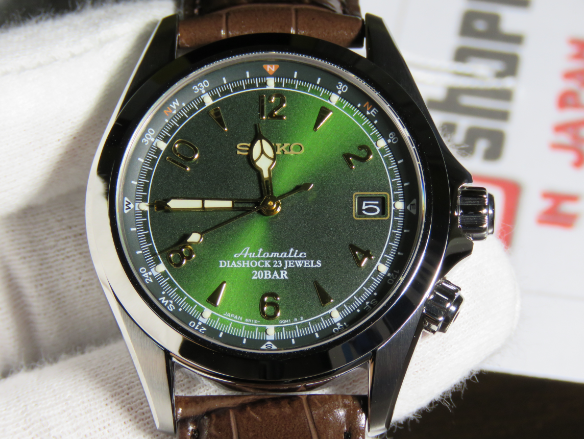 The inner bezel of the Seiko Alpinist has a compass chapter ring which can be used by rotating the lower crown to find your direction (North, South) based on the sun location
Seiko Caliber 6R15 Movement With Diashock
Just like the SARB033 and SARB065 Cocktail Time, this watch also features the Seiko Cal. 6R15 automatic self-wind movement inside it. This movement is an ubiquitous movement in most of Seiko's low to mid range of watches.
It has 23 jewels with 21,600 vibrations per hour which gives a 6 beats per second movement. It can be manually wind, hacking and has a 50 hours power reserve.
What I like about this movement is how robust and low maintenance it is. This same movement is used in many Seiko Prospex diving line – the kind of watch that will be used for lots of action in the sea. And that same movement is used in this watch.
That means you are getting a very tough movement in a normal watch which really gives you a peace of mind. The accuracy is within +25 /-15 seconds per day, which will improve once the watch is worn regularly.
Another added bonus on this watch that is not in other SARB line watches is the Diashock absorber. Being a watch to be used in rough environment, the diashock will provide addition absorber protection to the movement from falls, drops or any moderate impact.
It's certainly very reassuring to have this feature in the watch that's for sure.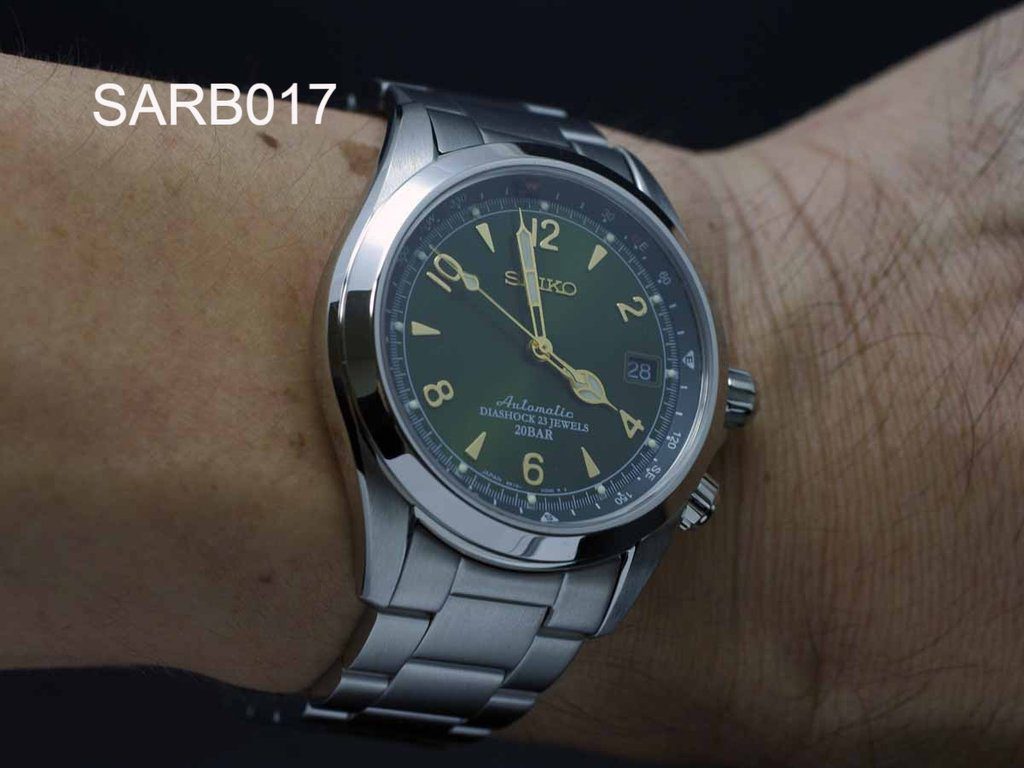 Seiko SARB017 Alpinist on stainless steel bracelet. You can buy this replacement bracelet that fit it from Seiyajapan.com (the bracelet is actually made for another Alpinist model, the SARB015. So it should fit in nicely with the SARB017)
Put The Alpinist On Bracelet Or Leather Strap?
This wrist watch comes with a brown calf leather strap with alligator pattern and pin buckle out of the box.
But just like most low-middle range Seikos, the strap is just not up to the high standard of the watch itself.
Due to this, you can always see many people changed out the leather strap for stainless steel bracelets or higher quality leather straps.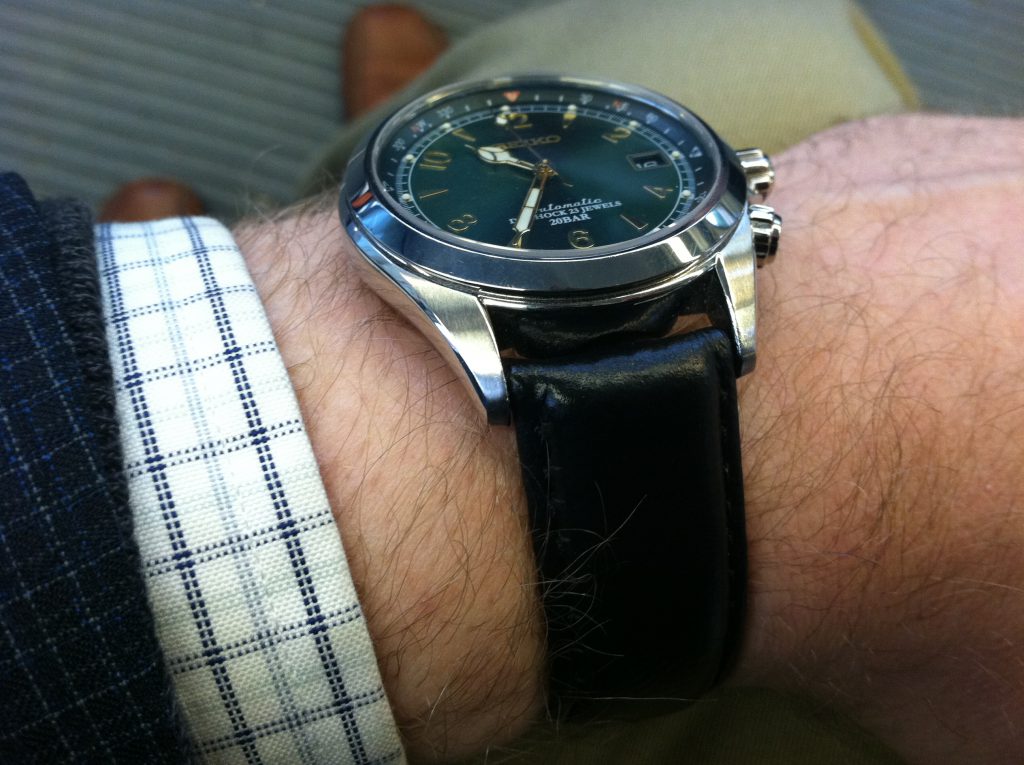 Also looks great on black leather strap!
Where To Get A Seiko SARB017?
Looking for Seiko SARB017 Alpinist for yourself? Unfortunately, as with most SARB watches, the Alpinist is not on sale in most Seiko boutiques.
You might be lucky to stumble upon one but why bother going the distance if we can easily get one from online stores?
The Alpinist is also on Amazon and they usually has the lowest price for Seiko watches. Click the link below to check the best deals of Seiko Alpinist on Amazon.
Conclusion
The Seiko SARB017 Alpinist is a great looking watch with gorgeous sunburst green and gold dial. It's just too beautiful to be called a sports watch – even though that's what the Alpinist line should be about.
It also has a compass chapter ring and Diashock which make it perfect if you want to actually use it for your mountainous adventures.
Inside, we get a robust and well regarded 6R15 automatic self-winding movement in it. At is price, it is truly one of those Seikos that is well worth for money due to the high quality craftsmanship and detailing put on the watch by Seiko's watchmakers.
Hope this Seiko Alpinist review helped clear some questions regarding the watch. Feel free to ask any question to me about this watch. I'll be glad to help you guys out. Don't forget to subscribe to my site.
Cheers!
Isaac