Today I'm going to write about Seiko SKX009 review, an automatic dive men's wrist watch. As most of you already know the Seiko SKX is a series of affordable dive watch by the brand.
This SKX009 is a twin brother to the Seiko SKX007, featuring a refreshing blue dial and blue/red pepsi bezel. Both have the same movement and build, but with different designs.
And both are equally famous with the diving community and automatic watch lovers for being an affordable diver automatic watch. Without further ado, let's get on to the Seiko SKX009 review.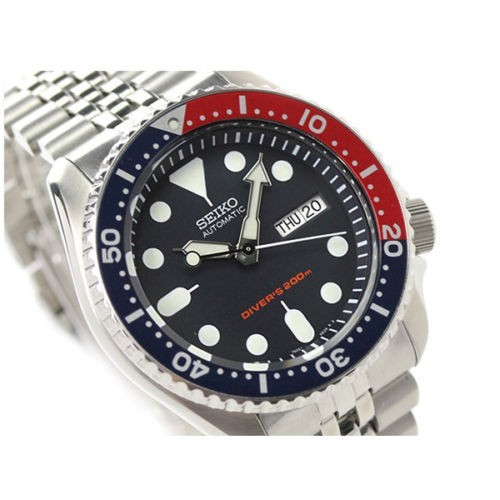 Update: I've recently featured the Seiko SKX009 in my list of the top 10 automatic watches under $200. You guys can check the article HERE.
Seiko SKX009 Specification
Diameter: 42 mm
Thickness: 13 mm
Case: Stainless steel case (polished and brushed)
Lug Width: 22 mm
Strap: Stainless steel bracelet or rubber band
Dial: Dark blue dial
Dial Window: Hardlex crystal
Markers: Circles and fat index markers
Hands: Sword shaped hands
Bezel: Unidirectional diving bezel with blue and red pepsi design colors
Movement: Seiko Caliber 7S26 automatic self-widn movement with 21 Jewels
Movement Features: 41 hours power reserve, 21600 vibrations per hour or 6 beats per second, non-hacking and cannot be manual wind
Accuracy: +-15 seconds per day
Water Resistance: 660 feet or 200 m
Other Features: Luminous markers and hands, Date and day display, Certified as ISO 6425 Diver's Watch, Screw down crown
Best Place To Buy:
Amazon
For SKX009K (Made in Malaysia) at $250
Ebay For SKX009J (Made in Japan) for $300- 350
Seiko SKX009 – The Affordable Automatic Diver Watch
SKX009 is one of Seiko's range of affordable automatic dive watch. It's in the same category as Seiko SKX007 and Orient's Ray and Mako. The Japanese really knows how to make a great automatic watch, at fraction the price of what the Swiss offers.
The watch is solidly constructed using stainless steel case with polished sides and brushed on top of the lug. The sides are rounded and there is no sharp edges for maximum comfort while using the watch for diving.
The crown is fixed at 4 o'clock position (usually crown is positioned at 3 o'clock) for the same reason. This is one of the design aspects of Seiko's diver watch that I really like. Your wrist is free to flex in any motion while wearing this watch.
The dial is dark blue and features markers with circles and index shapes. The markers are very big and slapped with generous lume to give maximum legibility in low light environment.
The hands are also big and have lume as well. Both of these are very important for any diver watch as divers need to be able to read their diving time underwater which is quite dark.
The bezel is an unidirectional diving bezel with minute markers. It has the blue and red color scheme which is dubbed the "pepsi bezel" (because blue and red are pepsi's colors). On the dial also is the day and date features which are awesome to have.
I totally love these features and totally recommend everyone to find an automatic watch with these functions. It will really be helpful to you guys especially during working. Not sure what day and date it is when signing that report? Just have a glance at your watch then. No need to take out your smartphone or asking around =)

An ISO 6425 Certified Diver Watch
On the back of the SKX009 is a stainless steel caseback with tsunami engraving which marks that this watch is a Seiko dive watch. The watch has a screw down crown (you have to screw it first before you can change the time, day and date) to help deter any water ingress while diving.
The water resistance is up to 200 m or 660 feet and the watch is an ISO certified diving watch. It has complied with all the requirements in the ISO 6425 (international standard for diving watch) such as:
Minimium 100 m or 330 feet water resistance

Water tightness in all aspects (dial window, caseback and crown)

Overpressured up to 200 kPa

Unidirectional bezel to time dive duration

Legibility under dark fro time, bezel, and running second hand. For this, a very good 

lume is needed

Magnetic resistance

Shock resistance

Resistance to salty water
Now there are lots more requirements for the dive watch certification. You can read it all here)
When a watch has passed all these requirements, it can be certified by ISO as a diver watch. Then and only then the watch can be marked with the word DIVER'S WATCH XXX M or DIVER'S XXX M (with XXX to be replaced with the water resistance value in meter).
This special marking is to separate certified dive watch from a non-certified ISO dive watch (for example the Orient Mako, Orient Ray and Seiko 5 SNZH53).
But bear in mind these watches can also do the job, i.e has sufficient water resistant. But if you are a diving frequently, nothing beats than having an ISO certified diver's watch for peace of mind =)
Seiko Caliber 7S26 Automatic Self Wind Movement
This diver watch is equipped with Seiko's workhorse movement, the Cal. 7S26. It is an automatic self winding movement with 21 Jewels. It beats at 6 beats per second, which is just about the minimum beats of modern automatic watches.
The sweeping second hand is still good to look at with this 6 bps but not as smooth as the Swiss for sure. But this has an advantage because with a lesser number of beats, the movement lifespan is longer because of lesser wear and tear. This approach is perfect for a movement that is intended to be a workhorse, and not a fancy dress watch.
The movement has a good 41 hours power reserve. The bad things about this movement is the absence of hacking and manual winding features. I'm not really disturbed not being able to hack/stop my second hand when adjusting the time, but not being able to manual wind my watches is a very serious flaw to me.
As someone that rotates his watches, I would like to keep all of them running so that I won't have to adjust the time/day/date when I want to use them. As stated in my post here, there are two ways to keep a watch running: manual wind or watch winder.
Without the ability to manual wind, one has to use it everyday or put it in a watch winder. But then these winders can cost a bit too and I think it is a bit funny to put a $200 watch on a winder.
Btw, this issue with manual winding is just with me though. I prefer to keep my watches running all the time just for the sake of convenience (to have to adjust the date and day plus am/pm is a pain really).
I'm not sure is it the same with you guys. Don't let my insistance for convenience sway your opinion about this watch as it is still a very good watch (minus the non-manual winding which is a deal breaker for me).
The twin brothers of Seiko's affordable dive watches: SKX009 (top) and SKX007 (bottom). The SKX007 looks just like any other dive watch with its black dial and bezel while the SKX009 is one of a kind watch with its blue/red pepsi bezel
Seiko SKX009 Vs Seiko SKX007
Now let's go to the comparison between these two brothers: Seiko SKX007 vs SKX009. Like I've said before, they are both essentially the same. They have the same case, same movement, and dial design.
The only difference are the dial color and bezel color. The dial and bezel of SKX007 is matte black. Seiko SKX009 has a dark blue dial with a distinct blue/red pepsi bezel.
The difference is in the colors and that's that. But this has actually divided quite a large number of people. "Which is better? SKX007 or SKX009" is a common question in many watch forums all over the world and people are divided about this.
Some people like the matte black of SKX007 because it exudes elegance. Black after all is mysterious and sharp color. It's a very traditional color for a watch.
But others (including me) loves the SKX009 more. I think the pepsi bezel is unique and refreshing, something new to all the blacks and silvers of the common watch nowadays. The dark blue dial is so subtle but complements the blue color portion of the bezel perfectly.
For being a unique kind of watch, I give my vote to the SKX009. But that's just my opinion. I would love to hear what you guys think and which one is your favorite. Please drop your comments below ya.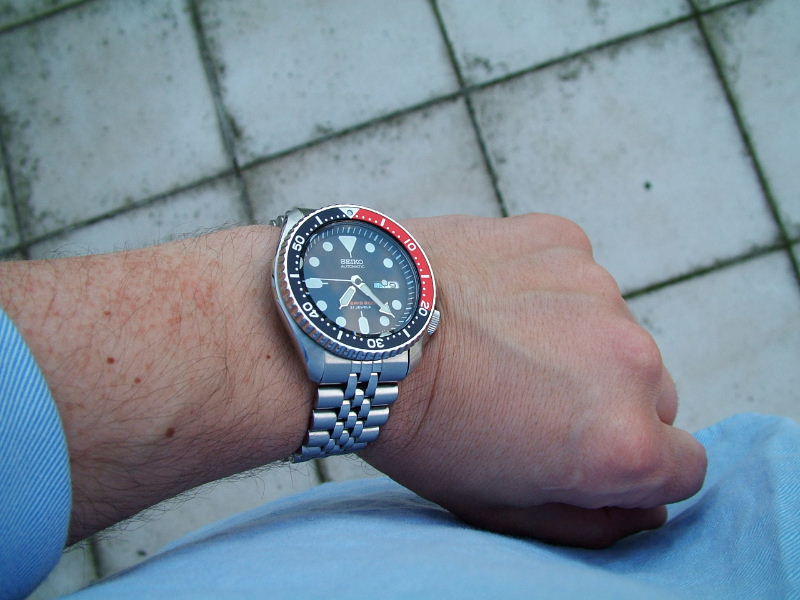 Seiko SKX009 Advantages And Disadvantages
Below are the summary of the pros and cons of this Seiko dive watch:
Pros:
1- Cheap and affordable automatic diver watch
2- Robust and solid craftsmanship which is perfect for a beater watch – the watch you actually going to take deep into the ocean instead of those Rolexes or Omegas
3- Blue dial and pepsi bezel give the watch a unique identity and easily identifiable
4- 7S26 movement by Seiko is the tried and tested workhorse automatic movement that has been known to be able to run flawlessly years after years without any service
5- Date and day features are very convenient for its owner
6- Good case design with round shape and edges will make wearing the watch a very comfortable experience
7- Generous lume application and excellent lume brightness will really help you telling the time in low light condition
Cons:
1- Not able to manual wind the watch is a big minus for those that have many watches in his stable
2- Hardlex crystal is not so scratch resistant as Sapphire and will attract lots of scratches. Fortunately its very shatter proof.
3- As usual, Seiko's strap for their low-end models will disappoints. The bracelet is flimsy while the rubber band is too stiff
Seiko SKX009 For Sale? Where To Buy SKX009?
It is actually quite hard to get a hold of a Seiko in our local watch shop. It seems these Seiko authorized dealers only have the higher end Seikos but none of the lower to mid range watches.
But thankfully for the internet nowadays as we have access to various sellers to get our watches. Amazon and Ebay are huge sites for us to buy these watches from. Just make sure you buy from a trusted sellers.
Something that I have to say about the watch is that there are two versions generally available: SKX009J which is the Made in Japan and SKX009K which is the Made in Malaysia.
The Urban Gentry did a very helpful side by side comparison between these two versions. Follow him on youtube for more of his awesome videos
Seiko SKX009J vs SKX009K Comparison
Both of these versions are just about the same at a glance. But looking at them closely you will find out that there are subtle differences. (credit to The Urban Gentry for these comparisons)
1- J version has a darker blue on the bezel while K version is like normal blue color.
2- J version has extra signatures on the dial: 21 Jewels, Made In Japan.
3- The polishing and brushing of the case and lug is sharper and cleaner in the J version.
4- Bezel action is also firmer in the J version
5- Caseback is almost same except there is a "Japan" word engraved for the J version
6- K version has better screw down crown

Seiko SKX009J – the Made In Japan version. Notice the additional signatures on the dial: "21 Jewels" and "MADE IN JAPAN"
Price? The K version is the widely available at around $200 to $250. J version is harder to get and can cost you $300. I've also encountered some people selling for $400!
The J version is highly sought after because everyone knows the Japanese always keep their best products to themselves. I'm not really sure about any difference in quality of the movement between the J and K versions, but it is safe to assume the J version is built with slightly more detail (the polishing and brushing of the case is the proof of that).
But then the price of a J version can be double than the K which is totally absurd. My advice? Buy the J version directly from Japan when you visit the country or have a friend buy it for you. Otherwise, just content with the K version as the extra $100-200 is better to be used for another watch =)
Conclusion
Seiko SKX009
is a variation of the much loved
SKX007
dive watch but with major aesthetic change. It has a deep blue dial with pepsi bezel – making it starkly different than hundreds of dive watch out there. For those of you wanting to be different but also a great value for money watch, then this is it
Hope you guys like my Seiko SKX009 review. If you have any questions or comments, feel free to drop it down at the comments section below. Till next time.
Cheers!
Isaac
*******************
Loves The Seiko SKX009? Get It From Amazon And Ebay!
As mentioned above, there are two version of this watch – the J (made in Japan) and K version (made in Malaysia). The K version can be found easily on internet but Amazon almost always has the cheapest price. Below are the links if you want to check out those items:
->Click Here To Check Out The Seiko SKX009K On Amazon<-
On the other hand, SKX009J is quite obscure and hard to find. There is a listing on Ebay for $330. (You can check it out here). As I've stated earlier, the Made in Japan version is more expensive. Personally I don't think it's worth it but if you got the money and really wants the highest quality, then go for it.
You might also want to check out these affordable dive watches:
1 – Seiko SKX007
2 – Seiko 5 Sports SNZH53
3 – Orient Mako
4 – Orient Mako 2
5 – Orient Ray