After the success of their Sistem51 automatic watches 3 years ago that sparked lots of buzz in the watch industry, Swatch recently followed up with its latest line, Sistem51 Irony which is basically their Sistem51 automatic movement in a stainless steel case. Just released in September 2016, it is undoubtedly Swatch's response to those that like the idea of Swatch's simple and cheaper automatic movement (with 90 hours power reserve!) but don't really prefer the plastic case and colorful dial/watch face in the original Sistem51. Let's look what's the Sistem51 Irony all about and how it's holding up with the original Sistem51.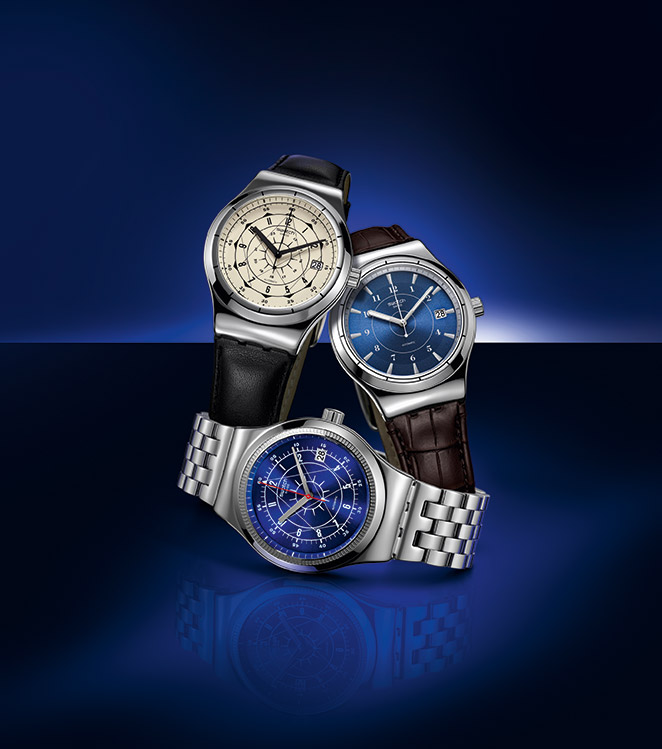 Swatch Sistem51 Irony Specification
Diameter: 42 mm
Thickness: 13.8 mm
Lug To Lug: 50 mm
Case: Stainless steel
Strap: Stainless steel bracelet / leather strap / rubber strap
Movement: Sistem51 Automatic self-wind movement
Power Reserve: 90 Hours
Water Resistance: 3 bar/ 30 m/ 100 feet
Other Features: Date display, Lume on hands (for some model only)
Who Is It For: Those looking for a cheaper automatic watch and might be turned off by the plastic case of the original Sistem51
Price: Less than $200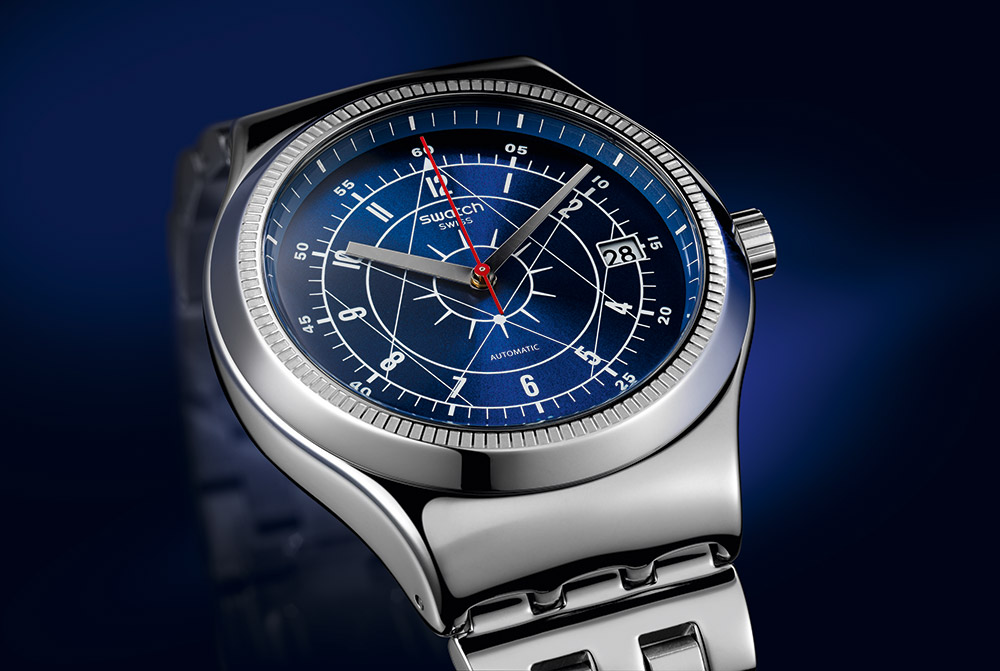 The Sistem51 Irony is enclosed in a stainless steel case featuring a more traditional looking dial – unlike the usual colorful looking watch that Swatch if famous for
Sistem51 Irony – Sistem51 Movement In A Stainless Steel Case
The Sistem51 Irony is a crossover of two Swatch's lines of watches: Sistem51 and Irony lines. The Sistem51 is the automatic watch by Swatch with revolutionary movement (we will discuss this more below). The Irony line on the other hand is the typical Swatch quartz watch but with a stainless steel case.
The result of this is the Sistem51 Irony – the unique Sistem51 automatic movement inside a stainless steel case and more reserved dial design. While the original Sistem51 is housed in typical Swatch plastic casing, the Sistem51 Irony will undoubtedly cater to those that want a more mature automatic watch, something that can be worn to work or social events: those places where a typical colorful Swatch won't fit in. With this watch, Swatch has blurred the lines between their typical funky looking watches with full fledged watches.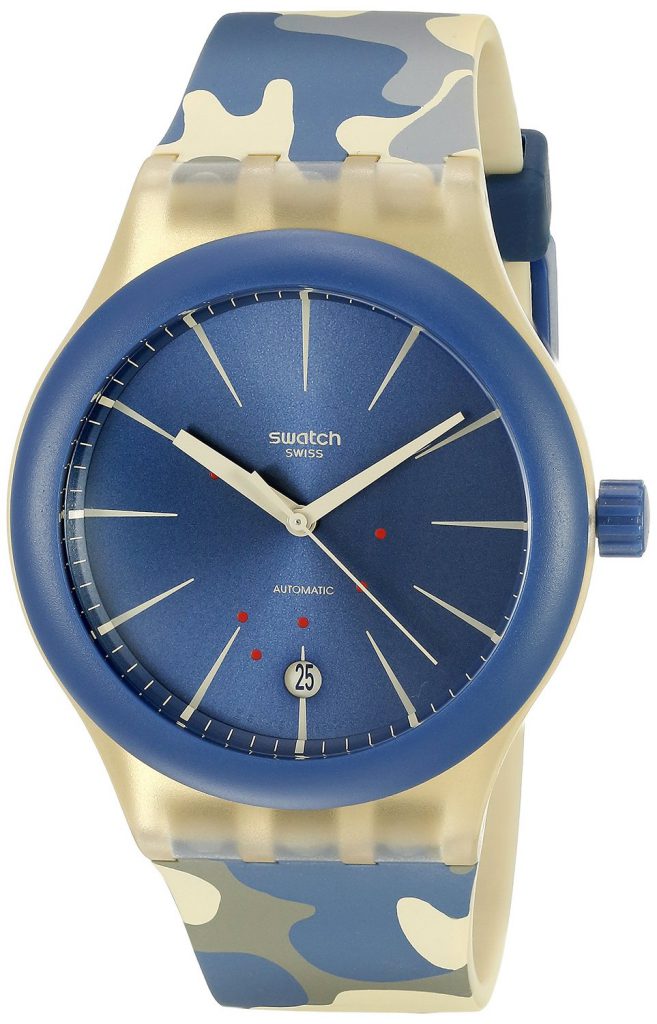 In comparison, the original Swatch Sistem51 is made of colorful dials and straps. Pictured above is the Sistem51 Incognito
A More Elegant Dial
For their newest line, Swatch has released 7 variations of the Sistem51 Irony though I'm sure more will come as what happened with the Sistem51. The dials are more reserved, and uses "normal" colors on a watch such as silver, white, blue and black. The dial design also is not as funky looking as the original Sistem51. Swatch also uses metallic dial to get that gorgeous sunburst effect on some of them.
On the dial is the typical 3 hands with a date indicator at 3 o'clock. The markings are mostly numeral, except for two models that have index markings. It is much reserved and Swatch only used one tone of color on the dial, unlike Sistem51 with lots of bright colors.
In short, the Sistem51 Irony is a toned down Swatch watch. It looks just like any normal watch but you can still sense some Swatch styling DNA in them.
Sistem51 Inside A Stainless Steel Case
Another step up from the Sistem51 is the stainless steel case. The case is brushed or polished depending on the models (the rubber strap is brushed while the leather and bracelet versions are polished). It is 42 mm in diameter with 13.8 mm thickness. Lug to lug width is 50 mm. All in all, it's not too big for a guy's wrist though a lady could have some problem putting it on.
Something that I don't like with the case is how it's not so detailed unlike cases for other watch brands such as Tissots, Bulovas, Hamiltons, Seikos and Orients just to name a few. The case lacks any contour and detail – it's constructed in a very simple way that is not that exciting to see. I understand that Swatch has to make it very simple to cut costs but a bit of detail on the case's craftsmanship certainly wouldn't hurt.
A terrific video showing the latest Sistem51 Irony side by side with the original Sistem51. Inside the video is the Sistem51 Irony Earth (silver dial with brown leather strap), Sistem51 Irony Arrow (black dial with black rubber strap) and Sistem51 Arlequin (silver dial with white rubber strap).
Comes With 3 Strap Options: Rubber, Leather And Stainless Steel Bracelet
Sistem51 Irony comes with 3 strap options, and no, you won't be able to buy that colorful funky looking strap Swatch is well known about. The straps are traditional in color: rubber in black while leather in brown and black.
One thing to note is that the strap is secured to the watch by Swatch's typical 3 tangs lugs. This means that you can't change the strap with an aftermarket strap and have to order it from Swatch. Fortunately the removal of the strap is not so difficult. This video shows how easy it is (in fact the removal and putting it back is much easier than normal watch).
Of all 3 strap options, I like the leather straps the most as it looks quite good with the watch. It's also have the best look. The rubber strap is too sporty, while the SS bracelet looks cheap to be honest.
Sistem51 Automatic Movement – An Innovative Swiss Movement
I've written about the Sistem51 automatic movement before (you can read the whole review here) but I would like to say it again that it is the cheapest Swiss automatic around.
The movement is designed by ETA, Swatch Group's movement manufacturer and comprises of just 51 parts. All of those are grouped into 5 modules. This simplifications (normal automatic movement has more than 100 parts) is done so that the assembly of the watch can be done by machines.
This cut back the time and manpower needed to manufacture the watch, and thus reduces the cost (yay!). A typical Swiss automatic is more than $300 and the Sistem51 retails for less than $150 while the Sistem51 Irony is less than $200. That's a huge reduction in cost!

Sistem51 Irony still maintains the exhibition caseback featuring the beautiful rotor and movement design. The rotor will rotate freely even under slight movement showing a pretty pattern while it spun.
A Huge 90 hours Power Reserve
Another selling point of the Sistem51 movement is the huge 90 hours power reserve which totally blows most automatic watches out there. To have such a power reserve is just too good to be true. Normal automatic watches will have 40 hours or 1 and a half day before you need to wind or wear it again.
The 90 hours power reserve means the watch can stand idle for almost 4 days! That's double than what a normal watch can give. Not to mention that it can be manually wind, which means you don't have to use a watch winder to keep it running.
Swatch Sistem51 Irony Release Date And Price
The Sistem51 Irony was released last month, September 2016. The price varies depending on the models (the stainless steel will cost the most, followed by the leather version while the rubber strap will be the cheapest). But it will be less than $200 for sure.
Where To Buy Swatch Sistem51 Irony?
As of now, I can't find any online retailers that stock this watch. There's none on Amazon or Ebay currently. It's not surprising actually as the watch is still fresh out of the oven. The only way to get your hand on the Sistem51 Irony is by visiting your local Swatch store. You can also buy it online by visiting Swatch official website.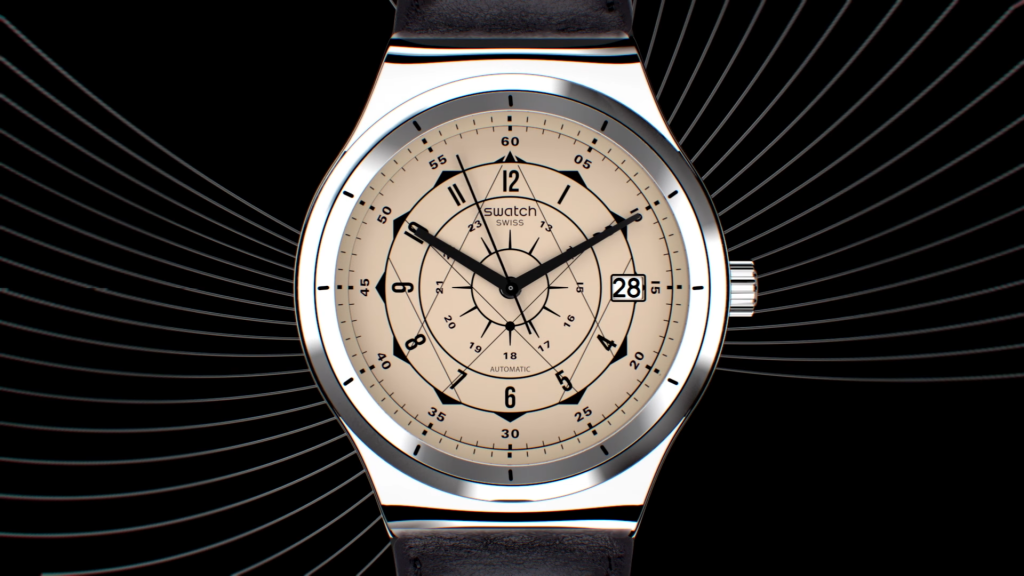 So, Is The Swatch Sistem51 Irony Worth It?
The original Sistem51 is an automatic in true Swatch fashion: colorful, fun looking watch. It's a really good second watch for when you hang out with your friends, go on vacation etc. The charm is in the automatic movement that Swatch claims can go up to 20 years without needing any service. That means it's battery free and you can use it hassle free for the next 20 years.
But this Sistem51 Irony is a bit more than that. It has the same movement but the case is designed to be like a normal watch. It's cheap for an automatic watch and has a great looking dial but I feel the quality of the steel case is not up to other automatic watch standard.
Maybe it's done on purpose to maintain that Swatch look but I feel a better case design with some curves here is much needed. To this, I would totally recommend that you visit your nearest Swatch store to check out the watch and make your own opinion yourselves.
***********
Hope you enjoyed my post on the Swatch Sistem51 Irony. Feel free to put your comments down below. I would love to hear what you think about this new Swatch. Till then. Cheers!