Orient Symphony is another classy dress watch by the Japanese brand, and this review is dedicated for this beautiful timepiece. It's in the same class as the Bambino, another beautiful dress watch by Orient.
Both are affordable and have the same classical look with the biggest difference in the crystal shape. Let's get on the Orient Symphony review shall we!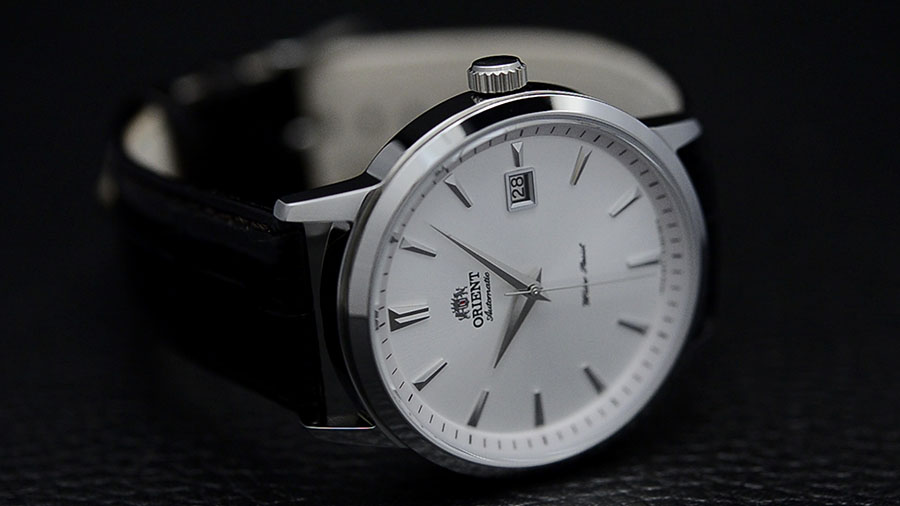 Update: I've recently featured the Orient Symphony in my list of the top 10 automatic watches under $200. You guys can check the article HERE.
Orient Symphony (ER27007W) Specification
Diameter: 41 mm
Thickness: 12 mm
Lug Width: 22 mm
Case: Stainless steel case (also comes in gunmetal and rose gold PVD case)
Strap: Leather strap with pin buckle
Dial: White dial (also comes in black dial version)
Watch Crystal: Mineral crystal
Hands: Dauphine hands
Markers: Index silver markers
Movement: Orient Caliber 48743 automatic self-wind movement
Movement Features: 21 Jewels. 21600 vibration per hour or 6 beats per second. Non-hacking and non-manual winding.
Power Reserve: 40 hours
Accuracy: +- 15 seconds per day
Water Resistance: 50 m
Other Features: Date function, Exhibition caseback, Push pull crown
Best Place To Buy: Amazon
Classic Looking Dial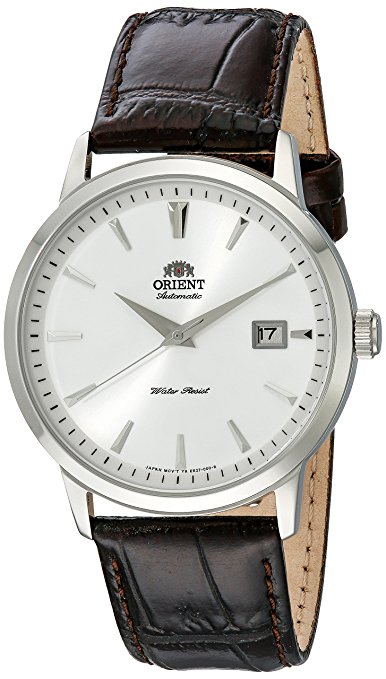 The Orient Symphony has a nice traditional dress watch look. It has a good proportion due to its almost symmetry dial design. All the elements on the dial are moderately sized with respect to each other.
It has minimal signatures on it, with only the Orient logo, "Automatic" and "Water Resist" signatures on it. They are done in stylishly small italic font, which further give the watch a classical look.
The markers are stainless steel index markers. But what is interesting is the markers are beveled instead of flat, which gives a very nice dimensional look due to it reflecting lights from different angle.
The dauphine hands also has the same beveled design. On top of the markers at the outer edge of the dial are minute markings which is useful to help tell and set time accurately.
There is also a date window at the right for some functionality which is very beneficial, especially for those wanting to use this watch to work.
The dial comes in two color variations: black and white. I much prefer the white dial as I like how it harmonize with the silver stainless steel markers and hands.
The black dial on the other hand does not really go well with the hands and markers as they are light reflecting elements.
Moreover, there could be a problem to tell time in low light condition with the black dial if the markers and hands are not painted.
All in all, the dial is nicely done with various elements complimenting each other in harmony. Truly a nice design.



Slim Stainless Steel Case With Flat Mineral Crystal
The case of this gorgeous watch has an average diameter of 41 mm, with a thin profile of 12 mm. The Orient Symphony also has small short lugs, which will keep the watch short.
The use of short lugs will make sure that most wrists will be able to pull it off perfectly while also keeping the look of the watch compact and elegant.
This is very different that sports watches that have big bulky lugs which will really look more rugged on a men's wrist.
But for this watch, the design is more to dressy and casual like so pairs of short and slim lugs are the wisest design decision.
It has a mineral watch crystal which is flat. This is the biggest difference of the Symphony and the Bambino, another popular dress watch by Orient.
The Bambino has a very domed mineral crystal, which looks great to look at. There are also some difference in the dial design but the difference in watch crystal form is the most obvious between these two lovely watches.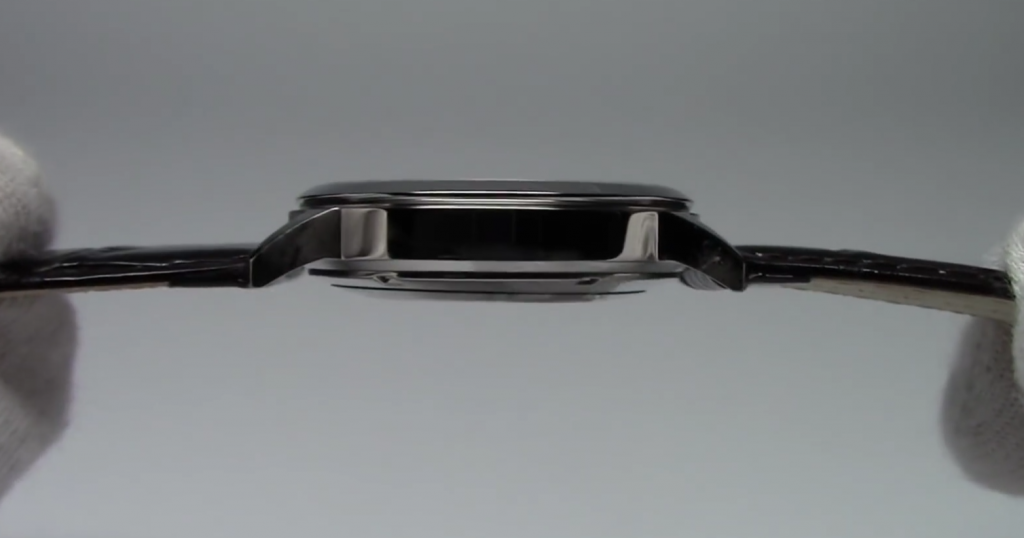 As you can see, the profile of the Orient Symphony is this and looks really sleek and stylish
The lug width is 22 mm, and is fitted with a leather strap that comes with pin buckle. There are 3 variations of the case finish: stainless steel, gray gunmetal and rose gold colors.
The gray and rose gold case colors are achieved by using Ion Plating technique to "paint" the stainless steel case. The rose gold version comes with a special markers and hands which also have the rose gold finishing on black dial, which to be honest looks great too.
Unlike Seiko, Orient seems to be more willing to fork out more money to produce different variations of a single model. This is a very good thing as not all people have the same taste =)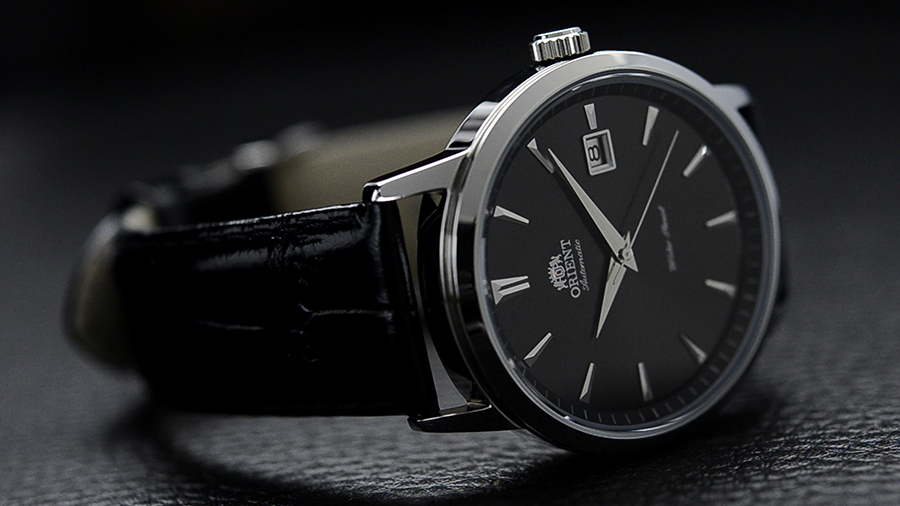 Above is the Orient Symphony ER27006B with a black dial and silver stainless steel case – for those that prefer the cool black watch face look
Powered by Orient Caliber 48743 Automatic Self-Wind Movement
This watch uses the Cal. 48743 automatic self-wind movement made in house by Orient. The usage of automatic movement means that it basically does not uses any battery like a quartz watch.
Instead our wrist movement will rotate the rotor inside the watch (which can be seen from its open caseback) and then will tighten the mainspring. The mainspring is the source of power for the watch, which will last up to 40 hours in the Symphony.
Inside this movement, there are 21 jewels that act to reduce frictions at various moving parts inside the watch. It's also moving at 21600 vibrations per hour or 6 beats per second.
This means the sweeping seconds hand is actually ticking 6 times in one second. It's without a doubt not as fluid as most Swiss movements that have at least 8 beats per second, but then we will get what we pay for right?
Swiss watches typically will go for more than $400, so for a watch that can be gotten at $200, it's totally an unfair comparison right?
A big disadvantage with the movement is that it is non-hacking and non-manual winding. These two features are kinda normal for most automatic watches right now (I can't even think of any Swiss watches that don't have these functions) so to not have these features are a shame.
Hacking means the seconds hand will stop when you want to set the time – great to get the watch set accurate to the atomic clock.
Manual winding means the mainspring that powers the watch can be tighten by rotating the crown as an alternative of using the watch.
Both have big advantage to the usability of an automatic watch, though I have to say that in my opinion manual winding capability is a much bigger advantage to have (read my post here on why and how to wind an automatic watch for more info).
Overall, the movement is a robust and has been used in many Orient's for many years without much issues, though I kinda feel Orient should upgrade all of their watches with their newer movement.
There Are Variations For Everyone
As mentioned above, Orient has produced at least 4 different variations of the Symphony. There are the black and white dials, that comes with either silver stainless steel, IP gray gunmetal or IP rose gold cases. You can see below pictures on the various variations of this watch.
Clockwise from top right:
1- Orient Symphony Black Dial With Silver Stainless Steel Case (ER27006B) 2- Orient Symphony Black Dial With Gray Gunmetal IP Case (ER27001B)
3- Orient Symphony Black Dial With Rose Gold IP Case (ER27002B)
4- Orient Symphony White Dial With Silver Stainless Steel Case (ER27007W)
Best Place With Cheapest Price To Buy Orient Symphony?
What's the best place to buy this beautiful watch at the lowest price? The watch typically retails around $230 in Orient's website but you can get it for a cheaper price on Amazon. Click the links below to check the latest deals on Amazon.
-> Click Here To Check The Best Deals Of Orient Symphony (ER27007W) On Amazon<-
End Thoughts
Orient Symphony is a beautiful classic looking watch with gorgeous dial and case design. It's dial is very balanced, and all the elements are in harmony – befitting its Symphony name.
The stainless steel case has a thin profile and comes in 3 colors (silver stainless steel, gray and rose gold). The Caliber 48743 automatic in-house movement by Orient is a robust and workhorse movement.
All in all, this is a watch for those looking for a more affordable automatic dress watch that does not look cheap at all.  For a great value for money watch, this Orient Symphony is the one to have!
********
I hope you guys enjoyed this Orient Symphony review. Feel free to drop your comments or questions that you have for the watch. Till next time.
Cheers!
Isaac.