Looking for cool gift ideas for men? How about a watch? It's holiday season again and I'm sure most of us are busy preparing the perfect gifts for our loved ones. But if you are still undecided for the perfect gift to your men (be it husband, boyfriend, father or relatives), you might want to consider a watch as your gift.
(Even though I'm writing this during this year's Christmas season, giving a watch as a gift is a great idea for basically all events: birthday, valentine's day. Major turning point in life/work such as promotion or graduation are most recommended as a watch is always related to being on time and being professional – the kind of things you would expect from a worker)
Why A Watch?
There are lots of gift ideas for men. Depending on your man's age and interest, lots of gifts can be given. Is he a sports junkie? Then a new pair of training shoes to replace his worn ones will be perfect. A scientist? Then the latest book by Stephen Hawking will make him drool. Someone who loves bikes? A new leather jacket to be worn while he's riding his bike is a great idea. Fact is there are lots of cool gift ideas for any man. Just think about what he loves or his profession, imagine what sort of things he would like to have and you've got a gift that will make him grateful for your ingenuity.
But one thing for sure, most guys would love to have a watch (except your guy is still a kid or a teenager when the concept of keeping up with time does not really exists). Below are the 4 top reasons why I think a watch is a great gift idea for a man.
1) Watch Is A Practical Tool
Most men are logical and like useful stuffs. Unlike women, "unnecessary" stuffs like clothes, wallets, etc are not that enticing as a gift to a man. He already has those things, and unless the shirt you give him fit nicely and still within his taste, chances are it won't be used much. Wallets are also not a good option for a gift as unlike women, men don't change their wallet everyday. From this, you might realize that ties, handkerchiefs, or that latest Macbook Pro are among the best gifts for a guy as they are useful to him.
The same thing applied to watches. From the last century, watches have been a staple tool for people to tell time, especially for those working adults. Teenagers don't really have that sense of urgency as adult has. Adults need to conform to time restriction during working (go to work, 1-hour lunch, go back to work) and also deadlines. These needs to keep time in check constantly makes a watch very useful.
Some people have the opinion that since everyone has smartphone which can also tell time, there is no need for a wrist watch. For me this is more to convenience. Just think about it, what you have to do to check time at your smartphone? You have to take it out from your pocket and then open it up. No issue when you are at the comfort of your home but if you are in a fully packed bus/train? Or you are driving? In these situations, a watch is more convenient to tell time – just flip your wrist towards you and read the hands. That's it. No need to take your smartphone from your pocket, activate the screen etc. That's real convenience to me, and most guys out there.

Above is the Seiko FlightMaster SNA411 with it's various scales that can be used for doing lots of calculation just by rotating the bezel. It's also a chronograph too and comes with 200 m water resistance rating. Nothing can beat this watch as a tool.
Another good thing is there are utilitarian tool watches that can do lots of things and still look great. A great example is the Seiko FlightMaster SNA411 that have all the conversion scales I can think of in a watch. Compass, unit conversion and slide rule (which can do lots of stuff from conversion to multiplication to calculating fuel consumption). It also is equipped with a chronograph which can be used as a stop watch.
2) A Watch Is Valuable
Unlike a cloth, a man knows a watch is expensive/valuable and we tend to take better care of these things – which also makes it a perfect gift to a man. That's why we wash and maintain our cars and bikes lol. Having a solid metal watch in our hands feels much more manly as compared to a new cloth. That's just how it is with men. Women love all those silk fabrics with beautiful colors while men love metallic expensive things like cars, bikes and watches.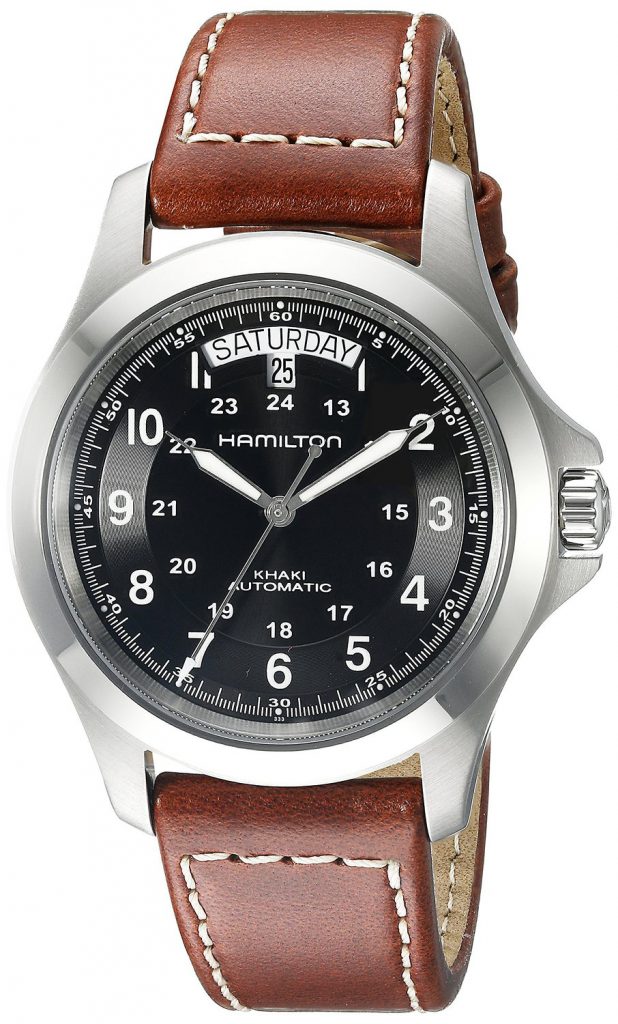 Hamilton Khaki King, a rugged looking military watch – perfect to be used in casual events.
And if you are worried that he already has a watch, don't fret as most guys can and will like having few watches at their disposal. Having a few watches will give him the freedom to rotate wearing them, just like how great it feels to have few cars in your garage. So, if you want your gift to be cherished and look after by him, get him a car – or if you can't afford it, a well made watch instead.
3) A Cool Fashion Accessory
Believe it or not, a watch is one of the acceptable fashion accessories that a man can have. Women have necklaces, bracelets, rings, handbags, shoes, and beautiful dresses. For a man, the choice is rather limited. Except for basic clothing items, a ring and watch is the only thing that I can think of that passes as an accessory for a man. Which is why the idea of having many watches is slowly becoming a trend. Now guys can swap their watches for the one that is perfect for the event: Tissot Le Locle dress watch for black tie function, Seiko SKX007 diver watch for going scuba diving, Citizen Eco-Drive Chronograph for going to watch that F1 race and maybe a Swatch Sistem51 for casual look with that funky colors. In short, watches can be a fashion accessory for a man that also looks cool and a useful tool.

Citizen Eco-Drive Perpetual Chronograph in above picture. Chronograph subdials are always nice to look at. This one also will automatically reset the time according to your timezone (only works in US and London though) every morning and recharged by solar panel on top of the watch. Looks cool and does not need any maintenance at all.
4) Automatic Watches Is A Unique Gift
I've written a post comparing automatic/mechanical watches versus quartz watches here in which I stated that automatic watches are more unique due to its hundreds moving parts. Sure, it's not as accurate as quartz is, but there is something special about the movement that powers it. An automatic watch is a culmination of a hundred year of research and innovation by men in order to create a more reliable watch. When you own an automatic, you will also own the past hundred year of innovation. Same thing why vintage cars are still well loved – people appreciate the beauty and style of yesteryear's, even though it's almost obsolete in the face of today's technology.
Another unique thing about automatic watches is it's not run by electricity unlike most of the things around us. Smartphones, laptops, TVs, cars, basically everything that we use nowadays are powered by electricity. Automatic watches are very unique in this sense. And it basically will run forever as long as you keep wearing it or manual wind it. Last but not least, automatic watches are the minority right now. Not everyone can appreciate the style and mechanism inside one. In any given room, I'm willing to bet that most of the people inside will wear a quartz or electronic watch while those wearing an automatic will only be a few. This will give a sense of exclusivity to its owner, knowing that the watch you are wearing will not run out of battery at all.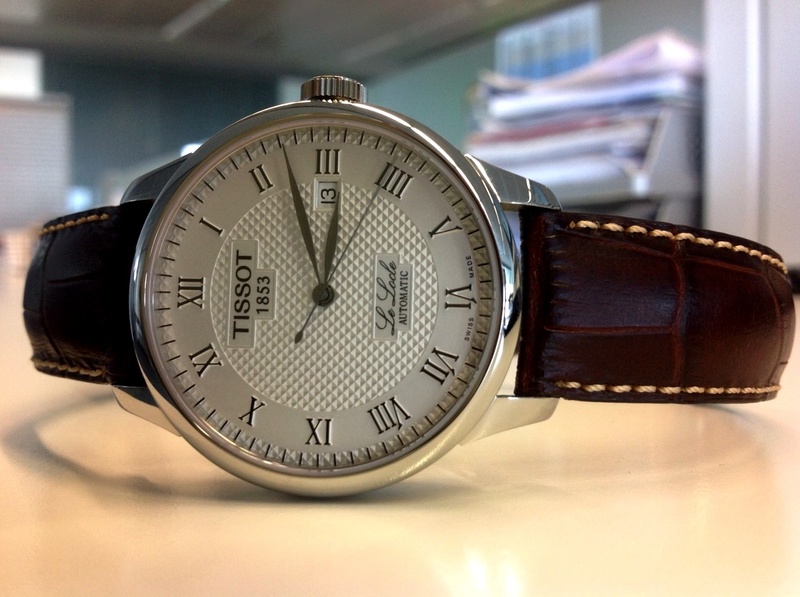 Tissot Le Locle, a popular dress watch by Tissot – a brand with over 100 years of experience
Conclusion
A watch is a very cool gift idea for a man for any occasion (Christmas, Valentine's day, birthday, graduation, etc.). It is stylish, can be made a fashion statement by the guy, and will be a very useful tool to him. Nevertheless, it's the thought that you put into your watch that will make him happy. Don't give a sporty and rugged biker a slim and pretty dress watch and don't give a refined matured gentleman a big ass watch. Think about the man that will receive it, what he is like and whether he will like it or not. That way, you are more likely to give him something that he will love for the rest of his life.
I hope you like this article and find it useful. Drop your comments or suggestions down below. I love to hear what you guys think (I for one will really love getting a brand new watch for Christmas). If you are finding a suitable watch as a gift, read my top reviewed watches at the sidebar to the right. Till next time.
Cheers!
Isaac.