Seiko 5 is an affordable (or you can also say cheap.. lol) automatic watch line up from the Japanese watchmaker Seiko and I'm happy to finally have a Seiko 5 review. This post is for the Seiko SNZH53 review, one of the most popular model in the line up.
It is a step above the normal Seiko 5 as it's a "Seiko 5 Sports" model, a sports oriented version of the Seiko 5. It comes with higher water resistance, better movement and overall better quality.
One of the reason for the SNZH53 popularity is the gorgeous blue dial automatic watch which is very popular due to its design similarity to the famous Blancpain Fifty Fathom until it has earned the nickname Poor Man's Fifty Fathoms.
Now let's get to the Seiko 5 SNZH53 review shall we.

Seiko 5 Sports SNZH53 Automatic Watch Specification
Diameter: 42 mm
Thickness: 14 mm
Lug Width: 22 mm
Case: Stainless steel case with brush and polished finish
Strap: Stainless steel bracelet with folding clasp
Dial: Blue dial with index markers
Dial Window / Watch Crystal: Domed mineral hardlex crystal
Bezel: Unidirectional blue diving bezel with minute markings
Hands: Sword shaped hands with lume
Markers: Index markers with lume. Minute markings at between the hour markers
Movement: Seiko Cal. 7S36 automatic self-wind movement with 23 jewels. 21600 vibrations per hour or 6 beats per second. Non-hacking movement. Cannot be manually wind
Power Reserve: 41 hours
Download Seiko Cal. 7S36 movement user manual here
Water Resistance: 100 m or 330 ft
Other Features: Exhibition caseback, day display (English and spanish option), date display, lume on hands and markers
Best Place To Buy: Amazon
Beautiful Glowing Blue Metal Dial
I'm sure you have noticed how brilliant the glowing blue metal dial is. As usual, pictures won't do justice to this gorgeous watch. I recommend you to watch the video above to see for yourselves how beautiful the blue dial is. The dial has a metallic finish which easily reflects light from different angles.
On the dial are index markers and sword shaped hands that has lume on it. I should warn you guys that the lume is not really that good. Despite the look, this is just a Seiko 5 Sports watch and not a full diver watch. As such, the lume is using Seiko's famous Lumibrite material. It's a shame but then for $150, you got to overlook a few things.
Check out this review to have a look on the Seiko 5 SNZH53 up close. Just look at those gorgeous blue metal dial reflecting lights from different angles
Also on the dial are the day and date indicators which are very useful – at least for me. I can't stress enough how convenient it is to have a watch that can show you the date as well as the day. Only one glance to your wrist is what you need.
No more checking your smartphone for the date of today (I really have a hard time remembering what date today is..). It's truly a big plus to have a watch with this features.
You also can see the minute index markers (not the big markers but the smaller markers) are a bit longer than usual watches. Honestly, I don't really like this design decision by Seiko on the SNZH53.
One, it does not achieve anything. Secondly, it makes the dial a bit cluttered. A normal small and short index for the minutes will look better and will make the amazing blue dial pop up more.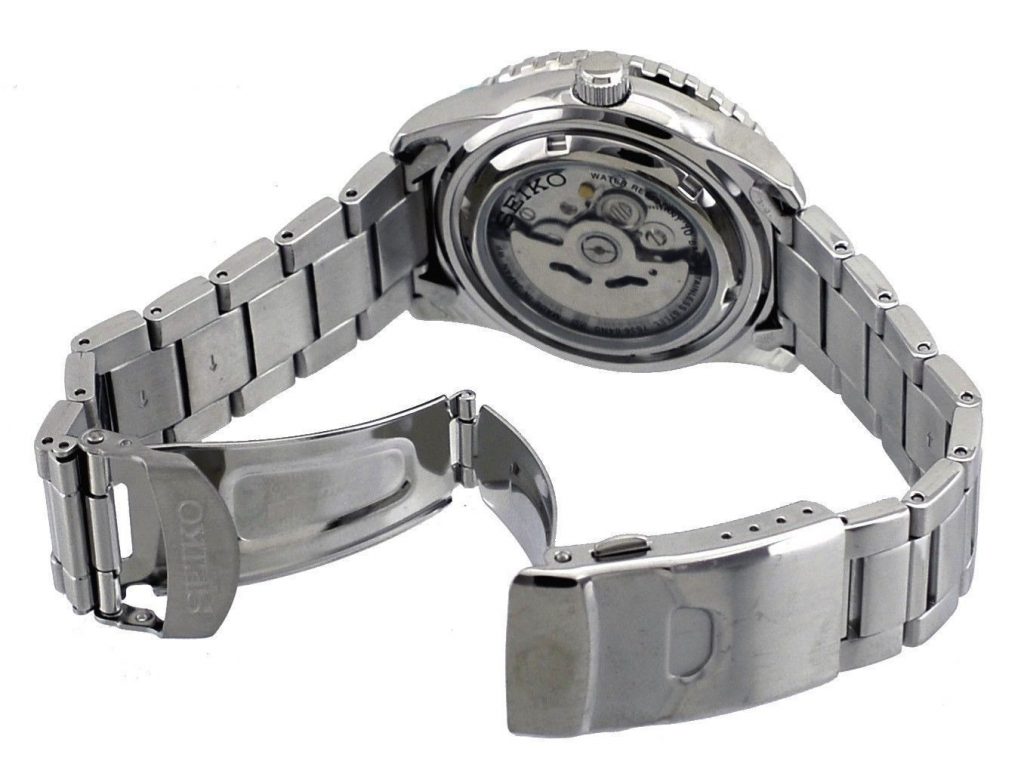 Exhibition caseback of the Seiko 5 SNZH53 and the stainless steel bracelet
Tough Stainless Steel Case
The Seiko SNZH53 is made from stainless steel case with a diameter of 42 mm and is still acceptable (for my small wrist of course). The thickness of the watch is about 14 mm – which is quite thick.
It is nicely constructed with brushed and polished finishing. The lugs curved down to be flush with the bottom of the watch to avoid any gaps between the lug and the wrist when wearing it.
It has a lug width of 22 mm and comes with stainless steel bracelet with folding clasp. As always, Seiko's lower end ranges of watches will have a less than satisfactory bracelet. There is no solid end links and the bracelet feels lower grade than the watch itself. It's a business decision that nobody is complaining though.
The bulk of the price paid goes to making an awesome watch, and if you don't like the cheap bracelet, just change it. On this matter, Seiko SNZH53 really excels as the watch is very versatile and can go with many straps (leather, bracelet, nato, and my fav – sailcloth).
It is not uncommon – in fact it is standard for owners of the SNZH53 to trade off their bracelet for something else. Just make a quick search for Seiko SNZH53 on the internet and you will get what I mean.
Seiko 5 SNZH53 on different straps: rubber band and Nato strap. Somehow this watch can pull off many straps and still look gorgeous. But a matching blue colored Nato is my favorite =)
Domed Dial Window And Glass Bezel
Two things that have made the Seiko 5 SNZH53 famous and associate it with the Blancpain Fifty Fathoms are the domed dial window and glass bezel. The similarity between these two watches are very similar – though it's pretty obvious that Seiko copied these designs from Blancpain.
As you can see, the Seiko 5 SNZH53 has a domed dial window which is made from Hardlex crystal, Seiko's proprietary crystal that is touted to have a high resistance to impact.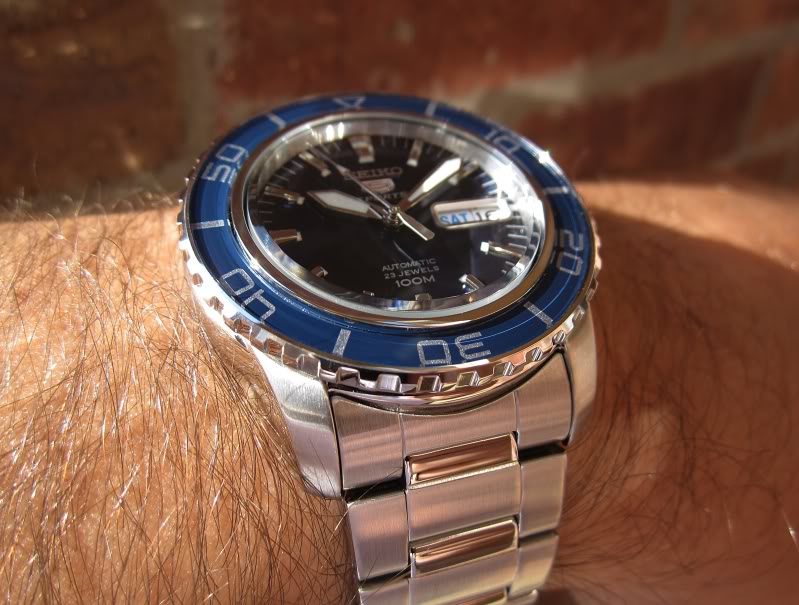 You can see how the dial window is domed and also the glass on top of the bezel. These unique design has made the Seiko SNZH53 a highly sought after watch.
In addition to that, it also has a glass bezel. If you look closely, the bezel has glass on top of it which is different that normal stainless steel bezel. It is a very neat design and adds to the beauty of the watch. The bezel is also a bit bigger than normal bezel if you look closely.
Since the bezel and dial window are not treated with any anti-reflective coating, we can see lots of reflection from them. Coupled with the reflective blue dial, this is a watch that will surely catch anyone's attention.
Seiko's Cal. 7S36 Movement
Inside the Seiko 5 SNZH53 is a 7S36 movement, Seiko's automatic movement for their lower priced watches. The movement that can be seen from the exhibition caseback of the watch has 23 jewels and vibrates at 21600 vibrations per hour or 6 beats per second which I can say is the minimum of modern automatic watches.
The low beat movement results in a not so smooth sweeping of second hand, but still is acceptable. It also has a respectable 41 hours power reserve, which is 3 hours more than Swiss' most common automatic movement ETA 2824-2 with 38 hours. Even a $150 watch has more power reserve than you. Take that ETA!
The movement keep acceptable accuracy, around +-30 seconds per day, depending on positions (dial up, dial down, on right or left wrist, etc.). For such a cheap price, we cannot really expect a COSC Chronometer accuracy right? The things that I really dislike are the non-hacking and non-manual winding of the movement. For more information on the 7S36 movement, you can download the user manual here.
I can let the non-hacking pass as I (and most people) don't really care to get the watch to be set perfectly with atomic time. What's the point anyway? It's an automatic watch and will gain/lose time after all. But to not being able to manual wind the watch is a very big disadvantage to me, something that is a deal breaker.
As I've written before in my manual wind vs watch winder post, I like to keep my watches running all the time so that it will be easy for me to just pick one of them and get going. The way to keep an automatic watch running is by manual winding it via rotating the crown or using a watch winder.
Now, a watch winder is an investment in itself as you have to buy a high quality winder or the thing will just break in a few months.
Since Seiko 5 SNZH53 cannot be manually wind, you have to wear it everyday (not possible if you have other more expensive watches around) or use a watch winder. Now who would spend $100 for a winder just so he can keep his $150 Seiko 5 running??
  A fantastic video showing the Seiko 5 SNZH53 side by side with the legendary Blancpain Fifty Fathoms
Seiko 5 SNZH53 Vs Blancpain Fifty Fathoms
Poor Man's Fifty Fathoms, that's the nickname that Seiko 5 SNZH53 has. It is because of the similarity between these two watches especially the domed dial window and glass bezel. That's their similarity, the others (dial, markers, hands, etc) are totally different.
That's what I love about Seiko. Sure, they took design cues from Submariner, Fifty Fathoms and others but they don't copy the watch (unlike Invicta…). Instead, they put their own design into the watch making it their own. This gives their watches a soul, a character of their own and not just am imitation of a famous watch.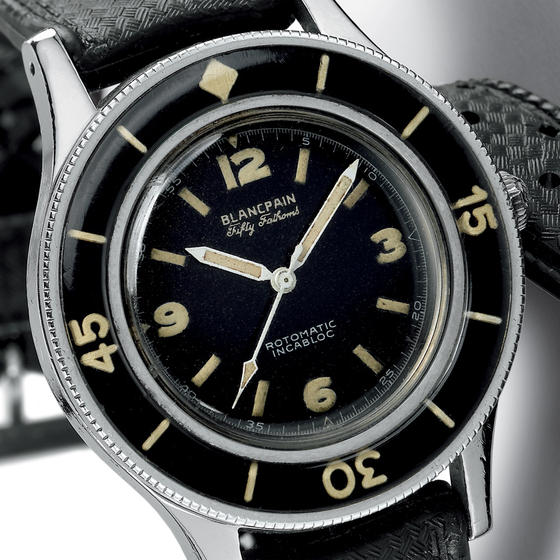 The original 1953 Blancpain Fifty Fathoms – the first diver watch in the world
Blancpain Fifty Fathoms – History Of The First Diver Watch
For those that don't know, Fifty Fathoms is the first true diving watch – even before the famed Rolex Submariner. First released in 1953, it was the brainchild of Blacnpain's CEO at that time, Jean-Jacques Fiechter and the French elite military diving unit.
The army wants a watch that can assist them in underwater operations, something that is not present at that time. To set the record straight, water resistant watch have been in production for a few decades, but none of them have the characteristics of a diver's watch that the Fifty Fathoms produced for the army such as:
Unidirectional rotating bezel to calculate diving time
Bold large markers for easy of reading time
Lume on the markers for underwater and low light condition usage
Solid caseback
Water resistant up to 91 m (or 100 yards/fifty fathoms)
Automatic movement so that it won't have to be manually wind
Anti-magnetic frame to protect watch from disturbance with military equipment
During that time, no watchmaker is interested to make a diver watch with all these criteria. Dress and aviator watches are the main interest back then and no brands would be willing to cooperate with the French diving team to design a diver watch.
The watch will be big and thick – something that is very unsightly and awkward at that time. Blancpain was the only brand interested to do them as their CEO was reportedly an avid diver himself.
Imagine if Blancpain didn't make the Fifty Fathoms.. the unique and rugged diver watch as we know it won't exist!
For more detail on the history of diving and waterproof watches, you can read this on terrific piece in ABlogToWatch
Seiko 5 SNZH53 As A Great Watch Mod Platform
Another thing that I'm sure most of you don't know is how famous the Seiko 5 SNZH53 to be modded (or modified). Around the world people are making lots of modification on this watch from changing the dial, hands, bezel, and even the movement!
The low price of the watch as well as lots of cheap compatible parts for Seiko's watches have made the modification easy and cheap on your wallet. Besides, in the case you break something the watch does not cost a lot after all.
Among the most popular SNZH53 mod is the Fifty Five Fathoms (or FFM) mod. Yep, you guessed it. This mod will make the SNZH53 looks just like the famed diver watch.
The Fathoms is an undoubtedly very handsome watch that is highly sought after but not many can own it because of its astronomical price. The FFM mod is the cheapest for these enthusiasts to get their hands on it.
Some of the mods done using the Seiko 5 SNZH53 as the basic watch
There are a lot of famous modders out there – you can ask them to make a mod for you, for a price of course. You can also source some compatible parts from them and do the mod yourselves – at you own risk though. Check out Yobokies, a famous Seiko modder. You can view his work on his photobucket page here.
Seiko 5 Sports SNZH53 Automatic Watch Advantages And Disadvantages
I've summarized the pros and cons of the Seiko SNZH53 below for easy reference. Please take note that though the disadvantage list is quite long, it is after all a $150 watch. I've just listed the cons below based on the review of the watch without taking into consideration of the price to make a detail comparison.
Without a doubt, Seiko will cut lots of corners to make a great automatic watch to be as affordable as this and I do hope you guys understand this and take it into consideration. In the end, you will get what you pay for.
Pros:
1- Great value for money
2- Gorgeous looking glowing metallic dial with matching bezel insert design
3- Superb versatility. Can be matched with many strap (bracelet, leather, nato, etc) and will look just as good.
4- Very moddable with plenty of cheap parts around.
5- Day and date functions are very useful and nice to have
Cons:
1- Weak lume
2- No solid end links on bracelet
3- Non-hacking and cannot manually wind
4- Stainless steel bracelet on Seiko's lower end watches are really disappointing.
Where To Buy Seiko 5 SNZH53?
Currently Seiko 5 SNZH53 is listed on Amazon for an amazing $150. If you like this gorgeous but cheap automatic watch, click the link below to check out the watch on Amazon.
–>>Click Here To Check The Best Prices Of Seiko 5 SNZH53 On Amazon<<–
Conclusion
Seiko 5 SNZH53
is a gorgeous automatic sports watch. It is beautiful and rugged with great construction finish. The domed dial window and glass bezel are totally outstanding and will look great on your wrist. It also have day and date display which are very convenient to have.
A 100 m water resistance is also very good for most people. It does not have a screw down crown but that should not be a concern. In fact the Blancpain Fifty Fathoms first edition also don't have screw down crown. Water resistance for the crown area can be achieved by double o-ring which is sufficient for low diving.
But one thing that prevent me from getting this beautiful watch is the lack of manual winding function. As mentioned earlier, it would be very unreasonable to buy a watch winder just so you can keep your $150 Seiko running.
The winder itself can cost around $100 for a high quality one. I really hope Seiko create a diver watch with SNZH53 great looks but with better movement (hacking, manual winding, higher accuracy), better bracelet, better lume and screw down crown. That would be the perfect diver watch =)
********************
Hope you guys enjoy this Seiko SNZH53 review. If you have any questions or comments, feel free to ask it here.
Let me know your questions and feedback. Don't forget to subscribe to my site =)
Cheers!
Isaac