One Of The Most Beautiful Automatic Watch Under $500 – A Seiko SARB065 Cocktail Time Review
Seiko has always make great watches at affordable prices. And this post will dedicated for the Seiko SARB065 review, or popularly known as the "Seiko Cocktail Time". B
eautiful with sunburst guilloche dial, and a price tag that won't break your bank, there is no reason not to love this little timepiece.
Let's get on to the Seiko Cocktail Time review, which in my opinion is the most gorgeous automatic watch under $500.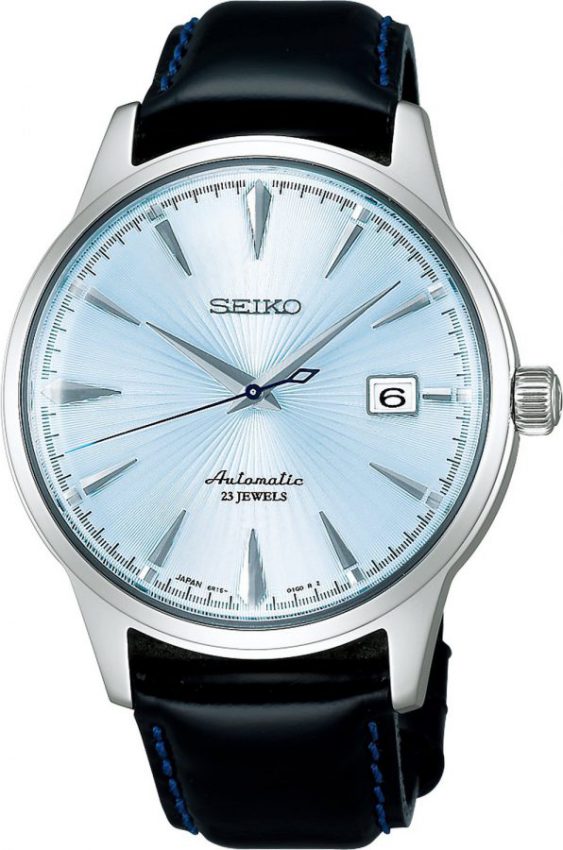 In A Hurry? >> CLICK HERE To Check The SARB065 On Amazon.com
Before we get to the detail review, let's have a quick look at what is the SARB lineup all about.
Seiko SARB Line – Middle Range Dress Watch
The SARB line is Seiko's middle range dress watch and one of the most popular watch line among Seiko fans.
The reason for its huge popularity?
It's downright beautiful, with great craftsmanship but at an affordable price. Some of the most popular watches in this line is the SARB065 (the watch I'm reviewing here), the simple yet elegant SARB033, and the unique SARB017 Alpinist with grean and gold dial).
This SARB065 watch is a collaboration done by Seiko and Shinobu Ishigaki, one of Japan's top bartender. They teamed up together and released a couple of watches and the most popular is this (which is why it's nickname is "Cocktail Time").
For some reason unbeknownst to most people, Seiko only released this watch for JDM or Japan Domestic Market which means it is not available outside of their country. I'm guessing they really like to keep the best watches for themselves.
Now that's downright selfish! Non-Japanese (like you and me) also have the right to own these gorgeous watches. Fortunately, people outside of Japan can buy this watch through many online merchants, of which Amazon.com is one of them.
Seiko SARB065 Cocktail Time Specification
Diameter: 40 mm
Thickness: 13 mm
Case: Stainless steel
Band: 20 mm leather band with clasp
Dial: Guilloche sunburst dial
Watch Crystal: Seiko's Hardlex crystal
Markers: Sword shape markers
Hands: Dauphine minute and hour hands. Black color with blue tip for seconds hand
Movement: Seiko's Caliber 6R15 with 23 Jewels. 21,600 vibrations per hour or 6 beats per second
Power Reserve: 50 hours
Accuracy: +25;-15 seconds per day
Water Resistance: 50 m
Other Features: Date display at 3 o'clock, Exhibition caseback, Non-screwdown crown at 3 o'clock
Where to Buy: Amazon (Click the link below to check its latest price)
Gorgeous Design With Sunburst Guilloche Dial
The first thing that you are going to notice is the gorgeous sunburst guilloche dial. The silver dial is designed with lots of fine silver lines from the center of the watch to the edge, a feat that need exquisite craftsmanship to make.
The watch then will just took reflection of lights beautifully and will change it's appearance under different light points.
Even though the picture above shows it to have a blue dial, the actual dial is white in color. You need to see it in person to really understand the magnificence of it.
I've embedded a youtube review of this watch down below that you can see to look at how pretty it really is in person.

Can you see how stunning the SARB065's dial is.. It's truly marvelous to look at
Small Stylish Signatures
On the Seiko SARB065 dial, you will find the "Seiko", "Automatic" in italic and "23 Jewels" signatures on the dial. The signatures are beautifully put on top of the dial, and does not obstruct it in any way.
There are also the small words "Japan" and "6R15" on the bottom of the watch, signalling it is made in Japan for JDM and the movement caliber that it has.
Seiko uses wedge shaped hour markers with silver stainless steel color which perfectly complement the sunburst dial.
Same goes for the silver dauphine hands. Only the second hand is different, black hand with a blue tip, a very nice detail.
There is no luminous on the hands and markers, but then again, who needs them on a dress watch? Save those lumes for when you are getting a sporty dive watch.
The design of the watch face is truly beautiful. It's sort of captivates you to keep looking at it. The attention to detail on the seconds hand tip really blow me away. Only the Japanese are able to give so much detail, at such an amazingly affordable price for a watch.
Above is a great video review of the Seiko SARB065 Cocktail Time. Notice how beautiful the sunburst dial is. I really love how it catches lights from different angles.
Want Your Own SARB065? >> CLICK HERE To Check The Latest Price On Amazon.com
Highly Polished Stainless Steel Case
To complement the shining sunburst dial, Seiko opted for all around polished stainless steel case. The case is 40 mm in diameter, and 47 mm lug to lug width (overall length of the watch from top to bottom). In my opinion, it is a good size for a man's wrist.
One thing that puzzles me is the thickness of 13 mm. 13 mm is a common thickness for many diver's watch which is why I'm astounded on why a dress watch would have to be this thick.
Since a dress watch does not need to have that much water resistance, it can be thinner, which will give it a sleeker look. But nevertheless this watch still look amazing on wrist.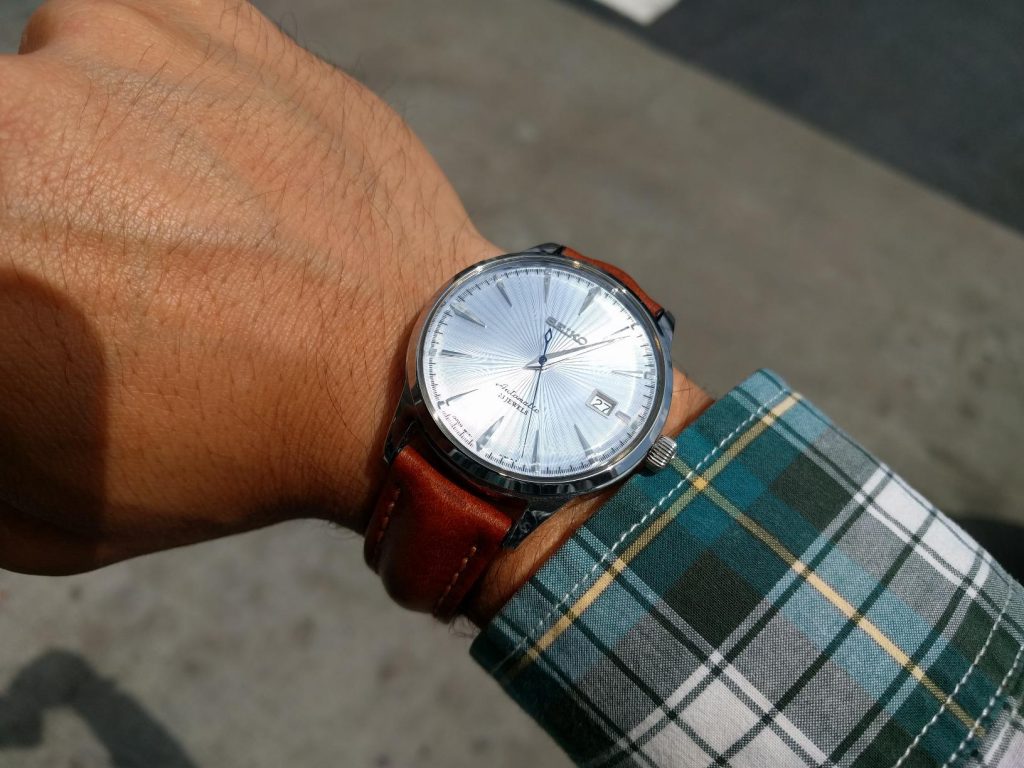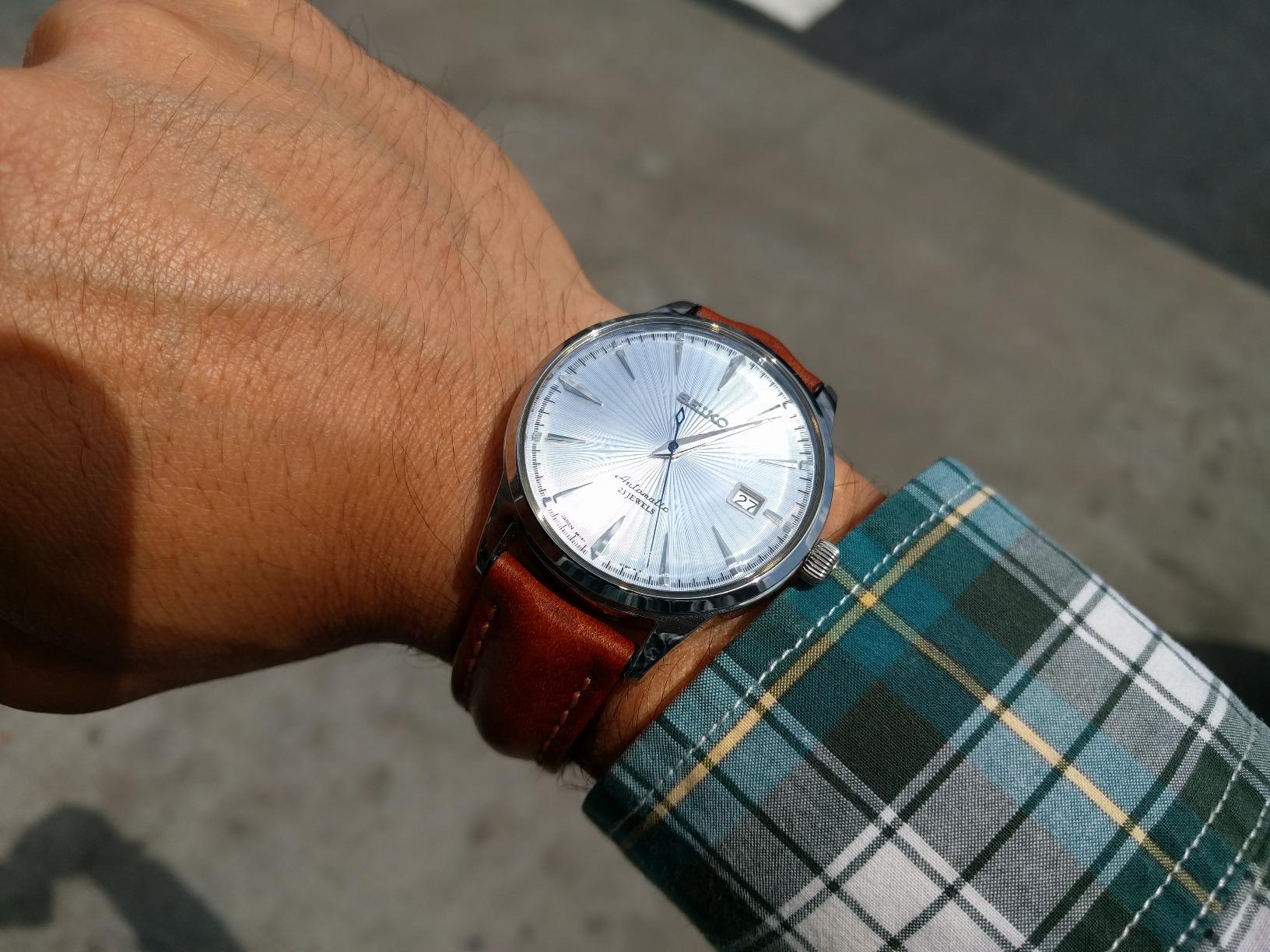 It can also be paired with different strap colors and will still look gorgeous.
The watch comes with shiny leather band, which have a butterfly clasp on it. So you never need to worry about damaging and replacing your leather band, as is the case with normal pin and buckle.
Some people do not like the shining band (me included) but I understand that Seiko wants to make the Cocktail Time a "shining watch" but the shining leather band is just a bit over the top.
Not to mention it looks like a cheap vinyl band. But luckily, a replacement leather band is just $20-$30 away =).

Exhibition Caseback To Peek At The Auto Movement
The crown is located at 3 o'clock, the same with the date display. An engraving of "S" can be seen on the crown to denote "Seiko" which is a nice detail.
The watch features an exhibition caseback, a favorite feature of mine. You can see the back of the Caliber 6R15 movement that powers the watch.
But don't expect too much from Seiko's exhibition casebacks (at least at this price point). They never did put much effort to beautify the back of the movement for our eye's pleasure like Swiss manufacturers.
The gears are all the same color, the jewels are not really easy to spot, and the engravings are just minimal.
This is not really a deal breaker for me though. For one, there is absolutely no problem with the movement's performance (more on that later on).
But then again, the aesthetics of the exhibition caseback is not really prominent, compared to their Swiss competitors.
Luckily, Seiko more than doubled their effort on the other aspects of the watch, namely the gorgeous dial, markers, hands and casing.
These other aspects of the watch are more than enough to cover the little lacking in their exhibition caseback. Besides, how much time do we look at the movement compared to the dial and case right?


Caliber 6R15 – Seiko's Answer To ETA 2824
Powering the Cocktail Time is Seiko's own in-house Caliber 6R15 automatic movement, Seiko's equivalent to ETA 2824 movement. This movement is usually used in many Seiko's mid range watches.
It is essentially a workhouse, and is even used in many diving watches by Seiko (especially the mid-range Perspex line).
That shows just how good the movement is. It has 23 jewels and is automatic and hand winding mechanism, the best of both worlds.
The usage of automatic movement will free its owner of having to change the battery (like in normal quartz watch).
It also has hacking feature that stops the seconds hand when you are adjusting the time. This will enable you to set the time perfectly to the seconds.
The Caliber 6R15 has a 21,600 vibrations per hour, or 6 beats per seconds. The beats will indicate how smooth the movement of the sweeping second hand will be: a higher beat per second will give a more fluid sweeping motion.
With 6 beats per second, this movement is not that fluid to be honest. ETA 2824 with 8 beats per second will have a more fluid motion albeit slightly.
But there are two major advantages of having a lower beat rate. First, the service interval of the watch will be longer as the parts are not moving as much as a higher beat rate movement.
Secondly, the lower beat rate will have more power reserve. The 6R15 has a whopping 50 hours (2 full days!), compared to ETA 2824 with 38 hours (1 and a half day).
Caliber 6R15 – An Accurate Movement
The advertised accuracy of this movement is +25 and -15 seconds per day, meaning the watch could gain 25 seconds or lose 15 seconds per day.
But from my experience with my SBDC003 (or Sumo) that uses the same exact movement, the highest deviation that I got is +-5 seconds per day. This is consistent with many reviews by other owners around the world.
The main reason why this is happening is that most movements are designed to be very good at accuracy when dial is being used and also facing up.
When the dial is facing other directions (down, inclined left, etc.) gravity effect of the movement will kick in and reduce the efficiency and accuracy of the watches' parts.
Not only that, magnetism and lack of power reserve (such as after not using the watch for a day and half) will reduce its accuracy too. Which is why a +-5 seconds in normal usage is a good standard for any automatic watch.
Click here for futher info on the Seiko Caliber 6R15

Seiko SARB065 Cocktail Time


Tissot Le Locle

Side by side comparison of the Tissot Le Locle  and the Seiko Cocktail Time. Which one do you prefer? Let me know in the comments section below =)
Tissot Le Locle T41.1.423.33 Vs Seiko SARB065 Cocktail Time
A few weeks back I have reviewed another gorgeous watch, the Tissot Le Locle T41.1.423.33. These two watches are dress watch, both cost less than $500 and this match up is basically a Japan vs Swiss battle.
Both have gorgeous guilloche dial, but one has a subtle dauphine shape hands and markers while the other has black sword hands and roman numeral markers.
It's also the battle between Cal. 6R15 and Cal. ETA 2824. Both of these two watches are great watches in their own right, but which one is more gorgeous?
Everyone is entitled to their own opinion. But for me, the Seiko Cocktail Time triumphed over its Swiss challenger.
The sunburst dial design of the Cocktail Time is more beautiful than the Le Locle. I love how the guilloche lines of the Cocktail Time covers the whole dial, as compared to the Le Locle, where the guilloche is only present at the center of the dial.
The simple silver sword hands and markers complements the sunburst dial and pretty much complete the watch's look. It is without a doubt the Cocktail Time wins hands down.
Mesmerized By The Gorgeous Sunburst Dial? Where Can I Get One?
Where to buy Seiko Cocktail Time since it's not sold officially outside of Japan? Don't worry as the watch is readily available on many online retailers.
If you're a fan of Amazon, you're in luck as Amazon also have this watch listed on its website. Check the latest price of the watch by clicking the link below.
Conclusion
The Seiko SARB065 is a gorgeous watch and has solid craftsmanship that rivals Swiss watchmakers. It's robust automatic movement, complemented with its real beauty makes it such a pleasure.
The dial is just extraordinary and really makes it One of The Most Gorgeous Automatic Watch Under $500 in my opinion.
One thing for sure, there will be plenty of people that will stop and look at it and compliment your watch all the time. With a beautiful watch face like this, who wouldn't?
I hope you like my Seiko Cocktail Time review and find it helpful. If you have any comments or opinion on this watch, just ask me will ya.
Let me know in the comments section below =)
Don't forget to share this review and subscribe my site for more great stuffs in the future.
Cheers!
Isaac