Watch fans like to give popular Seiko watches quirky names and this Seiko Sumo is no exception (we'll get how it get that name later on). From first glance, we can see why the watch is popular and I was one of those that was smitten and bought one for myself few years ago. And in this article, I want to share what I think about the Seiko Sumo.
I have to say that I really love my Seiko Sumo to bits. It's gorgeous with its deep blue dial, over-sized hands and markers with lots of lume, a great wrist presence thanks to its 44 mm diameter with considerable heft with it. In all honesty, if you want a cool watch, the Sumo is what you seek =)
A Tale Of The Watch That I've Owned For 3 Years – The Seiko Sumo Review
Today I'm going to write about Seiko Sumo SBDC033 review, or better known as the Blue Sumo (or "Blumo" lol!). This watch is part of Seiko's Prospex line up.
What makes this watch special is it's one of my favorite watches that I've had for the past 3 years. I've been guilty of giving it lots of wrist time for the simple fact that it's such a beautiful watch – even though it's supposed to be a diver's watch!

My Swimming Hobby And How I Was Introduced To The Seiko Sumo
I was just into swimming a few years ago. One of the things that I had problem with is how to keep track of how long I was in the pool.
I had some watches in my collection at that point of time (some Seiko 5) but none was an actual dive watch. My Seiko 5 with a 100 m water resistance was my go-to watch to swim. But as it's a more casual type of watch, it's quite hard to look at while swimming (I wear glasses so when I swim I take it off).
It was by chance I had been introduced to dive watches. Being an automatic fan, Seiko dive watches was the first ones that I encounter as it was wildly popular on the internet. The Sumo was constantly on my face whenever I searched for "good dive watch" either on google, youtube or watch forums.
I love the design. It looks masculine while at the same time very functional and lovely. The huge markers will make it very easy to tell time with.
Not only that, it comply with ISO 6425 dive watch standard with a huge 200 m water resistance. Definitely a winner to me! A few days later after more research on it, I placed my order on the watch.
My Thoughts On The Seiko Sumo
I still remember how happy I was when I got the Sumo. It's a heavy watch – and heft is a good indicator of quality for me.
Everything is just like what a real dive watch is: solid high quality case feel with thick bracelet. I immediately know that this is a watch that I can use for my swimming.
In addition, the Sumo has beautiful design, superb movement (more on that later) and astonishing LumiBrite for very bright lume. The dressy feel also makes it my favorite watch for casual and work.
Truthfully, I can't be happier with my purchase. It has been with me for 3 years (and counting). I've used it for lots of activities – activities that I won't dare do with my other watches. That's how reliable it is.
If you're looking for a middle range automatic dive watch (something prettier than the SKX watches for example), I can't recommend the Sumo more!

>> GET Your Own Seiko Sumo HERE
Seiko Sumo Specification
Diameter
44 mm
Thickness
13 mm
Lug Width
20 mm
Lug To Lug Distance
53mm
Case
Stainless steel case
Strap
Stainless steel oyster bracelet with pushover clasp
Watch Crystal
Hardlex crystal
Bezel
Unidirectional rotating dive bezel
Dial
Dark blue dial
Hands
Sword hands with lume
Markers
Circular index markers with lume
Style
Dive
Movement
Seiko Caliber 6R15 Automatic self-wind movement
Movement Features
Seiko In-house movement, 23 Jewels, 21600 vibrations per hour or 6 beats per second, Hacking, Manual winding
Accuracy
+/-25 seconds per day
Power Reserve
50 hours
Water Resistance
200 m
Other Features
Unidirectional rotating bezel, Screw down caseback and crown, Anti-magnetic case, Seiko's LumiBrite lume, Date display, ISO 6425 Diver's Watch Compliant
Rating
(4.7 / 5)
Where To Buy?
Amazon
Why Is It Called Sumo?
Perhaps some of you wonder why the Sumo nickname?
It seems the nickname came from the appearance of the watch case which is designed to look wide and big, different than normal watches (it's a 44 mm diameter watch) likening it to a sumo wrestler. But truthfully, I don't think it's that big.
Thanks to the curved lug case design, the watch hugs our wrists making sure it's still wearable even for those with smaller wrists.
Seiko SBDC003 vs SBDC033
The one that I have is the SBDC003 which was discontinued and replaced with the SBDC033.
So what is the difference between SBDC003 vs SBDC033? Well, in truth, not so much. The first Sumo is the SBDC003 (the one that I bought way back in 2014).
But sometime around 2015, Seiko wanted to promote their Prospex lines (Professional Specification, more on that later) and included this watch and many other automatic divers inside it.
This called for a slight change to the dial to include the Prospex "X" logo on it, which is what the SBDC033 has currently.
Apart from the minor dial change, the SBDC033 also purportedly has an updated LumiBrite which supposedly gives the watch a better lume.
The older version Seiko SBDC003 (top) that I have and the newer version SBDC033 (bottom). Not really much change except on the dial's signatures
And that's it. The other aspects: case, design, bracelet are the same. As for me, I like the older one (SBDC003) better as the dial is less busy as compared to the newer SBDC033.
And what makes the watch more special is the fact that I personally own the previous version of this Blumo (the Seiko SBDC003) for 3 years now and I absolutely love it (an owner's bias? lol!).
Seiko's Prospex Line Up?
What is this Prospex line? It's actually Seiko's own "Professional Specification" watches designed for the most extreme conditions, be it sea, land or air.
All the watches in the line up are designed with full functionality for the convenience of the user. Notwithstanding that, the watches are also beautiful to look and wear, such as the case with this Seiko SBDC033.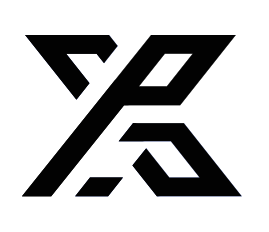 Seiko's Prospex logo to signify a watch designed for professional use – this "X" is featured in all of their newest watches, including the Sumo
The Sumo SBDC033 Has A Very Beautiful Dark Blue Dial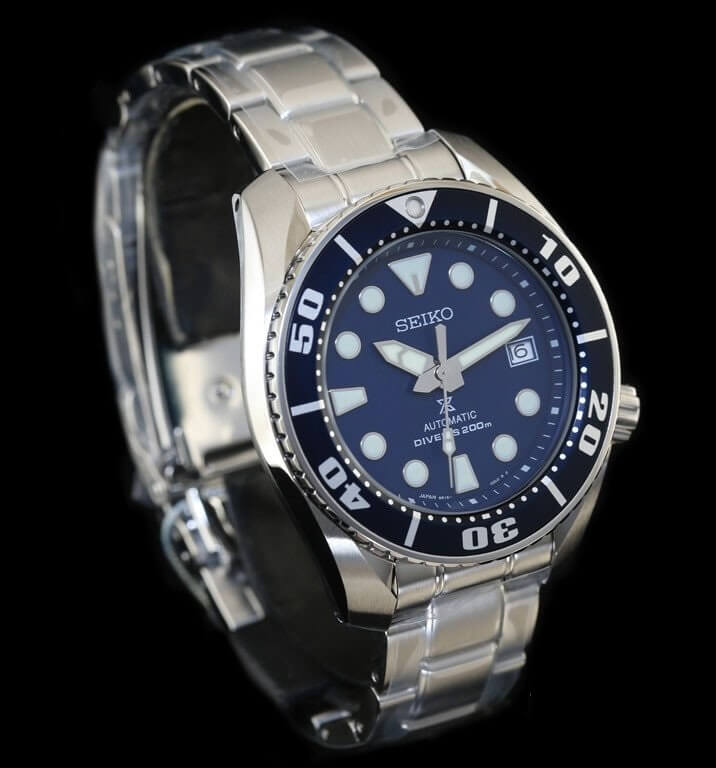 Just look at that deep blue dial on the Seiko SBDC033.. So simple yet gorgeous and beautiful!
On top of the SBDC033 is a matte dark blue dial which is so enchanting to look at. As with any other diver's watches, the dial is simple to help diver's tell time underwater.
The index markers are big circle with triangle marker at 12 o'clock. The use of big markers definitely help to make the watch legible.
The sword hands are also big and bulky – for the exact same reason as the markers. All of these have surfaces fully applied with Seiko's LumiBrite luminous material on top of them for bright glowing green lume.
Seiko's lume is very famous for its brightness and long lasting lume. In fact, I don't have any problem to make it last for at least one movie screening – provided you give them sufficient time to absorb light beforehand.

Great lume – very bright and legible. What I love about it is how easily it start to glow even in a somewhat dim room/condition =)
On the dial also is a date display window which is make it a very functional watch for work. I found the lack of day display sorely missing from the watch, but then not having the day display do make the watch more elegant.
The signatures are not too obstructive, though the new version of sumo (this SBDC033) has the Seiko Prospex "X" logo on top which seems to make the watch busier.
All in all, the dial of this blue sumo watch is very beautiful, thanks to the simple layout and gorgeous deep blue dial. I've used this watch for 3 years and has never fallen out of love of it =)
The Sumo Also Comes In Black Color
The Sumo also comes in black color (model No. SBDC031). In my opinion, while the black is very stylish, the blue dial is more unique and beautiful – which is also why I went with the blue sumo before.
Check out both watches side by side below and let me know which one you prefer!
 Seiko SBDC033 – Blue Sumo

 Seiko SBDC031 – Black Sumo

A Very Useful Unidirectional Rotating Bezel
Another characteristic of a diver's watch is the unidirectional rotating bezel.
What does the unidirectional bezel means?
That means the bezel can rotate only one direction which is anti-clockwise. It's originally designed as a way for divers to keep track of time underwater which is why the bezel has minute markings on it.
Well, I'm not a diver but I've used the bezel for many other purposes – timing my workout and swimming time, waiting time for cook/baking, elapsed time in traffic congestion and many more!
Truthfully, any watch with a rotating bezel can do the trick, but I just want to let you guys know there are lots of possibilities of usage with the bezel on this sumo.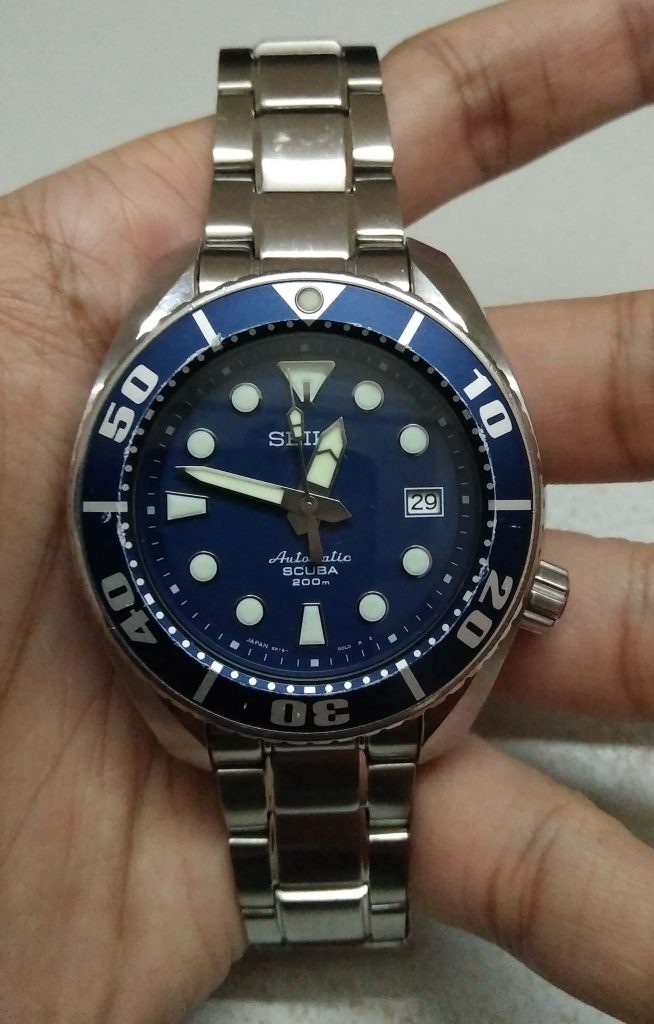 The Sumo with a matching blue rotating bezel that has many usages.
In terms of construction, the bezel is designed with 120-clicks which gives a very satisfying bezel action. You can hear the clicking noise as you turn the bezel, and its very loud and crisp.
I can't count how many times I've rotated the bezel just for the sake moving it and hearing it clicks. And trust me, its so addicting too =)
Exquisite Case Construction
One of the things that Seiko is very good at is in case design and construction. Like the SARB033, the SBDC033 also has the distinctive and gorgeous case design with contours and curves all around it.
There are 5 surfaces on the lugs from top to bottom and each of them has very sharp transitions with impeccable layering of polished and brushed finishes – which is just surreal!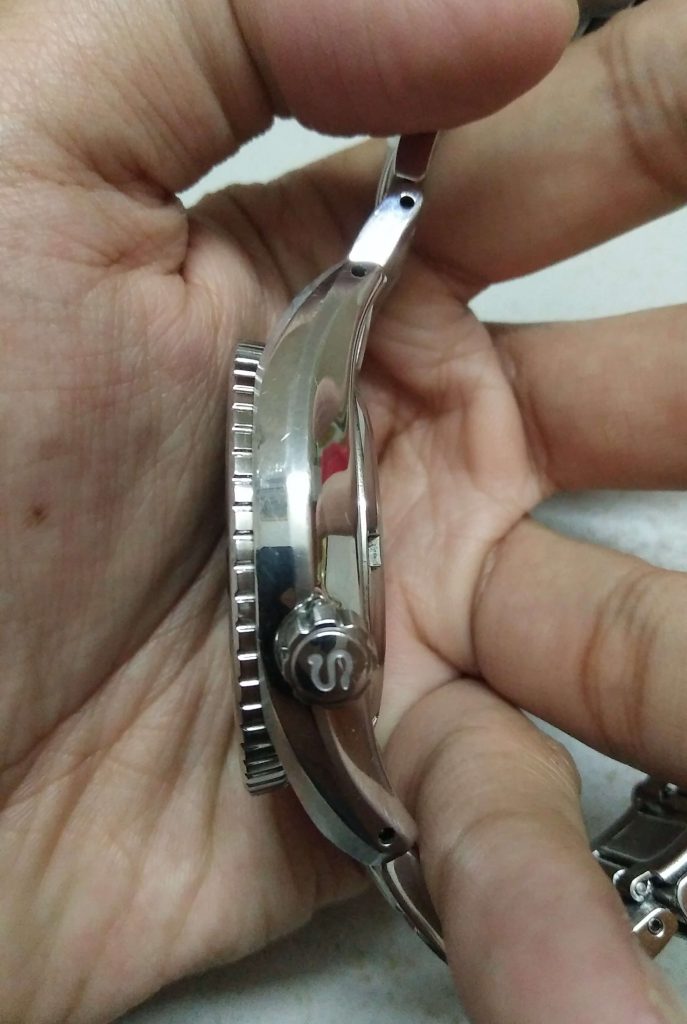 Just like other Seikos in the SARB line (SARB035 and SARB033), the Sumo also has that curved case that make wearing it soo comfortable

Above: the tsunami logo on its caseback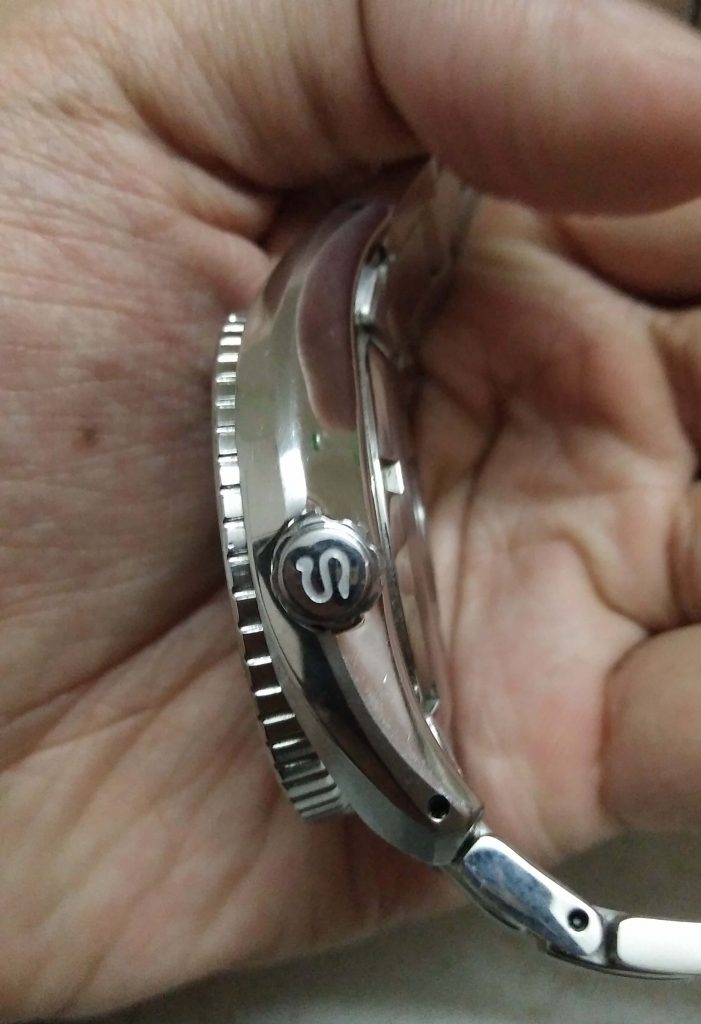 Above: The Sumo also has a signed crown!
The effort put down into machining the case is really shown here. Apart from the gorgeous dial, the case is one of the things that I always found myself to look at, for no apparent reason lol!
Curved Lug Design To Fit Many Wrists
In terms of sizing, this Seiko SBDC033 is 44 mm in diameter, 13 mm thick and 53 mm lug to lug distance. Yup, it's not a small watch for sure.

Notice how the lugs curving down? It's one of the best things about the case which hug the wearer's wrist comfortably
You can see from the pictures that due to the elaborate lug design, the lug is quite long which contributes to the long lug to lug distance.
But will it fit a small wrist?
Unless your wrist is very very small, then my answer is yes. This is due to the lug which is curving down to hug the wrist.
I also has a tiny wrist with a wrist diameter about 2 inch, which is just about the same width as the lug to lug distance.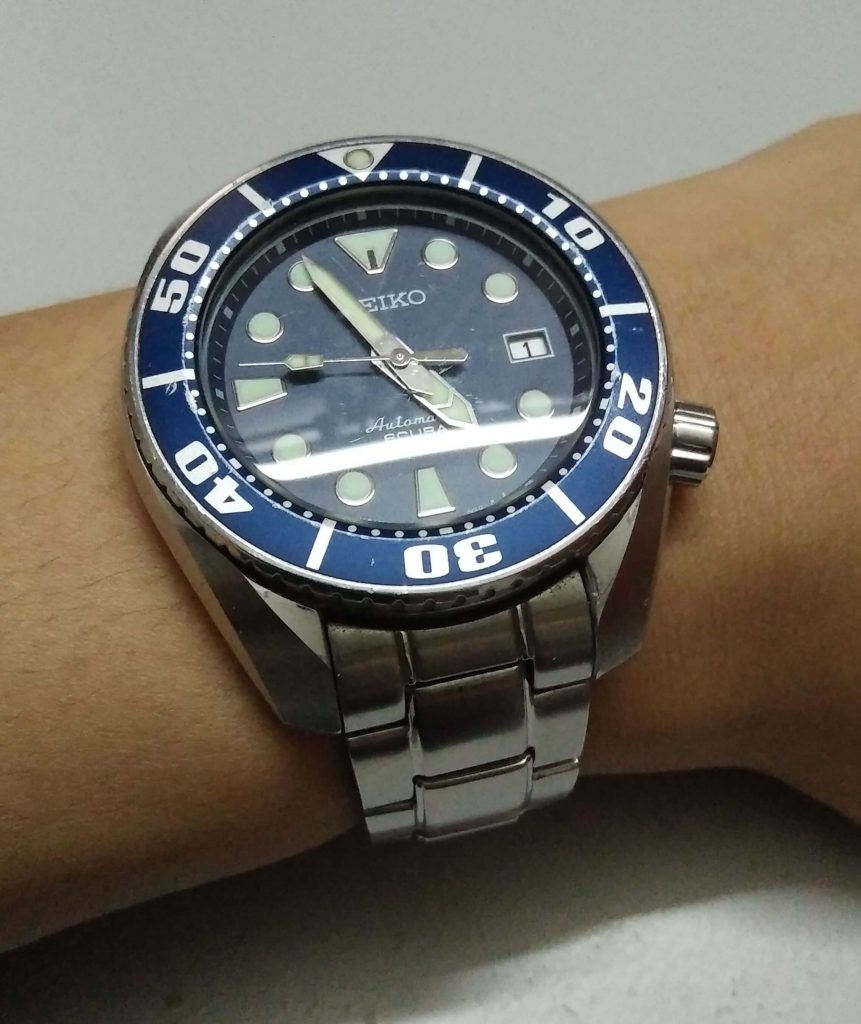 My wrist is not big at all (same diameter as the watch) but the watch sits on top of it easily. It might look over sized, but since the actual dial is small (the bezel is quite wide), it still looks great, at least to me =)
With any normal watch, it's totally not possible for me to wear it but having the curved lug make the watch able to fit on my wrist easily. And it's very comfortable too!
More pictures to show you guys how this Seiko Sumo fits onto my wrist perfectly
Want Your Own Sumo? >> GET Your Own Seiko Sumo HERE
Oyster Bracelet With Diver's Extension
As a traditional diver's watch, the SBDC033 Sumo comes with an oyster bracelet. There is nothing fancy about the bracelet to be honest. It's a normal bracelet with solid end links.
A good thing about it I can feel the weight of the steel as it's quite a thick bracelet. It's definitely a great complement to the sturdy watch.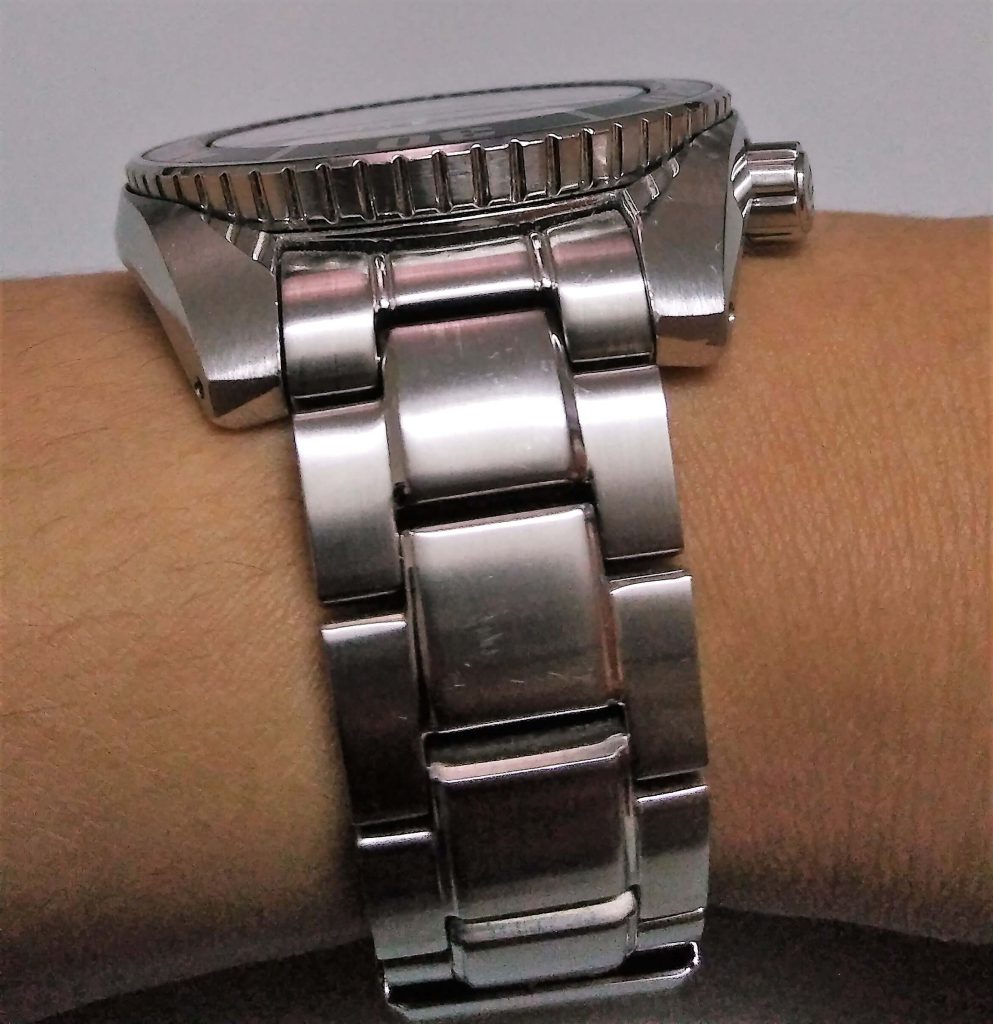 The oyster bracelet that this diver's watch comes with
I used to wear my Sumo with a rubber strap but in recent times I've changed it back to the original bracelet. I think it depends on your mood and preference at that time.
Being a diver's watch, the bracelet comes with two extra things: double lock clasp and diver's extension.
I really like the double lock clasp as it gives an extra protection to the watch from accidentally unlocking it. While I never use the extension before, I found it a cool feature to have lol!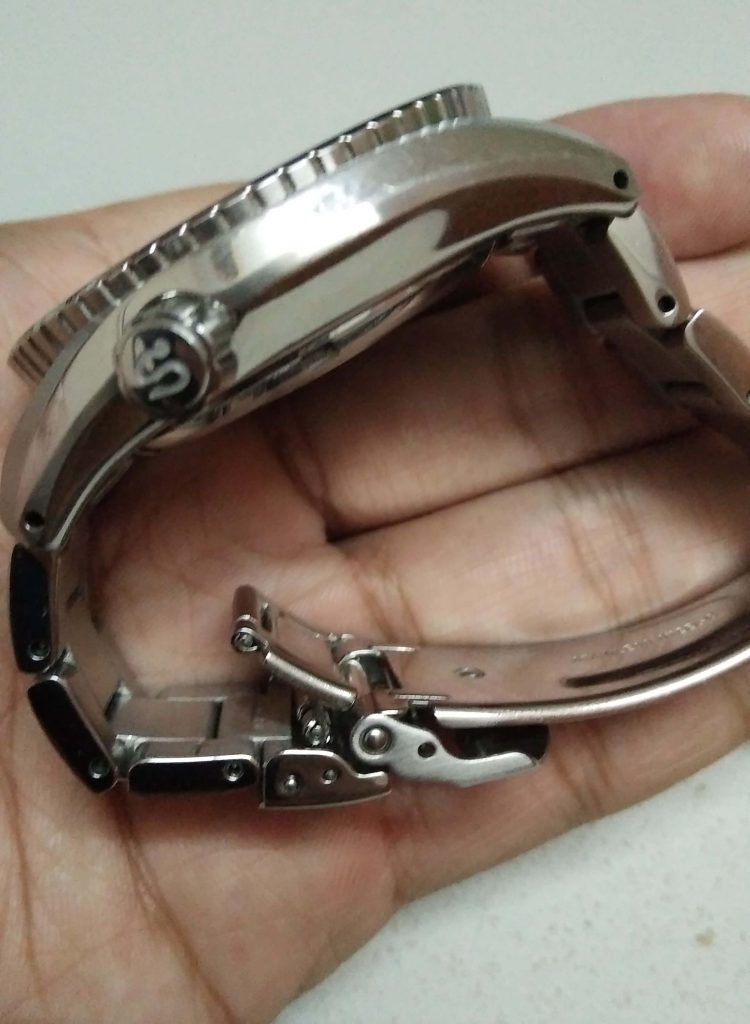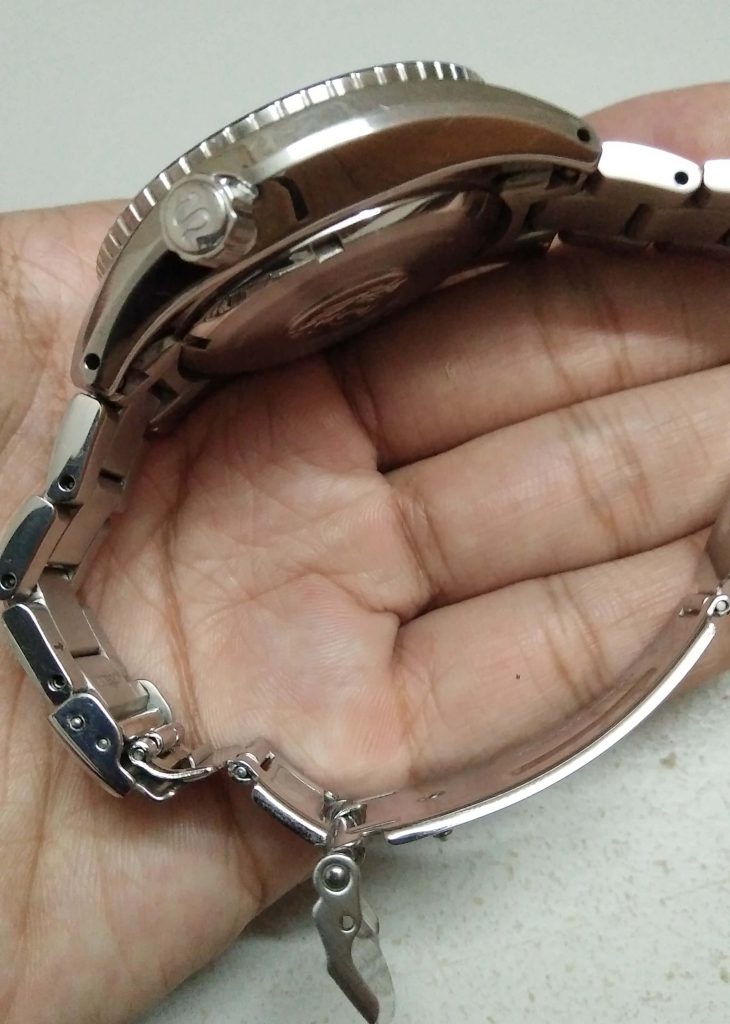 The bracelet has double lock clasp and diver's extension to be used with wetsuit (which frankly I never use lol!). To use it, simply push up the extension to disengage it from the bracelet (pictures above)
Trustworthy 6R15 Automatic Movement
 Seiko SBDC033 – Blue Sumo

Inside the Seiko SBDC033 is the workhorse 6R15 automatic movement. It's definitely the Japanese brand's answer to ETA 2824-4 in terms of movement quality.
The movement has 23 jewels, and 6 beats per second. The lower beat count as compared to Swiss ETA with a typical 8 beats per second, make the sweeping second hand less smooth.
But on the other hand, the lower beat movement has the advantage of lower stress cycles in it and thus require longer maintenance interval (and life?).
It's a modern movement with the standard hacking and manual winding features. I can't stress how convenient manual winding has been for me to keep my watch running even when I'm not using it.
Accuracy wise, the movement has a published rate gain/lose of 25 seconds per day. But throughout my use, I found the watch to have a higher degree of accuracy, sometimes up to +-4 seconds per day with the dial face up to be the most accurate position.
Bear in mind that COSC chronometer has a maximum of +-6 seconds per day, so I'm thoroughly happy with how my 6R15 is performing. And the good 50 hours power reserve is very useful as I like to lay down my watch for the weekend =)
Watch this video to look at the Sumo up close
So What Happens With My Old Sumo or SBDC003 After 3 Years?
I've been very happy with my Sumo for the past 3 years. I've used it for everything: work, exercise, travel, parties and many more. The great thing about diver's watches is how versatile it is.
Not to mention I have no worries about using it for exercise since it's already designed for excessive hand movements of divers while swimming. So an hour of workouts would not do it any harm.
But, not everything is perfect. The Sumo is still a $500 watch (the price I paid 3 years ago) and it does come with its sets of flaws.
For instance, the watch crystal uses Seiko's Hardlex crystal, which is an improved version of mineral crystal. It's tough and resistant to impact, but I found it is not scratch resistant.
Scratches, big and small are present on top of my crystal. I'm not sure if it's because I'd bang them into concrete walls clumsily many times before, but for Seiko to not put a sapphire on a watch at this price is quite hard to understand.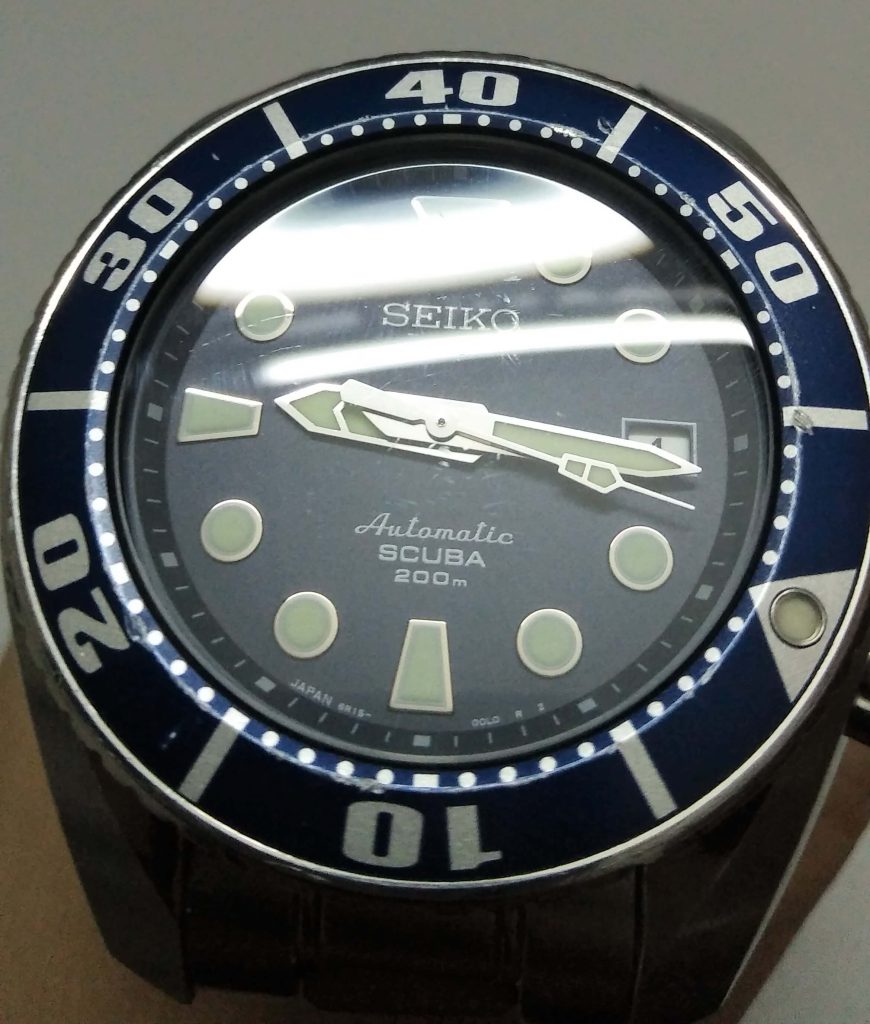 Hardlex crystal is still a mineral crystal, and it's not as good as sapphire to protect our watches from scratches. Notice also the chippings on my Sumo's bezel insert…
Next, I found the aluminum insert on the bezel is not durable as what I'd expect. The bezel insert is easily damaged if you hit it with a hard material.
But to be fair to Seiko, this problem also affects other brands as well. Perhaps the latest ceramic bezel by Rolex is the best solution to this old-age problem.
Lastly, the stainless steel case and bracelet are also not scratch resistant and would pick up grazes once in a while. Again, it's not Seiko's fault as this is a universal problem with all stainless steel watches.
The reason why I shared this flaws are to ensure that this review is authentic for my readers. I also want to make sure you guys are fully aware of the shortcomings that a watch will have so that you will know what's in store with them.
How About Seiko 6R15 Movement Accuracy After 3 Years?
Moving on to the automatic movement inside my Sumo, the Caliber 6R15, especially on the question of accuracy.
When I first got it, it kept superb time. It consistently making less than 5 seconds deviation per day, which is truly outstanding especially for a non-Swiss movement. Not to mention that's on par with chronometer specifications =P
In terms of power reserve, the 6R15 got through 50 hours just fine, though this is not something that I ever measured. All I know is the watch is still ticking come Monday morning, just in time for me to go to work.
But fast forward 3 years later, I found the accuracy had dropped off which can be attributed to various factors such as magnetized, adjustments etc.
To be precise, I've used the WatchCheck app (on Google Playstore) to easily measure its accuracy. I measured it for 2 cases:
1- Normal weekday use of the Sumo
2- Normal weekday use of the Sumo but with daily manual winding
Below are the results: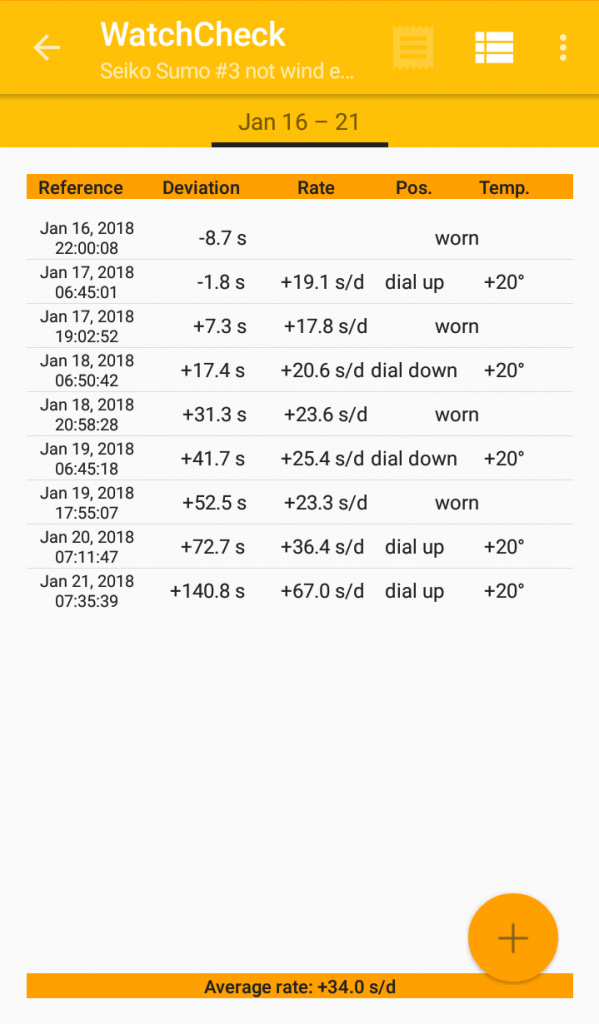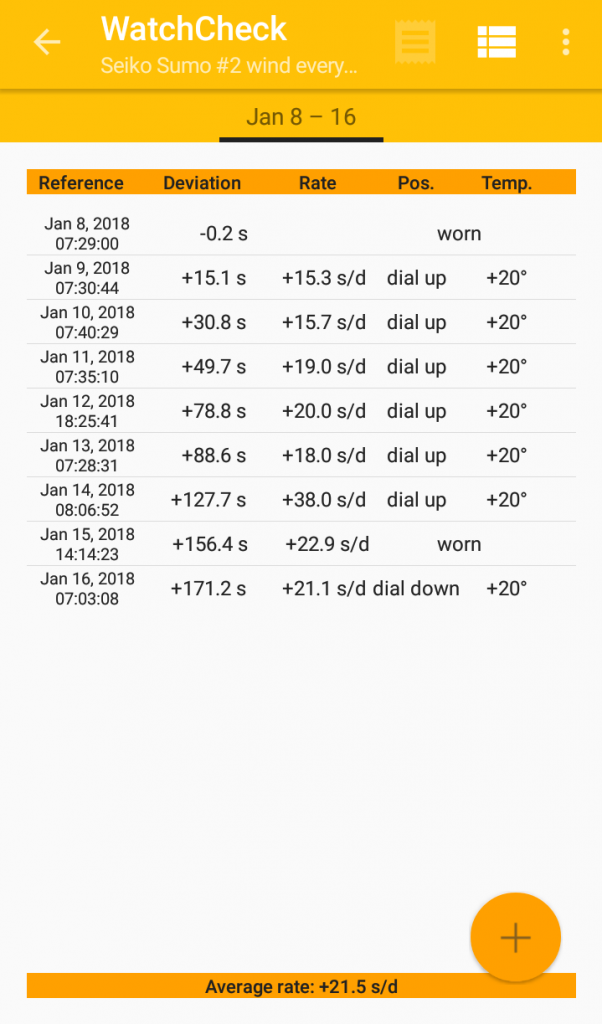 The first picture shows that the average rate of the Sumo/6R15 is +34 sec / day for the normal use case.
On the other hand, the second picture for the daily winding case shows the average rate is +21.5 sec / day.
The reason for this 2 cases is I want to show that manual winding really helped in terms of an automatic watch accuracy – which was right judging by the result.
By the way, there's no reason to fear that daily winding will break the Sumo as Seiko had stated on its instruction manual that daily winding of the 6R15 is fine. Below is the excerpt from the manual: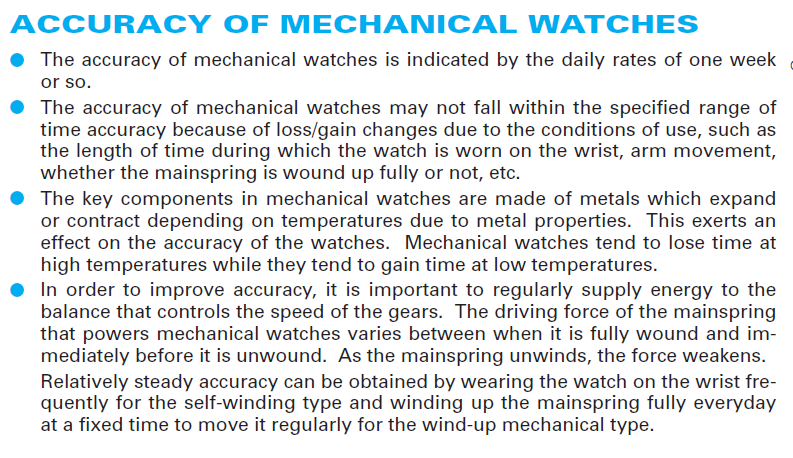 Obviously, I'm not quite happy with such accuracy results but it's totally within my expectations. Nothing can last forever, and that's really true for mechanical watches where its accuracy depends on it being in the perfect condition.
The only way to ensure its accuracy to be perfect after all these years is by keeping it pristine inside my watch box. But that's totally unacceptable for me =)
Why would I not use a watch that costs hundreds of dollars? The joy of owning a watch is using it and these are the results of using the watch for its intended purposes.
So what can I do with the Sumo?
A visit to my watchmaker is in due course. Since it's still less than 5 years old, I don't think I need a full service to be done on it. I believe an adjustment would do just fine to restore the 6R15's accuracy back to its former glory.
Again, I need to emphasize that I've used this watch for many physical activities (swimming, jogging, gym sessions, etc.) which I believe contributed to its current state of accuracy.
Bear in mind that out of the box, the Sumo's accuracy is unbelievably good and I've been a very happy owner for years.
What Is My Verdict Of The Sumo?
Even though it does not have a sapphire crystal and it's accuracy had worsen over the years, it's definitely a very good value for money watch. It's super sleek and gorgeous.
Plus, the robustness of a Seiko diver's watch make me feel comfortable using it for almost any activities.
I've done exercises, went to gym, ran and of course, swam with it. I never had the opportunity of testing the 200 m water resistance (because the thought of diving scares the hell out of me LOL!) but suffice to say, the water resistance is good enough for normal people with some water activities here and there.
To me, the Seiko Sumo is a very dependable automatic watch for everyday use.
My only regret is that I did not take better care of it. If only I'd be more careful while using it, I might be able to preserve its beauty and avoid those ugly scratches…..
Who Is This Watch For?
So who is this Seiko Sumo for? I believe divers would do well with this. Just like other Seiko divers, the SBDC033 also is ISO 6425 diver's watch compliant and will definitely be a great tool.
But if you are not a diver, then this watch is an excellent watch because of its versatility which enables you to wear it for any functions and events, except for black tie events of course.
The Sumo is definitely a good value for money diver's watch.  And lastly, if you like blue color, you'll definitely love this watch!
While the Sumo's MSRP is around $600, the watch can be had for lesser than that on Amazon (depending on shopping seasons and availability, of course). Check out Amazon on the current price of the Sumo (click the link below to know more).

>> GET Your Own Seiko Sumo HERE
Who Should Not Get It?
Those who want a true dress watch should not get the Sumo as it's a bit sporty and won't look as dressy.
You might want to check out the other dress watches such as Tissot Visodate, Orient Star Retrograde or Seiko SARB033 and Seiko SARB065 Cocktail Time for more dressy watches.
Seiko SBDC033 Sumo Pros and Cons
Pros:
Beautiful design with gorgeous dark blue dial
Solid and exquisite craftsmanship
Bright and long lasting lume
Curved lugs to comfortably hug wrist
Great bezel design and action
Cons:
Hardlex crystal is not scratch resistant
Solid stainless steel in a 44 mm watch can be a bit heavy for some people not used to the extra weight
Final Thoughts
Seiko Sumo is a famous watch among Seiko fans due to its more traditional look, as compared to the other Seiko divers such as Seiko Monster and Turtle watches.
And even with a traditional style, Seiko managed to make it look gorgeous, and coupled with great craftsmanship plus affordable prices, they have a really good value for money automatic watch here.
I've used the older version of this blue Sumo for 3 years and while I find the non-scratch resistant Hardlex crystal to be very annoying, I still love how beautiful the dial and case is. It's definitely a watch I'm going to keep for a long time.
Hope you guys find this Seiko SBDC033 review to be helpful. Let me know if you have any other questions about this watch.
Drop your questions below and don't forget to subscribe to this site =)
Till next time. Cheers!
Isaac