The White Seiko SARB035 Review
In this article, I'm going to write about Seiko SARB035 review, which is the white version of the highly popular Seiko SARB033. The Seiko SARB series of watches is one of the watch world little known secret. High quality automatic wrist watch with exquisite fit and finish, gorgeously designed but comes at an unbelievably affordable middle price range.
And that's just what the Seiko SARB035 is – a good looking dress watch, with quality case craftsmanship and the robust 6R15 automatic movement. And all of these in  an affordable price range, much cheaper than what the Swiss will charge for the same quality of watch =)
Without further ado, let's look a the Seiko SARB035 review and you guys will surely understand why I give it such good words.

Seiko SARB035 Specification
Diameter: 38 mm
Thickness: 11.2 mm
Lug To Lug Width: 45 mm
Lug Width: 20 mm
Case: Polished and brushed stainless steel
Strap: Stainless steel braclet
Dial: Creamy white dial with date display
Watch Crystal: Sapphire crystal
Hands: Dauphine hands with lume
Markers: Index markers with lume
Movement: Seiko Caliber 6R15 automatic self-wind movement
Movement Specification: 23 Jewels, 21,600 vibrations per hour or 6 beats per second, Manual wind, Hacking feature
Power Reserve: 50 hours
Accuracy: +25-15 seconds per day
Water Resistance: 100 m or 330 feet
Other Features: Date display at 3 o'clock, Exhibition caseback, Non-screw down crown, Luminous hands and markers
Where To Buy: Amazon
Before we get into it, let me give some primer on what the "SARB" actually means. If you're in a hurry, you can skip this part to go to the main review.
Or Just Check Out The Watch Here >> CLICK HERE To Check The Price of SARB035 on Amazon
Seiko SARB Series
The SARB, SARG, SARX series are highly unknown in the world of watchmaking, and for good reason. Seiko are a very  productive company with thousands of models. It's a good thing but when some of their products are quite similar to each other, it's quite hard to differentiate which is which.
They are very popular with their Seiko 5s models – very cheap automatic watches, cheap quartz models and their top of the line Grand Seiko (will set you more than $5000 a piece). But the middle range watches are largely absent from our mind and eyes though.
And this is what the SARB line is: the middle range watches from Seiko. Typically priced at $300 to $500, they are the highly regarded for their crisp and detail craftsmanship (on both dial and case). Not to mention it's also very good looking and have the robust 6R15 in-house automatic movement by Seiko.
Some people even went so far as to say the SARB models can even beat Swiss watches double their price! Now that's a huge good value for money. Just take a look at two other models that I've reviewed (SARB033 and SARB016 Cocktail Time) and I'm sure you will agree to this.
Another Japanese Domestic Market (JDM) Watch
A big reason why they are not popular is because they are JDM (Japanese Domestic Market) models, meaning Seiko only produces these watches to be sold in Japan. Now that's a big loss to us right?
I really don't know what they are thinking. If they will just flood the whole market with SARBs helped by some aggressive marketing, Seiko would be far more successful worldwide not just for cheap watches, but also for automatics and collectors worthy watches. Just like the Quartz revolution, Swiss brands will be wiped out completely again (at least the lower priced ones…).
Fortunately, the advent of online shopping has made it easier to buy stuffs from other countries. Because of this, the SARB models are more accessible than before to every Seiko fans all over the world.

The SARB is not the only model line up by the Japanese brand that isn't marketed worldwide. The SARG (such as the simplistic beauty SARG009),  SARX (e.g the matrix looking SARX015) and some Seiko Perspex diver's watches are exclusively made for Japan market only.
Seiko SARB033 Is Simple But Has Highly Detailed And Elegant Dial
The Seiko SARB035 has a traditional and classic look in its dial. It's very simple, clean and not cluttered – perfect for those that prefer a watch like this. But despite that, it has the elegance and sharpness to it, contributed by the clean cut stainless steel dauphine hands and index markers.
The dial is white with a subtle hint of yellow-cream colors. I really love how pretty the dial color is. It got a brightness and the creamy color is very pleasing to the eyes.
The hands are sharp, with lume applied on top of it. Same as the index markers, a bit of lume is applied at the end pointing towards the center of the watch. The use of lume makes the watch usable in dark, and a bit sporty with more casual look.
I also really like how the index markers got some little ridge at the center. This detail adds some texture to an otherwise boring markers. Minute markings are placed at the edge of the dial for accurate time reading while date display is positioned at 3 o'clock.

Lume shot of the Seiko SARB035. Nothing to shout about the lume but it give a bit of practicality in low light situations
What I love the most about the SARB035 (and also SARB033) is the sapphire crystal. I've talked in length about various watch crystals and how sapphire is the best to keep off any scratch from your watch glass.
So it's very nice to see Seiko moves away from their Hardlex crystal (which is still a mineral crystal that can be scratched easily) to the more expensive but undoubtedly superior sapphire crystal.
Overall, the dial is very gorgeous to look at, thanks to the beautiful application of cream white color on top of it as well as the laser cut hands and markers. It's very simple and elegant to look at. Very dressy but also a bit casual look due to some lume on it.
Baby Grand Seiko?
Again, like the Seiko SARB033, the SARB035 watch also borrows inspiration from the Grand Seiko which is a very beautiful watches. Don't believe me? Take a look below: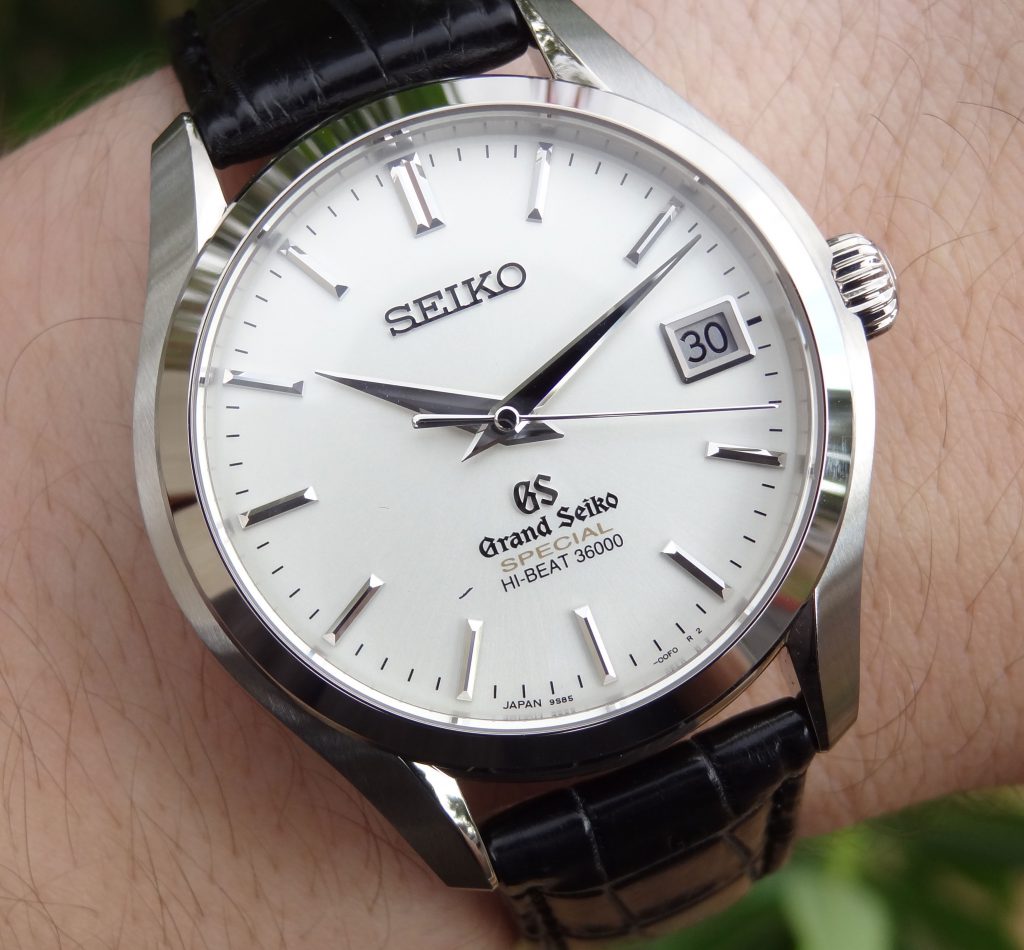 Shown above is the Grand Seiko Hi-Beat, a very beautiful watch by Seiko. It's less sporty and more dressy to me though – there is no lume and the lugs are straighter than the Seiko SARB035. Nevertheless, the similarity in the dial design is very prominent until it is being dubbed "baby Grand Seiko".
Beautifully Crafted Stainless Steel Case
The 38 mm diameter stainless steel case of the Seiko SARB035 is beautifully crafted, and very sturdy to hold too. It has an 11.2 mm thickness with lug to lug width of 45 mm. The lug width is a 20 mm, and fits a stainless steel bracelet.
The big and wide lugs are curving downwards, as if to hold the wrist in place. This gives it a very unique look and sleek looking. It's also very comfortable to wear too!
A very astonishing fact about the watch case is how the detailing and finish is done. Seiko makes the top of the lug brushed, while the top of bezel and sides of the watch highly polished. The multi-layered brushing and polishing finish of the case is very pretty, not to mention how detail the craftsmanship of these Japanese are.
Adds on with a nicely done Seiko "S" engraving on top of the non-screw down crown, this is a watch with very high level of detailing done by the watchmaker.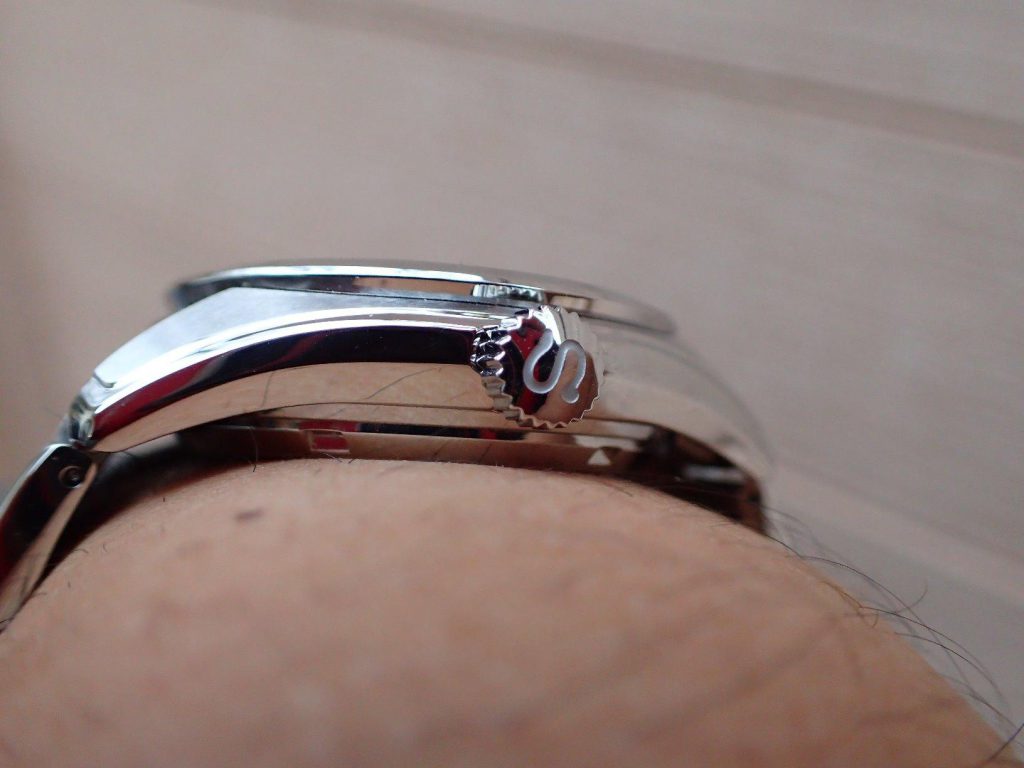 Just like the SARB033, the lug of this Seiko SARB035 also is curving down to hug our wrists for more comfort and greater fit
The big lug makes the watch a bit more sporty though. It's not a totally sleek dress watch, but a hybrid which is very good as people can use this watch for almost all function and events.
To make it sweeter, the watch also comes with 100 m water resistance and an open caseback to view the automatic movement from the back.
To sum it up, the watch case is a product of great craftsmanship with beautiful and detailed finishing. For this price, it's totally unbeaten.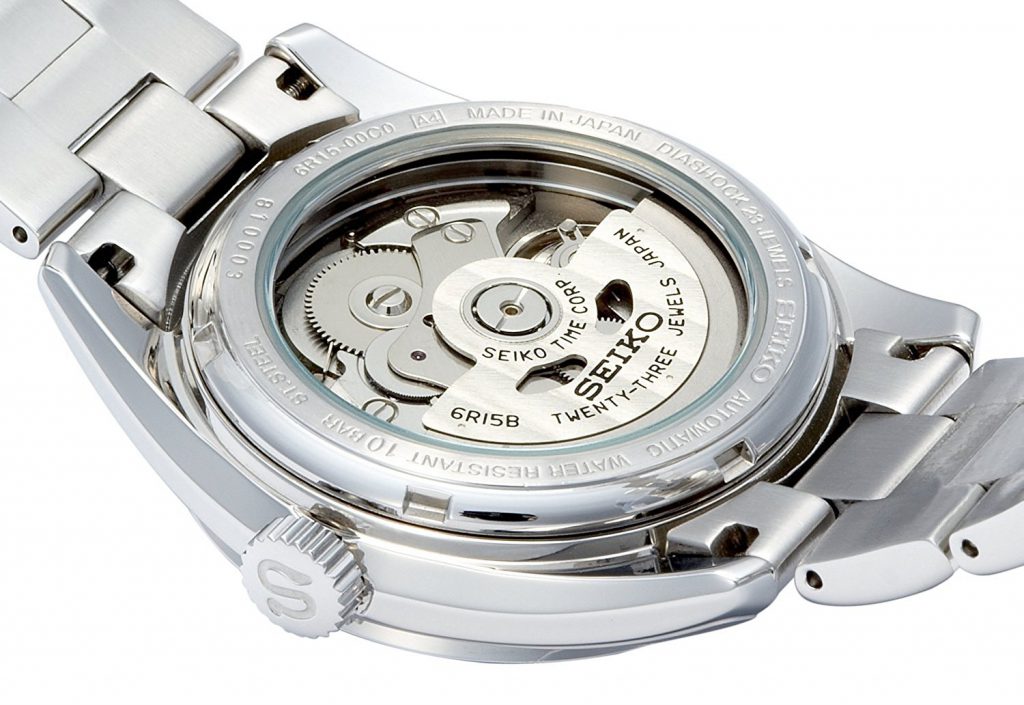 Exhibition caseback of the Seiko SARB035 features an un-decorated Seiko Caliber 6R15 automatic self wind movement
Seiko Cal. 6R15 Automatic Self Wind Movement
The automatic movement inside this watch is Seiko's own in-house movement, the 6R15 caliber. It's the middle range automatic movement by the company and is typically used in their SARB line. A great thing about this movement is that it is also used in Seiko's mid-range diver watches.
That shows how robust and tough the movement is. If it's good enough to be fitted into a watch that's designed to be used in rough condition, I'm definitely sure it will be up to task with the more mild environment that future SARB035 will use it for.
The movement has 23 jewels with 21,600 vibrations per hour or 6 beats per second. It's a slower beat movement than most Swiss watches that usually comes with 8 beats per second. This results in it having a less smooth sweeping second hand compared to the Swiss.
But on the other hand, this lower beat movement gives it a higher power reserve (50 hours – compared to 38-40 hours of Swiss ETAs) and a longer service period.
It also comes with manual winding and hacking features, which are very helpful (and some sort of compulsory for any movement in this modern age).
Side by side comparison of the SARB035 (top) and SARB033 (bottom)
Seiko SARB035 Vs SARB033
So which one is better – the SARB035 or the SARB033? The match up between these two "twins" cannot be avoided. This is a very common questions among watch lovers and the comparison that I have written below is my personal view of both watches. If you guys  don't agree with it, feel free to let me know in the comments section below =)
Both of the watches are basically the same. The internal working mechanism and case construction is totally alike. But it's apparent the only difference between these two watches are the colors of the dial.
The SARB033 is the one with black dial while SARB035 has a white creamy dial. All others (case, dimensions, hands, markers, movement) are basically the same.
In my opinion, the white dial of SARB035 is dressier while the SARB033 with black dial is more versatile and can be used in more casual places. Not to mention how sharp the SARB033 with black dial looks. It's just truly amazing and so elegant.
This by no means the SARB035 is inferior though. It is the dressier watch of the two and I really like how the white creamy dial and the stainless steel markers/hands just sort of blend in with the dial. It reminds me of another great dress watch which is the Tissot Visodate.
To sum it up, SARB035 is dressier and will do much better in black tie events and such. But for versatility of use and style, it is the win of SARB033 and its sharp black dial.
What do you guys think about these two watches? Do you agree with me? Let me know what you guys think by commenting below.
Above is an excellent side by side video comparison of both watches.
 Seiko SARB033 (Black Dial)

 Seiko SARB035 (White Dial)

Thinking Of Getting the Seiko SARB035? Buy It From Amazon!
As a JDM watch, it is hard to get a hold of it unless you are buying from internet. But being a JDM watch also has its perks – there is a high chance that you are the only one wearing it in your town. The only way to get your hand on a JDM watch is by going to Japan to buy it yourselves, or buy from a reputable online store.
Most online retailers has Seiko SARB035 in it, but I've found Amazon to usually give the best price. Click the link below to see the best deals on Amazon.
->Click Here To Check The Best Prices Of Seiko SARB035 At Amazon<-
SARY055 – A Cheaper Version Of SARB035
If you like the SARB but feel it's a bit expensive, you might want to check out the Seiko SARY055 (I've written a review of the watch HERE) for less than $300. It also is a dress watch, in fact it's a truer dress watch than the SARB since it does not have any lume on it.
The dial is also white in color, with sunburst metallic effect on it. Not only that, it also has day date window which gives a great functionality as compared to the SARB035 that only has date window.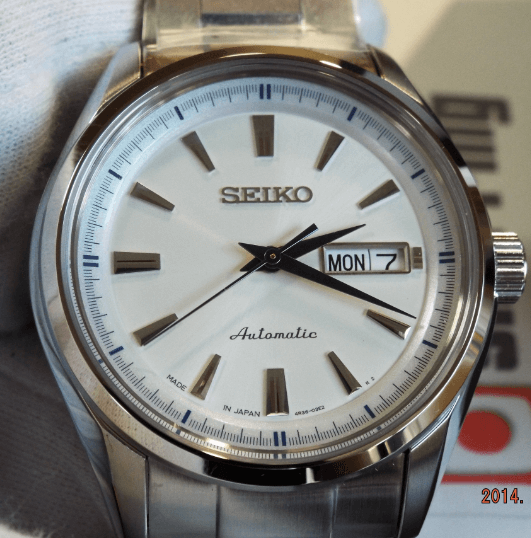 Seiko SARY055 – the cheaper version of SARB035
 SEIKO SARY055

The SARY055 and SARB035 also differ in watch size. While the SARB is a more classic size, the SARY055 is more modern at 41 mm which also makes it more casual watch.
So why the difference in price between these two watches?
The answer lies in the 4R36 movement inside the SARY. While it's a good movement, it's still not up to the 6R15 in the SARB. It also only 41 hours power reserve compared to the 50 hours in the 6R15.
And of course, the finishing on the SARY055 is not as good as on the SARB035.
 >> For More Info, read my full review of the Seiko SARY055 HERE
Conclusion
An absolutely gorgeous watch. That's my personal view of the Seiko SARB035 and I'm sure many will definitely agree with me. What more can be said of the captivating creamy white, simply stunning dial design. It's really great to look at, just like the Grand Seiko look that it's based on.
The case is meticulously fabricated with inter-layering of brushed and polished finished. The dedication to detail for this watch is really outstanding, and put forth again the high quality craftsmanship of the Japanese.
I hope you guys enjoy this Seiko SARB035 review. Feel free to drop your comments on this watch and subscribe to my site by entering your email in subscribe section at the right sidebar.
Drop your comments at the box below and don't forget to subscribe =)
I'm looking forward to hear from you guys. Till next time then.
Cheers!
Isaac