What is chronograph? If you run a quick google search, you are going to run into 2 results. The first is shooting or ballistic chronograph – basically is used to measure the velocity of a bullet fired by a gun. Now that's not what this blog is all about though =p. This a blog about watches and this post is actually about chronograph watch.
Now what is chronograph watch? To summarize, it's basically a stopwatch function that's added to a normal watch. With a normal stopwatch, you are only going to get a device to measure time, but a chronograph is a wrist watch that has that function added to it.
These are stopwatches (analog and digital versions)
And these are chronograph watches (analog and digital versions). Now, can you tell the differences between stopwatch and chronograph watch?
Stopwatch is more likely to be used for situations when accurate timing is needed such as sporting events or lab experiments. They are designed to be easy to grip and easy to use. They are also cheap because of the simple mechanism inside it, making them a popular go to device to measure time.
Chronograph watches on the other hand are not as cheap. We are after all paying for the price of the watch with an added "complication" of stopwatch. This makes chronograph watch to be sold at a higher price than normal watches or stopwatches. But the advantage of chronograph watch is it's a 2-in-1 device: you can wear the watch and measure any time without bringing a separate stopwatch. This is one of the reason why chronograph watches are popular. They usually have that busy dial with many subdials and just look very cool for a casual wear. Besides unlike a normal watch, you can "play" with the chronograph whenever you are feeling bored =)
What Does Chronograph Watch Do?
So what does chronograph watch do? Very simple – to measure time. Just push the start button and it will start to measure time. We can pause it, stop it or reset the display for the next measurement. That's the basic of what a chronograph can do. But most people don't know that there are a few types of chronograph watch function that are very useful too. Let's take a look at what these functions are: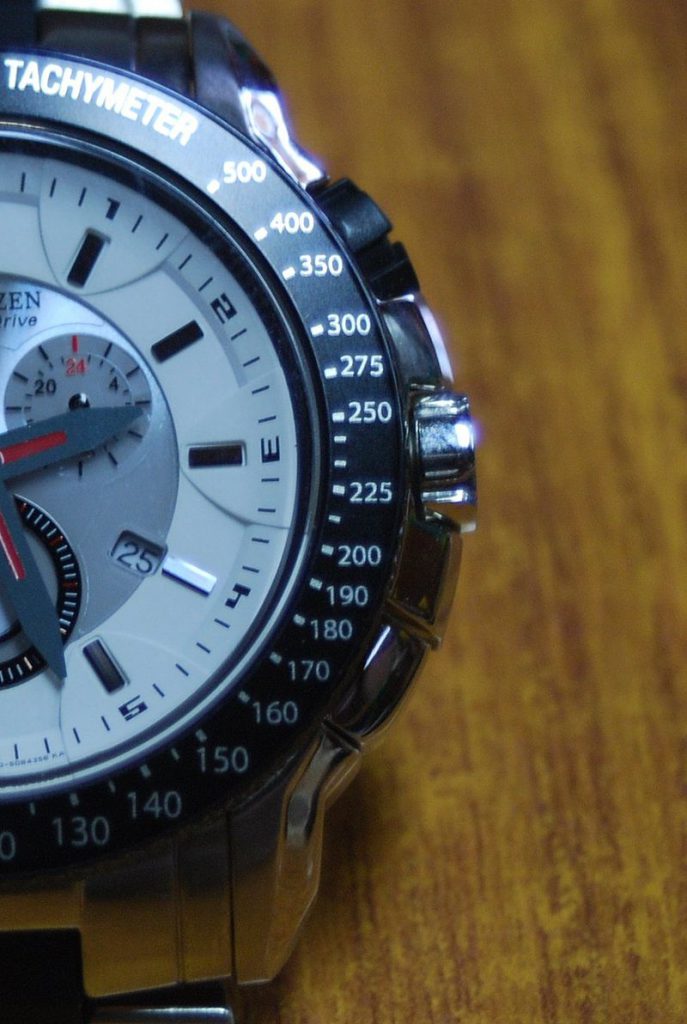 To measure speed of a moving object (racing cars, motorcycles, Usain Bolt?), tachymeter scale can be used
1- Tachymeter
The first widely used chronograph watch function is tachymeter. If you have a chronograph, chances are tachymeter scale is on it. It's a scale which is usually printed on the bezel to let users know the speed of a moving object if they know the distance it traveled. A simple example is with F1 race. Suppose you know the length of a straight portion of the track. Use the chronograph to record the time it took for the car to traveled that track and using the tachymeter scale printed on it, you can know what's the speed of the car. For more detail info, read this guide at Wikipedia.com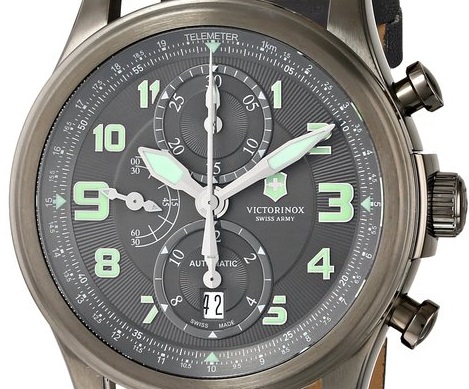 Telemeter scale is used to measure distance between the user to an event (artillery fire, lightning, etc)
2- Telemeter
A less popular scale is telemeter. It's a scale to help users calculate distance between him/her and an event that can be seen and heard. Start the chronograph when the event is seen, then stop it when you can hear the sound. Light travels super fast, while sound travels slower at around 3 seconds in 1 km. So an event's (such as artillery fire, fireworks, thunder etc.) distance can be known by using this scale.
A video of split time chronograph. The leader and follower seconds hand are only with automatic chronographs. Quartz chronograph are more simpler (and technologically superior) and require only one seconds hand.
3- Split Time Chronograph
The third chronograph watch function is split time. Unlike the first two functions above, it is built into the chronograph movement itself. It's used to help record any event that is happening continuously. For example suppose you want to time an F1 race with many laps. You can start the chronograph when the race starts. When your driver completes one lap, you can stop the display of the chronograph. At this moment, the chronograph is still running in background but only the display is frozen to give you some time to write the timing somewhere. Push the pusher again and the display will catches to the actual time.
A video showing flyback chronograph in action. Notice how the seconds hand "fly back" to the zero starting position
4- Flyback
Flyback is a type of chronograph that rapidly reset the stopwatch to zero. Whenever you started the stopwatch, you can push the flyback pusher and reset the time to zero and the time will restart again. It allows quick reset of the watch for the next measurements to start. The name "flyback" comes from how the chronograph hands swiftly fly to zero when this function is used.
How To Use Chronograph Watches?
Chronograph function is controlled by "pushers", knobs at the side of the watches that are not crown. Typically there are two types of pushers:
1- Start/pause/stop Pusher
This pusher will start and pause/stop the time. Normally it's located at the top right (2 o'clock) position
2- Reset Pusher
Bottom right pusher is usually dedicated to reset the time to zero
To use a chronograph is very simple. Push the start pusher to start the time. If you want to pause, push it again. Pushing it again will allow the timing to continue from that point. To reset, simply push the reset button.
By the way, these pushers are the most common configuration of a chronograph. Certain higher end chronographs will have different movements and different pusher layout. It's best to read the manual of the watch to avoid damaging it.
Chronograph Movement
Chronograph movement is more complicated than normal watch movement. In mechanical watch term, chronograph function is one of the "complications" that a watch could have. Some other complications are day, date, moon phase, perpetual calendar, alarm clock and many more.
It's difficult enough to keep track of time in automatic watch, not to mention having to squeeze in chronograph movements too. Flyback and split time functions are more difficult to be made. Just think of how complicated the watch has to be in order to make a split time chronograph like the video above. Not to mention it needs to record the time too. These complexity and extra craftsmanship makes an automatic chronograph much more expensive. In fact, it's almost impossible to find a Swiss automatic chronograph for less than $500.
Quartz chronograph movement is much easier to be made, because well, they are quartz/electronic movement. The timekeeping aspect is done by quartz crystal (read this article I've written about how quartz watch works for more insight on this aspect) but most of the watch functions is controlled by microchips.
In fact, even a humble Casio watch can have many functions in addition to chronograph (alarm, perpetual calendar, etc.). Analog quartz watch (the one with the clock hands and markers) is more complicated because some gears need to be included to move the hands. But overall quartz chronograph movement is more easier to be made and thus will cost much much cheaper than an automatic chronograph movement.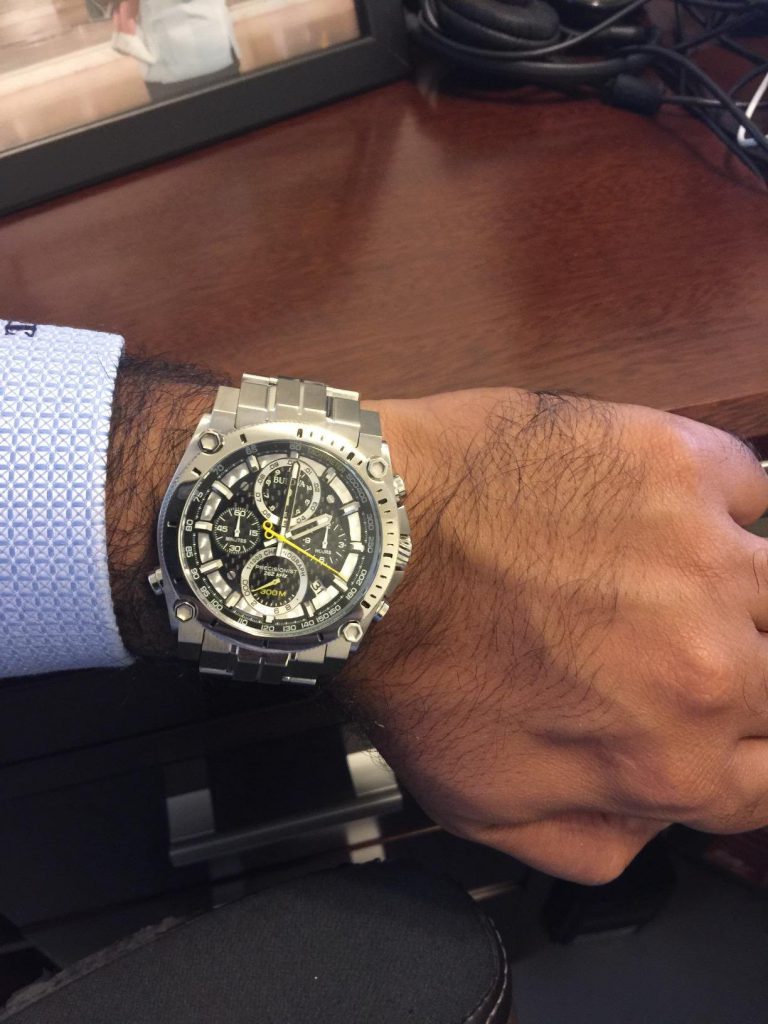 Bulova Precisionist – An example of how great a quartz chronograph watch can be. It has an unbelivable 1/1000th second time measurement (so you can measure up to 0.001 second – e.g 50.017 second)
Another important thing to remember is that using the chronograph function will use up lots of juice of your watch regardless quartz or automatic. For automatic watch, I don't think this will be a big problem as you can always wear it or manual wind it. But a quartz watch using battery will be very affected by this.
I hope you guys enjoyed and learnt what is chronograph watch all about. If you have any questions, feel free to put it inside the comments section below. Till next time.
Cheers!
Isaac