Kinetic watch is another type of watches besides the two predominant types i.e automatic and quartz.
But what is it actually about?
Who invented kinetic watch?
How is kinetic watch different from the other two types?
Is it a better (or worse) watch?
Should you get a kinetic for yourselves?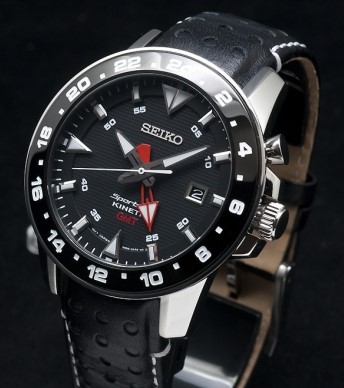 I'm sure you guys have these questions too – trust me, I also had those before! The world of watches is always full of exquisite things that we don't know about.
Which is why it's soo interesting to learn about these unique technologies.
In this article, I will elaborate on these questions so that we can draw a conclusion on what the hell kinetic watch is all about and where does it stand in the horological world.
What Is Kinetic Watch?
Kinetic watch is essentially a quartz watch with a self-winding rotor that can generate electricity and store it in its rechargeable battery cell.
While quartz watch uses disposable battery that has to be changed every 1-2 years or so, kinetic watch can recharge itself through wrist movements.
This recharging part is very similar to how an automatic watch charge its power reserve. In essence, kinetic watch is a marriage between automatic and quartz watch.
Automatic Quartz Watches
Kinetic watch is actually not the right term when trying to describe quartz watches that can be recharged through self-winding rotor mechanism.
Kinetic is a registered brand name by Seiko for their watches in this category.
Automatic quartz is  actually the right term to describe these hybrid watch.
The reason most people use kinetic to describe it is because Seiko's kinetic watches are the only ones that's most popular.
Apart from Seiko, there are other companies such as Citizen, ETA Swatch and Ventura that produce automatic quartz watches but their watches didn't get much traction and slowly died.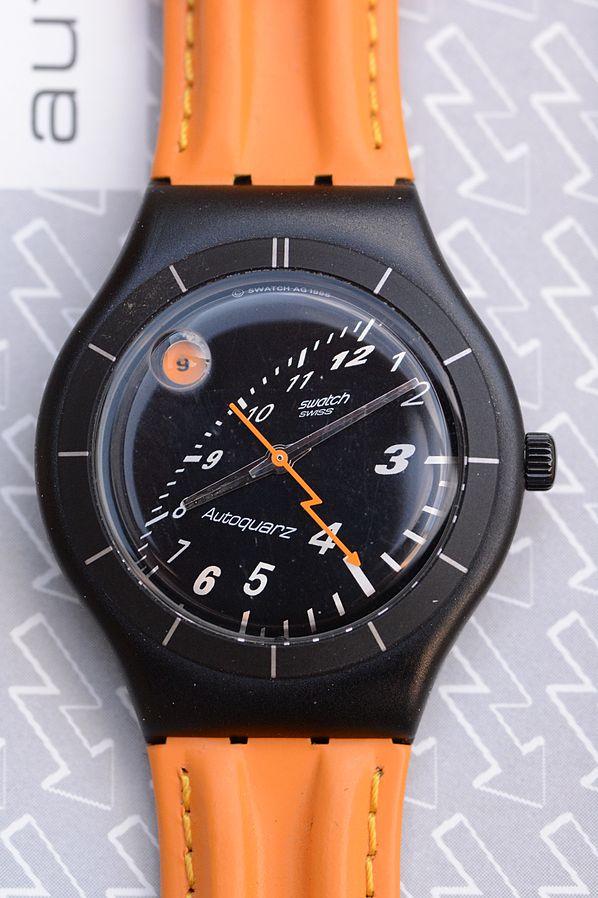 Apart from Seiko, other companies also try to make their own automatic quartz watches. Shown above is the Swatch Autoquarz, produced in 1998
Only Seiko's Kinetic watches are still around, and as such is the only automatic quartz watch that's widely available to anyone right now.
As such, I'll only be using the Kinetic term to refer in the rest of this article.
History of Kinetic Watch
The first prototype of the kinetic watch was unveiled at the Basel Fair in 1986 by Seiko under the name "AGM". From then on, the watch was fully developed into the Kinetic watch that we know today.

The Seiko Kinetic AGM is the world's first kinetic watch ever
Seiko was an established watchmaker, with expertise in automatic and also quartz.
As the first one that produced quartz watches, it make sense to theorize that Seiko was finding a way to combine both automatic and quartz watches features together.
Quartz is the better watch among the two, specification wise. It's a much more accurate watch (+-15 seconds per MONTH compared to automatic with +-6 seconds per DAY).
But the only drawback is the battery that need to be change every 1-2 years (we are talking about the 1980s here, so I presume the battery technology should be less advanced than today).
It is due to this that Seiko tries to bring the self-winding rotor mechanism into the quartz watch.
How Does Kinetic Watch Works?
Automatic is not as accurate as the quartz, but at least you can use it for a long time without needing a battery change.
The self-winding rotor will automatically tighten or charge the mainspring with each wrist movement.
The kinetic watch uses this same mechanism, but instead of tightening the mainspring, the rotor gear is connected to a much smaller gear that spins a tiny generator that produces electricity.
The electricity is then stored inside a rechargeable battery cell (most likely Lithium Ion).
From then onwards, the quartz timekeeping movement draws the power from the cell just like any normal quartz watches.
And with a normal lifespan of +10 years, it's a real upgrade over having to change the battery every so often like normal quartz.
Above is a short introduction of how a Seiko Kinetic charges and generate electricity from hand movement.
Seiko Kinetic Watch Price?
The kinetic is more expensive that your normal quartz watch for sure.
From my experience, Seiko kinetic watches usually retails at least $100 for the lowest range.
The highest price for a kinetic watch can be in the range of thousands of dollars – the state of the art kinetica watches with many complications (perpetual calendar, chronograph, better material and finishing).

Above is the famous Seiko SUN019, a shrouded ISO rated diver's watch with kinetic movement and GMT function. Click HERE for my in-depth review of this manly diver's watch.
How To Charge A Seiko Kinetic Watch?
The normal way to charge a kinetic watch is by wearing it and continue doing your activities. The weighted rotor inside the watch will spin at a fast rate to ensure the generator can generate sufficient electricity.
How about its power reserve?
Usually a Seiko Kinetic watch will has a 3 to 6 months of power reserve. So once you charge it to full, the watch can be stored away for a few weeks or even months at a time.
It's definitely an upgrade over the normal automatic watch that need to be worn every couple of days.
And to check it is quite easy as some kinetic watches have a subdial to show the power reserve.
For those that doesn't, it usually has a dedicated pusher that can show the power reserve when activated.
The seconds hand will move to show the current power reserve state. Marking no. 1 means it only has about 1 day of power left, but marking no. 6 means it's fully charged.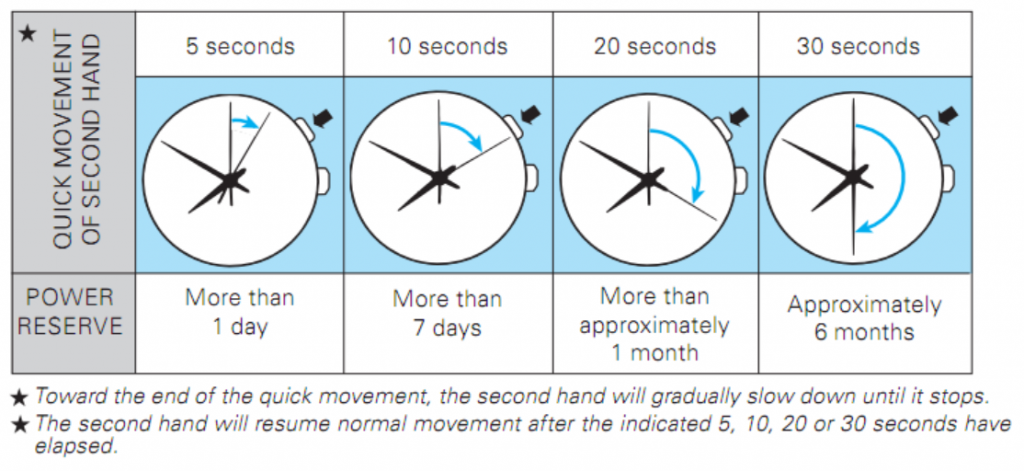 Table above shows a typical way to estimate power reserve of a Seiko kinetic watch by using its pusher and seconds hand.
While the battery can last for at least 10 years before it degrades (and lose charges), we should always keep in mind not to let the battery become fully discharged.
Lithium Ion batteries might not be able to charge properly after a full discharged situation.
Because of this, always ensure your kinetic watch to have at least a few months worth of charge at a time.

Seiko SKA705 Recraft which comes in a sleek black dial and case is one of the more affordable kinetic watch around. It's nylon band makes it look cheap but a good aftermarket leather strap can work wonders and transform this kinetic into a handsome dress watch.
But What If I Can't Wear My Watch Everyday?
But of course, not everyone can wear the same watch everyday.
Unfortunately (or should I say fortunately?) some people have a collection of watches so much so they will do a rotation on wearing them.
Not to mention you might not bring your kinetic watch to a long holiday due to some reasons.
So in these situations, how can we charge our kinetic watches?
Worry not, for I have found 3 ways to charge a Seiko Kinetic watch without having to wear it.
1- Using Seiko Kinetic Watch Charger
The normal automatic watch winder cannot be used to charge a kinetic watch since the rotation is not fast enough.
Kinetic watch require a higher speed rotation of its rotor to sufficiently generate electricity.
If you've seen one automatic watch winder, you'll know that its rotating slowly and that just won't cut it.
The best way to charge a kinetic watch is to use the Seiko's own kinetic watch charger.

Just put the kinetic watch face down on top of the charging pad, and it will recharge it to full in less than 3 and a half hours.
It does this by using induction charger to easily recharged it. See the video below to know how it works.
  Watch the video above to see how to use the Seiko Kinetic watch charger
The only downside to this method? The Seiko kinetic watch charger is very expensive, almost worth as much as the kinetic watch itself!



Price Disclaimer
True enough, this is the best method to charge it since its coming from Seiko itself.
But for those that want a cheaper options, I've listed the other 2 alternatives below.
2- Using Toothbrush Charger (or any Induction Charger)
If you're feeling brave enough, consider using a toothbrush charger (wireless) or any induction charger to charge your kinetic.
This is one of the popular alternative of charging the watch as it's much cheaper to buy the toothbrush charger than the Seiko's one (about 1/10 of the price?).
The trick is to ensure the generator coil of the watch is sitting directly on top of the toothbrush charger's stem and watch how it easily charge your watch.
Again, do this only if you're feeling a bit brave and don't want to give Seiko a couple of hundred dollars for its wireless charger.
By the way, do so at your own risk =P
Above video shows how to set up the toothbrush charger to charge a Seiko Kinetic watch.
3- Just Rotate It!
The third and the least elegant way of charging a kinetic watch is by using a motor to rotate the watch – fast enough so that the rotor will spin swiftly and generate electricity.
One of the ways to achieve that is by hooking up the watch to a handheld drilling machine. Yep, it's really a bit crude but it works.
Alternatively, you can try making your own DIY rig using a simple electric motor and battery as power source.
Just don't make it spin too fast so as not to damage the watch.
See how to charge a kinetic watch using a drill machine here!
Seiko Kinetic Direct Drive
Seiko has also released a newer kinetic movement which is the Direct Drive.
What's so special about this?
The newer Direct Drive movement solves the issues of having to charge the kinetic watch rather ingeniously.
With this new technology, the owner can easily recharge the watch by winding the crown.
It will then spin the generator to generate electricity – something like a manual dynamo so to speak lol!
But of course, such movements will be a bit more expensive than the normal Seiko kinetic watches. But in my opinion, it's definitely worth it.
Kinetic Watch Problems?
Perhaps the biggest problem with kinetic watches is well-known capacitor issues with earlier kinetic watches.
Prior to the 2000s, the earliest kinetic watch used capacitors instead of Lithium Ion cells to hold electrical charges.
The problem with this capacitor is it will leak and form gew (something like what an old dead battery will has) around it after a few years and will affect its power reserve capacity.
Worse, the gew can spread if not taken care of and should it reached into any of the tiny gears or components, it might cause problems to the kinetic watch.
Thus, the only solution that's highly recommended is to upgrade the old capacitor to the newer Lithium Ion battery which is much better overall.
Besides, who wants disgusting gew inside his/her shiny hundred dollars watch right?

This Seiko SRN066 Coutura Kinetic Retrograde is a beautiful black kinetic watch with gold accent. It sits in the middle range of pricing among Seiko's kinetics and works perfectly as a handsome dress watch.
Kinetic Watch Advantages
So what are the advantages of a kinetic watches?
1- Convenience of not having to change battery
This is the twist that Seiko added to a normal quartz watch – not having to change its battery is a big convenience for those that want a fuss-free watch.
This, and coupled with the quartz accuracy (below point) means the watch is perfect for being a beater everyday watch.
Just take it out and wear it. No need for any setting up, winding or changing time at all.
2- Quartz accuracy
Speaking of convenience, what is better than having a quartz-accuracy?
With an average +- 15 seconds deviation per MONTH, quartz watch is the best watch nowadays in terms of accuracy.
It also surely helps not having to check and set the time every week like any normal automatic watch.
3- The winding rotor feeling
Not really a black and white advantage, but more to the emotional side of things.
Many people (including me) cherish automatic watches due to its characteristic feelings.
Quartz watch, being electronic, does not has this feeling and can turned some of these people off (even though logically, quartz watches is superior in terms of specification).
The kinetic watch recreate an elements of the automatic in the form of the self-winding rotor.
Feeling the rotor moving with your wrist movement is something that's a quartz watch can never give – until the invention of the kinetic watch.
Kinetic Watch Disadvantages
1- Capacitor problem for older kinetic watches
As pointed out earlier, early Seiko kinetic watches used a capacitor to hold electrical charges.
The problem with the capacitor is it's flawed and is easily degraded and leaking gew after few years.
Thus, it's highly suggested to replace your old kinetic watch capacitor with the newer Lithium Ion cells.
Also, do keep this in mind when buying old kinetic watches as it might have this problem.
Once the gew affects a large area, you'll need an expert to overhaul the watch.
Total cost? Can go up to a hundred dollars. With that amount of money, it's better to just buy a new kinetic lol!
2- Charging problem for those with lots of watches
Like any automatic watch owners, kinetic watch owners also face difficulty to charge their watches when not using them (a common problem for those with high volume of watches lol!).
But no worries.
Using induction charger, rotating machine or Seiko's Direct Drive technology can solve these issue (check my explanation of the three methods in the section above).
If you still feel these is too cumbersome, check out solar watch, a watch that can be charged as easy as exposing it to any light. Now that is total convenience =)
Conclusion – Is A Kinetic Watch For You?
If you hate to change the battery of your watch, then kinetic watch is something that you should seriously consider.
It's a hybrid of the best of two worlds, the accuracy of quartz and the convenience of automatic self-winding movement.
Seiko currently produces kinetic watches in many watch types – sports, chronograph, dressy, military etc. – so it's very easy to find one that will fit your taste and need.
For a watch that has a taste of classic watchmaking with modern technology, the kinetic watch is in its own world.
********
I hope you guys enjoy this article. Let me know if you guys have any questions or comments on kinetic watches.
Till next time =)
Cheers!
Isaac