Solar watch is definitely a step up from the normal quartz watch. Although quartz watch is great in terms of accuracy but its reliance on battery sometimes caused inconvenience, especially when we find our watches suddenly out of juice (which I'm sure that had happened to you guys too LOL!).
Solar powered watch seek to solve this issue once and for all with the use of watch battery that can be recharged by solar – the most abundant and easily harvested renewable energy.
Not just sunlight, current technology of solar watch also enables it to be recharged by any light as long as its bright enough. For example, even our office or home light are sufficient for recharging.
With a huge power reserve of at least 4 months without any recharging, solar watch nowadays are much better built and designed for those that want a fuss-free watch.
In this article, I seek to list the 10 best solar watches under $200 in 2017 to make it easy for those wanting a good solar watch but don't want to spend a fortune on it.
A bit of disclaimer: I've only listed analog watches here. While gathering information for this list, I've encountered lots of great solar watches, digital and analog alike.
But then I feel that combining both types (digital and analog) of watches inside one list will make things more difficult to compare.
I mean, there is no where an analog watch can compete with an LED backlight, chronograph, timer  and alarm features than even the cheapest Casio G-Shock has.
Which is why I seek to only put out the best analog solar watches under $200 in this list instead.
Why not digital watches?
For a start, I'm an analog guy through and through. I like how the dial is not digital – something foreign than the usual computer, smartphone and television screens that we have today.
Analog watch also looks more dressy and casual. Thus, it makes perfect sense to me to write about the things that I love =)
Secondly, this site started out by reviewing and comparing analog automatic watches, and I'm sure most of my readers would love to read a list about analog watches instead of digital watches.
That being said, I'll surely try to do a list on solar digital watches too as I feel this segment has its own fans. (though I really hope I have the time to do so..)
Well, here is the 10 best solar watches under $200 in 2017 (summary of each watches are written below):
Citizen BM8180-03E
Casio Wave Ceptor WVAM640D-1A
Casio Edifice EQS500DB-1A1
Seiko SSC233
Citizen BM8475-26E
Citizen Promaster Diver BN0151-09L
Citizen AT0200-05E
Seiko SNE325
Citizen BM8240-03E
Citizen AW1361-10H
1 – Citizen BM8180-03E – Simplistic Military Solar Watch
Brand: Citizen Eco-Drive
Size: 37 mm diameter, 9 mm thick
Style: Military
Water Resistance: 100 m
One of the most popular solar watches around, and for good reasons. The Citizen Eco-Drive BM8180-03E is among the cheapest in this list and usually can be had for less than $100 on Amazon.
And you'll be in a total surprise of what that $100 can give you.
The BM8180-03E is a real sleek military watch with black dial, easy to read numeral markers (which have full lume mind you) and polished stainless steel case.
It's also quite small at 37 mm diameter and 9 mm thick, which will be a good fit for those that want a light and easy to wear beater watch.
Citizen also coupled it with a green canvas strap that does keep the watch light and perfect for outdoor activities.
Even if the watch looks rugged with the canvas strap and all, I can sense that it has the making of a handsome casual/dress watch – no thanks to the high quality stainless steel case.
Just strapped it with a leather strap on the 18 mm lugs and you're good to go. A black leather strap will look absolutely gorgeous with the black face.
And with its 100 m water resistance, this watch surely does not disappoint in protecting it from any moisture.
For a good looking and simply styled beater watch for everyday use, this Citizen BM8180-03E should be in your list.
Click Here To Read My Full Review Of The Citizen Eco-Drive BM8180-03E
2 – Casio Wave Ceptor WVAM640D-1A – Solar Atomic Watch
Brand: Casio Wave Ceptor
Size: 43 mm diameter, 12 mm thick
Style: Hybrid analog + digital
Water Resistance: 100 m
The Casio Wave Ceptor WVAM640D-1A watch is a great tool watch with multiple functions, and at a really affordable price of less than $200.
I like the hybrid digital + analog display that looks unique and also cool at the same time.
It has a touch of futuristic look on it while at the same time having the traditional 3 hands analog watch. Definitely a cool watch!
The case is a combination of plastic resin and stainless steel which makes it much lighter than an all steel case, at the expense of looking a bit cheap.
But I must say the resin-steel combination case is one of the main factors that drive down the price below $200.. So no complains on this regard lol!
The digital dial is not just for show – the Wave Ceptor watch is very functional and supports 9 different features which are solar powered, radio-controlled atomic timekeeping, LED light, alarm, chronograph, countdown timer, power reserve indicator, full perpetual calendar and world time display.
The radio-controlled atomic timekeeping is it's best feature in my opinion. With this, the watch will automatically reset its time every early morning to the Atomic Time through radio signals.
This means the Casio Wave Ceptor is always accurate at any time.
It does has a constrain though. The atomic timekeeping can only be used in 3 continents (North America, Europe and China/Japan) as only these areas have the radio signals that the watch is attuned for.
With a killer list of specification with good looks, it's very hard not to like the Casio Wave Ceptor (especially at its great price).
Click Here To Read My Full Review Of The Casio Wave Ceptor WVAM640D-1A
3 – Casio Edifice EQS500DB-1A1 – The Handsome Multi-Function Watch
Brand: Casio Edifice
Size: 44 mm diameter, 13 mm thick
Style: Sports
Water Resistance: 100 m
Casio has proven to be a good watchmaker that marries technology, functionality and beauty in their pieces.
And this Casio Edifice EQS500DB-1A1 watch is just the perfect example of that.
The watch is a good looking watch with silver stainless steel theme. It's dial is every bit complicated but it's just neatly designed that it looks great!
Not sure if it's just me or the male genetics inside me, but I feel that a complicated but well placed dial like this Edifice watch looks really cool.
And that silver stainless steel theme just makes it sweeter to look at.
Sure, it will take a bit of time to be accustomed to what the various subdials do, but trust me, it's not that hard to decipher.
The subdials are used to show a different time zone, chronograph mode and the current day.
There are 4 modes in total: normal timekeeping, chronograph, world time and alarm.
It will take some time to fully master these modes but that's all part of the challenge of owning a functional analog watch.
The world time mode and GMT features of it make the Edifice watch a really great sports watch for those that travel often.
Not to mention it's solar powered so there is no concern at all for hectic traveler that his/her watch might stop working without any notice.
And that's one of the key benefits of solar watches: reliable quartz accuracy and convenience =)
Click Here To Read My Full Review Of The Casio Edifice EQS500DB-1A1
4 – Seiko SSC233 – The Stylish Orange Black Chronograph
Brand: Seiko Solar
Size: 45 mm diameter, 12 mm thick
Style: Sports chronograph
Water Resistance: 100 m
The Seiko SSC233 is one good looking watch for sure, thanks to the orange markings/hand on the black dial and the extra chronograph subdials.
As with the Casio Edifice above, the complexity of the extra subdials make the watch to has a cool factor.
And using the high contrast orange over black dial just makes the watch a total eye-catcher.
What I love about the dial is how the unconventional orange color is used perfectly here and just seems to pop-out off the watch.
So much so if you don't like people to compliment the watch you're wearing, then this is not the watch for you.
This is definitely a watch that people are going to comment on LOL!
Complementing its dial is a black PVD case that works in harmony for that sleek style.
It does has a nylon strap that make the watch look more casual but again, straps are changeable and can be easily swapped out on the 22 mm lugs.
The Seiko SSC233 not only rely on its good looks. It has a fully functioning chronograph which can measure up to 60 minutes (though I'd like it if it can measure more).
And let's not forget about the solar feature here. Since chronograph uses more battery, usually people will try not to use (or play?) with it too much to avoid draining the battery.
But with a solar watch, you can use the chronograph function as much as you can! Just make sure to charge the watch sufficiently and it's set to go.
The combo of solar powered and chronograph is one of the best watch combination around.
Lastly, it also has a good 100 m water resistance for protection against any unwanted water ingress.
Click Here To Read My Full Review Of The Seiko SSC233
5 – Citizen BM8475-26E – The Black-Orange Solar Military Watch
Brand: Citizen Eco-Drive
Size: 42 mm diameter, 11 mm thick
Style: Military
Water Resistance: 100 m
Another watch with a trendy black orange dial is the Citizen BM8475-26E. But unlike the Seiko SSC233 above, this Citizen is a normal military watch without any extra complication.
So if you guys like a black orange watch but with a simple dial design, then this Citizen is the perfect choice.
While the Seiko SSC233 looks damn cool with those chronograph subdials, this Citizen BM8475-26E is more simple and is recommended for those than don't want a complicated watch.
The explorer style dial markers with big 3,6, 9 and 12 numerals makes the watch very legible and easy to tell time.
But what's astounding about it is the full lume on its markers and hands that is just so good to look at, which is even on par with the lume on diver's watches.
This Citizen BM8475-26E also has day date window at the right side of the dial which makes it very functional.
I've always feel that a watch with day date display is the best watch for everyday use as you can easily know the day and date with just a flick of your wrist.
It surely trumps the use of smartphones – no need to bring out your phone from your pocket or anything lol!
Like the Seiko SSC233 above, this watch also has a black PVD case that complements the black dial perfectly.
Having a 100 m water resistance also means it's well protected though I'd personally take precautions to not expose it too long with water as it does not have a screw down crown.
Citizen also made the perfect choice of using a leather strap on the watch instead of a nylon like some of the other affordable watches in this list.
The brown leather strap just makes the watch look more handsome, and truthfully, the best strap to go with the black-orange dial.
Click Here To Read My Full Review Of The Citizen BM8475-26E
6 – Citizen Promaster Diver BN0151-09L – The Blue Solar Dive Watch
Brand: Citizen Eco-Drive Promaster
Size: 42 mm diameter, 12 mm thick
Style: Dive
Water Resistance: 200 m
This is the only dive watch that made it into this list is the Citizen Promaster Diver model no. BN0151-09L.
From a glance, it's a good looking dive watch with enchanting blue dial on top of a stainless steel case.
It's built with rugged and purpose in mind: the case and unidirectional rotating bezel looks tough and manly with a big crown for ease of use.
With such huge and bulky case/bezel, there is no question that the watch can take a beatings here and there.
The hands and markers are classic dive watch design – over-sized and very legible.
I really like how the 3, 6, 9 and 12 markers are designed with a trapezoid like shape.
It shows that Citizen is not a lazy watchmaker that just use the same design on all of their watches.
These little design elements means they put some effort to make sure their watches are unique and have character.
As per any dive watch, this Citizen BN0151-09L is full of blue lume on it that helps in telling time in dark areas.
In addition that, the watch is also ISO 6425 diver's watch compliant for a truly assuring underwater performance.
It also has a 200 m water resistance which mean it's good for all water activities except for saturation dives.
For a good looking solar diver's watch with great specification, the Citizen BN0151-09L is a good choice.
*Note: The Citizen BN0151-09L price fluctuates depending on its availability in the market. It's under $200 at the point of writing this list and that's the price that you guys should look for. A bit of patience can save some money which can be better utilized for a great strap imho. As someone used to say to me, buying watches online is a waiting game =)
Click Here To Read My Full Review Of The Citizen Promaster Diver BN0151-09L
7 – Citizen AT0200-05E – The Solar Military Chronograph Watch
Brand: Citizen Eco-Drive
Size: 41 mm diameter, 11 mm thick
Style: Military chronograph
Water Resistance: 100 m
The Citizen Eco-Drive AT0200-05E can be said to be an upgrade over the Citizen BM8180-03E as both of them share the same look.
Appearance wise, this watch looks much busier and more complex than the Citizen BM8180-03E.
But that's not all. There is quite a big difference between the two watches' specification.
This AT0200-05E has an additional chronograph complication, 24-hour time display and a bigger case size making it a real upgrade over the former Citizen.
The chronograph feature is something that's really useful and totally worth the extra dollars paid on this watch.
As I've mentioned earlier, chronograph subdials will make the watch look much cooler than a normal simple dial, and that's totally the case here.
And the solar + chronograph combo is totally great just like the Seiko SSC223 above.
The owner of this watch can use its chronograph as much as he/she likes without needing to worry about draining the battery =)
Apart from the chronograph, the watch also has a dedicated 24-hour time display which is a great way to help in telling the AM/PM at any point of time.
Strapped with a green canvas, it looks really befitting for a military watch.
A great looking watch, chronograph and solar powered – all of this for less than $200!
8 – Seiko SNE325 – Elegant Black Solar Watch
Brand: Seiko Solar
Size: 41 mm diameter, 11 mm thick
Style: Dress
Water Resistance: 100 m
The Seiko SNE325 is a good looking watch with a very unique look – the whole thing is almost black!
I can say that this is the first watch that I've encountered that is black on its entire watch face, case and strap.
The dial, hands, markers, case and band are all in shades of black/gray which make the watch a real eye-catcher.
The dial is textured with layers of black and lends to the majestic look of the watch.
But one common complain about the watch is it can be a bit hard to tell time with an all-black dial.
The hands and markers can only be seen if some light is present. Otherwise, the whole watch will be totally dark and telling time is almost impossible.
Because of this, I recommend you guys to only use this watch in the morning/afternoon and swap with a different watch during the night unless you'll be in a well lit area.
As much as the watch is gorgeous, the primary purpose of using is to tell time.
And for me, it does not make any sense to wear this Seiko SNE325 in a dark condition and I can't even see it.
Notwithstanding that, the Seiko SNE325 is a truly unique and elegant dress watch that will surely turn heads around.
For a one-of-a-kind watch powered by solar, the SNE325 is definitely something to consider.
9 – Citizen BM8240-03E – The Classic Solar Watch
Brand: Citizen Eco-Drive
Size: 36 mm diameter, 9 mm thick
Style: Dress
Water Resistance: 30 m
While all the other watches in this list is geared towards military, chronograph and other futuristic look, the Citizen BM8240-03E is the only one that has the simple classic dress watch design.
The watch is as unassuming as it can be – 36 mm diameter, simple black dial, normal 3 hands, day date display – and yet the simplicity is its greatest strength.
The smaller diameter is a breath of fresh air in a world where larger watch is the norm.
With its small 36 mm diameter, this is the watch that's perfect for those with smaller wrists.
The simple black face with stainless steel case just exudes class and style even for such a low priced watch.
I can bet that the Citizen BM8240-03E will cost at least double if a Swiss markings is on that stylish dial =)
Its markers are a bit unique. From a glance, it looks like having an all index markers.
But close inspection will reveal the 4, 8 and 12 markers to have a real slim font that makes it blend in with the other index markers.
These kind of unique design at this price point is very much welcomed as it will give the watch its own character.
Not to mention the watch also has day date display which are very useful for those that want to use it everyday.
Click the link below to check out the best deals of Citizen BM8240-03E on Amazon.
10 – Citizen AW1361-10H – The Solar Aviator Watch
Brand: Citizen Eco-Drive
Size: 45 mm diameter, 11 mm thick
Style: Aviator
Water Resistance: 100 m
Citizen's take on the famous flieger/aviator style watch with their added spin on the styling.
From a glance, the aviator watch looks just like a normal B-Uhr type B watches.
But look closely and you'll find that the Citizen AW1361-10H has a colorful dial instead of the normal black – white B-Uhr watches
It might not bode well with purists but I find this colorful flieger to be very unique and gives an added spin to the famous watch.
The watch is big – at 45 mm diameter it is on the upper side of watch size and is not recommended for those with smaller wrists.
Aside from the colorful dial, this watch also has a unique date display window.
Instead of a normal date display, Citizen used a window that shows 3 date at the same time with an arrow to indicate the current date.
Truthfully, I don't really think such design is better practically. But this date display is very different from the normal ones and is one of the things that set this watch apart from others.
Plus, the convenience of using a solar powered watch makes it a total bargain at its less than its $200 price tag.
The Citizen AW1361-10H is definitely a real treat for those looking for a good aviator watch with solar technology.
*********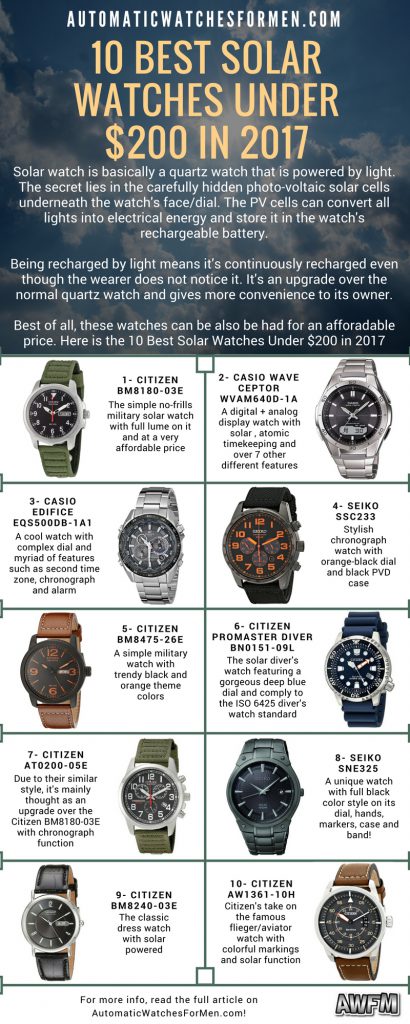 I hope you guys enjoy this list on the top 10 solar watches that can be had for less than $200 in 2017.
Let me know your thoughts about this list (any pieces that I've missed, any watch that should not be here, etc. etc.). I'll definitely take these into account for the updated list next year.
Don't forget to write your feedback on this article =)
Till next time then. Cheers!
Isaac