Seiko SNZG15 is quite famous nowadays thanks to its very affordable price and cool design. If you're familiar with the popular Seiko SNK809, you will surely notice there's a lot of similarity between the two watches.
In my opinion, the Seiko SNZG15 is a good option for those looking at a budget automatic watch with a cool military design, good build quality, practical watch face layout and huge water resistance rating (100m).
It has that sort of no-nonsense style that makes it look really cool. You can just wear it all day long as a beater watch for all sorts of activities. The nylon strap on it will make sure the watch is light on your wrist and won't impede on your movement.
The Seiko SNZG15 is certainly an upgrade over the SNK809 with bigger size and better overall build quality in my opinion – it is the more pricier watch of the two.
Not to mention the better water resistance rating in this watch (100 m vs 30 m) compared to the SNK809 makes it a great choice for adventure type of activities.  No worries, we will get into the detail comparison of both watches later on.

SNZG15K1 VS SNZG15J1
I believe I should write a bit about one of the common questions regarding the Seiko SNZG15 – What's the difference between SNZG15K1 vs SNZG15J1?
To put it simply, the J version is made in Japan while the K version is made elsewhere in Asia (China, Southeast Asia, etc).
That's why you guys will frequently encounter the J version to has command higher price than the K version.
Fans associate the Made In Japan SNZG15J1 having a higher quality than the SNZG15K1 and are willing to pay a higher price for that.
Now, I'm pretty sure Seiko has the same quality standards for their factories but it's quite hard to not say the Made in Japan version to be better.
Either way, it depends on how much you want that Made In Japan badge.
Just know that the Japan version typically costs more – the SNZG15J1 can be about $30-$40 more expensive than the SNZG15K1.
With that out of the line, let's get into the in-depth Seiko SNZG15 review shall we.
Seiko SNZG15 Watch Specification
Diameter: 42 mm
Thickness: 11 mm
Lug Width: 22 mm
Case: Stainless steel case with gray matte finish
Strap: Nylon strap
Watch Crystal: Hardlex crystal
Dial: Black dial
Hands: Sword hands
Markers: Numeral markers
Movement: Seiko Cal. 7S36 automatic self-wind movement
Movement Features: 23 jewels, 21600 vibrations per hour or 6 beats per second, Non-hacking movement, Cannot be manually wind
Accuracy: +-15 seconds per day
Power Reserve: 41 hours
User Manual: Download Seiko Cal. 7S36 movement user manual here
Water Resistance: 100 m
Other Features: Lume, Day date display, Exhibition caseback
Military Styled Dial
The dial of this Seiko SNZG15 is unmistakably military style with that black matte face and easy to read white numeral markers.
It's fairly simple and yet that's one of its strength. It's very easy to read time on this watch as the numerals are easily deciphered compared to index markers by our brain.
The highly contrasted black face and white markers/hands also help with that.
The Seiko SNZG15 also has an inner markings from 13 to 24, presumably to show the pm time.
It has a sword style hands that are just normal in size. The seconds hand has a red tip which is a very nice touch on the dial to make it a bit more colorful than the monotonous black-white.
There are index markers also index markers at the outer edge of the dial.
The lume of the watch is applied on these index markers and the hands which help to tell time in dark areas.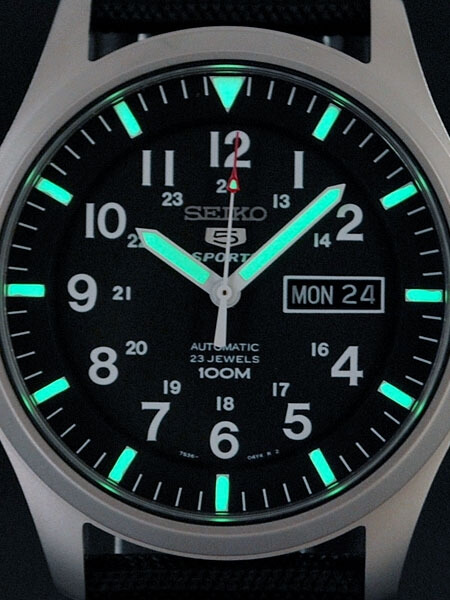 The lume on the Seiko SNZG15 is minimal but should do be able to help to tell time in dark areas
Just don't expect a diver's watch-like lumes on the Seiko SNZG15 as it's still in the more affordable sector of the Seiko 5 line up.
But still, some lume is very much welcomed on any watch that's intended to be our daily beater watch.
Recessed Dial Design
From a glance, the dial looks normal like any other military watch.
But a close observation will reveal that the dial is unique in which it has a recessed inner dial.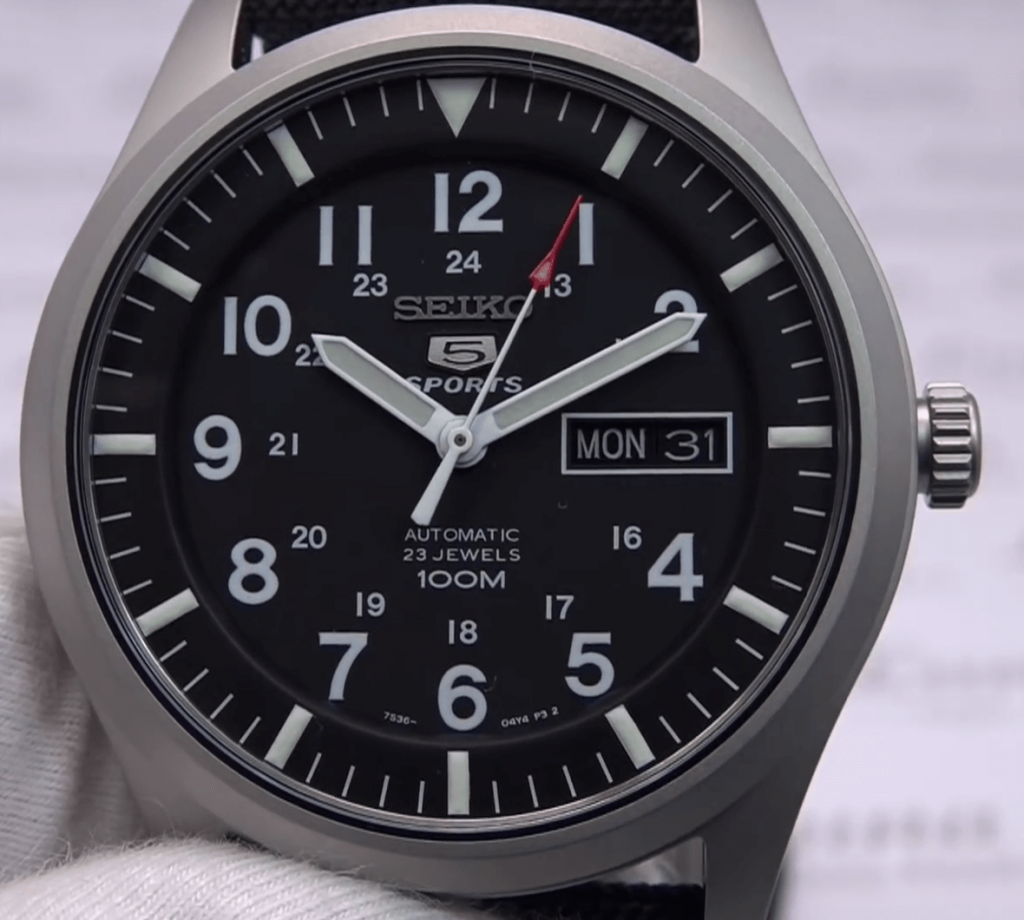 Notice how the outer edge of the dial (the index markings) is a bit higher from the inner part?
If you guys look closely, you'll notice how the outer edge of the dial is in fact slightly higher than the inner dial.
This unique design gives the Seiko SNZG15 a 3-D look that's so great to look at.
It's sort of like an easter egg that only those looking closely at it can notice LOL!
Either way, this effort by Seiko certainly had made the Seiko SNZG15 to has its own character and stood up from the rest of the other Seiko 5s.
Day Date Display: Ugly Or Functional?
Being a Seiko 5 watch, the SNZG15 has day date display at its right side of dial.
Some people say this break the watch's symmetry, and thus making it look less appealing which is correct to a certain extent.
But then, having day date display on it makes the watch more functional and useful.
Consider this: you're busy working and suddenly you remember about an assignment or meeting at a particular date.
And being someone with less than stellar memory, you somehow forget about what date it is currently.
With just a flick of your wrist, the Seiko SNZG15 can tell the day and date in less than you'll require to take out your smartphone from the pocket and bring it out from sleep.
Such scenario happened to me a few times in a week LOL! And that's the reason why I feel that day date display is instrumental for a watch meant to be an everyday watch.
Let me know in the comments section below if you guys agree with me on this or not. I love to hear your thoughts on this matter =)
42 mm Stainless Steel Case
Securing the watch is a stainless steel case with a 42 mm diameter and 11 mm thickness.
Due to its average size, I don't think there is any problem for any men to wear this as it's not too big or too small.

Not to mention its narrow bezel design makes the dial appear larger and results in the watch looks bigger than it actually is.
Impact Resistant Hardlex Crystal
On top of the watch is a hardlex crystal which is Seiko's own upgrade version of mineral crystal. It has a higher impact resistance making it more shatter proof.
But it's still a mineral crystal and will scratch easily. Despite what the online retailers will tell you, hardlex is not scratch resistant – only sapphire is qualified to wear that title.
(read my introduction to watch crystals HERE for more info.)
The problem with sapphire is it's more expensive and hardly any watch below $200 will has them on it.
Because of this, my recommendation is to take a good care of the Seiko SNZG15 (or any watches with mineral/hardlex) to avoid it from scratches.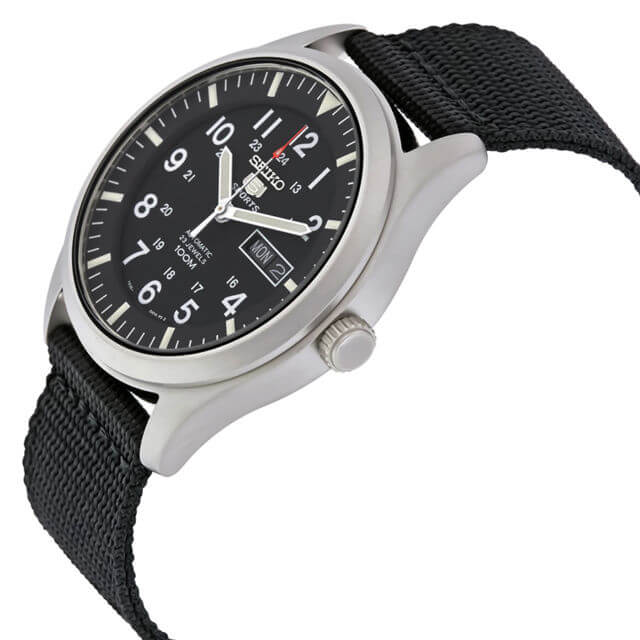 That means always putting it face up on a table, don't put it inside a pocket full of metals/coins/keys, avoid any contact with hard surfaces such as steel, concrete, rocks etc.
With good care, your mineral/hardlex crystal watches can lasts a lifetime =)
Nylon Strap and Exhibition Caseback
The SNZG15 uses a nylon strap attached to its 22 mm width lugs. Honestly, I think a leather strap will do wonders on this watch but then again, this is to be expected for a watch at this price.
If you guys want to make it more stylish, consider using different straps on it instead of sticking with the boring nylon.
Or you could also get the Seiko SNZG13 or SNZG17. Both are the same watch as this Seiko SNZG15 but with stainless steel bracelet.
The difference is the SNZG13 is silver color while the SNZG17 has black pvd case.

At the back of the watch is an exhibition caseback that is certainly welcomed on any automatic watch.
The movement is not decorated but still, it's fascinating to be able to see the internal workings of an automatic.
This is something that you won't be able to see on a quartz watch lol!
Seiko Cal. 7S36 Automatic Self-Wind Movement
Powering the SNZG15 is the Caliber 7S36 automatic self-wind movement by Seiko.
It is not to be mistaken with the 7S26 movement commonly found in the famous Seiko SKX series.
Frankly speaking, I'm not sure the difference between these 2 movements apart from their jewel count. The 7S36 has 23 jewels while the 7S26 has 21 jewels.
But specification wise, both looks almost the same with the day date wheel, 6 beats per second, non-hacking and cannot be manually wind. Even the power reserve is the same at 41 hours.
If you guys know the difference between these 2 movements, do let me know ya!
Watch the video above to see the SNZG15 up close
Various Colors To Choose From
One of the good thing about the Seiko SNZG15 is there are many different colors to choose from – though these different versions have different model no.
Seiko made at least 6 different variations of the watch. Each variation will has a complementing strap color to its dial.
Below is the list of those variations and their model no. in case you guys want to find it:
SNZG07 – Cream dial and nylon strap
SNZG09 – Dark Green dial and nylon strap
SNZG11 – Blue dial and nylon strap
SNZG13 – Black (similar dial to SNZG15) but with stainless steel bracelet and polished case (thanks to Fred for this info!)
SNZG15 – Black dial and nylon strap
SNZG17 – Black (similar to SNZG15) but with Gunmetal PVD stainless steel case and bracelet
(Click here to check out the various Seiko SNZG series on Amazon)
SNZG15 VS SNK809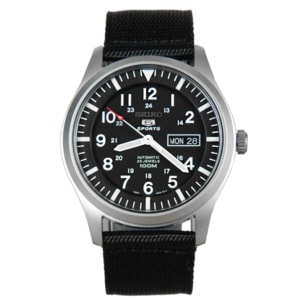 Now, onto the fun part. What's the difference between these two similar Seiko 5 watches: SNZG15 vs SNK809?
I've broken it down into a few points to better breakdown the differences of these 2 affordable automatics.
1- Watch Size
SNZG15 is the bigger watch here at 42 mm diameter compared to the 37 mm of the SNK809.
For those that want a more classic look with small watch, the SNK809 is best for them.
But if you want a more modern look or your wrist is just big, the Seiko SNZG15 is the better choice.
2- Dial Design
The Seiko SNZG15 has a military/field type of dial design while the SNK809 is more towards aviator (B-Uhr Type B) dial.
While the SNK809 markings are unique (it has minutes as the main markings), the SNZG15 dial is clearer and easier to tell time with because of the normal 1-12 hour markings.
Either way, both watches are truly made as field watches. Both can be used casually and for outdoor activities as its not too flashy with simple look.
3- Movement
The two watches have different automatic movements in them. The Seiko SNZG15 has the 7S36 with 23 jewels while the SNK809 has the 7S26 with 21 jewels.
As stated earlier, I can't find any difference in these two movements as the specifications are identical to each other.
4- Water Resistance
This is the area where the Seiko SNZG15 trumps over the SNK809. SNK809 only has 30 m water resistance but the SNZG15 has a better 100 m water resistance rating.
5- Price
The SNZG15 is almost twice the price of the SNK809 (which typically sells for around $50-$70 online).
So, does the price hike in the Seiko SNZG15 is justifiable? It's really hard to say frankly speaking.
Though the 100 m water resistance is good, but not everyone will use their watches to swim or dive.
For me, I think the deciding factor to go for the Seiko SNZG15 is because you like the military design, easy to read dial and its bigger size.
But from an automatic watch point of view, the SNK809 is the one with better value for money.
(Read my in-depth review of the Seiko SNK809 HERE for more info about the watch)
Who Is This Watch For?
The Seiko SNZG15 is for those wanting a good quality automatic watch at an affordable price.
It has a simple design and if you're looking for a beater watch to be used during gardening, carpenting, all the outdoor works – then this is the watch for you.
Being the cheaper automatic watch means you'll be able to do all sorts of stuffs without a concern about damaging that expensive watch on your wrist =)
Who Should Not Get It?
Those that want a more flashy and dressy type of watch will do well to find another watch.
Even though we can increase its style with a good looking brown leather strap, the watch face is still too simplistic and just not suitable for a dress watch.
Also, we need to remember that the 7S36 movement cannot be manual wind which will pose problem to keep the watch fully charged.
In fact, this is one of the common complains or problems faced by the Seiko SNZG15 owners that don't fully understand its specification before getting it.
Since it cannot be manually wind, the watch will only rely on you guys wearing it to charge its mainspring.
So unless you are wearing this at least every other day, then you are in for a real problem..
Seiko SNZG15 Pros and Cons
Pros
Average sized case that can fit with all wrist sizes
Easy to read dial
Simple military watch design
100 m water resistance
Self-winding automatic movement
Lume on hands and markers
Cons
Automatic movement does not has hacking and cannot be manual wind
Final Thoughts
The Seiko SNZG15 is one of the most affordable automatic watches around. And it does not look and feel cheap at all.
It has a nice simple design that's good for those wanting a beater watch for daily wear.
The automatic movement inside it is actually on par with the ones used in Seiko's diver's watches – that shows how robust the movement is.
For those wanting a good automatic watch without breaking your bank, this Seiko SNZG15 should be in your shopping list.
I hope you guys enjoy this Seiko SNZG15 review. Let me know if you guys have any comments or questions on it.
Cheers!
Isaac