In today's post, I'm going to write about Seiko 5 SNK809 review, a very affordable automatic watch with military styling which comes at a very affordable price.
It does not have the trendiest look to be honest, but it's very popular due to its simple style, versatility, low price and utilitarian look & function.
Let's get on with the Seiko SNK809 review and have a closer look at why is it one of the best affordable automatic watch around.
Update: I've recently featured the SNK809 in my list of the top 10 automatic watches under $200. You guys can check the article HERE.
Seiko 5 SNK809 Specification
Diameter: 37 mm
Thickness: 11 mm
Lug Width: 18 mm
Lug to Lug: 42 mm
Case: Gray matte stainless steel case
Strap: Black nylon strap with pin buckle
Dial: Black military style dial
Dial Window: Hardlex crystal
Markers: Numeral markers with lume pips
Hands: Arrow hands with lume
Movement: Seiko Caliber 7S26 Automatic Self-Wind Movement
Movement Features: 21 Jewels, non-hacking and non-hand winding, 21600 vibrations per hour or 6 beats per second
Power Reserve: 40 hours
Accuracy: +-15 seconds per day
Water Resistance: 30 m or 99 feet
Other Features: Date and day display, Date can either be in English or Spanish, Exhibition caseback, Lume on hands and markers
Best Place To Buy: Amazon
Best For: Anyone looking for a no frills watch for casual wear or outdoor/sports activities. Also perfect for those first getting into the automatic watch world due to its very low price.
Seiko's Version Of Military/Aviator Watch
This Seiko SNK809 watch is Seiko's version of military and aviator watch. These watches are actually the kind of watches that was mass produced during the last wars to be used during battle.
Soldiers on the front line needed a watch that is very legible with big markers and have some lume on it for low light visibility.
The watch also must be lightweight to not impede movement of the soldiers, preferably automatic movement so that it won't require any battery change and of course very tough and able to withstand harsh usage.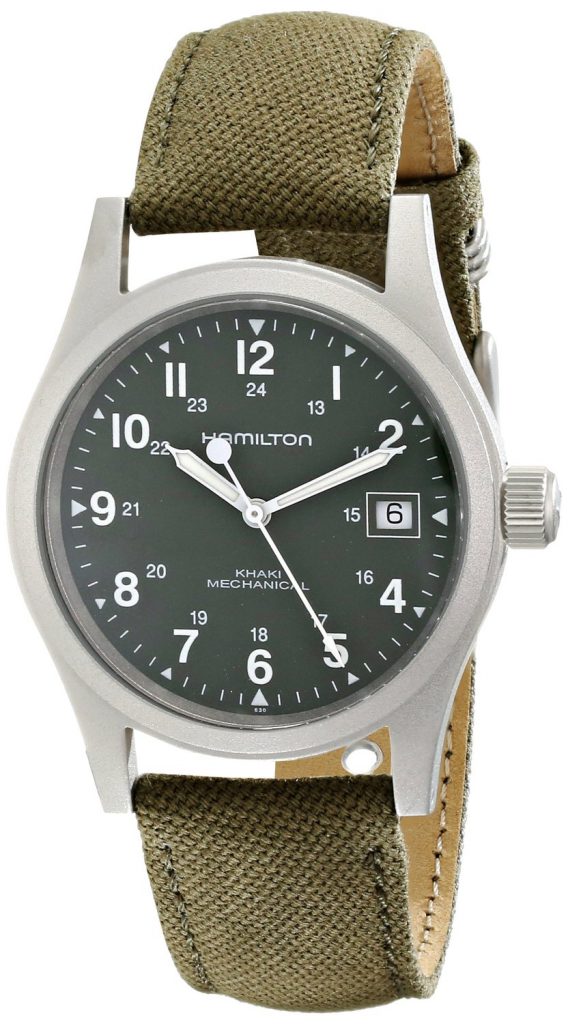 Hamilton Khaki King Officer military watch. A very similar looking watch – but costs at least 4 times the Seiko SNK809
I've reviewed some of these military watches such as the Hamilton Khaki King and Victorinox Swiss Army Infantry Vintage but it was the Hamilton Khaki King Officer that really is similar to this watch (except that it is much more expensive, about $200 on Amazon). Notice how they both look similar with the simple dial concept.
The SNK809 also has the same military/utilitarian look that prioritizes function over form. It's not the best good looking watch, but it is something that you used when you want to get things done.
The dial of this watch is black, with numeral markers (60-minutes as main markers with 12-hours as inner markers). It's easy to read with the contrasting black and white markers.
I don't really like the usage of 60-minutes as the main marker because it's not a normal watch design. It's very strange but I guess those pilots and armymen have their own reasons for that.
I would prefer a 12-hour markers as the main marker with the minutes placed at the inner dial instead. I can say this is the only thing that I don't like with the simple and fully functional dial.
There are day and date displays which are very useful in my opinion. These function is very handy especially if you are in a working environment and you need to attend meetings, write reports, etc.
To have day and date function is hugely useful and I couldn't recommend enough that all working guys should at least wear a watch with this function to your office.
There are lume pips above each markers and lume applied on the arrow hands which I don't think will lasts long (it's a really cheap automatic watch after all!). But it's always good to have it instead of nothing at all right?
The dial window is made of Hardlex crystal, Seiko's proprietary crystal which supposed to have high resistance to impact.
I thought they will use the cheap mineral crystal but no, they use their Hardlex (which is much better btw) instead.
To sum it up, the dial is not the best looking watch out there, and it's never intended to be good looking.
It's very functional with big markings (though I certainly prefer 12-hour markings as the main one), day and date windows – perfect for casual, outdoor and sporting activities.
Wearing it to work? Dress it up by strapping a leather band and you are good to go.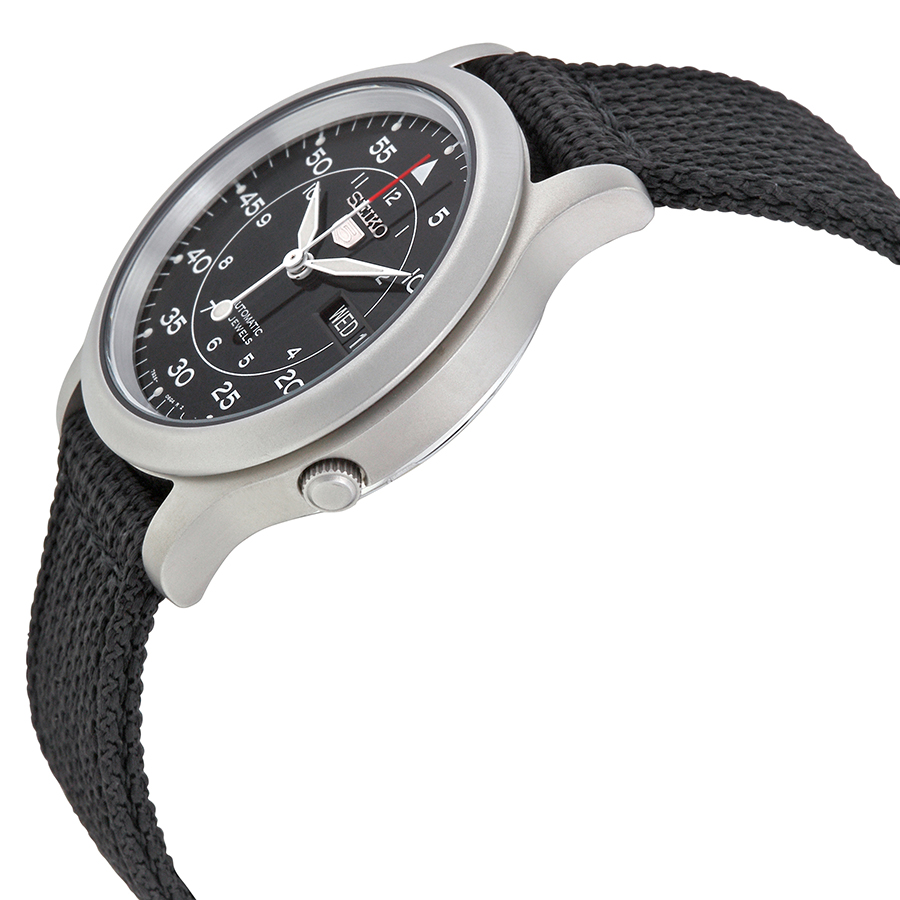 Gray Matte Stainless Steel Case
The Seiko 5 SNK809 is encased in a stainless steel case with a gray matte finish that really suits well with its military/field theme.
I definitely prefer the surface to be brushed as it will give the natural stainless steel look that feels more refined, but this matte finish looks fine too.
It's very small – at 37 mm diameter, 11 mm thick and 42 mm lug to lug – these are the kind of watch dimensions from decades ago and I have to tell you now that not all wrist can fit with this watch.
For those with big wrists, your destiny lies with other 40+ mm diameter watches instead. It also have a solid construction, which is totally needed for a military watch and perfect for extreme activities.


Seiko SNK809 on a Nato strap. It really wears small though it fits well with the wrist above. You might want to consider wearing this watch if you have a larger wrist than this. Featured above is the watch on Nato strap – it will also look gorgeous on leather band too =)
The crown is positioned at 4 o'clock, a different design than normal crowns. Seiko like to do this for many of their diver watches and truthfully, I believe crowns for watches is better positioned here.
I don't like the normal right position (3 o'clock) for a crown as it will disturb our hands when we are flexing it upwards.
The crown will just obstruct the hand's movement and trust me, it won't feel nice. The crown at 4'clock like this watch here is the best in terms of comfort though not the best looking design because it's not symmetry.
One "flaw" that I have to say about the crown is it's too small. It is much smaller than normal crown and I'm sure most guys will have trouble using it.
The watch comes with an 18 mm black nylon strap with pin buckle. One nice thing about the strap is the Seiko engraving at the buckle – it's very nice to have this small detail for a $60 watch.
Another great thing about this very affordably priced watch is the presence of open caseback. Now how is that for a watch at this price eh?
You get a fully functioning caseback that exhibits the Seiko Caliber 7S26 movement inside. I'll tell it right off the bat – the movement isn't as pretty as what you will see in Swiss watches but then to have an open caseback for a watch at this price point is just mind blowing.
The steels at the back around the open caseback is also polished, so you will see some nice transition between the top and sides that have matte finish with the polished stainless steel back. Totally a nice touch by Seiko there.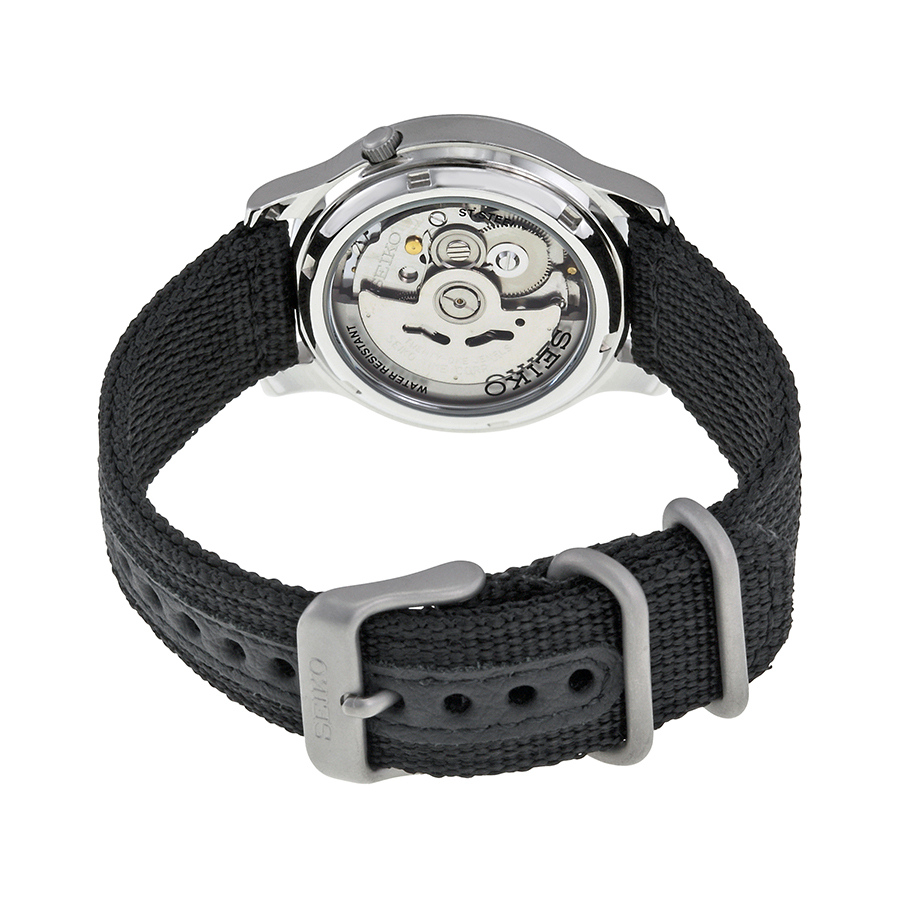 It also comes with an unimpressive 30 m water resistance. I would have liked it to be at least 100 m rated so we can use it to swim.
That way this will be the perfect watch to use – above ground and under water. But then Seiko must have their own restrictions in terms of costs while designing this watch.
A higher rated water resistance will mean more seals need to be applied with special design of the case. Just remember to take off the watch whenever you are going to swim, shower or even washing your hands.
Watch the unboxing review video above for a closer look at the Seiko SNK809
Robust Seiko Caliber 7S26 Automatic Self-Wind Movement
Inside the Seiko SNK809 is the highly robust Cal. 7S26, an inhouse automatic self-wind movement by Seiko. Thing is, this is the same movement inside many Seiko's popular diver watch (SKX007 and SKX009) which are ISO 6425 certified diver watch.
Now that should be something right? If it's good enough to be used for a diver watch that can sustain that harsh use and high water pressure up to 200 m, this definitely means it is a very robust movement.
The movement has 21 jewels, with 6 beats per second (meaning you can see the sweeping seconds hand is actually ticking 6 times in a second).
It's inferior to Swiss movement that typically has 8 beats per second (and much smoother sweeping seconds hand) but the lower beat rate means lower mileage of the watch over time, and longer movement life without needing of service.
And that's a true fact. Many SKX007 that was bought 20 years ago are still running fine until today.
Apart from that, it also has 40 hours power reserve and a modes +-15 seconds per day accuracy. A huge disadvantage with the movement is it's non-hacking and non-hand winding.
The non-hacking part is not so important. It's just to stop the seconds hand when setting the time for accuracy. But the non-hand winding means you cannot hand wind the watch by rotating the crown.
The only way to recharge the watch (or mainspring to be accurate) is by wearing it. As mentioned in my post about why to wind automatic watch, I prefer to keep my watches running all the time for convenience purposes.
But don't let my opinion sway yours on this watch though. It's still a great movement with long history of usage in the harshest environment and should serves you well.
Where To Buy Seiko 5 SNK809?
This watch is currently retails at an MSRP of $150 but you can get it way cheaper at Amazon. Click the link below to check out the best deals on Amazon.
->Click Here To View The Best Prices For Seiko 5 SNK809 On Amazon<-
Final Verdict
Seiko SNK809
is definitely a worthy military/field watch to have a look at. It's very cheap, with all the right designs. It's also quite small, so for those with large wrist it might not wear well on you.
Simple dial design for easy time reading with impact resistance hardlex crystal is a bonus. Not to mention the robust and reliable 7S26 automatic movement – the same movement in many Seiko's affordable diver.
It's best for those looking for a tool watch and don't mind the plain and simple look. It's also a very good watch for those starting into the automatic watch world due to it's very cheap price.
*********
I hope you guys enjoy this Seiko SNK809 review. If you have any questions drop it below. If you own this watch, please share your experiences with it. Thanks for reading and have a good day.
Cheers!
Isaac