In this post, I'm going to write about Invicta Grand Diver review, specifically the two-tone version with reference number 3049.
The Grand Diver is part of the family of Invicta's diver's watch. I'm pretty sure most of you already know about the Submariner-like 8928/8926 diver's watches right?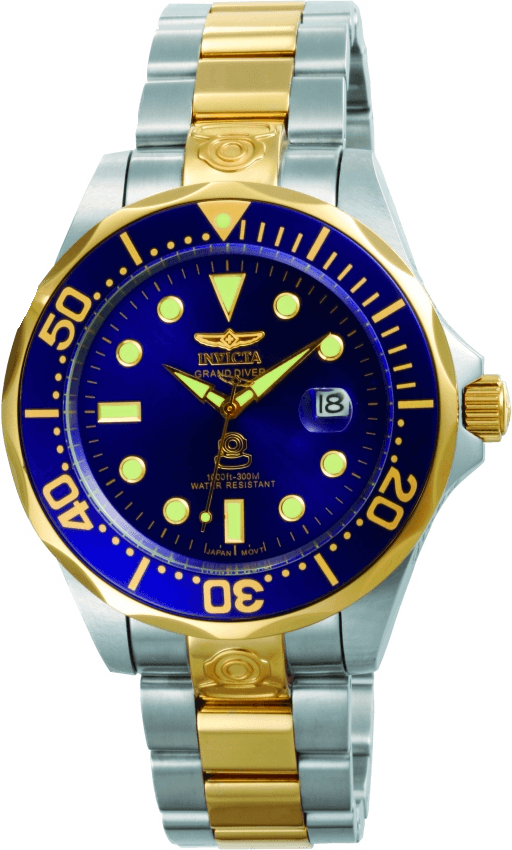 Those are inside the Pro Diver lineup and in fact, I've featured both of them in my list of the best automatic watches under $200 (which you can read HERE).
The watches just have so much value for money, especially if you love that Rolex Submariner look but won't or can't afford to pay thousands of dollars on a watch.
So what's the difference between the Grand Diver and the Pro Diver?
For a start, the Grand Diver is bigger at 47 mm diameter vs the Pro Diver's 40 mm. There are also other differences which I'll elaborate more later on.
Now, let's check out the Invicta Grand Diver 3049 review shall we.
Invicta Grand Diver 3049 Specification
Diameter
47 mm
Thickness
17 mm
Lug Width
22 mm
Case
Two-tone (blue and gold) stainless steel case
Strap
Stainless steel bracelet with double lock clasp
Watch Crystal
Mineral crystal
Dial
Blue dial with gold accent
Hands
Triangle hands with gold outline
Markers
Index markers
Style
Diver
Movement
Seiko NH35A Automatic Self Winding Movement
Movement Features
21 Jewels, 6 beats per second, Hacking and manual winding
Accuracy
+-25 seconds per day
Power Reserve
36 hours
NH35A User Manual
Click HERE for the user manual of the NH35A movement
Water Resistance
300 m
Other Features
Exhibition caseback, Lume on hands and markers, Cyclops on date window, Unidirectional rotating diver bezel, Screw down crown
Best Place To Buy
Amazon, MSRP is $595
Beautiful Blue Dial With Gold Accent
The dial of the Invicta Grand Diver 3049 is blue in color, with gold accents that's just very nice to look at.
The dial is unmistakably diver's watch style with index markers and hands filled with lume.
At the top, we can see the signatures "Invicta" and "Grand Diver" below Invicta's logo in gold.
The bottom part of the dial has the water resistant marking (300 m) and the diver suit logo which looks nice and unique, to be honest.
The right side of the dial has the date display with cyclops, which everyone knows was taken from Submariner design.
Uniquely Invicta, Less Of Submariner
What's surprising about the dial of the Invicta Grand Diver 3049 is how Invicta added their own styling to the watch.
If you look at their Pro Diver watches, such as the popular 8928 and 8926, they really look a lot like Rolex Submariner – even to the details such as mercedes hands, dial placement, font etc.
The Grand Diver watch, on the other hand, is designed to be a different watch or should I say Invicta's own design.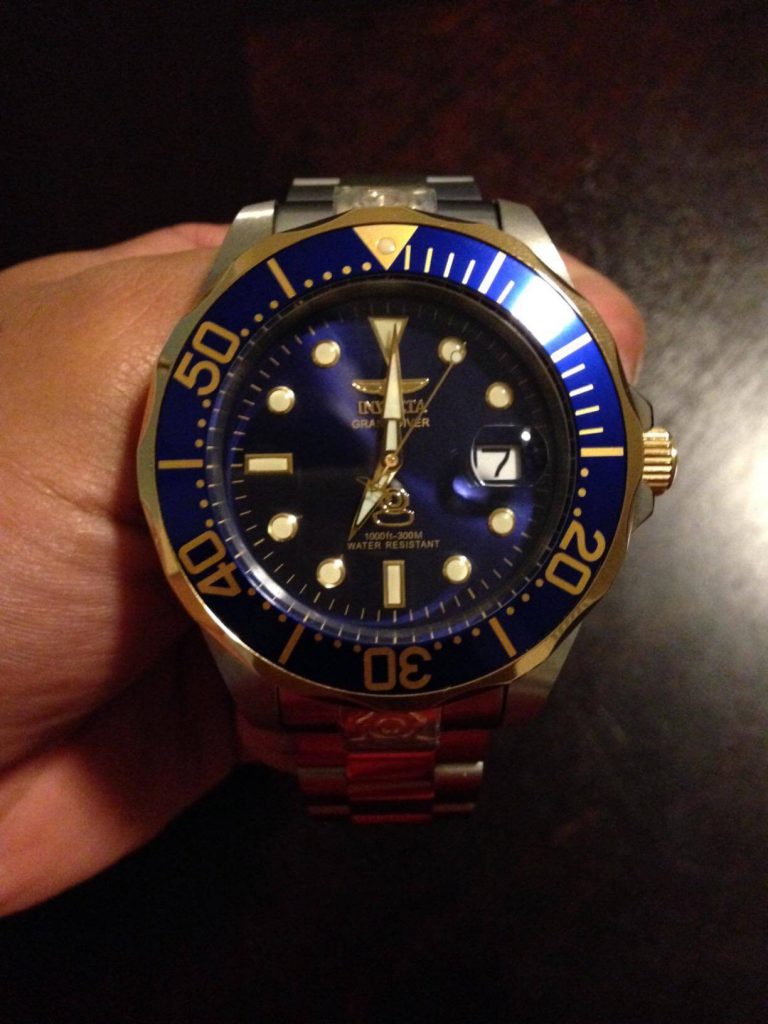 They only retained some of the elements of the Submariner such as the overall look, cyclops and bezel design.
But details such as the hands and dial signatures are undoubtedly Invicta's.
With this small but important changes, the Grand Diver is not just a Submariner copy-cat anymore but a watch on its own – which is very important for some watch enthusiasts =)
A Huge 47 mm Case
One of the "biggest" trait (pun intended) of the Invicta Grand Diver 3049 is how big the watch is – it's close to 47 mm diameter! And with a thickness of 17 mm (it has a very domed caseback btw), this is one very big watch.
For some, bigger watch is better since the added heft makes it feel to be of higher quality and more sturdy.
Actually that's not really true as there are many diver's watches out there that's smaller than 40 mm (especially the older generations of watches) and yet can withstand lots of punishment.
Some also loves the feel of a big and heavy watch as it feels cool and what's better than the feel of having a huge mass of steel on your wrist?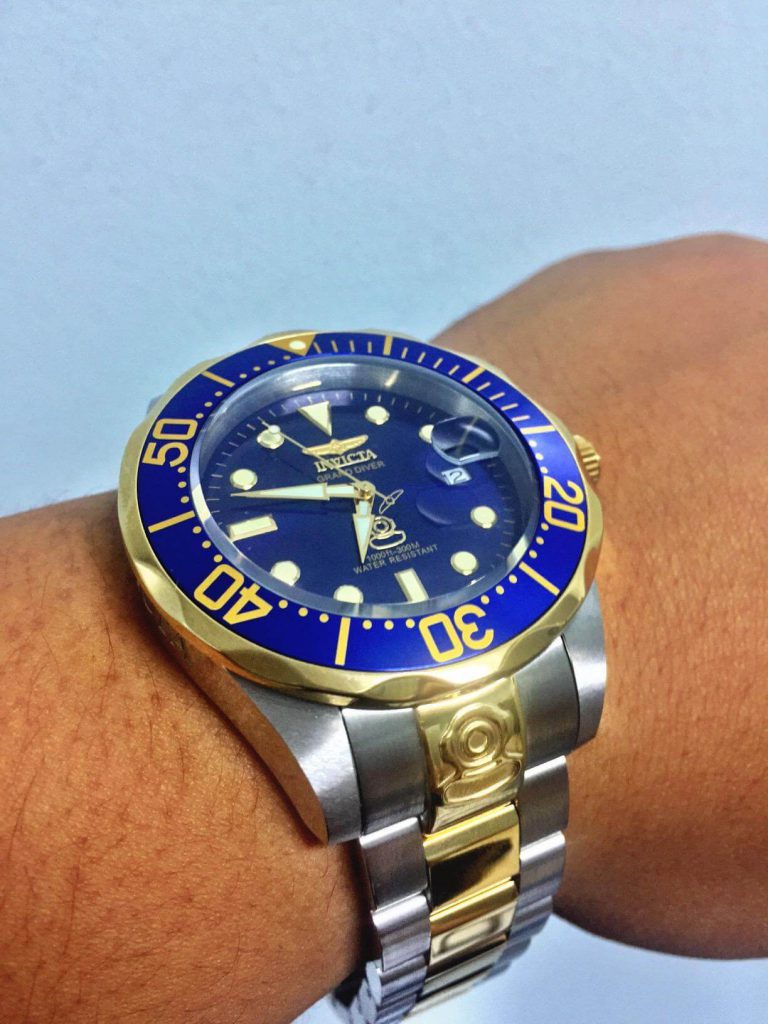 The Invicta Grand Diver 3049 is a huge watch that's only suited for bigger wrists
It's indeed a satisfying feeling – only if your wrist is big (and strong) enough to wield this huge 47 mm watch.
To accompany this huge watch, the stainless steel bracelet has 22 mm width with the higher quality solid end links instead of the hollow links in the Pro Diver watches.
The claps is double locked with plate steel connectors giving that premium feeling as compared to thin sheet connectors.
Invicta also brilliantly designed the lugs to be heavily curving down so that its bracelet or strap will conform nicely to the wearer's wrist. To some extent, this makes the watch easier to be worn by smaller wrists.
But still, I'd recommend for you to measure your wrist first before attempting to buy the Grand Diver 3049. It won't look nice if you're wearing a watch a few sizes too big for you LOL!
Gold Plated Case And Bracelet
The Invicta Grand Diver 3049 has a gold plated case and bezel to achieve that coveted two-tone style with its blue dial.
Without a doubt, this is a watch to get if you want it to be noticeable by people.
It's such a head turner! The gold plated is strategically placed at the middle links of the bracelet, edge of the bezel and the screw down crown.

Just like its dial, Invicta tried very hard to make sure the case is far from being a Submariner knock off.
There are diving suit logo engraved at the end links of the bracelets as well as the top of the crown.
"Invicta" and "Grand Diver" signatures are featured at the sides of the case, left and right sides respectively.
For some, this added elements might seem tacky but I quite like it because it's something that no one has ever done before.
It might deter those that want to buy it and pose the watch as a Submariner but that's the whole purpose of it – Invicta don't want this watch to be another Submariner look alike.
They want the watch to be their own, which is a good effort by the company.

Mineral Crystal And Scallop Bezel
On top of the watch is a mineral crystal which is nothing fancy to write about. It gets the job done, which is to avoid any damage to the internal of the watch as well as keep water away from the insides.
But I need to warn you that mineral crystal is far from being a scratch resistant material.
It can and will easily get scratches, though we can always try to avoid the deep ones from happening.
For that we will need to take care of the watch as good as we can e.g don't throw your watch into a pocket full of coins or keys, don't slam it into a wall or pavement, and others.
While deep scratches can be avoided, I found it hard to keep the crystal free from hairline scratches.
There will always be one of those no matter how careful you are LOL!
(Read my introduction to watch crystals HERE to find out more about them)
Around the crystal is also the unidirectional rotating diver bezel that has a blue fill with gold markings and edge. Unidirectional means the bezel can only rotate counter-clockwise.
This is one of the pre-requisite of any diver's watch as the bezel will be used to time diving duration.
It's quite lengthy to describe so I'll just post a link to my previous post below for those that want to learn more about how to use diver's bezel.
(Click HERE for my guide on how to use diver's bezel)
What I want to focus here is how the edge of the bezel has that "scallop" pattern usually associated with Omega Seamaster watches. Normal diver's watches have the Submariner-like coin edge bezels.
I like how these scallop edges look as it's more subtle and sublime but then it's not the best in terms of using the bezel.
You see, the bezel for watches are not easy to be rotated. It has to be sturdy not to be rotated by accident.
Thus, we need a good grip on it to be able to rotate it easily, which the scallop bezel is lacking. The coin edge is easier to operate as we can grip it better even with wet hands.
The scallop edge, on the other hand, can be a challenge to rotate if your hand is wet, and for a diver's watch that's not really a good fit don't you think?
By the way, Invicta also produces their watch with coin edge with the extension OB (for Old Bezel) on the watch's serial number.
So if you are thinking of using the bezel for diving, it's definitely a better choice.
Watch the video above to see the Invicta Grand Diver 3049 up close
Seiko NH35A Automatic Movement
One of the similarities of the Invicta Grand Diver 3049 and the Pro Diver watches is the use of Seiko's Cal. NH35A automatic self-winding movement.
This is a lower grade movement by the Japanese watchmaker with 21 jewels and beats 6 times per second (means the second hand will tick 6 times in a second for the fluid sweeping action).
But what's nice about this movement is it can be hacked (the second hand will stop when setting the time) and can be manual wind – both features prevalent in modern automatic movements.
While I don't think the hacking is that much of importance, the manual winding feature is a big deal to me.

There's an exhibition caseback at the backside of the watch so that its owners can peek into the automatic movement inside it
What it'll do is instead of relying completely on wearing the watch to recharge its 36 hours power reserve, we can just rotate its crown to charge it.
As someone that is lucky to be in a possession of many automatic watches, you can't believe how convenient this is.
With this feature, I can keep my watches running even though I'm not using them for 2 or 3 days.
That way, I can just take it off the shelves when it's their turn to be worn without needing to have to start it from dead and reset the time, date and day again. Manual winidng is truly a convenient thing to have.
(Click HERE to download the user manual of the NH35A automatic movement for info on time setting instructions, etc.)
Many Variations Of The Invicta Grand Diver
So you don't like the gold and blue version? Well, you're in for a luck as Invicta also produces quite a number of variations for this watch.
As far as I know, there are 4 other versions that might appeal to you (do let me know if there are others that I missed)
Above: Invicta Grand Diver 3044 – The traditional black and silver/white diver's watch
Above: Invicta Grand Diver 3045 – Fancy a blue diver's watch?
Above: Invicta Grand Diver 3046 – The more unique white dial with blue bezel
Above: Invicta Grand Diver 3047 – Black dial with green bezel
Invicta Pro Diver vs. Grand Diver
One thing that most people always confuse at is the difference between Invicta Grand Diver and Pro Diver watches.
Above is the Invicta Grand Diver 3049
And above picture is the Invicta Pro Diver 8928. Can you spot the differences?
In summary, below is the list of what's the difference between these two watches:
The Grand Diver is bigger at 47 mm vs. 40 mm diameter
Grand Diver retails for a higher price
With its larger size, the Grand Diver is more suited towards casual use. The Pro Diver is more sublime and can be used in a professional setting
The Grand Diver has higher water resistance at 300 m vs. the 200 m that the Pro Diver has
Solid end links on the Grand Diver bracelet is better than the hollow links of the Pro Diver. Hollow links has that annoyingly faint metal touching sound….
While the Pro Diver is almost an exact copy of Rolex Submariner, the Grand Diver has its own design details (diving suit logo, signature design, hands, etc) which makes it a watch on its own.
Above video shows the size comparison between the pro diver and the grand diver watch series
Who Is This Invicta Grand Diver 3049 For?
Without a doubt, the Grand Diver 3049 is an upgraded version of the Pro Diver. 300 m water resistance, solid end links with Invicta's own styling on the watch – all of these are something that the Pro Diver lacks.
It has the timeless styling of Rolex Submariner, while also being a watch on its own.
So if you're looking for something extra from the Pro Diver but don't want to spend top dollars, then this is the watch for you.
Furthermore, the oversized 47 mm diameter with the huge mass would also appeal to those looking for a true manly diver's watch.
If you think you have what it takes to pull this huge watch off nicely, then please do so =)
Who Should Not Get It?
Likewise, anyone with a smaller or more normal wrist size should refrain from buying it.
It does look very handsome but there's nothing more off-putting than a too big of a watch on a small wrist. Tread carefully guys…
(also, check out my list of the best diver's watch under $500 for other alternatives to the Grand Diver)
Invicta Grand Diver 3049 Pros and Cons
Pros:
Big 47 mm diameter case for superb wrist presence
300 m water resistance with screw down crown
Exhibition caseback showing its automatic movement
NH35A automatic movement is equipped with hacking and manual winding features
Handsome two-tone style on timeless Submariner diver's watch design
Cons:
Oversized case is too big for smaller wrists
Mineral crystal is not a scratch resistant material
Like The Invicta Grand Diver 3049? Buy It Cheapest On Amazon!
On Invicta's website, the 3049 is listed for a staggering $595! It's not a bad watch but everyone will agree that's an insane price for an Invicta, considering you can get a true Swiss automatic watch with that kind of money.
Consider shopping online as the price of the Grand Diver can drop up to 80% from the MSRP.
I'd suggest for you to check out Amazon as it always has the best deals on Invicta watches with great return policy.
Final Thoughts
The Invicta Grand Diver 3049 is a good value for money diver's watch. It's widely considered as an upgrade over the Pro Diver watches due to increased water resistance rating and build quality.
It's two-tone style and over-sized case caused it to have such a huge wrist presence that grabs everyone's attention.
Not only that, it also was instilled with Invicta's own styling and is no longer the Rolex Submariner copy-cat the Pro Diver is often associated with.
If you're looking for a good diver's watch that gives you the best bang for your buck, the Grand Diver 3049 is really worth considering.
I hope you enjoy this Invicta Grand Diver 3049 review. Do let me know any questions or comments that you have on the watch.
I'd love to hear what you think about it =)
Cheers!
Isaac.