Hi guys! Today I'm writing about the Bulova Accutron II review, specifically the 96A155 Alpha model.
It's actually as a homage to the famous 1960s Bulova Accutron Spaceview watches that featured an open dial showing its tuning fork movement.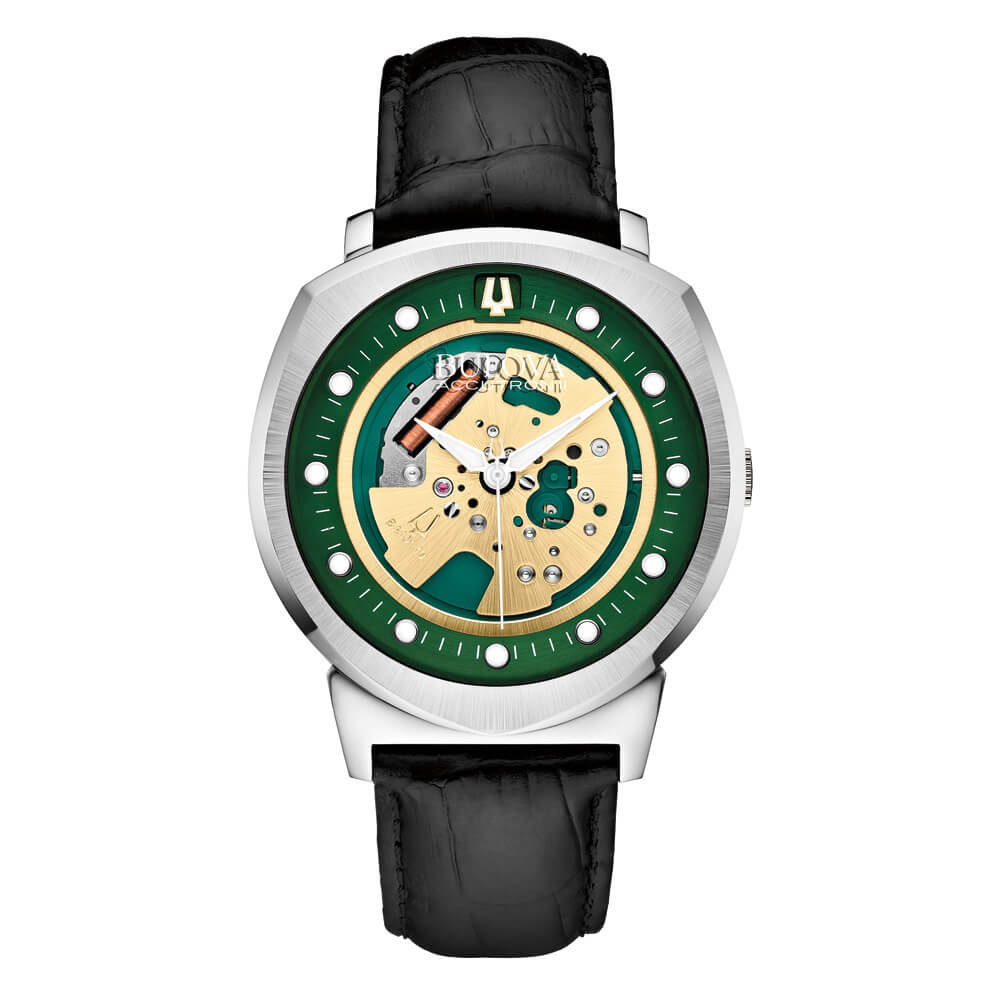 Bulova Accutron – The First Electronic Watch
During the 1960s, automatic and mechanical watches are the only option. It's a great little timepiece but with one (major) flaw: it's not keeping time accurately.
The most accurate automatic watch, the chronometers, can be too expensive for most people.
Soon enough, watchmakers and engineers tried to create a new type of movement that has a better accuracy.
The quartz movement was the answer to this, but before that, the tuning fork movement, the accutron, by Bulova emerged first.
The accutron movement uses electromagnetic to create vibration in the tuning fork. This vibration is the source of the timekeeping, like how the vibration of quartz crystal to a quartz watch works.
The result is a more accurate watch than an automatic (at about 1 minute or 60 seconds per month).
Another unique feature of it? It's totally fluid sweeping second hand movement that bested even the highest beat automatic watch.
Only the spring drive movement by Seiko, produced some 40 years after that, beat the accutron in the fluidity of sweeping second hand.
The movement also produced a distinctive humming sound due to the vibration of the fork.
Since the accutron used an integrated circuit to run its timekeeping, it's considered as the first electronic watch in the world.
The development of the accutron marked the beginning of modern watchmaking history and is a crucial turning point in horological world.
This newer Accutron II does not use this tuning fork movement but insted uses Bulova's Precisionist movement which is based on quartz.
But of course, it's not a normal quartz – it's a high frequency quartz with very fluid sweeping second hand.
It's definitely gorgeous and a homage to the original accutron movement.
Bulova did released a re-issue of the Accutron Spaceview with the tuning fork movement in 2010 to commemorate its 50 years anniversary.

The Bulova Accutron Spaceview watch reissued in 2010 can costs up to $5,000!
It's not sold officially now but you guys can check out eBay for re-sellers of the watch.
But be warned the new reissued watch can costs about $4,000 to $5,000 due to them needing to reverse engineer and research how to make the tuning fork movement again.
At that high price, I think a vintage Spaceview (easily around $300-$400) is a much better deal LOL!
The Original 1960s Accutron Spaceview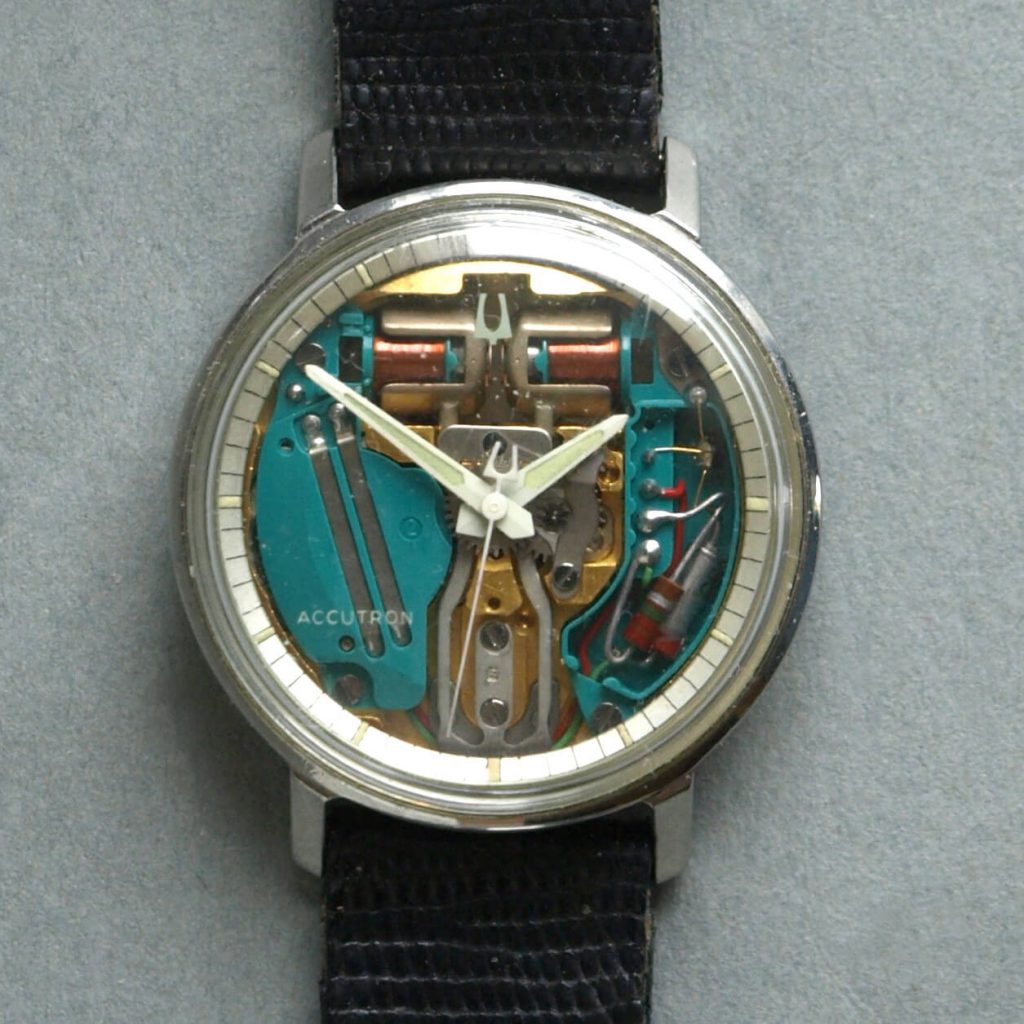 1960 Bulova Accutron Spaceview
If you notice, the Accutron II also borrows some design cue from the Accutron Spaceview released in the 1960s with the open dial.
The Spaceview is legendary in its own right due to its futuristic look that shows the tuning fork, wire coil, capacitors and wires making it look very cool.
It's also quite artistic in the way Bulova arranged the movement to make sure it's still presentable and likeable.
On the other hand, the newer Accutron II, although looks similar from the first look, it's nowhere near the wonderful spaceview.
The dial is semi-open and only shows it wire coil at the top. Well, can't blame them as the internal workings of a quartz watch is not very presentable and neat to look at.
But the intention to create a homage is clearly seen from the design.
That's it about the introduction to Bulova Accutron. Let's check out the detail review of the Accutron II shall we!
Bulova Accutron II 96A155 "Alpha" Specification
Diameter: 42 mm
Thickness: 12 mm
Lug Width: 20 mm
Case: Stainless steel
Strap: Black leather strap
Watch Crystal: Mineral crystal
Dial: Semi-open aperture dial with green and gold background
Hands: Dauphine hands
Markers: Circular index markers
Style: Casual
Movement: Bulova Ultra High Frequency (UHF) Quartz movement BA101.10 with 262 kHz frequency
Battery: 2-3 years
Accuracy: +-10 seconds per year
Water Resistance: 30 m
Other Features: Sweeping second hand @ 16 beats per second
Best Place To Buy: Amazon
Spaceview Inspired Dial
As mentioned earlier, the dial of this Bulova Accutron II Alpha is taken from Bulova's Spaceview model, popular in the 60s.
While the Spaceview has a full open dial showing its tuning fork movement, the newer Accutron II watch only has a semi-open aperture showing its wire coil at the left side of the watch.
This is due to the quartz movement that I believe is not really that great to look at, so Bulova chose to cover the movement with a dial.

The dial is gold in color at the center and has two shades of green around it and was designed as such to capture the iconic look of the original spaceview.
The dial features dauphine shaped hands with circular index markers. The top marker at 12 o'clock uses the beautiful Bulova tuning fork logo that I really like.
The second hand's tail tip also uses this logo. There is also a signature "Bulova Accutron II" printed direcly on the watch crystal.
On the gold portion of the dial, we can see a tuning fork logo at the lower left side with the engraving "BA101.10" which is the model no. for the quartz Ultra High Frequency (UHF) movement that this watch has (more on that later on).
Even though the dial is an "imitation" of the original spaceview, I feel that it's still a good looking dial.
The open dial serves no purpose as we can't see anything on the movement (save for the coil) but the way Bulova designed it makes it looks great.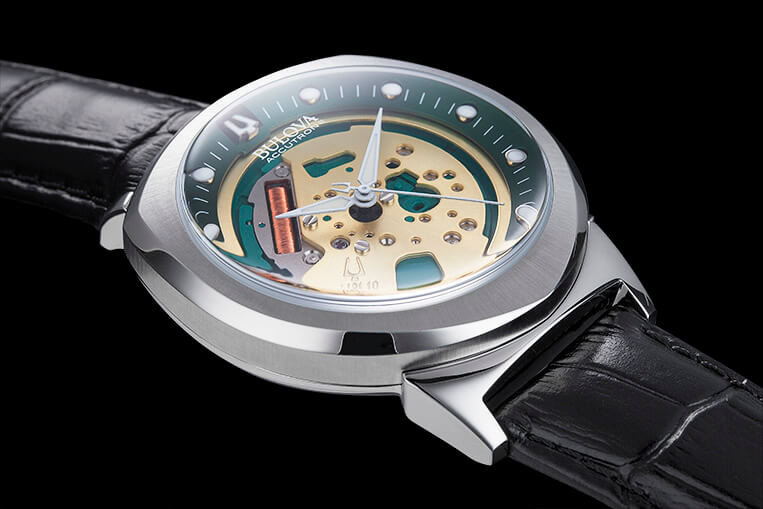 The various circles at the center of the dial serves no purpose but is a nice little touch on a dial that's very unique and different than any modern watches out there.
Unique Shield-Shaped Case
Accompanying the unique dial is a unique case with a shield shape that's remisniscent of the original accutron spaceview.
The case of this Bulova Accutron II is a good 42 mm diameter with 12 mm thickness. With this moderate sizing, almost all wrist sizes can pull this one off perfectly.
This is unlike the Bulova Precisionist that's very huge and only bigger wrists can wear it without looking awkward. The case is made from stainless steel and made impeccably well.
You can see how the case is designed to have that many surfaces with different finishes (which actually reminds me of the Seiko SARB033 btw).
The detail that has been put into the making of the case shows that Bulova is serious in this watch.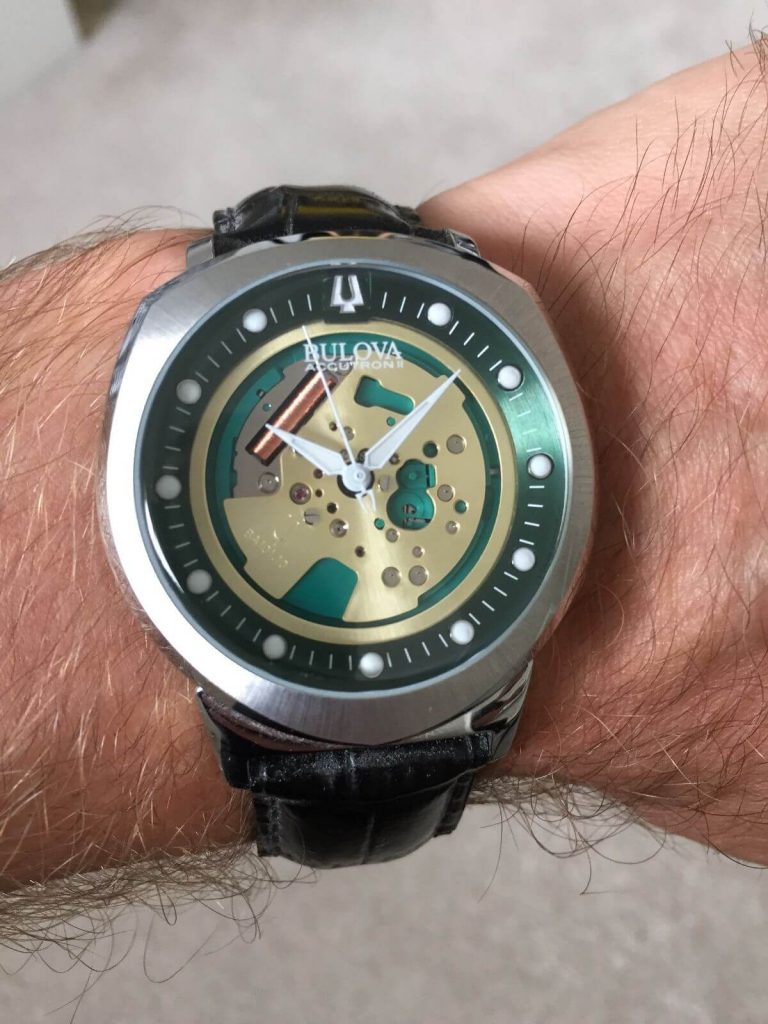 The shield case of the Bulova Accutron II is not so pronounced, but is a nice touch and something that is hard to find nowadays
Well, the Accutron name is legendary to the company after all, so this much of effort is understandable.
On top of the case is a mineral crystal watch that's quite a let down, in my opinion.
Mineral crystal is good and can get the job done i.e protect the inner watch from dust, accidental impact and most importantly water.
But it's not a scratch resistant material, despite all those badly written description on online stores.
Only sapphire crystal is fully scratch resistant and all the other crystals are susceptible to scratches.
Thus, the only way to ensure your new watch look pristine for years is to take good care of it and avoid scratching the crystal with any hard surfaces (steel, concrete, etc.).
Hairline scratches will always be there no matter how well you take care of it, but at least there is no deep scratches.
Another interesting design on this watch is the recessed signed crown that's hidden when you look at the watch from the top.
It's actually at the right side of the watch and Bulova has made it very well hidden. The crown is a nod to the original accutron that had a hidden crown located on its caseback.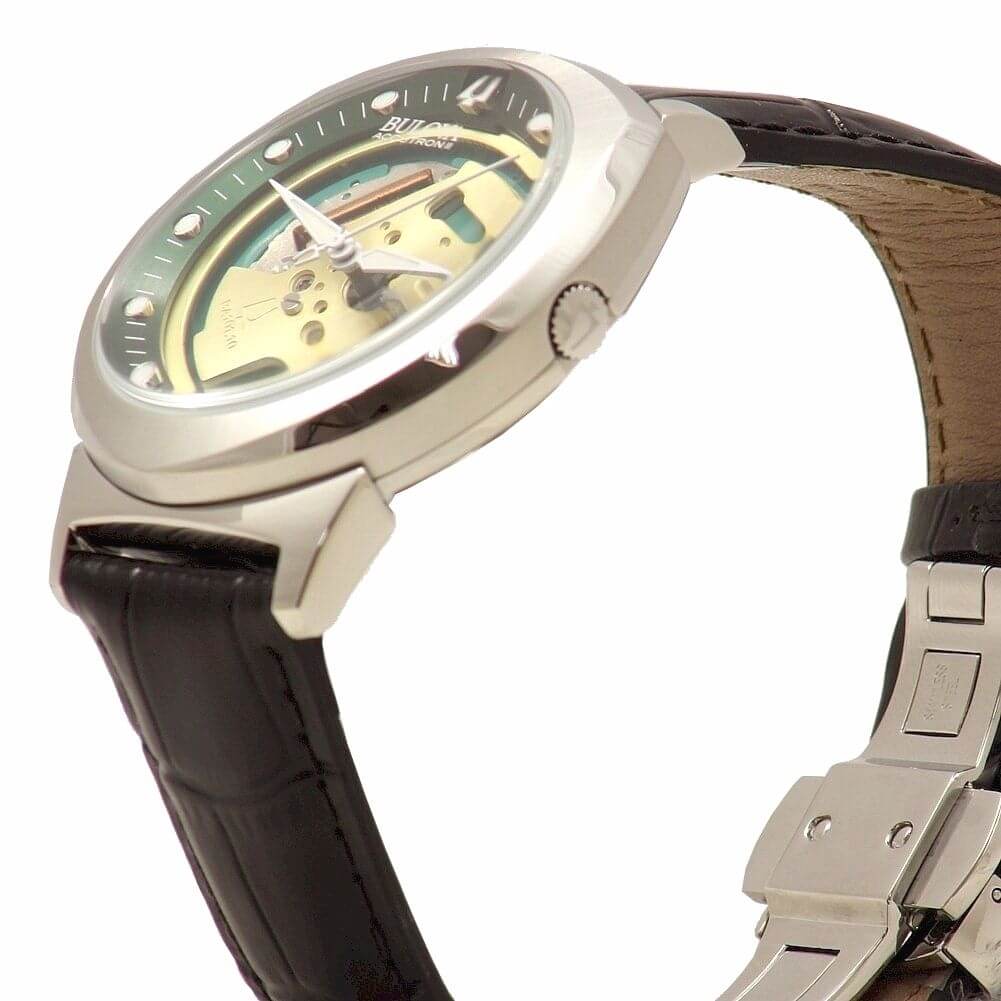 The crown of the Bulova Accutron II is sublimely hidden inside the case – simply because there's no need to use the crown regularly!
It's been said that Bulova chose to hide the crown in the original accutron because it's tuning fork movement is more accurate than an automatic watch and does not need to be reset regularly.
A nice marketing ploy if you ask me, but there's truth in there. And with the UHF movement inside this Bulova Accutron II that has +-10 seconds per year accuracy, there is definitely no need to even touch the crown for years!
Bulova's Ultra High Frequency Quartz Movement
The main attraction of the Bulova Accutron II watch (apart from its look, of course) is the Ultra High Frequency (UHF) quartz movement inside it.
The Cal. BA101.10 by Bulova runs at 262kHz frequency, which is about 8 times more than the normal 32kHz frequency of normal quartz watch.
This movement is the stripped down version of the Precisionist movement found in Bulova Precisionist just so that it can fit into the more normal size of this watch.
What's so good about this UHF movement?
For a start, it is widely known that the way to increase accuracy in any watch (be it automatic or quartz) is to increase the frequency of the vibrating timekeeping element.
By doing that, the deviation of error is significantly reduced and we will get a more accurate watch. This UHF movement also uses a three prong quartz that's revolutionary in a way.
The new design enables the high frequency vibration of the quartz crystal without taking a toll on its battery life.
As a result, the UHF has a great +-10 seconds per year accuracy, way above the +-15 seconds per month accuracy on normal quartz watch.
Furthermore, the movement is also able to sweep its second hand instead of the normal one-second ticks on other quartz watches.
Bulova miraculously achieved this feat by an ingenious movement design. Normal quartz watches restrict its second hand to one tick per second in order to lengthen its battery life.
On the other hand, this Bulova Accutron II sweeps its second hand 16 times in a second, accomplishing a very fluid action that can rival even the highest beat automatic watch.
In a way, this is the company's way of paying tribute to its legendary tuning fork movement that also has sweeping second hand.
Watch the video above to see how fluid the sweeping second hand on this Bulova Accutron II
As comparison, normal automatic watch has 6 beats (low to middle range Seiko and Orient) and 8 beats (most Swiss and western watches) per second.
10 beats per second is already classified as hi-beat autos and costs thousands of dollars.
As you can imagine, a 16 beats per second automatic watch will has an astronomical price tag (in fact, this Chopard L.U.C 8HF Power Control watch with 16 beats retail at a staggering $18,870!)
Even though this UHF movement is not as novel or unique as their tuning fork movement, it's a great accomplishment in the world of watches.
For once, there is a mass produced watch that can keep up with atomic clock in terms of accuracy. All the other high precision quartz watches are always out of reach for normal folks.
We have Bulova to thank for this amazing piece of timekeeping at an affordable price.
Who Is The Bulova Accutron II Alpha For?
The Bulova Accutron II is the best for those that want an updated timepiece of the original Accutron watch.
Sure, it does not have the unique tuning fork movement, but its great design and aesthethic covers for that nicely.


In addition, the UHF movement, though is a quartz, has a sweeping second hand that's a great tribute to the original watch.
If you're one who dislike inaccurate watch, then this watch is just perfect for you. Its movement has an accuracy of +- 10 seconds per year, something that no normal quartz can achieve.
Who Should Not Get It?
Despite its unique and cool look, the Bulova Accutron II is a casual watch that's not meant for formal events.
For that, you'll need a dress watch (such as this amazing Seiko SARB033) to go with that tux. I just can't imagine how that green and gold dial can ever be used in a formal event LOL!
Also, even though the movement is rugged and reliable (as with most quartz watches), it's not a suitable one for outdoor activities.
The mineral crystal can scratch easily, and it's just too flashy to bring into the woods. It's low water resistance of 30 m does not instill confidence to use it for swimming.
Diving is definitely out of its scope. For outdoor activities, I'd recommend a good field watch such as this Seiko SNK809 that's very affordable (so that if you break it, you can always buy another one LOL!). For water activities, a diver's watch such as the classic SKX007 is a nice candidate.
(Click HERE to read my list of the best automatic diver's watch under $500)
Bulova Accutron II Pros and Cons
Pros:
Magnificent sweeping second hand
The iconic Accutron Spaceview watch design in a contemporary package
Ultra High Frequency quartz movement gives a very accurate timekeeping – you don't need to reset the watch in a few years
High quality craftsmanship with beautiful case fit and finish
Cons:
Mineral crystal is not scratch resistant
Quite low water resistance with 30 m only
Like The Bulova Accutron II Alpha? Buy It Cheapest On Amazon!
If you like the Bulova Accutron II Alpha, get it cheapest on Amazon! Click the link below to check out the watch.
->Click Here To Check Out The Bulova Accutron II 96A155 Alpha on Amazon<-
Final Thoughts
The Bulova Accutron II Alpha is really a solid watch with deep history behind it. It's design is a homage to the legendary Accutron Spaceview watch in the 60s, with some changes that make it a watch on its own.
Its Ultra High Frequency quartz movement is one of its kind, delivering high precision timekeeping that's usually associated with more expensive watches.
Lastly, the magnificent sweeping second hand is so good to look at. At 16 beats per second, the sweeping action is even more fluid than most automatic watches in existence.
The Bulova Accutron II Alpha is indeed a truly cool watch that any Bulova collector should get.
*********
What do you guys think about this Bulova Accutron II review? Do you guys like it and want it for your collection?
Let me know what you think in the comments section below =)
Till next time. Cheers!
Isaac