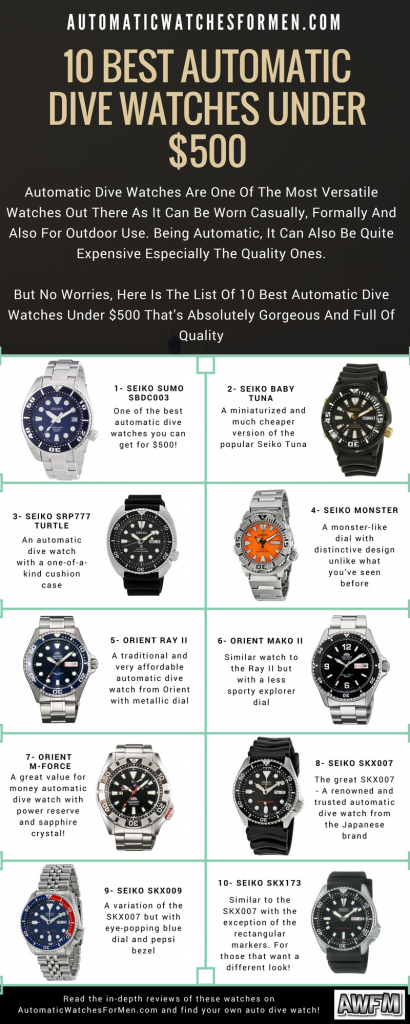 Hi guys! Today, I'm going to cover the 10 Best Automatic Dive Watches under $500 that I've reviewed so far. Dive watches are by far, the most versatile type of watch that men can buy.
It's rugged and masculine for outdoor or diving use, while at the same time can still look dressy for office, casual and even black tie events. A simple strap change is what it's needed to do this. Which is why in my opinion, if I have limited money to buy only ONE watch, I'll get one of these dive watches.
How about automatic watches? Sure, it's more expensive than quartz but the beauty of automatic watches lie in the fact that it's more refined and has the actual moving mechanical part, devoid of any electronic stuffs around us (Read: boring!).
Not to mention automatic watches have that characteristic sweeping second hand and does not need a battery!
Not All Automatic Dive Watches Are Expensive!
But people has this misconception that automatic dive watches are very expensive. Sure, those Omega Seamaster and Rolex Submariner is darn expensive, but some brands do produce cheap automatic dive watches (hint:Japan).
And that's the whole reason why I'm writing this – To show people that automatic dive watches can actually be had for less than 500 bucks.
It's still quite a substantial money to pay for a watch but in return, we are getting a unique timepiece that's full of character unlike those billions quartz watches out there.
And being a quality dive watch, we are fully confident that these watches will be robust, versatile enough to be used everywhere and looks great on our wrist.
I've worn my Sumo for lots of things (swimming, gym, jogging, labor work) and never once it failed me. That's only possible since it's a dive watch – I'd never do such things with a dressy watch lol!
Without further ado, let's find out the my list of the 10 Best Automatic Dive Watches Under $500.
(Click HERE to read my list on the best affordable automatic watches under $200)
The best automatic diver watch to get (if you don't mind to spend $500) is the Seiko Sumo. The 44mm diameter watch is just fantastic to look and to wear. What's making it more special is the fact that I've own this watch for 3 years and love it (a bit of bias there lol!).
The Seiko Sumo is a stainless steel watch with high quality craftsmanship. It has a unique extended case that covers the unidirectional rotating bezel at its sides which is totally out of the normal submariner-like design of dive watches out there. The curved lug design also make it comfortable to wear.
Specification wise, it's the best $500 that you can spend if you want to buy a quality automatic and dive watch. The watch runs on Seiko's 6R15 automatic movement, their workhorse movement which is quite accurate for a non-chronometer automatic. In addition, the movement is robust and has a good 50 hours power reserve.
Apart from that, it's also an ISO 6425 diver's watch compliant, with anti-magnetic case and screw-down crown. The 200 m water resistance rating ensures that it can be used for any sports activities just fine.
Without a doubt, the Seiko Sumo is my No.1 recommendation for an automatic diver's watch =)
Click Here To Check Out My In-Depth Review Of The Seiko Sumo (SBDC033)
The next watch is the Seiko Baby Tuna. This is a toned-down version of the very popular and distictive Seiko Tuna – Seiko's dive watch with the shrouded case.
Unlike the original Tuna, this Baby Tuna is slightly smaller (at 47 mm diameter) and features the cheaper 4R36 automatic movement – whereas the Tuna sports higher grade movements.
But make no mistake, this Baby Tuna is still a great dive watch. It has 200 m water resistance, and ISO 6425 diver's watch standard, screw down crown and the shroud will do well to protect the watch from impact.
And not to mention the Baby Tuna makes for a good stepping stone before you get your hands on the Tuna =P
Click Here To Check Out My In-Depth Review Of The Seiko Baby Tuna (SRP641)
Another distinctive and unique watch that only Seiko can produce: the Seiko Turtle SRP777. Why the turtle nickname? It's because of the wide cushion case design that make it look to have a turtle shell looking from above.
I'm not sure whether the turtle case enhances its performance as a diver's watch, but the specification of it is good enough for most divers.
Average 45 mm diameter, ISO 6425 rated, 200 m water resistance, Seiko's LumiBrite lume and the robust 4R36 automatic movement. It's definitely a good spin of the normal submariner-like dive watches.
Click Here To Check Out My In-Depth Review Of The Seiko Turtle (SRP777)
The Seiko Monster is without a doubt a very unique watch. I mean, just look at that dial and would understand why I said that. The oversized markers with triangle shape that looks just like fangs are just so distinctive that I doubt you'll ever forget once seen.
Because of this, the watch is somewhat divisive – you guys will either love it because of its rugged style or hate it because it looks so weird lol!
But inside the watch is a real workhorse 4R36 automatic movement, the same movement that powers the Seiko Turtle and Baby Tuna above. It's also an ISO rated diver with 200 m water resistance. And those big markers will surely give a satisfying lume in the dark.
For a one-of-a-kind watch, this Seiko Monster is the one to get =)
Click Here To Check Out My In-Depth Review Of The Seiko Monster (SRP Series)
Next up on the list is the Orient Ray II. It's an upgraded version of the famous Orient Ray with the newer F6922 caliber automatic movement that can hacks and manual wind. Another major upgrade is the omission of the pusher at the top right to change the day display.
It has a traditional dive watch look with the circular markers. The usage of day and date display is very useful for those, especially for those that work in offices and need constant reminder of date/day for their work.
Having a 200 m water resistance, screw down crown, unidirectional rotating bezel and luminous hands/markers make the watch a good dive watch. It's not an ISO rated diver though, so the Ray II might not be the best option for frequent and serious divers.
But for those that want a cheap automatic dive watch that also looks great, then the Orient Ray II fits the bill nicely.
Click Here To Check Out My In-Depth Review Of The Orient Ray II
The Orient Mako II is the close relative to the Ray II above (in fact they are like non-identical twins lol!). The specification of both watches are totally the same.
What's different is the Mako II has the explorer type of markers – number markers for 6,9 and 12; index markers for the others. This gives the watch a unique look. Some people prefer this type of markers since it's easy to not get confused when telling the time, as opposed to the all index markers in the Ray II.
While the Ray II is sportier and true to the dive watch look, the Mako II is dressier and would do better as a desk diving watch. In the end, it depends on which one you think is better looking and would like to wear =)
Click Here To Check Out My In-Depth Review Of The Orient Mako II
The next one is Orient M-Force, specifically the SEL03001B0 model. It's a watch full of great specs: sapphire crystal, higher grade Orient 40N5A movement, power reserve indicator, ISO 6425 compliance, screw down crown, anti-magnetic and shock resistant.
It's totally a watch meant for the actual diving. And the rugged look with textured bezel just make it more unique and manly. The best things about the watch is its anti-magnetic and shock resistant case. These features make the watch sturdy as hell.
In addition, the power reserve indicator is a nice feature that helps its owners know when to pick up and use it or manual wind it before it drop dead. No more dead watch surprises with this Orient M-Force =)
Click Here To Check Out My In-Depth Review Of The Orient M-Force SEL03001B0
Not to forget, the famous Seiko SKX007. Any automatic dive watch list without it is incomplete. The SKX007 is one of the watches that has gained a somewhat cult among Seiko fans.
The watch has been in market for close to 2 decades (if I'm not mistaken) and Seiko still continues to manufacture them. That tells a lot about the popularity and demand of it.
With a 42 mm diameter that is suitable for all wrist sizes, it's also a 200 m water resistant and ISO 6425 dive watch compliant. The look is very unique and is the best evidence on how Seiko can take a normal submariner-like dive watch design and make it their own.
Perhaps the only flaw with the SKX007 is the outdated movement: the 7S26 automatic movement is non-hacking and non-manual winding. But make no mistake, this is the movement that has been proven time and again to be very robust and require less maintenance.
The Seiko SKX013 is the little brother of the SKX007 with a smaller 38mm diameter case. I've lumped them together here since both of them look exactly alike (apart from some minor differences).
Click Here To Check Out My In-Depth Review Of The Seiko SKX007
Click Here To Check Out My In-Depth Review Of The Seiko SKX013
Another watch that's usually spoken in the same breath with the SKX007 is the SKX009. They are both equally the same watch inside. What sets them apart is the blue dial and blue/red pepsi bezel of the SKX009 which make it look uniquely cool and different than the other black dive watches.
If you like blue or just want a unique looking watch but still look handsome, then this SKX009 is the one for you.
Click Here To Check Out My In-Depth Review Of The Seiko SKX009
Last but not least is the Seiko SKX173, another watch with the same specification as the SKX007. But what sets it apart is the rectangular markers on the SKX173 versus the circular markers in the other watch. You guys can go to my review to know the detail comparison of both watches.
I find the rectangular markers to be more fitting with the watch, especially since it complements the minute markings of the dial edge and bezel. For an alternative to the great SKX007, the Seiko SKX173 is the watch to get.
Click Here To Check Out My In-Depth Review Of The Seiko SKX173
(Read also my list on the best affordable automatic watches HERE. These are great watches that can be had for a little sum of $200!)
There you have it guys. This is my 10 Best Automatic Dive Watches list. If you guys have any other watches that you feel should be in it, let me know.
Drop your comments below. I'm happy to hear from you guys =)
Cheers!
Isaac