Seiko is a giant watch company that makes all sorts of watches from automatic to quartz to solar. Its automatic watches is famous for being affordable but this begs the question of how accurate is seiko automatic watches?
So what is Seiko automatic watch accuracy? Based on my experience, Seiko automatic watches have great accuracy, less than +/- 6 seconds per day of deviation which is higher than the +/- 10 seconds per day that I'd consider as good accuracy (for accuracy, lower value is better).
I came to this conclusion based on my experience owning 4 Seiko automatic watches over these past few years. But it should be noted that, just like other brands, the accuracy did reduce after few years depending on how you used them. In addition, I'm going to share what I think about Seiko automatic watches and if it's a good watch to buy.
Seiko Automatic Watches Have Great Accuracy
Seiko automatic watches all have great accuracy out of the box based on my experience with 4 Seikos (low-mid ranges). It's quite hard to believe as the published accuracy specifications all show that their accuracy is quite high.
Below is the list of the watches that I own and the kind of real life accuracy that I got from them vs published accuracy specification from Seiko:
Seiko SARB033 (6R15 movement): Less than 5 seconds per day vs +25/-15 seconds per day (published accuracy spec)
Seiko SKX013 (7S26 movement): Less than 4 seconds per day vs +49/-20 seconds per day (published accuracy spec)
Seiko Sumo SBDC003 (6R15 movement): Less than 5 seconds per day vs +25/-15 seconds per day (published accuracy spec)
Seiko 5 Worldtimer (4R36 movement): Less than 6 seconds per day vs +45/-35 seconds per day (published accuracy spec)
All of the real life accuracy measurements were performed by using apps for watch accuracy check (I used the app watchcheck, though toolwatch app also seems to be a good option).

Now if you've read my previous article, I've mentioned that to me, a +/- 10 seconds deviation per day is considered a good accuracy for automatic watches (though you might want to have a higher accuracy for more expensive or chronometer watches).
This value is based on real life usage pattern in a week. Suppose that my watch will gain (or lose) 10 seconds daily, then at the end of the week, it will still be within a minute off the actual time.
This is important because I don't want to have to adjust the time during mid-week, where I tend to get busy and just want to grab the watch and go to work without having to check if the time is off or not. Hence, the +/- 10 seconds per day accuracy works well for me.
And that's the reason why I'm very happy with my Seikos. As you can see, the watch ranges from very affordable (the Seiko 5 @ ~$100) to low-mid range (Seiko Sumo @ ~$500) with the SARB033 and SKX013 in between. And all of them have great accuracy with less than 6 seconds deviations per day! Now that's definitely something that I'm happy with =)
How About Its Accuracy After A Few Years?
The accuracy of my Seikos deteriorated after years of use, but most of them still within the manufacturer's specification.
Just like all mechanical devices, automatic watch will also deteriorate and that's the case with my Seikos. From my experience, the accuracy reduced but it depends on many factors.
As the watch was used, there are wear and tear on the various moving parts inside it. Not to mention the lubricants used in the watch will be less viscous over time – all of these are the factors that reduced the accuracy of the watch over time.
Another important factor is how heavily used and how harsh was the watch subjected to. This is very important that because automatic watch is a delicate device, using it for outdoor activities might be too much for it to handle and can wreak havoc on its movement.
For my SARB033, I found that the accuracy is still intact around less than 7 seconds deviation per day after about 2 years of use. I'm very happy with this watch as it's my go to watch for work as it has the great quality all around with beautiful simplistic styling.
I should also mention that I never use this watch for anything outdoor – just normal regular desk job and going out socializing with friends. Since I also take great care not to bang the watch on any hard surface etc, I guess that also contributed to the great time the watch has even after 2 years.
(If you want to know more about Seiko SARB033, read my detailed review about the watch here)
My Seiko SKX013 is another gem with accuracy only diminished to less than 8 seconds deviation per day after using it for 2.5 years. Now, I'm most astonished with this watch because even though it has the previous generation's 7S26 movement inside it, it kept great time, and even beat the newer 6R15s out of box!
The best thing that I love about this watch is how light it is on hand. It's my go to watch for when I went swimming thanks to this (replacing my heavier Sumo). I would also bring this watch with me whenever I'm traveling as it's lightweight and frankly, quite cheap (I bought it around $200) so if something were to happen during my travel, I won't be burned much and can still manage to fork out some money to get another SKX013 LOL!
But putting that aside, this little dive watch had really impressed me with its great accuracy over the years.
The Seiko Sumo SBDC003 is another story. I had the Seiko Sumo for 4 years now and sadly, the accuracy had diminished to around 25-30 seconds gain/lost per day.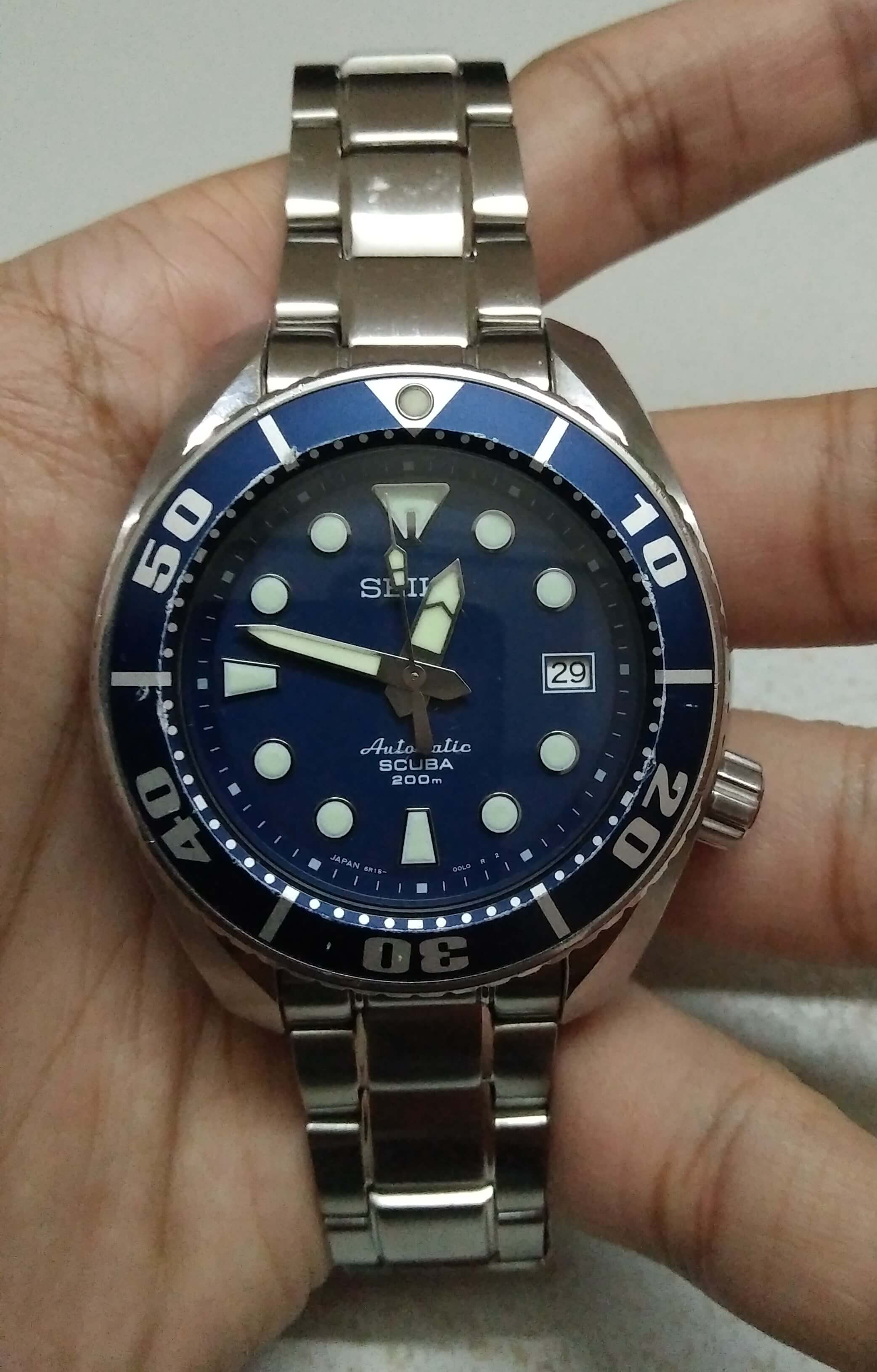 Now, I should note that I was quite brave when I got the watch. It's one of Seiko's Prospex watches – a line up of sports watch that give the impression that you can use it anywhere, anytime for whatever purposes. A real rugged dive/sports watch if I can say.
And coupled that with the handsome features of the Sumo, before long I found using it for anywhere. I wore it to work, to swimming, to gym, to jogging, even to doing yard & construction works!
The Seiko Sumo performed brilliantly and doesn't bat an eye on these things. But it turns out I was actually abusing the watch as its accuracy suffers greatly. I still love it to bits but its lack of accuracy is a deterrent from me using it more frequent. Not to mention that I have other watches with better accuracy in my collection.
The takeaway from all of this is that no automatic watch, no matter how heavily advertised it is for diving or sportiness, can still work well if you wear it for frequent physical activities. In the case of my Sumo, it still works great but the lack of accuracy makes the watch less useful to me currently. I guess it's time to take it for a service..
Last but not least, my Seiko 5 Worldtimer. This is my first automatic watch that I bought 5 years ago and now it its accuracy had diminished to 30 seconds deviation per day. I did use it as much as possible like my Seiko Sumo but I guess since it's not a real diver watch, it does not have that robustness built into it.
Coupled with it being a bit left out from my wrist for a few years, its accuracy suffers greatly throughout the time.
All in all, Seiko automatic watches have great accuracy out of box, but how good the accuracy is after few years will depend on how heavy you use them. Not using it for heavy physical activities will definitely lengthen its life and keeps its accuracy in an acceptable range.
Do Seiko Automatic Watches Have Good Quality?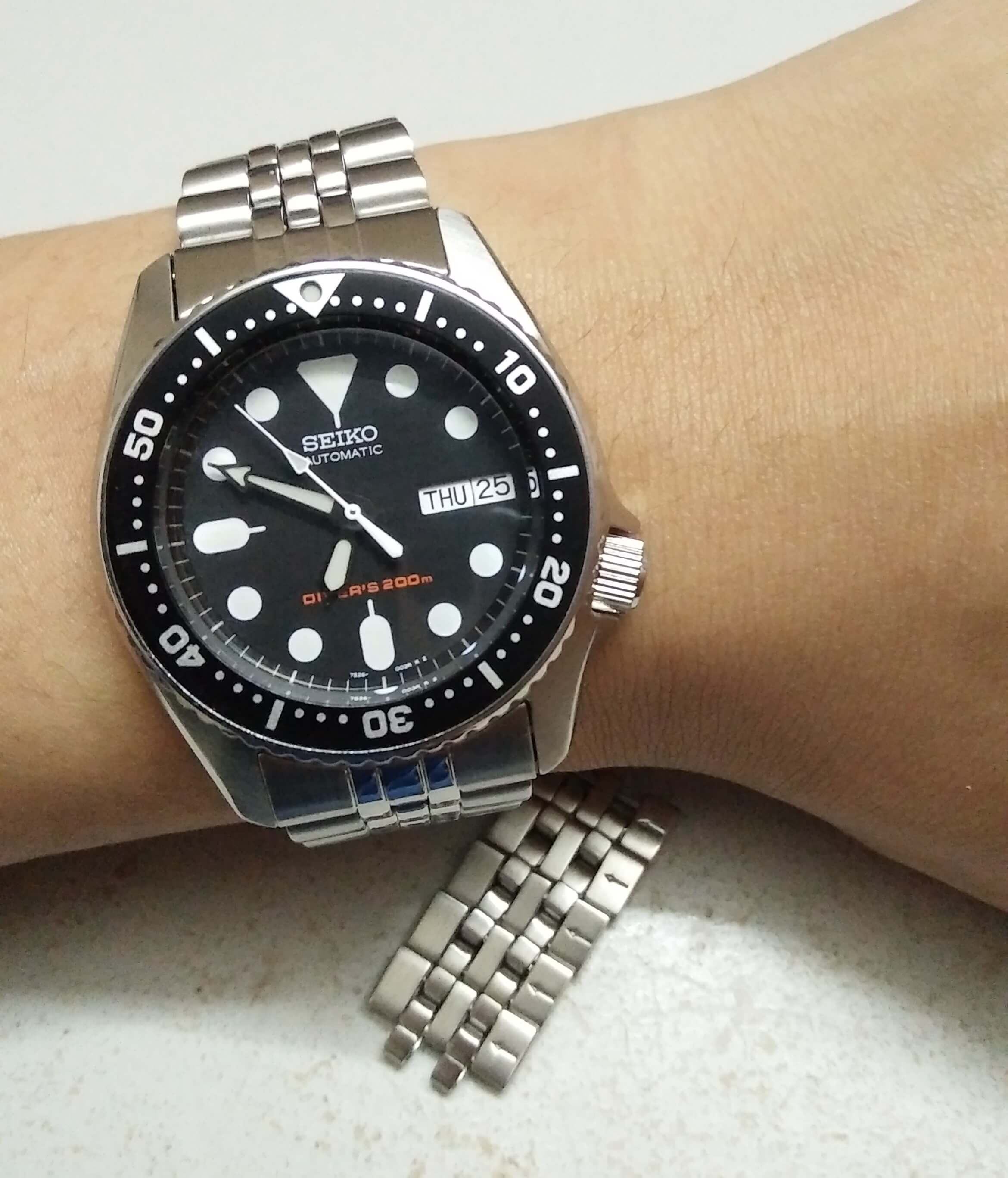 So do Seiko automatic watches have good quality? Without a doubt, my answer is yes, it has good quality. I've been a huge fan of them since my first automatic watch (the Seiko 5) and a lot other watch fans think the same.
At first, the mark of quality comes from the exterior of the watch. While the finishing touches depends on the watch's price, Seiko really did a great job in ensuring their watches have good quality finishing.
But again, there are some kinks here and there such as the famous issue on rotating bezel not aligning perfectly. Notwithstanding those smaller issues, the watch is well-made and really robust for everyday use.
That brings me to my next point, robustness of the watch. As I've shared earlier, my Seiko Sumo and Seiko 5 was able to go through a harsh level of use, ranging from normal watch for work, to exercising, swimming, and even jogging. And both of the watches can get through all of these while still intact and working (albeit with some effect on accuracy).
Although the Sumo was perfectly within my expectations, the Seiko 5 was actually quite surprising as it's able to keep up with the Sumo even though it's 4 to 5 times cheaper. So yeah, Seiko automatic watches really were built to last!
And if you think they can only make tough watches, then you're wrong. The Seiko SARB033 that I have showed me just how great their design language is. It's very simplistic, unassuming, and yet looks really beautiful on wrist. The deep black dial works really well with the polished stainless steel case, for a very handsome watch.
And if you think the SARB033 is too bland and not for you, then check out the Cocktail Time. I've recently reviewed the Seiko Presage Cocktail Time and its totally opposite of the SARB033 with gorgeous eye-catching sunburst dial. If you want a watch that grabs attention, then you will really like this Cocktail Time (read here for my full review of the Seiko Presage Cocktail Time).
Seiko Watches Are Great Value For Money? Definitely!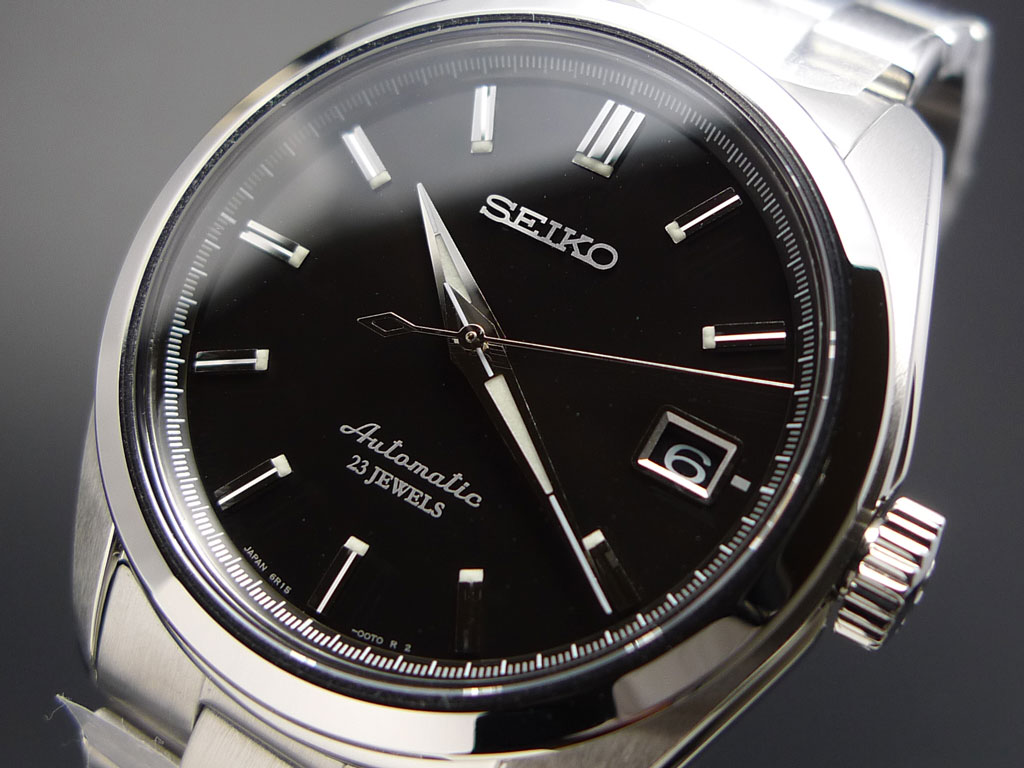 Without a doubt, I definitely agree that Seiko automatic watches are great value for money. Consider this, when all the other Swiss/West brands (the likes of Tissot, Hamilton, Certina, etc.) priced their automatic watches over $500, Seiko manage to sell a lot of automatic watches below that price.
Based on direct comparison of watch to watch, a Seiko watch will cost $100 to $200 less than a comparable Swiss/West automatic watch.
This is mostly due to they are manufacturing in the East with lower labor and material costs. But in the end, it is the customer's win and I certainly don't mind where my watches are made lol!
But I also need to highlight that the Swiss watches typically have better material. For instance, a sapphire crystal is a default on most Tissots/Hamiltons that I've seen. This is not the case with Seiko as most of their low to low-mid range of automatic watches uses their own Hardlex crystal (an improved mineral crystal) that is not as scratch resistant as sapphire.
But in recent times, I've seen that the prices of Seiko watches seems to creep up, presumably as they have known about how popular their watches are among watch fans. I'm all for a higher priced watch if they can justify such price increase but if they only want to profit more, then it's definitely not something that I will tolerate. Only time will tell on what Seiko will do in future.
Related Questions
What is considered good accuracy for automatic watches? An automatic watch can be said to have good accuracy if it is around +/- 10 seconds per day (read more about automatic watch accuracy in my previous post for more info).
Do automatic watches keep good time? Automatic watch will keep good time if it's being kept in good condition and its time adjusted for accuracy. But if its being used too hard, then there is a high chance that its accuracy will suffer in the long run.
I hope this article about Seiko automatic watch accuracy is useful to you. If you have any questions or simply want to share your thoughts and experience with your own watches, you're most welcomed to comment below.
Till next time. Cheers!