The Presage Cocktail Time is a recently released automatic watch from Seiko that is a direct successor to the beloved but sadly discontinued Cocktail Time SARB065. In this article, I would like to share about this latest watch and what I think about it.
In my opinion, the latest Presage Cocktail Time is a great watch line-up from Seiko as it maintains the same gorgeous sunburst Cocktail Time dial with updated designs PLUS more color choices.
However, Seiko did downgraded the movement to the 4R35 with lesser power reserve (41 hours) compared to te 6R15 in the original that boasts 50 hours power reserve.
Looking For An Affordable Stylish Automatic Dress Watch? The Seiko Presage Cocktail Time Could Be The One You're Looking For!
I've actually written before about the previous Cocktail Time watch (the great Seiko SARB065) and how I described it as one of the best affordable automatic dress watch currently.
The original Cocktail Time was nicely built with good quality all around and very beautiful to look at thanks to the gorgeous bluish sunburst dial and highly polished stainless steel case.
But unfortunately, it was discontinued in 2017. I remember thinking what the hell was Seiko doing? Why would they stop producing a very popular model?
It turns out Seiko had another plan in mind, a great plan I would say.
They then released the Seiko Presage Cocktail Time, a collection of watches with all the design elements from the SARB065, sunburst dials and all.
With the same name, this Presage line up is without a doubt the successor to the SARB065.
And not only that, they released these new Cocktail Time watches in various colors AND at cheaper prices!
I had the opportunity to handle these watches a few weeks ago and it's a real pleasure to look and wear.
And not only that, they released these new Cocktail Time watches in various colors AND at cheaper prices!
I had the opportunity to handle these watches a few weeks ago and it's a real pleasure to look and wear.
If you're in the market looking for an affordable dress watch that has automatic movement and looks gorgeous, then the Presage Cocktail Time should definitely be in your shortlist.
So if you want to know more about these watches, continue reading this Seiko Presage Cocktail Time review!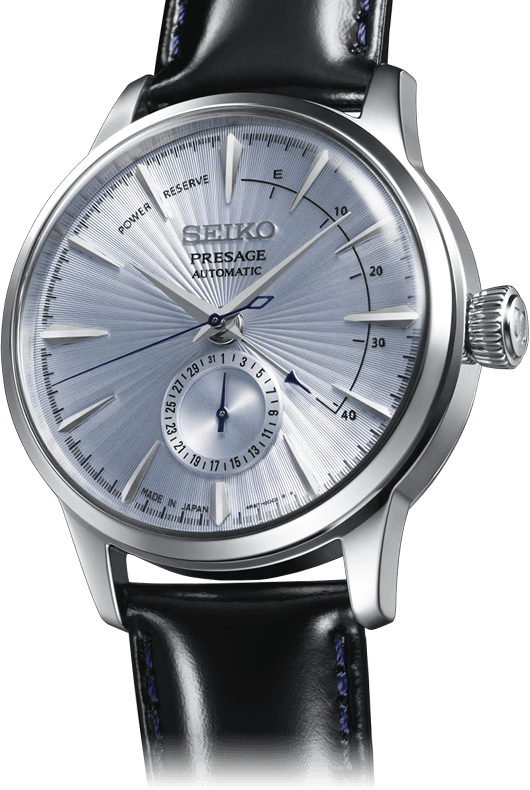 Seiko Presage Cocktail Time vs Seiko SARB065 Cocktail Time : What Are The Differences?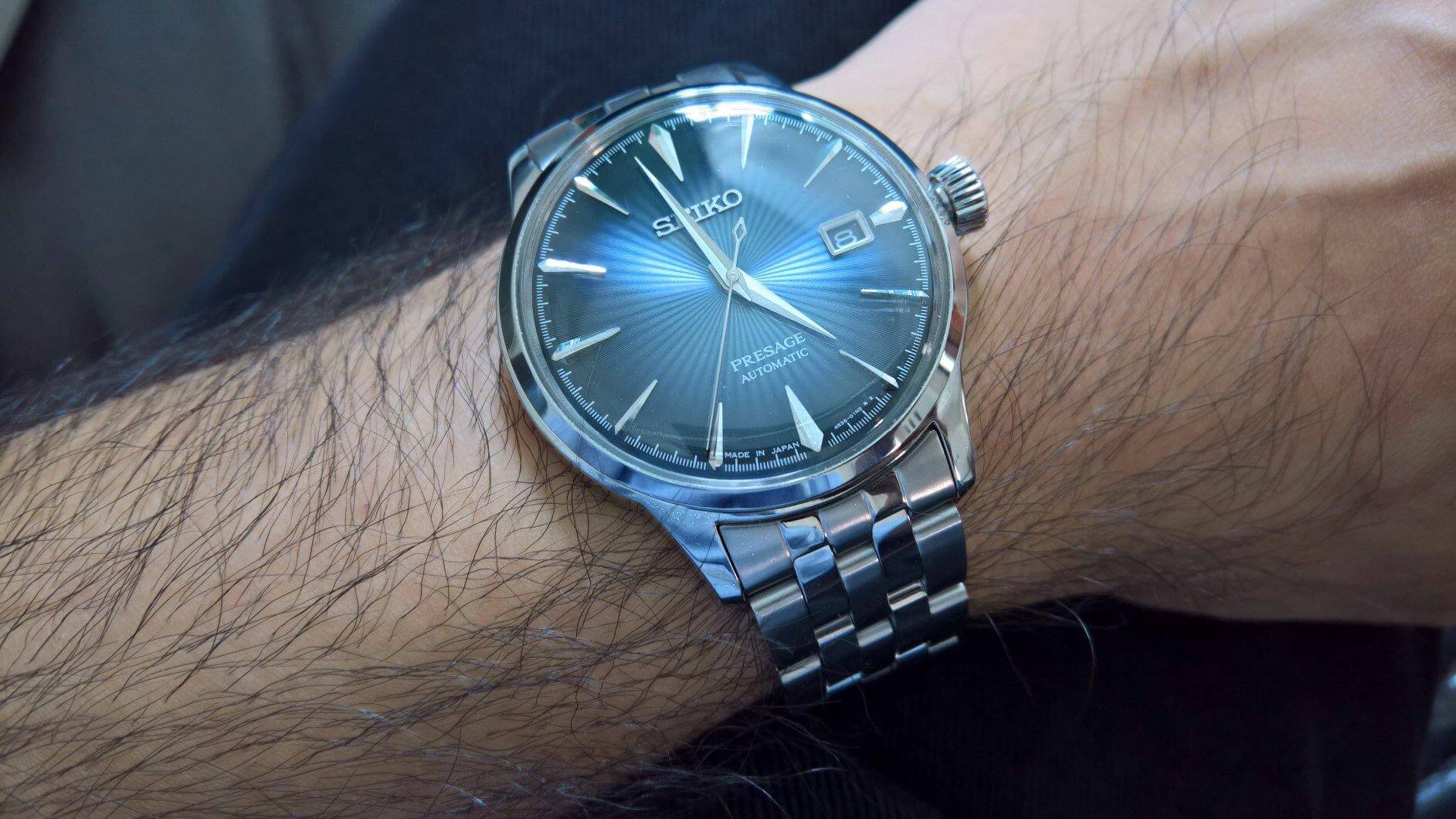 For a start, the new Presage Cocktail Time is cheaper than the SARB065. It retails around $350 to $500 online (the MSRP is more expensive) depending on the model.
This is cheaper than the SARB065 which usually retails around $500 online.
The reason for this is because of the use of cheaper 4R35 movement rather than the more expensive 6R15 movement.
It should be noted that production of the SARB065 has been discontinued so although you can still get one on the market depending on your luck, it can be more expensive.
From the exterior, there are not many differences between the two watches, though in my opinion Seiko did made the Presage Cocktail Time sleeker. For instance, the thickness of the watch had been slightly reduced from 13 mm to 11.8 mm.
The sunburst dial remains the same albeit with 7 new color options (Yeah!) in addition to the gorgeous original light blue sunburst dial (so 8 sunburst dials to choose from).
There are also 2 new non-sunburst dials to choose: the Gimlet with radial gold/yellow textured dial (SRPC99J1/SSA387J1) and the limited edition Fuyugeshiki with white textured dial (SSA385J1/SRPC97J1/SRP843J1).
It should be noted that this new collection also has power reserve models which brings the total number of watches in the Presage Cocktail Time lineup to 14 models – one of the biggest collection in Seiko.
Well, they really doubled down on the cocktail time and all I can say is I'm very happy with their decision =)
The biggest difference between the two watches is in the movement, which also contributed to the lower price of the newer watch. The new Presage Cocktail Time uses the 4R35 automatic movement instead of the 6R15 movement in the original Cocktail Time (Seiko SARB065).
Although it has the same frequency (6 beats per second), the 4R35 has lower power reserve at 41 hours compared to the 50 hours in the 6R15.
In summary, with the Presage Cocktail Time, you gained some (cheaper watch, more variations) and lose some (lower power reserve) over its predecessor.
But as someone who had owned an ETA 2824-2 with a low power reserve of 38 hours, I'd say it's still very usable and would gladly take the cheaper watch LOL!
Seiko Presage Cocktail Time Specifications And Variations
In general, there are 2 main variations of the current Seiko Presage Cocktail Time; i.e the normal watch (SRP series) and the date subdial + power reserve watch (SSA series).
(Do note that these model/series numbers are for the global version. In Japan, the Presage Cocktail Time has model/series numbers starting with SAR and SRR)
These 2 main variations are then made into various different colors (there are 10 colors to choose from!) and strap options which results into a huge 14 numbers of models (as of the time of writing this article. More on that later on).
So what's the differences between these 2 variations? Below table summarizes the differences and specifications of Seiko Presage Cocktail Time SRP vs SSA series:
Seiko Presage Cocktail Time Specification

Element
SRP Series (Normal 3-hands watch)
SSA Series (Power reserve and date subdial watch)
Picture Example

Seiko SRPB44J1 Margarita

Seiko SSA345J1 Espresso Martini

Diameter
40.5 mm
Thickness
11.8 mm
14.4 mm
Lug Width
20 mm
Lug To Lug Distance
48 mm
Case
Stainless steel case with various colors
Strap
Silver stainless steel bracelet (with butterfly clasp) or leather strap (in various colors, with deployant clasp)
Watch Crystal
Domed box Hardlex crystal
Bezel
NA
Dial
Most of the models in the collection have sunburst dial in various colors except for SRPC99J1/SSA387J1 Gimlet (radial gold/yellow textured dial) and the limited edition Fuyugeshiki SSA385J1/SRPC97J1/SRP843J1 (white textured dial)
Hands
Dauphine hands
Markers
Triangle index markers
Style
Dress watch
Movement
Seiko Caliber 4R35 automatic self-winding movement
Seiko Caliber 4R57 automatic self-winding movement
Movement Features
23 jewels, 21,600 vibration per hour or 6 beats per second, hacking and manual winding features
29 jewels, 21,600 vibration per hour or 6 beats per second, hacking and manual winding features
Accuracy
-35/+45 seconds per day
Power Reserve
41 hours
Water Resistance
5 bar / 50 m / 160 ft
Other Features
Exhibition caseback, Curved Hardlex crystal, Date display
Exhibition caseback, Curved Hardlex crystal, Power reserve indicator, Date subdial
Rating
(4.7 / 5)
(4.8 / 5)
Quick Summary
Definitely a worthy successor to the popular Cocktail Time watch (SARB065). The effort that Seiko put to improve the overall design of the watch shows and the watch looks sleeker now – not to mention it's cheaper, albeit with sacrifices in the movement department. With various choices and addition of power reserve models, this Presage Cocktail Time collection is one of the best, if not the best, automatic dress watches in the entry level market right now.
Where To Buy?
Amazon for around $300 to $500 (Click the link below for more info). The MSRP for the Seiko Presage Cocktail Time is around $400-$600 depending on the model and strap option (stainless steel bracelet & power reserve models are more expensive)
Beautiful Sunburst Dial Design Is Just Beautiful

Just like the
Seiko SARB065
before it, the Presage Cocktail Time also has a
sunburst dial design which just looks very beautiful.
I'm a fan of simple white dress dials but there's something about the sunburst dial that makes it look astonishingly stylish without being gaudy.
The countless numbers of vertical lines coming from the center to give the sunburst effect are immaculately placed.
When I was handling the watch, I can't stop from tilting the watch back and forth just so I can catch glimpses of the sunburst effect changing on it.
Seiko knows this and that's why they purposely make the dial design as simple as possible with small & minimal wordings so that there's a lot of real estate for the sunburst dial.
And putting it on my wrist totally gave a different feeling. Taking a peek at the watch to tell time has never been so satisfying and pleasant.
In short, it's one of the most beautiful dial out there in the affordable automatic watch category.
In fact, I can't remember any other watches sub-$500 that gives such detail and elaborate dial as this. If you do, please share the watch in the comments section below!
Highly Polished Case For A Very Dressy Watch

Accompanying the gorgeous sunburst dial is a highly polished case that really makes the watch looks very dressy, which I'd say is just a perfect case-dial combination.
Seriously, if you're not comfortable wearing a watch that will attract attentions, then don't get the Cocktail Time because it will DEFINITELY attract attentions!
However, the case is not as elaborate as the dial (unlike the curved SARB033 and Seiko Sumo SBDC033), which is not a bad thing considering the immaculate dial.
The sides of the case are straight with chamfered at the top making the bezel. The new Presage Cocktail Time also has a thinner profile at 11.8 mm, about 1.2 mm thinner than the previous generation.
Do note that the SSA series is thicker at 14.5 mm due to the additional power reserve and date subdial functions.
Another design element that sets this watch apart is the bigger sloping crown. As you can see, the crown is not a straight knob anymore but it's a bit sloped making the ends bigger than the root (which is kinda like a cupcake shape don't you think?).
This crown design makes the watch looks distinct and quite stylish in my opinion. The crown was also signed with "S" to symbolize Seiko.
Medium Sized Watch, Exhibition Caseback And Domed Hardlex Crystal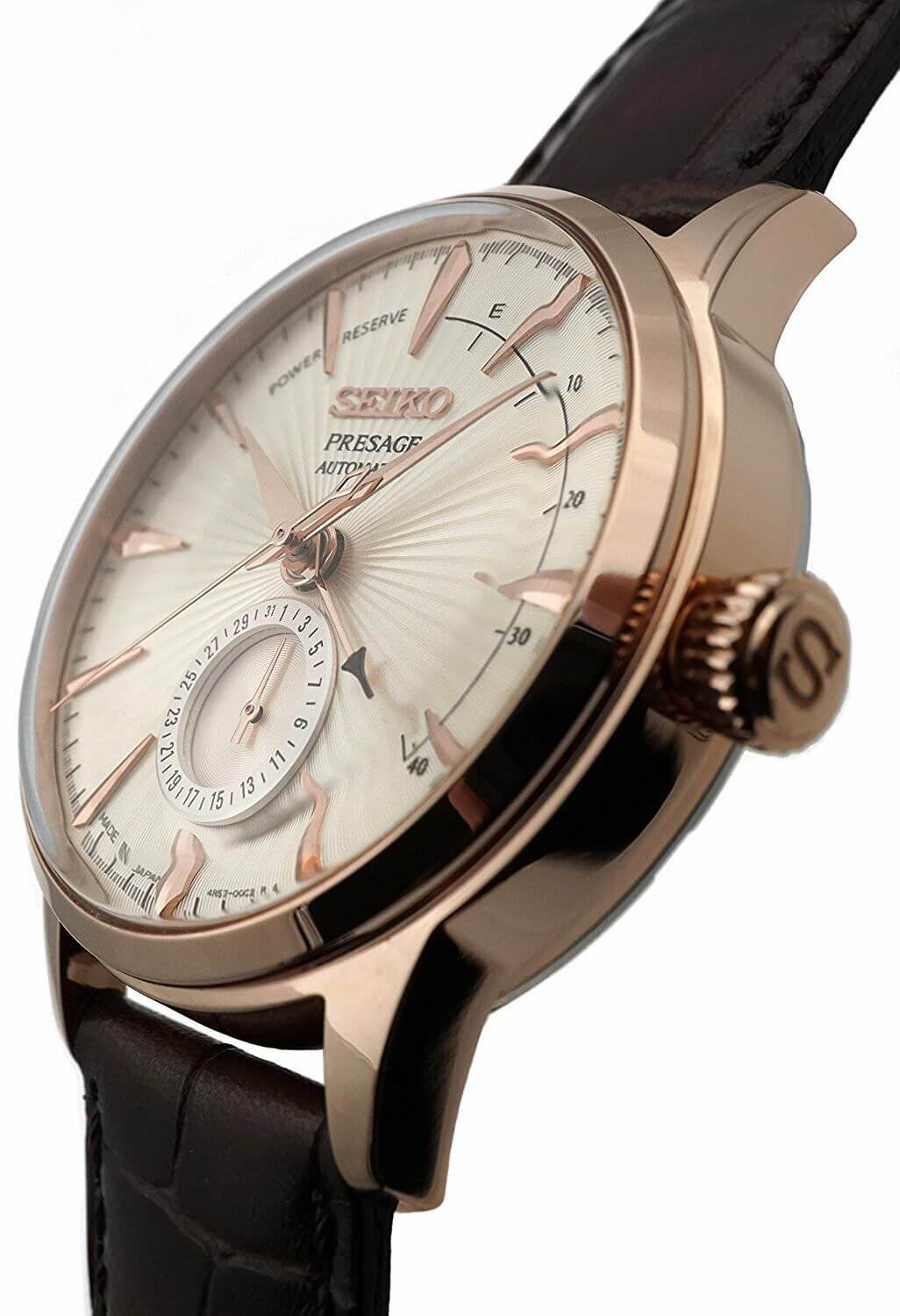 The watch comes in an appropriate 40.5 mm diameter. In all honesty, I'd prefer if it's a tad bit smaller (38-39 mm would be nice) but I'm just happy enough that Seiko didn't go bigger than this.
It's still perfectly usable even on my slim wrist without any unsightly gaps around the lugs.
With this kind of size, the watch will easily fit underneath your cuff just fine, although I think the thicker SSA series might have a bit of problem with that.
For women, unless you have a big enough wrist, the Cocktail Time might too big and too heavy for you. Seiko didn't produce any women's version for the Cocktail Time except for the beautiful Fuyugeshiki SRP843J1 model with white wintery dial (33.8 mm diameter).
Unfortunately, the Fuyugeshiki is a limited edition with only 5000 models available worldwide so you might want to hurry if you like it.
On the back there is an exhibition caseback from which you can see the movement and the weighted rotor. Surprisingly, Seiko made the rotor in gold plated finish, which is really cool.
This is something that they never did in their popular SARB lines before (which is even more expensive than this watch) and to me, this showed how they have grown as a company and continue to improve their products.
In addition to that, Seiko also equipped a stylish domed crystal on the watch. It's raised up a bit and looks very cool.
Granted, it's still a hardlex crystal and not the more scratch resistant sapphire, but looking at the price and the other things that they have put on the watch (like the gorgeous sunburst dial for example?), the Hardlex crystal is one trade-off that I'll be happy to accept.
The Presage Cocktail Time Comes In Either Stainless Steel Bracelet Or Leather Strap
There are 2 strap options; silver stainless steel bracelet or leather strap. The leather strap comes in a few colors, depending on the model.
For the bracelet, the clasp is butterfly type clasp which is not something that I personally prefer. Yes, it's modern looking but I still prefer the clasp on classic bracelet ala the SARB033 for the micro-adjustment capability, not to mention the cool Seiko signature on the clasp itself.
It's quite thick and not flimsy on hand, although it did have hollow end links. I also like the intermittent polishing of the links on the bracelet.
Seriously, I can say that the Presage Cocktail Time's case and bracelet is one of the best in this price range.
For the leather strap, it's another story altogether. It's not the nicest leather strap out there: the black strap is too glossy to my liking, and both black & brown variations feels too stiff. In typical Seiko fashion, cost-cutting was evidently performed on the straps.
I should highlight that the leather strap models typically have lower prices than the stainless steel bracelet models.
But with that being said, I will always advice to get the bracelet because it will last as long as the watch itself. With leather straps, you'll have to change it every couple of years.
If you don't like the bracelet, you can just buy a good aftermarket leather strap off amazon/ebay – with a higher quality than the Seiko's leather straps too!
Very Functional Power Reserve Indicator On The SSA Series Watches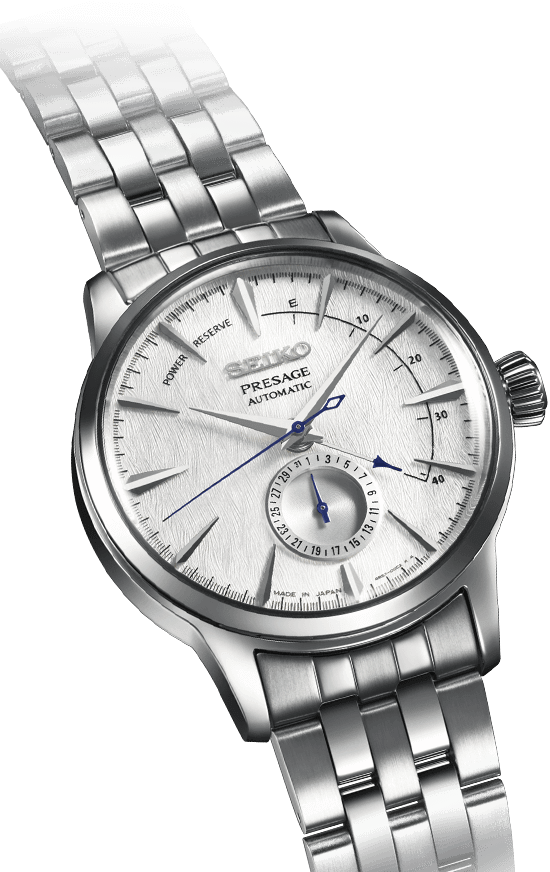 I've frequently stated my love for power reserve indicator  in the past; Orient, in particular, have my respect for putting this feature even on their entry-level watches.
I found it to be one of the best features on an automatic watch. In fact, if I had to choose between day/date and power reserve indicator, I'd choose the latter.
The reason for this is our automatic watches have a small power reserve, typically 38 hours to 50 hours – and that's from a full charge, mind you.
Having it will help us, as owners, to know when the watch will drop dead. What we should do then is to simply give it some manual winding to juice it up to full so that it will not stop.
That's why I'm very happy to learn that my beloved Cocktail Time got this feature on its SSA series. It really makes the watch more useful and functional than ever.
Not to mention Seiko managed to designed it in such a way to still show the full glory of the sunburst dial as possible.
And with the small power reserve of 41 hours, the need for a power reserve indicator on this watch is more needed than ever.
Truthfully, if I'm pulling the trigger with the Cocktail Time, it will definitely be one of the power reserve indicator models =)
Watch the video above to see the Seiko Presage Cocktail Time on hand
Here Are The Current 14 Models In The Seiko Presage Cocktail Time Collection
Yes, you read that right. There are a whopping 14 models in the collection! One thing to know is that for some reasons, the SRP and SSA series are not always present in the same color scheme.
Only 3 color schemes have both SRP and SSA models with the other colors having either SRP or SSA models.
One thing that Seiko tried to do is to introduce nicknames for their watches (you can read it from their global website here).
They managed to nailed a few of them (such as Blue Moon, Skydiving) but most of the names are just not that good in my opinion (Side car?? Gimlet?? Duh!).
So here are the list of watch models for the Seiko Presage Cocktail Time Collection:
Seiko Presage Cocktail Time Models

1. Seiko SRPB41J1 Blue Moon
2. Seiko SRPB43J1 Sky Diving (Normal)
3. Seiko SSA343J1 Sky Diving (Power Reserve)
4. Seiko SSA346J1 Side Car
5. Seiko SRPB44J1 Margarita
6. Seiko SSA341J1 Martini
7. Seiko SRPB46J1 Manhattan
8. Seiko SSA345J1 Espresso Martini
9. Seiko SRPC99J1 Gimlet (Normal)
10. Seiko SSA387J1 Gimlet (Power Reserve)
11. Seiko SRPB47J1 Spritzer
12. Seiko SRPC97J1 Fuyugeshiki (Normal)
13. Seiko SSA385J1 Fuyugeshiki (Power Reserve)
14. Seiko SRP843J1 Fuyugeshiki (Women's)
Seiko Presage Cocktail Time Pros And Cons
Pros:
Beautiful sunburst dial
Exquisite craftsmanship on the case and bracelet
Lots of color options to choose from
New power reserve models are great for those that don't wear their watch everyday
Distinctive overall design
Great value for money
Cons:
Low power reserve at just 41 hours
Leather strap on some of the models are of low quality
My Verdict : The Seiko Presage Cocktail Time Is One Heck Of A Watch!
I was very sad when the Seiko SARB065 Cocktail Time was announced to be discontinued 2 years ago.
While I never own it, the watch was actually in my wish-list and something that I had planned to own.
And when the new line up of Cocktail Time was out, I received the news skeptically. Part of me didn't like that the new watch is not part of the SARB family anymore but instead was "relegated" to the Presage SRP family.
Not to mention the lower power reserve in the 4R35 movement made the watch less appealing to me.
But that was back then, before I made this in-depth review of the watch.
Suffice to say, my thoughts of the watch was absolutely changed once I take a closer look at the watch's overall package.
In this Presage Cocktail Time, lies my new favorite dress watch with everything that I could ask for.
There's a lot of variations to choose from and you are not stuck with one color. Not only that, Seiko also improved the watch from the previous SARB065.
Cool crown and domed crystal make the watch more distinct, as if the sunburst dial is not distinctive enough. Gold plated rotor. Beautiful and thick bracelet. New power reserve indicator models.
And last but not least, a lower price tag making it one of the most affordable automatic dress watch that looks stunning. It's just one of the best value for money watches out there!
Now seriously, with this kind of offering, who does not love the Presage Cocktail Time?
I hope this Seiko Presage Cocktail Time review is beneficial to you. Do let me know what you think about the watch.