Hello guys! Today's post will be about Seiko Monster review, an entry level dive watch from the Japanese brand. From the first look you will notice that this is a very unique watch with those aggressive styling on the dial, bezel and case – befitting of the nickname "Monster" given to it. Let's get on to this Seiko Monster review =)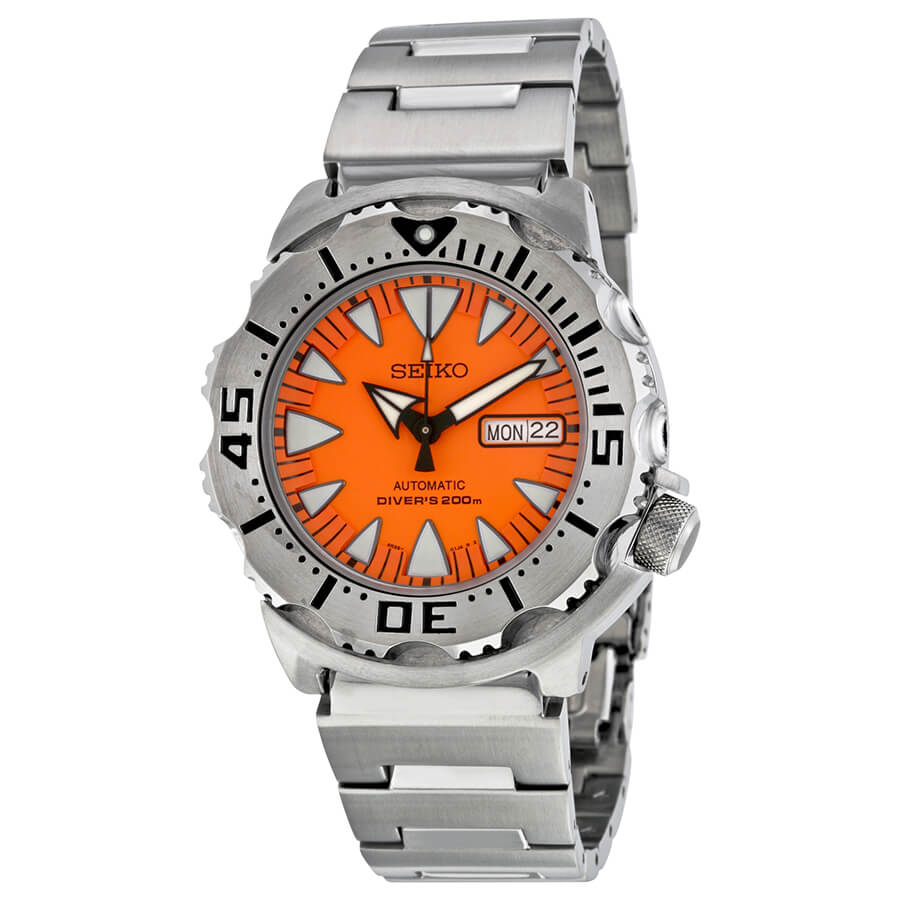 Seiko Monster 2nd Generation Review
The watch I'm reviewing is the second generation of the Monster with ID code of SRP303 to SRP315. Yes, there are about 5 different variations of the Monster with different dial colors. The most famous is of course the Seiko Orange Monster with the very eye-catching bright orange dial (as shown on picture above).
The first generation of the Monster has watch ID code of SKX779 to SKX781. For those that know Seiko watches well, you might be able to relate that the first gen Monster is related to the famed SKX007 and SKX009 since they share the SKX code series. Both watches are famous for being a cheap workhorse.
This second generation Monster features an upgraded movement (from 7S36 to 4R36) that hack and can be manual wound. It can be gotten for around $200 to $300 on Amazon, though the price can sometimes creep up to $500 depending on stock availability.
An interesting fact is the first gen watches are almost nowhere to be found. I suspect Seiko already stopped production of it – I can't confirm this though, if any of you have any info about this, please let me know.

Seiko Monster First Generation SKX779
So scarce is the first gen Monster that the few units left sold in Amazon even lists for $600! Now you don't have to feel left out since I can assure you the first gen is not a better watch than this second gen from all aspects. But collectors would perhaps have different opinion on this =)
Now, Seiko also produced a third generation Monster, but this time in the SBDC family (SBDC023-025) featuring a higher grade 6R15 movement. The SBDC family is famed for being a "Prospex" line of dive watch models – that's Seiko's "Professional Specification" grade of dive watch, a higher grade of Monster which I'll cover very soon. So now let's see the specs of this watch.
Seiko Monster (2nd Generation – SRP Series) Specification
Diameter: 42 mm
Thickness: 13 mm
Lug Width: 20 mm
Lug to Lug: 47.5 mm
Case: Stainless steel case
Strap: Stainless steel bracelet
Dial: 5 variations (black, orange, combination of black and orange,)
Watch Crystal: Hardlex crystal
Hands: Bar hands with lume
Markers: Triangle index markers with lume
Bezel: Unidirectional rotating diver bezel
Movement: Seiko Caliber 4R36 Automatic Self-Wind movement
Movement Features: Japanese made in-house movement, 24 Jewels, 21600 vibrations per hour or 6 beats per second, Hacking, Manual winding
Accuracy: +- 15 seconds per day
Power Reserve: 41 hours
Water Resistance: 200 m
Other Features: Day/Date feature, Screw down crown, Seiko's LumiBrite lume on hands and markers, Screw down caseback, Certified ISO 6425 Dive Watch
Best Place To Buy: Amazon
Aggressive Dive Watch Dial
The dial of the Monster is the most stand out element that this little timepiece has. It features an aggressive style with the big bold triangle markers (which also looks like fangs) and big hands. Both of them are generously filled with Seiko's LumiBrite to give extraordinary lume brightness in dark condition.
The use of fang like markers really steal the show as its very unique and something out of ordinary. Coupled with the hands, the dial becomes much busier than a normal dive watch would be. At the edge of the dial are minute markings to help with accurate time reading.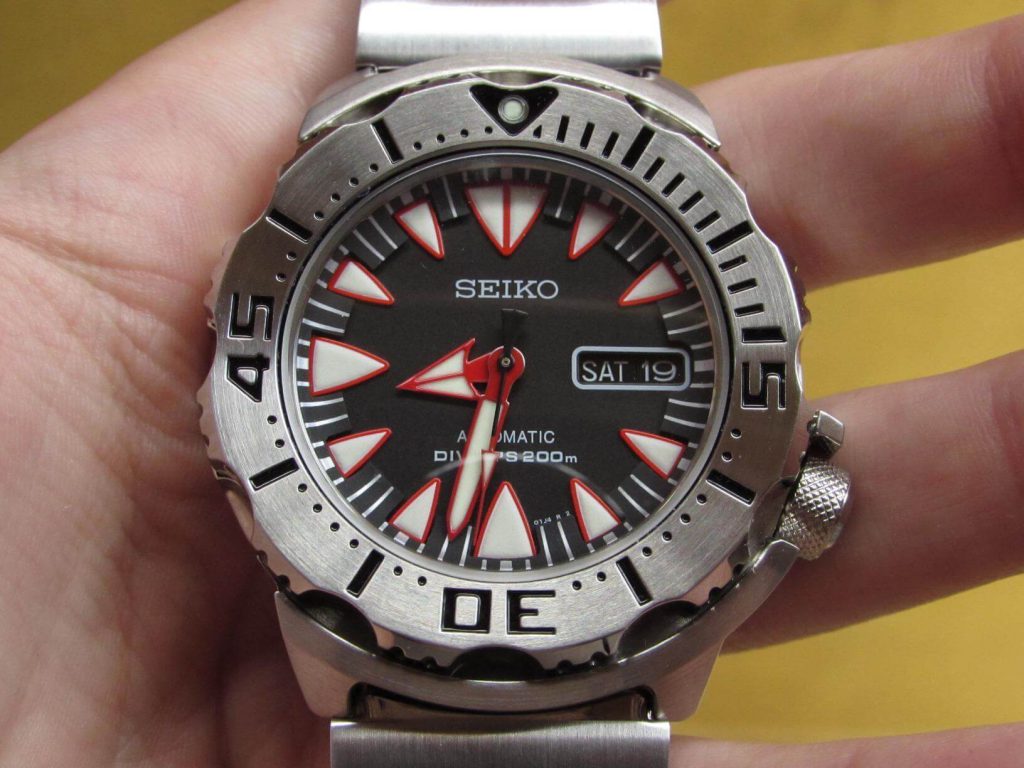 Seiko Black Monster with a red accent that gives it an added dimension to its aggressiveness
At the 3 o'clock are day and date display. Some people might say that a true dive watch can only has a date window (something like the Submariner) but in my opinion the day display is a very important feature.
Of course a dial without both will make it much better due to symmetry but to have day/date is going to make your life much easier. Trust me on that =p

Seiko's LumiBrite applied on the Monster will definitely gives a satisfying lume performance
On top of the watch is a hardlex crystal. It's a type of watch crystal that Seiko made specially by hardening mineral crystals. It gives a higher impact resistance while also increase its scratch resistance.
Many Dial Variations To Choose From
Seiko produced the Monster with many color variations but the most good looking ones (at least for me lol) is the Orange Monster (SRP309) and the Black Monster with red accent (SRP313).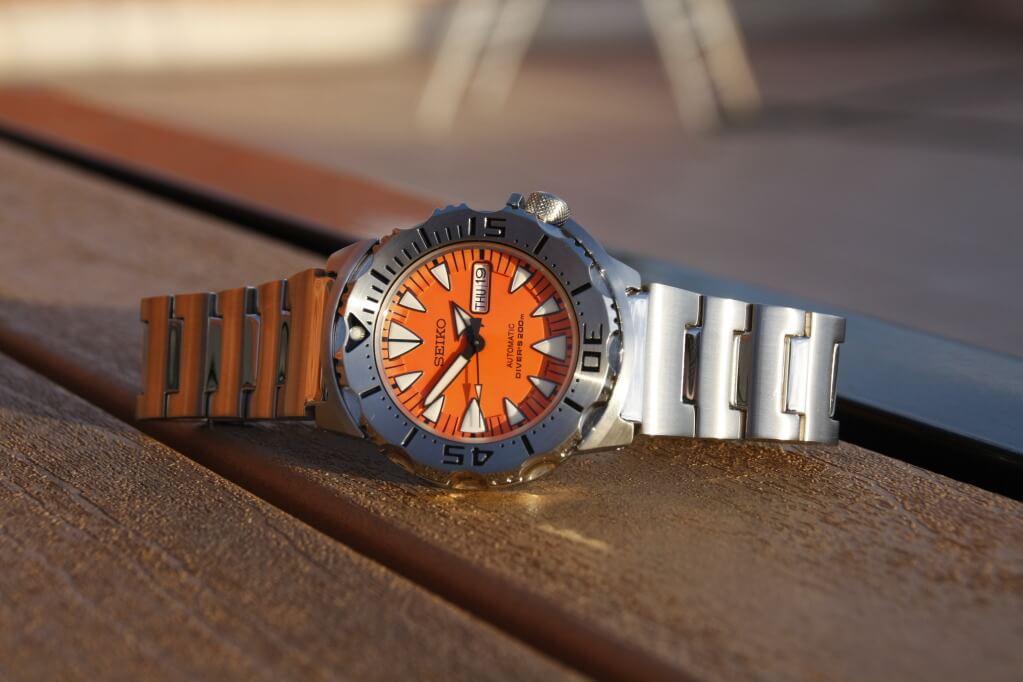 The famous Seiko Orange Monster
The Orange Monster need no introduction. It's the most popular among the lot and most people associate it with the Monster model. In fact, a quick check on Amazon shows this is the most reviewed Monster model (more than 200 reviews) than the average 50 reviews gotten by others.
It's no surprise as it's very unique and eye catching. Truly a fun watch to wear for casual weekends.
Black Monster with the red accent is a step up of the normal Black Monster. The red lining along the markers accentuates the fang markers, making them stand out more from the black dial. It's less striking than the orange one, but still packs a lot of punch nonetheless.
Without a doubt, the Monster is truly a unique watch. The dial design is totally out of this world. Its big fang like markers are really one of a kind that none other watches dare to try. But in doing so, Seiko has managed to capture many fans that love its peculiar style.
An Equally Rugged Case
The case of the Seiko Monster is also equally rugged and has that tough unique look, befitting its dial. The first thing that we will notice is the unidirectional rotating dive bezel and sides of the watch that has scallop design with some textures on it.
Those teeth on the bezel gives it an aggressive look while also make gripping the bezel easy. There are also minute markings on top of the brushed stainless steel bezel.

It's quite rare to find a watch bezel with stainless steel finish – they are usually painted with the dial color (you can see the black bezel of the SKX009 and pepsi red/blue bezel of the SKX009). Again, this is one part of the Monster that's very different than conventional dive watch.
The watch diameter is 42 mm, a size that's just perfect for most men wrists. Its thickness is 13 mm and has lug to lug width of 47.5 mm. It has a 20 mm lug width that comes with either strap or stainless steel bracelet. In short, the watch is comfortable to be worn – as expected of a Seiko dive watch.
A screw down crown is located at between 3 to 4 o'clock position and guarded by another unique crown guard that I've never seen before. Seiko opted to use a shroud-like crown guard design that's extended from the lug, a totally different design than the normal crown guards on dive watches today.
Another detail that Seiko put on this watch is the inward sloping of the bezel that's help with protecting the crystal somewhat. To make it sweeter, the Monster is a certified ISO 6425 dive watch that's surely will give you the important assurance if you want to use this watch to dive. It's case has water resistance up to 200 m.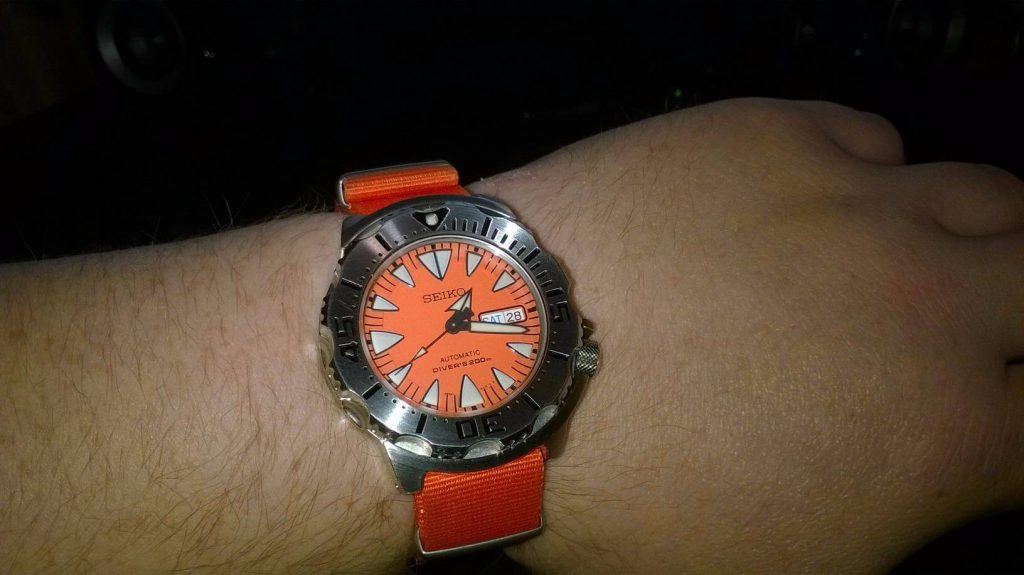 For those that dislike the bracelet, a Nato strap is a great combination to the Monster. Since the dial is very busy with those big markers, a plain Nato strap will do well to tone down the overall look of the watch
All in all, the case is executed perfectly and looks very sturdy. With an ISO rated dive watch certification, this Monster is certainly going to withstand whatever punishment comes onto it =)
Updated Seiko Caliber 4R36 Automatic Movement
Another major difference from the first generation of the Monster (apart from the dial design) is the updated movement 4R36, from the older 7S26 movement (like what SKX007 and SKX009 have).
The 7S26 is bomb-proof, except for the fact that it does not have manual winding feature, non-hacking and lesser accuracy. Other than that, it's perfectly fine to be used as rough as you could as noted by many SKX owners.
The updated 4R36 is actually a downgraded 6R15 movement or popularly known as Seiko's answer to ETA 2824. 4R36 is based on the 6R15 (which is mostly used in Seiko's mid-range watches such as the Perspex dive watches and SARB series).
But the only difference is it does not have SPRON510 mainspring – a proprietary mainspring by Seiko that gives extended power reserve up to 50 hours.
Without the SPRON510, the 4R36 has 41 hours power reserve while all other elements are about the same I believe. It has 24 jewels in the movement while vibrating at 6 beats per second.
Unlike the older Monster, this version has hacking and manual winding, both are the new typical functionality of any modern automatic watches.
As for the accuracy, reports from owners give the Seiko Monster glowing remarks. It's consistently below 6 seconds per day accurate (that means it will gain or lose not more than 6 seconds per day). It's a great aspect of the movement that has an advertised accuracy of +-15 seconds per day.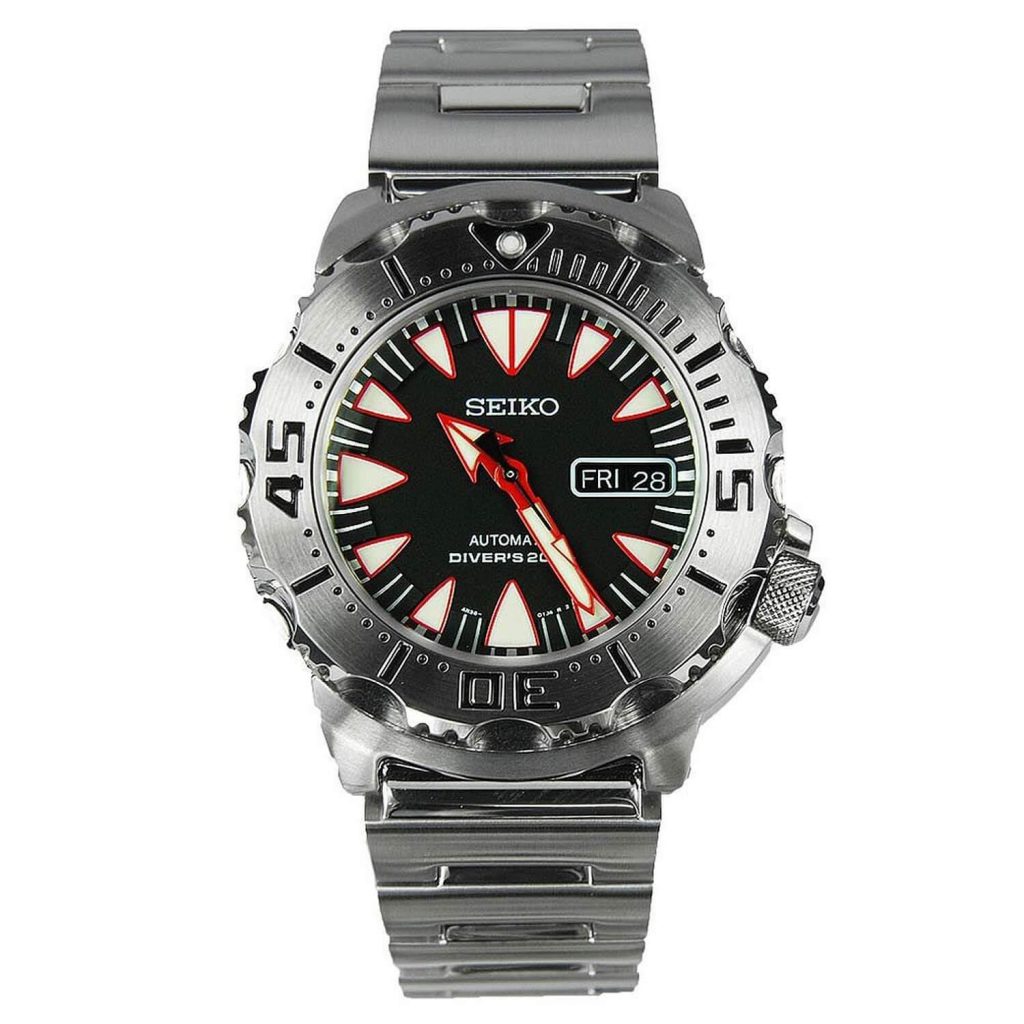 Who Is This Seiko Monster For?
So who is this Seiko Monster for? In my opinion, it's a perfect watch for those just getting into the automatic watch scenario but don't want to settle for cheap automatics (like the SNK809 which is just around $60).
But with the higher price tag it has it's own character and certainly much cheaper than other Swiss watches out there.
It's also a great dive watch for casual use. Those who have dive watches will either hate it (because of its peculiar look) or totally love it (due to its unique un-dive watch like look).
It also has a very distinct design that's out of the ordinary submariner-like dive watches out there. Being an ISO certified dive watch also makes it a great value for money.
Pros And Cons
Pros:
1- Unique and distinct design unlike other dive watches
2- Rugged and sturdy case
3- ISO 6425 dive watch certification
4- Updated movement from the original Monster
Cons:
1- Out of ordinary look with aggressive dial might put off some people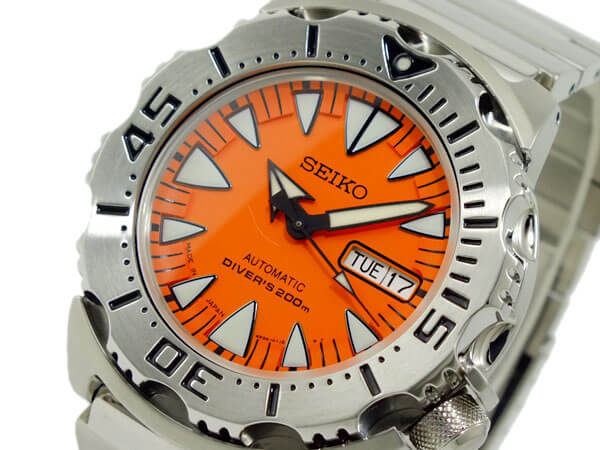 Seiko Monster Price? Where To Buy?
Amazon is the best place to buy these Seiko Monsters. News that I got is Seiko typically mass produced one model of their watches at a certain period annually and then ship those watches worldwide.
Then they move to manufacture other models. This cycle gives the fluctuating price of their popular watches (SKX007, SKX009) and the Monster is no different.
At the time of writing this article, the price for the SRP313 (Seiko Black Monster with red lining markers) is about $250 which is still tolerable. But what's shocking is the price of the Seiko Orange Monster (SRP309) that can even reach $500!
Well, the orange monster is the most unique and popular model of the lot, but to be sold at $500 when it can be had for about $200-$300 normally is just insane!
My recommendation for those wanting the Orange Monster is to wait for price to go down when Seiko released the newly manufactured watches into the market. Click the links below if you want to check the watches on Amazon.
->Click Here To Check Out Seiko Orange Monster SRP309 On Amazon<-
->Click Here To Check Out Seiko Orange Monster SRP307 On Amazon<-
->Click Here To Check Out Seiko Black Monster SRP313 On Amazon<-
Conclusion
Seiko Monster
is a very unique dive watch that has built itself a massive fan base.
It has an aggressive styling with those fang-like big markers and scallop bezel and case. Built sturdily with an ISO 6425 certified dive watch and 200 m water resistance, this is definitely a great value for money watch.
***************
I hope you guys like this Seiko Monster review post. If you have any comments or questions, please drop it down below. I would love to hear what you guys think about the Monster. Till next time.
Cheers!
Isaac