Seiko Samurai – what a cool watch name right? I have to say Seiko fans really do have some wild imaginations to come up with cool nickname for watches and the Samurai is no different. But what makes the Seiko Samurai so special?
In my opinion, the Seiko Samurai is a very stylish and modern automatic watch, with full-fledged diver watch features too. It's built robust with 200 m water resistance and passed ISO dive watch requirements. Who says a beast can't be a beauty?
Interested? Let's find out more about the watch!
The Modern And Sharp Watch: Seiko Samurai Automatic Dive Watch
The Seiko Samurai is an iconic watch – not only because of the catchy and cool nickname, but also because of the modern and sharpness of the design which I, and many others absolutely adore.
Like other famous Seikos, the Samurai is also an automatic dive watch with 200 m water resistance, screw down crown and robust construction.
Just like the Seiko Turtle and Tuna, the current version of Samurai watch released last year (2017) is actually a reincarnation of its popular version in 2000s.
And to the delight of everyone, they released quite a number of variations of the watch which I'll cover below.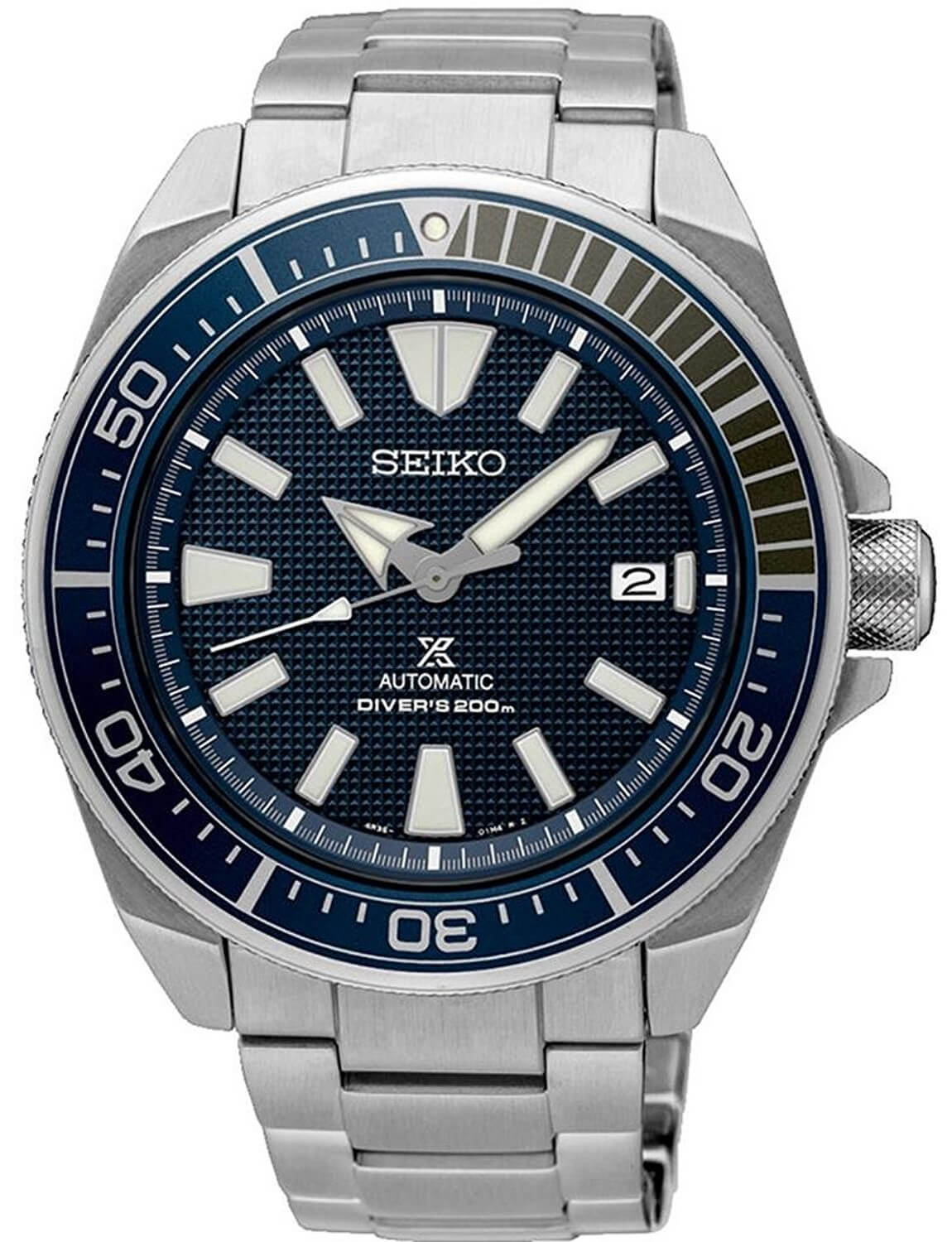 In A Hurry? >>Get Your Own Seiko Samurai On Amazon.com HERE
Seiko Samurai Watch Specification (SRPB Series)
Diameter
44 mm
Thickness
13 mm
Lug Width
22 mm
Lug To Lug Distance
48 mm
Case
Stainless steel case (silver or gray gunmetal colors, depending on model)
Strap
Stainless steel bracelet (foldover clasp with safety lock) or rubber diver strap (depending on model)
Watch Crystal
Hardlex crystal
Bezel
Bi-color unidirectional rotating dive bezel
Dial
Depending on model: Dial colors are black, gray or blue. Dial are either textured (Clous de Paris/Paris hobnail/waffle), wavy pattern or metallic blue.
Hands
Sword and arrow hands with lume
Markers
Index markers with lume
Style
Dive watch
Movement
Seiko Caliber 4R35 automatic self-winding movement
Movement Features
23 jewels, 21,600 vibration per hour or 6 beats per second, hacking and manual winding features
Accuracy
-35/+45 seconds per day
Power Reserve
41 hours
Water Resistance
200 m
Other Features
ISO 6425 dive watch compliance, Seiko's LumiBrite lumes, screw down crown
Rating
(4.7 / 5)
Quick Summary
A great looking watch with sharp and modern design befitting its cool nickname. The dials (there are many variations of the Samurai) are to die for as it's not just a boring mono-color dial. With great specs (200 m water resistance, in-house automatic movement), this is definitely one of the best automatic dive watch in its price range.
Where To Buy?
Amazon has the Samurais for around $300 to $500 (Click the link below for more info). The MSRP for the Seiko Samurai is around $400-$600 depending on the model and strap option (SS bracelet is more expensive than the rubber strap)

Seiko SRPB49 Samurai Blue


Seiko SRPB51 Samurai Gray


Seiko SRPB53 Samurai Pepsi


Seiko SRPB55 Samurai Black Gold


Seiko SRPB99 Samurai Padi


The First Seiko Samurai Was Introduced In The 2004

Seiko actually had released the Original Samurai back in the 2004.
It proved to be popular with the fans due to its modern look with clean and sharp lines from the hands, markers to the bezel.
The Samurai was also offered in titanium version back then. Somehow, Seiko stopped the production of the Samurai for no apparent reason.
Seiko always do this from time to time, even to popular models!
Though it's a relief that they have the common sense to no stop producing the SKX watches (SKX007, SKX013 etc.). I can't imagine what fans will say if they stop producing those hugely popular watches LOL!
Newly Released Samurai in 2017!

Fast forward to almost a decade after, Seiko reissued the Samurai just last year (2017). And from the first look, I can say it's an improvement over the original Samurai.
The latest Samurai was tweaked aesthetically, and technically. The look was improved to be in line with modern design taste.
The automatic movement inside uses Seiko's own in-house movement caliber 4R35. Perhaps the only issue with the Samurai is there is no Titanium version of the watch (yet!).
The latest Samurai is positioned in low-medium price bracket of less than $500, though we can always get one lesser than $400 on most online retailers such as Amazon.
6 Different Seiko Samurais To Choose From
The current Samurai has about 6 different variations to choose from. There are 2 special/limited editions and 4 normal editions to choose from:
2 special edition Samurais:
SRPB09 – Samurai "Blue Lagoon": Blue metallic dial and bezel
SRPB99 – Samurai PADI (Professional Association of Diving Instructors): Black wavy pattern dial with Pepsi bezel
4 normal edition Samurais with Clous de Paris / Paris hobnail / waffle dial texture:
SRPB49 – Blue dial and blue/gray bezel
SRPB51 – Black dial and black/gray bezel
SRPB53 – Blue dial and Pepsi bezel
SRPB55 – Black coated (gunmetal) case, black dial and bezel with gold accents
Based on my knowledge, these 6 variants all have the same specification. The only difference is the style and color scheme used on the watches – which are actually a really big deal for watch fans.
Now, let's get on with the common specs for the Samurai watches. I'll then go in detail for the various models design after that.
Different Monster-Like Hands On The Latest Samurai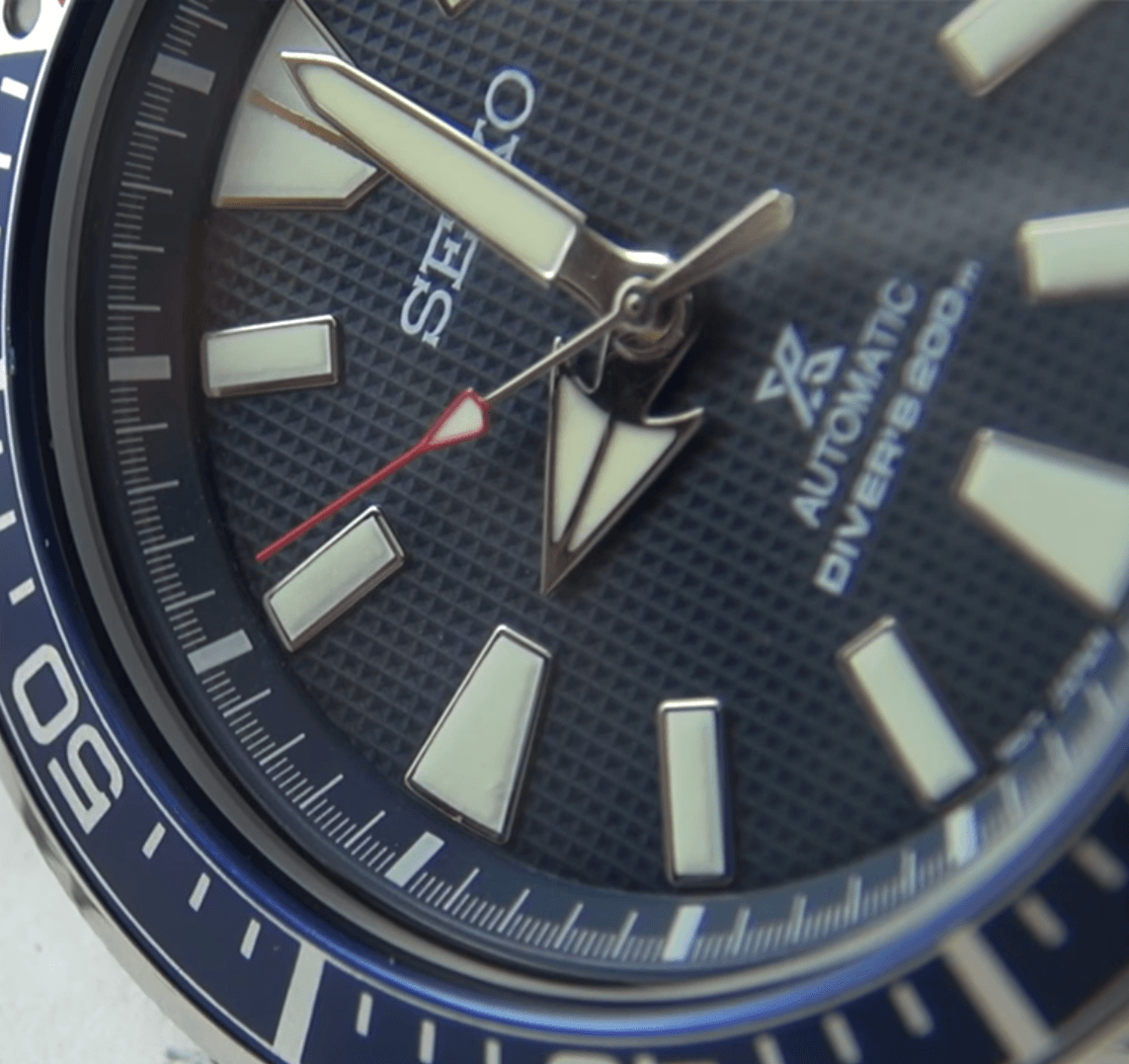 The biggest aesthetic differences between the original Samurai and the latest versions are the hands and markers.
The original used thick sword hands for the hour and minute which is not bad, but not really stunning in my opinion.
Seiko did the right thing in using the Seiko Monster handset for the latest version which surprisingly work very well with the watch.
The minute hand is almost the same but you'll surely notice the oversized arrow hour hand with lavish lume applied on it.
It's sort of contrasting with the other elements on the dial with the high sloping arrow head making it stands out – something that I really like as I feel the original Samurai handset is too boring.
Some people might disagree, but I think the new handset works very well with the new Samurai =)
Redesigned Index Markers For Better Legibility
The index markers also undergone a renovation. The previous Samurai used the same index marker for all of the hours.
It looks great and symmetric but in my opinion, it was lacking in easiness of reading the time as all of the markers are the same.
It was a common thing in dive watches to have different shape of markers for the quarter hours (12, 3, 6 & 9) so that its owner can easily tell the time, especially in the dark by the light of the lume.
Seiko made the correct move in changing the markers of the Samurai to the current, more modern design. The 6, 9 and 12 hour markers all have different shapes which will make it easy to tell time.
Not only that, they changed it a bit by applying lume over the whole marker, instead of about 80% of the marker on the previous version. This means more gorgeous LumiBrite lume for us!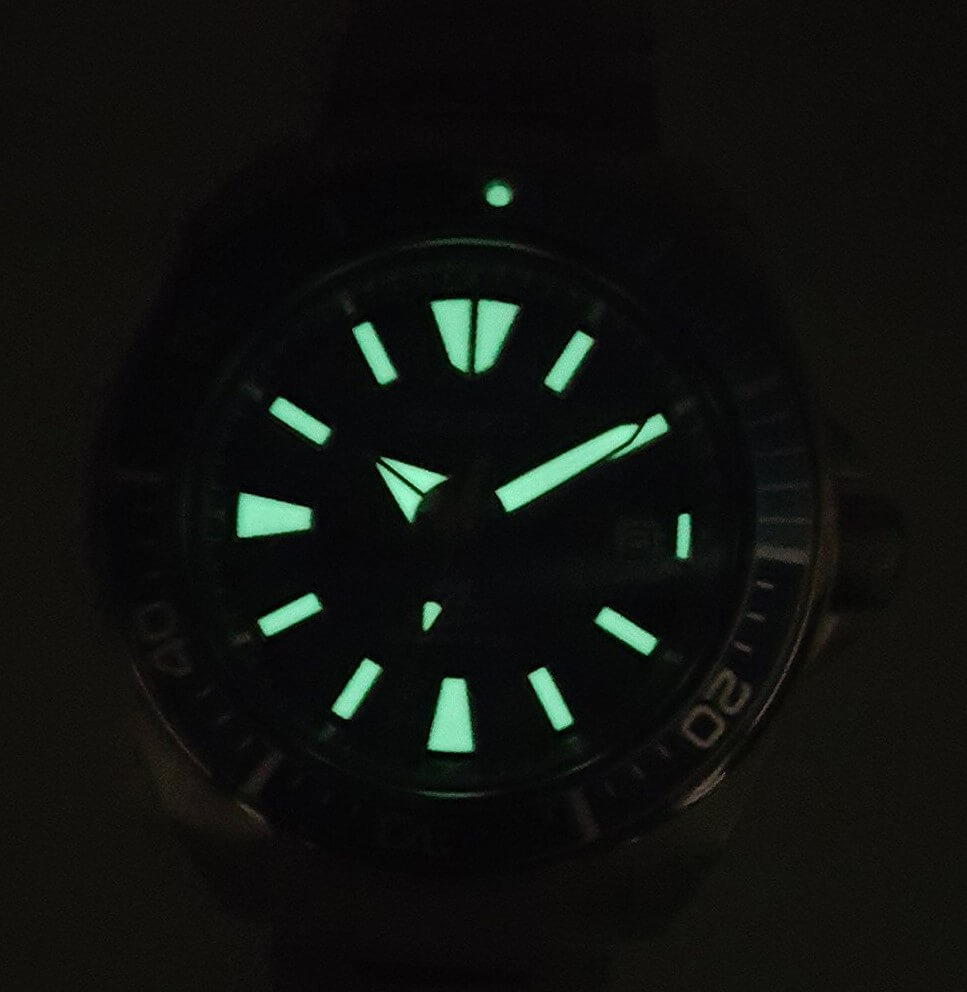 Date Display For Convenience
There's also a date display at the right hand side of the dial (3 o'clock). Some people don't like the date window because it's quite easy to check it nowadays, with everyone owning a handphone and all.
But in my opinion, it still serves as a good way to let us know the date. Just how wearing a watch can make it easier to know the time, we don't have to continuously check on our phone for it.
A simple flick of our wrist will let us know this, instead of having to take out our phone.
In addition, having the date window make the dial not symmetry which can be a good thing too. I frequently use it to know which side of the watch is up so I can quickly wear it.
As the date window is usually contrasting with the dial, finding it at a glance is much easier compared to finding the watch's signature.
Bi-Color Bezel – Unidirectional Rotating Type For Dive Watch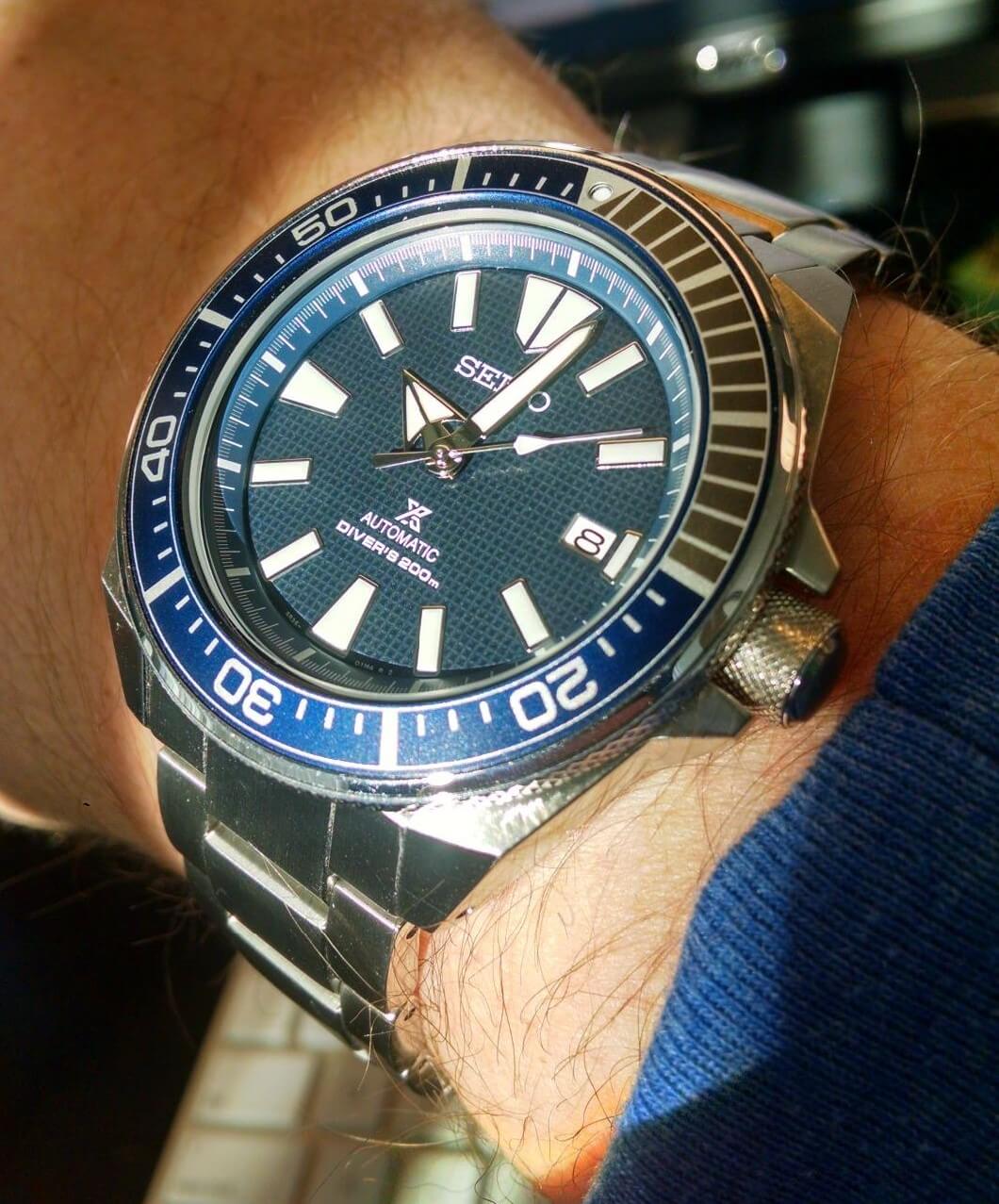 On top of the Samurai is a unidirectional rotating bezel which is the common standard for dive watches. It can only be rotated counter-clockwise and features a satisfying "click" with each rotation.
The bezel is actually use as a simple device to keep track of diving time. Even for non-diver, we can still use it for simple tasks such as keeping track of baking time, laundry, and many others.
(Read my article on how to use this bezel HERE)
The design of the bezel uses 2 colors; the first quarter (12 – 3 o'clock) and the remaining ring. It's a quite nice design in my opinion.
For the font of the minute markings, I noticed Seiko changed it from the previous Samurai. It currently has a more modern, balanced and pleasant looking minute marking font compared to the old one.
Truthfully, I can say that Seiko did their homework and improved over the older generation of Samurai, instead of just giving us a same design.
It's more balanced and has modern design aesthetics on it. What more can we ask? A real handsome watch for sure!
Clean Cut And Sharp Case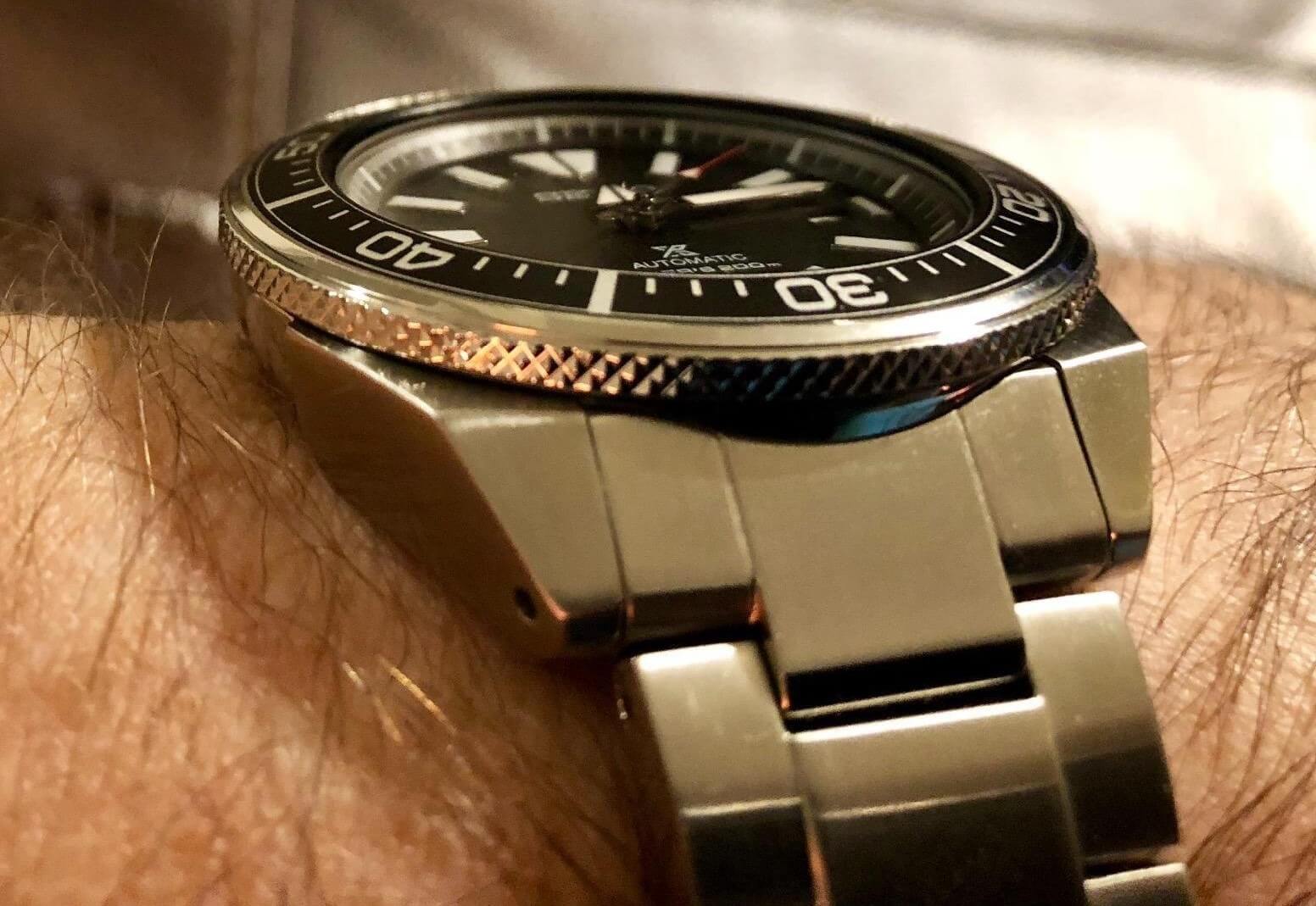 Apart from the dial, the case of the Seiko Samurai is another design element that I really love.
In short, it's not your ordinary watch case with the rounded case around the lugs and sides.
The Samurai uses multi-faceted straight surfaces on the case lugs and sides with sharp edges where the surfaces meet. The surfaces also have brush and polish finishes.
What entails then is a cool watch with modern looking case thanks to the robotic-like edges and straight surfaces. In fact, I believe this is also one of the reason for the Samurai nickname.
The case is not as ground breaking as the Tuna or Turtle (those watches have very distinct cases) but that's the charm of the Samurai.
It's different but NOT so different to make it repulsive to normal watch fans.
The lug to lug distance is also kept at 48 mm due to the short lugs. This makes the watch to still be wearable by those with smaller wrists.
A the back we can see the cool Seiko tsunami on its caseback. As this is a dive watch, the back does not have open caseback to see the movement.
Shatter Proof Hardlex Crystal

Protecting the watch at the top is Seiko's own hardlex crystal.
For those new with watches, there are 3 common types of watch crystal (or glass) : acrylic, mineral and sapphire > sorted in order of price and scratch resistance.
The hardlex is actually a mineral crystal with extra toughness imparted on it.
Due to its low cost, the hardlex is about the most common watch crystal used in Seiko's low to medium priced watches.
It's not as scratch resistant as sapphire (the most expensive) but in my opinion, will do quite OK in normal use.
(Read my introduction to watch crystal HERE)
200 m Water Resistance With ISO 6425 Dive Watch Compliance

Like the other dive watches in Seiko's Prospex series, the Samurai also has 200 m water resistance rating which means it can be used for all water sports and scuba diving.
It also complies with the ISO 6425, an international standard for dive watches covering a whole range of performance and reliability requirement for a dive watch.
(Read the summary of the IS0 6425 standard on Wiki)
So what does that means? It means that apart from just a good water resistance, the Samurai is a full fledged dive watch!
Another cool bit is the signature "Diver's 200m" on the Samurai is only reserved for those watches that satisfy the ISO's requirement.
Though whether you'll actually wear this to diving is another thing altogether, but all I can say is it's a cool thing to be wearing a watch that is built to withstand the harsh diving environment and activity like this =)
2 Strap Options: Steel Bracelet And Rubber
The Seiko Samurai comes in two strap options: stainless steel bracelet and rubber strap. Unfortunately, each Samurai model comes with only ONE strap option.
Stainless steel bracelet : SRPB09, SRPB99, SRPB49 & SRPB51
Rubber strap : SRPB53 & SRPB55
The stainless steel bracelet is an oyster type, like what we normally see on other Seiko Prospex dive watches in this price range.
It features the usual push button deployment clasp, safety lock, dive extension and micro adjustment – basically everything that's needed for a dive watch.
It's a fully functioning bracelet as I'd rate the micro adjustment and push button deployment clasp as the 2 important features on ANY watch bracelet for its practicality.
The micro adjustment makes it possible to adjust the bracelet length to near perfect condition to any wrist.
The push button on the other hand, makes it very easy to open the bracelet. Having these 2 features makes the bracelet a breeze to use.

The Samurai's rubber strap is also not too shabby. It's unlike the clunky old Seiko rubber strap versions – this one is a high quality and soft strap befitting the price of the watch.
We need to remember the MSRP of the rubber strap version is around $400 – $500 a piece (though we can get one much cheaper online!) and Seiko did make sure the strap is worth it!
Even so, I still prefer stainless steel bracelet because of its longevity – there's a very good chance it will last as long as the watch itself.
Not only that, it's more robust and not easily damaged (it's steel after all) compared to the rubber strap.
It's ease of use when putting in and taking out the watch makes it a great choice for those that seeks simplicity and functionality.
And lastly, don't you think the stainless steel bracelet looks much cooler than a rubber strap?

Seiko Cal. 4R35 Automatic Self-Winding Movement
Inside the Seiko Samurai is an in-house automatic movement by Seiko which is the 4R35 movement. The movement is actually a sibling of the more widely used 4R36 movement in Seiko's other watches (within the same price range).
The difference between the two movement is the 4R35 only has date display while 4R36 has both date and day display.
Going into the technicality, the 4R35 automatic movement (meaning it will recharge itself by wrist movement) has 23 jewels in it. It's vibrating at 21,600 vibrations per hour or 6 beats per second.
It also has hacking and manual winding features, standard for any modern automatic movement.
The hacking will ensure the second hand will also come to a complete stop when we want to adjust the time (older movements can't do this such as the 7S26 in SKX007).
The manual winding feature really helps to give the watch some juice whenever the watch comes to a complete stop. By rotating the crown, we can tighten the mainspring directly to supplement is 41-hours power reserve.
Again, older movements (7S26) cannot do this so we are left with having to wear (or use a watch winder) to fill up the power reserve and keep the watch running.
Accuracy wise, Seiko published the rate at -35/+45 seconds per day, which any Seiko owners will tell you is at the extreme conservative side.
An accuracy of less than 10 seconds out of the box is usually what people will get with Seiko's and other reputable automatic movements such as Orient's and ETA's.
Seiko Samurai Variations
We've looked into the various aspects of the watch. As mentioned earlier, the Samurai comes in 6 different variations.
The difference between each variation is in the dial, strap and the casing (in the case of SRPB55).
What I love most about the Samurai is the dial is not boring at all! There's always something on it and we're not left with a boring mono-color dial.
What's sweeter is these kind of dial is almost unheard of in this price bracket for an automatic watch. Talk about great value for money!
Below are the details and pictures of the 6 Seiko Samurai variants.
1- Seiko Samurai "Blue Lagoon" SRPB09

Want The Blue Lagoon? >> Get Your Own On Amazon HERE
I believed the Blue Lagoon (SPB09) is the first new Samurai to be released by Seiko last year (2017). It's actually a limited edition watch with 6000 watches up to be grabbed (I found Amazon still have it in stock so if you guys want it, better get it fast!)
The watch has a gorgeous metallic dark blue dial that has very beautiful reflection effect. It also has a two shades blue bezel – all in all capture its nickname perfectly.
There's a slight yellow accent on the dial (second hand, painted markers) that give an extra color to the dial.
So if you're a sucker for blue watch like me, the Samurai blue lagoon might be a good choice.
2- Seiko Samurai PADI SRPB99
Want The PADI Samurai? >> Get Your Own On Amazon HERE
The SRPB99 is another special Samurai version as it's a watch made in collaboration with PADI.
For those that didn't know, PADI is an acronym for Professional Association of Diving Instructors.
A dive watch that have the symbol of the biggest diving association on it? That's really a good marketing there LOL!
By the way, this is not the first watch that Seiko had collaborated with PADI as I've seen they do it for other watches (such as the Turtle) in the past.
For the SRPB99, the dial is a black dial with wavy pattern. Seiko kinda break a tradition here as their other PADI watches have blue dial.
But I have to say the black wavy pattern is absolutely gorgeous and unique. It's definitely a good looking dial for sure.
The bezel has pepsi colored theme (red and blue colors) which is same as the SRPB53 (below).
Due to this, the watch is a bit colorful with 4 main colors (white markers/lume, black dial, red & blue bezel) but the use of dark colors has toned down the watch a bit. Or else it will be a sort of a clown watch =P
3- Normal Seiko Samurais (SRPB49, 51, 53 & 55)
The other 4 variations are the normal offering of the Seiko Samurai with Clous de Paris or Paris hobnail dial.
In layman's term it's actually a waffle dial texture. As you can see, the dial consists of lots of small boxes that looks like waffles there.

Seiko SRPB49 Samurai Blue


Seiko SRPB51 Samurai Gray


Seiko SRPB53 Samurai Pepsi


Seiko SRPB55 Samurai Black Gold

Each of the 4 variations have its own dial/bezel color and strap type.
(Click the name of each watch to check it out on Amazon)
As you might be aware of, the SRPB55 (or the so called Samurai Black Gold) is the most unique of the lot.
It has a gunmetal case, and a black & gold dial/bezel that looks stunning. Even the hands and markers have gold outline on them!
I'm not saying the other Samurais are not beautiful, they are, but the black gold version is just more unique in my opinion.
Which One Of The Samurais Is Your Choice?
For me, the PADI is the best looking simply because of the stunning wavy pattern dial and the PADI signature that looks so cool on a dive watch.
So which one of the various samurai is your choice? Do let me know in the comments section below =)
Above is a video showing the Seiko Samurai up close
Who Is The Seiko Samurai For?
Anyone wanting a cool and stylish automatic dive watch should get the Samurai. It's design is well balanced and looks cool and modern. Those sharp edges really looks great.
By the way, did I mention the Samurai nickname is super cool? Yeah, it is.
The watch is not just a good looker – it's specs are also at the top of the heap. 200 m water resistance and ISO rated dive watch are 2 key features that shows the Samurai is not just a beauty.
In addition, Seiko also produced a wide range of the Samurai in many variations to appeal to a wider range of people. So you'll surely be able to find one (or more than one) that suits your taste.
Who Should Not Get It?
While most dive watches are versatile, I think the Samurai is more towards casual/sporty use than formal wear.
It's a gorgeous watch for sure, but the edginess of it makes it not a good choice for a formal or even business attire.
I'd certainly wear it to work but if I'm trying to make a good impression with clients, the Samurai is not what I'd wear.
Which is why if you're looking for a dress dive watch, I don't think the Samurai is a good choice as it doesn't fit that requirement.
Seiko Samurai Pros and Cons
Pros:
A gorgeous and stylish dive watch with modern design – perfect for casual or office wear
The dials are unique (either metallic blue, wavy or waffle pattern) and hard to find in a watch in the same price range
200 m water resistance and ISO rated dive watch so that you can actually wear it while doing water activities
An in-house automatic self-winding movement ensures no battery change is needed in its entire life
LumiBrite lume has one of the brightest lume in this price range
Cons:
Hardlex crystal is not as scratch resistant as sapphire
Each of the 6 variations comes with only one strap option giving limited choice for fans
Where To Buy The Seiko Samurai?
The MSRP of the Seiko Samurai is around $400 to $600 from official stores. The price, as you've guessed it, depends on the model (the special edition Blue Lagoon is more expensive) and the strap type (bracele is more expensive).
Fortunately, we can get our hands on a Samurai for a much lower amount at around $300 to $500 on online stores such as Amazon. Click the link below to check out the Samurais on Amazon!
=>Click Link Below To Check Out Seiko Samurai On Amazon<=
Seiko Samurai "Blue Lagoon" SRPB09 
Seiko Samurai PADI SRPB99
Seiko Samurai SRPB49
Seiko Samurai SRPB51
Seiko Samurai SRPB53
Seiko Samurai SRPB55

Seiko SRPB49 Samurai Blue


Seiko SRPB51 Samurai Gray


Seiko SRPB53 Samurai Pepsi


Seiko SRPB55 Samurai Black Gold


Seiko SRPB99 Samurai Padi


Final Thoughts
Seiko Samurai is truly a handsome dive watch from the brand. Cool nickname, sharp looking dial and case, great specifications – all of these contributed to the popularity that the watch enjoys.
The modern and sharp design is one of the key features on the watch that I absolutely adore.
While the Rolex Submariner still is the gold standard for dive watch design, having a more modern take on it like what the Samurai did certainly won't hurt (mercedes hour hand anyone?).
With great all around design, quality and Seiko's tried and tested automatic movement, the Seiko Samurai is definitely one of the best dive watches in the low to middle price range.
I hope you enjoy this Seiko Samurai review. What is your verdict the watch? Do let me know what you think about it.
I'd love to hear what you think about it =)
Cheers!
Isaac.