In this article, I'm going to write about Seiko SRP777 review, an affordable diver's watch by the Japanese brand. It's a step up from the famed Seiko SKX007 and SKX009 with updated movement (7S26 vs 4R36), and of course with a price increase of about $100.
Updated Version Of Seiko 6309 "Turtle"
This SRP777 is actually a new Seiko Turtle diver's watch, made in homage to the Seiko 6309 that's popular in the 1970s-80s. The 6309 has this peculiar steel cushion case (the case portion that sticks out from the sides of the watch) that's well loved by fans. So now you know why its nickname is Turtle.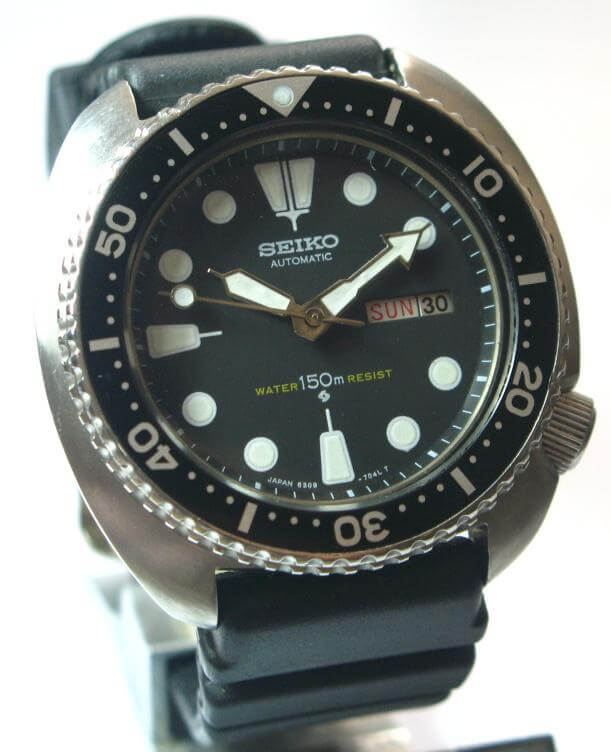 A vintage Seiko 6309 – the old Turtle – from the 80s. Notice how Seiko plays safe by copying almost all of the design aspects of this vintage? Call them lazy but if it ain't broken, why fix it?
Up until nowadays, the demand for vintage 6309 has never faded and it still retails second hand for around $100-$200. Now, I don't really know how much the watch sells during the 80s, but I bet it must be lower than $200 for sure which means it must retain its value quite well.
Not too shabby for a Seiko eh?
So Seiko noticed this demand and gives what their fans wants: a total re-release of the well loved 6309 with movement update and some minor aesthetic change. The overall look is just about the same though.
They are very careful not to mess it with a watch that's already great to look at. Plus, they want to capture all those nostalgia that fans have. Now that's a great marketing strategy.
Enough about the vintage 6309, now let's take a look at the Seiko SRP777 review, the new turtle diver's watch.

Introducing Seiko SRP777 – the new Turtle
Seiko SRP777 Turtle Specification
Diameter: 45 mm
Thickness: 13 mm
Lug Width: 22 mm
Lug to Lug: 48 mm
Case: Stainless steel
Strap: Black silicone strap
Dial: Matte black dial
Watch Crystal: Hardlex crystal
Hands: Arrow hands with lume
Markers: Index markers with lume
Bezel: Unidirectional rotating bezel
Movement: Seiko Caliber 4R36 Automatic Self-Wind movement
Movement Features: Japanese made in-house movement, 24 Jewels, 21600 vibrations per hour or 6 beats per second, Hacking, Manual winding
Accuracy: +- 15 seconds per day
Power Reserve: 41 hours
Water Resistance: 200 m
Other Features: ISO 6425 Diver's watch compliance, Suitable for SCUBA diving, Seiko's LumiBrite lumes, Screw down crown and caseback, Day Date function
Best Place To Buy: Amazon
Unique Cushion Case
The first thing anyone would notice on the SRP777 is the wide watch base that make it look oversized. But that's not the truth though. In actuality, the case is just enlarged at the top and tapers down towards the caseback – creating a unique steel cushion case.
It's definitely a very peculiar design that something those people in Seiko can create ( just like that aggressive design on the Seiko Monster). This cushion case make it looks like a turtle looking from top and sides.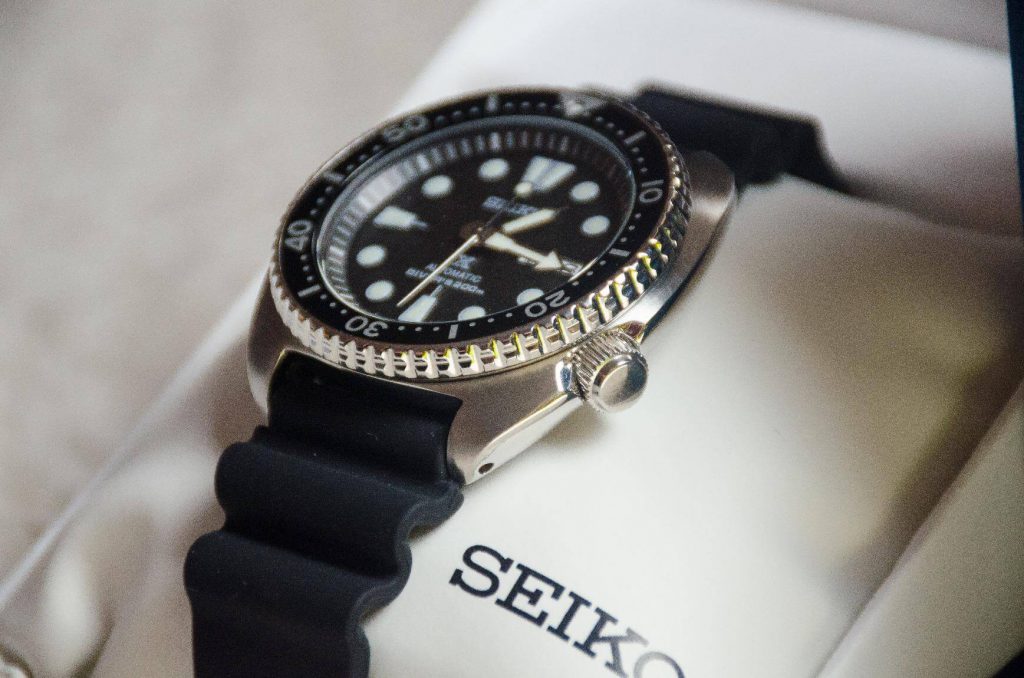 Take a look at the cushion case of this Seiko SRP777 – it's not that big actually. It's just have an extending sides that tapers down (something like a turtle shell lol!)
One more important aspect is how wearable it actually is. Despite the 45 mm diameter, I believe the diameter at the caseback is only 40 mm. The lug to lug width is 48 mm, giving the watch a more square look. In comparison, most watches with 44 mm diameter has a lug to lug width that's more than 50 mm.
The short watch makes it easy to fit with most wrists. So don't let the big cushion case fool you as this is NOT a big watch for sure. It has a 13 mm thickness with 20 mm lug width. A black sillicone strap is used which is great for a diver.
But since it has drilled lugs, strap change is much easier (if you want to use a leather band to make it a work watch, as an example) as the spring bar can be plucked quite easily.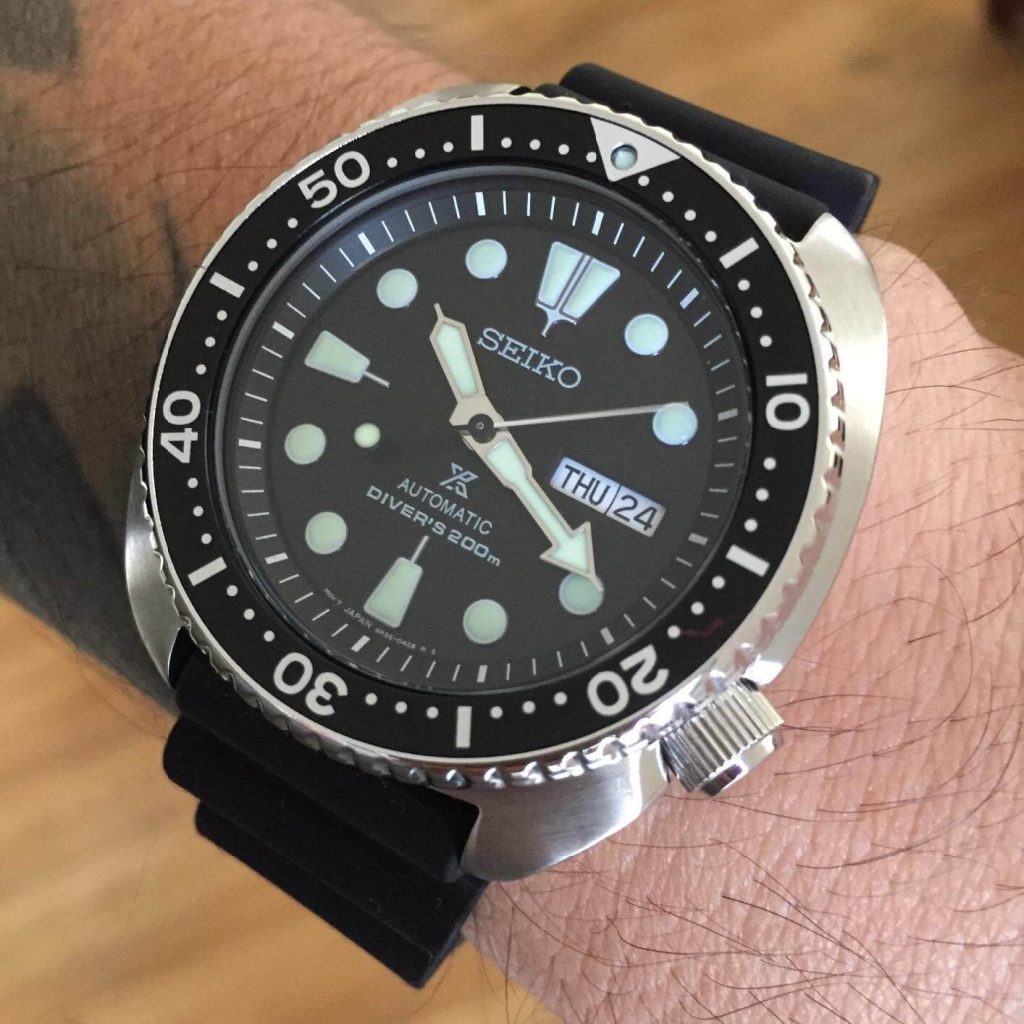 As with any mid-level Seikos, the stainless steel case is finished with brushed and polished surfaces. With the SRP777, the top of the lugs/case is brushed while the sides are highly polished.
It's crown is positioned at 4 o'clock which will not obstruct wrist movement like a normal crown position at 3 o'clock.
Legacy 6309 Dial
The dial of this Seiko SRP777 looks alot like the vintage 6309, the watch it's replacing. Seiko only did some minor changes such as changing the lume pip of the seconds hand to the back tip, adding some markings on the dial such as the Perspex "X" logo (Seiko's Professional Specification for diver's watch), "DIVER'S 200m" and "Automatic". It also has the same matte black dial as its predecessor.
It's arrow hands are the same bulky hands with luxurious amount of Seiko's LumiBrite applied on it. The markers are also the same shape as the 6309 version.
As with the hands, the markers are filled with lume. The amount of lume applied on the dial is massive. There is no doubt that this watch will shine brightly in the dark.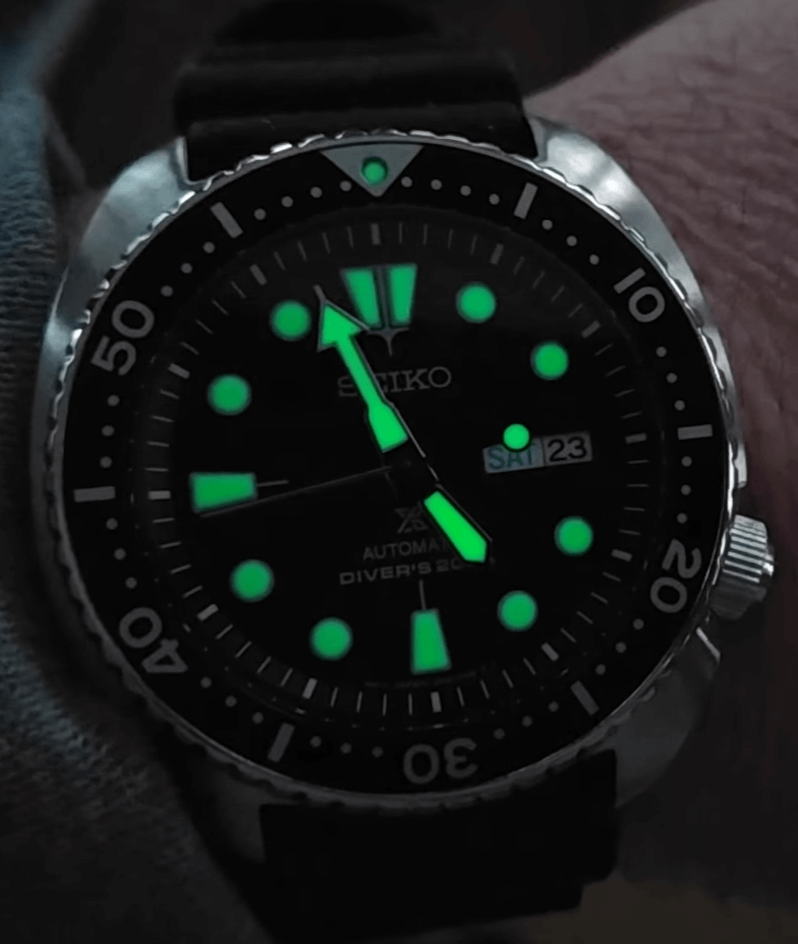 Seiko's LumiBrite in action. With a normal lighting, it can lasts for one movie screening (you can also expose it to high intensity torchlight to charge it up for brighter and longer lume)
At the right are the day and date windows which are very functional and practical in every sense. I really love this feature on all my work watches as it makes the watch more functions than just telling time.
As I become older, I'm losing my ability to remember what day and date today is (lol!). So having a watch that has all that info is very practical. There is no need to ask around what day today is, or flip open my smartphone to know what date is today.

4R36 Automatic Movement
Inside the SRP777 is the 4R36 automatic self-wind movement, the most important upgrade of this watch over the older Turtle 6309. This is the exact same movement in the Seiko Monster, and basically all other mid-level Seikos in the $200-$350 bracket.
4R36 is actually a downgraded movement from the 6R15 – the movement inside Seiko's higher grade watches such as the SARB, SARX and Presage lines. It has about the same accuracy of +-15 seconds per day.
The main difference between these two movements are the absence of SPRON510 mainspring inside the 4R36. This mainspring (a proprietary material from Seiko) helped to give the 6R15 a good 50 hours power reserves. Whereas the 4R36 only has 41 hours power reserve without it.
The movement uses 24 jewels inside it, and has 6 beats per second for that sweeping seconds hand action. It also has hacking and manual winding features, something that the older 6309 doesn't has.
ISO 6425 Complied Diver's Watch
Another great thing about the Seiko SRP777 is it's complied to the ISO 6425 diver's watch standard. With it's 200 m water resistance, there is no problem for it to be used underwater. Countless Turtle fans have expressed how great the watch perform during dives.
Great dial design, super bright long-lasting lume and comfortable on wrist – what else could a diver want? Not to mention it's much cheaper than those expensive diver's watches so you won't really mourn should it got badly damaged lol.
Watch this video to have a closer look at the Seiko SRP777
Who Is The Turtle SRP777 For?
It's definitely for those that want a pure functional diver's watch, and don't really care how fanciful the watch is. It's not the best looking watch for sure: the cushion case is weird, the dial is simple and looks basic.
But this watch is filled with great functionality all around. LumiBrite ensures the lume stays up to hours provided its charged beforehand.
The simple dial gives clear visibility – there is no problem of telling time in any condition with the contrasting markers and black dial. The sillicon strap is to make it easy to fit the watch over a wetsuit.
Just like the SKX007, this SRP777 is a watch purely meant for divers and sportsmen with a good upgrade of movement (hacking and manual winding).
But the cool and stylish look of the diver's watch means its also a great timepiece for casual or work use –  just change the strap to a leather or Nato and you are done =)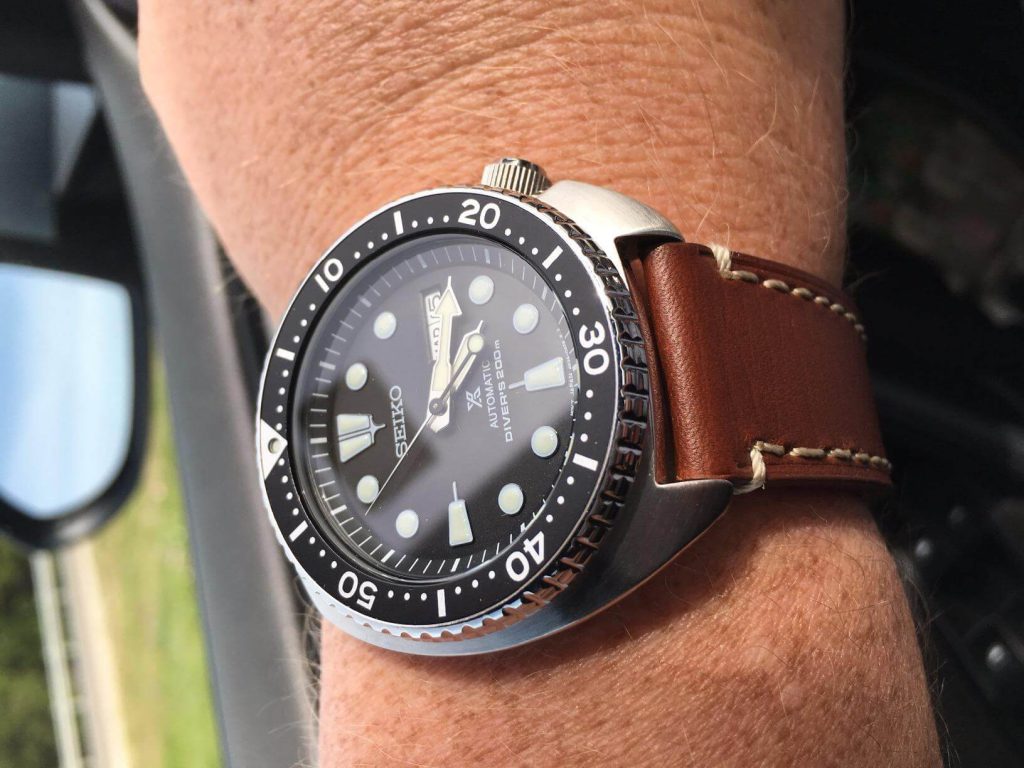 Put a leather band and poof! It transforms into a stylish watch perfect for casual use =)
Who Should NOT Get This?
Basically those that want a more refined dial and case should not get this watch. As stated above, this is a true diver's watch and not a fancy pretty watch. The turtle casing will turn off many people as the very simple dial will.
For a more beautiful casual timepiece, have a look at the Seiko SARB033, and the SARB017. Both has more beautiful dial design but still can be worn for casual and work use.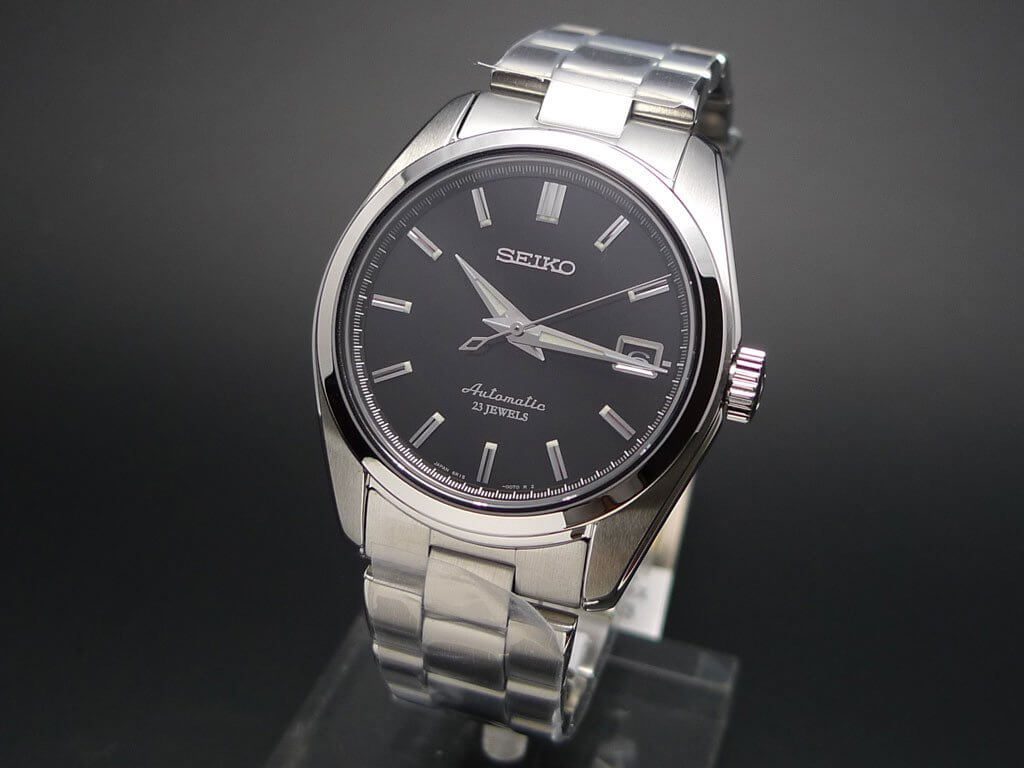 For something prettier, check out this understated but elegant Seiko SARB033
Pros and Cons
Pros:
Unique turtle-like cushion case
Great legibility with big bold markers and hands
Long lasting and bright LumiBrite lume
200 m water resistance
Diver's watch with ISO 6425 standard compliance
Very functional with day date displays
Robust 4R36 movement
Cons:
Cushion case is a bit weird and might turn off some people
Too simple dial design

Seiko SRP777 For Sale On Amazon!
If you want to buy the Seiko SRP777, look at Amazon for the best prices. The MSRP of this watch is around $475 (taken from Seiko USA website) while Amazon sellers typically lists it for around $300, and sometimes even lower than that. Click the link below to check out this watch on Amazon.
->Click Here To Check The Best Prices Of Seiko SRP777 Turtle On Amazon<-
Final Thoughts
Seiko really have some crazy designers. The Seiko Monster brought a whole new level of design aesthetics that never been seen before. The Turtle on the other hand gives a really unique case design that no one ever thought of.
With this SRP777, fans of the original Turtle 6309 can enjoy their favorite watch with an update look and movement. With so many functionalities, this is a great diver's watch all around.
****************
Hope you guys enjoy my Seiko SRP777 review. If you have any questions or comments on the watch, feel free to put it inside the comments section below. Till next time.
Cheers!
Isaac