Chronometer is a revered watch type among watch fans. It's considered one of the highest standard in automatic watch world for a very simple reason – it's much more accurate than most of them.
It's also quite expensive with a higher price tag – usually thousands of dollars. This higher price is attributed to the higher labor and material costs.
Not to mention, COSC certification process to get the coveted chronometer title costs some money too.
And yet, Tissot managed to do what I never expected – manufacturing a chronometer at less than $1000. And if you get it from Amazon, the price can even reach $600 – $700 during shopping periods!
The cheapest Swiss Chronometer? Very probable =)

One of the cheapest Swiss Chronometer around: The Tissot Powermatic 80 Chronometer
What's A Chronometer Again?
Chronometer is in simplest term a more accurate version of automatic watch.
While an ordinary automatic watch can have great accuracy (around +-2 to 3 seconds per day), this is normally while it is at one or two positions such as dial face up.
But the same watch might have lower accuracy when it's positioned differently e.g face down.
Chronometers are designed, regulated and tested at 5 different positions for 16 days. The watch then has to pass the COSC chronometer criteria of average accuracy -4 or +6 seconds per day, among other criteria.
Read my post on chronometer HERE for more info about it.
So you'll definitely agree with me that chronometer a watch those concerned about accuracy should get.
And for a Swiss chronometer, this Tissot Powermatic 80 T0864081605100 is one of the cheapest and most affordable that you can get!
Tissot Powermatic 80 Chronometer T0864081605100 Specification

Diameter
41 mm
Thickness
10 mm
Lug Width
22 mm
Case
Stainless steel case
Strap
Black leather with butterfly clasp
Watch Crystal
Sapphire crystal
Dial
Black analog dial
Hands
Slim index hands
Markers
Index markers
Style
Dress
Movement
ETA Powermatic 80 Caliber C07.111
Movement Features
80 hours power reserve, COSC Certified Chronometer, 21,600 vibrations per hour or 6 beats per second
Accuracy
Chronometer grade accuracy : Max. -4 or +6 second per day
Power Reserve
80 hours
Water Resistance
50 m
Other Features
Date display, Exhibition caseback
Best Place To Buy
Amazon

Elegant Black Dial
The Tissot Powermatic 80 with model no. T0864081605100 has an elegant black face on a black leather strap.
While it looks simple on a first glance, the dial face is actually made from 2 layers; the inner layer and the outer layer starting from the index markers.
If you look at it closely, you'll notice there is a ring around the inner dial where these 2 layers meet.
This dial design is definitely for those wanting a sleek black dress watch to go with their suits.
While the watch can still be used casually, I feel the black dial is much more suited when used with suits either for a formal event or for work.
Not sure about you but I just don't think it feels right to wear such an elegant watch with jeans/shorts. Let me know if you feel otherwise in the comment section below =)
The index markers are from stainless steel which further increases the elegance of this Powermatic 80.
It's somewhat buried under the outer layer ring of the dial which looks very nice and different than other watches out there. These kind of detailing makes the watch which looks simple at first, more fun to look at.
Coupled with the index markers are an equally slim hands with the hour hand having a somewhat bigger body at its end to make it easier to read.
It seems that Tissot's intention was to make this watch a sleek watch without any extravagant elements on it.
Even the signatures on the dial is subdued. On it is only the signatures "Tissot", "1853" (the established year of the company), "Powermatic 80" and "Chronometer".
And of course, it's the last signature that is what watch fans would really love to see on their watch =P
Beautifully Made Case
Being Tissot, it's almost guaranteed that the watch will feature a more modern size. This Tissot Powermatic 80 T0864081605100 also follow the same trend with a 41 mm diameter.
In my opinion, this is the sweet spot for a watch size – a size that's not too small nor too big for most men's wrist.
While the sizing of around 36 mm has the advantage of being a classic dress watch, it simply isn't that nice to look at.
As someone with a moderate wrist size, I find that the watch diameter of around 40 mm to 44 mm to be perfect for me. Of course, this will differ from person to person depending on your taste and wrist size.
The watch case have a few type of finishings on it. The top of the watch is highly polished that's nicely reflecting lights on the watch.
It's intentionally done to complement the stainless steel markers on the dial. At the side, we can see woven patterns on the middle of the watch.
I really love this as it's giving the straight side some exciting look. Plus, a watch with woven pattern at its sides is not many in the market making this Powermatic 80 Chronometer a unique watch indeed.
On its back is an exhibition caseback where we can take a look at the COSC Chronometer grade Caliber C07-111 movement.
The watch is coupled with a black leather strap that uses butterfly deployment clasp for ease of use.
Subdued, sleek and elegant – these are the three words I'd use to describe the Tissot Powermatic 80 Chronometer =)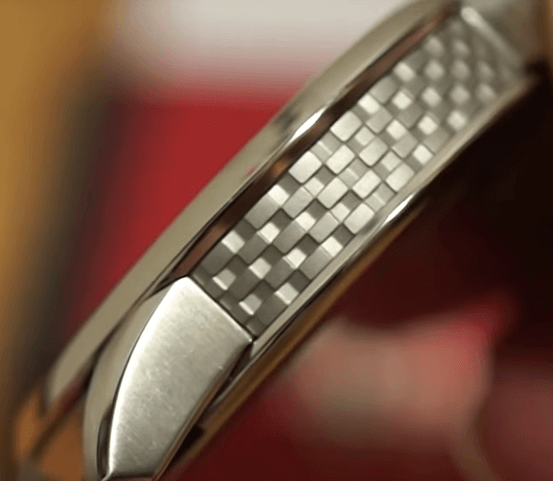 50 m Water Resistance – Not Much But Sufficient For A Dress Watch
As a guard against possible water ingress, the case is built to withstand 50 m water resistance pressure. It's not a lot but for a dress watch, I'd say this is sufficient.
While some people have the opinion that a 50 m water resistance can be used for a dip in the pool or actual swimming, I would rather be cautious and avoid exposing this Powermatic 80 T0864081605100 to any water.
I'm sure it can handle some splashes of water without an issue but to actually submerge the watch into water is another level altogether.
Besides, who in their right mind would wear such a gorgeous watch for a swim?
COSC Certified Chronometer ETA Cal. C07-111 Movement
Last but certainly not the least, we're coming to the movement section. As I've mentioned earlier, the Tissot Powermatic 80 T0864081605100 uses a chronometer grade ETA Cal. C07-111 movement inside it.
With that, the timekeeping of the watch is going to be much better compared to normal automatic watch.
And with its price tag of around $1000 (or even less if buying from Amazon or any other online vendors) especially during holiday/sale seasons) this is one of the most affordable Swiss Chronometers in the market right now.
Powermatic 80 For A Huge 80 Hours Power Reserve
Another interesting about the movement is the huge power reserve of up to 80 hours courtesy of the Powermatic 80 design.
The movement is basically based off the ubiquitous ETA 2824-2 movement. In order to increase its power reserve, ETA had to lower the frequency of the watch from the usual 8 beats per second to 6 beats per second.
Yes, this will cause the sweeping action of the second hand to be less smooth than the normal 2824-2 but as they say, nothing lose, nothing gain.
In my opinion, an 80 hours power reserve is a HUGE functional advantage and greatly outstripped the disadvantage of having less fluid sweeping sweeping second hand.
Just imagine this, the normal ETA 2824-2 (that this caliber is based on) has only 38 to 40 hours power reserve.
Which is not even 2 days mind you, meaning you can't leave it in your storage space over the weekend. That means you must always pick the watch up and wear it once every 1.5 days.
The other alternative is to wind it (less expensive way) or get yourselves a good watch winder to keep the power reserve charging all the time.
But to compare, this Powermatic 80 movement has a huge 80 hours or 3.33 days – just nice to let it sit in your watch box for a good 2 days of weekend.
Then simply pick it up again on Monday with less effort as the watch is still running. A huge functional advantage? Yes, it surely is!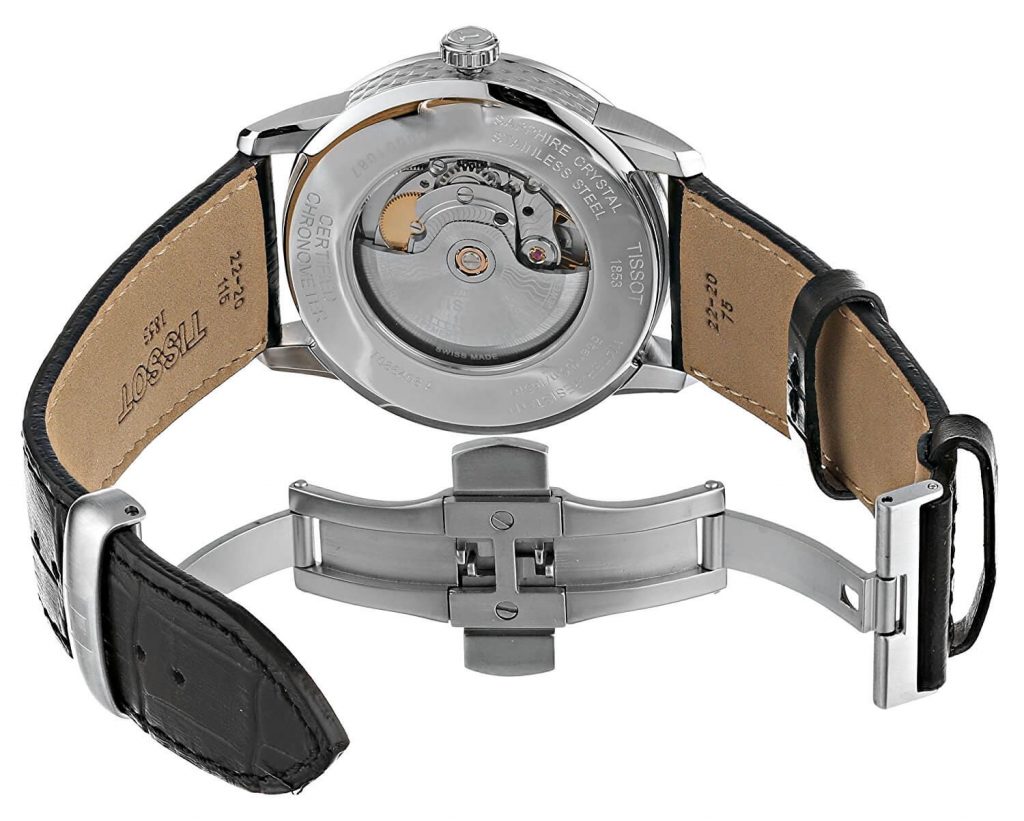 At the back of the watch is a see-through caseback for us to peek on the movement. It's not as lavishly decorated as other more expensive watches but Tissot tried their best to ensure the exclusivity of the watch is rightfully reflected through its caseback.
The weighted rotor (responsible for the auto-winding function) is adorned with wavy pattern and bears "Tissot" signature on it.
We can also see some of the gears, balance wheel and other components are plated in gold which is very nicely done to provide contrast to the mostly silver stainless steel components.
Who Is This Tissot Powermatic 80 Chronometer For?
Anyone on the hunt for a cheap and affordable chronometer would be delighted to get their hands on this Tissot Powermatic 80.
It has one of the cheapest Swiss COSC Certified Chronometer and that's really a big selling point. In addition, the movement also provides up to 80 hours of power reserve for conveninence – we all love to wear different watches once a while right?
If you always complain about the lack of accuracy and power reserve in a normal automatic watch, this watch would be just what you need.
Superior functional specification aside, the elegance dial and great craftsmanship of the watch are also something that will appeal to those that want a gorgeous dress watch for their use.
Who Should Not Get It?
If you're looking at a more versatile watch that can be used for many functions, then this might not be for you.
It might look good with jeans but I still feel the Tissot Powermatic 80 belongs with a suit or formal wear. For casual use, I'd recommend to use sports watches instead. Automatic diver's watches do make a good companion for this purpose.
Tissot Powermatic 80 Chronometer Pros and Cons
Pros:
One of the most affordable Swiss Chronometer in the market
COSC Certified chronometer grade movement for great timekeeping accuracy
Huge 80 hours power reserve
Beautiful and elegant dress watch design
Cons:
Not as versatile as it's too dressy and might not fit for a casual use
Like This Tissot Powermatic 80 Chronometer? Buy It Cheapest On Amazon!
Unfortunately, I can't find this exact model (T0864081605100) in Tissot's website which could mean it's already discontinued.
Which is why it's a bit difficult to know the exact Tissot Powermatic 80 Chronometer MSRP price, though I believe it's around the $1,000 mark.
You might be lucky to stumble upon it at Tissot's store or you can always go to online sellers such as Amazon to grab a piece of this gorgeous and affordable chronometer.
On Amazon, the price of the Tissot Powermatic 80 Chronometer is usually less than $1,000 with steep discounts near holiday seasons. Click the link below to check out the price on Amazon.
-> Click Here To Check Out The Price of Tissot Powermatic 80 Chronometer on Amazon <-
Final Thoughts
The Tissot Powermatic 80 Chronometer is a great watch with huge specification. Apart from having an 80 hours power reserve (which is A LOT btw), the watch is also a chronometer which means it's about the most accurate normally priced automatic watches in the market.
With a sleek and elegant design, it's definitely one of those things that is great not just on the outside, but also on the inside.
Beauty with a brain?
That can be the perfect sentence to describe it =)
I hope you enjoy this article on the Tissot Powermatic 80 Chronometer review. Do let me know what you think about the watch.
I'd love to hear what you think about it =)
Cheers!
Isaac.