Diver's watch is a very popular type of watch and in this article, I'm going to review the Victorinox Maverick automatic watches (241705 & 241706), the Swiss company's interpretation of the much-loved segment of watch.
Rolex Submariner has always been a gold standard of sort for diver's watch design. It has a simple style with only a date with circular index markers on its dial.
And yet, such simplicity gives off an air of elegance.
For me, it's greatest strength is in how it being a tool watch (meant for diving) but still elegant enough to be used for work and formal functions.
From then on, many companies tried to produce their own diver's watches with varying success.
Most of them used the Submariner style of dial as its basis (though some will just outright copy it).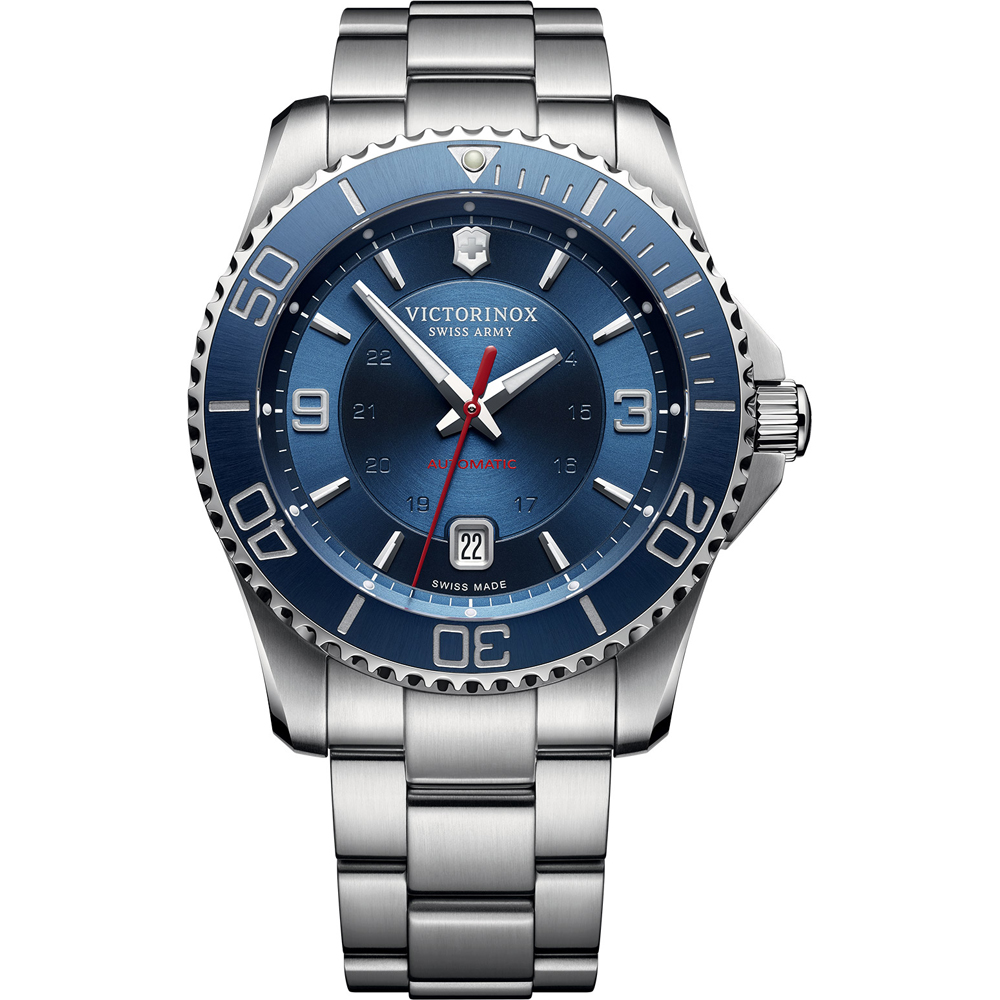 Here, we have the Victorinox Maverick, a diver's watch that has a unique design as far as diver's watch is concerned.
I totally love the dial separation between inner and outer ring and coupled with the metallic dial, it gives a 3-D effect to the watch.
Not only that, the numeral markers at 3 and 9 make it very different that your normal submariner-style diver's watch with its full index markers.
These are the little things that make the Maverick not your typical diver's watch.
Best of all, the Maverick is one of the more affordable automatic Swiss diver's watches out there.
Without further ado, let's go to the detail review of the Victorinox Maverick shall we.
Note: I need to emphasize that this review is dedicated to the automatic watch version of the watch. There's also a quartz version with a lower price but comes in a wide variety of selections.
Victorinox Maverick Automatic (241705 & 241706) Specification
Diameter
43 mm
Thickness
11 mm
Lug Width
22 mm
Case
Stainless steel case
Strap
Stainless steel bracelet with double lock clasp
Watch Crystal
Sapphire crystal
Dial
Dark gray (241705) or blue (241706)
Hands
Hands with lume
Markers
Index markers with numeral at 3 & 9 o'clock
Style
Diver
Movement
Swiss ETA 2824-2 Automatic self-wind movement
Movement Features
25 Jewels, 28800 vibrations per hour or 8 beats per second, Hacking, Manual winding
Accuracy
+-15 seconds per day
Power Reserve
38 hours
Water Resistance
100 m
Other Features
Date, Exhibition caseback, Unidirectional rotating bezel
Best Place To Buy
Amazon, MSRP is $895
A Unique Diver's Watch Dial
One of the best feature that I find on this watch is the unique diver's watch design. Victorinox didn't go with the normal Submariner-style (thankfully).
They had the guts to design something entirely their own which I really love. A bit of individuality goes a long way, especially when the market is filled with unambitious copy-cats.

Rolex Submariner – The popular diver's watch
Rather than going with a full index markers, the Maverick uses a combination of index markers and numeral markers at the 3 and 9 o'clock positions.
I find this to make the watch more casual and sporty than a full index markers dial.
Even so, the numeral markers improves the readability of the watch and is easier to read than a full index markers.

The Victorinox Maverick has a distinctive design of its own
The usage of slim slender font also complements the slim index markers and hands beautifully.
Victorinox also placed the date window at the center bottom of the dial instead of the more normal right side.
It's a bit strange at first but it's not bad at all. I found the watch looks symmetry and well balanced due to this design.
My only gripe is if only the Swiss Army logo at the top of the dial can be bigger. It's located at the 12 o'clock position and I feel it should be at least as big as the 9 o'clock marker.
Other than that, the dial is a well designed according to modern taste.
Beautiful 2 Layers Of Dial
Another design element that I like on the Victorinox Maverick is the usage of 2 layers of dial: the inner and outer ring.
It beautifully divides the dial into two portion and combines with the metallic dial give the dial a sort of 3-Dimensional effect.
The outer ring houses the main markers while the inner ring has the Victorinox signature as well as the 24-hour markings.
It's a bit of a pity that the smaller 24-hour markings are only engraved that they're not easily readable.
But I understand that if they would have painted the 24-hour markings with a white color to make it popped up for example, this will make the dial busier.
As such, it could be for the best to only engraved these small markings on the inner dial instead of painting it.

Distinctive Looking Hands
Another special aspect that the watch has from other watches is the use of a distinctive hands. As you can see, the hands of the Maverick is not a normal arrow or sword shaped hands.
Instead, the hands look like an arrow shaped hands but with the tip cut off. These kind of attention to detail and not wanting to follow the common standard is what makes the watch so intriguing.
And of course, the hands are filled with lumes to give assistance in low light condition.
But for your info, even though the hands have lumes there are none on the markers. Instead, there are lume pips at the edge of the dial for all markers.
For those wanting a dive watch with a glorious lume light, the Maverick might not be the one for you as the lume is only minimal.
Rugged Gray and Gorgeous Blue
The Victorinox Maverick comes in 2 colors: dark gray (model no: 241705) and blue (model no: 241706).
Again, a detour from normal convention as there's no black dial version of the watch. The dark gray is kinda charcoal in color and has this rugged style to it.
The blue dial, on the other hand, is gorgeous and easily my choice of version for this watch. The way the blue dial changes it color depending on the light reflection is magnificent and beautiful.

The Gray version of the Maverick is rugged and suitable for outdoor use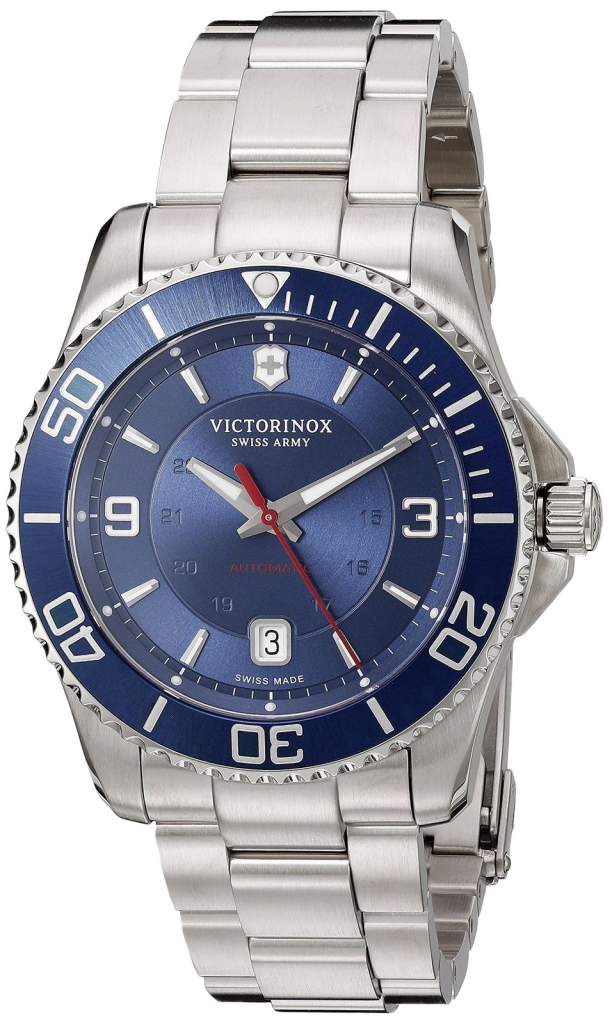 Meanwhile, the Blue Maverick is just drop dead gorgeous
High Quality Craftsmanship
The case of the Victorinox Maverick was made of stainless steel with mostly brushed finishing. It's a 43 mm diameter case which is about the current style of bigger watch nowadays.
Indeed, due to its more sporty look, a bigger case will make it look more rugged and manly. It's also only 11 mm thick making it a suitable watch to go with a suit and slid inside the cuff.
Above the watch is a unidirectional rotating bezel with minute markings – a must-have for any diver's watch.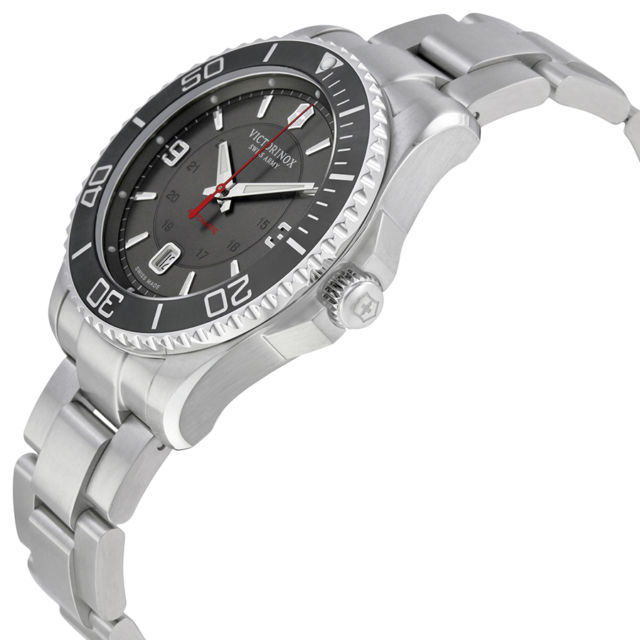 The bezel can only be rotated in one direction which is counter clockwise and is used to count elapsed time.
I won't go into detail about the operation of the bezel (read my guide on how to use diver's watch bezel), but the most important thing to know is that this can also be used by the non-divers.
Stuffs like baking, studying, working out, cooking, etc. can easily be timed by the rotating bezel making it a useful tool.
Why spend more for a chronograph watch if you can do the same thing with a less expensive diver's watch bezel?
The case is coupled with a 22 mm width stainless steel bracelet that has a diver's extension.
This means the bracelet can be elongated easily in a few seconds by extending a clasp within it. The purpose is to ensure a diver wearing a wetsuit can still wear this watch over the wet suit.
Scratch Resistant And Anti-Reflective Sapphire Crystal
As with most Swiss watches, the Victorinox Maverick uses sapphire crystal to cover the watch face from any protrusion.
Sapphire is considered the best watch crystal material due to its scratch resistance properties. The watch face can easily go for years without any scratch on it.
On the other hand, other watch crystal materials such as mineral and acrylic scratches easily. Of course, the downside of sapphire is it's more expensive but that's befitting for a watch at this price range.
The Maverick also has anti-reflective coating on the crystal thanks to triple coating on it. This will reduce the amount of reflection on the watch from bright lights.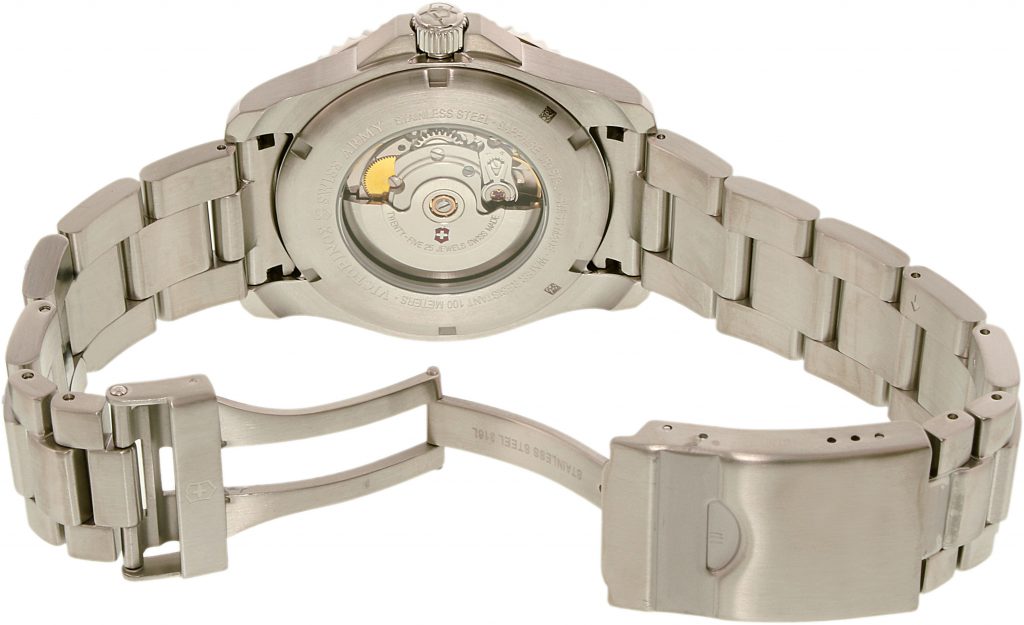 100 m Water Resistance
As with all diver's watches, water resistance is an important aspect. The need to ensure no water ingressing into the internal watch during diving/swimming is the main core of why diver's watch was conceived decades ago.
For this, watch manufacturers designed the case to be water tight from all possible ingress points such as the crystal (top), caseback and the most difficult part, the crown.
The crown will need to be pulled out to set the watch's time and date, and there exist minute opening that water can seep through into the watch around the crown stem.
Usually diver's watch has a screw down crown where the crown is screwed inside the case making it very tight against water.
But on this Victorinox Maverick, a non-screw down crown has been used which means the only thing that prevent water seepage are gaskets around the crown.
I'm pretty sure the reason for this is to cut costs down. Incidentally, the water resistance rating is only 100 m which is quite low for a diver's watch.
I believe this is due to the use of non-screw down crown on it which capped the water resistance.
Even so, unless you're actually diving frequently using your watch, I think a 100 m water resistance with a non-screw down crown is sufficient for normal use. Which is especially true for desk diving guys (like yours truly LOL!).
Swiss ETA Cal. 2824-2 Automatic Movement
Powering the Victorinox Maverick is the ETA Caliber 2824-2, a popular automatic movement used in many affordable Swiss automatic watches.
The movement has 25 jewels with 38 hours power reserve. It also has 28,800 vibrations per hour or 8 beats per second – meaning the sweeping second hand is actually moving 8 times in a second.
It's also hackable to ensure the time can be precisely set. Not only that, the movement can also be manually wound which means the power reserve can be replenished not only by wearing it, but also by rotating the crown stem.
To make it sweeter, the automatic movement can be seen from the exhibition caseback of the watch.

From there, we can easily see the weighted semi-circular rotor responsible from the "automatic" power replenishment of the watch as well as other parts such as the gear trains and balance wheel among others.
Who Is The Victorinox Maverick For?
In my opinion, the Victorinox Maverick is suitable for those looking for a Swiss automatic diver's watch that has a distinctive look and not a Submariner or Seamaster look-alike.
Not only that, this is also one of the more affordable Swiss watches from a reputable brand famed for its quality products. A good value for money watch? Totally.
Who Should Not Get It?
Those wanting a diver's watch for extreme condition should avoid this. It's a good watch, don't get me wrong, but I think it's barely passable in the diver's watch category.
For a start, there's no screw down crown and the water resistance rating is only 100 m. Not just that, the lume is only minimum with the small lume pips for the markers.
In this price range, there's no shortage of automatic diver's watches out there that have higher technical spec than the Maverick.
In fact, I've written a list of the best automatic diver's watches below $500 which can be of use to you guys wanting a good auto diver's watch.
Victorinox Maverick Pros and Cons
Pros:
Beautiful and Unique dial design which is very different than normal diver's watch
Quality craftsmanship from Victorinox
2 colors to choose from (Rugged Gray and Gorgeous Blue)
Cons:
Minimal quantity of lume on the watch
No screw down crown
Like This Victorinox Maverick? Buy It Cheapest On Amazon!
If you like this Victorinox Maverick, consider getting it cheapest on Amazon. It's MSRP (according to Victorinox's website) is $895 But the watch can be had for less than that on Amazon, even sometimes around $500 during holiday shopping season!
->Click Here To View The Cheapest Price of Victorinox Maverick On Amazon<-
Final Thoughts
Victorinox Maverick is an automatic diver's watch with unique design. It's appearance is unlike the numerous Submariner or Seamaster like watches out there.
If you're looking for a watch like no other, this is definitely it. With superb quality and gorgeous look, this is the watch that you can use for any occasion, be it outdoor or formal events.
I hope you like my Victorinox Maverick review here. Let me know what you think of the watch.
I'd love to hear what you think about it =)
Till next time.
Cheers!
Isaac.