Watches have symbolized luxury and aristocracy throughout history. A mere, yet advanced, gadget that swirls the passage of time on our very wrists; in the earlier times in our pocket. Tick, Tick –and suddenly you are old – such is the significance of watches.
It is plain to see sometimes, however, there's more to this impeccable piece of engineering than it seems to the eye: stainless steel, gold, carbon fiber, aluminum, ceramic and many more.
So, if you are watch fanatic like me you're probably wondering: what are the materials to make a watch and what is the best watch material? Well, to be honest, the answer to this question is very contentious, and so I would help you people with this article to decide.
History Of Watch Making
For the last few hundred years the world has witnessed the development of the beautiful device called watch. It began as a simple spring driven watch possibly made of bronze by Peter Henlein (read my post on history of watches HERE for more information).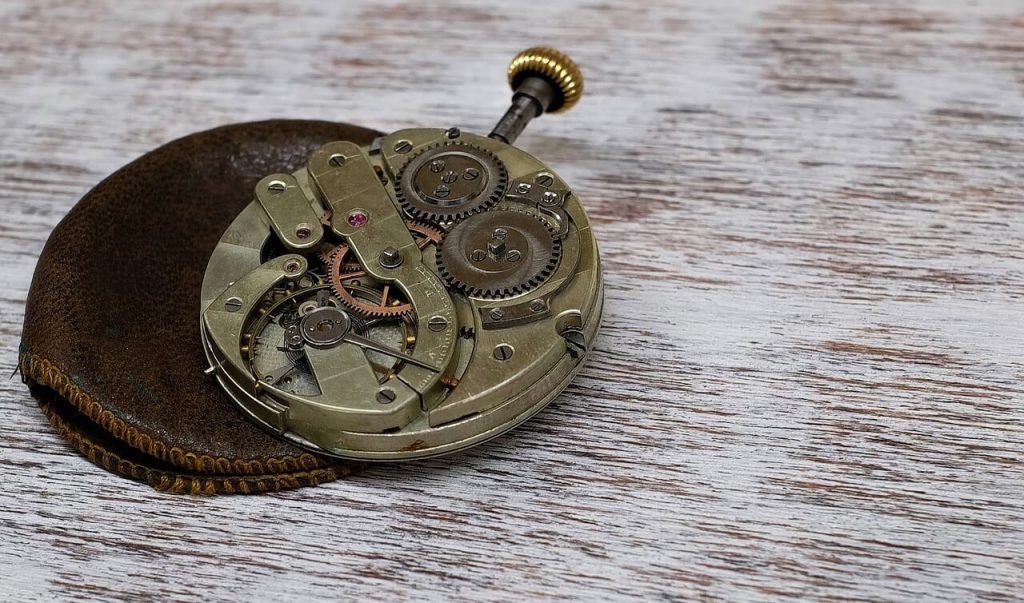 A vintage pocket watch made of bronze
Watches has fascinated Kings and rulers throughout history – often gold, diamond, rubies and other precious materials are adorned on their royal watches. In fact one of the oldest manufacturers of watch: Patek Philip –a Swedish company made a watch for the Duchess of Sweden out of gold.
As time flew, watch materials became more versatile and cheaper. Wrist watch came around 1920 and around. However, pocket watches were mass produced much earlier at around 1850. So, naturally the materials from which watches were made cheaper and lighter since it will be carried by people.
Along the way, stainless steel become a norm in the last decades due to its toughness and cheap price. Since it also can be easily molded, it become the go-by material for watches. Nowadays, some manufacturers even make custom made alloys to suit their watch making needs.
9 Watch Materials Most Commonly Used:
Apart from stainless steels, there are about 8 other types of materials that have been used to make a watch. Let's go through the list one by one!
1 – Bronze
The first step to the world of wristwatches came with the invention of portable spring driven watches, made by Peter Henlein, and it was – believe me a heavy, very heavy chunk of metal. Watchmaking (and also steel making) was not so efficient during that days so it ended up to be bigger and use more material than needed.
Nevertheless bronze has served a great in watch-making and become the base foundation for watches today. It's not being commonly used now as stainless steel has replaced its place.
Pros: It comes with the advantage of being not so expensive and it adds a beauty to watch with its brown shine.
Cons: Bronze deteriorates relatively easier and we normally, expect long lives from our watches. Bronze disease-similar to rusting-also acts as barrier as it being a watch material. It's also can become dull with time.
2 – Carbon Fiber
Now let us talk about a material which is in a league of its own: Carbon fiber! They are lightweight beyond expectations. Don't let this fool you as it is equally strong! In fact it is one of the strongest watch material out there and without a doubt one of the best watch material you can find.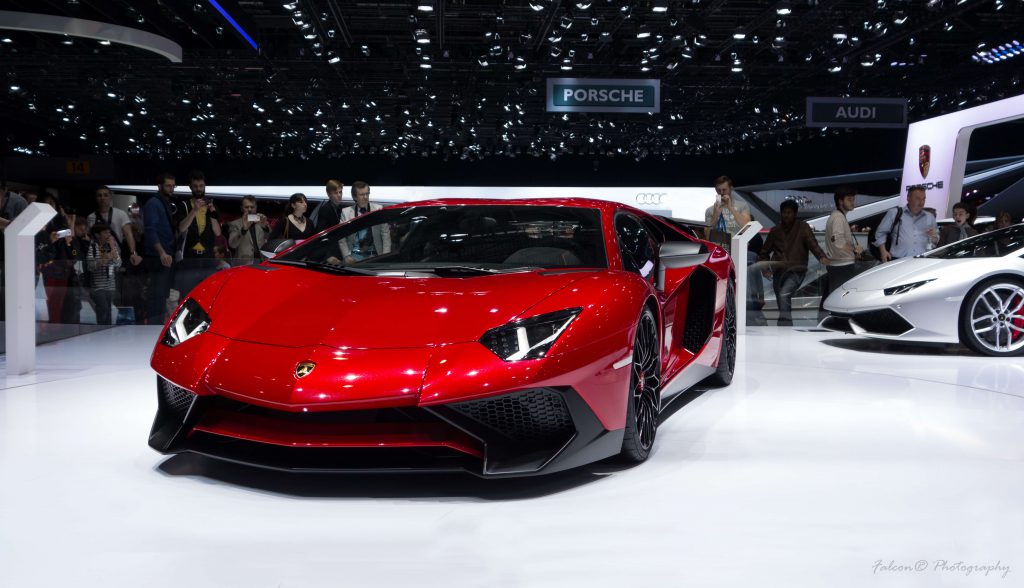 Lamborghini Aventador Superveloce with full carbon fiber giving it a very high power-weight ratio for super fast acceleration
It is, however, very expensive – so be ready to pay a hefty sum of money if you want that carbon fiber watch on your wrist. Given that carbon fiber is mainly used in leading sports instruments and even supercars, this adds a vibe of thrill and glory to the watches made of that material. Almost every renowned watchmakers make watches from carbon fiber just to get in the hype lol.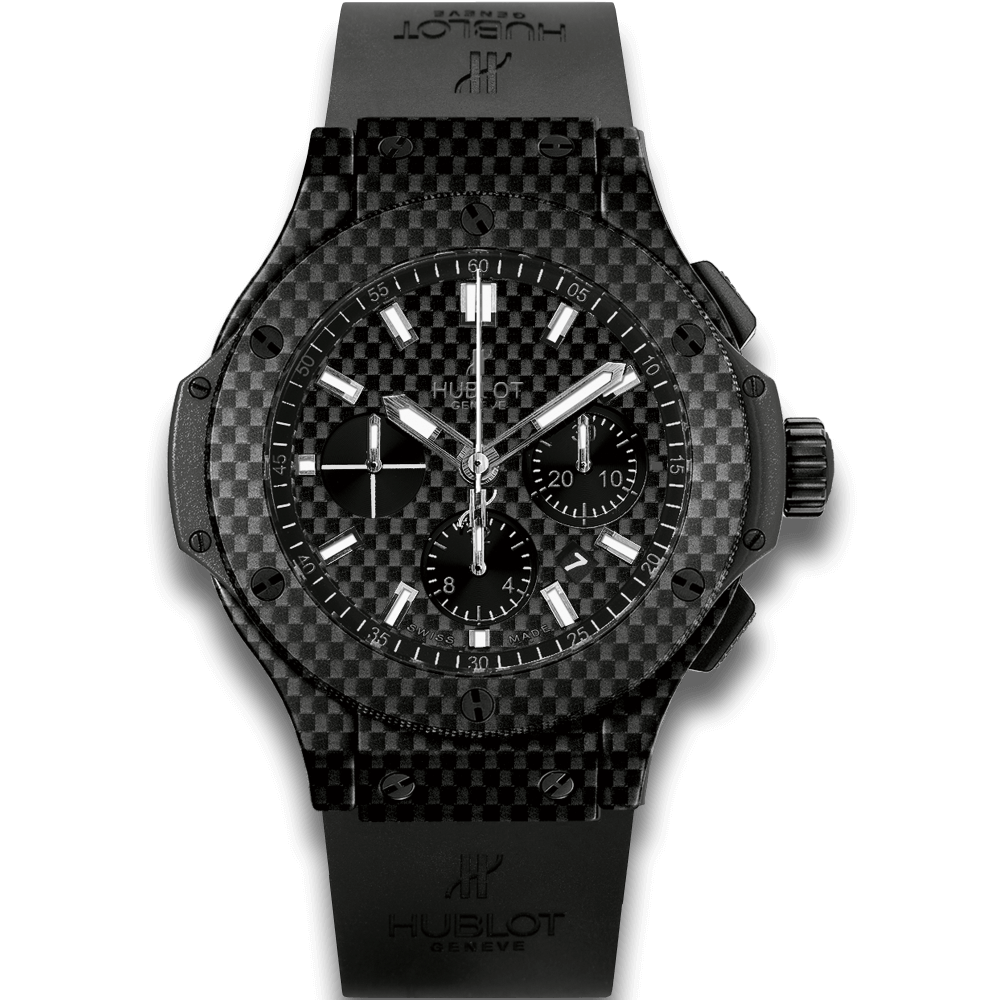 Now the same material in the Lamborghini is used in this Hublot Big Bang watch. I don't think a watch need to use the same lightweight material but you can deny it's really cool!
Now the same material is used in this Hublot Big Bang carbon fiber watch.
Pros: They are lightweight and are stronger than most metal. How cool is it to wear a watch made from the same material as the fastest sports car?
Cons: Their price is high and they have a high chance of being shattered.
3 – Stainless Steel
The most widely used watch material nowadays is stainless steel. This material is an alloy (or combination) of steel (iron plus carbon) and chromium with nickel among others. Stainless steel as the name suggests – is most popular for its ability to resisting corrosion, and at the same time keeping intact the strength of steel.
A very simple silver-like color has successfully appealed to millions who likes to has a sleek and simple watch. Watches made from stainless steel can have two finishing: polish or brush. Polishing will create a very nice shine while brushing will make the surface looks rugged and is perfect for outdoor type of watches.

Above is the Seiko SARB035, a watch made of stainless steel material with polished and brushed finish. (Read my review of this gorgeous dress watch HERE)
Some watches also use a combination of both creating a very nice combination to the case. However, stainless steel is prone to scratches and dents and it's not really great in this aspect. It's also very common nowadays since steel isn't that expensive to begin with which contributes to it low price as a watch material. Besides plastic, it's the most common watch material nowadays.
Pros: Resists corrosion and maintain a shine for a long life. They are relatively cheaper
Cons: Prone to smudges and finger prints. They are likely to be covered in scratches
4 – Silicon Rubber
You would be surprised to know that the silicon rubber that we normally find in toys or medical equipment is also used as a watch material. Soft and rubbery, it is truly a delight to wear as a watch.
Its rubber properties also makes it waterproof and lightweight. In addition, being rubber it has good impact absorbing characteristics, making it a great choice for modern outdoor watches (think Casio G-Shock).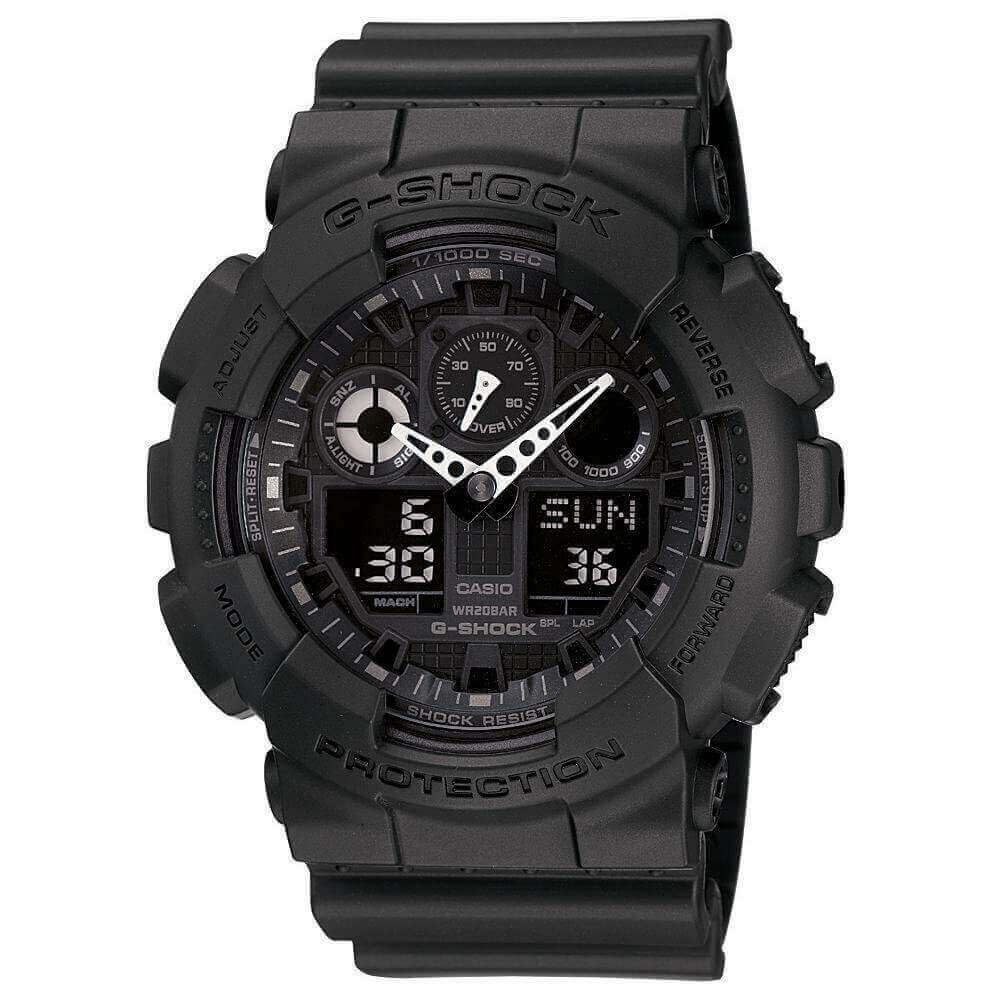 A Casio G-Shock with rubber case for a great shock absorbing watch. It's the perfect companion for truly outdoor activities
So, you do not have to spend thousands of dollars on Rolex submarine watch as watches made from silicon rubber does the job at a much cheaper price. Silicon is also synthetic, so this material allows users to experience a wide variety of colors not feasible with other materials. This feature truly places silicon in a league of its own. So, it's the best watch material if you like funky watches, comfort wear and expect a lot of durability from your watch!
Pros: It is comfortable to wear as a watch. It is water-proof. Not so pricey.
Cons: They usually cast a childish vibes on watches and likely to be attacked by nibbling insects.
5 – Ceramic
Now this material I will talk about is very old, but only at this point of time is being used in watch making. It is a hardened form of clay; we are very much acquainted with it – I mean we all have seen ceramic tiles right. It is also used in common electronics.
For watches it presents many advantages: non-porous, easy to clean, lightweight than most materials. This has made this material a widely used watch material. The scratch proof surface of ceramic along with its ability to stand the test of time makes it the best watch material for people who likes to show off their watch mostly and wear it in fancy parties.
But it's main disadvantage is it's not impact resistant as steel is. Unlike steel which will deform due to high impact force, ceramic will just break leaving you with expensive repair bill. But as long as the watch is carefully used, it should be fine.
Fun fact: The latest Rolex Submariner features ceramic bezel. It's a great move by the Swiss brand as the extra scratch resistance provided by ceramic will be able to protect the bezel which is the area most likely to get scratched with use.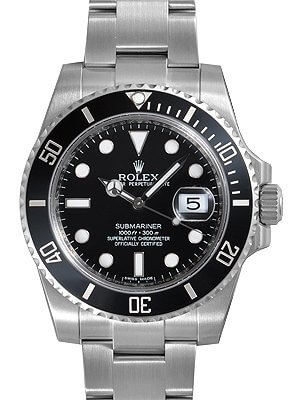 Rolex Submariner 116610 with ceramic bezel on top of it for greater scratch resistance
Pros: It is non-porous and it makes watches easy to clean. Ceramic has long lasting shine which adds a touch of beauty. It is also lightweight and scratch resistant.
Cons: Has a greater chance of leaving you with a broken watch with a very high force. But with normal wear, it won't really happen. Ceramic is not expensive but a watch made of ceramic is very expensive since it's unique and has to be custom made.
6 – Plastic
One of the most common material for almost everything is plastic, and the same can be said to watches (at least to the cheapest watches out there). Many ways are discovered by watchmakers to make the most stylish watches out of this everyday material. In terms of lightweight and durability, it is a good choice for material.
Scratches and plastic are almost as if they are best friends. Not to mention that a great force applied on the case can snap and break it. It also doesn't has the pretty shine finish that some of the other materials have.

Sistem51 watches by Swatch uses full plastic case but with automatic movement inside it which is a truly unique combination. (Read my review of the funky Swatch Sistem51 HERE)
Plastic might be considered as rather an innovative and efficient watch material but certainly not the best watch material as it falls behind on many categories. But due to its colorful appearance, it can be a funky looking watch – just like how Swatch Sistem51 looks. And being cheap, it's perfect for a watch that is meant to be disposable or replaced frequently.
Pros: Can be made in to variety of colorful watches and very cheap. It's also lightweight and very cheap
Cons: Not of the best materials for the classiest watch. In terms of lasting they are on the average category and has some serious environmental concern
7 – Wood
You might be left stunned to know that wood is a watch material – yes that wood! Wooden watches are the feathers in the world of watch (I am highlighting their lightweight if you are wondering). Their designs are a treat to the eye and they are considered as one of the most beautiful watch material.
Watchmakers often show off their outstanding skills on these wooden watches as wood provides the perfect base for designs. Often, high end and limited produced watches are made from wood as it require genuine craftsmanship. I don't think woods can be cut by robot to make into watch case lol.
Apart from wooden watches being pricey they are less durable than metal or ceramic. If special coatings are not used and the watches are not properly maintained, the beauty of watches made from wood may fade. It might even get eaten by insects lol!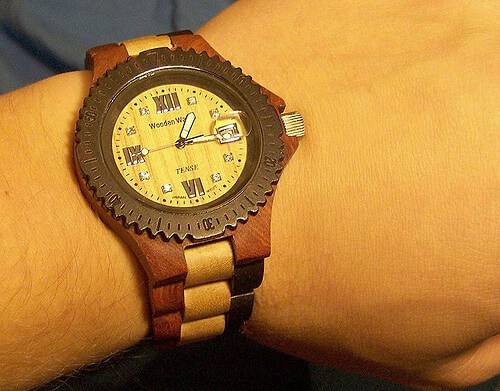 An example of a wood watch by Tense Watches
So is wood the best watch material – well if you are that person who likes standing out in the crowd with a unique accessory that most people never heard of, then sure!
Pros: Very unique looking watches. How many people have you ever seen wearing a wood watch?
Cons: Less durable than other materials on the list for making watches. It requires great deal of maintenance and caution to use it. So much so it's better sitting on the shelves rather than on our wrists.
8 – Gold
Gold – ah! Just the word itself screams luxury. The most unreactive metal in the world! Meaning no corrosion at all and will stay the same for years. How can watchmakers not use this – this is gold, literally! Gold watches have been around for a very long time mostly in the hands of kings and nobles.
Let's speak of the bad side of this precious metal: It is expensive and also heavy (it's more than twice as heavy as steel). It does however helps create that impeccable watch; the watch that has outstanding value and without a doubt a status symbol.
Gold may not be the best watch material economically, but if you let your eyes sink in to the beauty of gold watches and let yourself drool over its shine you will clearly understand why many consider it as one of the best watch materials.

A Patek Phillipe watch with 18 carat yellow gold casing. It also has annual calendar (day, date, month) and moon watch indicator on it. A true beauty in the watch world
Another great thing about gold watch is they tend to rise in value according to the current gold prices. So you'll get a watch plus a gold investment – talk about killing two birds with one stone!
Pros: Gold watches are 100% corrosion free. They symbolize luxury with their golden glow. They are also long lasting and durable. And perhaps an investment tool for those who can afford it.
Cons: They are nowhere near lightweight and very heavy. Gold watches are not so comfortable to wear and also they are not suited for everyday uses except for the highest-end events. One of the greatest disadvantages is its price which is very high.
9 – Titanium
Like gold Titanium is 'titan' of a material for watches to resist corrosion- they just don't corrode! Titanium watches are approximately 30% stronger than stainless steel watches and are also very lightweight.
A point to be noted here is that titanium's original function is to be used in outer space! So I guess you people can imagine how durable and strong is this metal and how greatly it benefits watchmakers.
Titanium does symbolizes luxury, however, not everyone can see that due to its dull silvery surface which makes it look less stellar than an ordinary stainless watch. So if you are in to showing off, I'd suggest you stick with gold watches.
Titanium watches are also a relief for people with metal allergies as the metal is hypoallergenic. Not to mention it provides the perfect watch for underwater or sports watches due to its lightweight.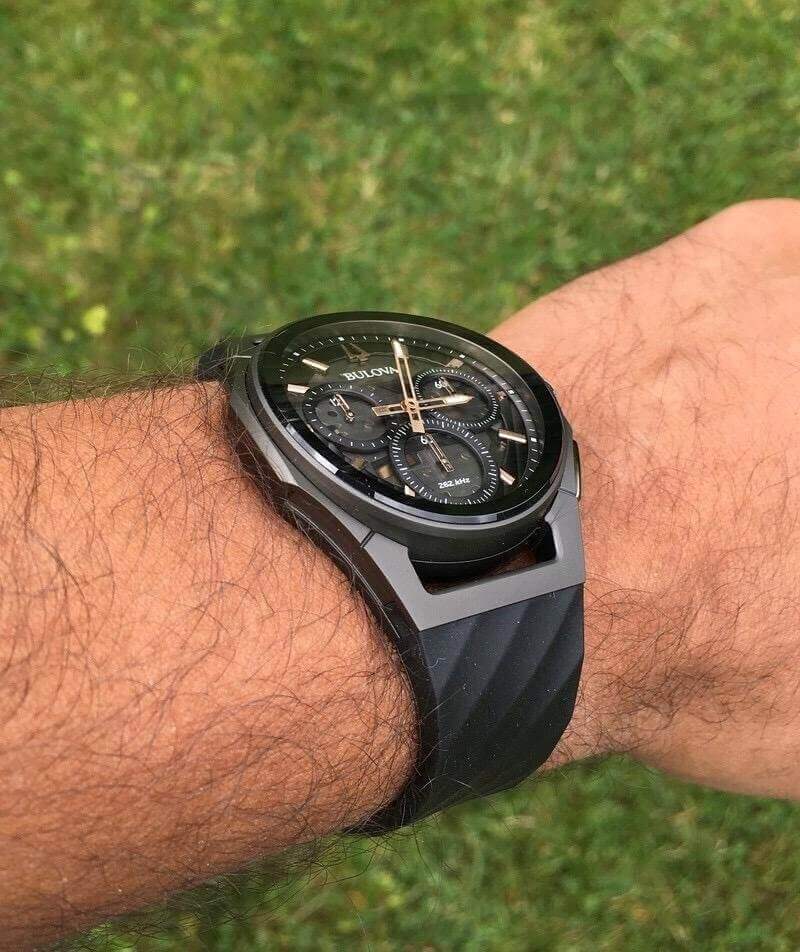 Titanium is used for the casing of this Bulova Curv watch, the world's first curved chronograph watch. (Read my review of this awesome watch HERE)
Pros: Titanium watches are lightweight and are very comfortable to wear. They don't trigger any form of allergies due to the fact that it is hypoallergenic. They are corrosion resistant. They can be used regularly and can withstand the normal environment quite easily.
Cons: Titanium watches are pricey. They have a dull appearance which doesn't help much in dignifying the beauty of the watch.
So What Is The Best Watch Material?
As part of a watch buyer, price is a very important factor for me. On this regard, personally I'd stick to stainless steel. It's a great material, not too heavy, very durable and most importantly it's very affordable due to its ubiquitous usage.
Titanium is the second best in my opinion. I'd say it's an upgraded stainless steel – almost same toughness but lighter and more expensive. It doesn't have a natural shine appearance but I find it works best as sports or diver's watches.
Again, these two are just my own opinion. Let me know what's your two materials of choice for watches in the comments section below =)
Conclusion
No matter what the watch material at the end of the day it's the detail and craftsmanship of the watch which stands out; it's the quality and the heart and soul of the watchmaker which ticks away in the watch-and that is what makes every watch special. Watchmakers still thrive to search for the best material to make a watch – one that is most durable, the most efficient, the most dazzling and so on.
I hope this article has been helpful to you in deciding which is the best watch material. There is saying: 'Time is free – but it's priceless' – may best material serve as the best keeper of your time. Do leave some comments or questions at below section.
Leave your comments below and don't forget to subscribe to my blog =)
Cheers!
Isaac