An Affordable Alternative To Rolex Submariner – An Invicta 8926 Review
Invicta 8926 is the best and most popular among the brand's pro diver watches and it's easy to know why.
Just like it's sibling the Invicta 8928 (I've reviewed the watch HERE), this is a watch that borrows (or should I say steal? Opps…) its look from the famed Rolex Submariner.
And in this post I'm going to write about the Invicta 8926 review in full detail.
Without a doubt, the Invicta 8926 Pro Diver is a watch that looks more expensive than it is. It looks classy, make you seem like a distinguished gentleman, and most people will always mistaken it for a Rolex.
It catches everyone's eye and looks to have cost more than it does.
And at its stunningly low price for an automatic watch the 8926 Pro Diver is incredible considering its style, features and not to mention it's a full automatic watch too!
In A Hurry? >> Get Your Own Invicta 8926 HERE
Invicta 8926 vs 8926OB: Scallop Vs Coin Edge
Before we go into the full Invicta 8926 review, let's look into the common confusion among people.
Invicta usually produces their Pro Diver watches in two types: Scallop edge bezel and Coin edge bezel.
Coin edge bezel is the gear-like edges at the sides of the rotating bezel. It's the same as found on a Submariner.
For this version, the model number of Invicta watches will have the "OB" at the end, meaning Old Bezel.
Frankly, I don't know why they call it like that though. If any of you guys know about it, put it in the comments section below as I'm also interested to know about it.

Invicta 8926 (Scallop Edge Bezel)


Invicta 8926OB (Coin Edge Bezel)

The Invicta 8926 and 8926OB side by side comparison. While the scallop edge bezel is more unique, the coin edge is much easier to rotate the bezel. Other than that, the watch is identical in all aspects
Now the model number without the "OB" at the end (e.g 8926) is the watch with scallop bezel edge which is modeled like an Omega Seamaster.
Other than the bezel edges, everything else about these two are the same.
So which one is better?
Price wise, there is not much difference between them.  On the look part, I think the scallop edge is more unique than the coin edge.
But the problem with this watch is its bezel is quite hard to be rotated so much so having a scallop edge will make it a tedious process.
So for functionality, it's much better to get the coin edge instead.
So the issue of 8926 vs 8926OB has been closed, let's get into the in-depth review of the Invicta 8926/8926OB. For simplicity, I'll just use the 8926 when referring to both of the watches.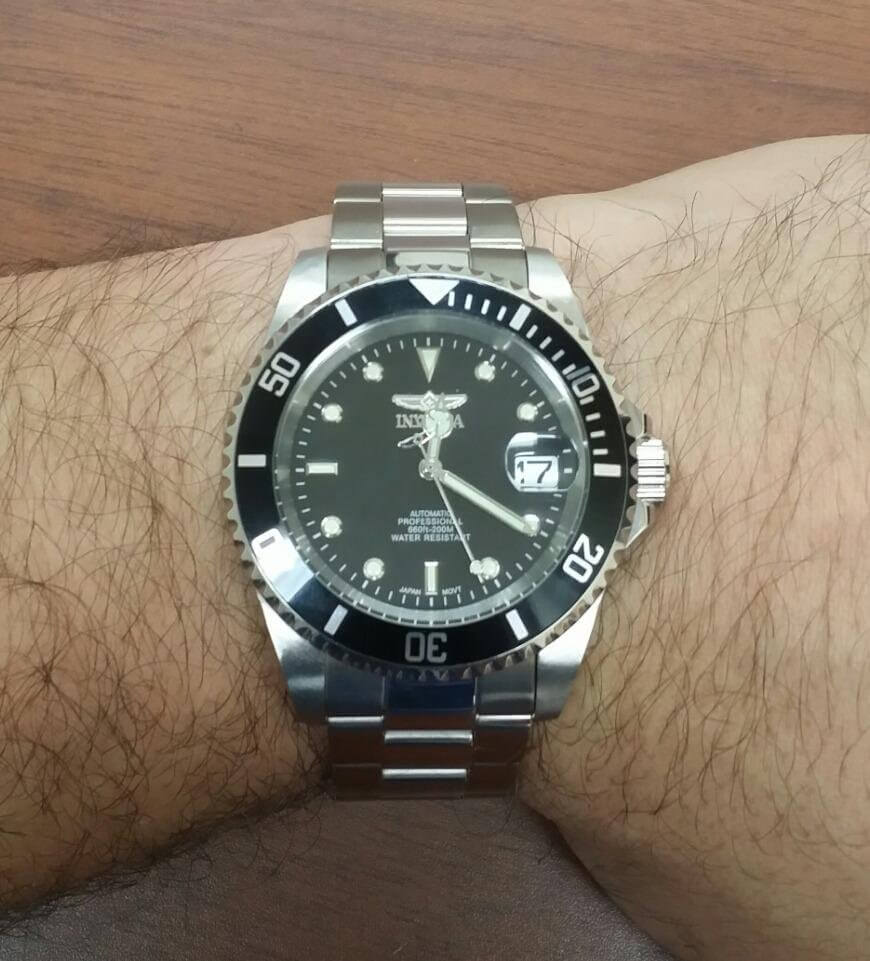 Update: I've recently featured the Invicta 8926 in my list of the top 10 automatic watches under $200. You can check this article HERE.
Invicta 8926 Watch Specification
Diameter: 40 mm
Thickness: 13 mm
Lug Width: 20 mm
Case: Stainless steel case
Strap: Stainless steel bracelet
Dial: Black dial
Watch Crystal: Mineral crystal
Hands: Bar and mercedes hands with lume
Markers: Index markers with lume
Movement: Seiko NH35A Automatic Self Winding Movement
Movement Features: 21 Jewels, 6 beats per second, Hacking and manual winding
Power Reserve: 36 hours
Water Resistance: 200 m / 660 feet / 20 bar
Other Features: Unidirectional rotating bezel, Exhibition caseback, Lume on hands and markers, Screw down crown
Best Place To Buy: Amazon for the cheapest price (usually less than $100. Click link below to check its latest price) vs its MSRP of $315

Invicta 8926 (Scallop Edge Bezel)


Invicta 8926OB (Coin Edge Bezel)

Invicta 8926 = A Cheap Rolex Submariner
Most watch fans know that Invicta Pro Diver series "borrow" inspiration from the Rolex Submariner design (specifically the 116610LN model with black dial and date window).
While some call it a homage to the Submariner, I tend to not be so forgiving on it.
Reason being it's plain to see that Invicta copied the Submariner's design in totality. The hands, the markers, the date window, the bezel font, even the magnifying cyclops are just exact copy.
The aspects that they changed are just their signature and logo on it. Plus an Invicta engraving at the side of the case, and an exhibition caseback.
In terms of material, finishing, movement and bracelet, the Submariner is definitely way ahead of this Invicta, no less because it is at least 100 times more expensive lol!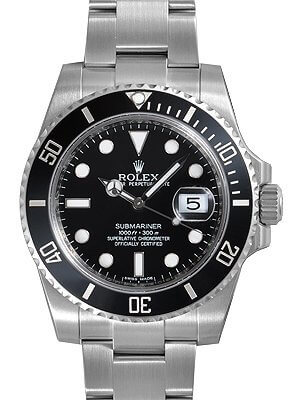 Rolex Submariner 116610LN – can you spot the difference between this watch and the Invicta? They are totally the same design except for the logo and signatures on the dial. But will you pay an extra $10,000++ for this?
The Invicta 8926 looks great, no doubt about that, but it's plainly clear that the brand wants to sell this watch riding on the famous look of the Submariner.
I don't think there's any legal issue about this but morally, I don't think it's the right thing to do as it's a blatant copy akin to stealing.
What I believe is this is a watch that's a bit lacking in character as it does not have a unique design.
But that's my opinion. Let me know your opinion on this guys. I love to hear what you guys think about this issue =)
As Handsome As The Submariner
The 8926OB is a watch that was made for diving activities but also for regular use. Therefore, it is designed to be sleek and stylish while still being a functioning dive watch.
It has a significant weight and is moderately sized at 40 mm so that it can suit many almost all men's wrists.
The look of the watch is also quite good-looking which makes it easier to wear it casually or to the office.
You can even wear it to some fancy dinner or meeting as well because it looks quite elegant and suits any clothes you wear. It's likeliness to the Submariner will definitely attract people's attention =)

The black dial is not too big but is distinguishable. The black color of the dial and the bezel frame make a nice contrast together and makes the watch look pleasing to the eye.
The lume on dial does not function as it should and only glows for a few minutes. Such disappointing factors are to be expected from a watch with this price.
A Normal Sized 40 mm Stainless Steel Watch
The Invicta 8926 has a 40 mm diameter case which is a very nice size for a men's wrist. It's not too big and will surely able to fit with most guy's wrists.
The 13mm thickness of the case does not allow for it to fit under any cuffs though.
It's bracelet, sadly, is not as good as the case is. The 20mm width bracelet leaves something to be desired since it rattles like a cheap watch.
To adjust the links you would have to take it to a watch shop or you can easily do it yourself.
Just search on youtube on how to fix these bracelets and you'll find lots of great videos on how to do it.
I'd suggest to invest in a cheap bracelet fixing tools as it will make it a whole lot easier to do.

People have complained about the stiffness of the bezel and how it's hard to turn and the coin edge bezel (9826OB) is definitely the better option than the scallop edge.
The mineral glass on the watch is not the best in terms of scratch resistance and can't be polished off like an acrylic crystal. But still, you get what you paid for lol.
Seiko NH35A Automatic Movement
This Invicta 8926 uses a Seiko NH35A automatic self winding movement caliber, which is a low grade movement from the Japanese maker.
I believe this is one of the good thing with this Invicta as it gives people access to automatic watches at low prices.
Sure, there are many cheap Seiko 5s out there that use the same movement but Invicta watches give an option to those that want an affordable automatic watch without the Seiko name tag on it.
The movement is not exactly the most accurate, robust or delicate.
It's far from that. In fact, there are lots of complains from Amazon buyers that their watches keep on dying many times while in use though this does not happen to all buyers.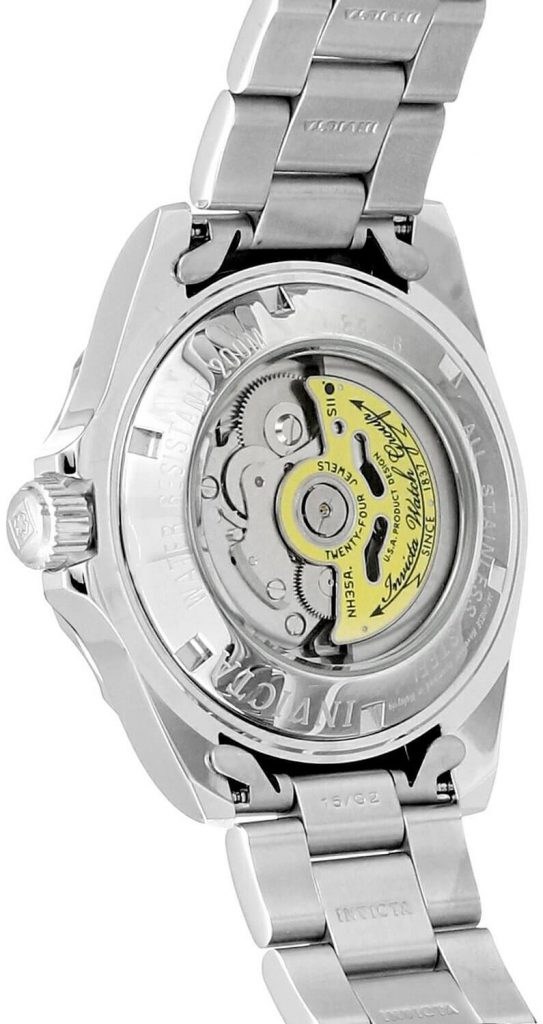 The Seiko NH35A movement can be seen from the exhibition caseback of the Invicta 8926. There's hardly any finishing on it with the exception of the engravings.
One thing to be noted about is some people have also received damaged pieces in their packages.
You should keep in mind to be careful when buying this watch and make sure you get a working one. If you don't, quickly file a complain and return the watch back.
Can We Trust That 200 m Water Resistance?
The Swedish brand has mentioned how all their Pro Diver watches have a high water resistance which is the prerequisite for any dive watch.
With the 200 m water resistance rating, it will function properly underwater as long as you do not go farther than 660 feet deep – at least that's what it should be.
Now, there are people who have dive with the 8926 and live to tell the tale, but there are also many negative responses to its water resistance.
People have complained about how it does not work most of the time when exposed to water. Some even said their watches fogged up even though they never expose it to water.
With all of this complain, would any diver trust their life with this "diver's watch"? I understand that these cases are lemon units, but such huge number of complains are uncommon.
Seiko 5, the Japanese brand's cheap automatic watch lines are also not free of defect. They are mass produced and definitely has lemons here and there.
But Seiko never publicize their Seiko 5 as a "Professional Diver's watch" and that's the main difference between them and this Invicta.
And lastly, what's the point of having a Pro Diver watch but it has a high possibility to stop working once expose to water?
Which is why I recommend you guys that want to get an Invicta to get it from a reputable seller with a good refund policy (like Amazon) – just in case something like this happen.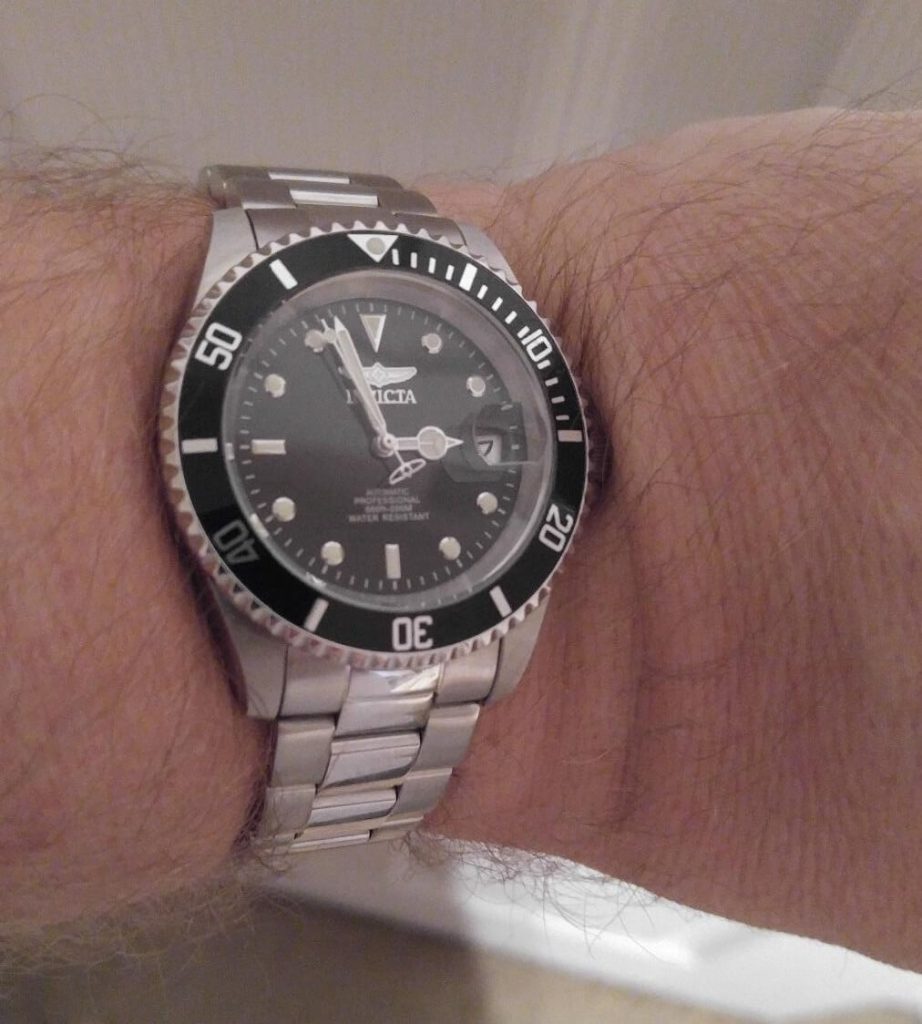 Despite its flaws, there is no question that the Invicta 8926 is a good looking watch
Who Is This Watch For?
For anyone that loves the look of Rolex Submariner (especially the 116610LN model), then this is the watch for you.
It captures the whole design of this classic watch completely. It also has an automatic movement inside it giving that sweeping seconds hand action which is definitely more desirable than those normal quartz watches.
At its stunning price, it's definitely a very good value for money. If you guys like the classic and cool diver's watch look of this Invicta 8926, Amazon has the best price.
Currently the watch sells a great affordable price on Amazon compared to its ridiculous MSRP of $315. Click the link below to check it out on Amazon.
=>Get the Invicta 8926 Automatic Here
Who Should Not Get It?
As good looking as it is, we have to be wary that it's a sub $100 automatic watch. It's quality and craftsmanship is not the best there is.
In my opinion, Seiko makes the best value for money diver's automatic watches with their mid-range watches (such as SKX007, SRP777, Monster etc) and those watches hover around $200 to $300.
And if that's the price to be paid for great affordable automatic diver's watch, logically speaking this Invicta 8926 is definitely not a good diver's watch.
It's not as good in water resistance, under performing lume and questionable movement quality. For anyone looking for a serious diver's watch, the Seikos listed above is a good start =)
Pros and Cons
The pros and cons of the Invicta 8926 watch are as below:
Pros:
1. The design is very similar to the Rolex Submariner, and that means it looks elegant and appealing.
2. It's an affordable automatic watch
3. Has a great style and versatile for any events
Cons:
1. It has gotten complaints about its bezel frame that is hard to rotate and that has brought on some negative reviews.
2. It is an imitation of the Rolex Submariner (at least 90% of the watch look is directly copied lol!)
3. The luminous dial does not work all the time and only lights up for a few minutes under water after which it turns dark.
4. Many buyers have complained about getting defective or damaged products in their packages, so it is not entirely reliable.
Any Higher Quality Diver's Watch With Affordable Price?
If you feel spooked by Invicta's poor QC record but still want an affordable automatic diver's watch, then Orients and Seikos are there to fulfill this need.
These Japanese brand diver's watches are typically in the $200 to $300.
Even though it's a steep price increase than any Invicta Pro Diver (about more than twice), the quality of the watch and its movement is totally higher.
And the amount of satisfied customers surely speaks volume of it.
The QC checking is also more thorough, especially if the watch is made in Japan.
And we also need to be aware that these prices are still lower than an automatic diver's watch made by a reputable American/Swiss/German watchmakers.
Lots of people will agree when I say that Japanese watches bring great value for our money =)
Click the links below for these diver's watches that I've reviewed:
Seiko: SKX007 / SKX009 / Monster / SRP777 Turtle
Orient: Ray / Ray II / Mako / Mako II
Final Thoughts
Invicta Pro Diver watches are surely a line of watches that causes lots of conflict within oneself. It's good looking due to the Submariner design.
But the fact that it copied that design makes it a bit less desirable as it does not has its own identity.
And Invicta's questionable quality checking on its products is surely something to be wary about.
If you are a die hard fan of Submariner's design but aren't willing to part thousands of dollars buying it, then this Invicta 8926 is definitely for you.
But if you are more towards having a unique watch with its own design, or looking for a real diver's watch, then I'd suggest you look elsewhere (the Orients and Seikos listed above might be a good start).
I hope you guys like this Invicta 8926 review. Let me know if you have any comments or questions regarding the watch.
I love to hear what you guys think about it =)
Cheers!
Isaac