Hi guys! In this article, I'm going to write about the Seiko SKX173 review, an automatic diver's watch from the Japanese brand.
Now, this is a watch that's made to the same specification as the more famous SKX007. Almost all of their specs are the same (diameter, thickness, 7S26 movement, etc.) with the exception of their dial.
Yep, that's right. A totally same watch with only some aesthetic difference (but unlike the SKX007 vs SKX009, this one is more pronounced).
Worry not as I'm also going to cover the comparison of Seiko SKX173 vs SKX007 at the later part of this review as it's going to be very interesting. So if you are looking for that specifically, then you can head over to the lower part of this article.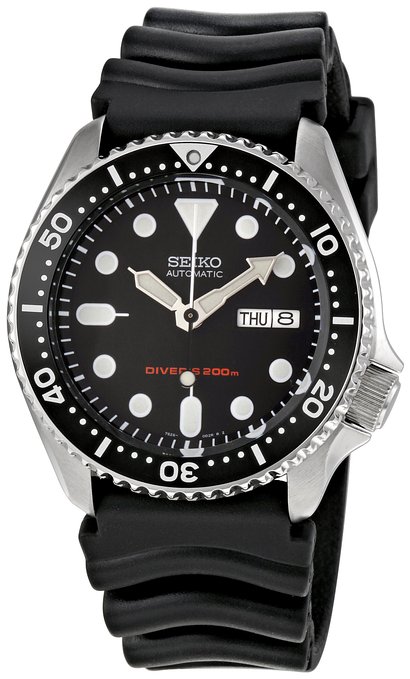 This is the famous Seiko SKX007 which has an old school diver's watch style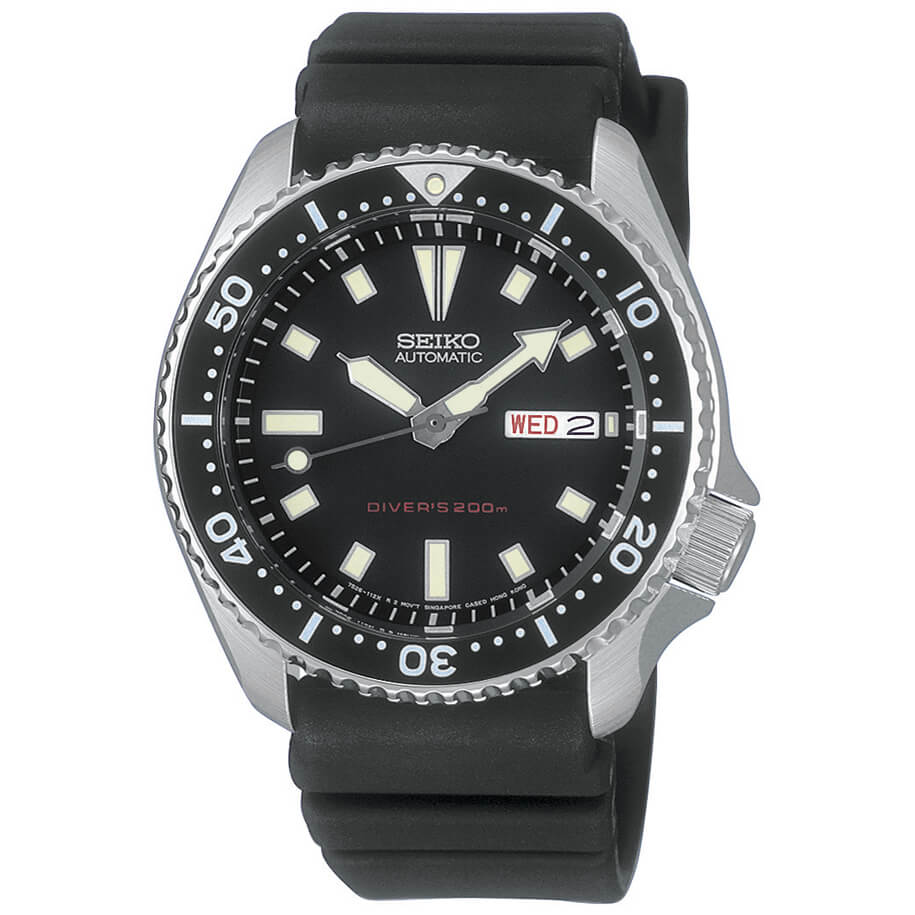 And this one is the Seiko SKX173, the one I'm reviewing here. Can you spot the difference?
Without further ado, let's go to the Seiko SKX173 review shall we.
Update: I've recently featured the Seiko SKX173 in my list of the top 10 automatic watches under $200. You guys can check the article HERE.
Seiko SKX173 Specification
Diameter: 42 mm
Thickness: 14 mm
Lug Width: 22 mm
Lug To Lug Distance: 46 mm
Case: Stainless steel with coin edge bezel
Strap: Black polyurethane strap
Dial: Black dial
Watch Crystal: Hardlex crystal
Hands: Arrow hands with lume
Markers: Index markers with lume
Movement: Seiko Caliber 7S26 Automatic self-wind movement
Movement Features: 21 jewels, 21,600 vibrations per hour or 6 beats per second, Non-hacking and Cannot be manual wind
Accuracy: +-15 seconds per day
Power Reserve: 41 hours
Water Resistance: 200 m
Other Features: Screw down crown and caseback, Unidirectional rotating bezel, Meets ISO 6425 Diver's watch standard, LumiBrite lumes, Date and day display
Best Place To Buy: Amazon, MSRP is $450
Black Diver's Watch Dial
The dial on this SKX173 is black and full of functinality as a diver's watch. It's not strictly a good looking one but the elements are designed just right to help time a dive.
It has a matte black dial on it with complimenting black bezel. There are only minimal signatures on the dial: "Seiko", "Automatic" and "Diver's 200m", with the last signature symbolizes a watch that complies with ISO 6425 diver's watch standard (more on that later on).
The hands are big bulky hands with arrow shape and it's like that for good reasons. It helps with visibility and telling time, something that's very important when you are a diver and has to rely on your watch to know how long you've been underwater.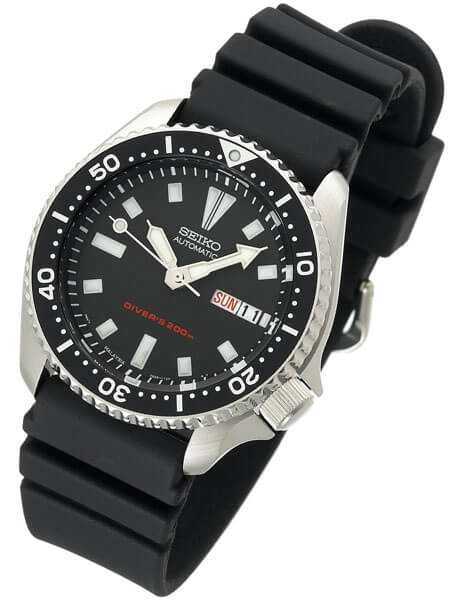 The huge area on top of the hands make it possible to fill it with lots of lume which will help tremendously in low light condition and underwater.
The markers are also designed with the same intention to make it highly visible at any light condition. It's rectangle and wide, giving lots of room for applying lumes
Even if you are a desk diver (like me lol!), you'll surely appreciate how nice the lumes on Seiko diver's watches. Made of their own LumiBrite substance, the lume will glow brightly and long enough to hold for one movie showing.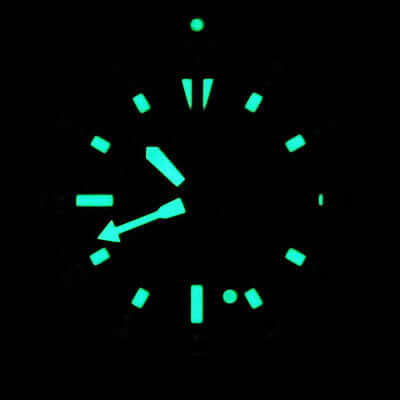 Nothing beats a diver's watch with a good looking lume on it.
Another important items on the dial (at least for me) are the date and day display. I can never stress how important these are for a daily beater watch. Most watches only have date display without the day which is think is not sufficient for normal use of working adults.
And why is that?
Simply because not all of us can remember what day and date today is. It's quite embarressing to say this but I too find it difficult to remember these little details.
And to keep on looking at my computer or phone or asking my friends are just too troublesome. When you have a watch with day and date display on it, a flick of your wrist will tell you what you need. No hassle at all and very efficient as it's less than 5 seconds at most =)
All in all, the dial on this SKX173 is a simple one without much fanfare. But it's strength lies in its great functionality and also simplicity.
It has a very casual and sporty look that makes it so versatile to be used. Sports events, dives, weekend hangouts, and even office use (provided with a good strap and of course, no rubber straps!) – it's definitely a great watch for many occasions.
An Average Size Stainless Steel Case
One good thing about this Seiko SKX173 is how it's quite "small" compared to normal average watches right now. It has a 42 mm diameter versus the normally found 44 mm diameter watches currently.
This might because of it's quite an old watch – it has been in the market from the 90s when big size watches are not common back then.
With that, this watch is a good fit for those guys with average to small size wrists. It also has short lugs, as the lug to lug distance is only 46 mm, further enhancing its fitting to smaller wrist guys.
But can guys with bigger wrists pull this off? Of course but only if your wrist is not too monstrously big or else a bigger watch will be needed.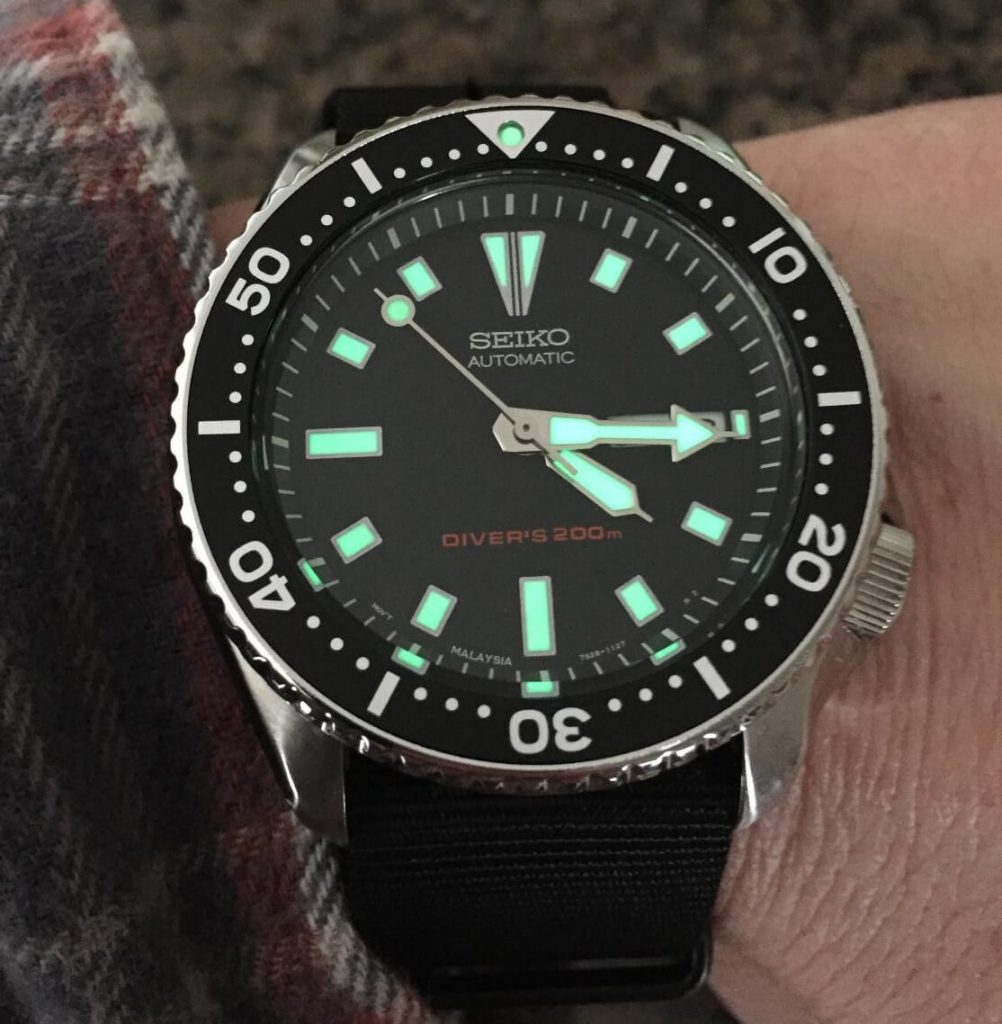 The Seiko SKX173 i not too big or too small – perfect for an average guy's wrist
In terms of thickness, it's quite thick at 14 mm which is normal considering it's a diver's watch. This gives the watch a nice heavy feeling to it – which some people love while some people hate.
The case's finishings are brushed at the top of the lugs and highly polished on its sides. Like the SKX007, this watch also has rounded case at the sides giving a nice look and comfortable on wrist.
Hardlex Crystal With Unidirectional Rotating Bezel
Protecting the watch at the top is a Hardlex crystal, which is Seiko's own version of mineral crystal. It's an improved mineral crystal (read HERE for more info about types of watch crystals) but still can't beat a sapphire.
It's quite harder to impact/shattering but in terms of scratches, it's as unreliable as a mineral. But then, we can't expect a $230 watch to have the best specs right?

What would a diver's watch be without an unidirectional rotating bezel? Unidirectional means it can only be rotated anti-clockwise and it's used to time the elapsed dive time by divers.
Black Polyurethane Strap – Fitting For A Diver
Unlike the SKX007, it seems this SKX173 only comes with a Polyurethane or PU strap. It's basically a synthetic material made to copy rubber – read my guide on strap materials HERE for more info.
It's not a straight strap but comes with ribs and design of its own which is quite nice. And having this strap is definitely a great companion for any diver or sportsmen.
But for those wanting to wear this for office wear or even casually, I'd suggest you get yourselves a different strap though. The ribbed design of this strap is sporty and all but not really a good thing to wear to an office.

There are tons of online shops that sell these straps. Just make sure the width is 22 mm so that it can fit with this SKX173.
With a black dial, I'd say the sky is the limit when it comes to what color of straps it can be used with. Personally, I like brown leather as it gives a unique look to the watch. Which strap color do you feel is the best when it comes to this rugged SKX173?
200 m Water Resistance And Complied To ISO 6425 Standard
It's very important to also state the water resistance that any diver's watch has. For the SKX173, it has a good 200 m water resistance thanks to its sturdy craftsmanship, and screw down caseback and crown.
One thing that I want to emphasize is this watch complied to the ISO 6425 Diver's watch standard (read more about this HERE).
This means the watch (just like the SKX007, Monster and other Seiko Diver's) is a real diver's watch, and not just a look-a-like watch. Nothing is more dependable while diving than a good ISO rated watch in my opinion.
The Trusted 7S26 Automatic Movement
This review is incomplete without a section about the engine of this watch, the Cal. 7S26 automatic movement. As stated earlier, this watch is quite an old watch, and so does this 7S26 movement.
Current line up of automatic Seiko watches nowadays mostly use 2 movements: 6R15 and 4R36. And this 7S26 is the origin of them all.
By the way, I'm referring to affordable Seikos with a price range of $150 to $600. More expensive Seikos will use higher grade movement which is not something I'm specialized in.
With that being said, this 7S26 does has its flaws, specifically the absence of hacking and manual winding which are common in current movements.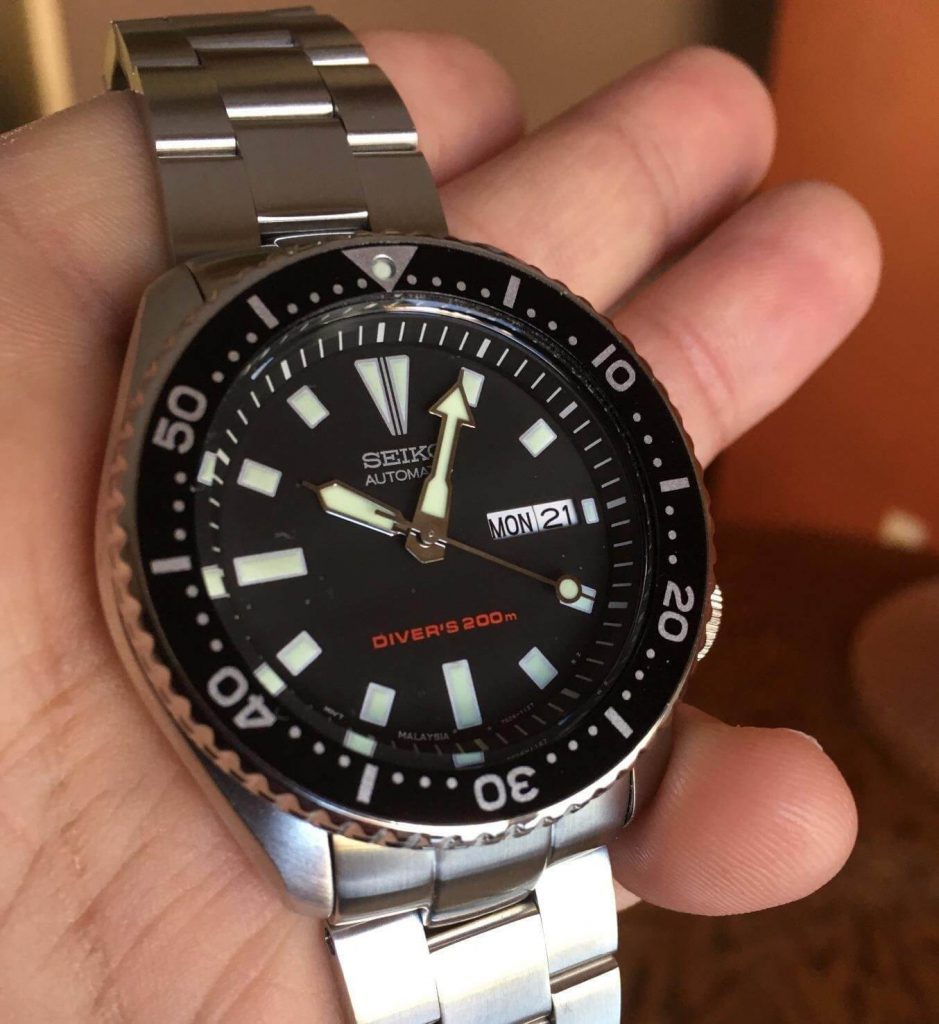 Seiko SKX173 on a metal bracelet
It also is not the best in accuracy, with average gain/lose of +-15 seconds per day. The newer movements (4R36 and 6R15) are more accurate than it in real life use.
Although somewhat lacking in accuracy, it's very true that this movement is a workhorse. Countless testimonials on how the watch managed to keep on working years after years make it a legendary movement even with its flaws.
The Showdown: Seiko SKX173 Vs SKX007
Now, let's make a detail comparison on the SKX173 vs SKX007.
Seiko SKX173 (top) vs SKX007 (bottom)
Case:
The case of both of the watches are fairly identical. It's very easy to assume (and most probably I'll be right!) that Seiko designed one case and use it for both watches (including the SKX009 the blue pepsi bezel). Well, we can't really blame them for wanting to cut their costs right lol!
But without a doubt, both watches has a good case with good craftsmanship that will ensure it can endure what ever you throw at them.
Movement:
Same movement.
Bezel:
Identical bezel.
Dial / Watch Face:
The watch face is the only difference between these two watches. I can only find two differences between them (do let me know in the comments section if you spot other differences).
First of all, we can easily notice that the index markers in SKX173 is a wide rectangle, versus the circular blob of the SKX007.
The seconds hand is also different too. SKX173's seconds hand has a lume dot at the front while the lume dot in the SKX007 is at its tail.
In my opinion, I kinda like the rectangular index markers in the SKX173 more than the circle markers. I feel that the rectangular markers seems to be more fitting with the watch, specifically as it complements the line markings of the outer edge of dial and on the bezel.
The circular markers on the other hand is quite big and conflicting with the other elements on the watch.
My Verdict: Seiko SKX173
It has a more unique look (the SKX007 resembles Submariner too much) and the rectangular markers seems more in harmony with the whole dial.
That being said, this is just my own opinion of which watch I like more. Spec wise, both are the same so no competition in that regard.
Which one do you like more? Let me know in the comments section below and why you like it. I really love to hear what you guys think =)
Watch this video for a side by side comparison of the Seiko SKX173 vs SKX007
Who Is This Watch For?
Anyone wanting a good watch for sports, dives, casual or office use will definitely love the Seiko SKX173. It's very versatile and can be used anywhere (except for black tie events of course).
Being an affordable automatic watch also makes this watch an appealing option for actually using it to dive. With a case that's complying to ISO 6425 diver's watch standard, it definitely a perfect choice for that.
Who Should Not Get It?
The sporty look might not be a great companion for businessmen and those using it for upper class events. Those occasions need a more traditional dress watch and this Seiko SKX173 is definitely suitable for it.
Those who love to get their watches accurate should also avoid this watch as it's non-hacking movement means you can never precisely set the watch to atomic clock. The old 7S26 movement is also not a very accurate one, even though its a work horse.
Lastly, the lack of manual winding means the watch power reserve can only be charged by wearing it on wrist or using a watch winder. This might not be a suitable watch for those that wants their watches to be constantly running.
Pros and Cons
Let's see what's the pros and cons of the Seiko SKX173
Pros:
High level of visibility with oversize hands and markers
Great LumiBrite lume to glow brightly and longer in the dark
Watch case complies with ISO 6425 diver's watch standard
Has an average size which is not too big
Has date and day displays for greater convenience
Crown is positioned at 4 o'clock which help to avoid any problem while flexing wrist
Cons:
7S26 automatic movement is quite antiquated right now
Lack of hacking and manual winding
Like This Watch? Buy It Cheapest On Amazon!
If you like this Seiko SKX173, get it cheapest on Amazon. It's current MSRP is $450 while on Amazon, you can get it as cheap as $200 to $250! Click the link below to check out the watch on Amazon.
->Click Here To Check Out This Seiko SKX173 On Amazon<-
Final Thoughts
Seiko SKX173 is a good diver's watch with simple looks that's just so functional. It has good craftsmanship and it's good reputation with past owners surely give testament to how a workhorse it is. For those that want a no-fuss casual and sporty watch, this is it.
I'd say it's a good alternative to those that want an affordable but quality Seiko diver's watch, but don't really like the look of the SKX007.
The difference between SKX173 and SKX007 is only on their dial, but this difference make the SKX173 totally looks like a different watch altogether (though their specifications are very very similar).
****************
I hope you guys like this Seiko SKX173 review. Share it if you love it and don't forget to subscribe to my site.
Leave your comments down below. I'd love to hear what you guys think about this watch =)
Cheers!
Isaac