What's The Best Watch Band Material?
When using a wrist watch, it's also important to take note of the what type of watch band/strap materials used. The best watch band material should be tailored with the owner's special needs and wants.
Below are the common needs and the best watch band material for it:
a) For Sporty/Diver People -> Rubber, Silicone and Polyurethane Bands

ZULUDIVER PU Rubber Watch Band

For people using their watch for sports, these watch band materials are the best choice.
It's very comfortable on wrist, lightweight and can be cleaned easily -> all of the properties that make the band a very good fit for sports use, especially sports with some contact with water.
These elastomers are also famous for its bendable property, much like how a rubber will behave.
Not only that, it can also comes in various colors and will definitely spruce up your watch!
b) For Formal Events -> Leather Straps

Barton Leather Watch Band Strap

Nothing increases your style than the traditional leather strap. A nice tux can only be complimented by an equally nice watch, with a beautiful leather strap on it.
Leather straps, either black or brown in color, looks sophisticated and immaculate.
While metal bracelets can also be worn for these formal events, I find the leather strap to has an advantage in terms of the exclusivity perceived by it.
Somehow, metal bracelets are not as polished as its leather counterpart. This stems from the look of the bracelet which is a bit rough compared to the fine look of the leather.
  c) For Everyday Use – The Metal Bracelet

22mm Watch Band, amBand Quick Release Premium Solid Stainless Steel Metal Business Replacement Bracelet Strap for men's Watch, Silver

For a beater watch, the best watch band material in my opinion is the metal bracelet.
Surely, some of you might not agree with me but hear me out on this first will ya.
I've been using various types of watch bands over the years – leather, rubber, Nato/fabric & metal bracelet – and I've always feel that the bracelet is the best in terms of its ease of use.
The reason for this is because it's just easy to wear. Just fit in your hand inside it and close the clasp and you're good to go.
There are also butterfly clasps for leather and rubber straps but I feel those are not as easy to use as the metal bracelet. It's just so fast and easy to wear.
Not only that, knowing your watch is secured by a metal bracelet just gives a peace of mind. I mean, the bracelet is so strong and unless being subjected to a high impact force, it will be very durable and can lasts for a long time.
By The Way, Do You Know That Straps Are Very Easy To Change?
Everyone has different tastes and so their watch collection is also different. Most have different watches for different events while some people even go so far as to have a watch for every mood.
Just like shoes or dresses, watches have become versatile and come in many types and styles. It's easy to just buy a new watch for when you want to try something new or use it for different events but that would cost a lot of money right?
So why not change the watch strap instead?

Watch straps (or watch band) are the most overlooked part when buying a watch. Face it, most people tend to scrutinize more on the watch dial (or watch face) rather than the straps. And that's totally fine since…
Straps are changeable! – at least for most watches
While we can't easily change how a watch face looks like without extensive modification, we can easily change the straps of our watches to give a quick change of style.
Having a business meeting? Why not go for that glossy alligator leather strap.
Going for a weekend gateway on a beach? Strap a rubber band for extra comfort and to swim into the pool or ocean.
Bottom line is, you can own only one watch but have lots of styles simply by changing the straps!
Watch this video on how a guy has 8 different straps for his Seiko SKX007. The style change by changing to different straps is phenomenal!
4 Watch Band Materials That You Should Know
In this first part of the article on types of watch strap, I'm going to dig deeper on different types of material for straps. There are 4 most common material for straps nowadays: leather, metal, fabric and rubber/synthetic rubber.
For the styles that a strap can have (i.e Nato, Zulu, Rally, Oyster etc.), those will be covered in the second part of this series (Upcoming LINK HERE).
So let's go and explore these different watch band materials.
1- Leather Straps
The material of leather is what makes anything more classic. If you want to make any accessory more stylish, dressy or give it a vintage look, just get it in leather.
Leather has a way of making any wristwatch look distinguishable and the person who wears it looks even more charming. It been around since the military started wearing it in the late 19th century and some say it's the first material for a watch strap.

The alligator grain leather strap on this Breitling Navitimer make the watch looks very stylish
It definitely can make any watch look luxurious, and the best part of all can also last for years. Not only that, nothing beats a good leather strap for its comfort and exclusive feel.
Leather straps come in a variety textures and types. It can be either make up of genuine leather from skins of animals like cows, sheep, and goats or faux leather that is sometimes called as pleather, vegan leather or leatherette.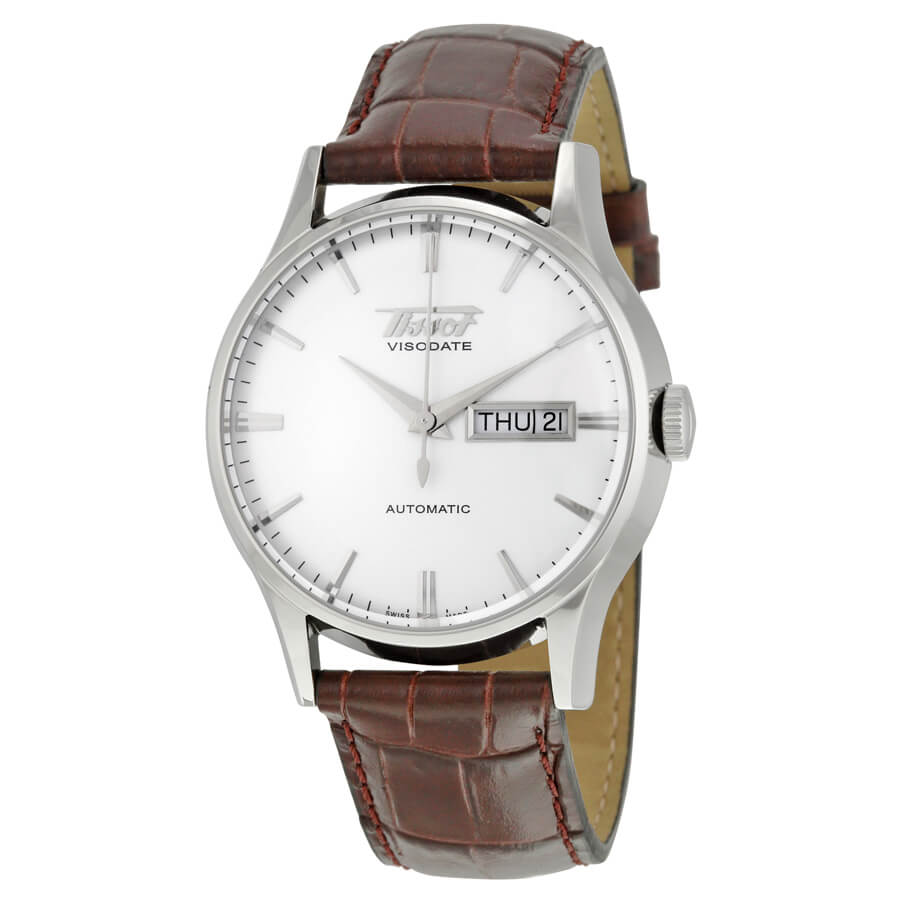 Brown leather strap on the Tissot Visodate. A great thing about white/silver watches is how they seem to work well with different strap colors
Everyone has their style, and you can find a leather strap in any texture or colour depending on your style.
Glossy or polished grain leathers (also called alligator-grain embossed) is the hallmark of dressy watch. Suede on the other hand gives that rugged look and more suitable for casual use.
If you get a faux leather strap (or synthetic PU leather) , be wary that they are not as durable as the real thing. The upside is of course it's more affordable than a real leather.

Tissot Le Locle looks super classy with this black leather strap
Leather Strap Is Best For:
Those wanting an upgrade in style for their watches. Leather is by far the most stylish watch band material. It's also the best strap for any black tie events and such.
Suit the color of the leather watch band to your leather belt and shoes for an easy boost in style!
Leather Strap Advantages:
A variety of styles, colours, and textures available to add to your collection and suit any style
Looks elegant and makes a statement
Nothing beats the feel, suppleness and smell of a good leather
Leather Strap Disadvantages
The material is not waterproof and need careful precaution. Swimming or definitely not allowed
Some types can be quite expensive
Not every type of faux leather can last long
2- Metal Bracelets
Metal bracelets in wrist watches are the most common type. Many of the wrist watches in the market come with metal bands especially those diver's watches.
A good thing about metal bands is their versatility – they can be worn either for fancy events, casual day-to-day attire and even for sports usage such as swimming and diving (though the extra weight might not make this the best thing to do lol!)

In my opinion, watches with polished casing and thick lugs such as this Seiko SARB033 looks the best with a metal bracelet as there is a continuity from the case to the band. What do you guys think?
Compared to other watch band materials, metal is the sturdiest and most durable. You can easily cut and tear off a leather, fabric or rubber straps but how the hell can you do the same thing to metal?
It will also easily last as long as the watch itself. In my opinion, metal bracelet's durability is second to none among the watch strap materials.
Not only that, the finish and exterior look of metal bracelets is one of the most unique as its usually the same material and color as the case itself – giving a cool continuous look from the watch to the bracelet.
Another thing that I like about bracelets is some of them have micro adjustment slots which can be used to tighten or lengthen the bracelet slightly.
This is unlike the other straps that uses pin buckle. Those straps usually have large gap between adjacent pin slots causing the fit to not be as great – it's either too tight or too loose. I'm sure you guys have experienced this at least once in your life lol!
A common metal for watch bracelet is stainless steel which is not surprising since most watch cases are also made from stainless steel. There are also gold (mostly gold plated stainless steel or even real gold for high end watches), titanium, and PVD.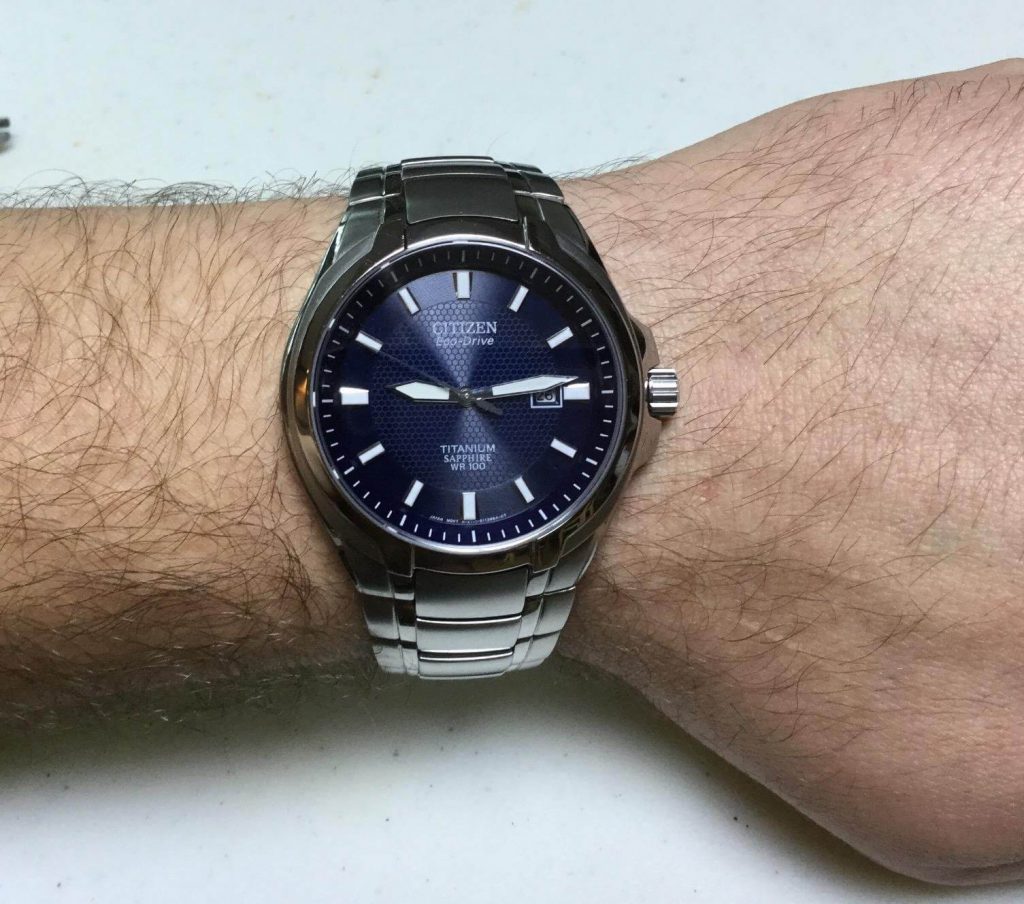 Citizen Eco-Drive Titanium with a titanium bracelet (its casing is also made of titanium). It definitely looks gorgeous plus not as heavy as other metals
One thing to note is it can be quite hard to find an aftermarket metal bracelets that fit your watch.
Unlike other strap materials which are just governed by lug width, metal bracelets is usually designed for a specific watch case for it to fit perfectly.
With that being said, I'd recommend that you try to get the bracelet version of a particular watch that you guys want to buy.
Although the bracelet version is more expensive than the leather/rubber strap version, but the durability of the bracelet is much better.
And as I've mentioned above, it can be quite hard and much more expensive to buy a fitting aftermarket metal bracelet.
Metal Bracelet Is Best For:
Those wanting a versatile watch. It's good looking enough to be worn to private events and office works while casual enough for your weekend use.
Want to have a quick dip in the pool to refresh your swimming skill? Just dive in and you don't have to worry about the strap getting wet =)
Metal Bracelet Advantages:
Versatile for any events and usage
Metal bands are strong and durable
Metal Bracelet Disadvantages:
Can be quite heavy (unless it's titanium) which can be a discomfort for those wearing it for the first time
Require a special tool to size it which can easily be done in a watch shop for free
Can be quite expensive to buy aftermarket

A nylon Nato strap
3- Fabric Straps
Fabric straps have recently come into vogue in watch straps fashion. It come in nylon, cloth and other synthetic fabric materials. Many fashion brands have introduced fabric straps in many colourful, chic, and versatile styles.
In terms of style, they are at the other end of the style chart opposite of leather – fabric straps are more colorful and best used for casual look.
It's also very cheap, you can get lots of fabric nylon straps (in Nato or Zulu style) for the price of a good leather band.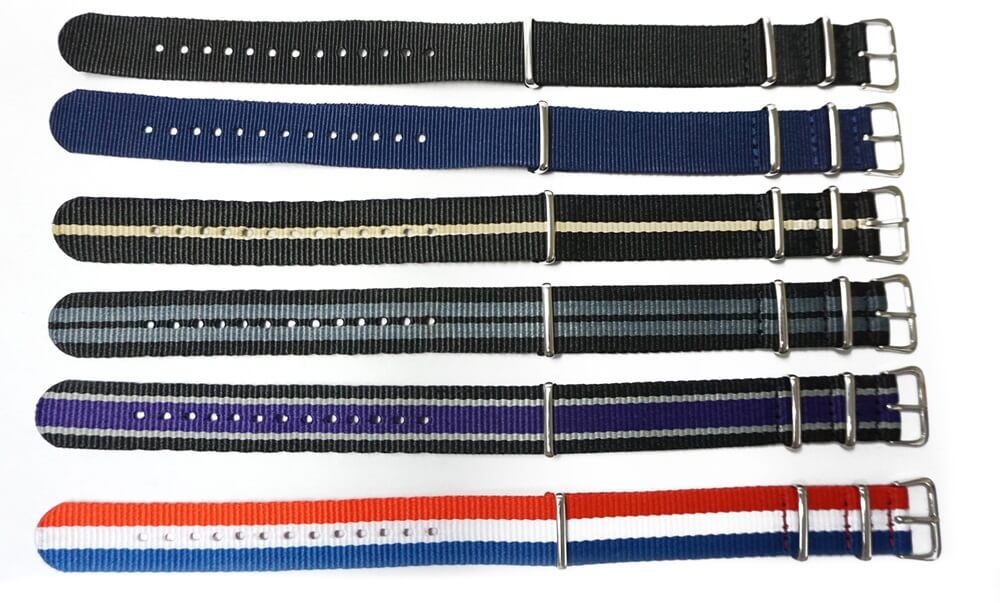 Colorful nylon straps which can be had for less than $10 each!
Having a doubt about whether it can hold your big watch?
No worries! The new technology advance in fabric materials have made them tougher. In fact, nylon is one of the popular material for webbing slings, the slings that you use to lift heavy stuffs!
In terms of strength, they are about the same as leather in my opinion. Just beware of any cuts on its surface as it can then be easily torn off from the cutting point.
A fun fact: astronauts uses fabric straps (typically nylon) to strap their watches to their wrist.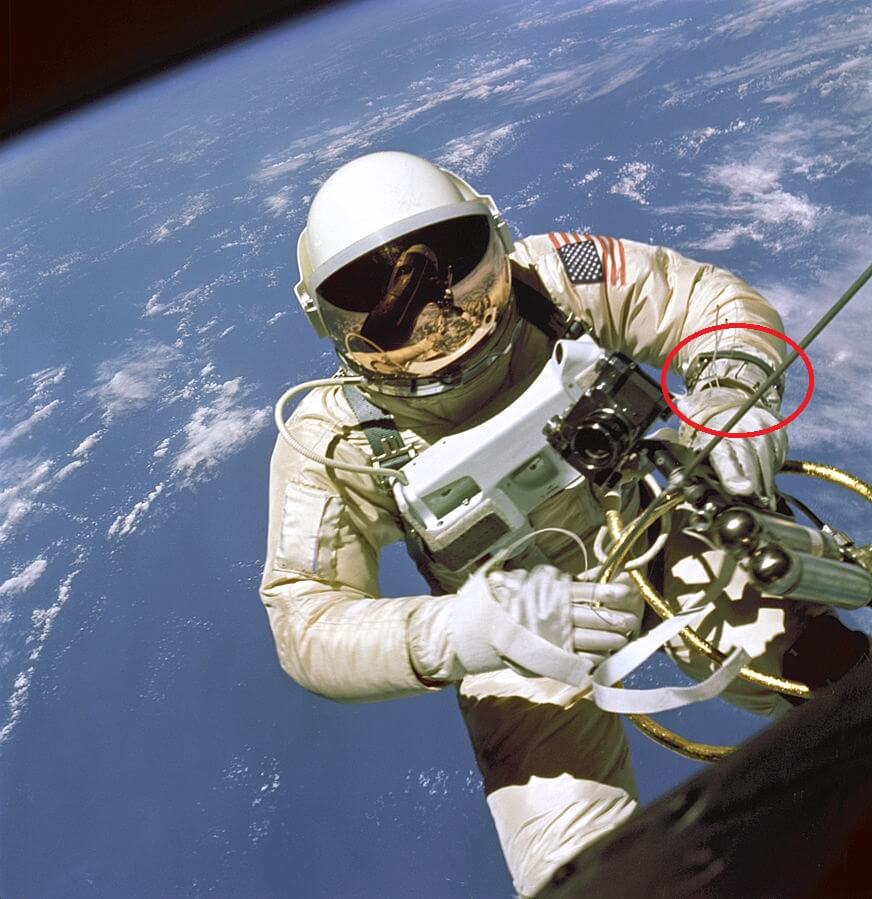 An astronaut strapping his watch around his bulky space suit. Guess what material is the strap made of?
Fabric Strap Is Best For:
Casual use for the weekends or holidays. It's very light and can make your wrist breath much easier than other materials.
Not to forget that it's very cheap and you can easily stock lots of different colors and varieties of these straps for later use.
Some popular fabric straps such as Nato, Zulu and Perlon are very easy to be hooked up to the watch, further increasing its appeal as an easy strap replacement band.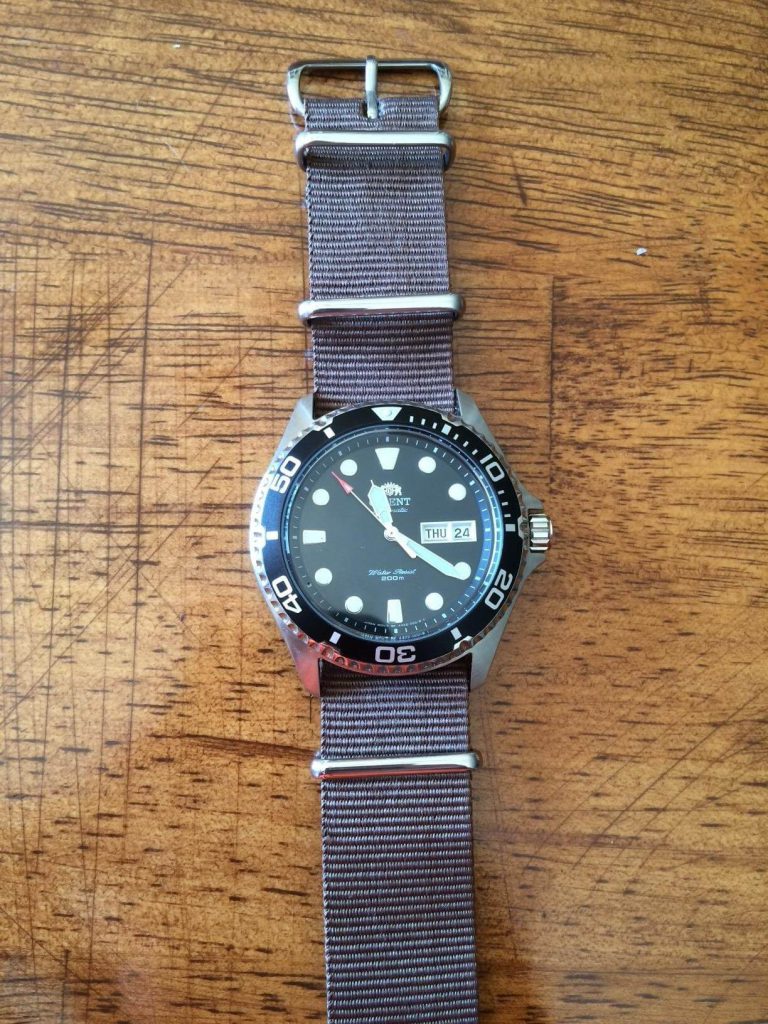 As a diver's watch, the Orient Ray II is usually seen with either a stainless steel bracelet or rubber band. Putting it on a fabric strap gives the watch a very unique look that's casual and fun at the same time
Fabric Strap Advantages:
Very light to wear so you can wear for them hours and not feel the weight
Comfortable to wear since they are softer, though not as soft as leather
These straps are the most affordable ones and can be bought for a very low price
Fabric Strap Disadvantages:
Not as formal and dressy as leather or metal
Can get dirty and stained after long use
Not a great option for swimming, diving or exercises
4- Rubber, Silicon, Plastic and Polyurethane Straps
These three materials (rubber, silicone and polyurethane) are by no means the same. But I've lumped them together because they share the same trait – in which they are elastomers.
What does elastomer means?
It means elastic polymer, or simply put it, rubber like materials. Just like a rubber band, these elastomer straps can be bend at will and it will then revert back to its original form afterwards.
The result is a soft and supple strap on your wrist. And unlike leather, these straps can be used everywhere – underwater, jogging, mudrun, etc. Just name the outdoor activity and it's good to go.
If you got it dirty, simply wash it off under a running water. It's so simple, fuss free and as versatile as a fabric strap with the advantage of being able to be stained of course.

An example of polyurethane strap. It is an elastomer, soft to be use and cheap!
So what's the difference between rubber, silicone and polyurethane straps?
To put it simply, rubber is the most natural form of these 3. It's gotten from the latex of topical plants (most commonly rubber trees). They are generally the most expensive (since its natural after all) and has the best comfort of those 3.
Silicone is the cheapest and less durable. It's very soft and comfortable on hand, but not for long. After a while, the wear and tear will break it down.
My personal record is about a year of using this type of strap. Very soft initially but then you'll notice some cracks forming, especially at the hole area for pin buckle.
But I did use it everyday for lots of activities – work, exercise, swimming, etc. So if you take care of it, it might last longer lol! And I have to mention silicone straps will attract lint too.
Plastic is about the worst material for any strap. Sure, it's tough, won't get cut as easily. But it can be very stiff and nothing destroys your style than a good looking watch on a cheapo plastic band.

The original plastic rubber band of this Seiko SKX007 is notorious for being too stiff. I can say almost 99% of the watch owners quickly swap the strap for more comfortable bands
Last but not least is polyurethane or also called PU is a step up of the silicone. These two are basically chemically manufactured rubber and intended as replacement as rubber.
PU is better than silicon as it does not break as easily and won't attract lint. But rubber still is the best in terms of durability. Just think why would our tyres still made from rubber?
What Is It Best For:
For those that like versatile watches, these are the perfect strap for you. It can be worn to office (especially a black one), casually over the weekends or to that yearly marathon you always participate in.
Just like fabric straps, these elastomer straps also comes in various colors. But their added advantage is the numerous forms and designs. Basically you'll be spoilt for choices when choosing these straps.
Two examples of silicone straps by Hadley Roma, a famous watch strap maker. As you can see, these elastomer materials can be used to form various shapes and design, giving them unique looks
Advantages:
The material is very durable and sturdy making it the perfect watch strap for sports and other activities
It comes in various colours and styles
Quite cheap (silicone)

though

the PU and Rubber straps can be more expensive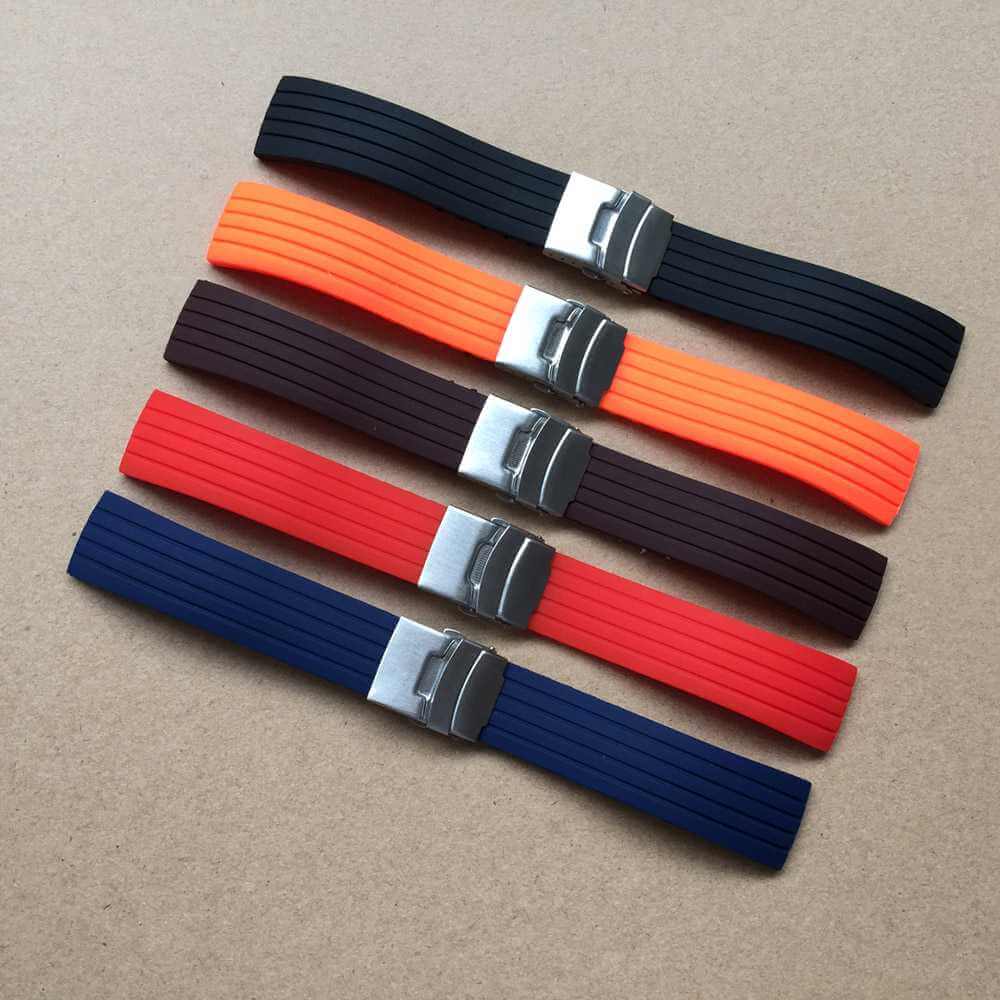 Just like fabric straps, these elastomer straps also come with various colors =)
Disadvantages:
It is not as great in looks as leather or metal
Not really the best fit for suits and formal events
The cheapest ones (silicone) is usually not very durable
Final Thoughts
Watch straps are the lifeline of any wrist watches. What are watches without them? Without them all watches will be pocket watches and we have to carry them inside our pockets which is so not convenient at all.
There are 4 types of different watch band materials (leather, metal, fabric, elastomer) for us to choose from.
But what's the best watch band material?
The answer to that lies in what are you going to use your watch for? As you can see from above, all of them have their own strong and weak points.
But as far as versatility goes, I believe metal bands are the most versatile out of the lot. It's dressy, can be use for casual and also for some sports. It's a great idea to get a metal bracelet for your watch, if you can withstand the extra weight of course.
I hope this article gives you guys more understanding about types of watch band materials. Let me know if you guys have any questions or comments on the above.
Drop your comments and subscribe =)
Cheers!
Isaac