Citizen is a world famous brand founded in 1930, continuously providing high quality watches exhibiting technological breakthrough in each of its new invention.
In all its watches, Citizen has integrated creativity and excellence in its craftsmanship.
The very name of the brand carries a deep respect toward an age old craftsmanship that is considered to be one of the most technologically advanced over the world, especially with their Eco-Drive line up.
As a "Citizen" of the world, everyone bears the responsibility to help nurture a culture of positive change and evolution through this craft.
Once you start using this watch, you will realize exactly how seriously this mission to welcome what the future may bring is taken.
Introducing: Citizen Blue Angels World Chronograph

The Citizen Blue Angels World Chronograph watch is a state of the art manufactured machine that is fully packed with lots of features.
Atomic timekeeping, chronograph function, auto set to 26 time zones, perpetual calendar, sapphire crystal and light-powered Eco-Drive movement – the list of the features in this watch seems to go forever.
And for just $390, it's definitely a great value for money.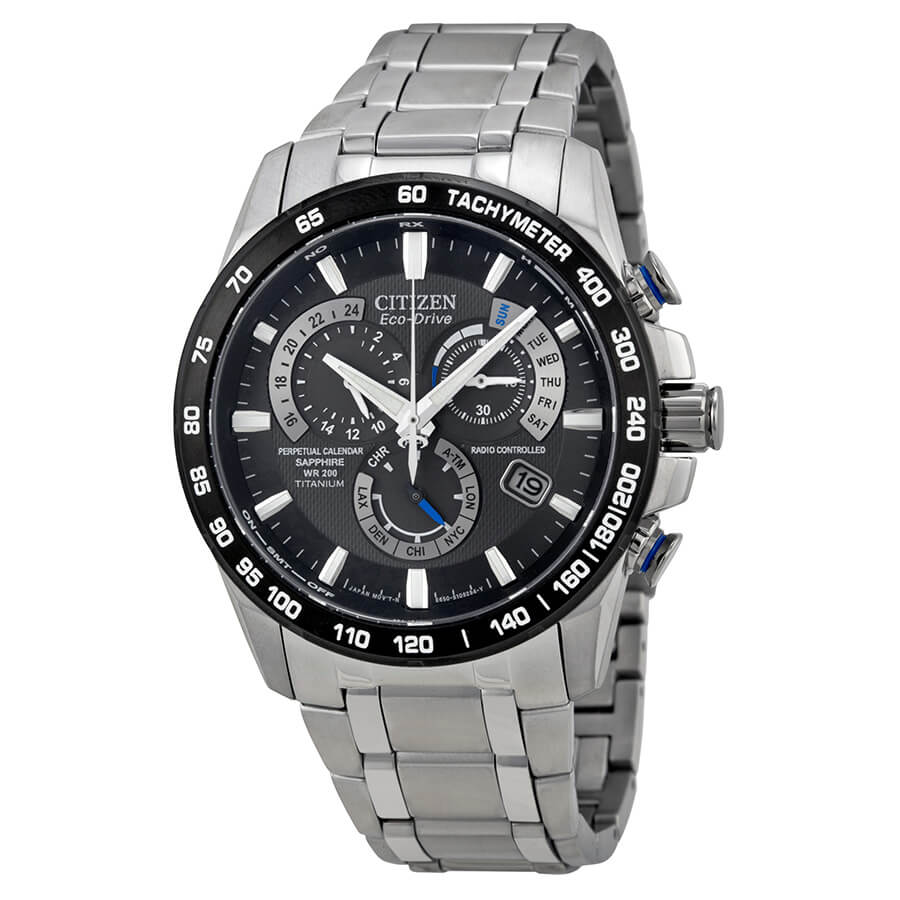 Citizen Eco-Drive AT4010-50E – A similar watch in terms of technical specifications but with lightweight titanium casing and cool grey black style.
I've reviewed its sibling, the Citizen Eco-Drive AT4010-50E. While both are similar in terms of their technical specifications, the main difference is this Blue Angels watch is livelier with blue and yellow design which is very funky and stylish.
The Citizen AT4010 is on the other hand made of titanium which is much lighter and gives a comfortable wear.
I don't plan to do a full blown comparison between these two, but in my opinion as these watches have similar technical specification, it then comes down to which style you like more; the black/grey stylish with titanium of AT4010 or the blue yellow aviation Blue Angels AT8020 watch.
Homage To Blue Angels Flight Squadron
This particular beauty is named after the elite flight squadron of the U.S. Navy (Blue Angels) perfectly featuring its grace and accuracy. The usage of blue dial with yellow accents is beautifully incorporated into the design of the watch.
And the caseback is even adorned by Blue Angels emblem! Now that's a cool feature for an aviation watch.

Not just the front face of the watch is styled with blue and yellow colors, there's also a Blue Angels logo on its caseback!
So what are we waiting for? Without further ado, let's check out the Citizen Blue Angels review shall we.
Citizen Blue Angels World Chronograph Specification (AT8020-54L and AT8020-03L)
Diameter: 43 millimeters
Thickness: 13 millimeters
Lug Width: 23 millimeters
Case: Stainless steel
Strap: Patterned blue and yellow strap (AT8020-03L); also has a stainless steel bracelet version (AT8020-54L)
Dial: Blue dial with slide rule bezel
Subdial: 60-min Chronograph measurement and power reserve indicator (Top); 24-hour time display (left); 1/20 second chronograph measurement, day display and Radio signal status (bottom)
Watch Crystal: Anti-reflective sapphire
Hands: Bar hands with lume
Markers: Index markers with lume
Movement: Citizen Eco-Drive H800 quartz movement with analog display
Accuracy: Super accurate with atomic timekeeping which adjusts itself automatically every day. By itself, the quartz movement is accurate up to +-15 seconds per month.
Watch Features: Perpetual Calendar, 60-min Chronograph with 1/20 second measurement, Atomic timekeeping technology by Radio controlled time synchronization (in 5 time zones), Automatic time adjustment in 26 world time zones, Power reserve indicator, 24-Hour time display, Date and Day display, Slide rule bezel
Power Reserve: 6 months
Water Resistance: 200 Meter / 660 feet
Best Place To Buy: Amazon: (AT8020-03L) or (AT8020-54L), instead of MSRP $595
Citizen Eco-Drive Blue Angels Manual: Click HERE to download its user manual
A Very Busy Chrono-Aviation Dial, But It Looks Super Cool!
This Citizen Blue Angels has one heck of a busy dial as one would expect from an aviation-chronograph watch. The 3 sub dials on the case have very different functions that work together surprisingly well.
The extra functionality of the watch (slide rule bezel, date/day, radio controlled atomic timekeeping) adds up to the complexity of the dial. But regardless of that, Citizen has tried to make the watch as symmetrical as possible.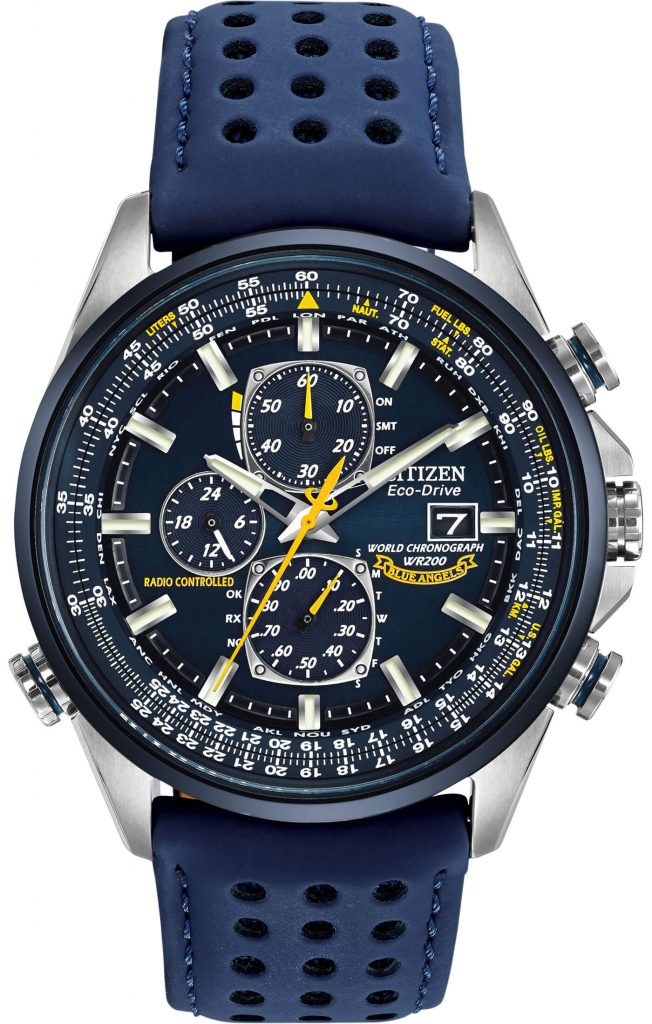 Blue theme with hints of white and yellow works beautifully to create a cool and stylish watch. The marker linings, sub dials and outer edge of dial has a very nice touch through the use of reflecting metals.
The solar panel on the dial of the watch is not distinguishable though we know it's there lol. Hats off to Citizen for perfecting the technology of making an unobtrusive solar watches.
Stainless Steel Case with Sapphire Crystal
The Citizen Blue Angels watch is made of stainless steel metal with a nice non-reflective sapphire crystal. For those of you who follow my blog, you'll know that I'm a fan of this type of crystal for watches.
And why would anyone won't love sapphire?
For a start, sapphire is super scratch resistant that no ordinary material can make any unsightly scratches on it. Now that's very important if you are buying a watch to be used for years to come.
I've had some mineral crystal watches and scratches do happen even if I've taken great care with them. Though of course this depends on the watch price. We can't really expect a cheap watch to have sapphire on it right? (such as this Seiko SNK809 that's selling for $60).
The Citizen Men's Blue Angels Watch has a 43 millimeter stainless steel case with high functioning attributes. Because it is made for men, its 43 mm diameter case is actually perfect for a guy's wrist.
Its 13 mm thickness gives it a finish appropriately as opposed to other thinner watches considering the fact that it is quite different from other quartz watches. I like how the lugs being designed to be short so as not to increase the lug to lug distance beyond normal wrist diameter.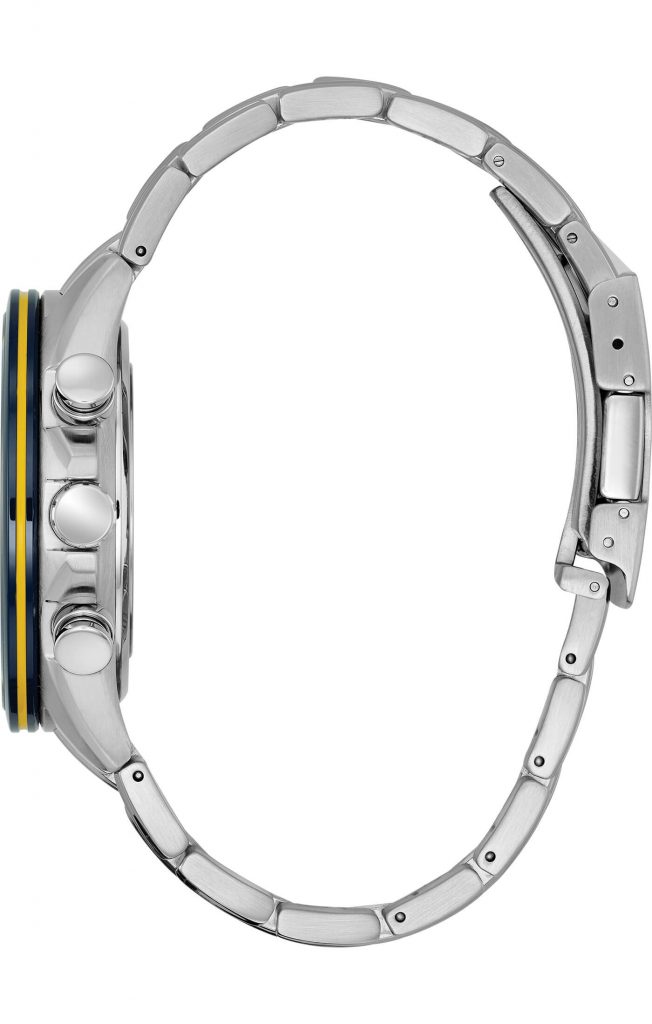 With a 200 m water resistance, it's definitely enough to hold it against any occasional splashes of water. Just don't try to swim/dive with it as the crowns and pushers are not screw down type.
The case itself is normally constructed without any extravagance – I like this better since the dial is very complicated, there is no need for an elaborate casing like what some watches have.
2 Choices of Straps: Blue Yellow Strap or Stainless Steel Bracelet
The watch comes with 2 choices of straps: blue yellow strap (AT8020-03L) or stainless steel bracelet (AT8020-54L) for people to choose. The blue patterned strap has yellow colors on the inside and looks very beautiful with the watch.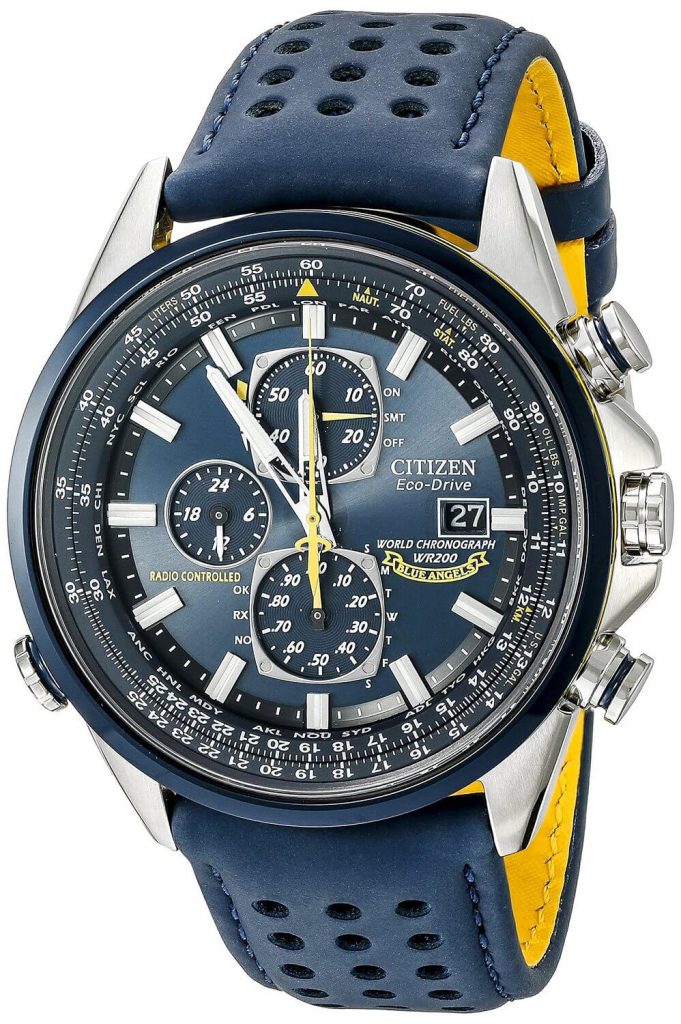 The strap version (AT8020-03L). It has a blue strap with yellow inside for a totally sporty look
But there are some negative comments about the strap especially on its less than desired durability and how its buckle tend to dig into its wearer wrist.
In my opinion, a stainless steel bracelet is a much better choice – not just for this watch but for any other watch.
And why is that so?
Logically speaking, stainless steel won't degrade and can last forever as long as the watch itself. This is very different than any strap material out there (leather, rubber, Nato, etc).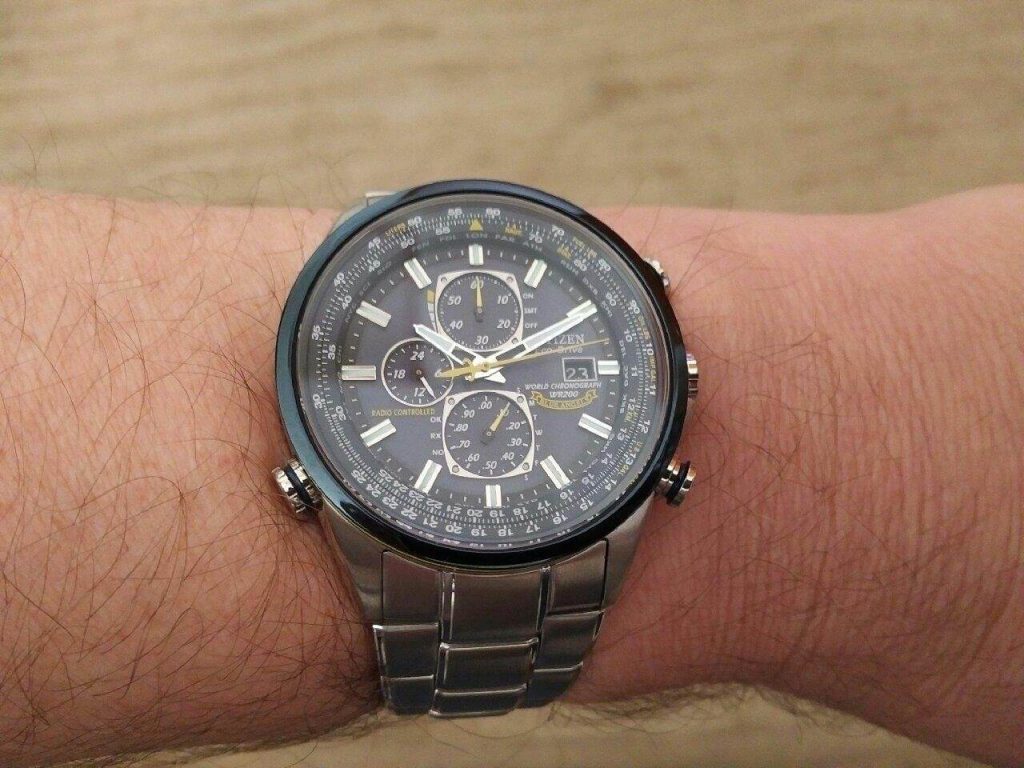 Sure it can be a bit heavy but that shiny look which looks good either in a suit or casual jeans is just so good to has. And if you get bored with it, a strap replacement is just $20-$30 away on Amazon =)
So now we have covered most of the basic aesthetics of this Citizen Blue Angels World Chronograph. Let's then look at its technical functionality. I'll try to be brief here but there's so much going on this watch that it's impossible to let you guys understand it without going into details.
Now, let's check out the various functions this Blue Angels has.

Above is a diagram showing the different functions on its dial. Try to compare these functions with a watch of similar price =)
1- Citizen's Eco-Drive Light Powered Movement
The main feature of this Blue Angels watch is its Eco-Drive movement H800 that is powered by light. No more manual winding and changing batteries like normal automatic and quartz watches – only 1 lithium ion battery will last forever.
Not only that, the power reserve can lasts for almost 6 months though this will depends on how many times the other functions of the watch is used. Charging with these latest generation of light powered movement is relatively simple.
Just expose it to any kind of light with good intensity and you are good to go. Just remember that the intensity of the light plays a big part on how long it will charge to full. A normal office lighting will take a longer time than a very sunny afternoon.
Lastly, the top subdial hand will always show the current state of power reserve while in normal operation so that no guessing is needed. Now that's a great thing to have.
2- Radio Controlled Atomic Timekeeping
A great feature that this watch has is the radio controlled atomic timekeeping.
Whoa… what does that means?
Don't worry guys. I'll try to explain this part as concise as possible. (Just to note here that I've reviewed the Citizen Eco-Drive AT4010 which has this exact same function.)
Basically this means the watch can pick up radio signals and reset the time according to the atomic time. With this, the time of the watch is always accurate as the synchronization takes place every morning.
But there's a catch though – the radio signal covers only Japan, North America, Europe and China (see the signal map below). This means if you are located outside of these areas, the function won't work and you'll have to reset the watch yourselves.
But for those that do reside in these regions, this function will truly help to make your watch as accurate as an atomic watch – how cool is that!?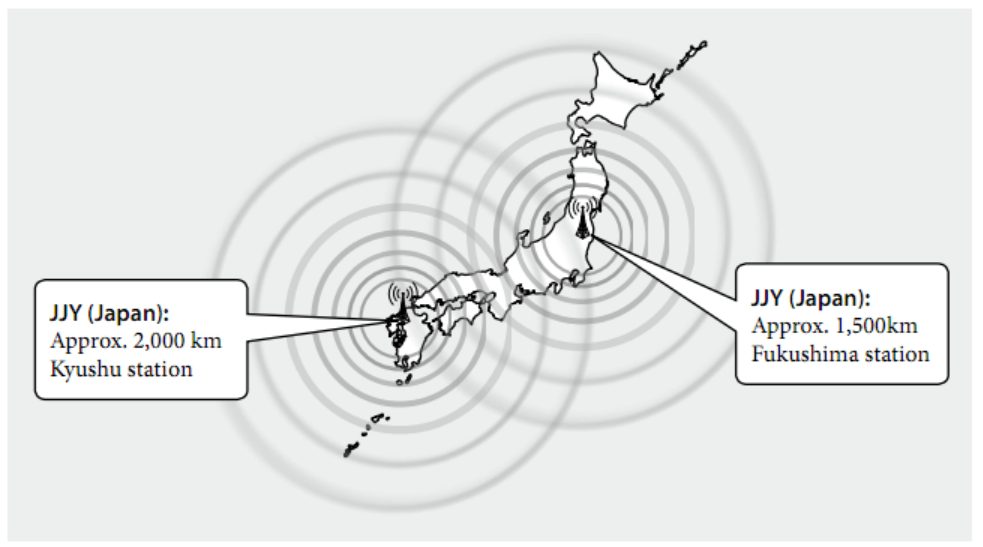 Shown above are the 5 locations of the radio signal stations and their approximate radius. Download the Blue Angels' user manual HERE for more info.
3- Setting to Different Time Zones
Next, this Blue Angels watch has a function to automatically set the time according to the time zone you are at. By taking out the middle crown once, the seconds hand will move to show the current time zone the watch is set.
The time zones are marked by the major 26 cities (i.e LAX, DEN, NYC, etc) at the inner dial. Simply rotate the crown to whichever time zone and the watch will adjust by itself.
This is definitely a very useful function for those that travels a lot =)
4- 60-minutes Chronograph with 1/20 Seconds Measurement
What would an aviation watch be without a chronograph? As a fully functioning aviation watch, this watch also has a chronograph, albeit it's only up to 60 minutes (located at the top subdial).
But this chronograph also comes with a 1/20 seconds time measurement located at the bottom subdial.
This means the chronograph can measure 10.15 seconds, something that's much more accurate than normal analog chronograph watches that typically can report up to the seconds only (e.g 10 seconds).
5- Perpetual Calendar
The watch comes with date and day display at the right window and bottom subdial respectively. But what's more amazing is the inclusion of perpetual calendar function which will automatically change the date by taking into account months with less than 31 days and also leap years.
How nifty can this be?!
I can tell you how useful this function is. Having to reset the date of my watches after a February (for example) can be a bit annoying though I only has to do it once every month lol. Having this function can take off that few minutes of resetting the date, not to mention it's a cool feature =)
6- 24-hour Time Display
At the left subdial of this Citizen Blue Angels watch is a 24-hour time display which to me is a godsend. Some people don't really bother about having it but for me, this is a feature that analog watches need to have.
Unlike electronic watches that can show the AM/PM status, analog watch users don't really have that luxury. Most of the time, we are left to our own awareness what time (AM or PM) is it right now. Due to that, having a 24-hour time display is a very useful thing to have =)
7- Slide Rule Bezel
Last but not least, the watch also has a slide rule bezel. I've purposely put this feature at the bottom of the list as it's not related to the watch mechanics. Instead, the slide rule works manually by rotating the crown at bottom left (or 8 o'clock) position.
So what is that slide rule again?
It's basically two scales on top of the watch to help with quick manual calculations of various computations such as multiplication, division, square root, etc. One of the scale is on the edge of the dial while the other one is on a rotating inner bezel.
By rotating the second scale, one can easily find an approximate answer to many mathematical calculation. Check out my review of the Seiko FlightMaster SNA411 where I've discussed in detail about slide rule bezel and how to use it.
That's all for the watch functions. For more information, download this helpful Citizen Eco-Drive Blue Angels Manual HERE
Watch this video to have a closer look to this Blue Angels watch. It also shows how to set the time zone and chronograph function
Who Is This Watch For?
The Citizen Blue Angels Watch is one of the few in the market with lots of high tech features and comes with handsome design. It looks sporty and classy at the same time. The association with the cool Blue Angels flight squadron just enhances its coolness further.
It's definitely suitable for those that want a highly functional watch and don't want to settle for a normal analog watch. At just $390, it's definitely a great value for money buy.
Who Should Not Get It?
If you've read this whole Citizen Blue Angels review, you'll realize that feature wise it has no lacking. But its rich features may be deemed too sophisticated for some and too sporty for others who are looking for a more ordinary looking watch.
Pros and Cons
Advantages:
Synchronizes the watch through its Automatic Timekeeping every day, making it the most accurate watch in existence.
Eco-Drive light powered technology that ensures that no battery change is required throughout its life
Power cell lasts for 6 months
Beautiful design incorporating blue yellow Blue Angels signature colors
Slide rule bezel for instant calculation
Perpetual calendar that can adjust the date for leap years and months less than 31 days
Able to adjust the time to 26 time zones
Disadvantages:
The radio controlled atomic timekeeping works in only 5 time zones only
Chronograph can measures only up to 1 hour
Want To Get Your Hands On This Citizen Blue Angels World Chronograph Watch? Get It Cheapest On Amazon!
Currently this watch has an MSRP of around $600 which is quite a steep price to pay. But luckily some sellers on Amazon have it for way less that that which is definitely a bargain. Click the links below to check out the watch on Amazon.
->Citizen Blue Angels AT8020-03L with Blue/Yellow Strap on Amazon<-
->Citizen Blue Angels AT8020-54L Stainless Steel Bracelet on Amazon<-
Final Thoughts
This Citizen Blue Angels Watch is a modern day invention that brings you the best and the edgiest of all features. It's a very cool and sporty accessory that can be worn every day. It's fully packed with features that I won't write here because the list is just too long lol!
From a simple watch, Citizen upgrades it into a machine. So if you are an active person who's looking to buy something cool to look at, all the while being effective in use, the Citizen Blue Angels Watch is the right watch for you.
Hope you guys enjoy this review. Let me know if you have any questions or comments. Just put them down below =)
Cheers!
Isaac