Like any devices, automatic watch also needs to be taken care and maintained to ensure it's running perfectly without any issue.
So how to take care of an automatic watch? Below are the 13 tips on how you should take care of your automatic watch:
These are the best practices that I've personally used to maintain my own watches. With these tips, I've been able to avoid any costly repairs and issues with my watches and I really hope that this information will help you to avoid that too.
1. Take A Good Care Of It From Being Dropped Or Taking Any External Shock

The very first and most important thing that you have to do to take care of your watch is to be
very careful not to drop or subject it to any external shock.

Dropping the automatic watch on the floor, bumping it onto the wall, or dropping hard objects on the watch are some of the accidents that can easily happen when you're not aware and being careful with your watch.
The impact from these accidents can range from nothing to really major, especially regarding the delicate internal workings of the watch. As the automatic movement is made up of more than one hundred parts, any big shock can cause damage on the assembly or even damaging the parts itself. The effect of this is a damaged movement that can be costly to repair or change out totally.

In addition to this, there could be damage on the exterior of the watch. Unless you drop the watch from a very high place or subjected to high impact forces, the damage could be in the form of scratches on the case and crystal as the watch is actually quite sturdy.
It might seem small, but trust me, a scratched case/crystal will be devastating to the aesthetic of the watch. You certainly don't want to have a highly polished watch that have some deep grooved scratch on its side which is very unsightly!
2. Keep The Watch Away From Moisture
The next tips in maintaining your automatic watch is to keep it away from moisture as water is a great enemy for mechanical devices.

One thing I want to highlight is this does not mean the watch cannot be in contact with water. Most of the watches in the market right now has some water resistance rating that enables it to even be submerged inside water for a specified depth. There are also dive watches with screw down crowns that is much more robust against water.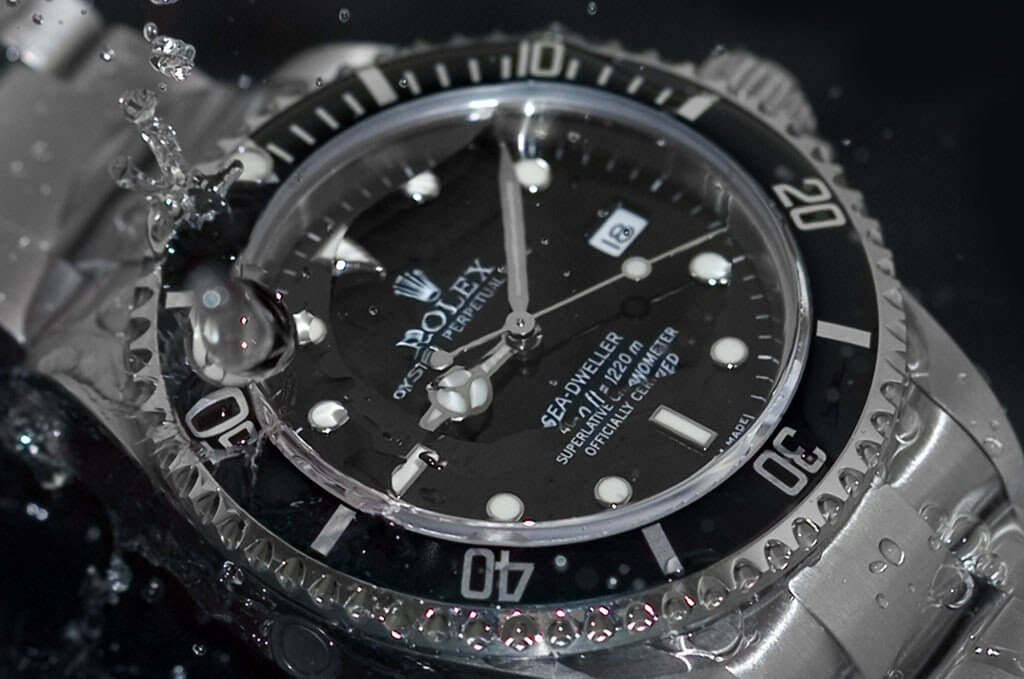 The main issue is with constant exposure to water, especially on where you're storing the watch when not in used. As the watch is usually made out of steel,
constant exposure to water can make rusting happen even for stainless steel.
It's recommended to wipe the watch and store it in a dry place after it came into contact with water.
In particular is the steel bracelet of the watch that has many small spaces and crevices that can be places where water might accumulate. You need to ensure these places are always dry to prevent from any rusting.
With leather or cloth based straps, moisture is a great concern as it can significantly reduce the strength of the material and cause it to be susceptible to tear. I'd be very particular about this and will try to dry out the straps as soon as possible before storing it.
Thus, keeping these straps dry from being near to wet areas is definitely a good idea. You certainly don't want to wear a damp strap on your wrist right?
3. Don't Place It Near Electronics Or Strong Magnets
The next tip to take care of automatic watch is not place it near electronics or strong magnets. This is a very important thing to remember as automatic watch will be severely disrupted if its magnetized, all because it's run entirely by moving metal parts.

The various moving parts will be disrupted from magnetization and this will cause the watch to lose accuracy.
While this is not really a concern before, it has become a big issue as electronics are everywhere nowadays. Electronics can be the cause of magnetization if you place the watch near to it. Hence, it's important to know where you're storing the watch so that it's not near to any electronics.
4. Do Remember To Service The Watch
Next tip is about servicing the watch. Just like other mechanical items (car engine, etc.), automatic watch also needs to be serviced to clean and re-oil the various parts. Typically, an automatic watch will need to be serviced every 3 to 5 years, though this will ultimately depend on the manufacturer's recommendation (one good example is Rolex where it has a new 10-year service recommendation which is very good in my opinion) and whether you believe something is wrong with your watch.
I do believe that this is the tip that most people are not wary about when they buy an automatic watch. Although automatic watch is a great watch with many benefits, its mechanical nature with many moving parts means that servicing it is inevitable to keep it running without any issue in the long run.
Not servicing the watch can cause a lot of other issues with the movement so much so you might be having a trouble with it later on. I do note that some Seiko dive watches have been running fine even without any service but I can bet those watches have horrendous accuracy, more than 10++ seconds deviation per day.
Coming to accuracy, that's also another benefit of sending the watch to service as you can ask the watchmaker to adjust the watch to your use pattern with higher accuracy. In short, servicing an automatic watch will ensure that your expensive automatic watch will be well protected and can be used for years to come. In addition, the better accuracy will help you make the most of your automatic watch as well.
(read my previous post to know more details about servicing automatic watch)
5. Don't Leave The Watch Unused For A Long Time
Having many watches is fun as you can have a nice collection with myriad of watches. But then a big problem will crop up – you suddenly realized that you only can wear one watch at a time so much so only few watches will be worn frequently.
The thing is you will never be able to give ALL your watches the same wrist time. I noticed that once my collection grew, there are some watches that I like or prefer over some other watches. This can be due to many factors i.e look, weight, how it wears, etc. which are not something that you can know before you buy the watch.
Due to this reason, there are only 2 or 3 watches that I've worn regularly and there are other watches that don't see any wrist time for weeks which is not ideal for an automatic watches. The main issue with this is the watch's lubricants will be left idle for long time and might be coagulating when the watch is not in use. This will reduce its accuracy or might even cause the watch to not work properly.

Thus, it's important to ensure your watch is ticking once in a while although you might not have enough time to wear them. Simply wind it manually or give it a good shake to jump start it and have it running.
6. Keep It Clean
The next tip on how to take care of your automatic watch is to keep it clean. Often times, the watch might get dirty from normal use (sweat is one of the biggest contributor to this) and it's important to keep it clean so that it will be able to be kept for a long time.
Luckily, most automatic watches are made of stainless steel so cleaning them is a breeze. A piece of cloth or tissue will do to wipe out any dirt or sweat in contact with the watch. Depending on the dirt, you might have to use some water to assist with the cleaning. Unless absolutely necessary, the use of soap is not needed most of the times.
Now, while the main watch case is quite easy to clean, the strap or bracelet is a different issue. There are 4 main strap material types for automatic watch (metal bracelet, leather strap, cloth strap, rubber strap) and caring for them requires different method.
I personally love metal bracelets because it's very easy to wear without the hassle of unbuckling it like other straps. But the way the bracelet is constructed using many small links resulted in many small openings and crevices which can be the location where dirt might accumulate. And since these openings are very small, cleaning these dirt and gunks can be quite a challenge.
You can use toothbrush to get to the hard to reach crevices but it might be too hard to do. One good way is to use ultrasonic cleaning whereby the bracelet can be dipped into a water bath with lots of water bubbles that can help to clean out the gunk.
For the other types of straps, a wet tissue or towel will do to clean it as there is no small openings or crevices with it. But do be careful with leather and cloth straps as getting it too wet will reduce its strength and you might cause some damage on it. You should also quickly dry these straps after cleaning it. For rubber strap, it's one of the more durable straps and can be easily cleaned.
7. Be Careful When Changing The Strap
Another tips about straps is to be extra careful when changing them. I love to buy new straps and put it on my watches. It will immediately change the look and feel of the watch instantaneously. It's like getting a different watch by only paying a fraction of its cost.
But do be very careful when changing the straps yourselves (also applies if you get the store to change it) as you can easily get some scratches on the watch.

Changing the straps involve getting out the spring bar from the lugs and you should do this very carefully or else you can end up with deep scratches on the lugs (this is me speaking from experience LOL!). Do get the correct tools to change the straps as it will make your life much easier. This also applies to adjusting bracelets.
Trying to cheap out and use the tools that you have lying around your house such as screwdrivers, needle etc. is a recipe for disaster. Watch strap removal and bracelet adjustment tools are available online for less than $10 bucks a piece and there is no reason why you should not get one!

(if you want to learn how I adjust my bracelet, read my previous post here)
8. Avoid Using The Watch In Extreme Temperatures
Steel is susceptible to temperature change (contract with cold, expand with heat) and automatic watch uses a lot of steel for its movement. Due to this, any extreme temperature will cause issue with the movement.

There are many issues related to temperature. One, the accuracy will suffer as the steel parts are expanding/contracting which is not the same as it was designed for. Then, the oil could have some changes in its properties with the temperature (gunk at cold, thinning at hot). There could also be an issue with condensation around inside the watch due to temperature difference.
As such, I'd recommend to not use automatic watch when going into extreme temperature environments such as a jacuzzi, sauna, or winter area. There are sports watches that have been designed for these extreme temperatures (mostly quartz based) that you can use instead.
9. Don't Wind The Watch When Wearing It On Wrist
One of the mistakes that I used to make is winding my watch when I'm wearing it on my wrist. This is definitely not a good practice as you can break the crown stem from doing this.

The crown is typically connected to the winding mechanism through a small stem that can be broken easily. Hence, winding it while wearing it will apply a tangential force on the stem, thus making it much more likely to accidentally break the stem.
Due to this, I strongly advise that you only wind the watch by properly holding it on your hands and applying direct force when rotating the crown.
10. Change The Gaskets And Seals When Servicing
Water resistance is a very important feature in any watch as you just don't know what could happen. Even for dress watches, I'd prefer to have some water resistance rating on it (a minimum of 30-50 m rating) since that will ensure the watch can handle some accidental splashes of water without breaking a sweat.

This is particularly helpful as you just don't know what could happen. Also, this feature makes it easier as you don't have to take off your watch whenever you want to wash your hands or doing the dishes – activities that can splash some water on your watch.
Dive watches, on the other hand, have higher water resistance rating (from 100 to 300 m) as it will need to resist the water from going inside the watch whenever its owner is diving.
One thing that most people don't know is the water resistance rating depend on the condition of the seals and gasket of the watch. These seals are located at all possible water ingress points (crown, back plate, crystal, etc.) and is the one holding out the water from going into the watch.

As it's made of rubber, the seals will degrade naturally and you should always have it changed periodically to keep the watch's water resistance. Some people recommend for it to be changed every 2 to 3 years but I found this to be only valid for divers. For most of us that don't really use our automatic watches for diving, this recommendation will be overkill.
Because of this, my personal practice is to change the seals and gaskets every time I service the watch, which is 3-5 years. This will save some money and time as you don't need to bring the watch for service more frequently.
11. Don't Use The Crown Or Pushers While In Water
This next tip also involves with water: don't ever use the crown or pushers while in water. That is unless you want water to get inside the watch, wreaking havoc with the movement!
Water resistance works by keeping a tight vacuum-like seal over the entire watch and anything that protrudes out from the movement for the watch to function (such as crown and pushers for chronograph) is a possible water ingress point. The workaround with this is by using seals and gaskets to keep the small openings filled up so that water can't pass through.
But using the crown (for manual winding or setting time/date) and pushers (for chronograph or other functions) inside water will open up the openings so much so water will easily pass through inside the watch.
12. Keep Unused Watch In A Proper Box

The next tip is to keep your watch collection inside a proper watch box. It's only logical that we should store our expensive automatic watches inside a proper box to keep it away from dust and any damage that could happen to it.
For instance, keeping the watch inside a drawer which you also used to keep your keys and other items is not recommended as these items can scratch the watch. Keeping it inside a box will also prevent from accidental magnetization of the watch from being in close proximity to electronic items.
In addition, you will be able to organize your watches and retrieve it easier rather than having to search all over the place for a watch that you want to wear.
(if you want to know more about how best to store your automatic watches, you can read my previous post here)
13. Be Minimal With The Manual Winding
Although manual winding is a good way to easily fill up the power reserve of your watch, it's not recommended doing it frequently. The fact is, automatic watches are designed with self-winding capability and it's not meant to be manual wind often (unlike mechanical watch).
Because of this, most brands will usually design a less robust manual winding mechanism on an automatic watch, so much so it can be broken if it's winded often. As such, do be very careful when manual winding the watch and be minimal with it.
Personally, I only manual wind my watch for 5 to 10 revolutions, just to give the watch some extra juice when I first pick it up from the box. Then, I would rely on the self-winding mechanism from my wrist motion to increase it's power reserve for the next days.
Related Questions
Do you have to wear your automatic watch every day? No, you don't need to wear your automatic watch every day. Automatic watch that is not being worn will stop by itself when its power reserve runs out. You can then pick up the watch and use it normally after that.
How long will an automatic watch last? Automatic watch can last for a very long time, provided it's being maintained well by periodically servicing it and keeping it clean.
How to keep automatic watch when not wearing? The best way to keep automatic watches that are not being worn is by storing it inside a dedicated watch box. You can also read my previous post to know the other options of storing the watch.
How to wind an automatic watch? To wind an automatic watch, simply rotate the crown upwards. You should be able to hear a faint gear-like grinding noise when doing so. Some watches also have screw-down crowns so you will need to unscrew the crown first before you can wind it.
I hope these 13 tips on how to take care of an automatic watch will be beneficial to you. Do let me know if you have any questions or if you have any other tips that you've been using yourselves.
Till next time then. Cheers!