Among the numerous Seiko automatic watches, the SARB033 model is certainly a more popular model. Alongside it's white-dialed sibling (the SARB035), it has won praises and love of watch fans. I made the decision to buy it 4 years ago and couldn't say how happy I was with it. This post is dedicated as an in-depth review of the watch.
So what's my view about the Seiko SARB033? All I can say is the SARB033 is a simple, elegant, versatile and understated automatic watch from Seiko. Its good looks was taken from design cues of the prestigious Grand Seiko and it's versatility won me all over.
You can wear it to work, go for dinner afterwards, then to the club – all while wearing this one watch. Going to the beach? Yes that's OK too! It's versatility and perfect wear-ability make it my favorite watch for a grab-and-go (the steel bracelet helps a lot!).
Not to mention the small-is 38 mm diameter size makes it much more wearable and lightweight that it's also perfect for those with average wrist sizes.

How I Met My Seiko SARB033
I first encounter this watch a few years ago from watch forums and facebook groups. I still remember how impressed I am with the watch back then from photos shared by others. It was hugely popular and I can clearly saw why.
I didn't pull the trigger back then. It was until I needed a more decent watch for work that I revisited the SARB033.
The thing is, I was mostly a dive/sports watch kind of guy. It's versatile and can be used practically anywhere. But then, I sensed that it's not a good fit to my image (had moved up the ladder in my company that time).
Thus, I needed a new watch, a watch that's good looking and exudes professionalism.
And that's how the Seiko SARB033 came to my attention again.
What I Feel About Wearing The SARB033 Now?
Now, I'm a proud owner of the SARB033 and I still am constantly wowed by the watch every single day.
It's perfectly sized (my small wrist fits 38 mm diameter watches like a charm) and the deep black dial is just stylish and looks far more expensive that it actually is.
And the best part is it's packed with so much feature at such an amazing price (sapphire crystal, automatic movement with open caseback, 100 m water resistance).
Long story short, if you're looking for a stylish dress watch with an automatic movement inside it, you should seriously consider the Seiko SARB033.

>> CLICK HERE To Get Your Own Seiko SARB033
Seiko SARB033 Watch Specification
Diameter
38 mm
Thickness
11.2 mm
Lug Width
20 mm
Lug To Lug Distance
45 mm
Case
Stainless steel case
Strap
Stainless steel brushed bracelet with folding clasp
Watch Crystal
Sapphire crystal
Dial
Black dial
Hands
Sword style hands with lume
Markers
Index markers with lume
Style
Dress
Movement
Seiko Caliber 6R15 Automatic self-wind movement
Movement Features
23 Jewels, 21,600 vibrations per hour or 6 beats per second, Able to be manually wind, Hacking feature
Accuracy
+/-25 seconds per day
Power Reserve
50 hours
Water Resistance
100 m
Other Features
Date display at 3 o'clock, Exhibition caseback (Hardlex crystal), Luminous hands and markers
Rating
(4.8 / 5)
Where To Buy?
Amazon
As with the Seiko Cocktail Time, the SARB033 is also a Japan Domestic Market (JDM) model that is not available outside of Japan.
Luckily, there are a number of watch sellers online that we can use to get our hands on it (Amazon is a good choice)
Back then when I bought it few years ago, it retailed on the gray market for around $350 to $400, and in that price range, it is definitely unbeatable. A truly good value for money watch.
Sadly, its prices have crept up now, pushing to between $450 to $500. We can only theorize that this is due to Seiko wanting to put their newer SRP models to occupy the $300-$400 price range while at the same time pushing prices of beloved models higher. Geez corporations….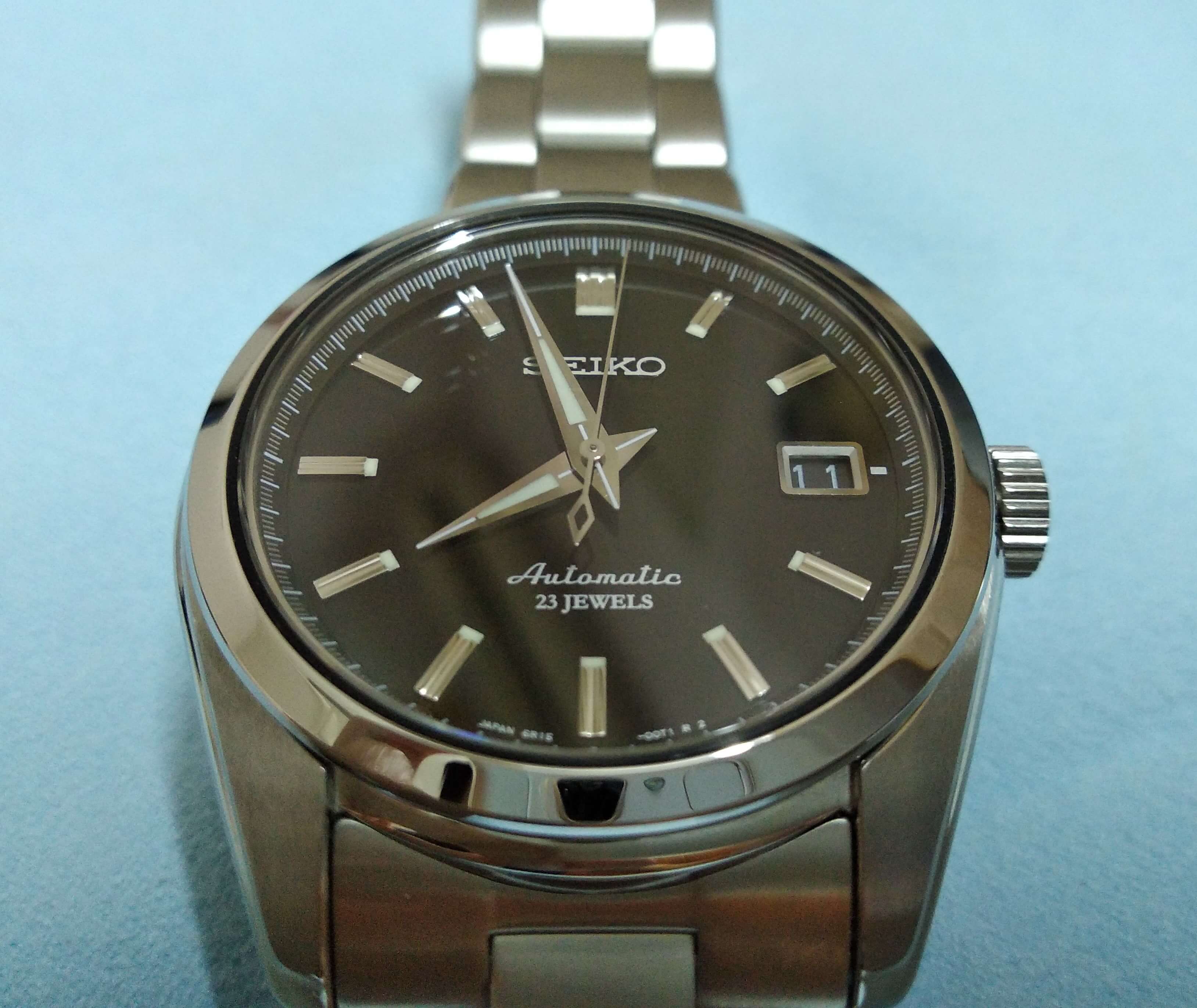 A close up view of the watch face of the SARB033. Very simple dial design, but elegant and sharp at the same time. I totally dig the laser cut sharp hands and markers!
Simple And Understated Design
The SARB033 has the traditional look of a dress watch. It is small (around 38 mm), has

blackdial, has sword shape hands and index markers. It has a date display at 3 o'clock. The hands and markers has some lume on it for added functionality.
The index markers are quite unique as it has some indentation at the center causing it to have some sort of play with different angles of lighting.
The 12 o'clock marker has double indices to separate it from the other markers. At the outer edge of the dial are minute markers for more accuracy when telling time.
One thing that surprised me is the application of lume on the markers and hands. I did mention that it makes the watch more functional in the dark but it's still interesting for Seiko to put it on a dress watch.
If you're wondering if it's a great lume as in Seiko's diver watches, I'm afraid to say that is not the case with this watch.
Check out the picture of my SARB033 below and you'll understand what I mean. (by the way, forgive me for the horrendous photo. That's the best my photography skill with my phone can deliver LOL!)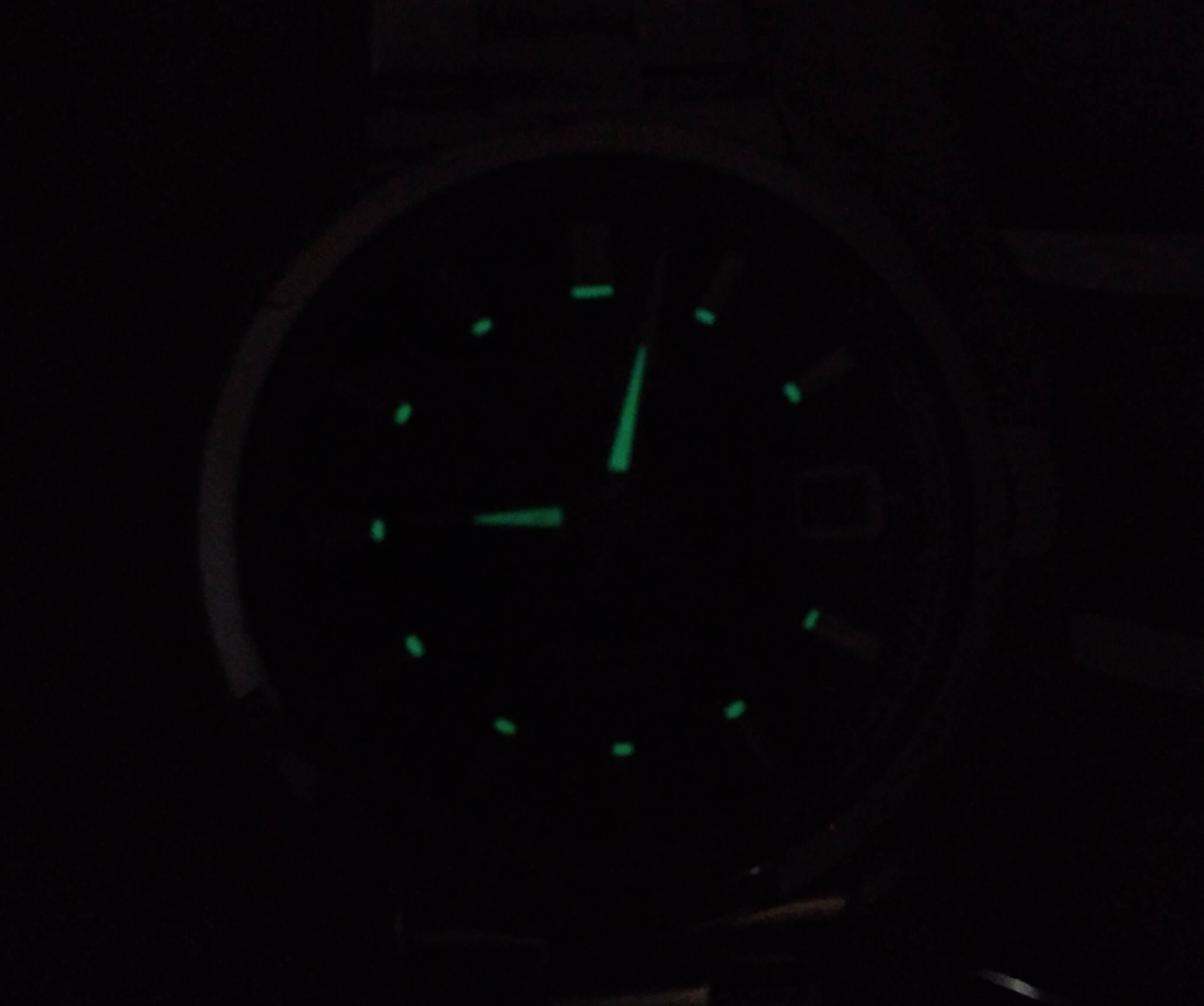 While it has lume, don't expect it to be as good as its dive watch siblings. It did give some help telling time in dark places though.
Simple Design Reminiscence Of The Rolex Datejust and Grand Seiko
Looking at the design, it is just so simple and clean. It reminds me of the Grand Seiko Hi-Beatand the Rolex Datejust due to the simple dial design.
Sometimes, simpler can be better and it is just true with watches. This Seiko SARB033 is not an exception in this regard.
Just look at both luxury watches below and you'll understand what I mean.
Comparison between the Grand Seiko Hi-Beat (top) and the Rolex Datejust (bottom). Two top-of-the-line watches with simple dial design. No wonder the Seiko SARB033 has the nickname of "Baby Grand Seiko" as it has almost the same look, but of course with lower craftsmanship and movement quality.
Want Your Own SARB033? >> CLICK HERE To Get Your Own Seiko SARB033
Excellent Craftsmanship by Seiko
Even though this watch only costs less than $500, we can see some serious effort by Seiko to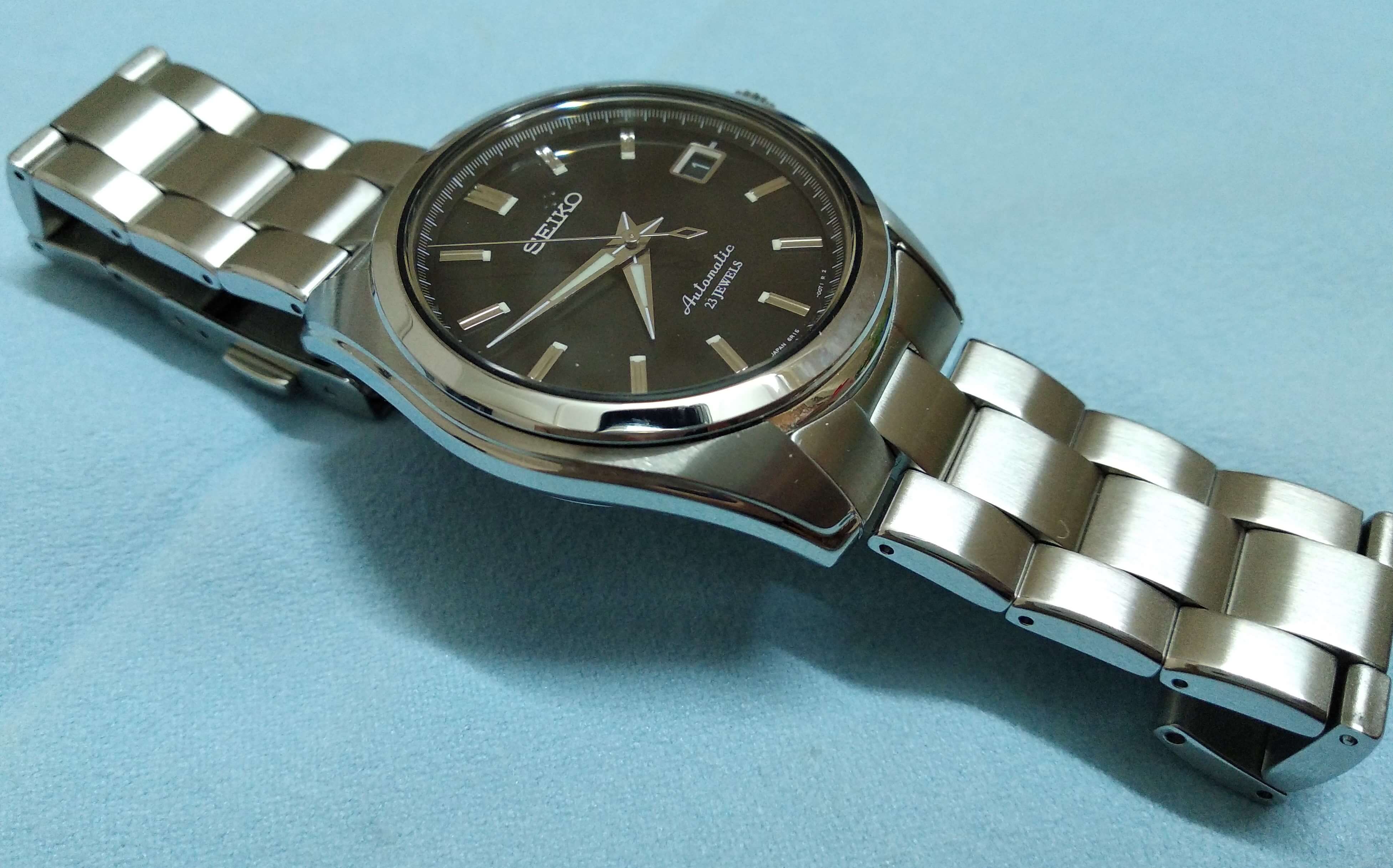 make it look great. The case is made from stainless steel and is beautifully crafted. If you notice from the picture below, the lug is slightly curving down.
It's a typical case design of Seiko for some of their watches and it just looks beautiful, not to mention it is very comfortable to wear. I have a Seiko Sumo (a diving watch SBDC003) with the same case/lug design and I can attest to how the watch just sits and grip my wrist perfectly.
Ask any SARB033 owner and they'll agree that the strongest point about the watch is the exquisite craftsmanship, namely the case.
The case is mostly brushed, but it is polished in detail at some part of the case – namely the small space between the top of the case and the case's edge.
Such attention to detail and effort poured into it is starkly different than what other watchmakers will give, at this price point.
The layering of brush an polish surfaces is very beautiful to look at. I can't count the number of times when I had gazed on the exquisite case.
It's truly a beauty!
Bracelet and Crown
The lug width of 20 mm make it easy to find another strap to suit it with. It's very interesting to see how a watch will look like with different straps on it.
I'm a part of many watch groups on Facebook and the creativity of how the owners of the SARB033 never fails to astonish me.
They strapped the watch on leather, Nato, in various colors, – and everytime the watch turns out great. A good thing about black dial is how versatile it is with various straps and this is truly the case here.
There is also the Seiko logo "S" engraved on the crown. These small but satisfying application of details is very astonishing, not less because this is a low-middle range watch from Seiko.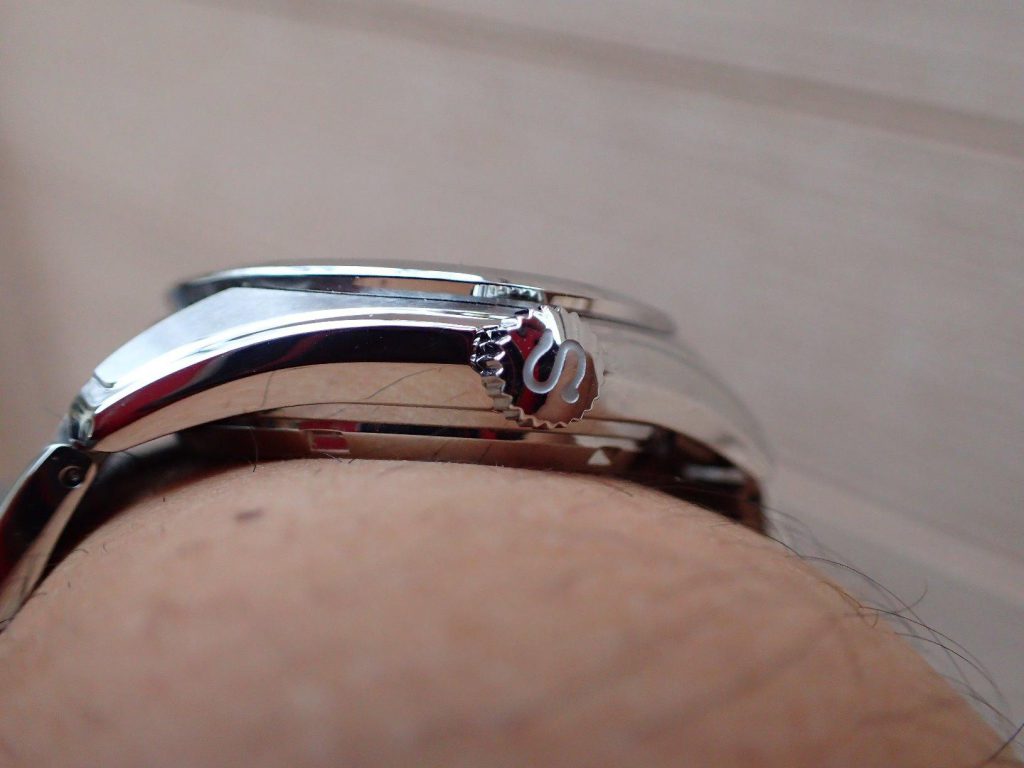 Notice how the lug of the Seiko SARB033 beautifully sloping down as if to provide a grip to the wrist. Very comfortable and give a sleek design aspect to it.
A Lot To Be Desired From The Bracelet
As with any Seiko at this price range, the bracelet can be said to be it's weakest point, and the same can be said for this SARB033. The stainless steel bracelet is solid and tough though, don't get me wrong.
But what I'm talking about is that Seiko does not put as much effort on the bracelet, as it has done for the watch/case.
 Seiko SARB033

The bracelet is brushed, and have a small deployment clasp which looks modern. The Seiko sign on the claps is a nice touch too.
But the finishing of the bracelet could have been better in my opinion but then again we need to understand that Seiko had to cut corners on the bracelet to maintain a low price for this watch.
Another small mishap in the design is the gap in-between the clasp and the top bracelet links. But this should not be a huge issue, at least for me.
Sizing the bracelet is a tad bit difficult though as Seiko opted to use a pin and collar design. I'd suggest to check out Youtube (here is a great tutorial) on how to remove links and size the bracelet.
Fortunately a replacement strap is very easy to get and for some few dollars, one can get a beautiful leather strap online for this watch and it will look stunning too.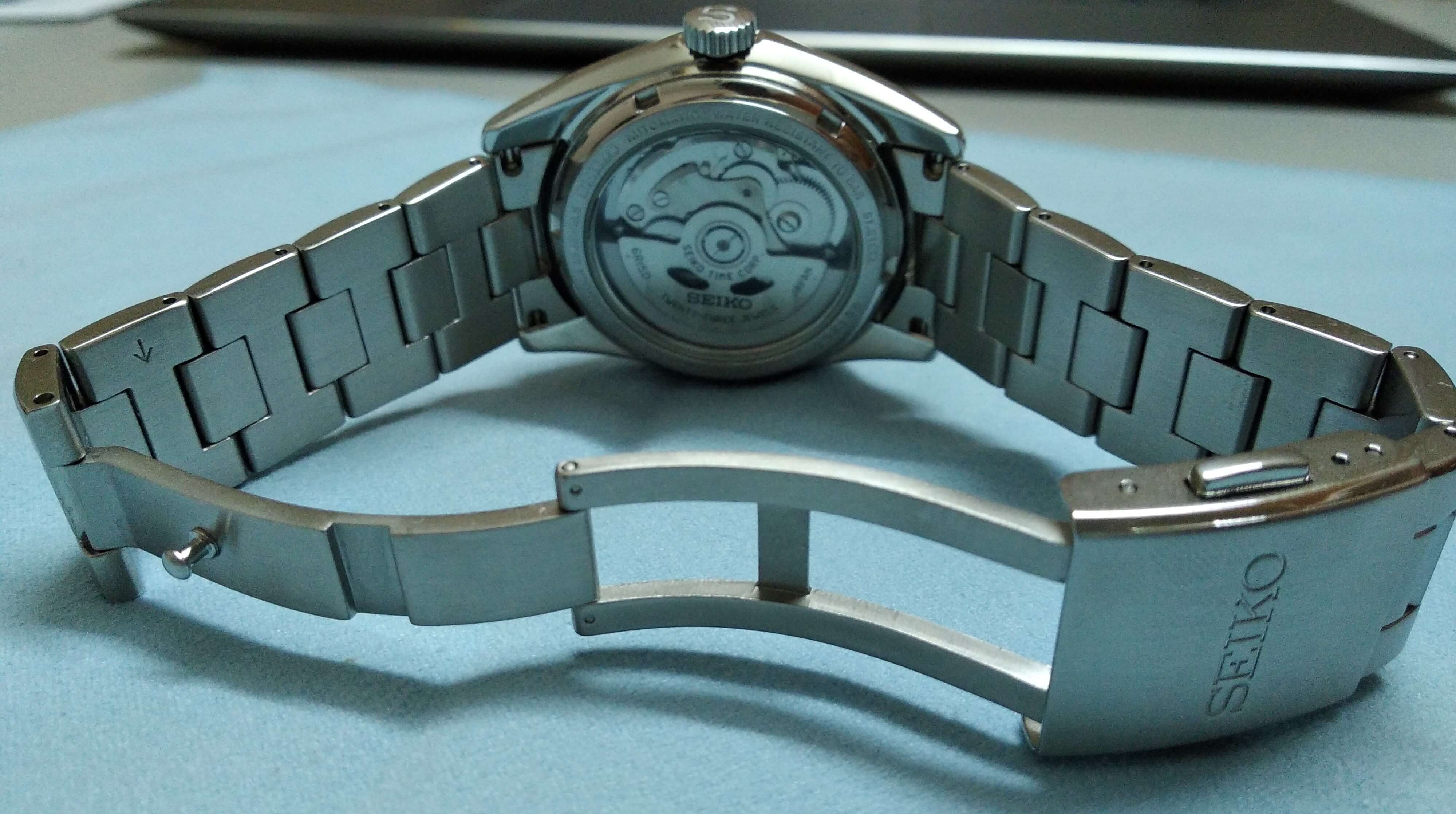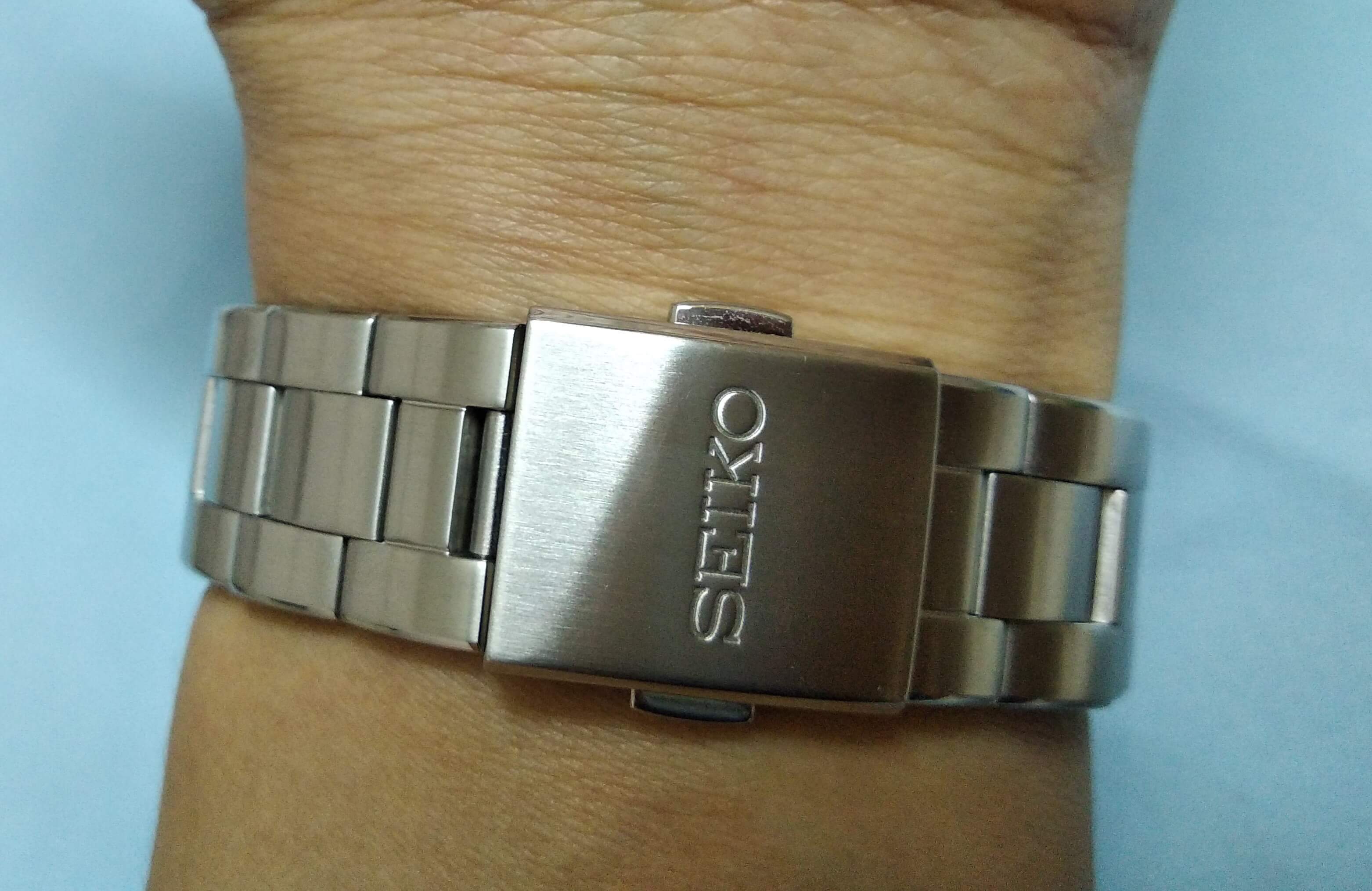 Yes, I like to wear my watch tight =)
Scratch Resistant Sapphire Crystal
A great thing about the watch is the sapphire crystal on top of it. It can be said to be the best type of watch crystal to be used on a watch due to its great scratch-resistant properties and longetivity.
Sapphire sits at the top of the hardness scales, only beaten by a few materials such as diamond. I never tested this myself though but it should withstand scratches from normal materials around us such as bricks, metals and such.
I've owned some mineral and hardlex crystal watches and I dare say those scratches easily. But with this baby, not so much as a scratch is there after some good use!
This makes the watch a totally huge value for money, as it's quite hard to get an automatic watch with sapphire crystal at the kind of price the SARB033 is in.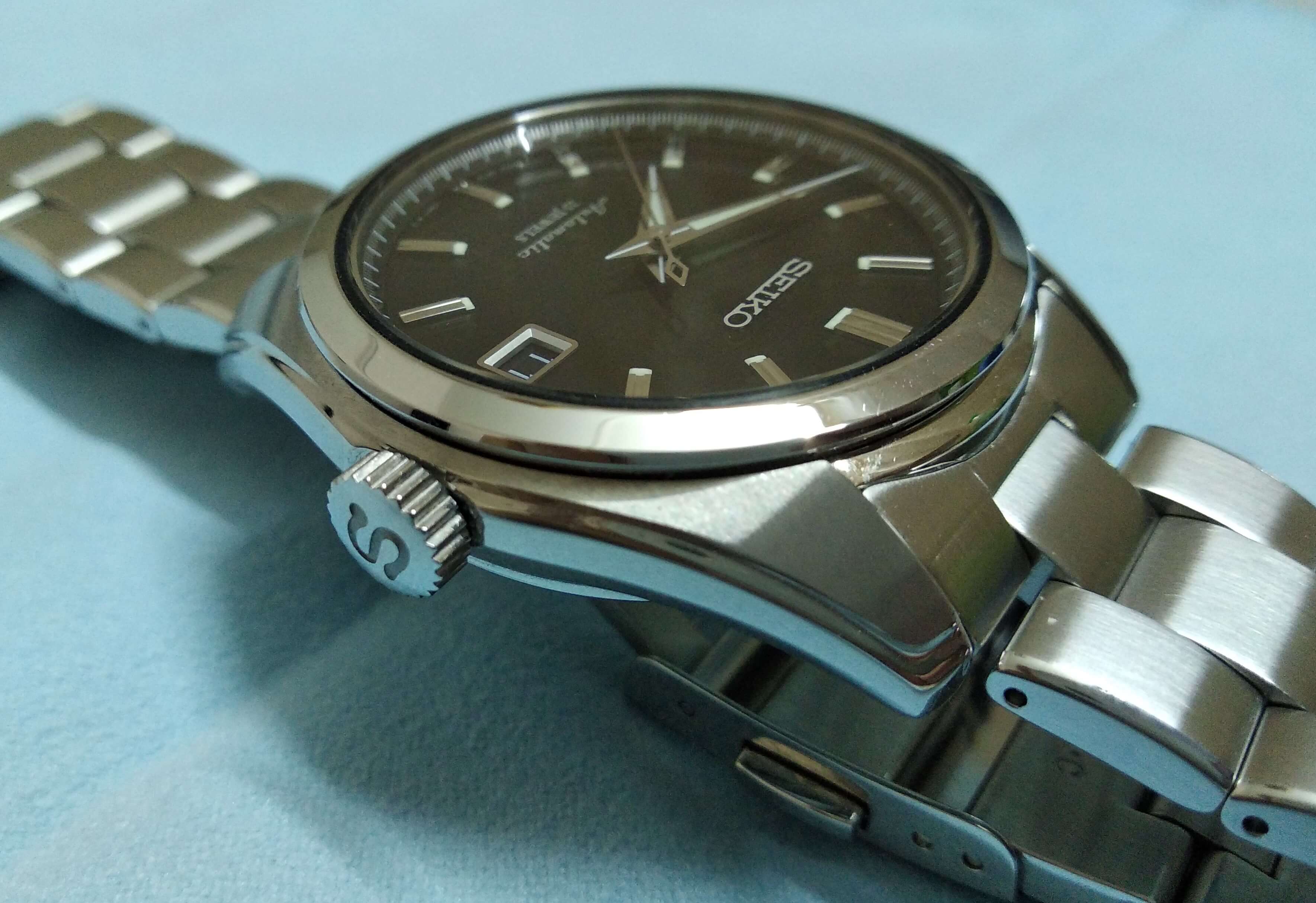 Want Your Own SARB033? >> CLICK HERE To Get Your Own Seiko SARB033
The Trusted Seiko Automatic Movement Cal. 6R15
Inside this watch is the Automatic Self-wind movement Cal. 6R15, Seiko's trusted movement in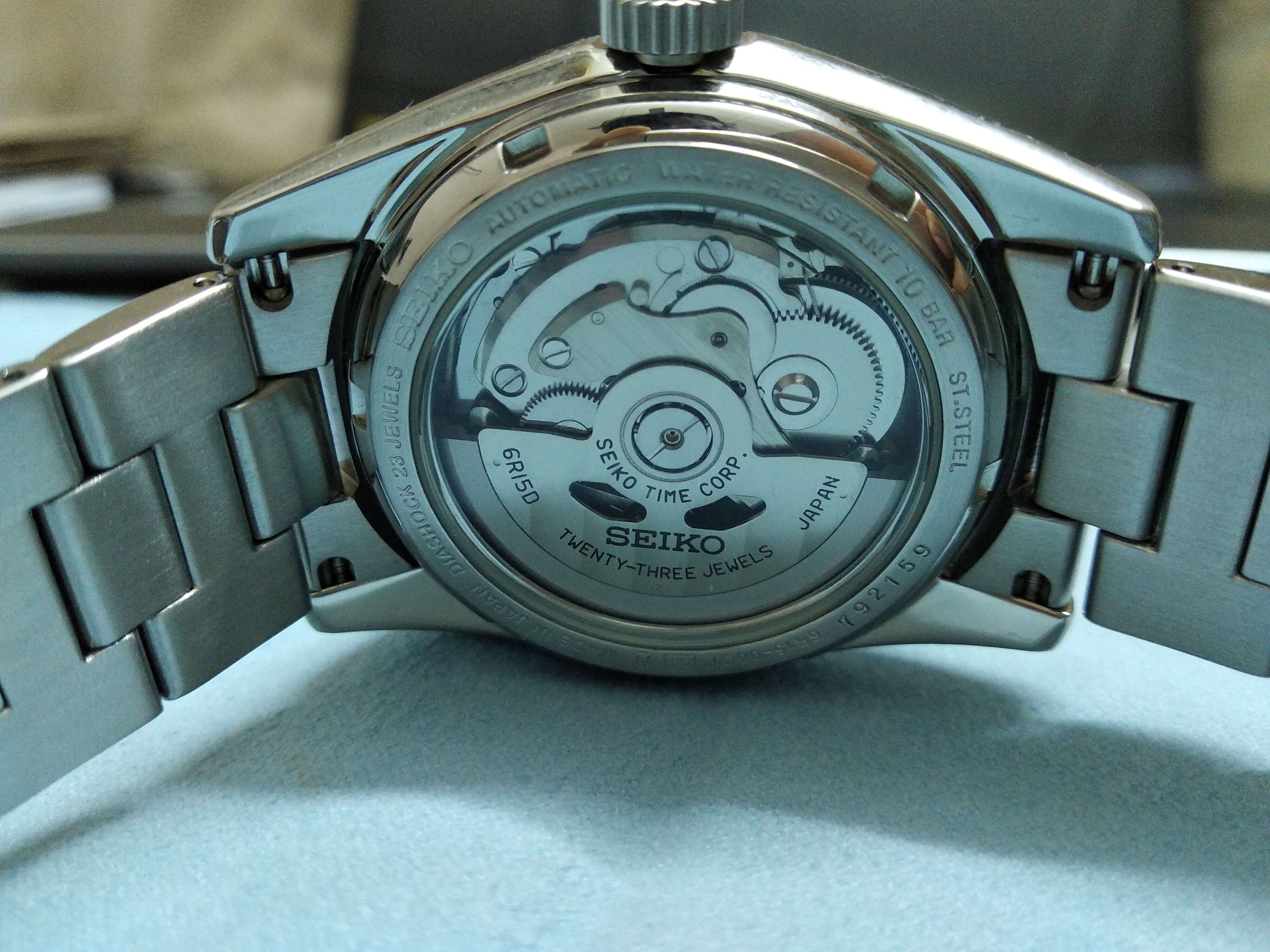 the middle range watches (this is also the same movement in the Seiko SARB065 Cocktail Time).
This is a very solid and robust movement from Seiko. I would like to point out that Seiko's diving watch range (the Prospex line) would typically use this movement – a testament of how the 6R15 is so tough, that it can be used for even the harshest condition underwater.
The Seiko Cal. 6R15 has 23 jewels and vibrate at 21,600 vibrations per hour (or 6 beats per second). Since the beats are not high, the smoothness of the sweeping second hand is not as good as a normal Swiss ETAs movement.
But in return of that, Seiko claims the 6R15 will be able to go without service for much longer as its "mileage" is lower. Which is kinda true. If we think about it, an 8 beat movement has about 30% extra movement than a 6 beat (2/6 x 100%).
By this, the Swiss 8 beat movement will have 30% more mileage on them (versus a 6R15 movement) and would require services sooner and more frequent in its lifetime.
By the way, I've also owned the Seiko Sumo SBDC003 which has the same movement as in this SARB.
One interesting thing that I noticed is the winding sound in this SARB is a bit "loud", akin to some ETAs that I have handled before.
On the other hand, the winding sound in the Sumo is more quiet. Not very sure whether it's the extra steel on the Sumo (it is a bigger watch at 44 mm diameter) which have reduced the sound.
A Good 50 Hours Power Reserve
Another important thing to add about the 6R15 is it's able to last for 50 hours, thanks to SPRON510, a proprietary mainspring by Seiko (read this article for in depth explanation of how an automatic watch work to understand this).
50 hours power reserve is a good power reserve for an automatic, and much better than a Swiss ETA 2824-2 (another common ETA auto movement) that only has 38 hours. Of course, there are other watches will more power reserve (such as the Tissot Powermatic 80 with 80 hours) but a 50 hours is good enough to at least lasts for a weekend =)
It also has hacking feature (meaning the second hand will stop when you want to adjust the time) and can be wind manually via rotation of the crown. You can also peek at the movement through the exhibition caseback of the watch.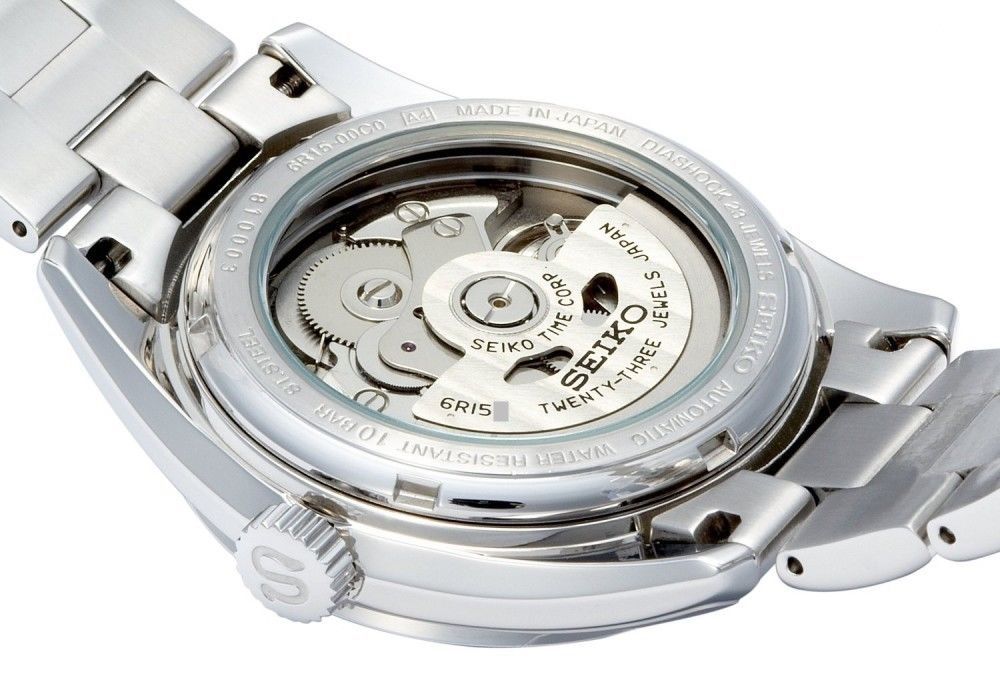 There is an exhibition caseback on the Seiko SARB033 to allow you to marvel at the Cal. 6R15 automatic movement.
It has a published accuracy range of +25/-25 seconds per day. But from my own experience (as well as countless others review of Seiko lovers around the world), the accuracy can be as high as +-5 seconds per day which is just within COSC Chronometer range.
One thing about this movement is that you need to wind the movement manually at least once a day for it to keep perfect time, even though you are using it everyday. This is because all automatic watches is at their best accuracy when it's fully charged.
How About Seiko SARB033 Accuracy?
What's a watch review without discussing its accuracy? To my great relief, my watch is performing miles better than what Seiko specified for the 6R15 movement (which is +25/-15 seconds per day).
Over a period of 5 normal working days, I've averaged +4.5 seconds per day.
There's some spikes here and there but on the big picture, yes, the SARB033 did beat COSC chronometer specification by 1.5 second (COSC +6 sec/day – 4.5 sec/day).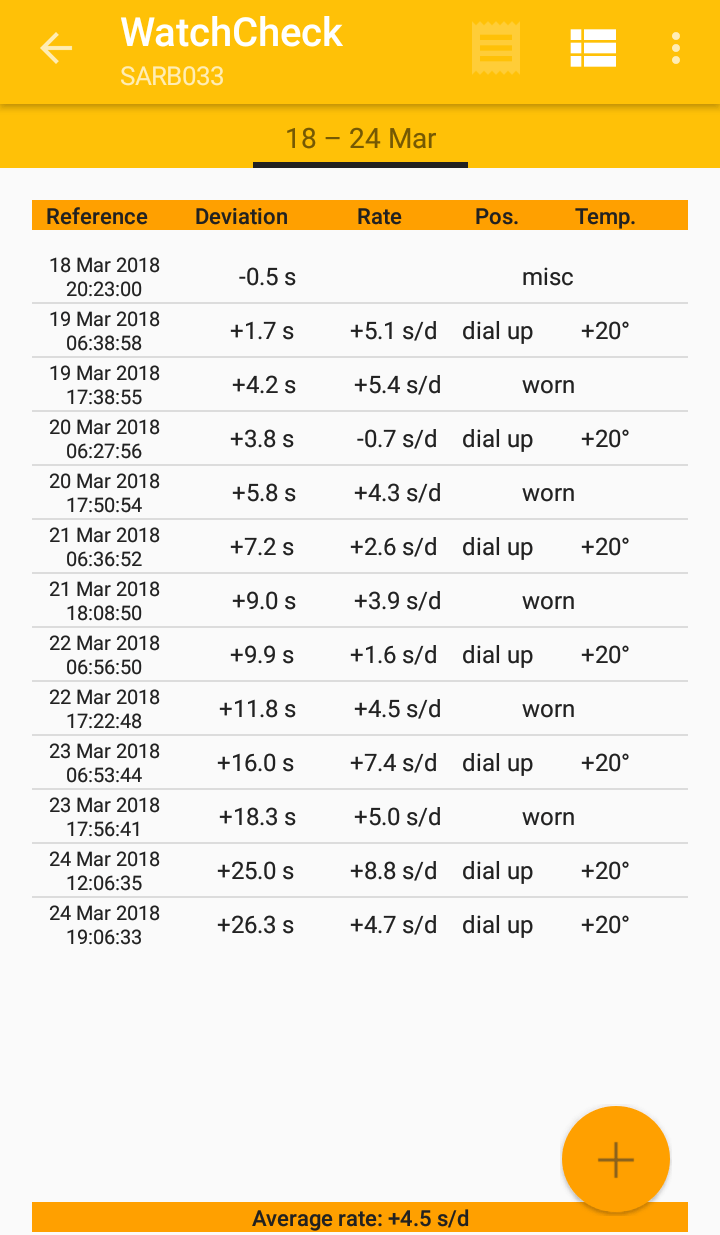 But I need to note here that the COSC chronometer is tested for 5 different positions of the watch in 3 different temperatures. This is definitely a more extreme test encompassing a wide range of conditions.
Whereas my testing of the SARB033 is more towards real-life usage with just two main conditions of use: a) put the watch dial up in a box overnight; b) pick it up for work the next morning.
Without a doubt, if the SARB033 and the 6R15 inside it is tested for COSC chronometer, the result might not be pretty.
On the other hand, I fail to see if other guys would use the watch any differently than how I use it (unless you are involved in outdoor activities and such.. but then again you SHOULD NOT wear a dress watch like this for such activities LOL!).
The point I'm trying to make here is how important COSC chronometer watches are anymore? We can get a pretty accurate watch in the SARB033 (which actually beat chronometer accuracy spec) without spending thousands for chronometers.
Just a point to consider when looking at those chronometer adverts =). Let me know what you guys think about it!
Seiko SARB033 (top) versus Seiko SARB065 Cocktail Time (bottom). Two beautiful and affordable watch. But which one is better?
How Does Seiko SARB033 Compare To Seiko SARB065 (Cocktail Time)?
I've covered the Seiko SARB065 Cocktail Time before (you can read the review here) and it is just a stunning dress watch. It has a sunburst guilloche dial that is so mesmerizing to look at. But how does both of these watches compare to each other? It is truly a difficult thing to ask.
Technical wise, both have the 6R15 movement inside. The Seiko SARB033 has a simple and traditional black dial, as opposed to the flashy sunburst dial of the SARB065.
Some people might not agree with me but I believe that the SARB065 wins over the SARB033  aesthetically for the dress watch category. With its beautiful dial, it will surely caught people's attention. I also love the blue second hand and also the detail on the markers and hands – they are so well executed. It's just a gorgeous watch for when you are dressing up for the occasion.
But for other more casual activities, the SARB033 will be my pick. The not-so-flashy-and-simple dial would work better when going out with friends, etc. Plus, the curvy lug will ensure you are comfortable wearing it for long time. I'm for sure won't be wearing the SARB065 when going to the beach or taking a roadtrip as it's just not the right watch for those activities.
-To sum it up, get a SARB065 for a perfect dress watch. For a more versatile watch that can be used casually, the SARB033 is one to go-
A video showing the SARB up close
Seiko SARB033 Automatic Wrist Watch Advantages And Disadvantages
I've summed up all the advantages and disadvantages of this watch below for your easy reference:
Pros:
Traditional and simple styling is very beautiful and elegant to look at
Good quality watch for low range price. Great value for money
Seiko automatic movement cal 6R15 is very reliable, accurate and robust
Luminous hands and markers as well as 100 m water resistance make it a functional watch as well
Exhibition caseback allows us to peek at the movement inside
Sapphire crystal dial window for an extra scratch protection for your peace of mind
It is versatile can be used for any function or activities
Cons:
The understated styling could turn off some people that loves flashy design for their watches
In this age of oversize watches, a 38 mm diameter watch might be deemed too small and not everyone's cup of coffee
Shipped with a good but definitely could have been better bracelet
Have become more expensive over the years (Now it's NOT the cheapest mid-tier Seiko automatic watches…)
Impressed with its simple and understated elegance? Get this Seiko SARB033 From Amazon!

As with any other
JDM

watches
, there is
no possibility at all to see this watch at our local watch shops
. The only way to get it is by
going to Japan and buy it there
, or
buy it online
.
If you are looking to buy the Seiko SARB033 automatic watch, look no further than Amazon. Amazon usually has the lowest price for this watch. Click the link below to check the latest deals of Seiko SARB033 on Amazon.

>> CLICK HERE To Get Your Own Seiko SARB033
Update March 2018: It seems that Seiko will be discontinuing some SARB watches including this SARB033. If you really want it, I suggest to quickly get it NOW!
Conclusion
The Seiko SARB033 automatic wrist watch is a simple, elegant and understated watch that is just so amazing. Built with quality in mind by Seiko, this watch is definitely a great value for money given its solid construction and minute details in its craftsmanship.
With a Seiko automatic movement Cal. 6R15 inside it, you are getting a reliable and accurate movement that is used in Seiko's diving watches intended to be used in tough environments.
Although it's not the cheapest mid-tier Seiko automatic watch that you can get right now (check out the SRP Presage series), it does have that beautiful understated style taken from Grand Seiko. So if you love its simple elegance style, a slight bump-up in price would definitely not hurt eh? =)
I hope you guys enjoy my Seiko SARB033 review. If you have any questions or comments on the watch, feel free to ask me.
Let me know in the comments below =)
Share this on your social media if you loved it. I really appreciate it =P Don't forget to subscribe to my site for more awesome stuffs in future. Till next time then.
Cheers!
Isaac
*Update: I've recently reviewed the Seiko SARB035, a white version of this SARB033 which comes with a snowy white dial. Check out the review (click HERE) where I go in depth on the watch plus a side by side comparison with the SARB033. Below is the picture of that beauty =)