Hi guys! In today's article, I'm going to write about Seiko SNKN37 review – one of the watches in the Japanese manufacturer's Recraft series with gorgeous blue dial and retro square shaped case.
But before we go into the review, I think I need to explain a bit about this Recraft series as I'm sure you guys are wondering what the hell it is right?
What is Seiko Recraft Series?
The Seiko Recraft series is basically a watch line up by Seiko with vintage vibe designs.
And that's the reason why it was named "Recraft" – a line-up of watches with styles re-manufactured from yesteryear.
Modern twist were added into the classic look with a bigger case size in line with current preference of big watches.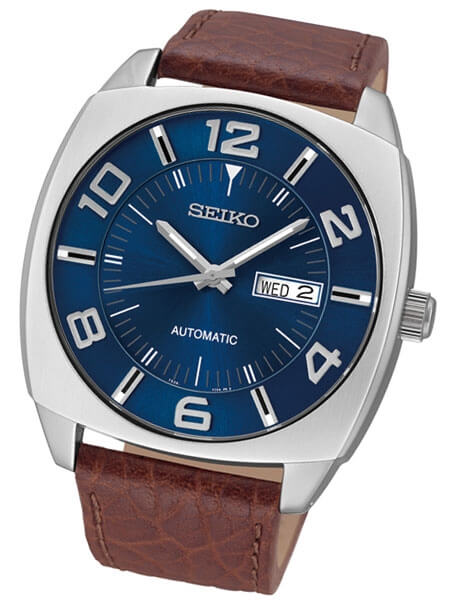 Reactions from fans had been very good. Well, it's no wonder since the watches are good looking and very different than today's modern design.
It also help that the Recraft watches are affordably priced making them really good value for money buy.
Coming in many movement variations, the Recraft watches are not only confined to the good-ol' automatics.
There's also kinetic and solar movements to choose from which just exemplified the true purpose of the series – to produce retro-styled watches with modern features for modern fans.
Enough about the Recraft Series. Let's check out the Seiko SNKN37 review shall we.
Update: I've recently featured the Seiko SNKN37 in my list of the top 10 automatic watches under $200. You guys can check the article HERE.
Seiko SNKN37 Recraft Watch Specification
Diameter: 44 mm
Thickness: 12 mm
Lug Width: 24 mm
Lug To Lug Distance: 50 mm
Case: Stainless steel case
Strap: Brown leather strap
Watch Crystal: Hardlex crystal
Dial: Blue sunburst dial
Hands: Sword style hands
Markers: Index and numeral markers
Movement: Seiko Caliber 7S26 Automatic self-wind movement
Movement Features: 21 jewels, 21,600 vibrations per hour or 6 beats per second, Non-hacking and Cannot be manual wind
Accuracy: +-15 seconds per day
Power Reserve: 41 hours
Water Resistance: 50 m
Other Features: Exhibition caseback,
User Manual: Click here to download Seiko Cal. 7S26 user manual
Best Place To Buy: Amazon, MSRP is $225
Gorgeous Blue Sunburst Dial
The first thing that anyone will notice about the Seiko SNKN37 is its blue sunburst dial that's just too beautiful to look at.
It's the defining characteristic of the watch (with its barrel shaped case, more on that later on) and featured prominently in other Recraft watches.
I love blue, and this sunburst blue dial is just too good to look at. Just look at its glow and how its reflection changes depending on the angle of light.
Seiko knows we love the blue dial, and they had been very kind to put minimal signatures (Seiko & Automatic) on the dial. Much thanks for this!
The watch has over-sized markers that are a combination of numeral and index markers.
I really like this arrangement as it's very easy to tell time since there are over-sized numeral markers, and yet it's not too busy at the same time.
Using steel markers makes the watch more classy and great to look at.
If you look closely, you'll also notice how the dial around the markers is actually a bit higher than the inner dial.
Such detail make the watch more fascinating and interesting to look at.
By the way, there is no lume on this watch, in case you're wondering.
There are some small bits of white paint on the hands and markers but those are not lumes (you guys can watch the video down below to see the watch in the dark to confirm this).
Day Date Display – Convenience or Disrupting The Dial?
Perhaps one of the things that I find not appealing on the dial is the day date window display.
It disrupts the gorgeous dial with its out of place white display.
Don't get me wrong. I'm a huge fan of day date and I find it very convenient, useful and should be featured in more watches.
The ability to know the current day/date with just a flick of our wrist is truly convenient and much faster than other methods e.g checking our phones, asking other people, etc.
But that's only for beater watches meant for everyday use.
The Seiko SNKN37 on the other hand is styled more towards dress watch.
I don't think anyone would want to wear such an eye-catching watch everyday to work (though I could be wrong).

I love day date display for its convenience, but I have to admit, this Seiko SNKN37 will look better without it…..
Due to this, I think the Seiko SNKN37 is a much better looking watch without day date display on it.
It is understandable that most of the Recraft automatic watches use the 7S26 automatic movement (more on that later on) that has the day date feature.
So due to this, they just had to put it on this watch.
Notwithstanding that, I really hope Seiko will give more thought on this matter in their future designs.
I just feel that it's just so wrong to defile a very beautiful dial with the day date display…  – let me know in the comments section below if you feel the same guys =(
44 mm Barrel Shaped Case
One thing that make the Seiko SNKN37 such a darling to retro watch fans is the barrel shaped case.
Rectangle shaped watches were the trend a few decades back.
Currently, watches in the market are mostly in circular shape so the Seiko SNKN37 is definitely one unique watch for those that want something out of ordinary.
I also like how Seiko chose to modernize the watch shape by making it larger at 44 mm.
It's more in line with current trend and bigger size means more of that gorgeous blue dial for us.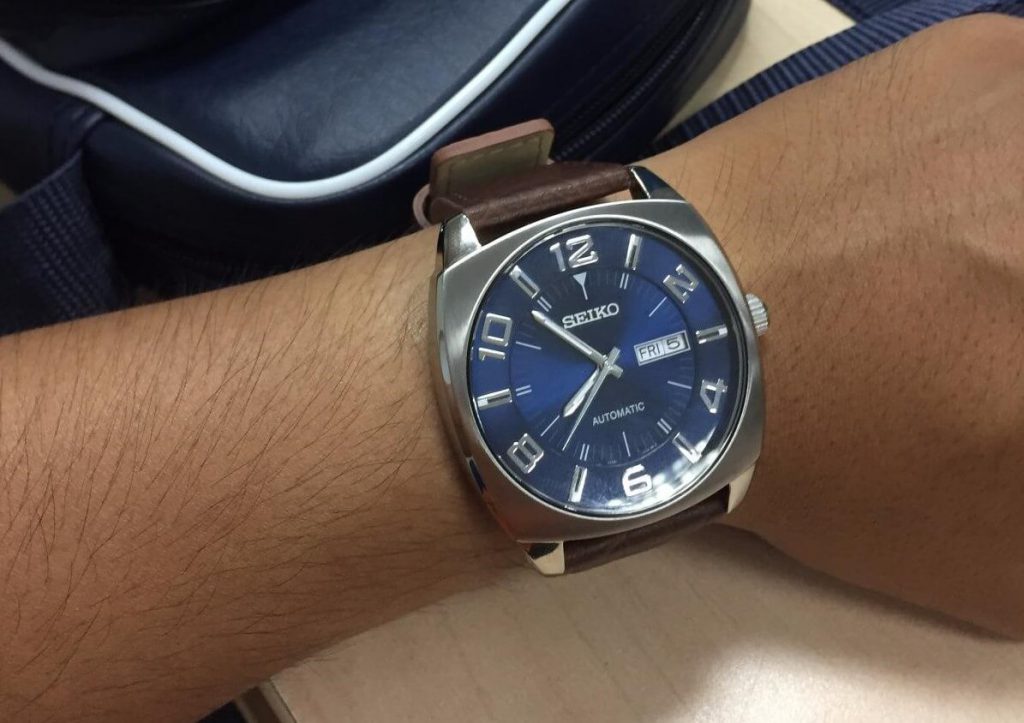 The Seiko SNKN37 comes with a substantial barrel shaped case that gives a great wrist presence
Not to mention how substantial the watch is on our wrist. For those that want a watch with great wrist presence, this is the perfect watch for you.
But of course, at 44 mm diameter, only average to big wrist size can fit it nicely.
Due to this, I strongly discourage those with smaller wrists to not get it.
If in doubt, try to measure your wrist. If your wrist diameter is more than 2″, that means it can contain the 50 mm lug to lug width comfortably.
Brushed and Polished Finish
The 12 mm thick case features a combination of brushed and polished finishes on it.
I like how Seiko use brushed finish on the top of the Seiko SNKN37 case as it complements the shiny dial.
With a sunburst dial like this, I don't think it's a good idea to use a highly polished case as the watch will be too shiny and eye-catching. It seems Seiko got it perfectly in this matter!
In addition, the use of polished finishing at the short lugs is a really nice touch. The attention to such small detail is very welcomed, even though the watch is in the affordable price bracket.
On top of the straight side case is a hardlex crystal, Seiko's proprietary mineral crystal variant that has a higher impact resistance than normal mineral crystal.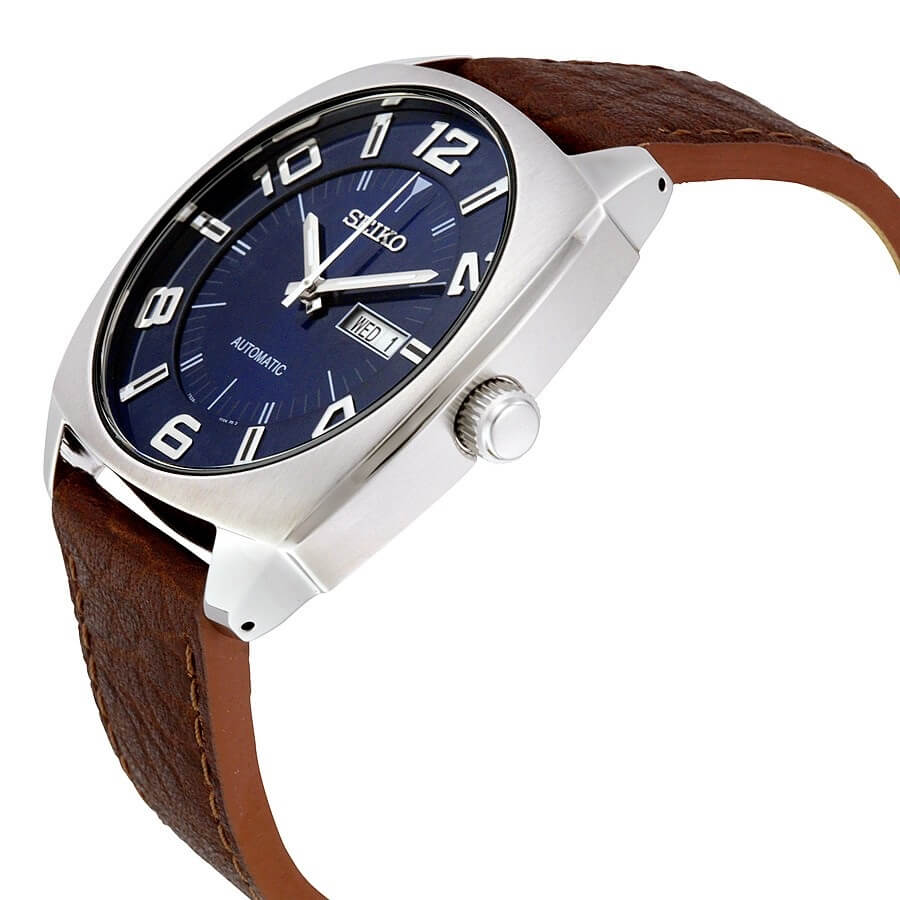 Unfortunately, based on my experience, the crystal is not scratch resistant (contrary to what other online retailer website will state).
The hardlex will collect some scratches, with small minute scratches almost always to be there.
The only thing that we can do as a Seiko watch owner is to avoid scratching the watch against any hard surfaces (steel, concrete, asphalt,etc.).
That way, we can avoid deep scratches that's very ugly to look at….
Leather Strap and Exhibition Caseback
The Seiko SNKN37 has a padded brown leather strap on its 24 mm lugs.
My personal preference is to use black strap for a blue dial watch but seeing the watch makes me think that brown can also work with blue too!
The colors are not exactly complementing with each other but it's not bad looking either. In fact, it's quite a nice combination.
But if you guys prefer a different strap on this watch, you guys can order an aftermarket strap online easily =)
At the back of the watch is an exhibition caseback that shows the automatic movement.
Being a low-priced automatic watch, the automatic movement is not decorated and just plain stainless steel.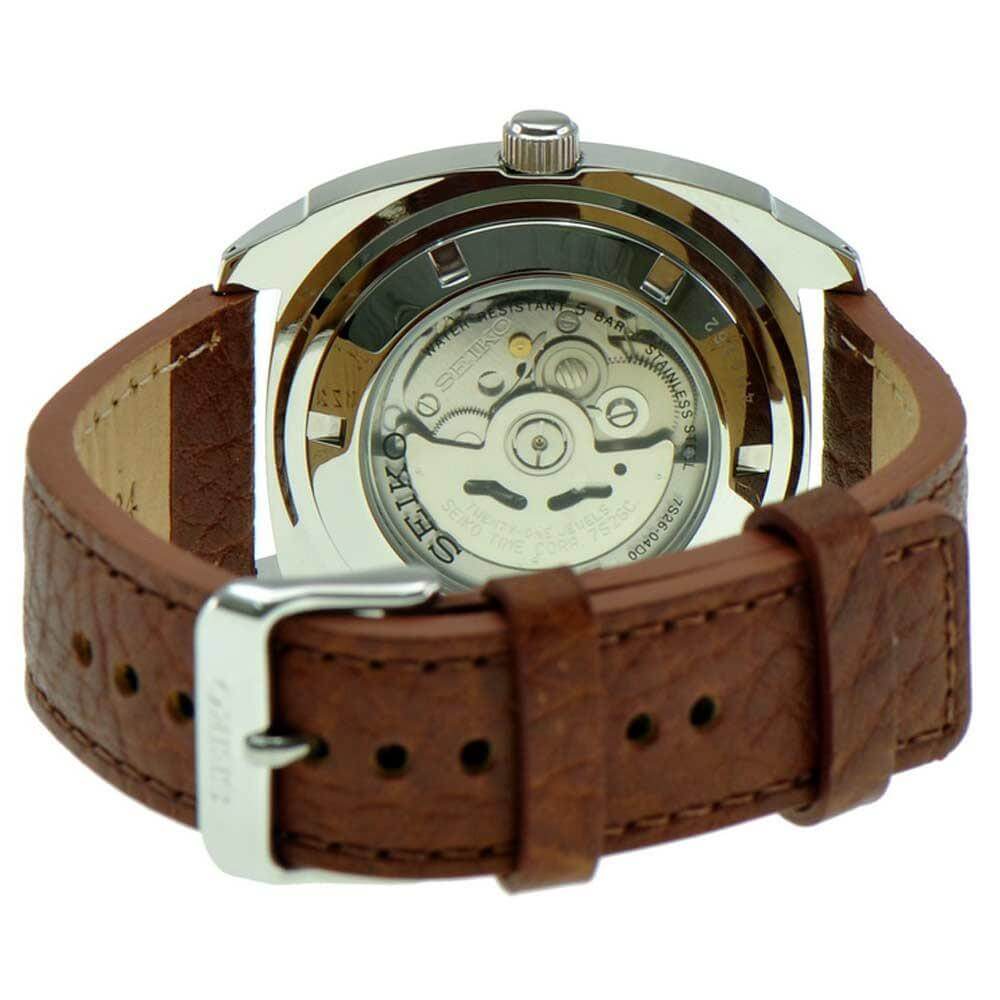 But then again, to be able to look at the internal working and gears of a movement is a feature exclusive to it.
Nobody wants to look into a boring electronic circuit of a quartz watch right? LOL!
The Legendary 7S26 Movement
Powering the automatic movement in the Seiko SNKN37 is the legendary 7S26, the movement used in many of Seiko's watches – most notably the SKX dive watch family.
The movement has 21 jewels, 6 beats per second, 41 hours power reserve and +-15 to 20 seconds per day accuracy.
It's one of Seiko's robust automatic movement as any SKX (SKX007, SKX009, etc) can testify. Some of these had gone for years without any servicing.
In addition, if the movement is good enough to be used in a diver's watch, I'm pretty sure it's more than enough to be used in a casual/dress watch like this =)
Old Movement In A New Watch?
But one thing pops in my mind when I look at the spec – why does Seiko put an old movement in this new watch?
The 7S26 is a good movement, but it has been superseded by other movements recently.
Right now, the 4R36 is the automatic movement of choice for mid-range watches by Seiko with day date display.
Although the basics of these two movements are the same, the 4R36 better as it can be hacked and manually wind – the latter feature is something that I really recommend in any watch.
The only explanation why Seiko would put an "old" movement into a newly released watch is because of cost.
Words on the internet speculated that the company has a lot of these 7S26 movements laying around unused so it's better for them to put it to use in their Recraft series.
That way, they can also reduce the price on this watch and make it very competitive against other watchmakers (hint: Orient)
Make no mistake – the 7S26 is a robust movement and certainly will get the job done.
But if you're someone that has many watches and can't afford to wear the same watch everyday, the manual winding function is very useful to keep the movement power reserve full without having to use it. And that's something the 7S26 lacks
(Read more about manual winding of automatic movements HERE)
Watch the video above to see the Seiko SNKN37 up close
Who Is This Seiko SNKN37 Watch For?
Anybody who loves blue sunburst dial should get this Seiko SNKN37! It's truly on its own class considering its beauty and affordability.
If you are someone that wants something different than the other watches out there (i.e retro style, rectangle case shape with big case), this is something that you need to seriously consider.
With it's beautiful blue sunburst dial, it's a watch that will definitely catches everyone's attention =)
Who Should Not Get It?
In my opinion, those with smaller wrist size should not get this watch. The watch is a good 44 mm diameter with 50 mm lug to lug width.
Anyone with wrists smaller than that will not look good wearing… But then again, it's totally your choice to make.
Seiko SNKN37 Recraft Watch Pros and Cons
Pros:
Gorgeous sunburst dial
Very easy to read and tell time with large markers
Unique retro style with big case size
Has exhibition caseback
Cons:
7S26 automatic movement is a bit outdated without hacking and manual winding functions
Like This Seiko SNKN37? Buy It Cheapest On Amazon!
If you like the Seiko SNKN37, get it cheapest on Amazon as it frequently has the best price on watches among online stores. Click the link below to check out the Seiko SNKN37 on Amazon.
->Click Here To See The Best Deals Of Seiko SNKN37 On Amazon<-
Final Thoughts
The Seiko SNKN37 is one of those watches that will catches people's attention towards your wrist, in a good way.
It's retro style with beautiful blue sunburst dial is just fascinating to look at. Not to mention the big barrel shaped case causes it to has a substantial wrist presence.
This automatic watch uses Seiko's very robust and reliable 7S26 movement – the one used in their famous SKX007 diver's watch. If it's good enough for a diver's watch, it sure is good enough to be used in any other watches.
All in all, the Seiko SNKN37 is one solid watch, and at its current price, it's definitely one of the best value for money watches in the market right now.
*********
I hope you guys enjoy this Seiko SNKN37 review. Let me know if you guys have any questions or comments on the watch.
Drop your comments on the Seiko SNKN37 below =)
Cheers
Isaac